"群岛庭院"是一个6000平方英尺的社区景观服务于周围建筑的居民。地形被要求重新思考以前贫瘠的砖石路面的用途和潜力。
Archipelago Courtyard is a communal 6,000 square foot landscape serving the residents of the surrounding building.  Terrain was asked to re-think the use and potential of what was previously a barren field of brick paving.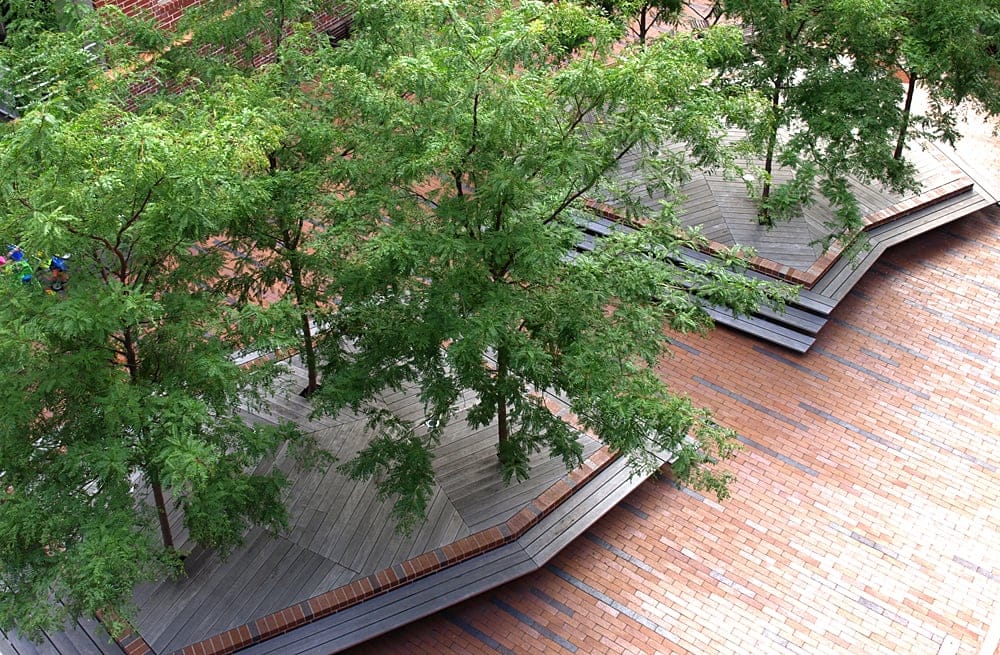 地形开发了一系列的岛屿在一个新的领域铺路。岛上的座位、灵活的子空间和保护的土壤体积为独特的蜂蜜蝗虫林提供了荫凉和舒适。庭院的几何形状和梯田为孩子们创造了一个适合跑步、骑自行车和玩耍的环境。居民们每天都利用这个空间进入他们的公寓,与孩子们玩耍,遛狗,使用室外厨房,举办各种各样的活动,从建筑宽阔的街区聚会到非正式的聚会。
Terrain developed a series of islands within a new field of paving.  The islands function as built in seating, flexible sub-spaces and protected soil volume for the distinct grove of a Honey Locusts which provides shade and comfort.  The geometry and terracing of the courtyard creates a child friendly circuit for running, biking and play. Residents utilize the space daily to access their apartments, play with children, walk dogs, use the outdoor kitchen and host events ranging from building wide block parties to informal gatherings.
平面图
地点:纽约布鲁克林博伦山
尺寸: 6000平方英尺
客户:私人
合作者:托马斯芬尼曼建筑师、承包商:现场工艺
状态:已完成
年份: 2007年
球队:史蒂文·图普、梅根·林奇、利兹·坎贝尔·凯利、库尔特·马蒂格
Location: Boerum Hill, Brooklyn, NY
Size: 6000 Square Feet
Client: Private
Collaborators: Thomas Fenniman Architects 、Contractor: Site Craft
Status: Completed
Year: 2007
Team: Steven Tupu, Meaghan Lynch, Liz Campbell Kelly, Kurt Martig
更多:terrain-nyc