Tierra Design (S) :Ardmore住宅位于新加坡乌节路附近的一块黄金地块上。这幢引人注目的建筑矗立在精心规划的花园空间之上,在这里,小路、休闲娱乐、小屋、休闲空间、阴凉的花园和一个50米高的游泳池,都可以通过一个平缓的坡道,以不同的方式吸引游客。为满足居民的娱乐需求,在精心设计的花园空间内,小心翼翼地放置了一层下沉的按摩浴缸、儿童涉水泳池和游乐场。
Tierra Design (S) :Ardmore Residence is situated on a prime parcel of land close to Singapore's Orchard Road. The strikingly designed building rises above carefully planned garden spaces where pathways, amenities for passive recreation, cabanas, lounging spaces, shaded gardens and a 50-metre pool, accessible by a gentle ramp, caters to the differently able. A sunken Jacuzzi, children's wading pool and playground are carefully placed within the intimate planned garden spaces to complete the recreational needs of the residents.
建筑设计来自UNStudio设计将诸如凸窗和阳台等结构元素交织形成连续的线条。
The architectural design comes from un studio design, which interweaves structural elements such as bay windows and balconies to form continuous lines.
主入口门廊呼应了建筑形态,与建筑风格融为一体,垂掉的绿化,软化了视觉效果。
The main entrance porch echoes the architectural form and is integrated with the architectural style. the hanging greening softens the visual effect.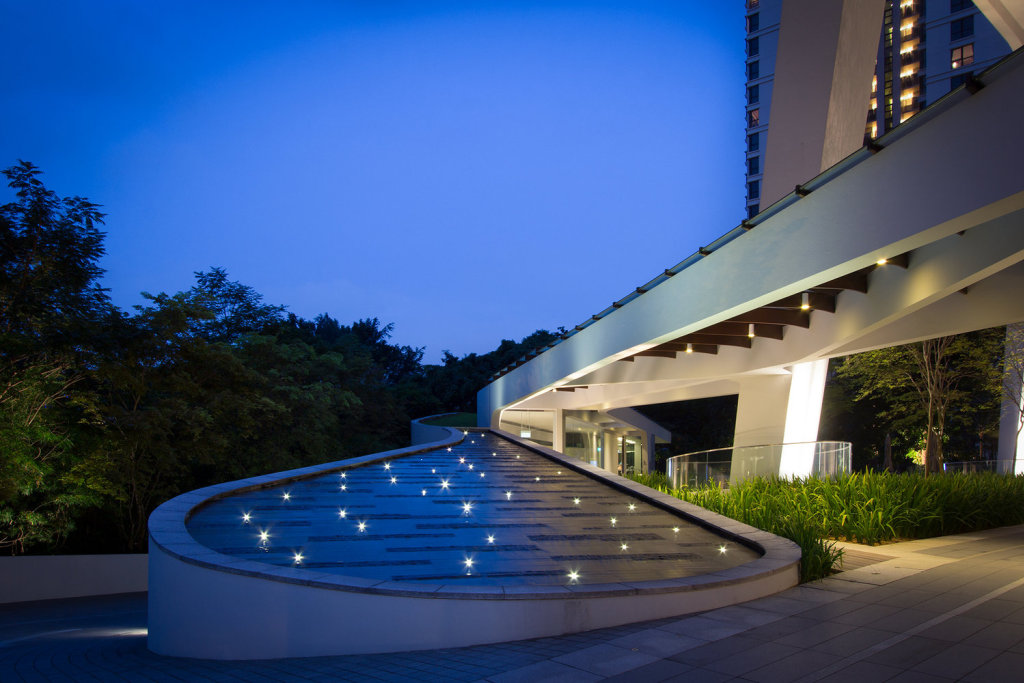 主入口区域的星星灯斜面水景,增加了夜晚的氛围。
The slant waterscape of the star light in the main entrance area adds to the atmosphere at night.
在架空层大堂区域,设计了一个吸人眼球的装置艺术品。艺术品来自日本的著名艺术家草间弥生的作品。
In the lobby area on the empty floor, an eye-catching installation artwork was designed. The artwork comes from the works of renowned Japanese artist kusama.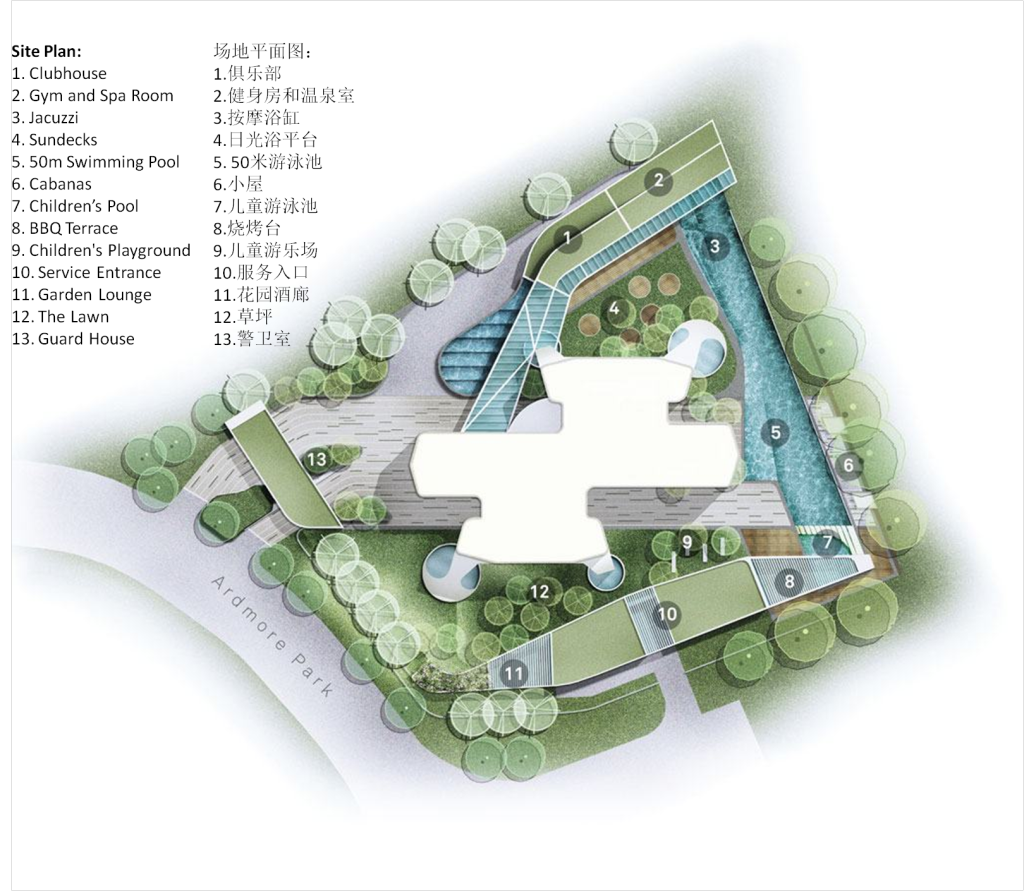 项目名称:Ardmore住宅
位置:新加坡
完成:2013
建筑设计:UNStudio & Ben van Berkel
景观设计:Tierra Design (S) Pte. Ltd.
开发商:Pontiac Land Group
Project name: Ardmore Residences
Location: Singapore
Completed: 2013
Architectural:UNStudio & Ben van Berkel
landscape:Tierra Design (S) Pte. Ltd.
Client:Pontiac Land Group