本文由 道远设计 授权mooool发表,欢迎转发,禁止以mooool编辑版本转载。
Thanks DAOYUAN for authorizing the publication of the project on mooool, Text description provided by DAOYUAN.
道远设计:该项目为东原地产在昆明首秀——童梦3.0的首秀。整个项目面积仅为5000平米,高差大,前场通过现代简约的整合方式,有机整合整体空间形态,形成端庄简约的酒店式前场,后场则是结合东原核心产品童梦3.0,将场地和功能完美结合,给业主呈现一个寓教于乐的童梦系列产品。
DAOYUAN:This project is the first show of Dongyuan real estate in Kunming – the first show of Tong Meng 3.0. The area of the whole project is only 5,000 square meters, and the height difference is large. the front court organically integrates the overall space form through modern and simple integration methods to form a dignified and simple hotel-style front court. The back court is a  product that combines the site and function perfectly with Dongyuan core product Tong Meng 3.0, presenting the owner with an entertaining experience.
在体验区落地了东原全国首个童梦童享3.0产品,既是体验区后场的一部分,也是项目未来园区童梦童享的实景呈现。选取了小朋友比较喜欢的动物卡通马的形象,同时也是东原"东东马"IP形象演化。把攀爬、滑梯、蹦床等趣味性融入到马的身体里;另外,还根据儿童不同年龄段为低龄儿童设置了马蹄状摇摇乐、攀爬木平台等。我们相信孩子们都能在里面找到自己的快乐。
In the experience area, the first children's dream children enjoy 3.0 product in the east China plain, which is not only a part of the back field of the experience area, but also a reality presentation of the future children's dream children in the project park. The image of the cartoon animal horse that the children like is also the evolution of the IP image of dongyuan "dongdong horse". Incorporate climbing, slides, trampolines and other fun activities into the horse's body. In addition, according to different ages of children for the younger children, horseshoe shaped yo-yo, climbing wooden platform. We believe that children can find their own happiness in it.
项目平面  Master Plan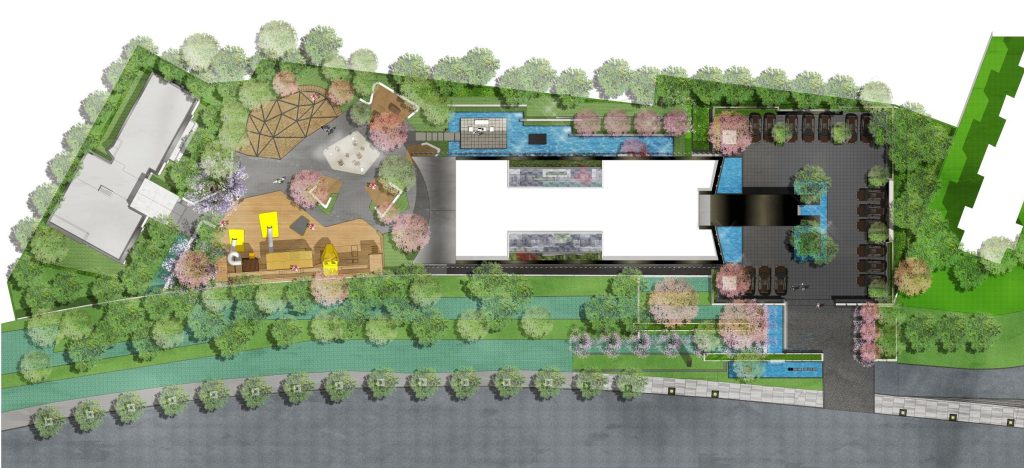 地址:中国云南昆明
时间:2018
类型:住宅
面积:5000m2
客户:昆明东原
设计:DAOYUAN|道远设计
施工:仁翔园林
location:Kunming,Yunnan, China
year:2018
Type:Residential
Area:5000m2
Client:Dongyuan Kunming
Design: DAOYUAN
Construction: Renxiang Garden
更多 Read more about:DAOYUAN