本文由 Plan architect co.,ltd 授权mooool发表,欢迎转发,禁止以mooool编辑版本转载。
Thanks Plan architect co.,ltd for authorizing the publication of the project on mooool, Text description provided by Plan architect co.,ltd.
Plan architect co.,ltd:这个亭子作为现有房屋的延伸部分,其主要功能是作为体育设施,涵盖游泳池、健身室、桑拿室、浴室、室外淋浴、服务区和停车场空间。
Plan architect co.,ltd:This pavilion is an extended part form existing house. Its main function is sport facilities which consist of swimming pool, fitness, sauna, bathroom, outdoor shower, service area and parking.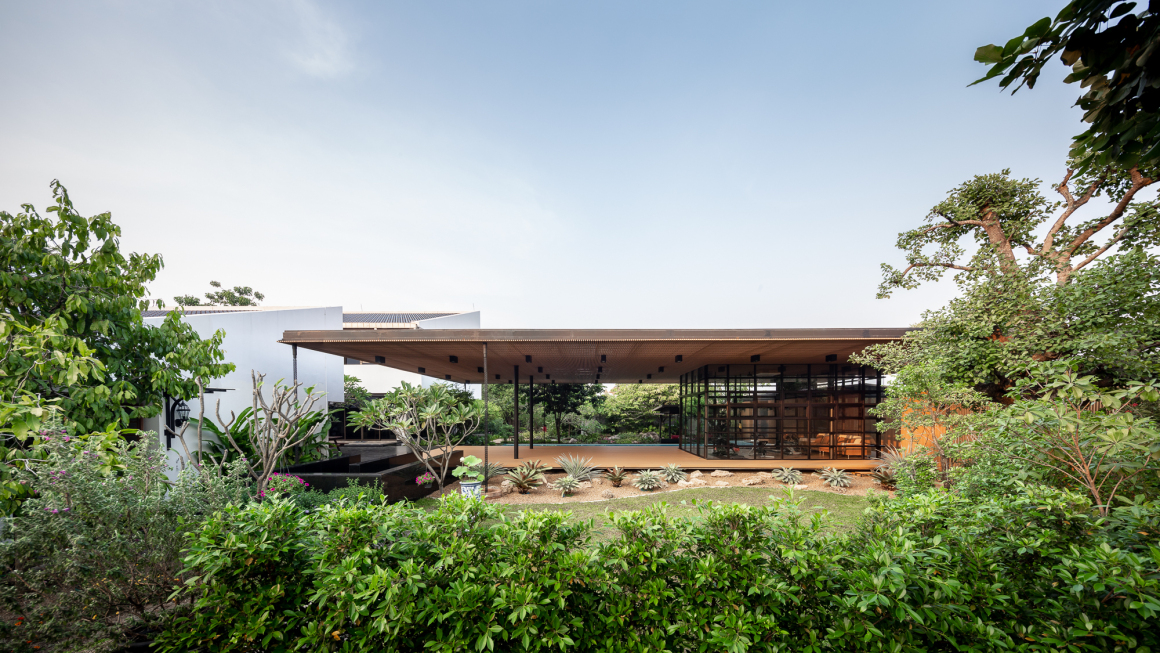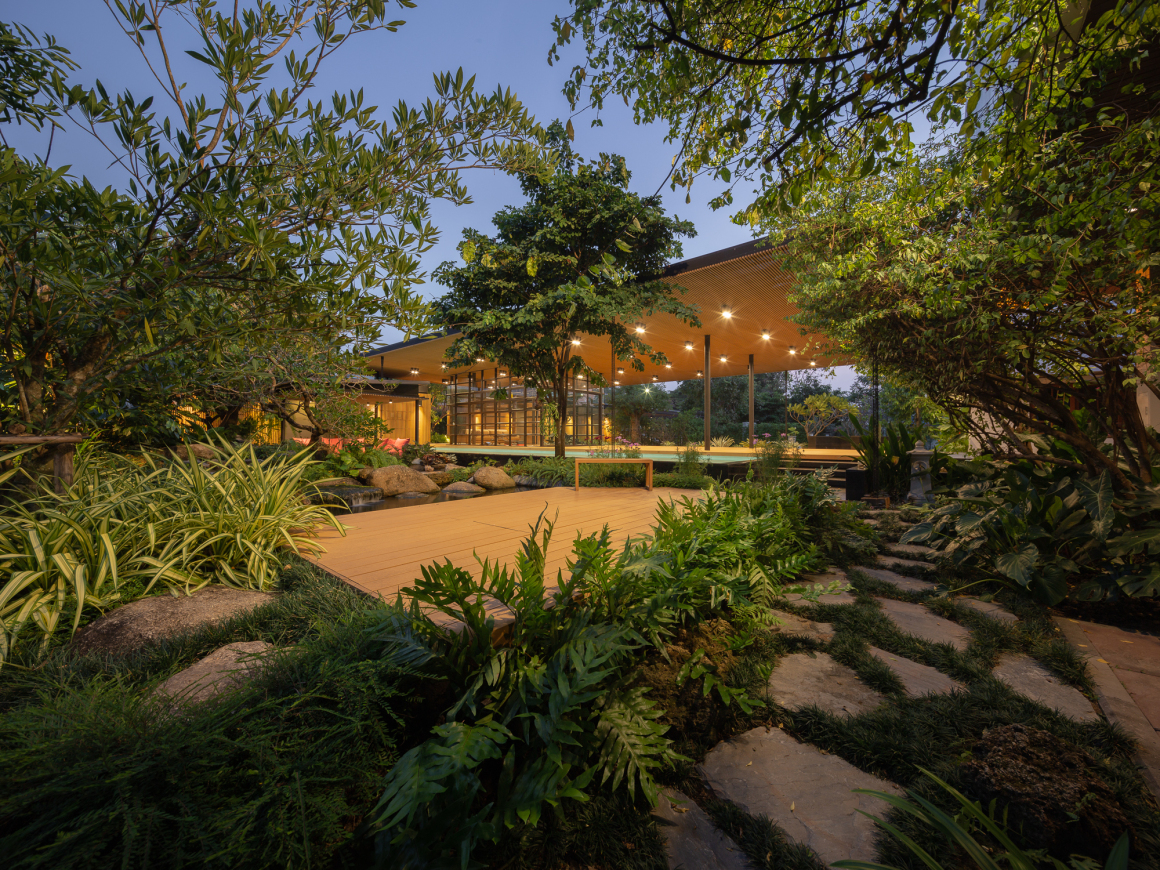 该建筑的布局设计旨在连接老房子的中央庭院。主泳池平台与现有的庭院对齐,健身室位于平台的末端。而左侧的功能空间设置在场地边缘的另一条轴线上,不仅可以最大化平台上看到的全景私人视野,还可以将功能空间与周围的自然环境很好地融合在一起。健身室后面的另一个庭院分隔了抽水区和服务区,也使得健身区被景观包围。基于泰国的热带气候,主泳池平台需要大屋顶来保护它免受雨水和阳光的影响,柱子也尽可能少地安装在分隔空间的玻璃墙上,以保证平台的全景视野。
The layout of this building is designed to link with the old houses center court. The main pool deck is aligned with the existing courtyard with the fitness room at the end of the deck. While the left functions are set on another axis at the edge of the site not only to maximize panoramic private view from the deck, but also blend functional space with nature around. Another courtyard behind the fitness room separates between water closet zone and service zone and also makes fitness surrounded by view. Besides Thailand tropical weather, the main pool deck require big roof to protect it from rain and sun. The columns are installed as least as possible along with the glass wall dividing space to remain panoramic view for the deck.
▼现有房屋 Existing House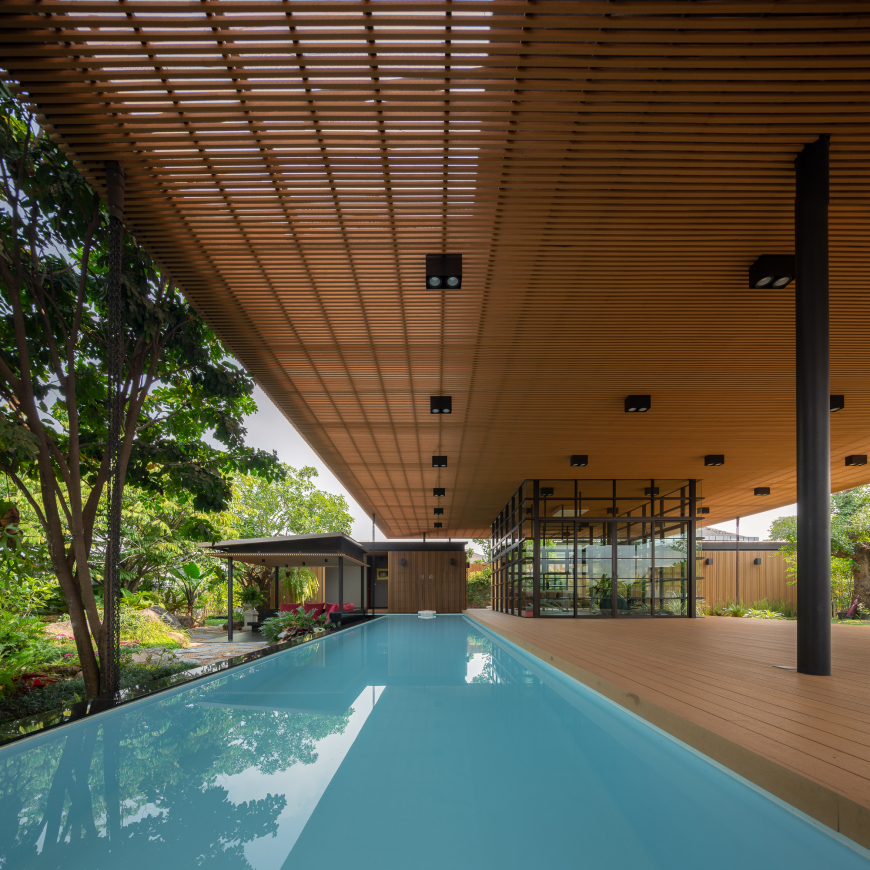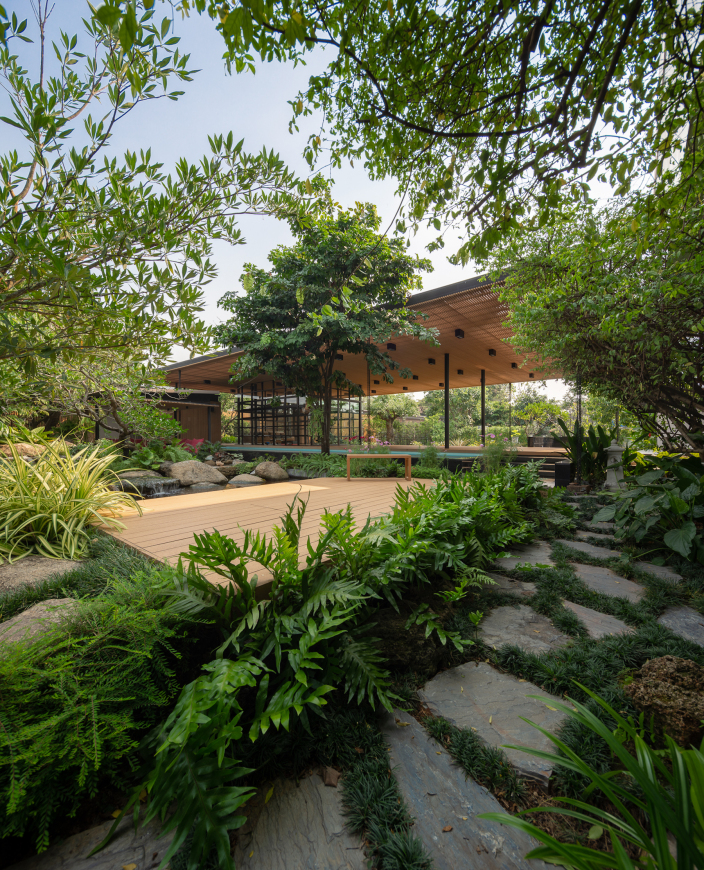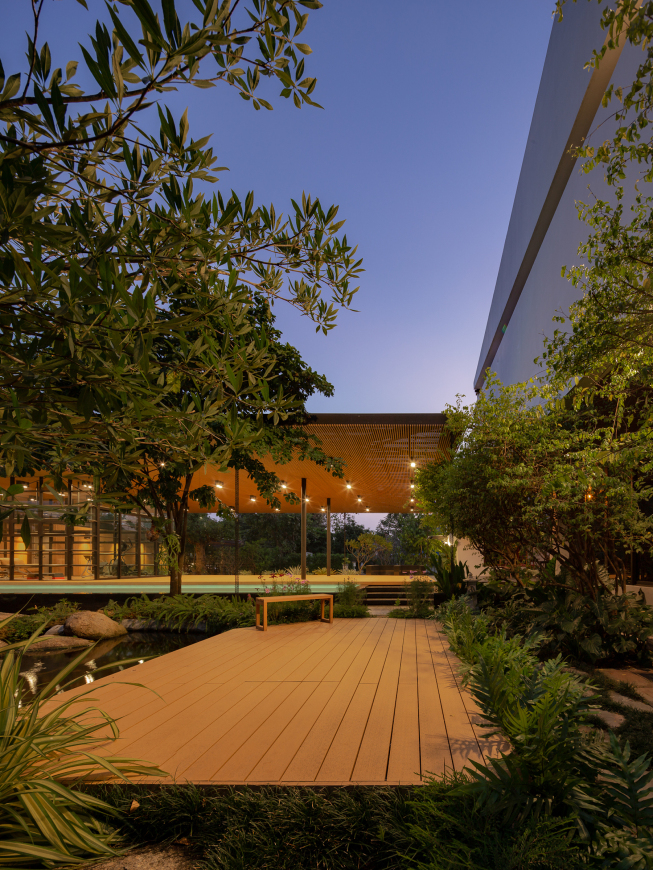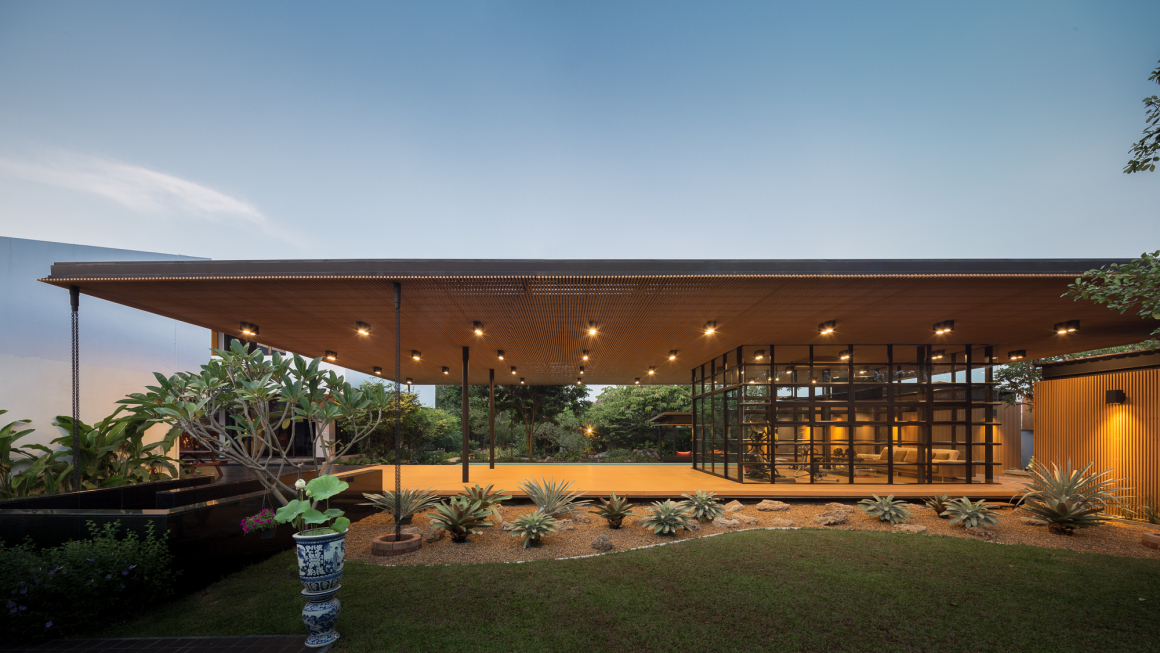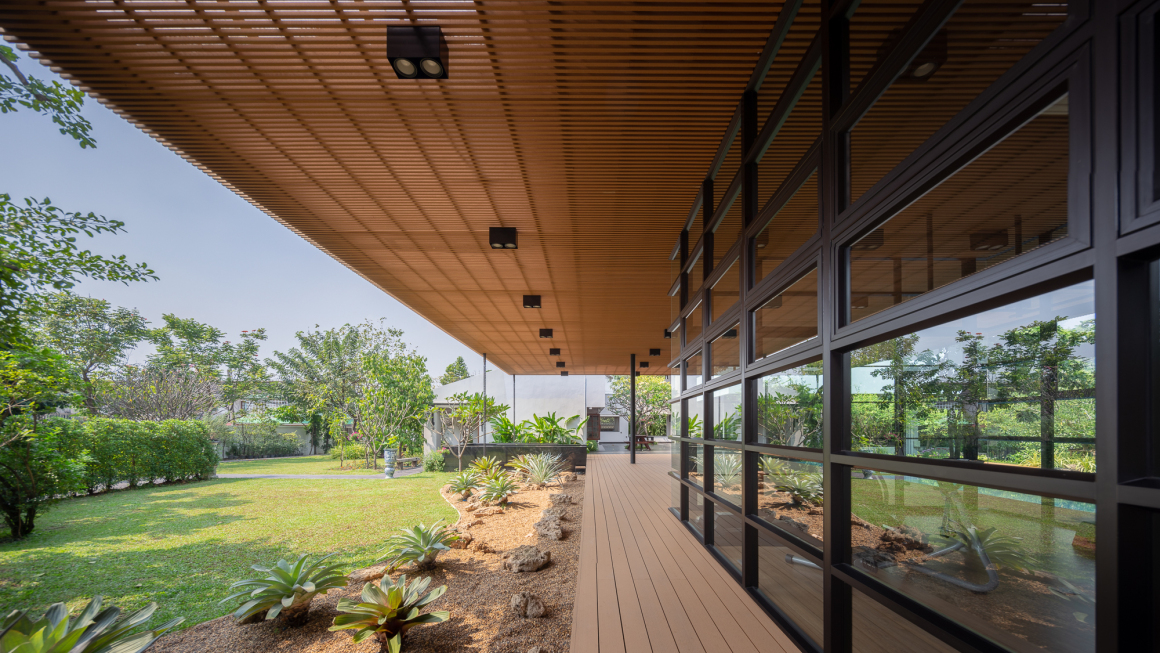 建筑以木条为主要材料,方便让自然光线朦胧地穿过空间,将自然融入到住宅之中。屋檐也是半透明的,允许自然光通过板条天花板,形成过渡空间。这些突出的特色显示出了建筑融合自然、现有环境和建筑的简单性。
The main material, lath, blends the nature to the house by let the natural light get through the space dimly. The eaves is also translucent and allow natural light get through lath ceiling creating transition space itself. The outstanding characteristic shows the simplicity of the building blending nature, existing surrounding together with the architecture.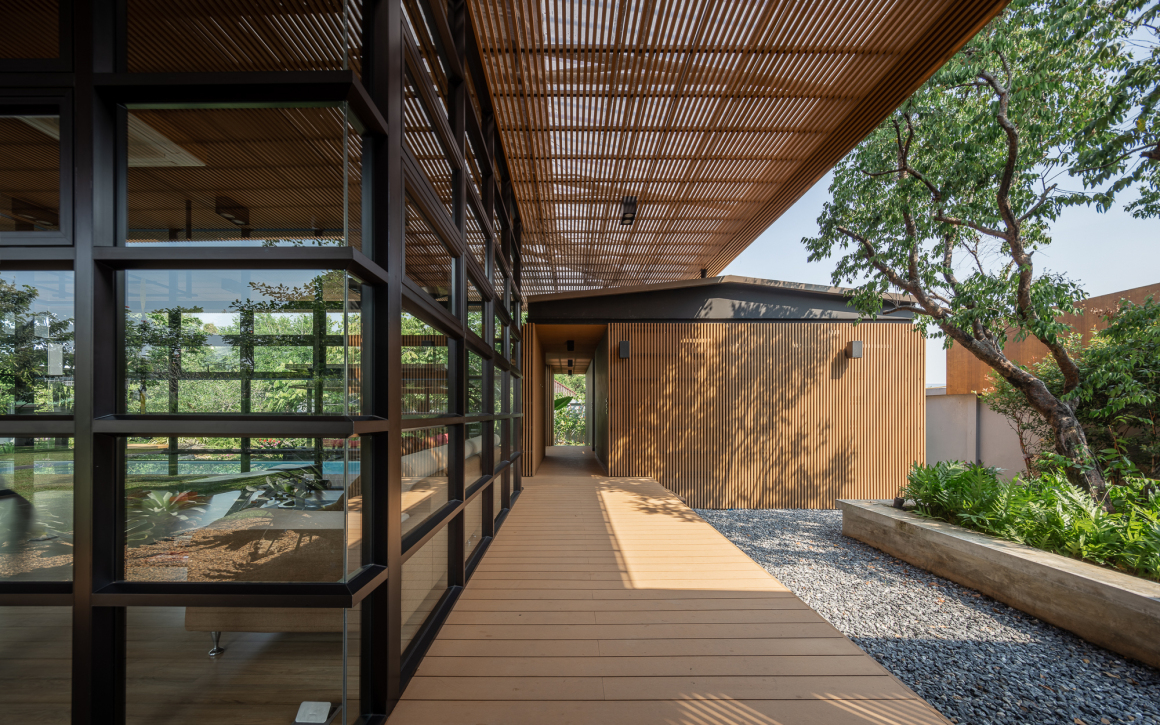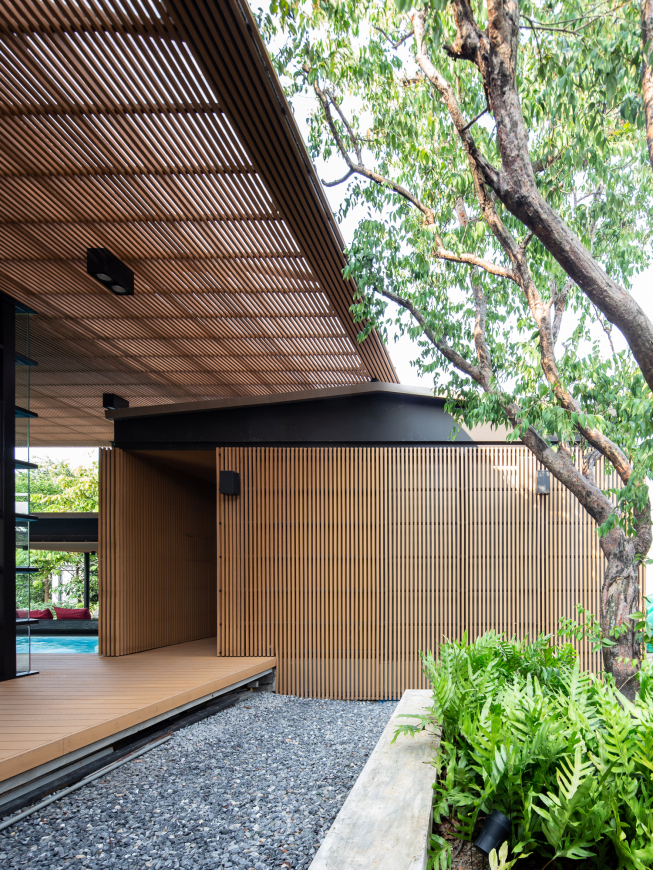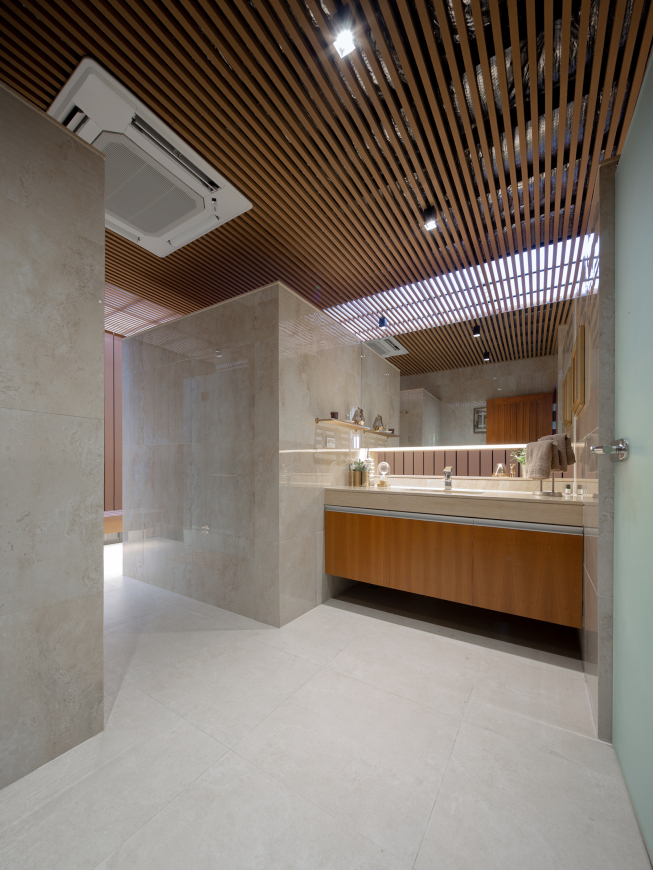 ▼住宅平面图 Layout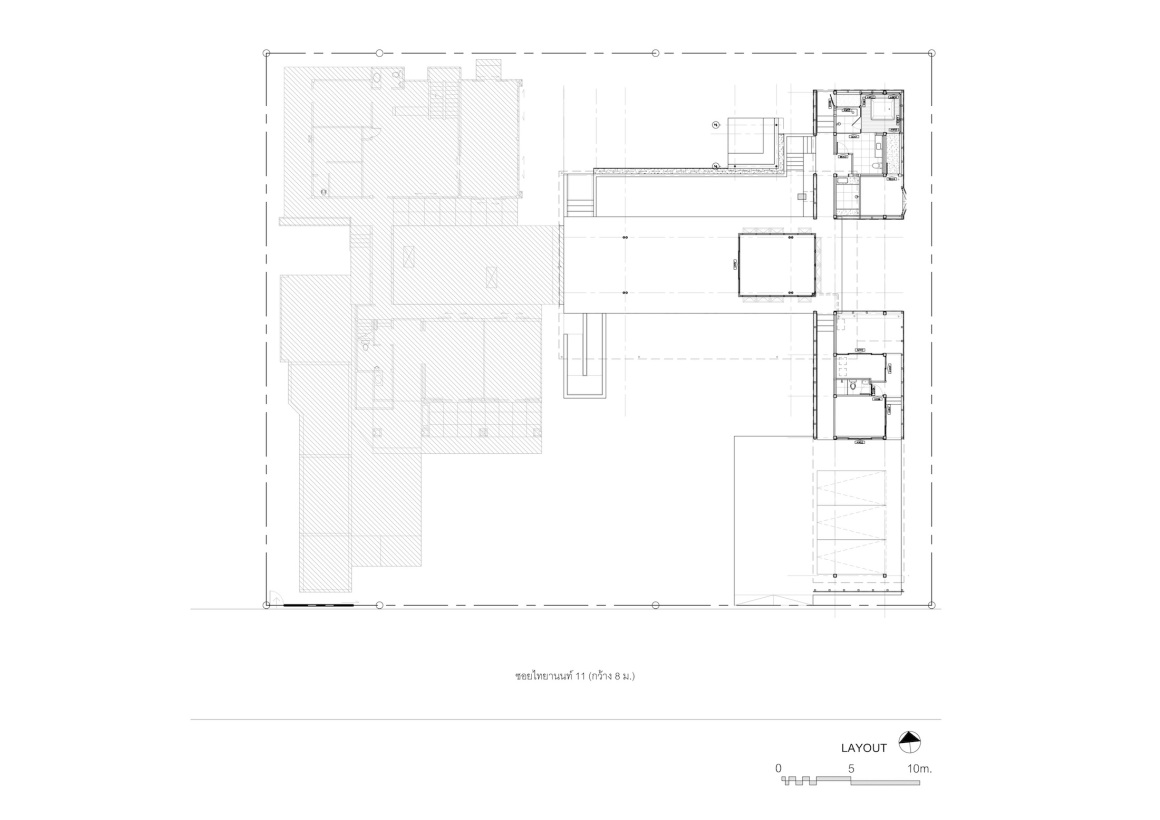 ▼住宅一层平面图 First Floor Plan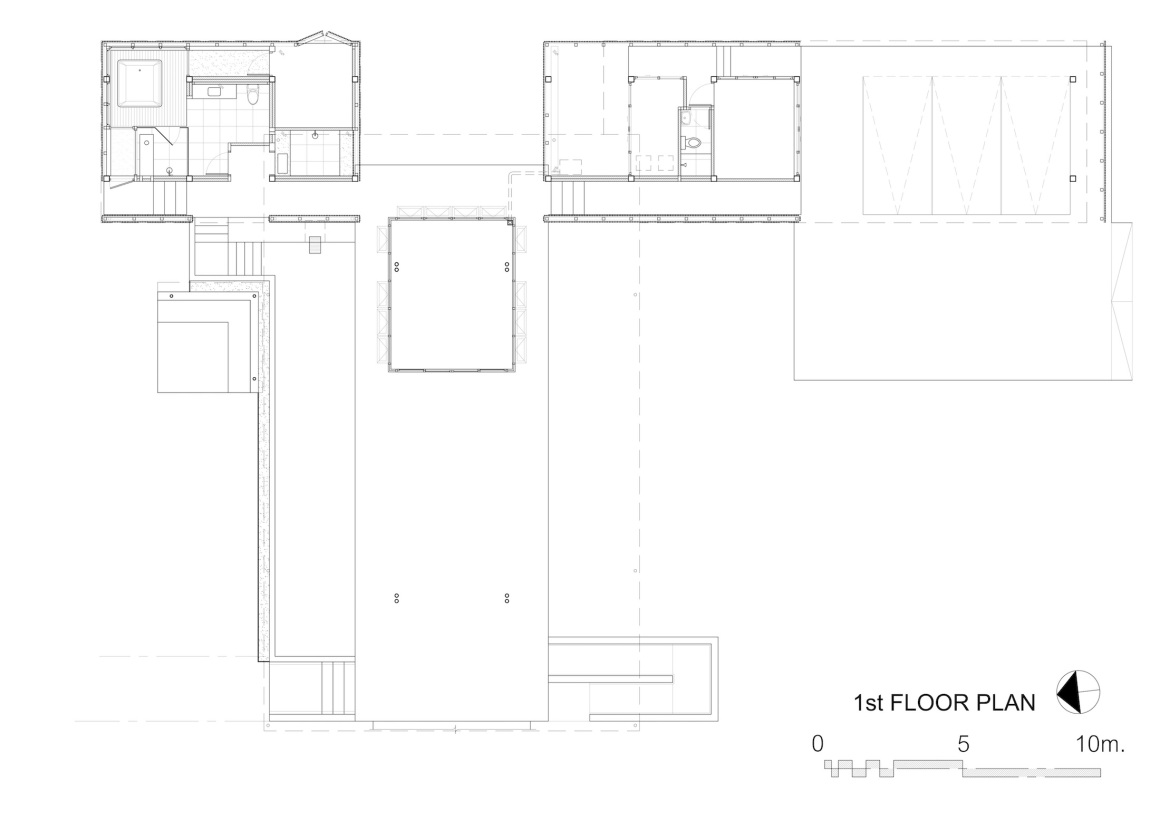 ▼住宅立面图 Elevation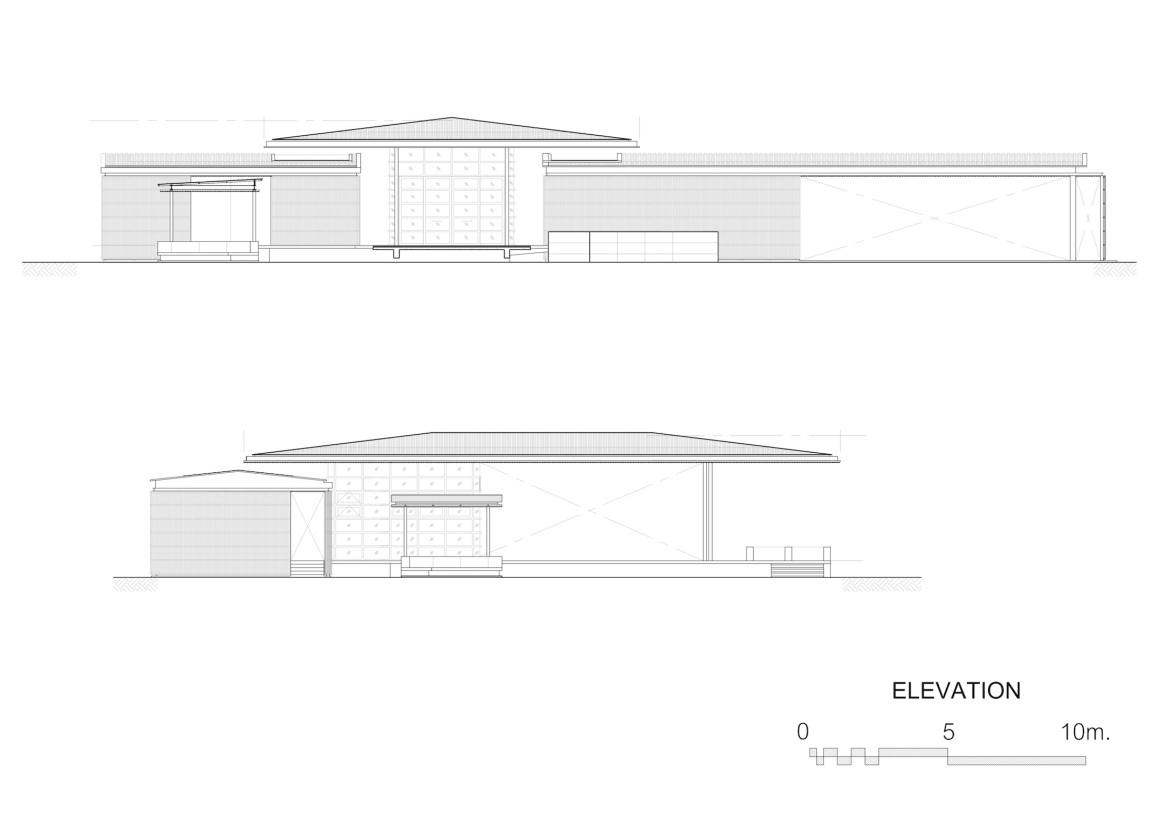 ▼住宅剖面图 Section
项目名称:Baan Nonthaburi
建筑设计:Plan architect co.,ltd
公司网址:www.planarchitect.com
设计团队:Wara Jithpratuck,
Jittinun Jithpratuck
联系邮箱:plan@planarchitect.com
建筑类型:住宅
设计:2016年
完成:2018年
客户:Sarun Lerdhirunwong
面积:384平方米
成本:7000000泰铢
地点:泰国 暖武里
摄影师:Chitsanupong Ploythanachot
产品:Thaisun, Desjoyaux, Bluescope
Project name: Baan Nonthaburi
Architect: Plan architect co.,ltd
Website: www.planarchitect.com
Design Team: Wara Jithpratuck 
Jittinun Jithpratuck
Contact e-mail: plan@planarchitect.com
Building Type: House
Design: 2016
Completion: 2018
Client: Sarun Lerdhirunwong
Area: 384 sqm
Cost: 7,000,000 Baht
Location: Nonthaburi, Thailand
Photographer: Chitsanupong Ploythanachot
Product: Thaisun, Desjoyaux, Bluescope
更多 Read more about: Plan architect co.,ltd