本文由Ginggaanbai授权mooool发表,欢迎转发,禁止以mooool编辑版本转载。
Thank Ginggaanbai for authorizing the publication of the project on mooool, Text description provided by Ginggaanbai.
Ginggaanbai:各种不同质感、颜色和香气的植物,搭配不同的图案、线条和空间的运用,使这个花园变成了一个引人停留的室外空间,既刺激,又柔和。
Ginggaanbai:This garden features a variety of planting in different textures, colours and aromatic scents. Such combinations along with the use of graphic pattern, lines and space have turned this place into an outdoor living space that serves both stimulating and tender feeling at the same time.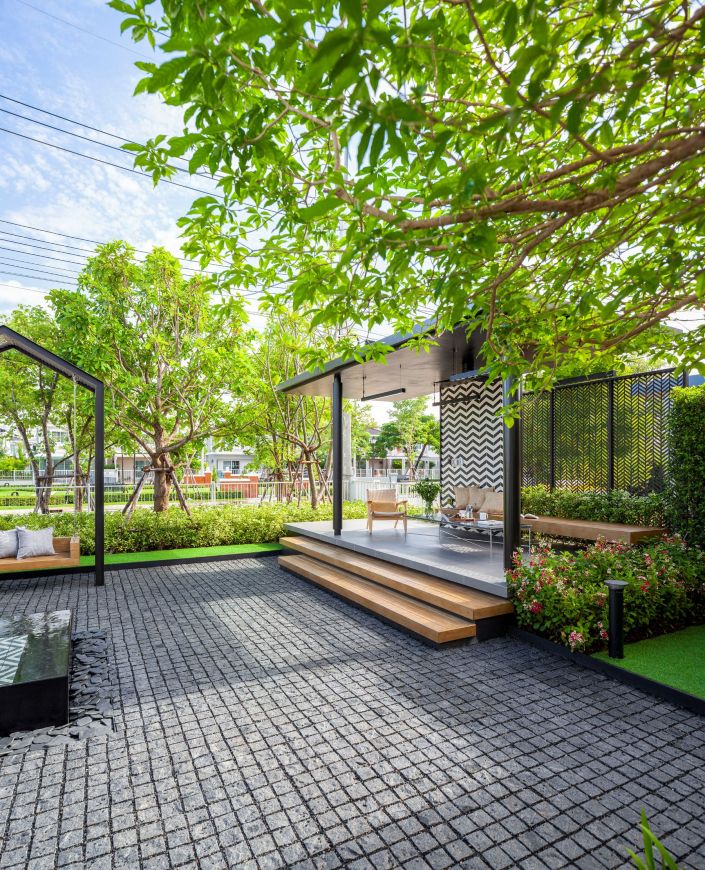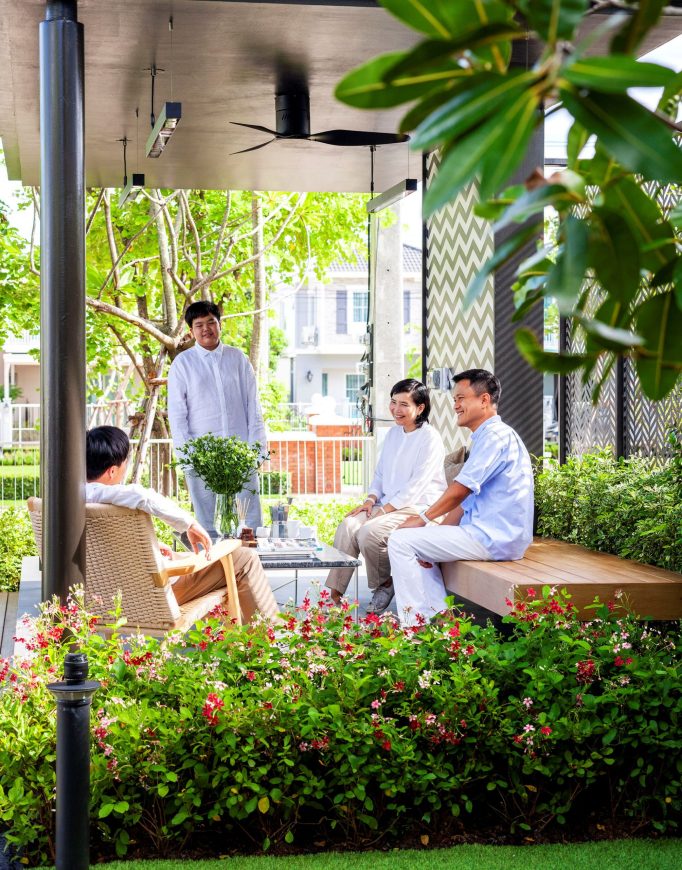 Ging Gaan Bai的标志性秋千被z型图案的黑色穿孔金属板覆盖。
Ging Gaan Bai's signature swing is covering by a black perforated metal plate in a zigzag pattern.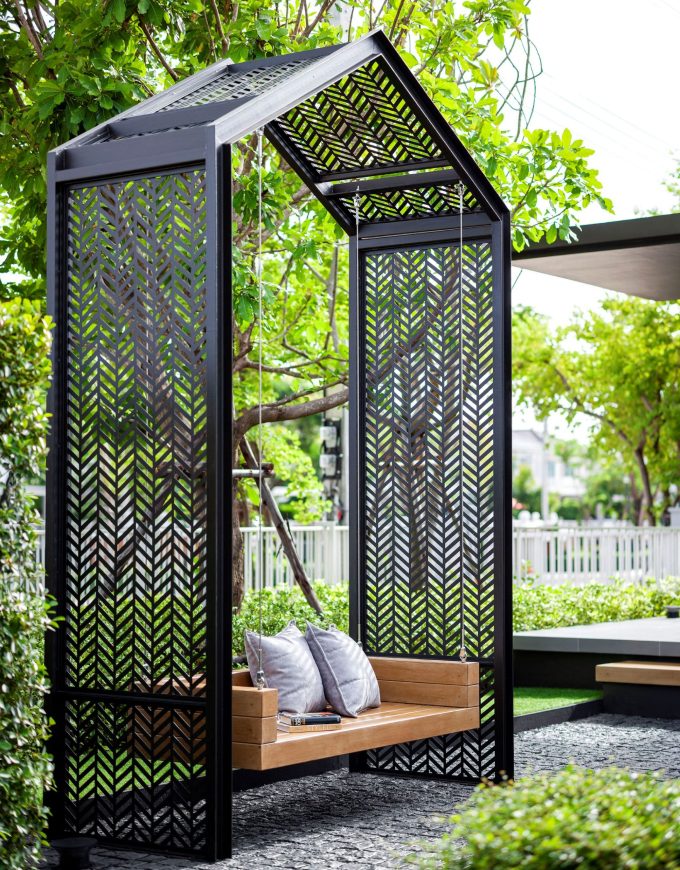 这种穿孔板还被用作隔板,从而在花园的不同部分之间营造出一种连续感。
This zigzag perforated sheet is also used as a shelter's wall to create a sense of continuity between different parts of the garden.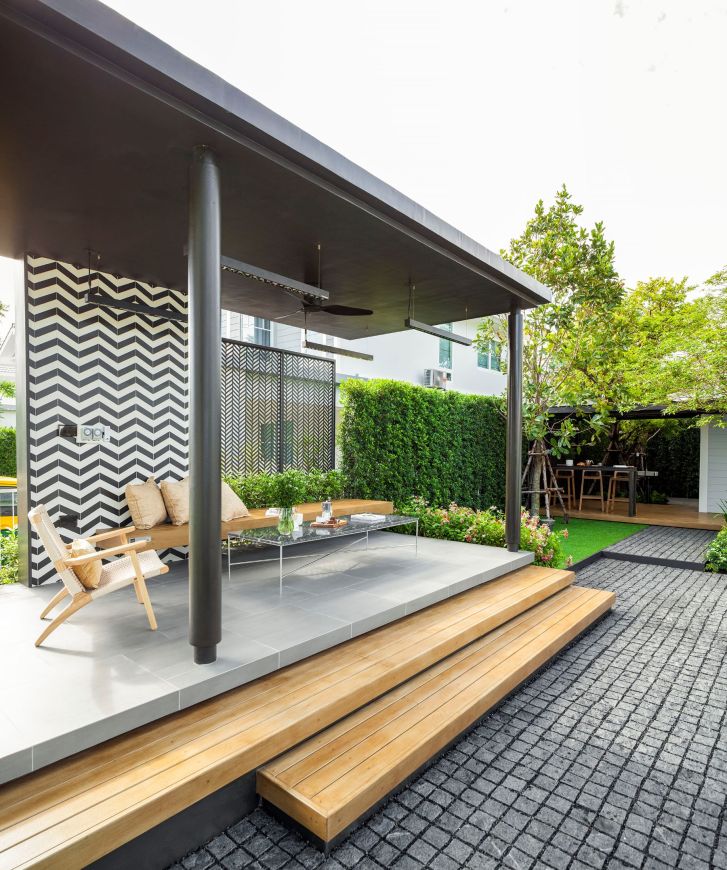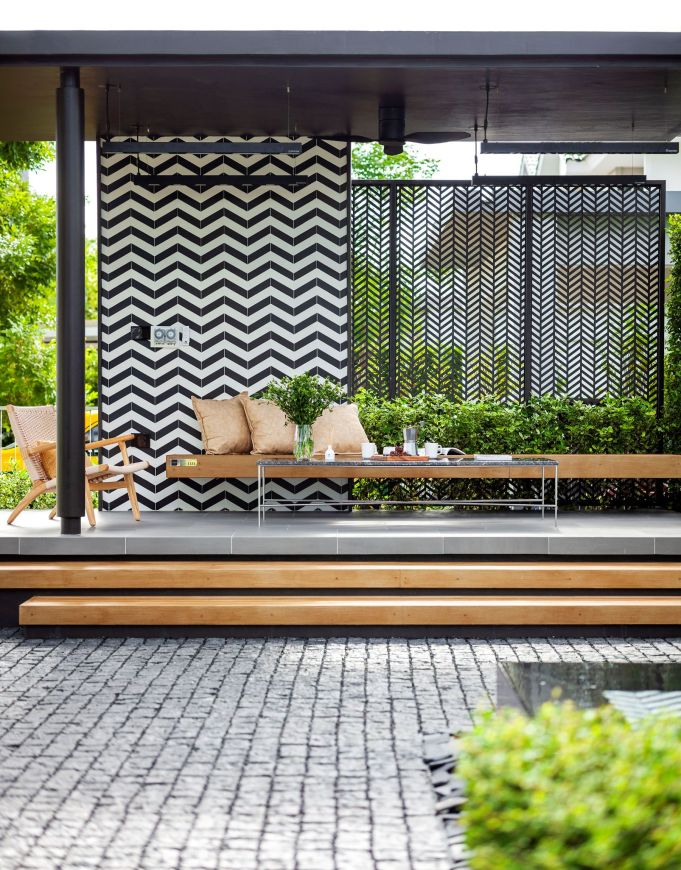 在抬高的平台上,构筑物的元素和结构经过处理可以让人清楚地看到整个花园。
On the elevated floor, the shelter's elements and structures were made in a way that a horizontal view of the garden can be seen clearly.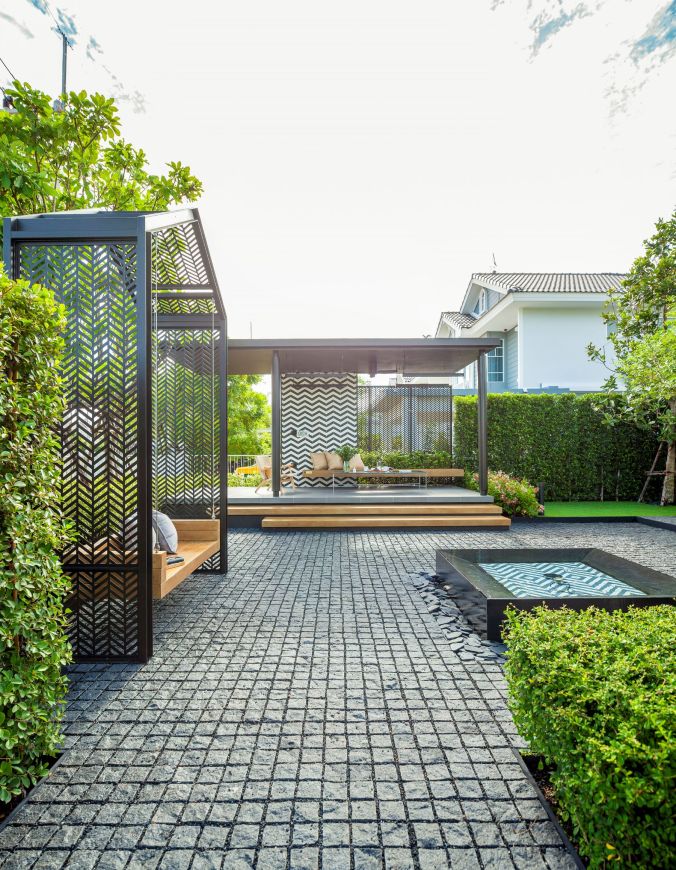 花园角落的吧台面向花园,不会有被孤立的感觉,坐在里面的人可以观察到周围的环境。
A garden bar in the deepest corner of the garden doesn't feel insolating as it facing outward so anyone sitting there can observe the surrounding.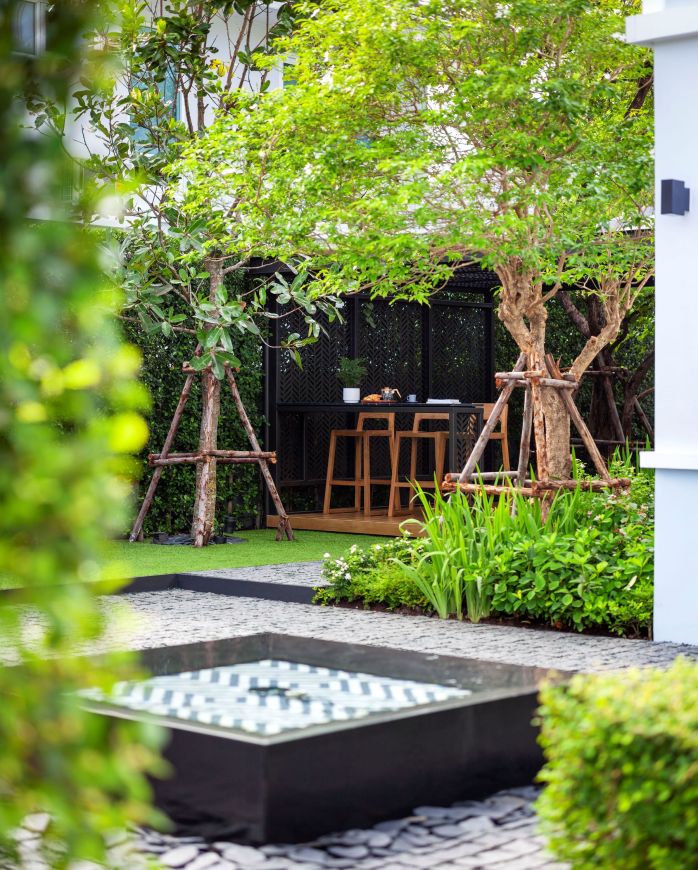 z型图案也被用于水景中,以吸引整个花园的视线。设计师将这种特殊的图案放在花园引人注目的地方,再搭配无处不在的植物的柔和,使的这个空间成为全天放松的完美场所。
The zigzag pattern is also used in a pond centralize vision from any aspect of the garden.  The way the designers place this special pattern in the spotlight of the garden with a soft touch of big trees and delicate flowers here and there around different corners makes this space a perfect place to chill out throughout the day.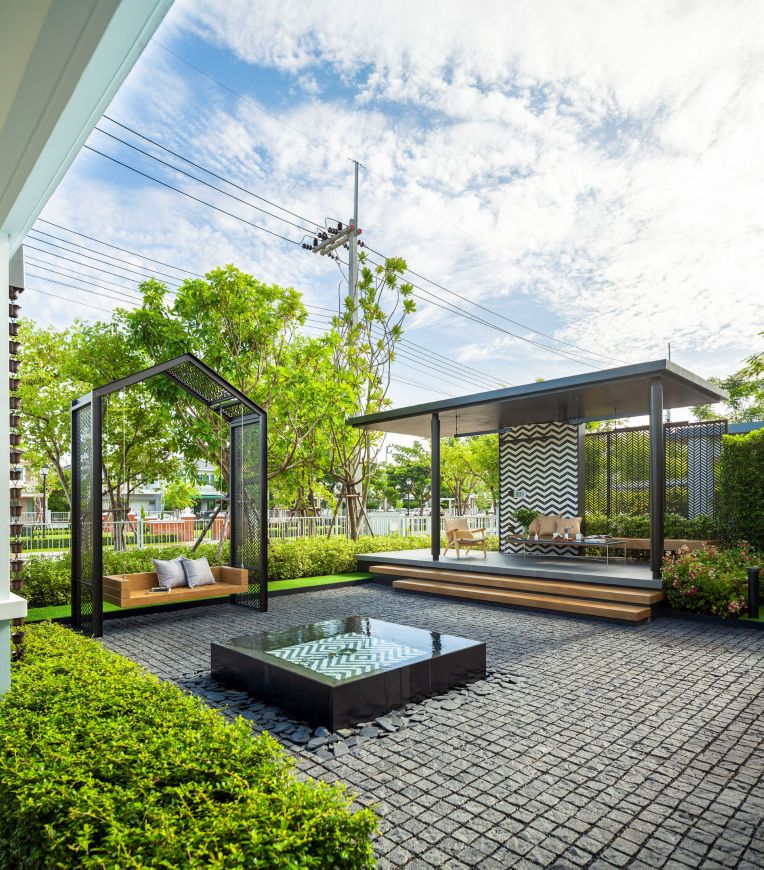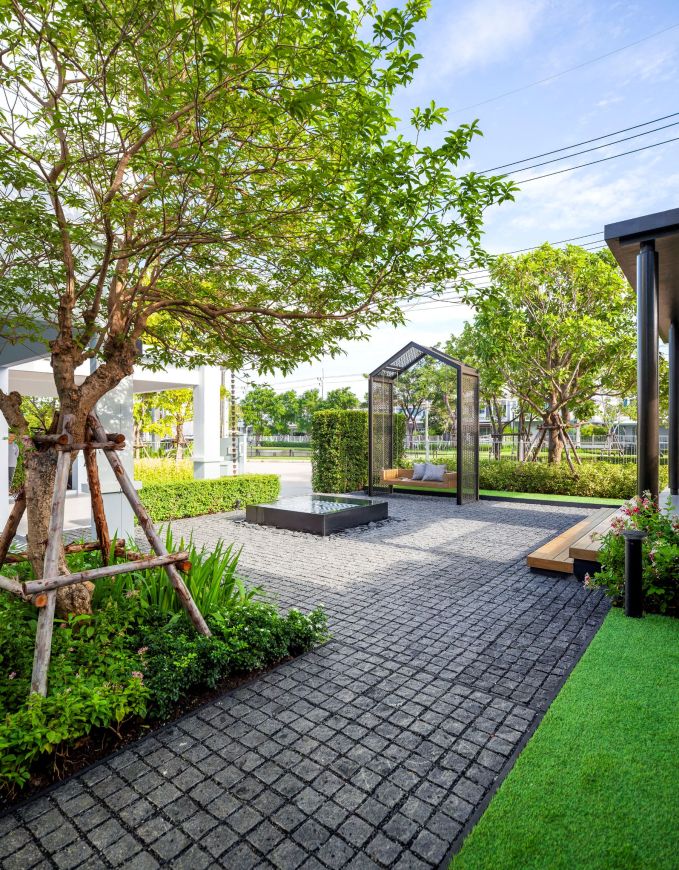 项目名称:Belle Fleur
项目地址:泰国曼谷
完成时间:2020年
项目面积:350m2
设计团队:Ginggaanbai
设计主创:Mr.Tawatchai Sakdikul , Miss Ploytabtim Suksang
客户:Mr.Jamnong Sritawachpong
摄影师:Mr. Sitthisak Namkham
Project name: Belle Fleur
Project location: Villaggio klong 2, Prathumtani 12120
Completion Year: 2020
Size: 350 Sqm.
Landscape/Architecture Firm: Ginggaanbai
Lead Architects: Mr.Tawatchai Sakdikul , Miss Ploytabtim Suksang
Clients: Mr.Jamnong Sritawachpong
Photo credits: Mr. Sitthisak Namkham
更多 Read more about: Ginggaanbai