本文由 junya.ishigami+associates 授权mooool发表,欢迎转发,禁止以mooool编辑版本转载。
Thanks junya.ishigami+associates for authorizing the publication of the project on mooool. Text description provided by junya.ishigami+associates.
junya.ishigami+associates:就像世界各地的自然景观有一定的共同点一样,世界各地几百年流传下来的建筑建造技术中的也有它们的共通点。建筑最初是对地球上未经任何修改的自然元素的原始利用,但随着时间的推移,逐渐被简单、朴实的结构建造方法所取代。从这个意义上来说,自然景观和建筑其实从一开始就是一个有着很强的连续性的环境整体。
junya.ishigami+associates:In architectural construction techniques passed down over centuries, one finds commonalities around the world, much like the way in which natural sceneries across the globe have a certain amount in common, whatever the location. Architecture began with the unmodified use of elements of nature found on the planet, being replaced over time by structures built using simple, unpretentious methods. In that sense, it might be fair to say that natural scenery and architecture have formed an integrated environment from the beginning, grounded in a strong continuity.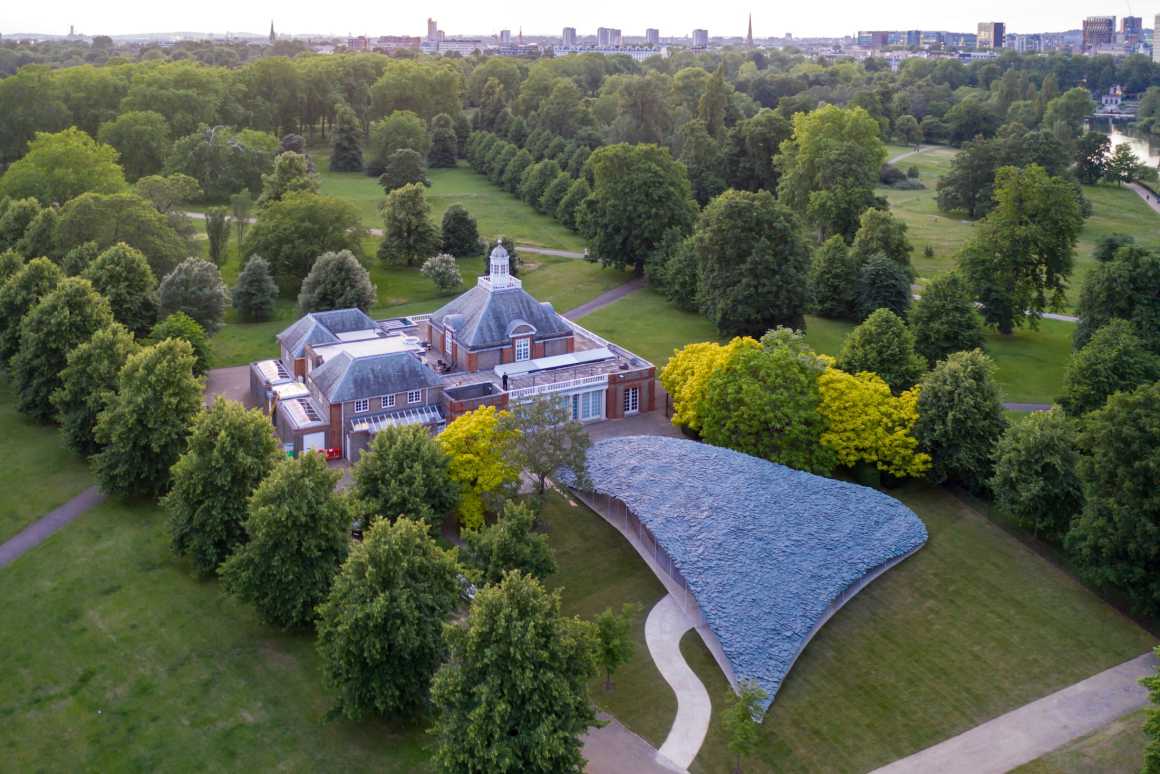 我这次的设计尝试是想找到一种新建筑方式:利用各个地区的古老传统的建筑方法和材料,然后通过当代建筑的技术和工艺去补充完善它。就像创造一片新景观一样。
My attempt is to find ways of constructing a new kind of architecture as if creating a new scenery, using time-honoured methods and materials of the sort that exist in every region, and supplementing these traditional construction methods with the techniques and technologies of contemporary architecture.
将粉碎成各种形状大小的天然石板,堆叠在一个由垂直及水平薄钢构件组装而成的优雅网状结构上,使雨水能够平稳地流过重叠的石块,仅在这一点上,该结构就像一个类似于高山岩石景观的巨大屋顶,其引人注目的分层石片,看似随意,没有任何嵌板或防水,就轻轻松松地实现了建筑的功能。
Slabs of natural stone shattered into various shapes and sizes are piled up over an elegant, gauze-like structure assembled from uprights and horizontal members of very thin steel. Rain runs smoothly off the overlapping aggregation of stones; in this alone, the structure serves as a gigantic roof resembling a rocky alpine landscape. The attractively layered stone fragments, seemingly random, and without any panels or waterproofing, fulfill the function of architecture with gentle ease.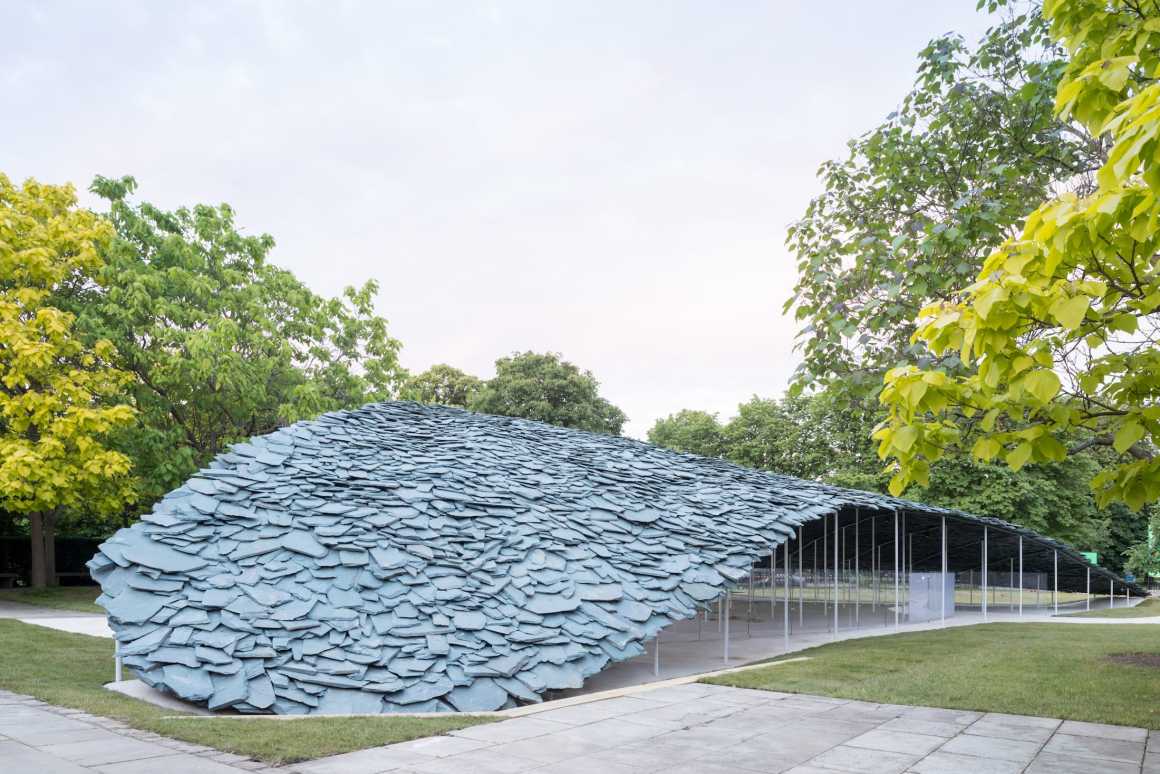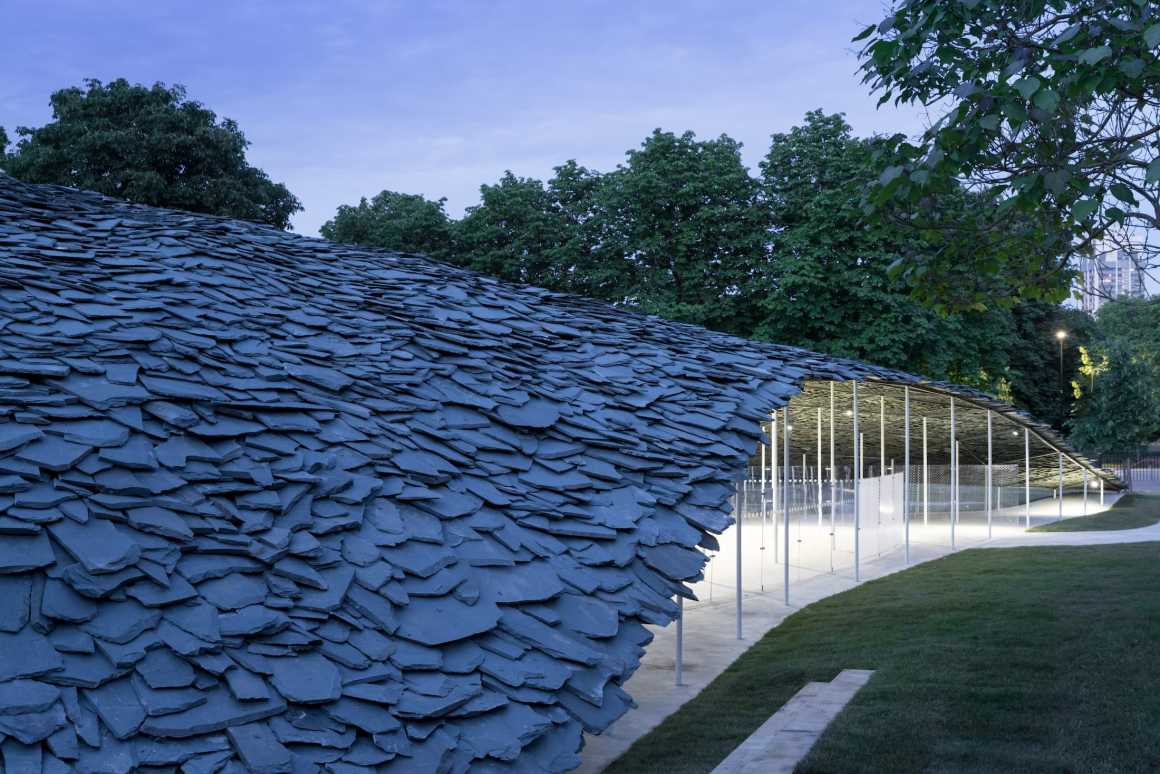 它与世界各地的石板屋顶一样有着同样的重感,但同时也拥有一种仿佛可以在微风中飘散的轻盈感,如此,这群分散的石块在这个位置兀自成为了一道新的风景。
Possessing the same weighty presence as slate roofs around the world, and simultaneously a sense of lightness, as if it could blow away in the breeze, the cluster of scattered stones materializes in this location as a new expanse of scenery.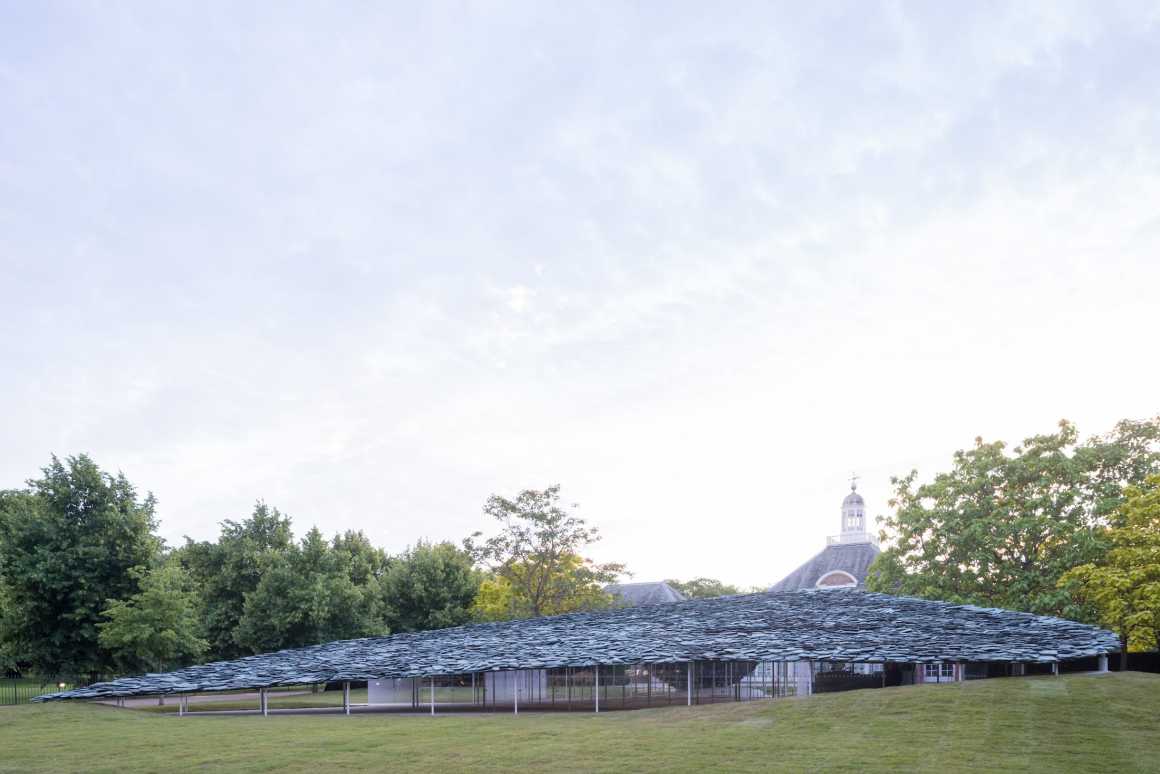 就像观赏一朵云,看一条鲸鱼,或想象某块巨大的岩石是一个巨人。当你仔细观察这堆石头时,会突然想起一只正在飞翔的巨鸟,而无数层的石块就像它张开的巨大翅膀上的黑色羽毛;这只巨大黑鸟因风雨吹动而飘荡在空中,那些支撑着屋顶的细长杆子,看起来就像无数道雨丝。
Like looking at a cloud and seeing a whale, or imagining a huge rock a giant, one scrutinises this constructed pile of stones and is suddenly reminded of a monstrous bird in flight, the countless layered stones like black feathers. A bird, spreading vast wings. Blown by the rain, the giant black bird wafts into the air, the slim rods supporting the roof resembling innumerable streaks of rain.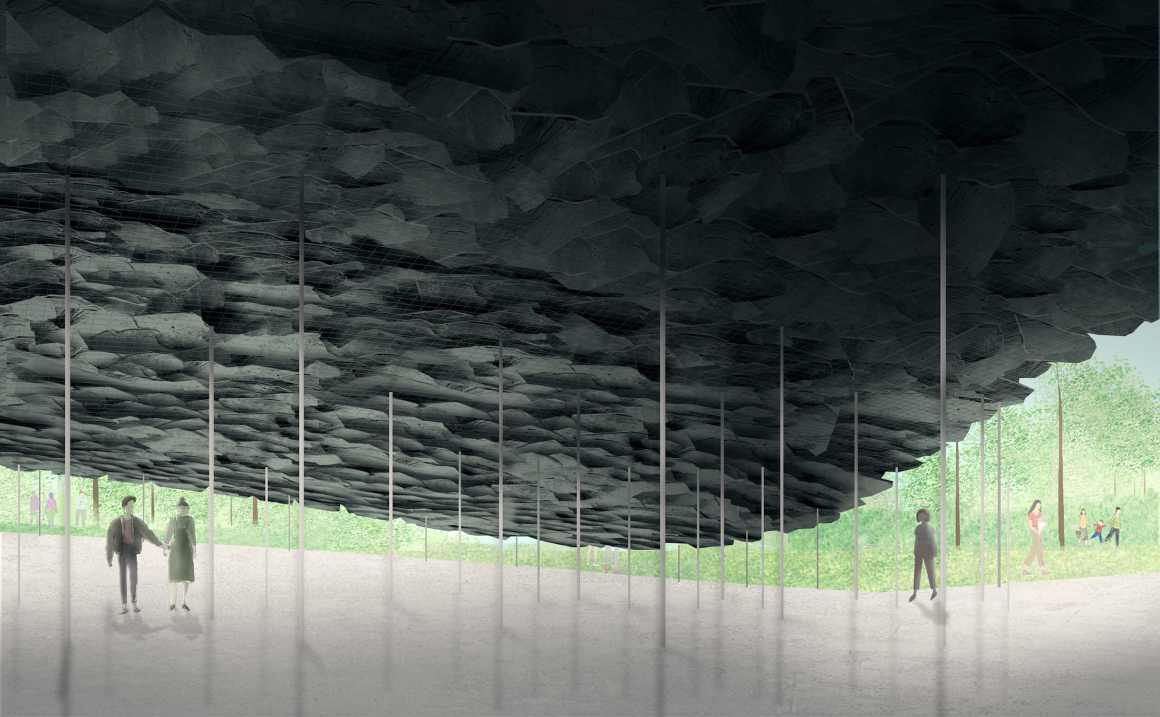 这只漂荡在伦敦铅灰色天空中的巨大黑鸟,拖着它巨大的黑影在地面上行走,滑行,然后又飞走了。
The giant black bird floats in the leaden London skies, dragging its vast dark shadow on the ground, slipping, sliding, flying away.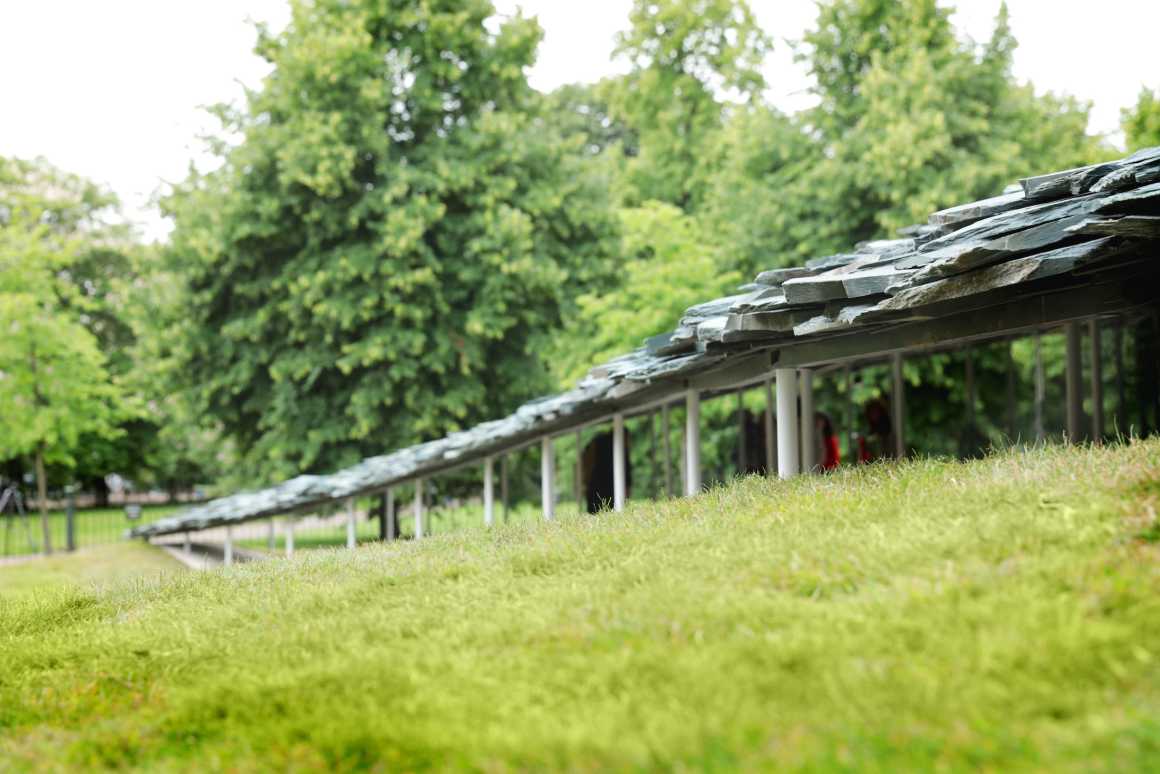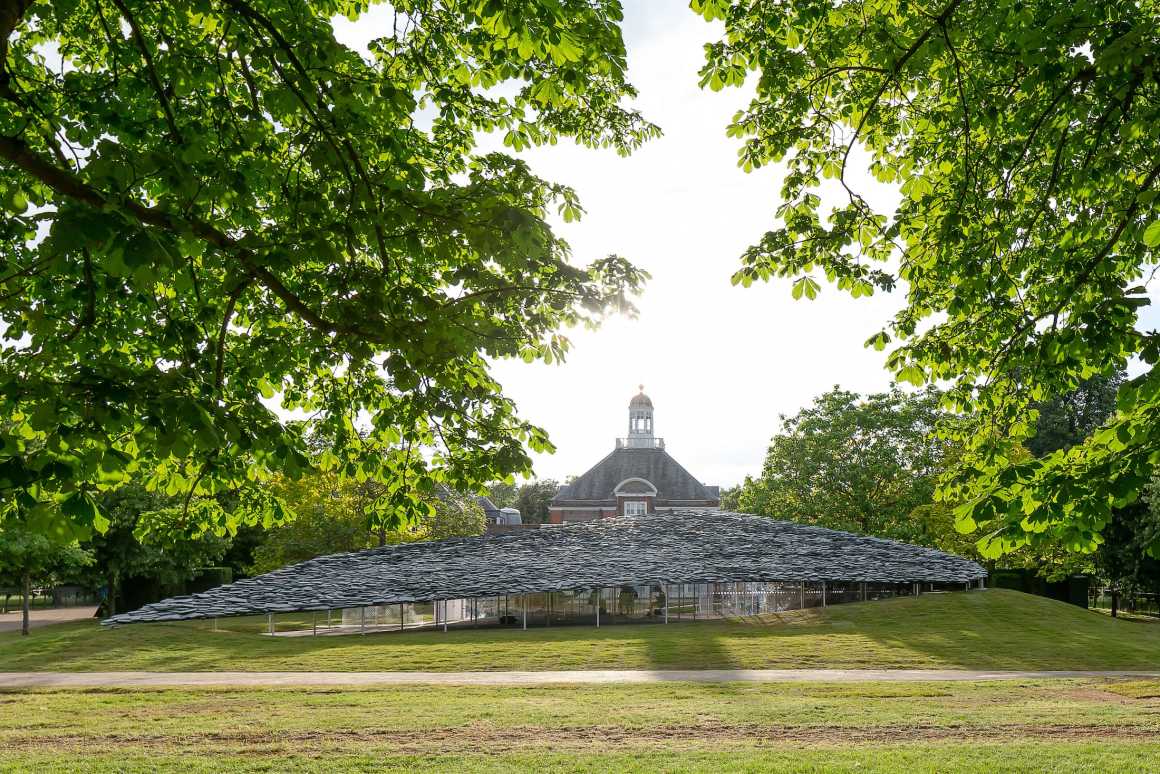 自然景观就是一个永远也没有尽头的广阔空间,这也就是为什么这些神秘的领域能够激发我们的想象力。当我们把建筑看作一种风景时,也就意味着我们把它从无数的束缚中解放了出来。
Natural scenery is a vast space that seems to extend without end and this is why these enigmatic realms fire our imaginations. Viewing architecture as scenery means freeing it from the myriad strictures enmeshing it.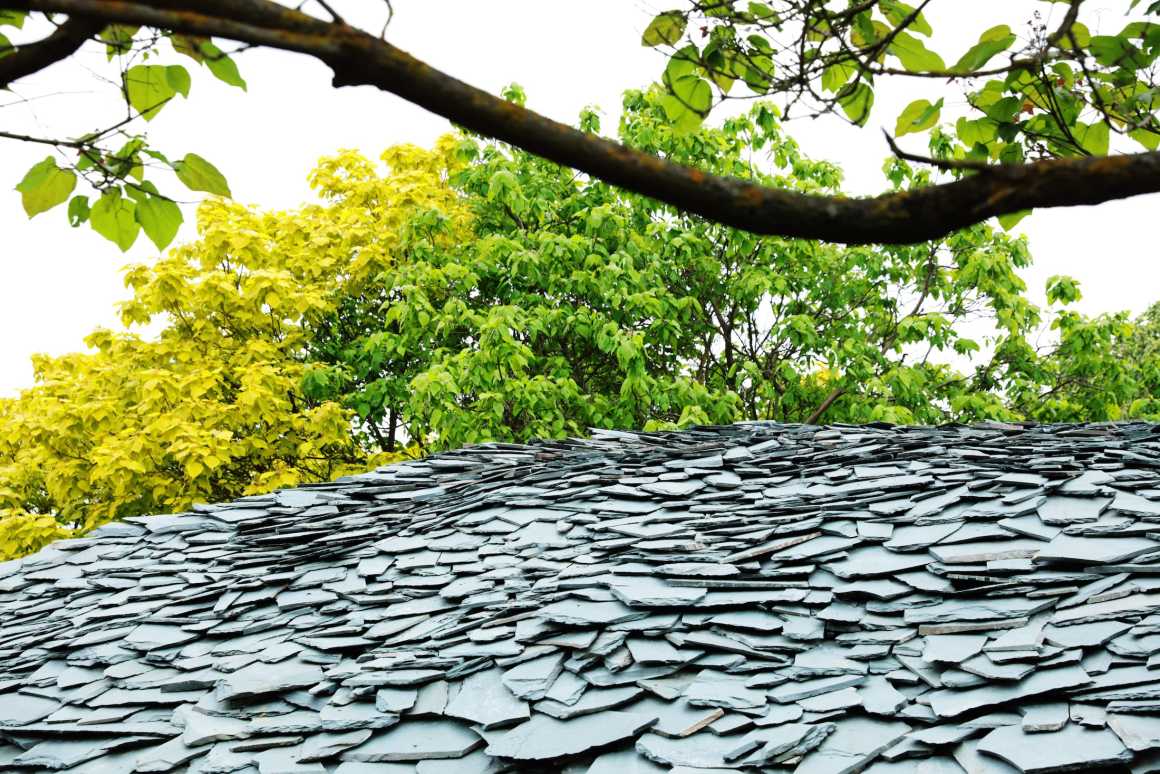 我的设计意图就是在这里进行一个能够真正将这些完全对立的价值观:重感与轻盈、随意与熟思、自然与技巧、古老与现代、神秘与功能、自然景观与建筑融合在一起的实验,并创造出一个新的环境。
Weight and levity, randomness and deliberation, nature and artifice, ancient and modern, mystery and functionality, natural scenery and architecture: by mixing and melding these and other values seen as polar opposites to produce a new environment, my intention has been to carry out a true experiment here.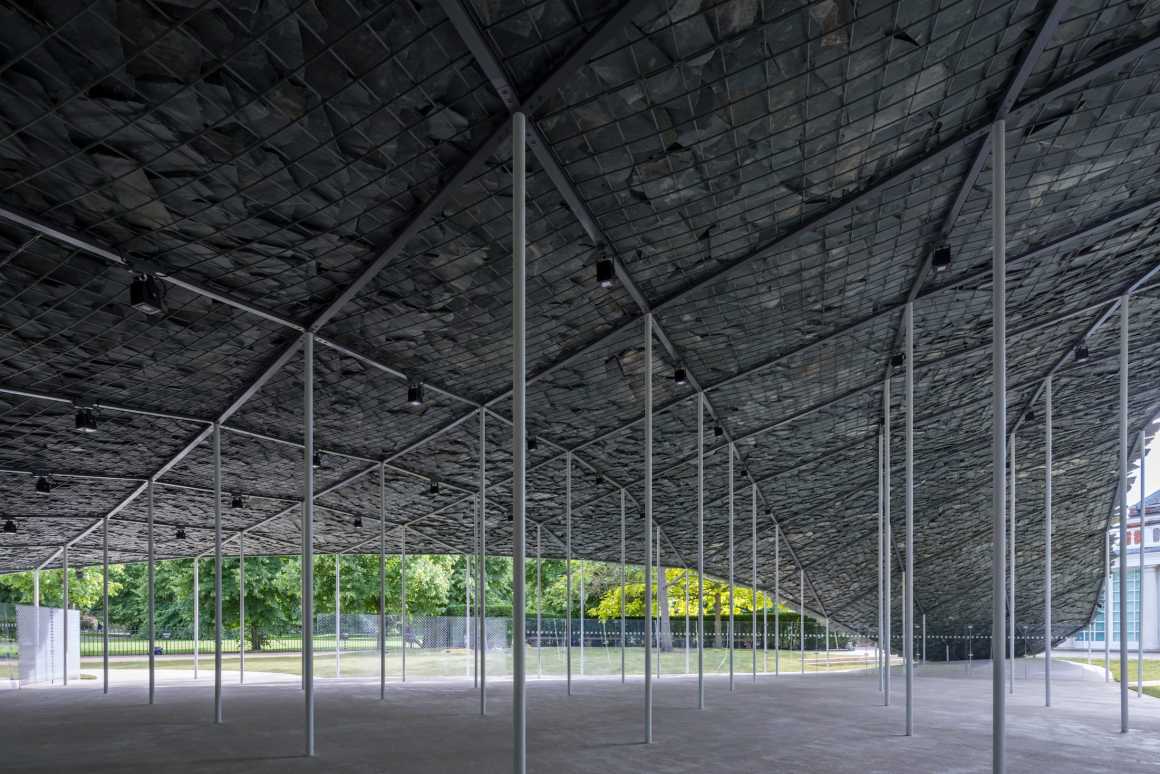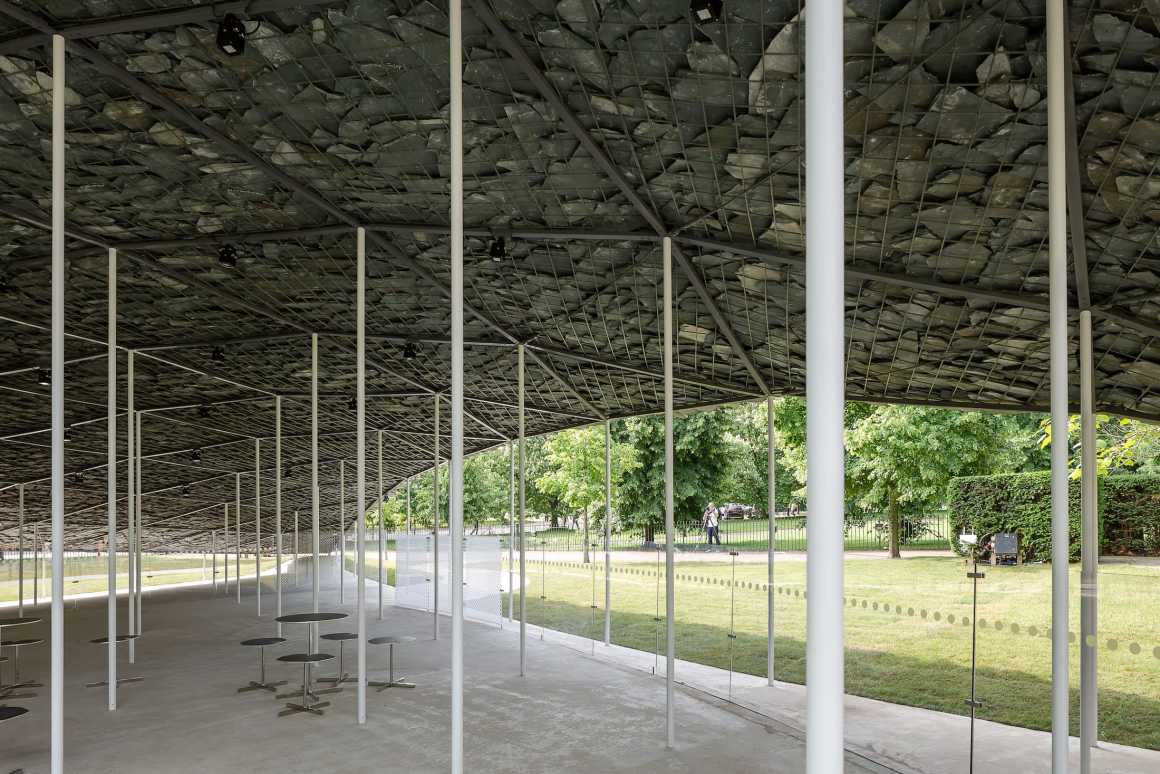 项目名称:2019蛇形展馆
设计及竣工年份:2018-2019年
设计:石上纯也
设计团队:Masayuki Asami, Prem Lorenzen, Gagas Firas Silmi
项目地点:英国伦敦海德公园
景观面积:541㎡
图片来源:蛇形美术馆,Iwan Baan
合作伙伴:AECOM, Jun Sato Structural Engineers Co., Ltd
客户:蛇形美术馆
Project name: Serpentine Pavilion 2019
Design year & Completion Year: 2018&2019
Design: Junya Ishigami
Design Team: Masayuki Asami, Prem Lorenzen, Gagas Firas Silmi
Project location: Hyde Park, London, United Kingdom
Landscape Area: 541㎡
Photo credits: Serpentine Galleries, Iwan Baan
Partners: AECOM, Jun Sato Structural Engineers Co., Ltd
Clients: Serpentine Galleries
更多 Read more about: junya.ishigami+associates