本文由Claude Cormier + associes授权mooool发表,欢迎转发,禁止以mooool编辑版本转载。
Thanks Claude Cormier + associes for authorizing the publication of the project on mooool. Photos provided by Claude Cormier + associes.
Claude Cormier + associes:原有的防波堤公园就已经拥有优越的公园条件——成熟高大的树木,岬角和海湾之间有极具吸引力的空间序列,一个美妙的公共艺术作品,靠近市中心和皇后大学的行人,以及安大略湖地平线畅通的远景。尽管有这些强大的元素,公园在经过多年的使用后,仍然需要重新恢复活力。公园的基础设施,如道路、家具和海岸线通道,需要提升以优化公园的功能和体验。经过三部分的更新改造,防波堤公园于2018年7月重新开放,恢复了安大略湖和安大略金斯敦社区之间的联系。
Claude Cormier + associes:Breakwater Park is an existing park that was already endowed with outstanding park assets – mature trees, an attractive sequence of spaces between headlands and bays, a wonderful work of public art, pedestrian proximity to downtown and Queens University, and unobstructed long vistas to the Lake Ontario horizon. Despite these strong elements, the park was in need of revitalization after years of public use. Park infrastructure such as pathways, furniture, and shoreline access needed a boost to optimize the function and phenomenal experience of the park. Breakwater Park re-opened in July 2018, after a three-part revitalization, renewing the connection between Lake Ontario and the community of Kingston, Ontario.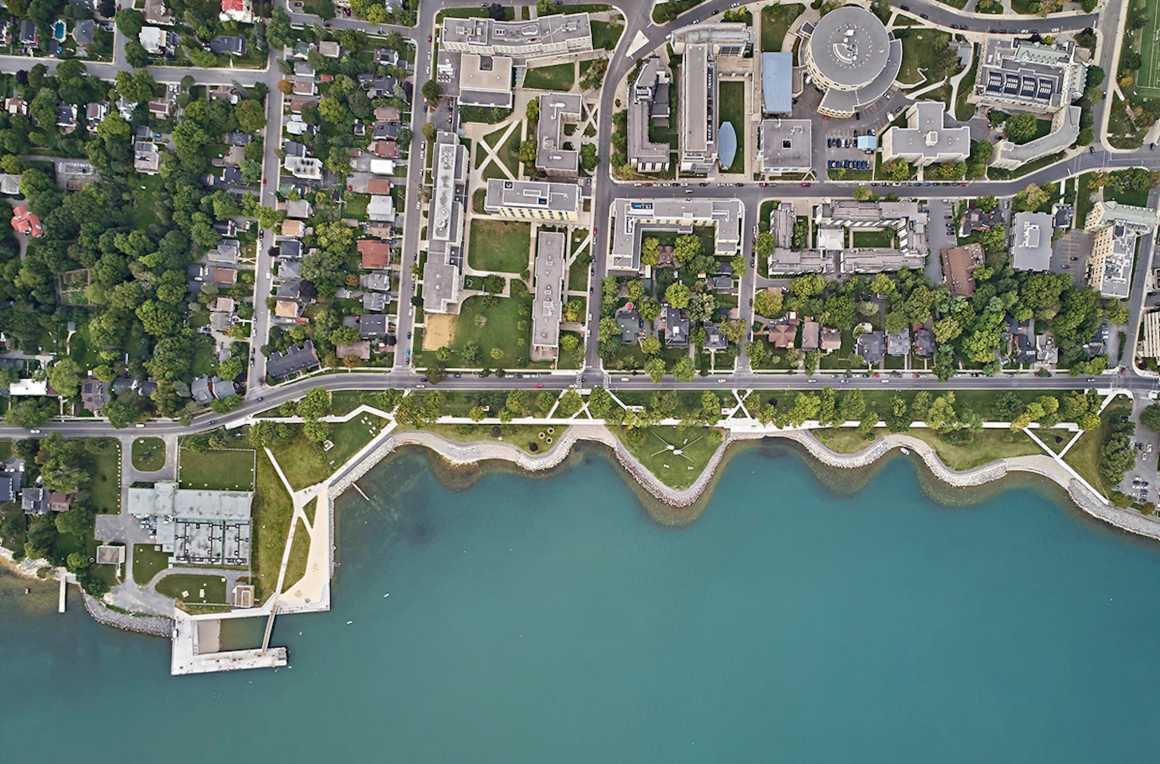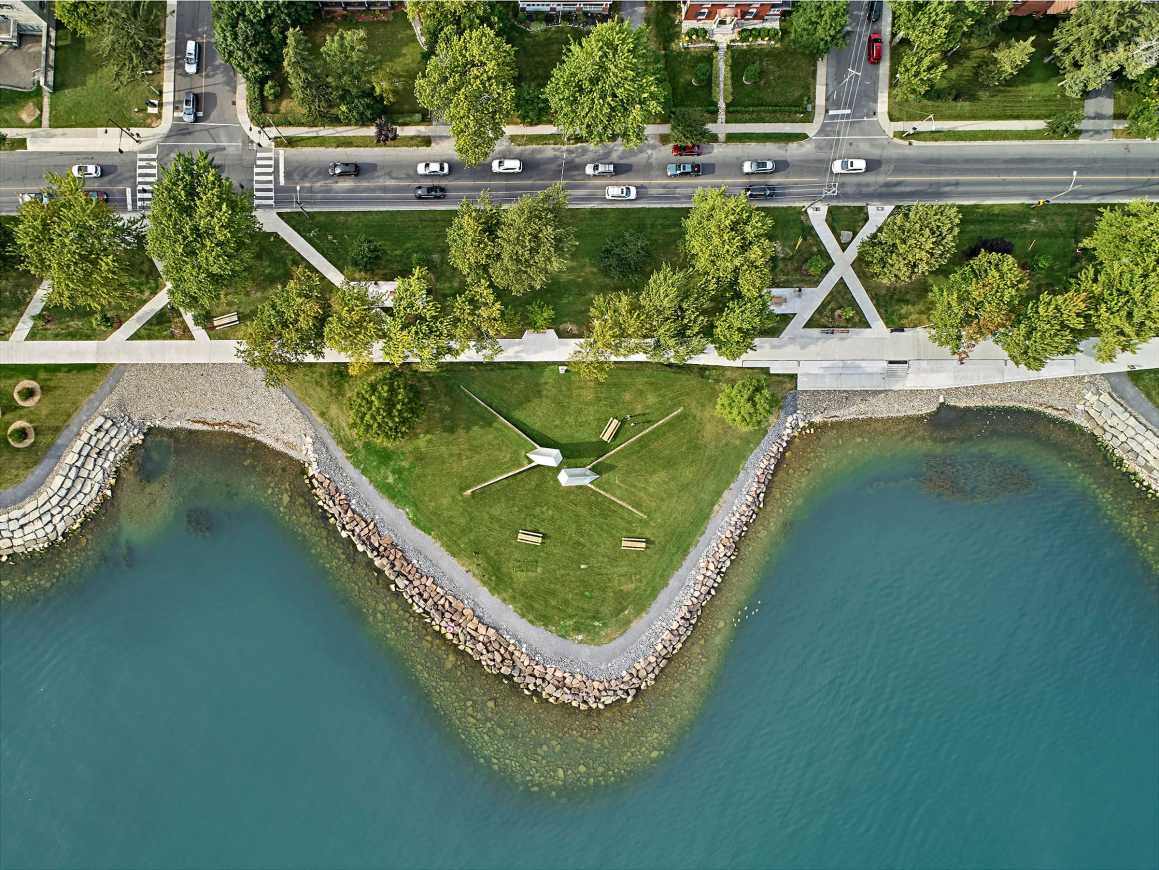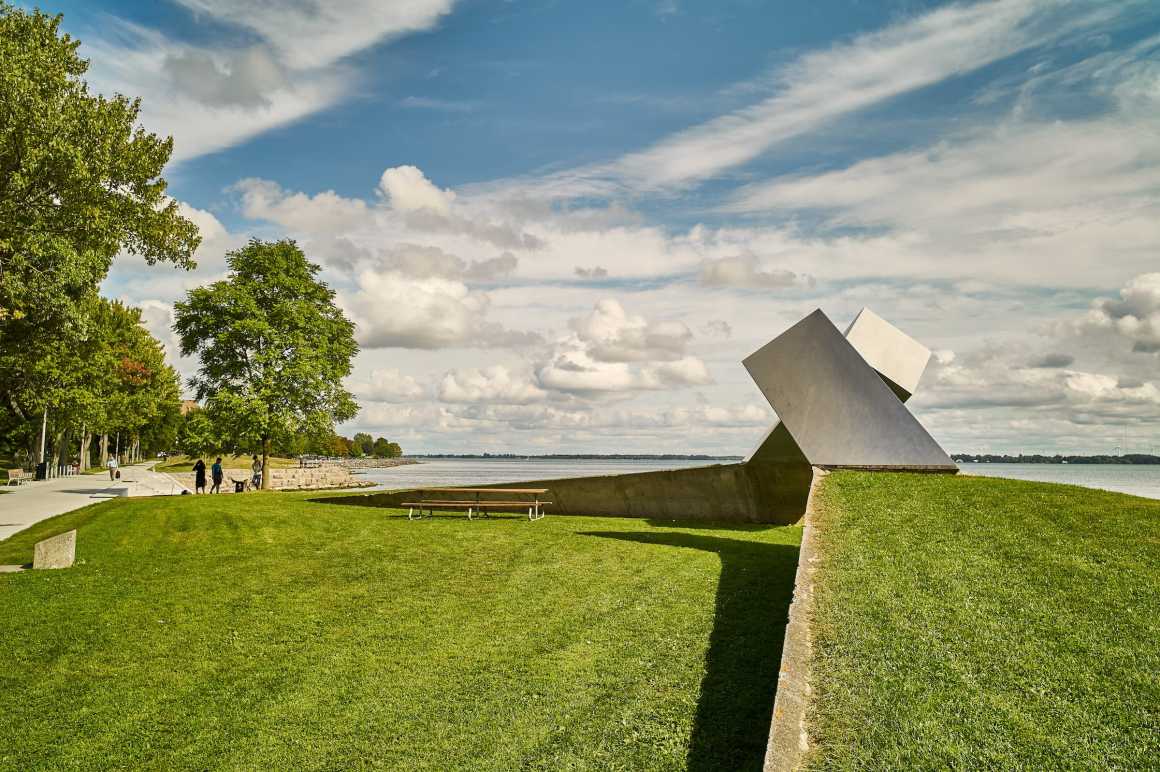 该项目的第一部分对现有防波堤公园的升级改造,以改善其连通性,增加树木,改善长达半公里的百年枫树林,拓宽道路,设置新的家具和照明设备,并在湖边建造座位平台。
Part One of the project comprised an upgrade of the existing Breakwater Park, to improve connectivity, add trees, ameliorate a half-kilometre long allée of century-old maples, widen pathways, install new furniture and lighting, as well as construct seating platforms next to the lake.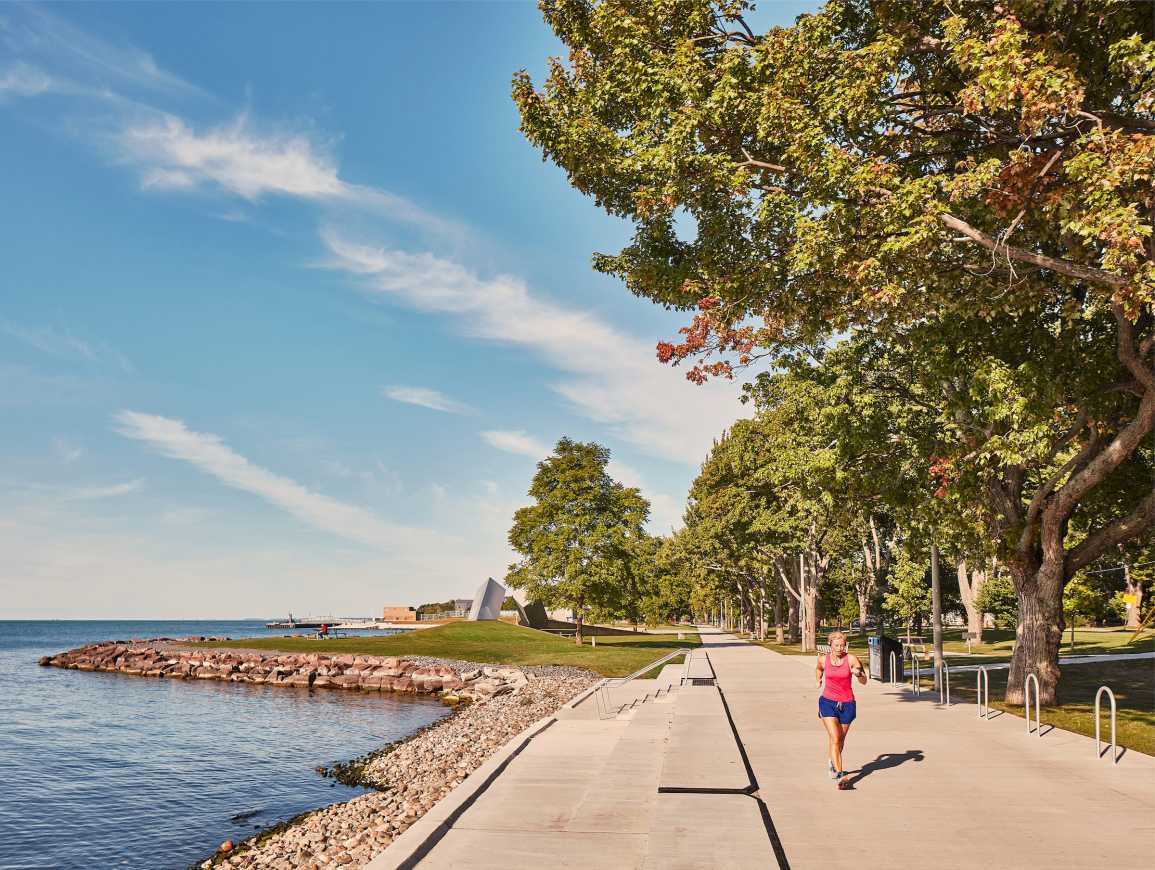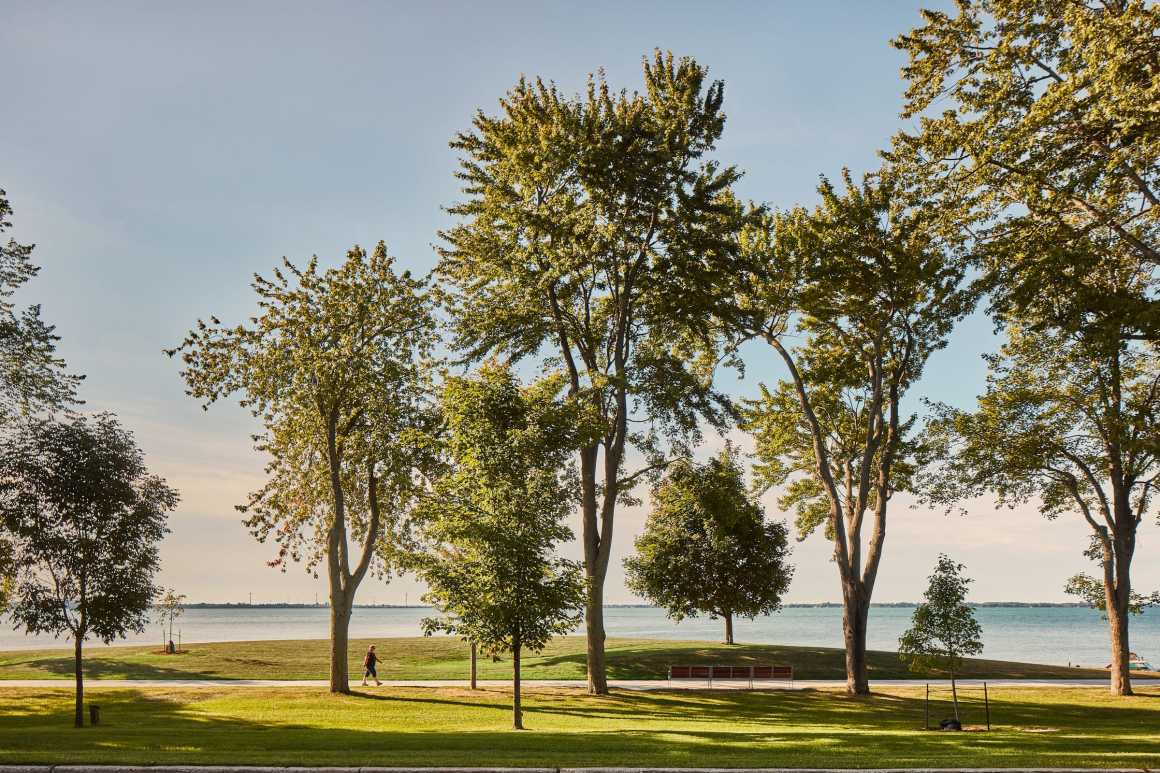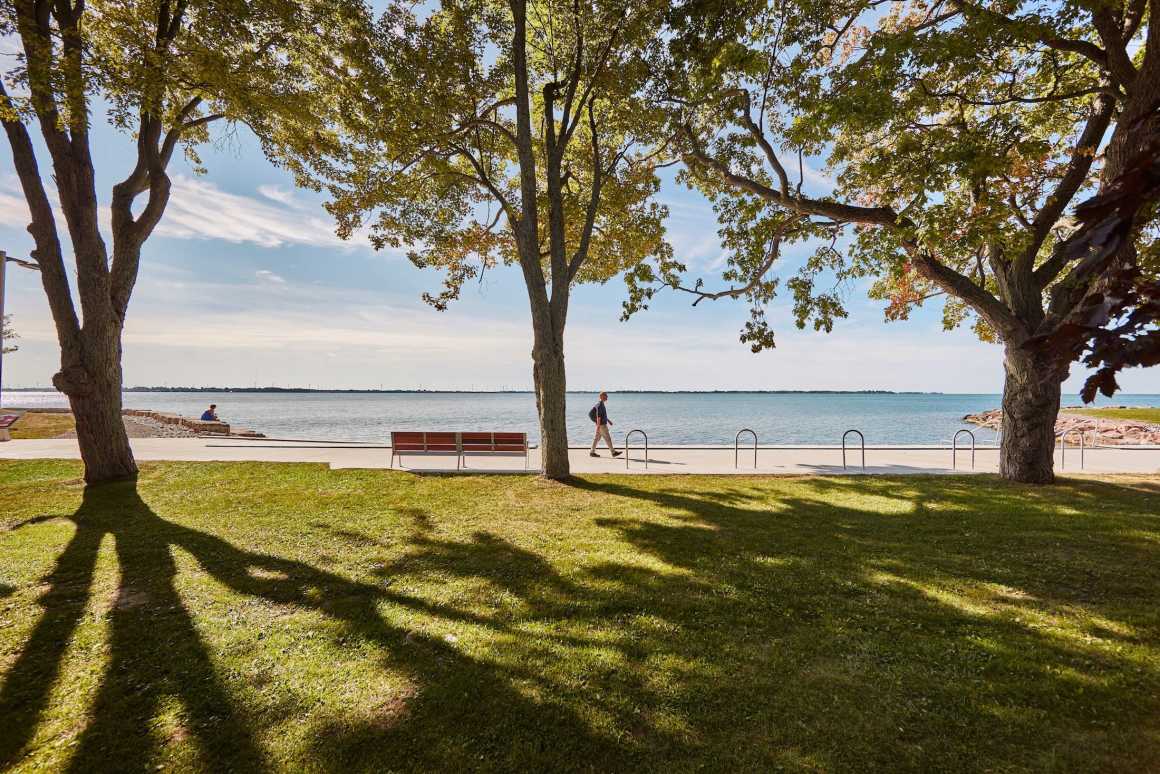 第二部分要求沿着公园起伏的海岸恢复卵石滩和防侵蚀护岸。防波堤公园最初建在从历史防波堤延伸出来的湖堤上,面对安大略湖,很容易受到国内一些大风大浪和海岸线条件的影响。
Part Two required a restoration of pebble beaches and erosion protection revetments along the park's undulating shore. Originally built on lake-fill extending from a historic breakwater wall, Breakwater Park faces a long fetch off Lake Ontario, vulnerable to some of the windiest wave and shoreline conditions in the country.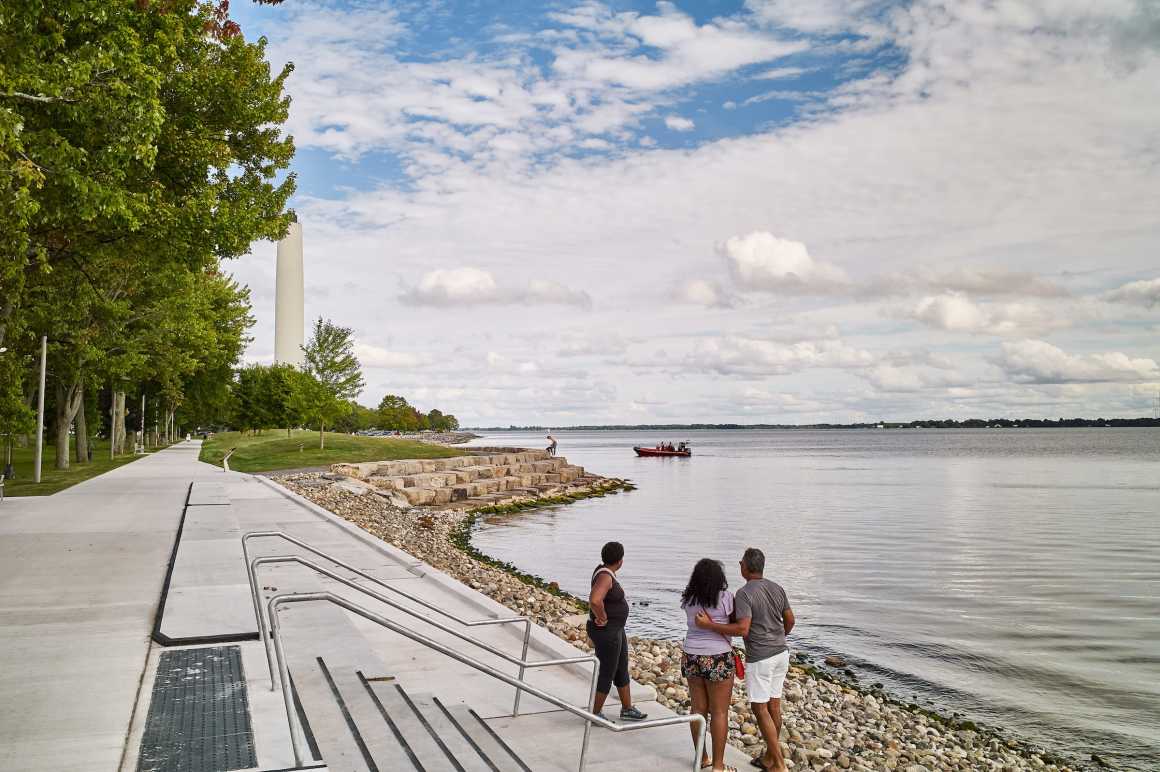 第三部分是在设计第一部分和第二部分时偶然出现的。一些大胆的居民经常在防波堤公园界限外的废弃码头上自发的游泳、晒太阳和放风筝,这一现象暗示着一些不可抗拒的可能性。这座城市的水处理厂拥有这块场地和码头主导权,他们同意对公园进行改造,最终,这里成为了加拿大的第一个深水城市游泳码头。这座码头被亲切地以悲剧英雄兼大湖运动倡导者戈尔德唐尼(Gord Downie)的名字命名。
Part Three arose serendipitously while working on Parts One and Two. An observation of spontaneous swimming, sunning, and kite boarding by daring residents at the derelict pier just beyond the Breakwater Park limit hinted to some irresistible possibilities. The city's Water Treatment Plant, which controlled the site and dock, agreed to a park transformation that would ultimately become the first deep water urban swimming pier in Canada, affectionately renamed after hometown Tragically Hip hero and Great Lakes advocate, Gord Downie.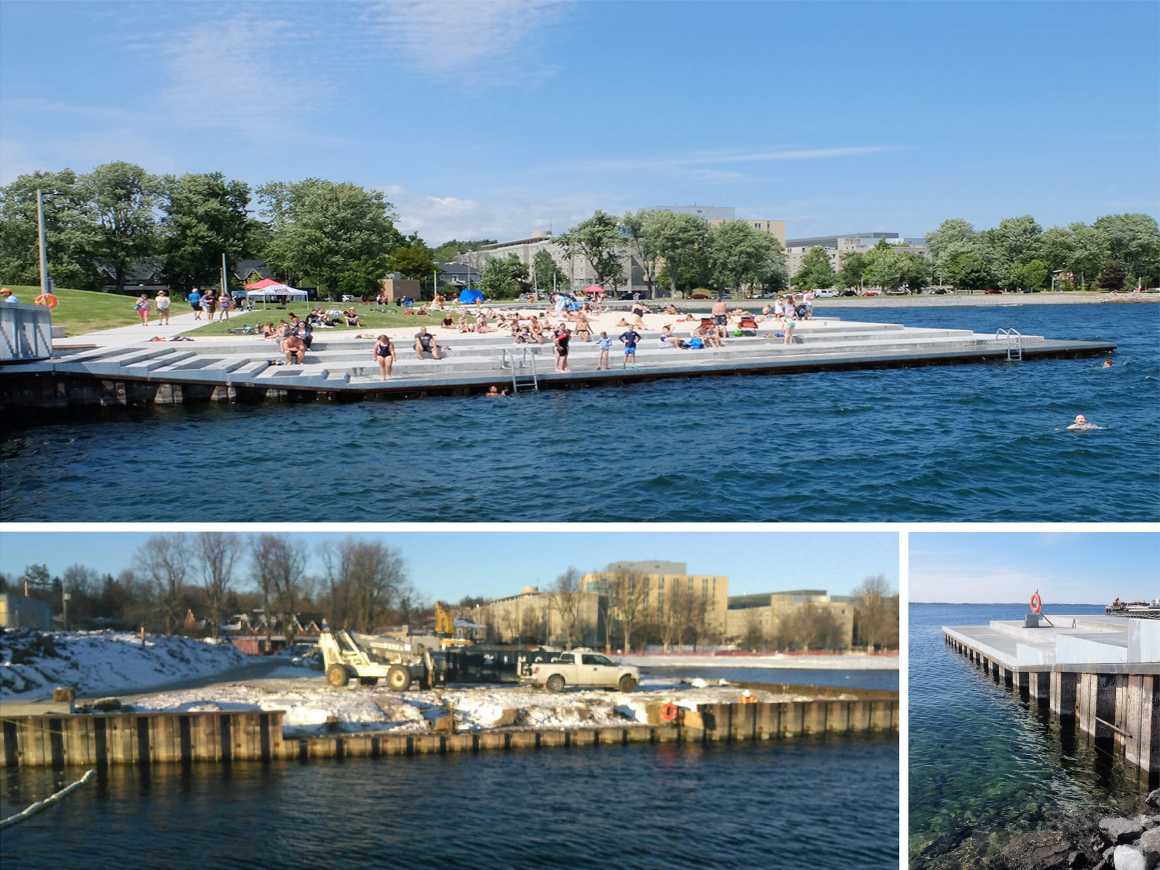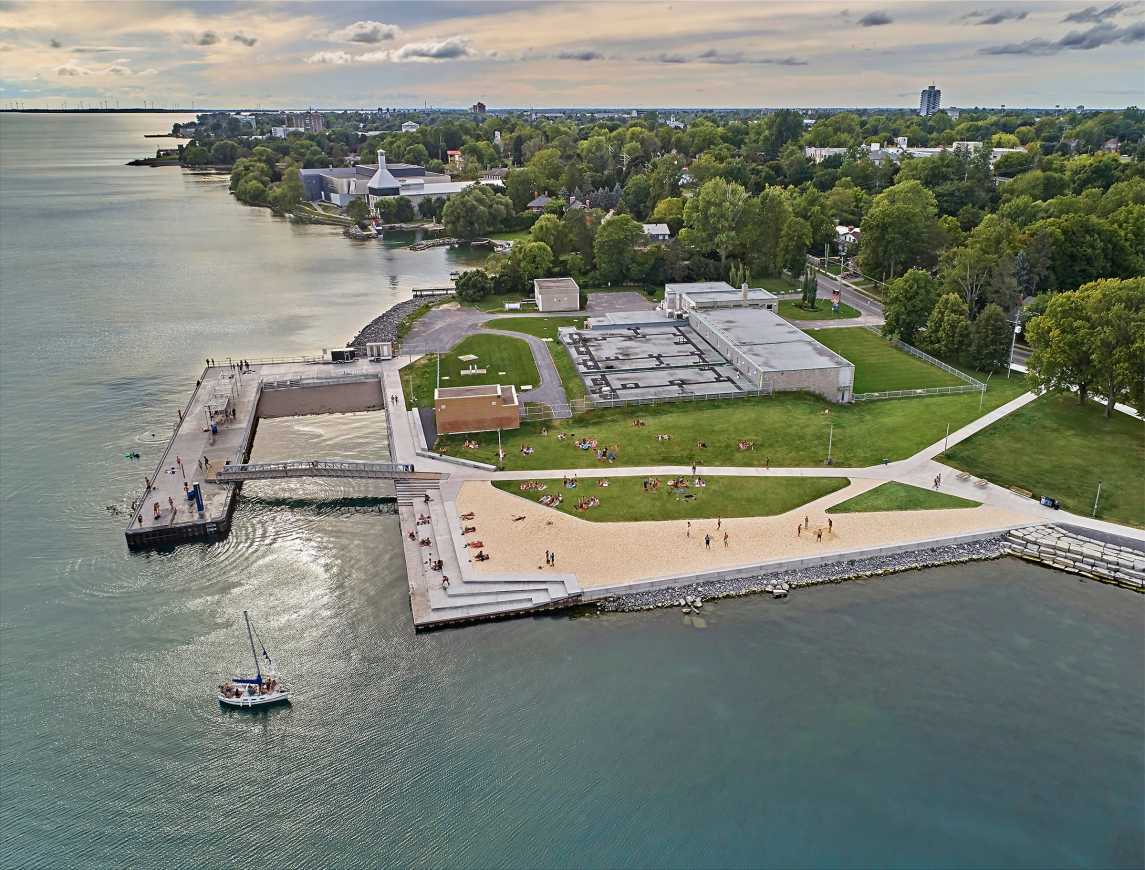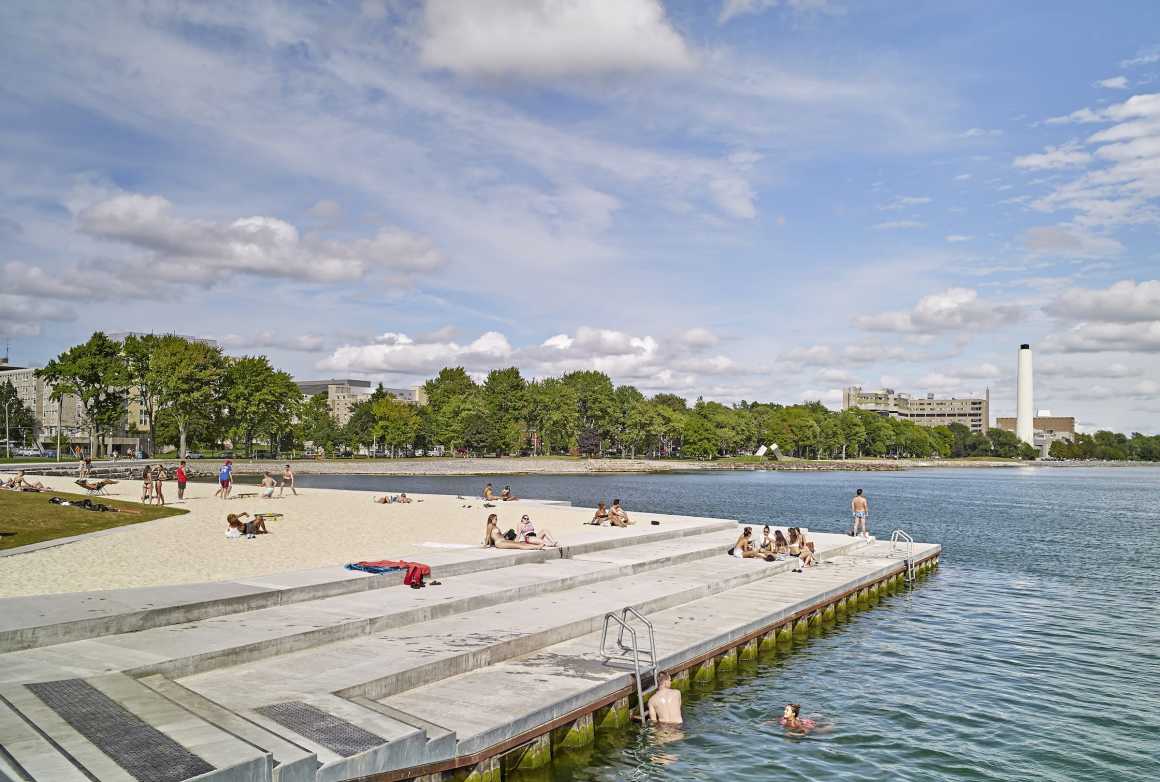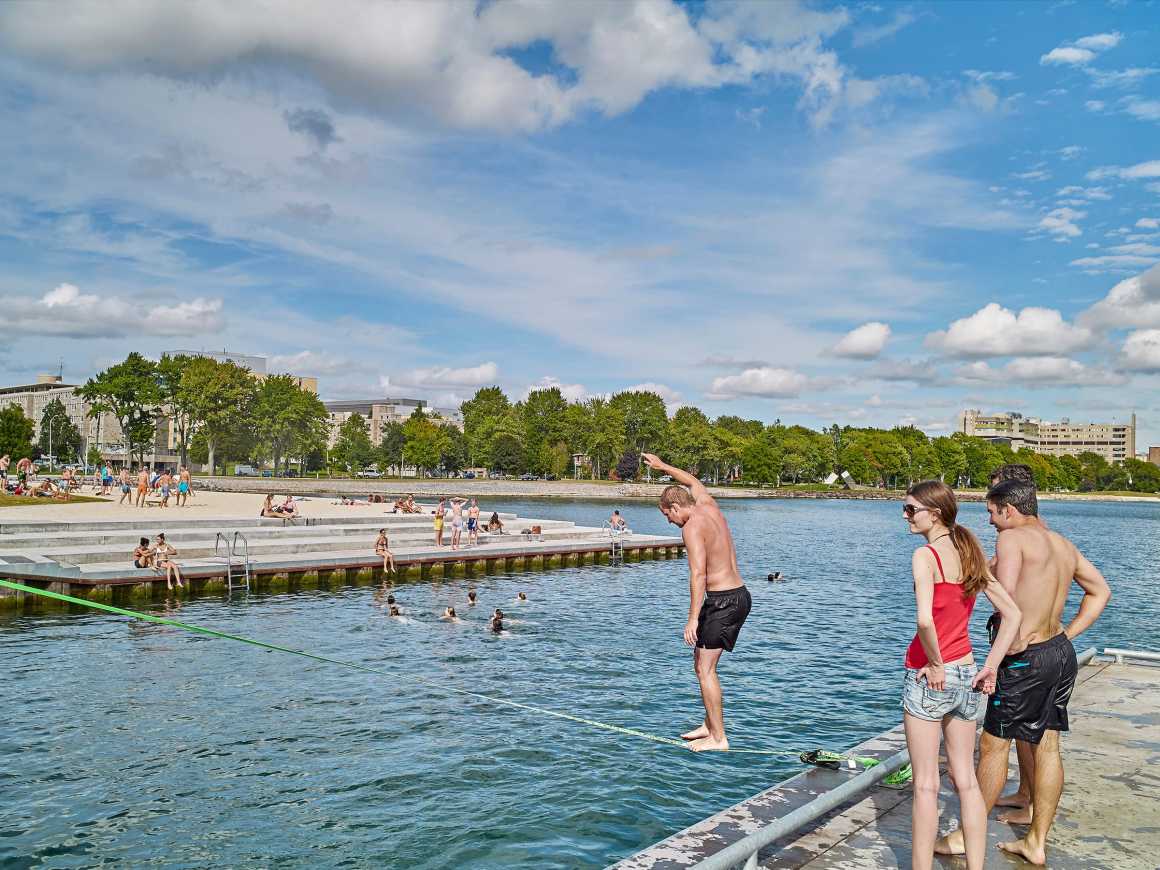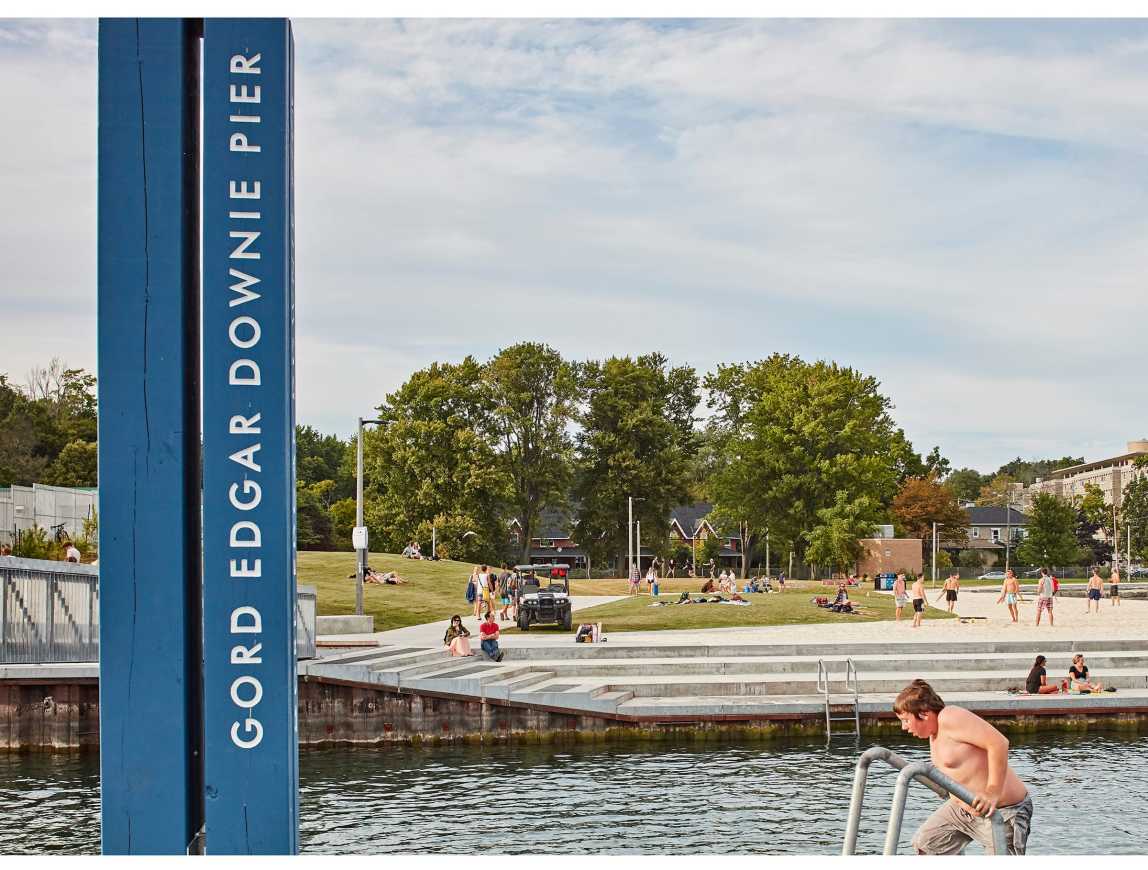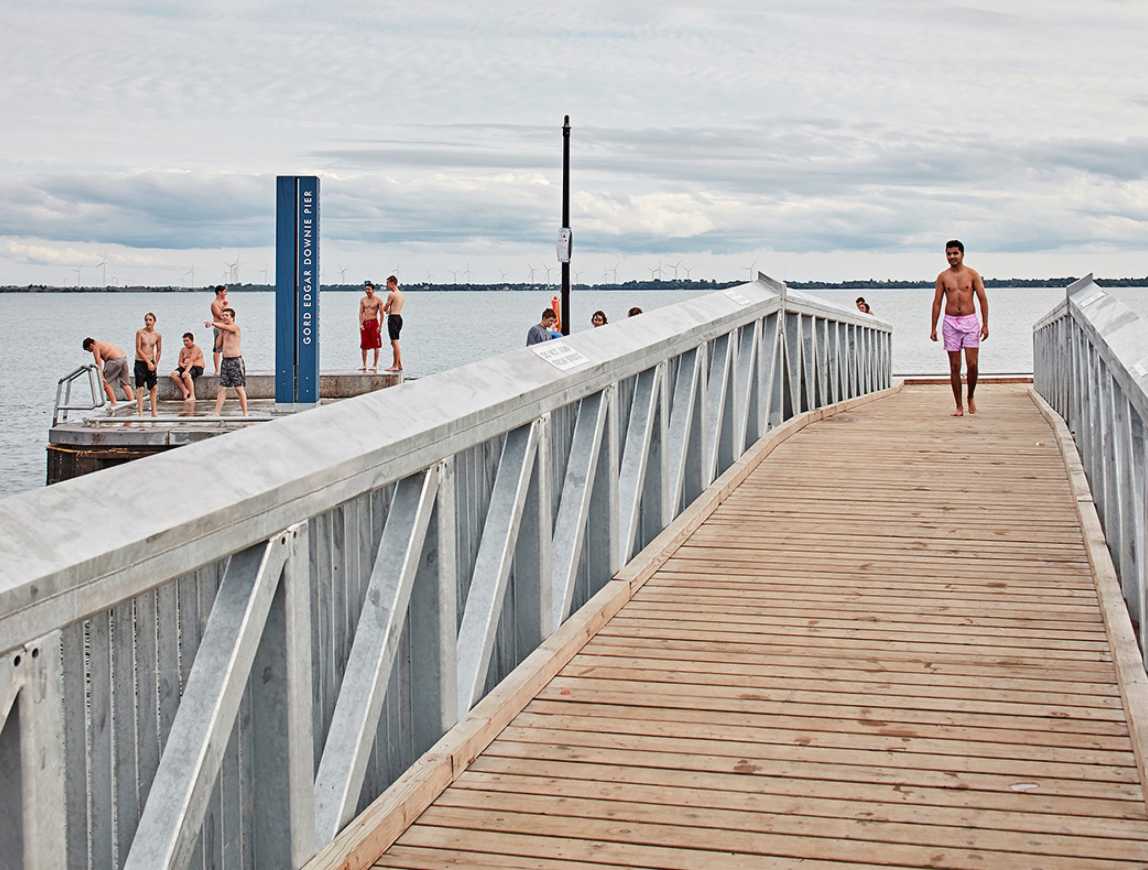 更新后的防波堤公园和Gord Edgar Downie码头在金斯顿引发了城市的顿悟,重新唤醒了人们与水之间的深刻联系。公园惊人的受欢迎程度证明,它有希望与该地区最著名的特色进行一次神奇的邂逅。
The revitalized Breakwater Park and Gord Edgar Downie Pier have sparked a eureka moment in Kingston, reawakening a profound link with the water. The park's phenomenal popularity attests to its promise for a magical encounter with the region's most distinguished feature.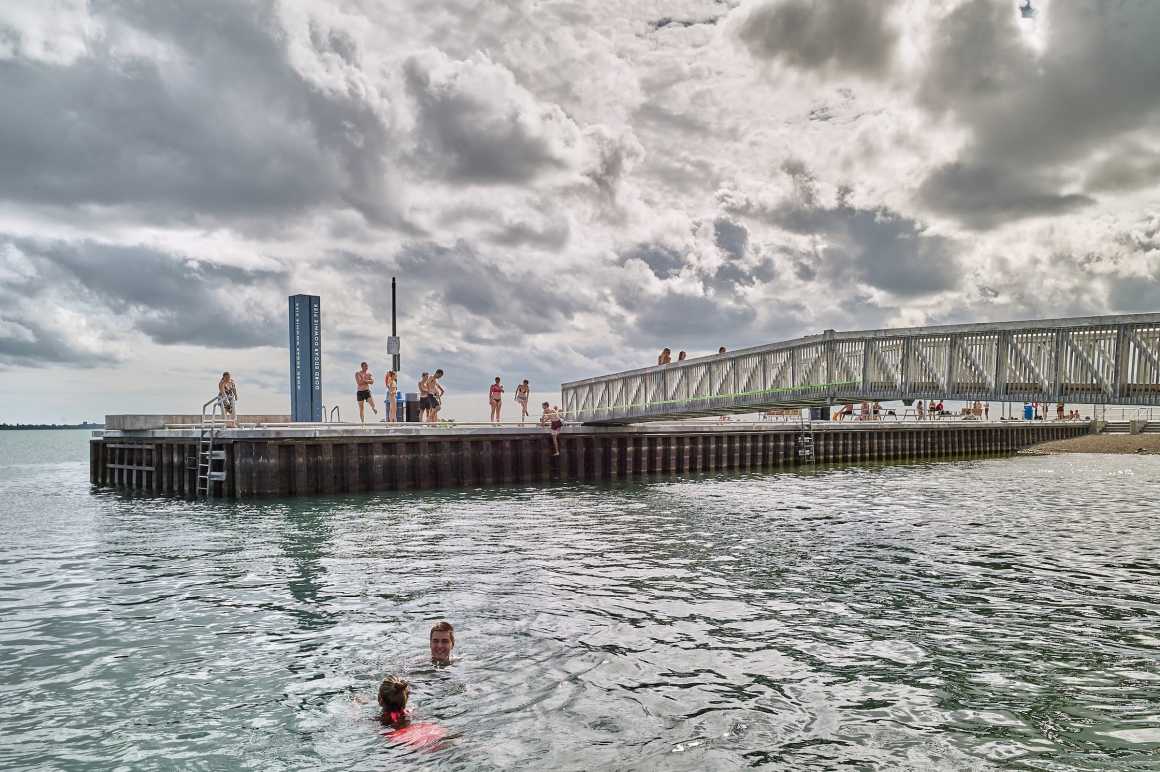 项目名称:防波堤公园
设计年份及竣工年份:2012-2018年
项目地点:加拿大安大略省金斯顿
景观面积:33100平方米
客户:金斯顿市
景观设计:Claude Cormier + associes
首席设计师:Claude Cormier et associes
设计团队:冷水咨询(岸线工程);加拿大WSP公司(工程及建筑管理);海港工程顾问公司(海堤工程)
合作伙伴:NA
项目中使用品牌:Equiparc(家具)
摄影:Industryous Photography
Project Name: Breakwater Park
Design year and completion year: 2012-2018
Project location: Kingston, Ontario
Landscape Area: 33100 m2
Clients: City of Kingston
Landscape design:  Claude Cormier + associés
Lead designer: Claude Cormier et associés
Design team: Coldwater Consulating (Shoreline Engineering); WSP Canada Inc (Engineering and Construction Administration); Harbourside Engineering Consultants (Seawall Engineering)
Partners: NA
Brands used in the project: Equiparc (Furniture)
Photo credits: Industryous Photography
更多 Read more about: Claude Cormier + associés