本文由 Curiosity 授权mooool发表,欢迎转发,禁止以mooool编辑版本转载。
Thanks Curiosity for authorizing the publication of the project on mooool, Text description provided by Curiosity.
Curiosity为位于东京市中心车站附近的豪华住宅大厦重新设计了大厅和空中休息室。
这座被护城河和河流环绕的大型住宅的所在地,在江户时代曾是一个商业文化中心。住宅大厅的内部设计灵感来源于周围的环境:大块的石头模仿日本传统城堡的方式向外倾斜,天花板的线条形式也仿佛周边的河流,在你移动时,创造出节奏韵律和亲密感。
Curiosity designed the lobby and sky lounge for a luxury tower residence situated in the heart of Tokyo, close to Tokyo station.
The area was previously a commercial and cultural hub during the Edo period (the former name for Tokyo) and featured a large residence surrounded by a moat and a river. The interior of the lobby draws inspiration from the surrounding context, with large pieces of stone angled in the way of a traditional Japanese castle wall. The angular form of the ceiling derived from the river creates rhythm and intimacy on a large scale as you move through the space.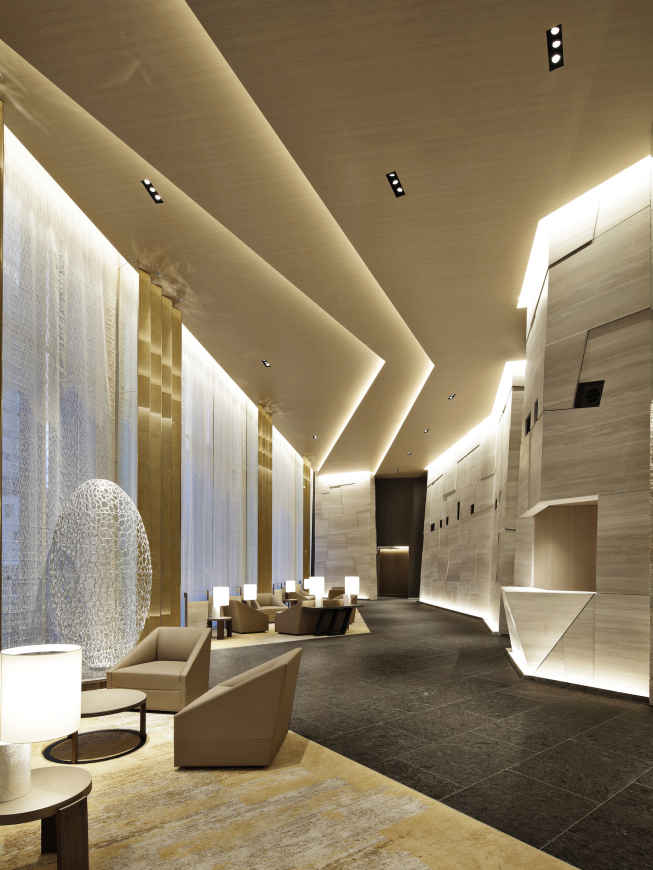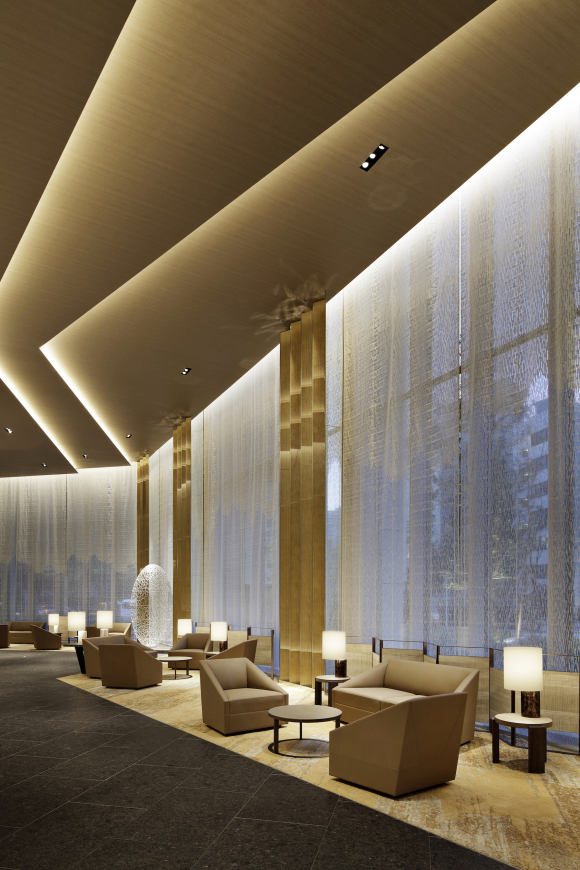 同样,家具的设计也与空间相辅相成。
The furniture was also designed to match the space.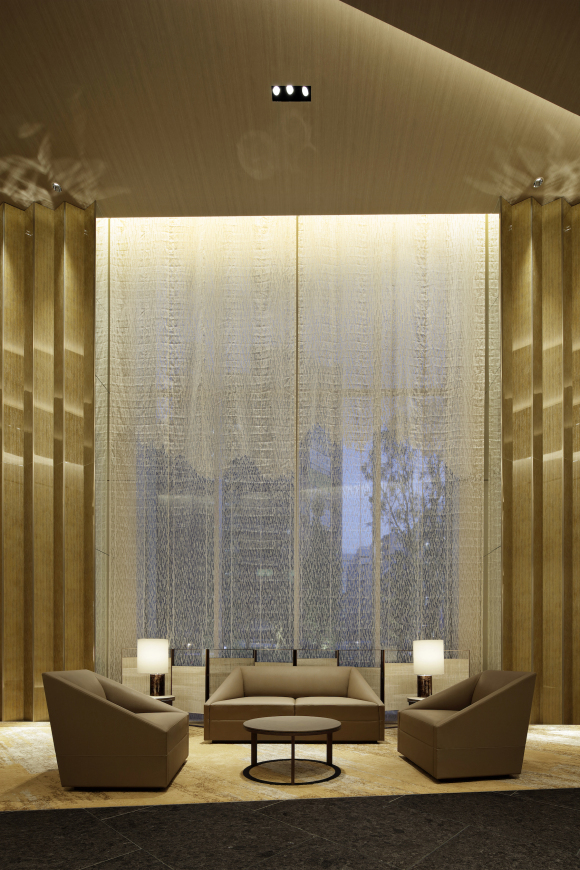 Curiosity设计的艺术品给空间增添了半透明和轻盈感,它的图案也是对河流水滴的一种诠释。
The art piece also designed by Curiosity gives translucency and lightness to the space. The pattern is an interpretation of the river water drops.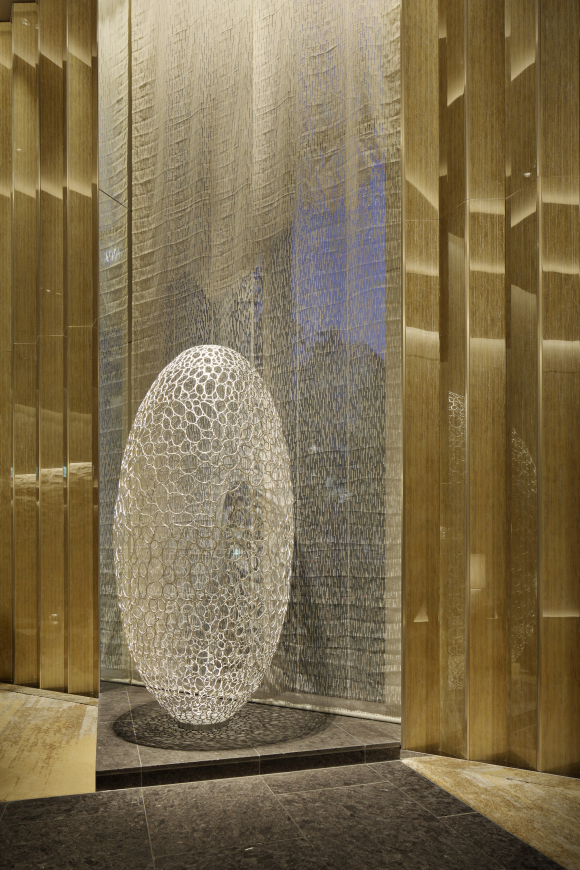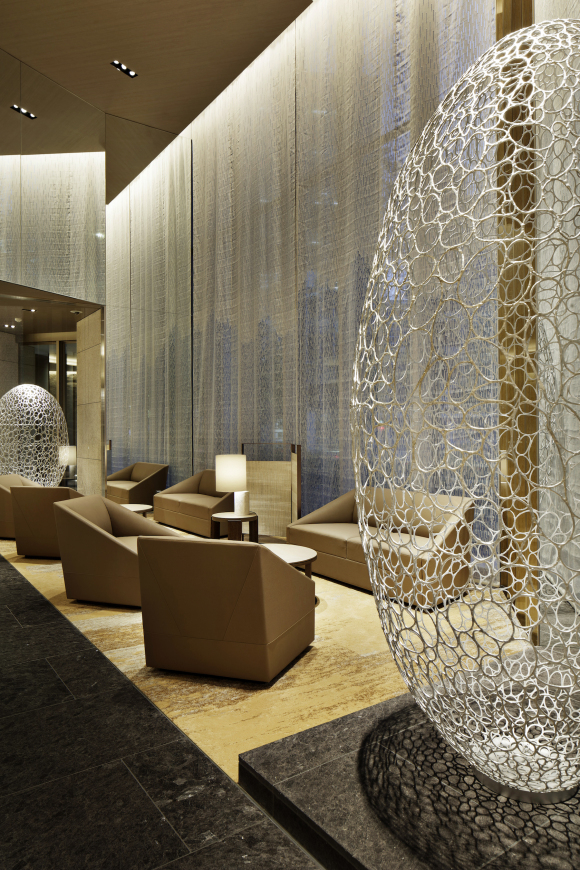 这款窗帘是由Nuno的Reiko Sudo设计的,它好像从大厅上方倾泻而下的瀑布,同时,由日本工匠精心手工制作的精致材料图案使得空间的氛围更加完美。
The curtain was created by Reiko Sudo of Nuno, and reminds of a water fall cascading down the full height of the lobby lounge. A delicate pattern of handmade materials crafted by Japanese artisans completes the ambiance of the space.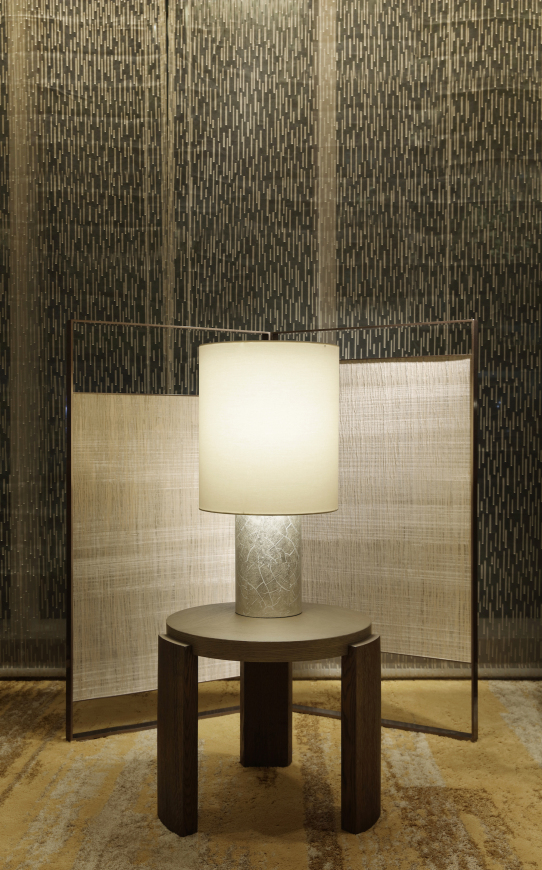 空中休息室入口。
Entrance to the Sky lounge.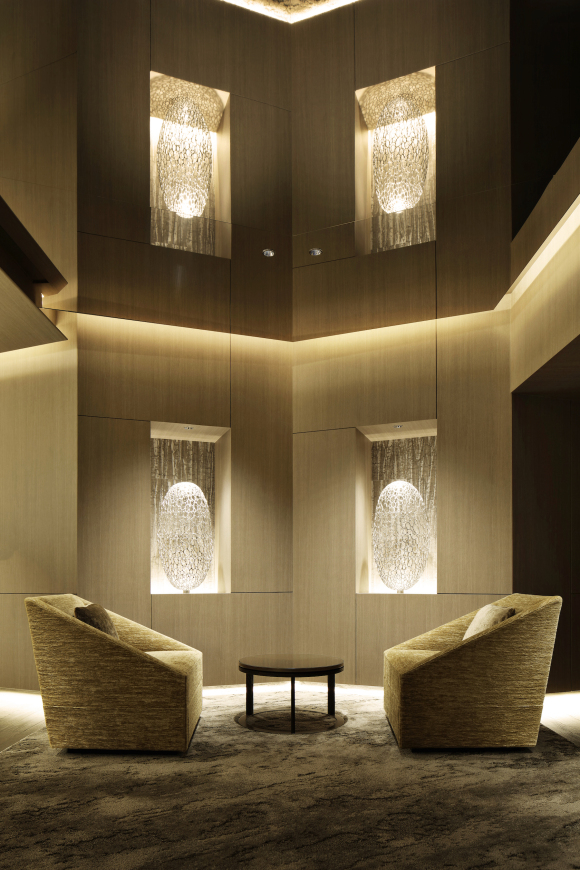 休息室的反光天花板。
Reflective ceiling of the lounge.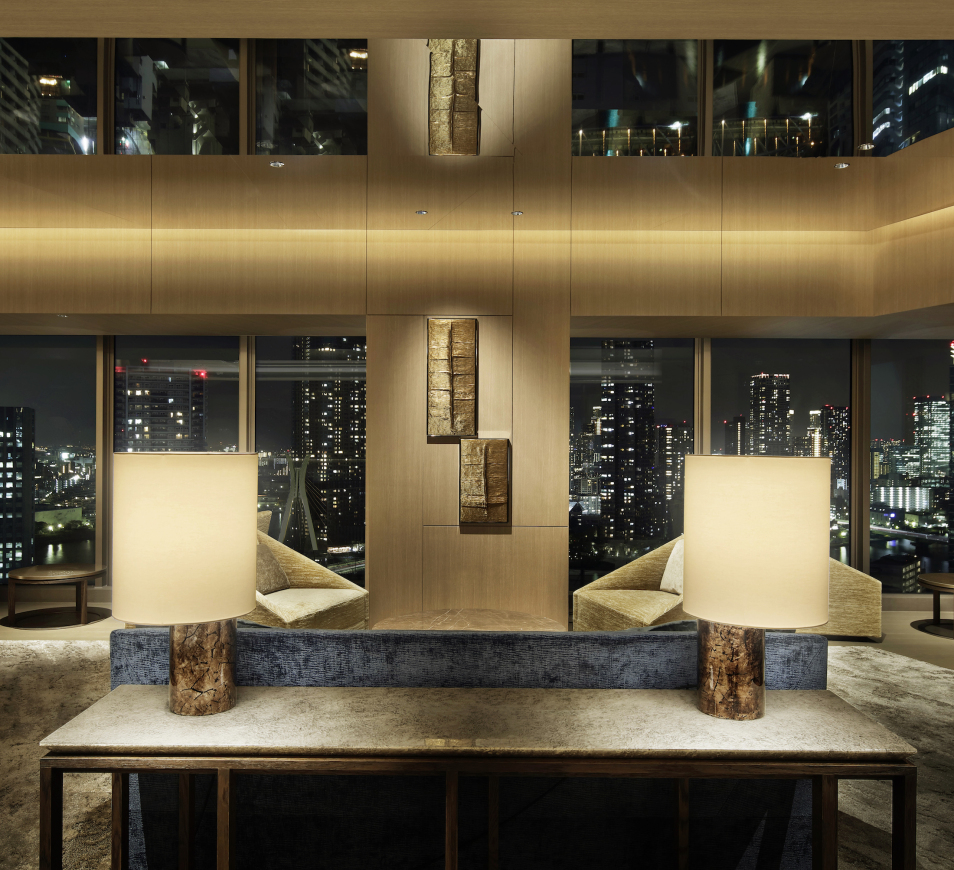 楼上的酒吧休息区,可以看到东京的天际线。 天花板上反射着背光的柜台,增加了空间的高度和戏剧性。
The upper floor with a bar-lounge area widely open to the skyline of Tokyo. The back-lit counter is reflected in the ceiling, adding height and drama to the space.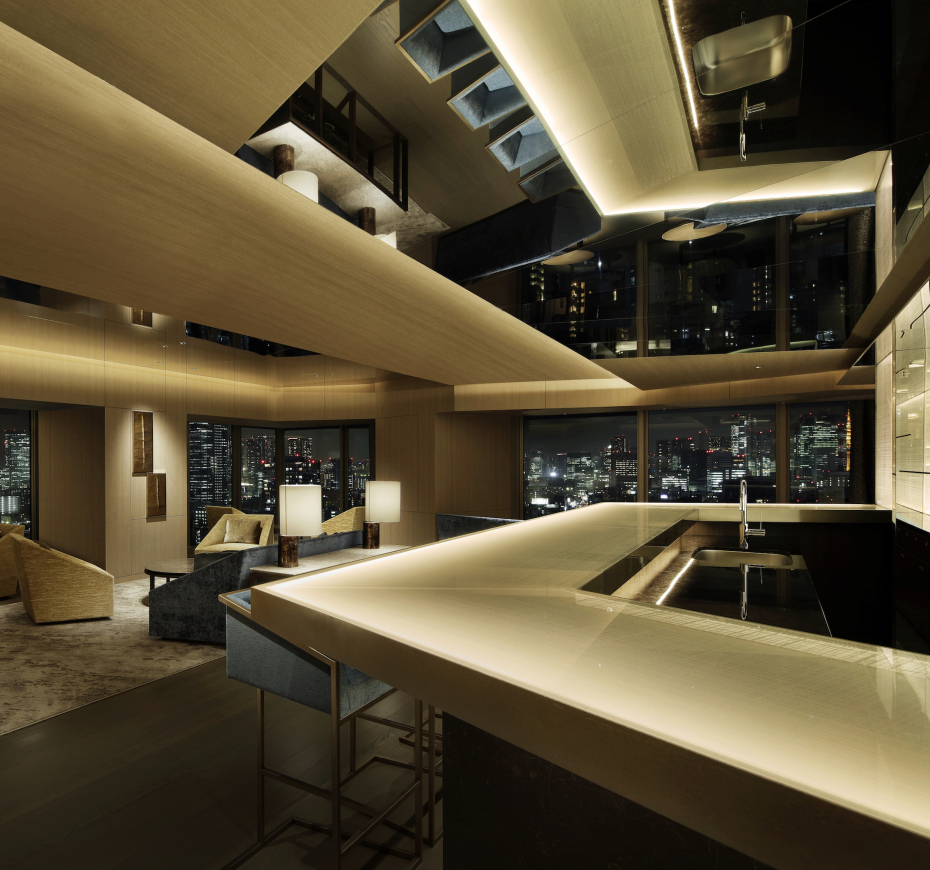 最后在图书馆和书房结束了客人的体验之旅。
A library and study room completes the guest experience.
简单的色调结合微妙的纹理给人一种舒适和精致的感觉。
The simple palette of colors and subtle textures gives a sense of comfort and refinement to the residence.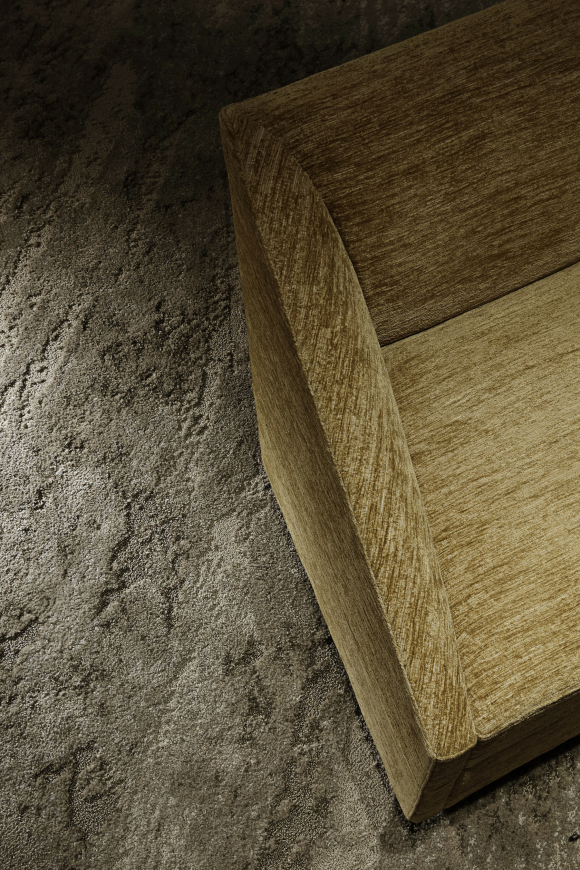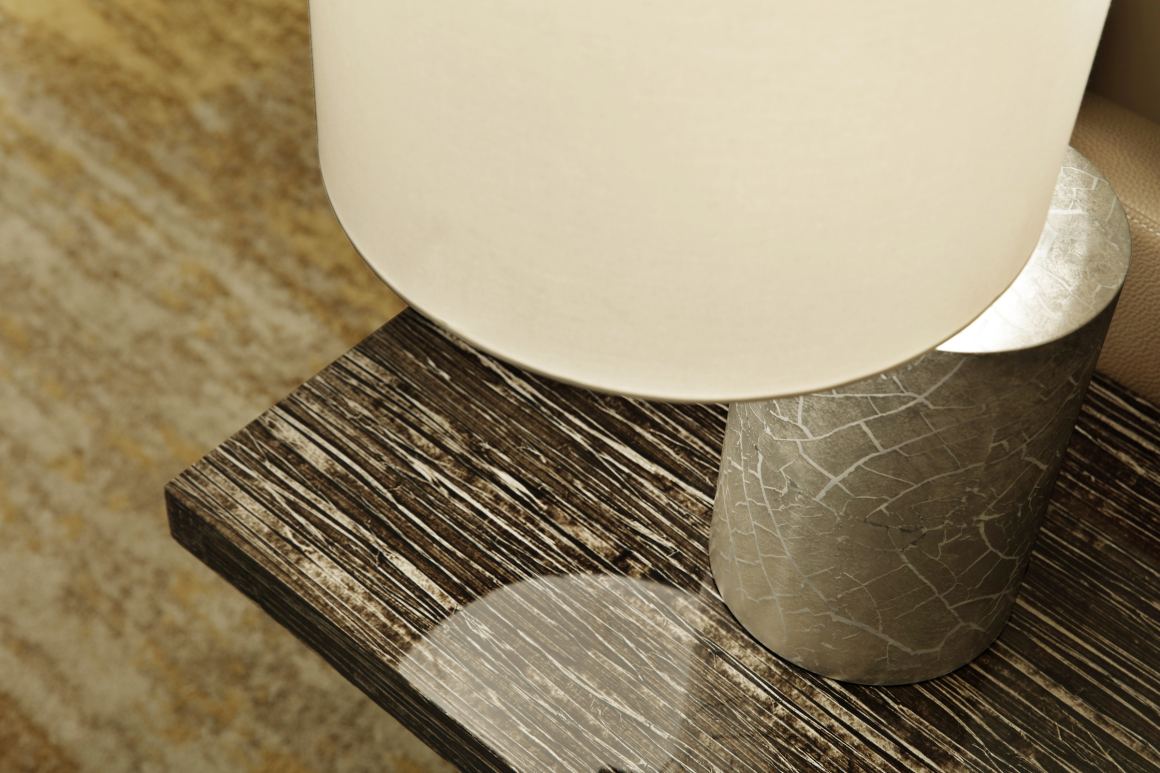 Reiko Sudo创作的艺术作品。
Art pieces created by Reiko Sudo.
更多 Read more about: CURIOSITY