本文由 Abraham John Architects 授权mooool发表,欢迎转发,禁止以mooool编辑版本转载。
Thanks Abraham John Architects for authorizing the publication of the project on mooool. Text description provided by Abraham John Architects.
Abraham John Architects:该住宅别墅的设计挑战包括三点:极端的气候、占地面积小而项目概况复杂。并且还需兼容符合古印度的住宅关于空间,阳光,流动和功能的设计原则。
Abraham John Architects:The challenge of designing a residential villa in Jodhpur was trifold: extreme climate, small footprint and a large project brief. The house also needed to be and is Vastu compliant – conforming with the ancient Indian design principles regarding space, sunlight, flow and function.
这是一个十分受周围社会环境约束的场地,比如现有相邻建筑两侧的复合墙,以及其北部和东部的两条道路,都是其限制因素,因此,我们需要通过设计景观、屏风和庭院的朝向以及景观来创造隐私空间,包括小花园、平台、水体、雕塑庭院、采光充足的阳台和露台花园都是为了增强其空间感而设计的。
The plot was a restricted one within a society scheme, encumbered by the existing adjoining buildings along its compound walls on two sides, and two roads along its north and east sides. Hence, there was a need to create privacy, through orientation of the views, screens and courtyards, as well as through landscape design. The little gardens, decks, waterbodies, sculpture court, sky lit balconies and terrace gardens were all designed to enhance its spatial feel.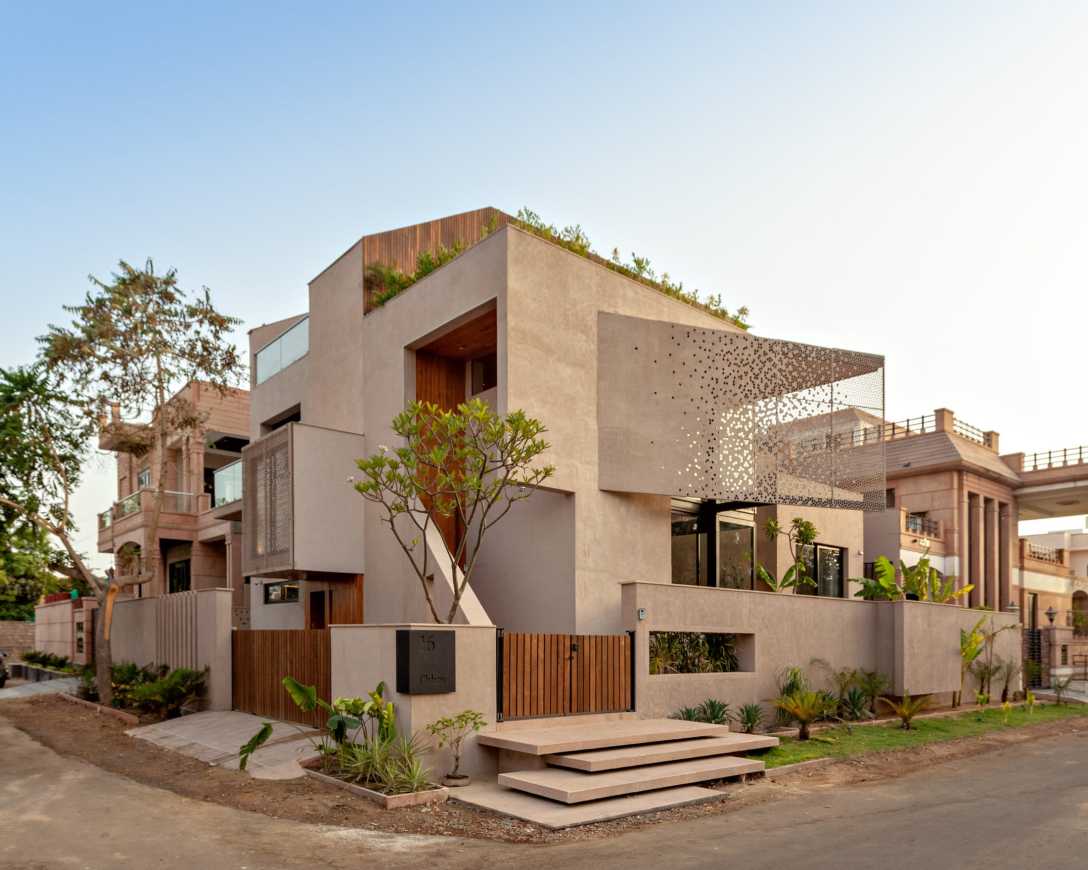 特色悬空台阶为住宅创造了一个极具吸引力的入口,其周围的灯光和景观也增强了这种到达感。如你走向大门,这里的长椅可供你坐下休憩,享受舒缓的水景声,总之,入口给人的第一印象就是强烈空间隐私感,雄伟的木门,两层高的体量和投影,让你仿佛置身于塔尔沙漠荒凉景色中的宫殿、堡垒和寺庙。
The floating steps make an inviting entrance, the lighting and landscape add to the sense of arrival. As one walks towards the main door, one can pause on the bench and enjoy the soothing sounds of the cascade The first impression created is that of space and privacy. The imposing wooden doors, double height volumes and projections that are reminiscent of the many palaces, forts and temples set in the stark landscape of the Thar Desert.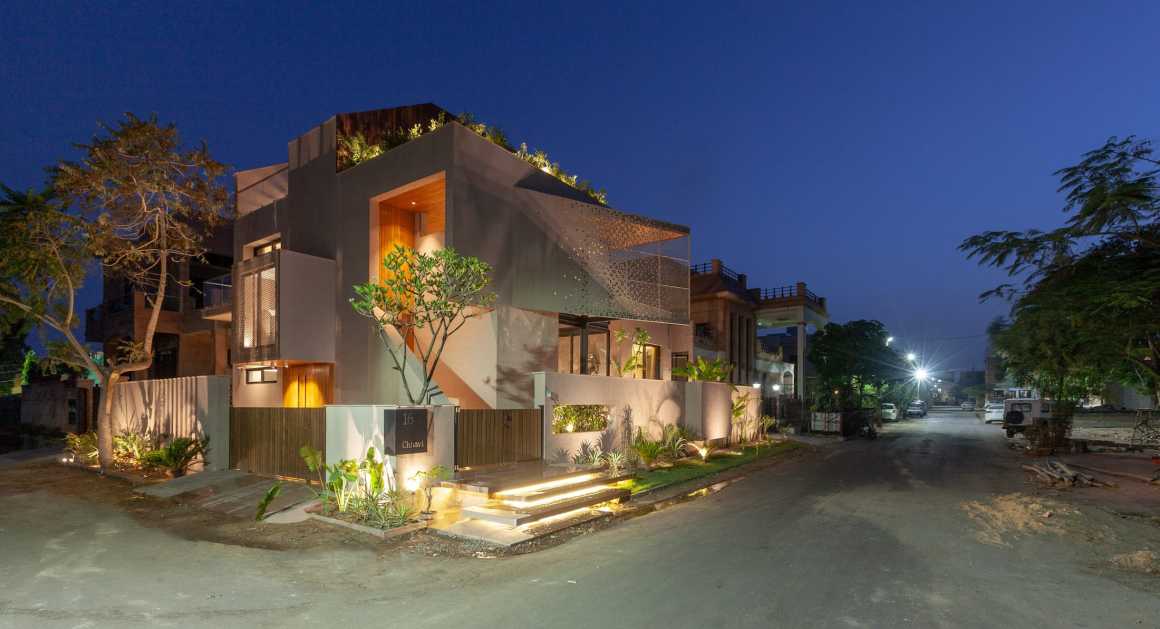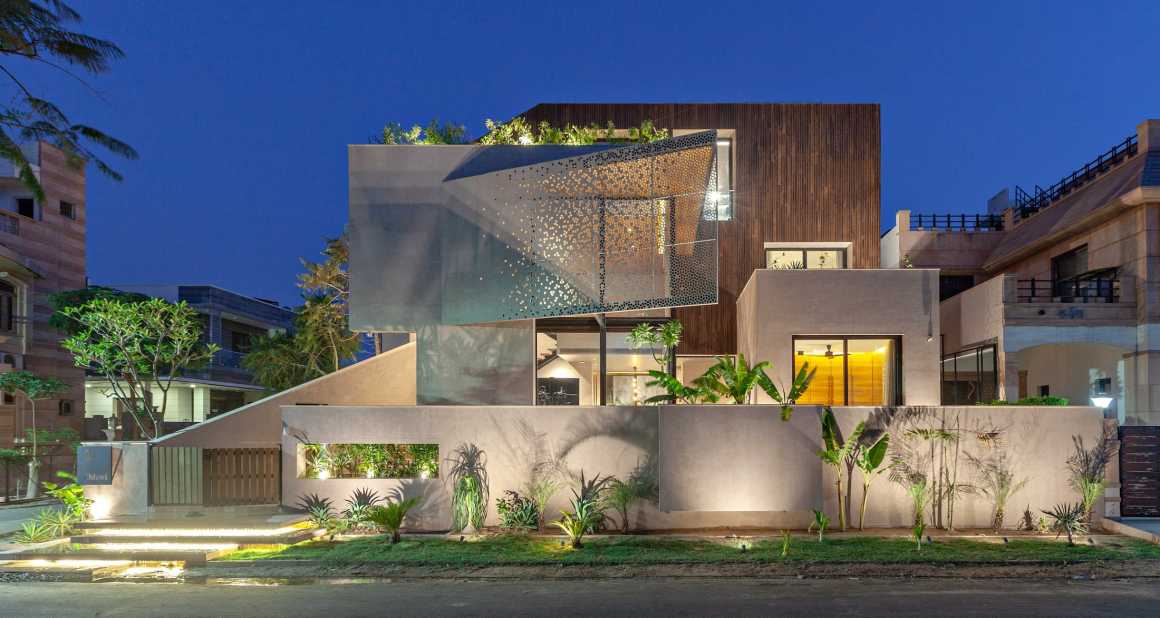 建筑师们为该住宅设计了一个开放式的用餐区和客厅区。客厅是一个两层高的生活空间,其天花板一直从内部延伸到外部,L形的窗户连接着外部的庭院和水体。
厨房的门可根据情况,决定是否完全滑开连通餐厅。餐厅、厨房、客厅和花园共同组成了一个公共区域,这里有情调的照明和水体、景观和美丽、真实的传统木雕,在晚上看起来别有一番风情。
The architects conceptualised an open dining and living area. The living area is a double height area with the ceiling continuing through from the inside to the outside; it's L shaped openable windows connecting it to the courtyard and waterbody.
The Kitchen doors completely slide open onto the dining room as per the occasion. The dining, kitchen, living and garden form a public area that looks very different at night, with mood lighting and a waterbody, landscape and a beautiful, authentic & traditional wooden sculpture.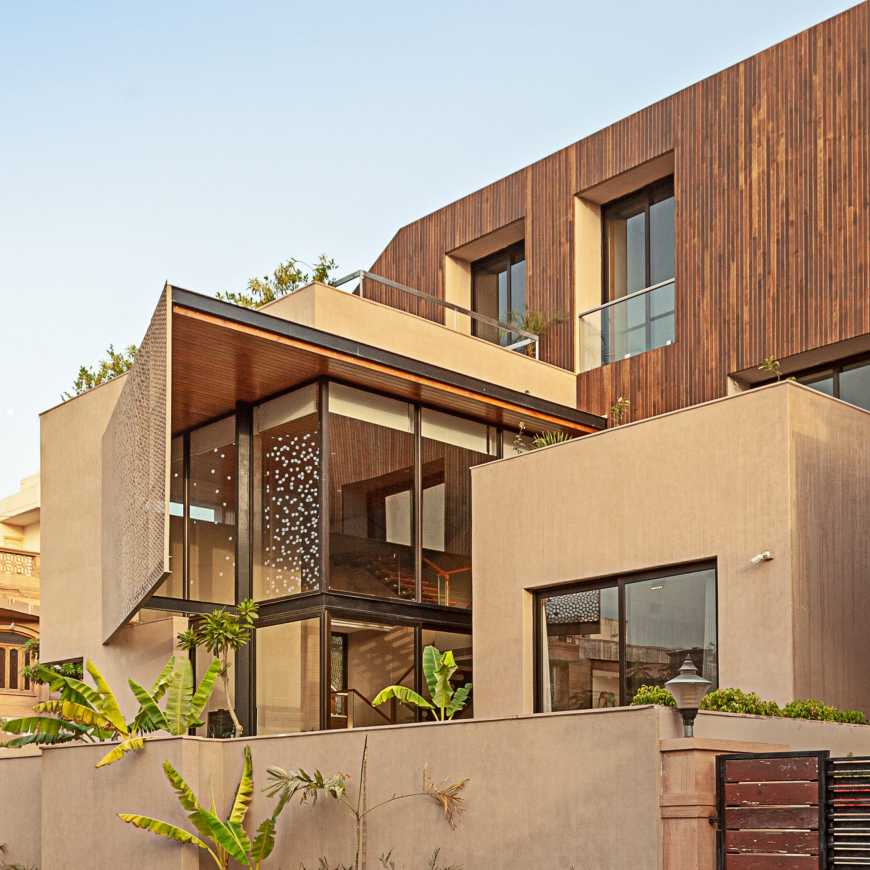 住宅中的金银丝屏风在这个气温经常超过40摄氏度的城市里,好比该地区传统的jalis,既能帮助起到防晒的作用,又能为用户创造一些隐私。白天,它帮助将紫外线反射到窗户上,减少热量和眩光,晚上,又为用户营造出一幅壮观夜景。
In a city where temperatures routinely exceed 40 degrees Celsius, the filigree screen is both functional (protects from the sun and offers some privacy) and aesthetic, a reminder of the traditional jalis of the region. It looks spectacular at night, and during the day it cuts down the heat and glare while reflecting on the windows.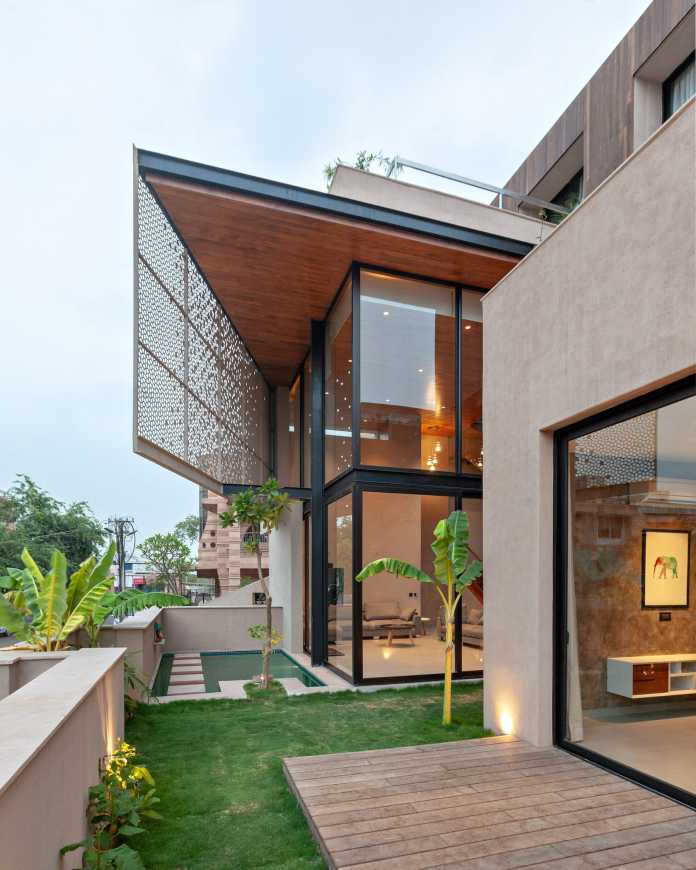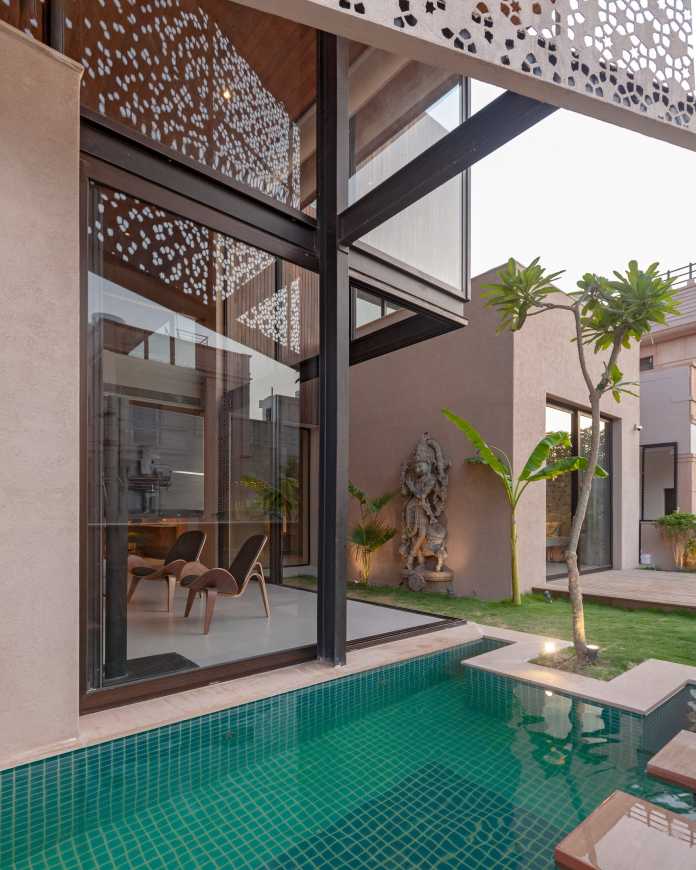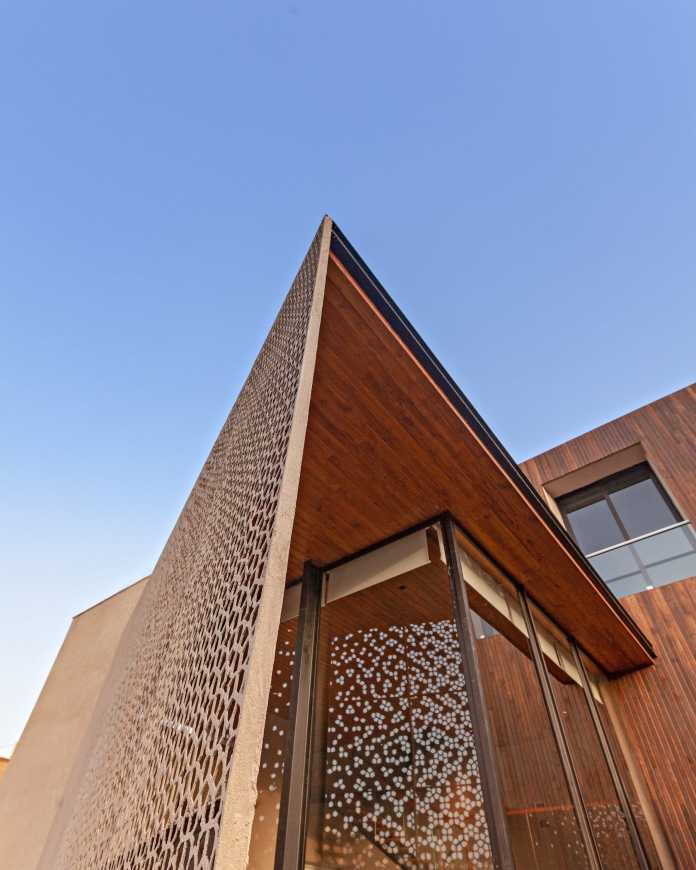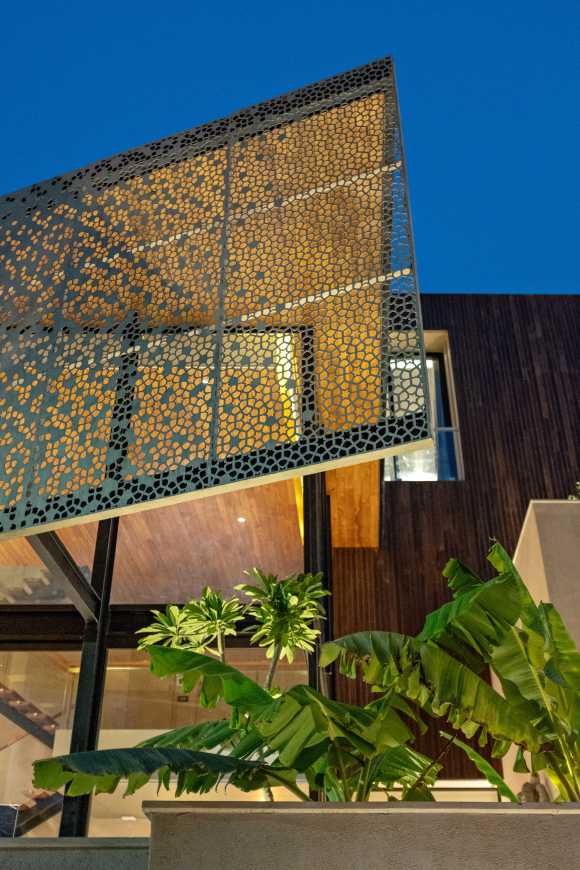 从第一次踏进住宅开始,你就会感受到其双倍层高所带来的广阔的空间和新角度的屏风空间赋予别墅独特的个性:完美融合过去传统(jalis)和现代、干净简约的线条。
From the first landing you get a feel of the double height, of the expanse and a new angle to the screen which gives the villa its character: combines the past (jalis) with a feeling of modern, clean lines.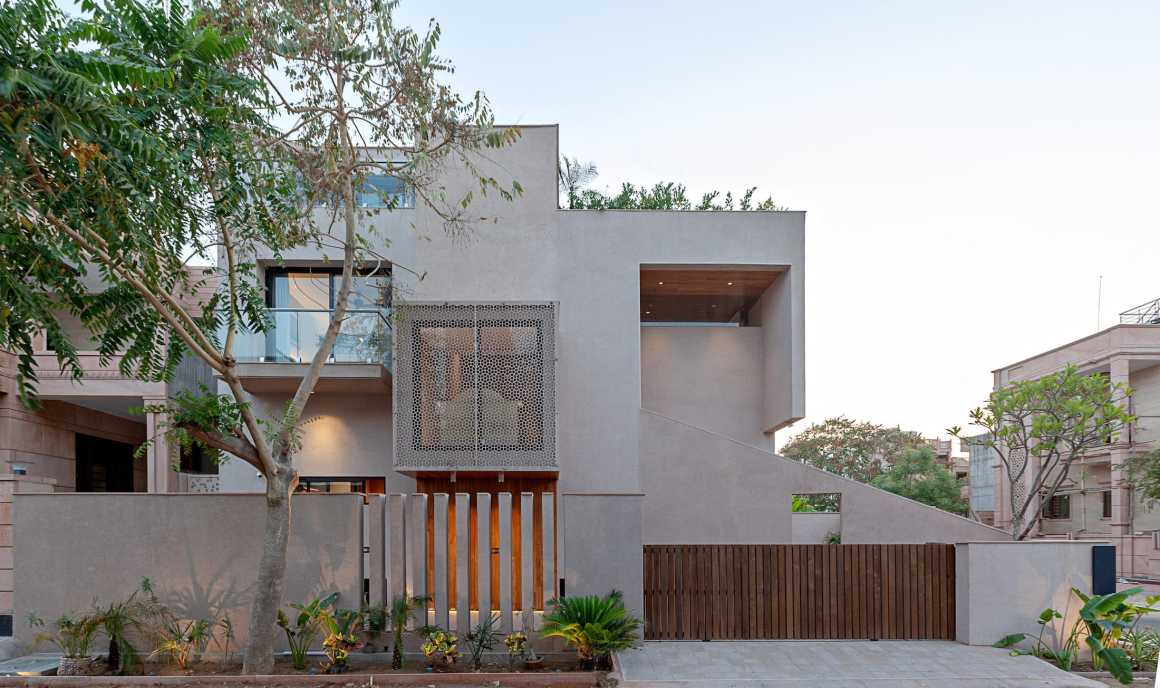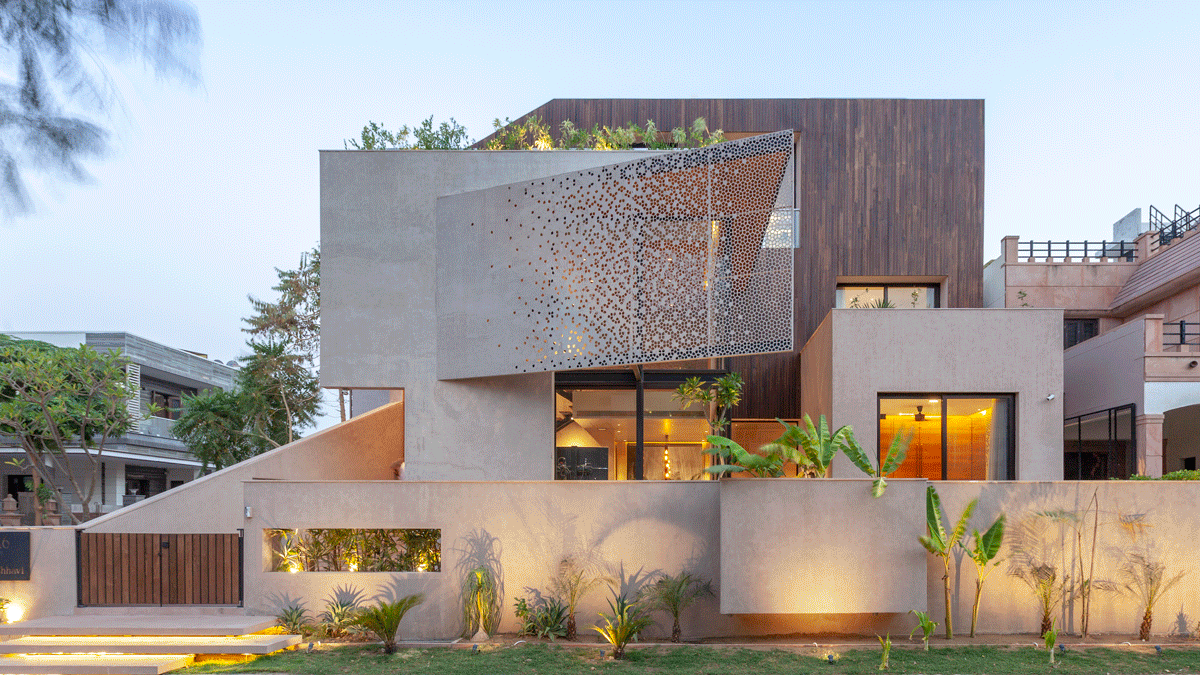 一楼的两间卧室都直接可通往浴室的暗门,整体看起来干净简洁。其中一间卧室通往一层平台和花园,而另一间卧室则有一处采光充足的露天私人平台,增强了住宅空间感。
The two ground floor bedrooms display concealed doors to the attached bathrooms, for a clean look. One of the bedrooms opens onto a deck and garden, while the other has a sky lit private deck to augment its sense of space.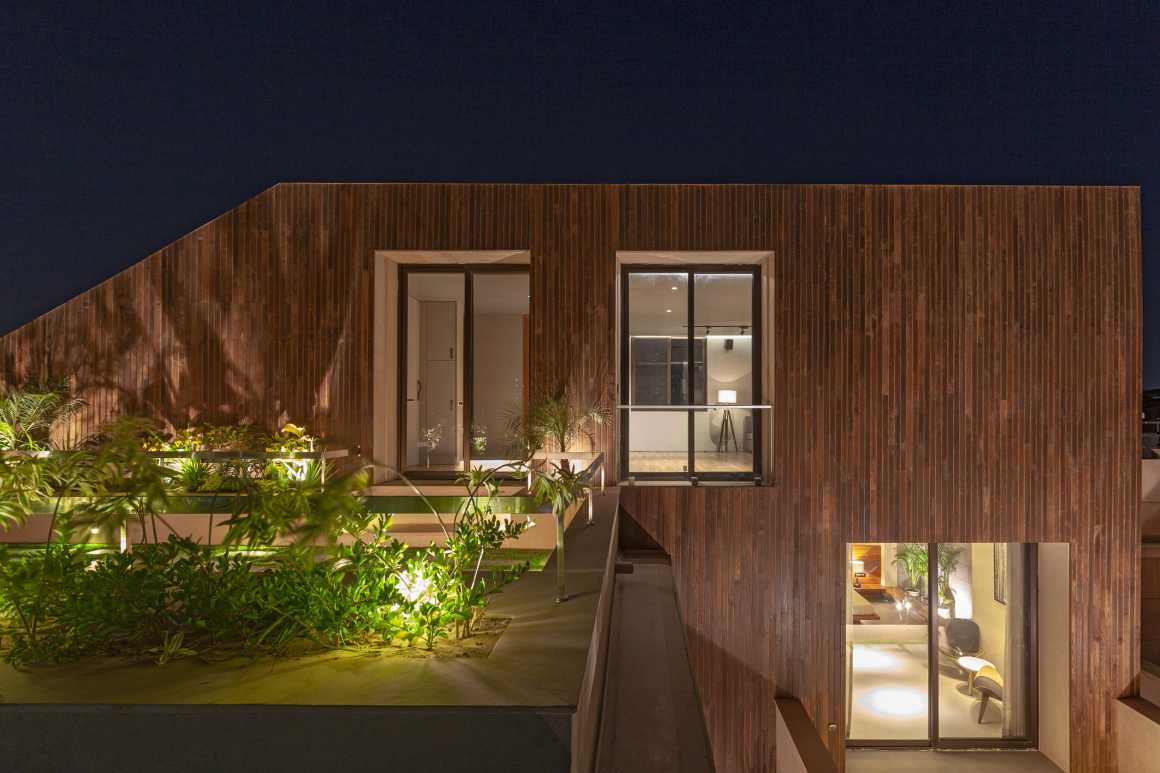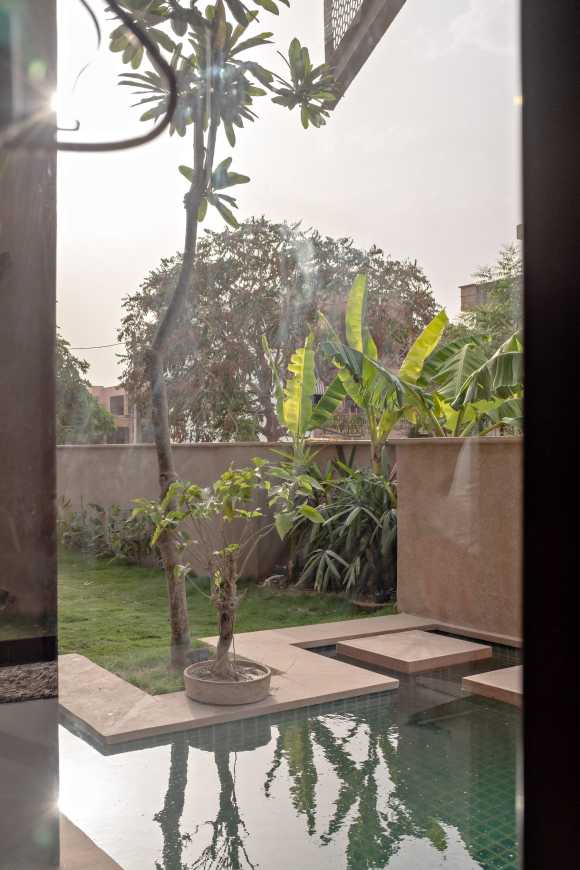 ▼客厅生活区 Living area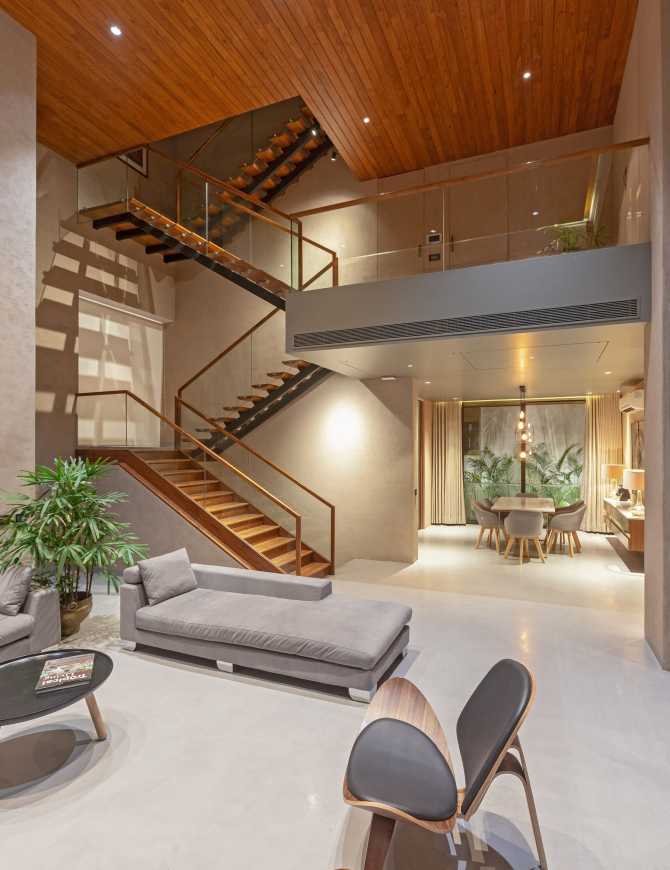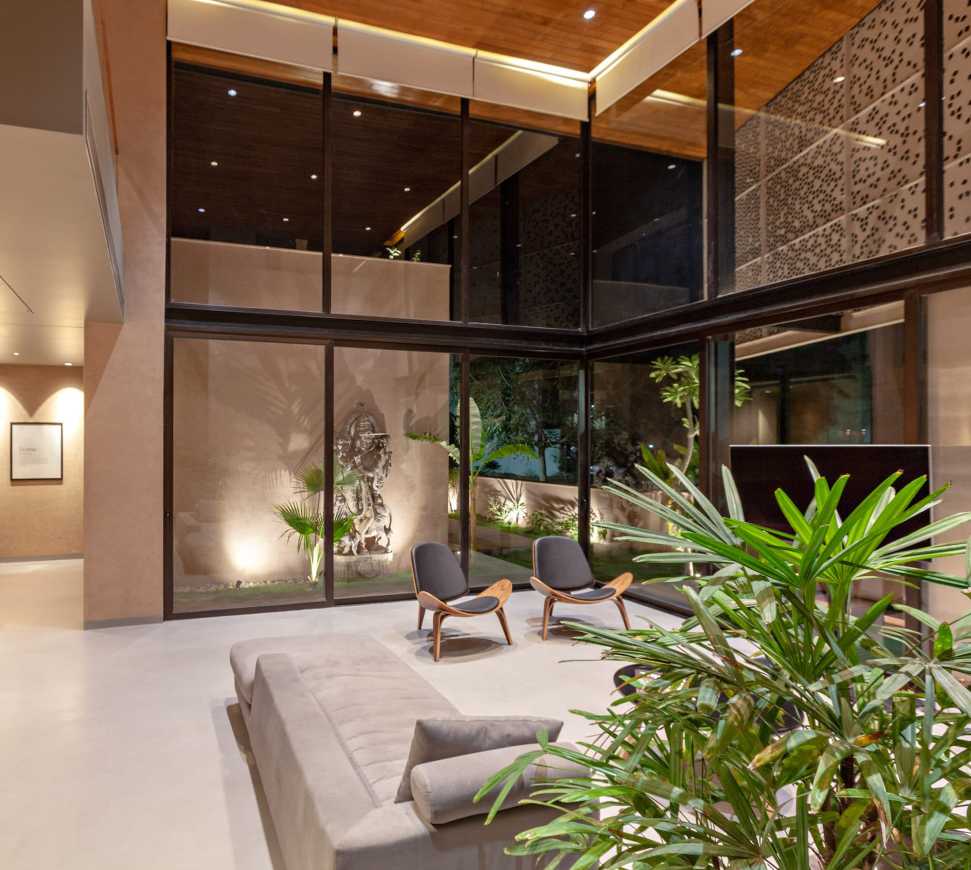 ▼卧室 The bedroom
▼客厅生活区 Living area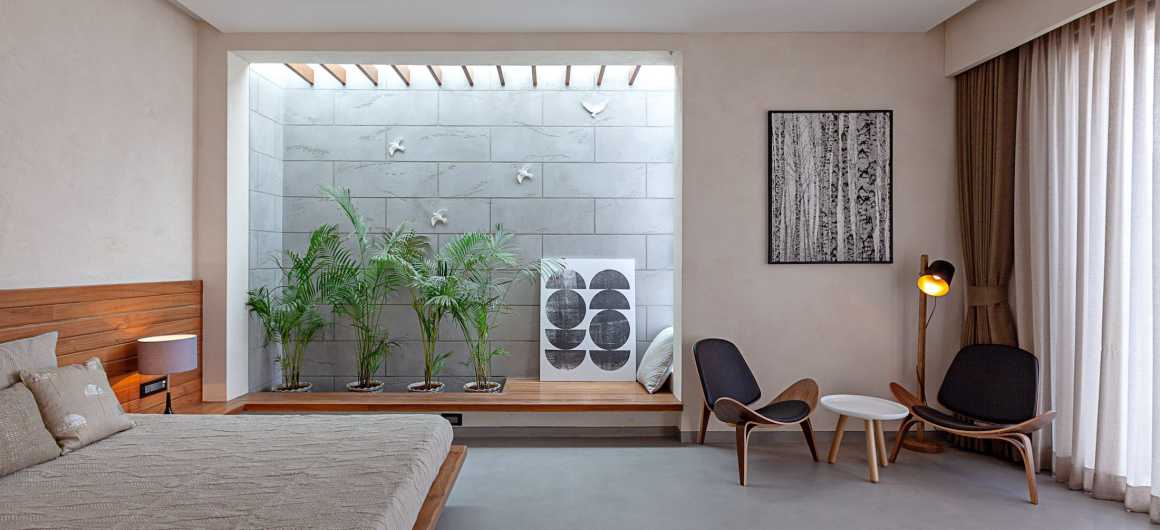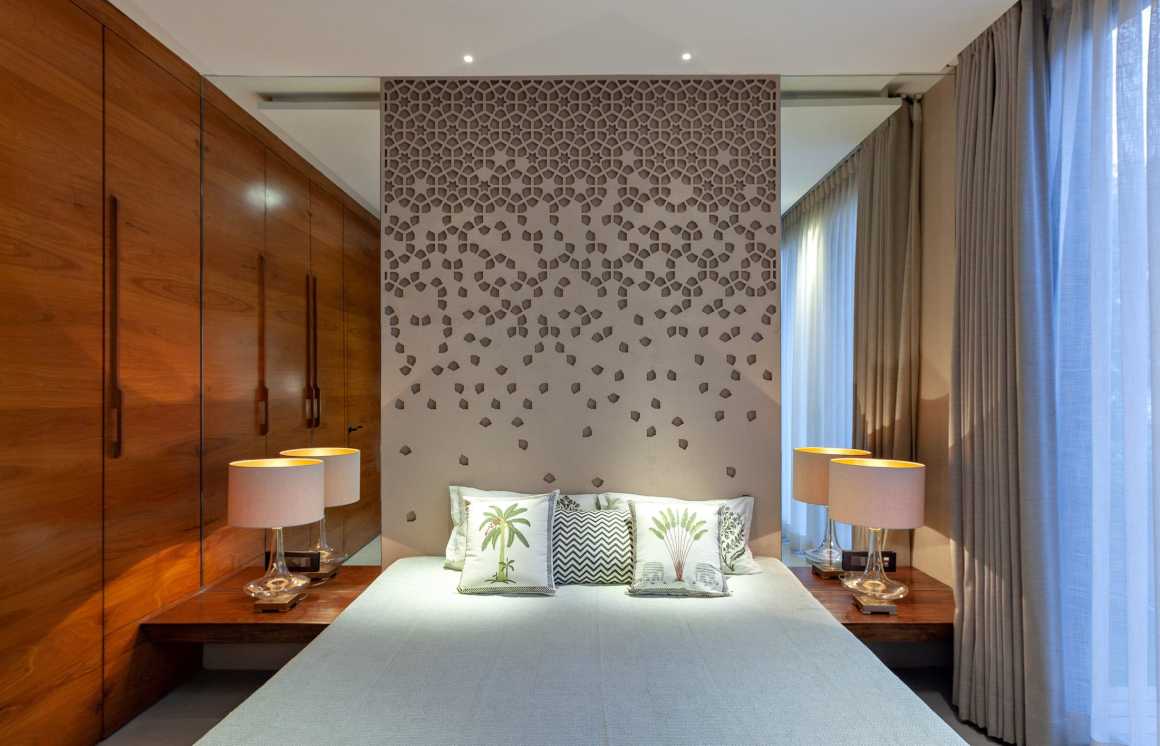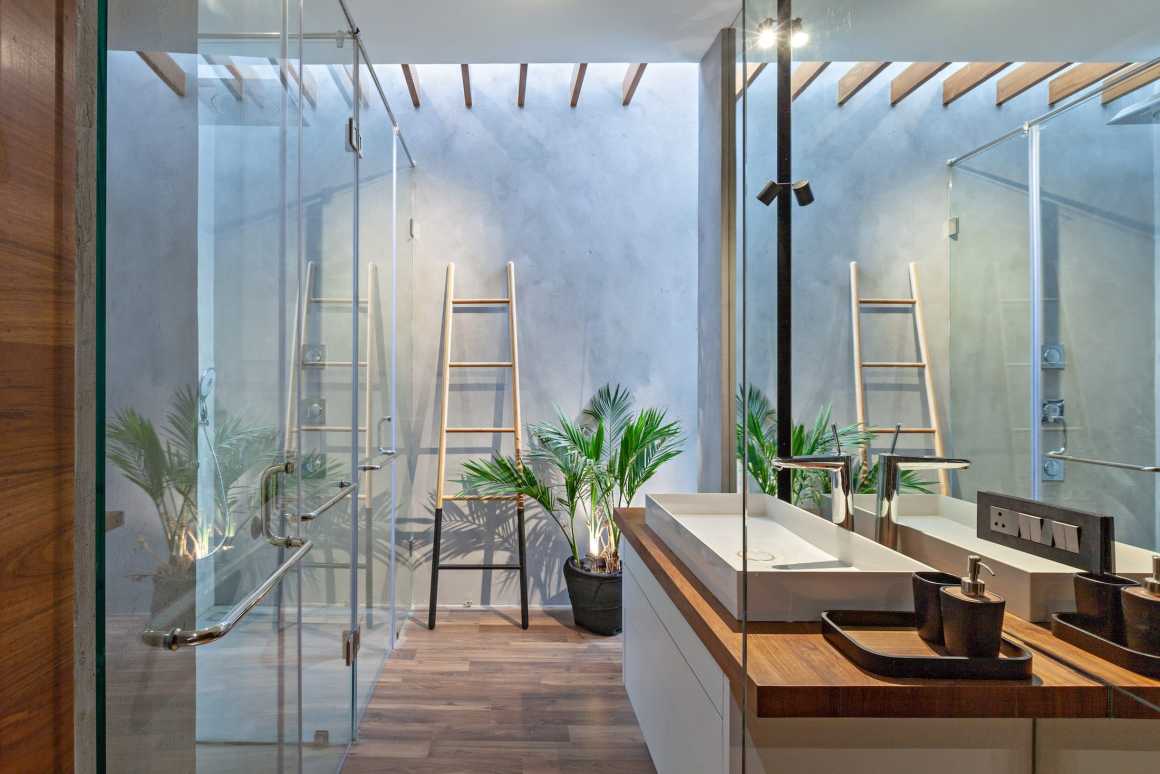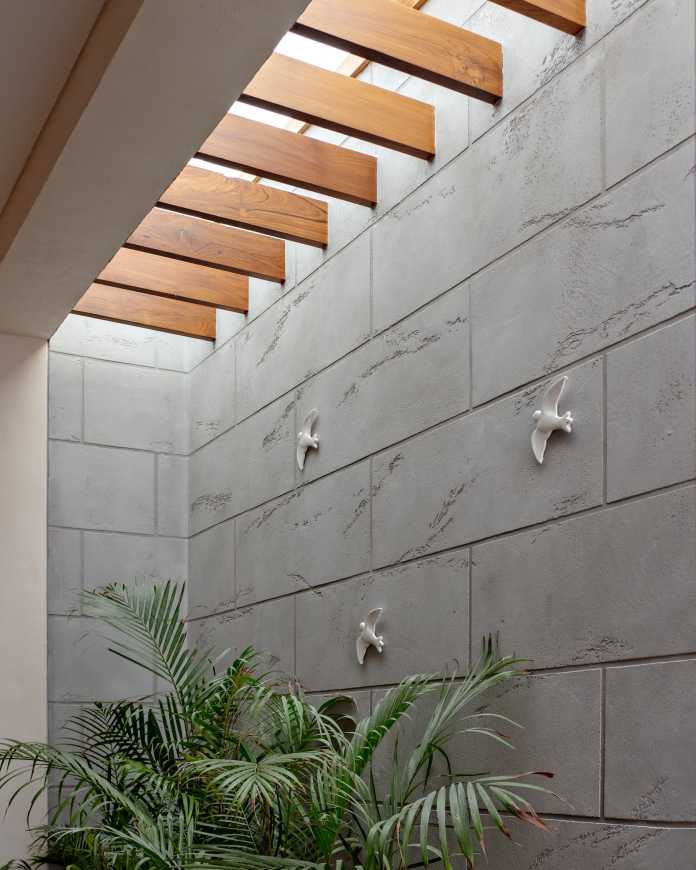 ▼概念设计动图 Conceptual diagram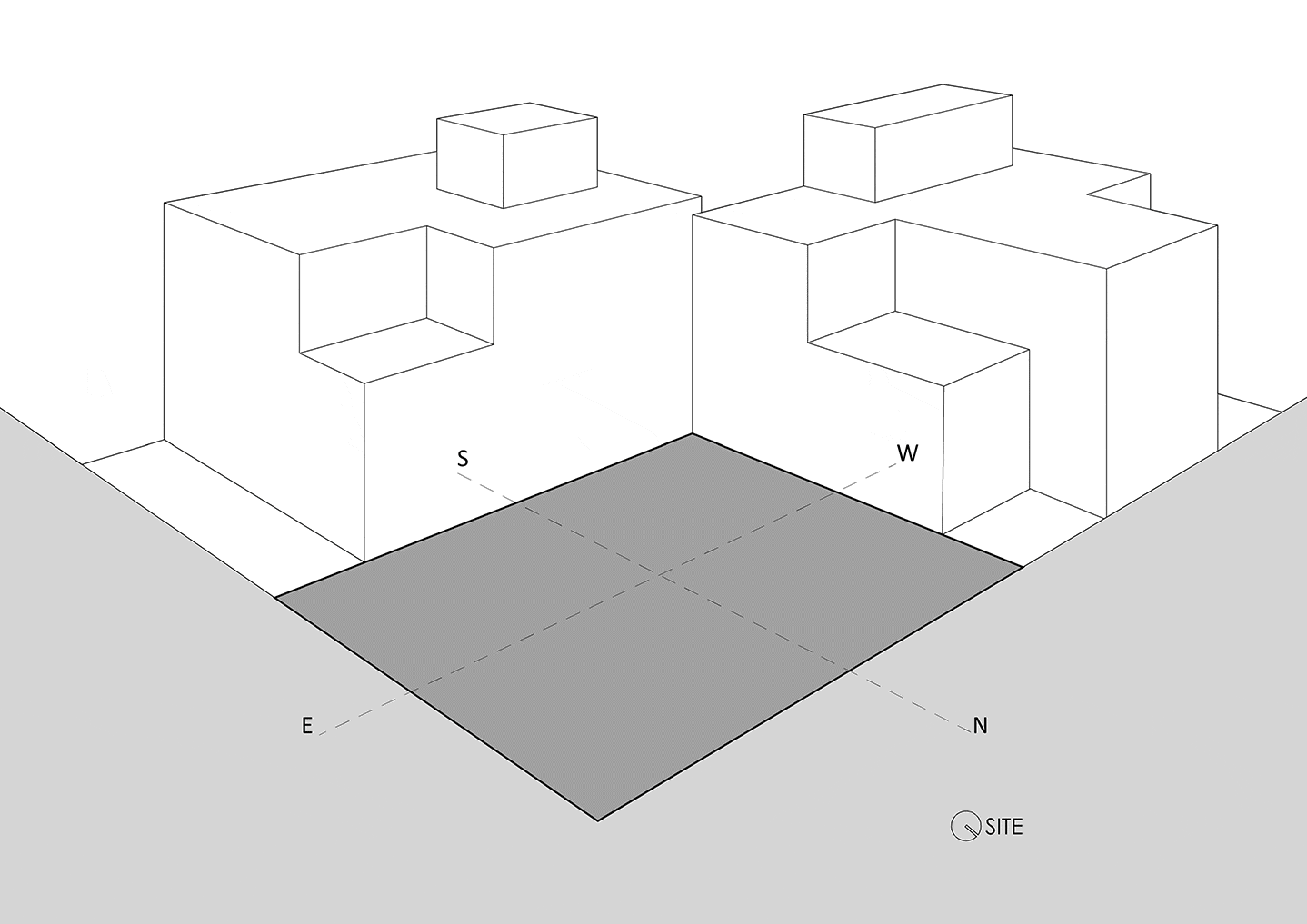 ▼建筑平面及立面图 Drawings
项目名称:Chhavi House
项目地点:印度拉贾斯坦邦焦特布尔
完成:2018年
总建筑面积:710平方米
场地面积:280平方米
建筑事务所:Abraham John Architects
网站:www.abrahamjohnarchitects.com
联系邮箱:mail@abrahamjohnarchitects.com
设计团队:Abraham John, Alan Abraham, Anca Florescu, Niranjan Fulsundar, Prachi Donde, Neha Gupta
客户:Praveen Sankhla
图片:Alan Abraham
Project name: Chhavi House
Project location: Jodhpur, Rajasthan, India
Completion Year: 2018
Gross Built Area: 710 sqm
Plot Area: 280 sqm
Architect's Firm: Abraham John Architects
Website: www.abrahamjohnarchitects.com
Contact e-mail: mail@abrahamjohnarchitects.com
Design Team: Abraham John, Alan Abraham, Anca Florescu, Niranjan Fulsundar, Prachi Donde, Neha Gupta
Client: Praveen Sankhla
Photo credits: Alan Abraham
更多 Read more about: Abraham John Architects