本文由 STIMSON STUDIO 授权mooool发表,欢迎转发,禁止以mooool编辑版本转载。
Thanks STIMSON STUDIO for authorizing the publication of the project on mooool, Text description provided by STIMSON STUDIO.
STIMSON STUDIO:Cider Ridge农场位于康涅狄格威尔顿殖民地小镇的郊区,农场包括16英亩保存完好的草地和一个历史悠久的果园。一条18世纪带有石墙的农用小路沿着土地的山脊线延伸,在新宅基地和现有农业景观之间形成了一条鲜明的分界线。
STIMSON STUDIO: Cider Ridge Farm is located on the outskirts of the colonial town of Wilton, Connecticut. The farm encompasses sixteen acres of preserved meadows and a historic working orchard. An eighteenth-century agricultural lane with fieldstone walls runs along the ridgeline of the property, creating a purposeful divide between the site for a new homestead and the existing agrarian landscape.
▼带有石墙的小路 The lane with fieldstone walls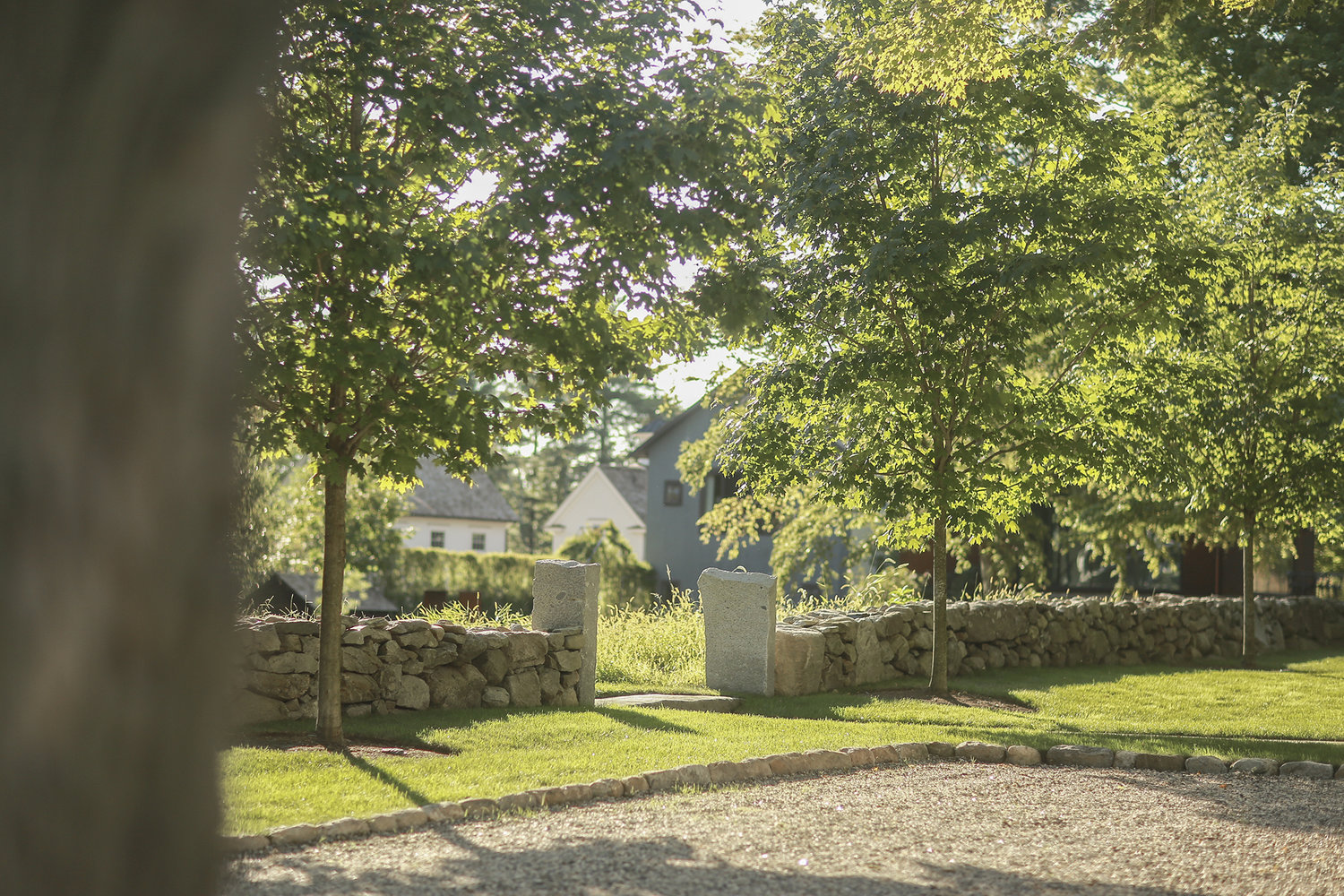 项目分为两个阶段:第一,在南侧为一个年轻且不断壮大的家庭建造一个新家;第二,全面修复东北角原有的19世纪宅基地遗址。
Two phases of work defined this project. The first, a new home for a young and growing family on the south side of the property; The second, the comprehensive restoration of the original nineteenth-century homestead on the northeast corner of the site.
▼草地和果园 The meadows and orchard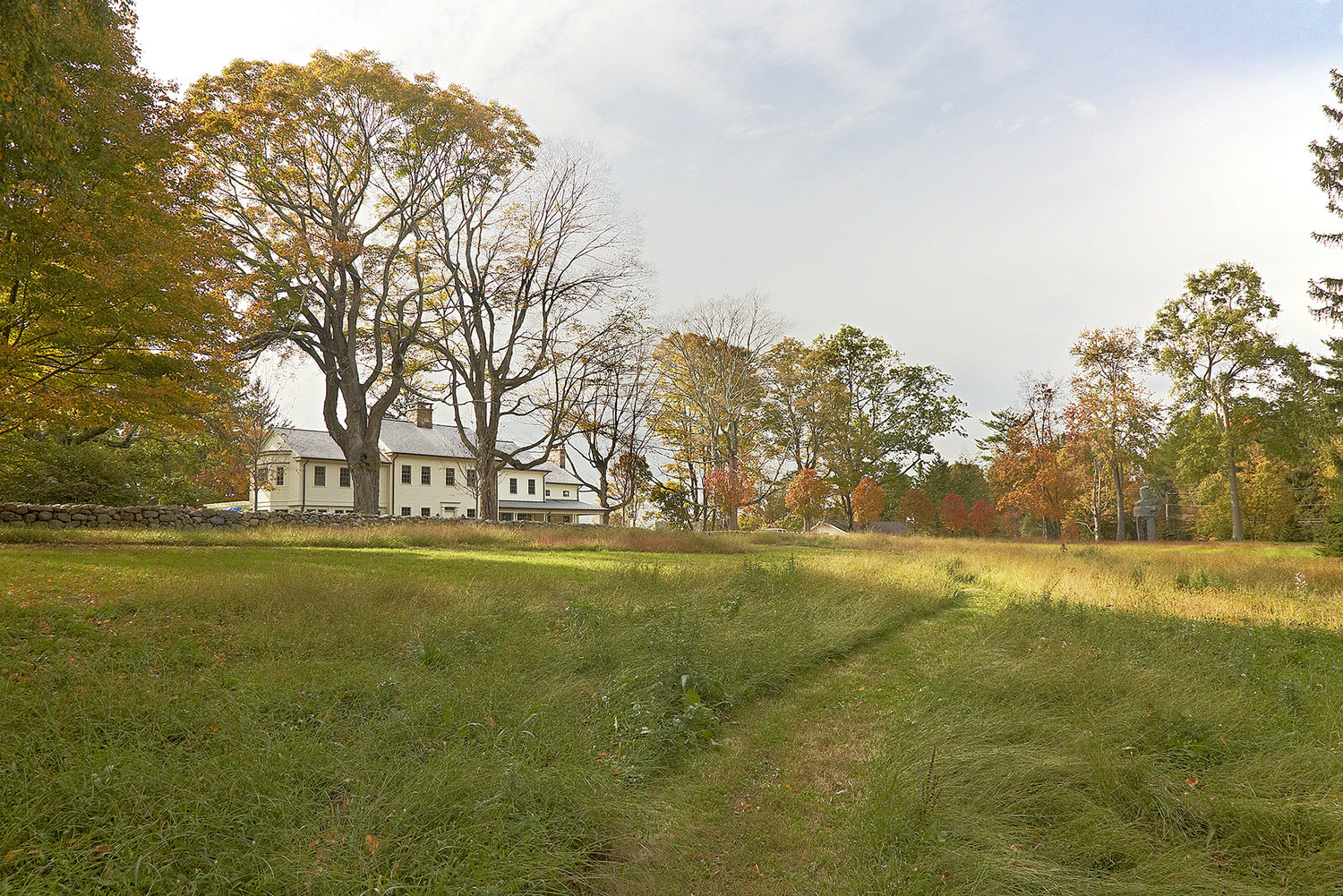 ▼房前花园 The garden in front of the house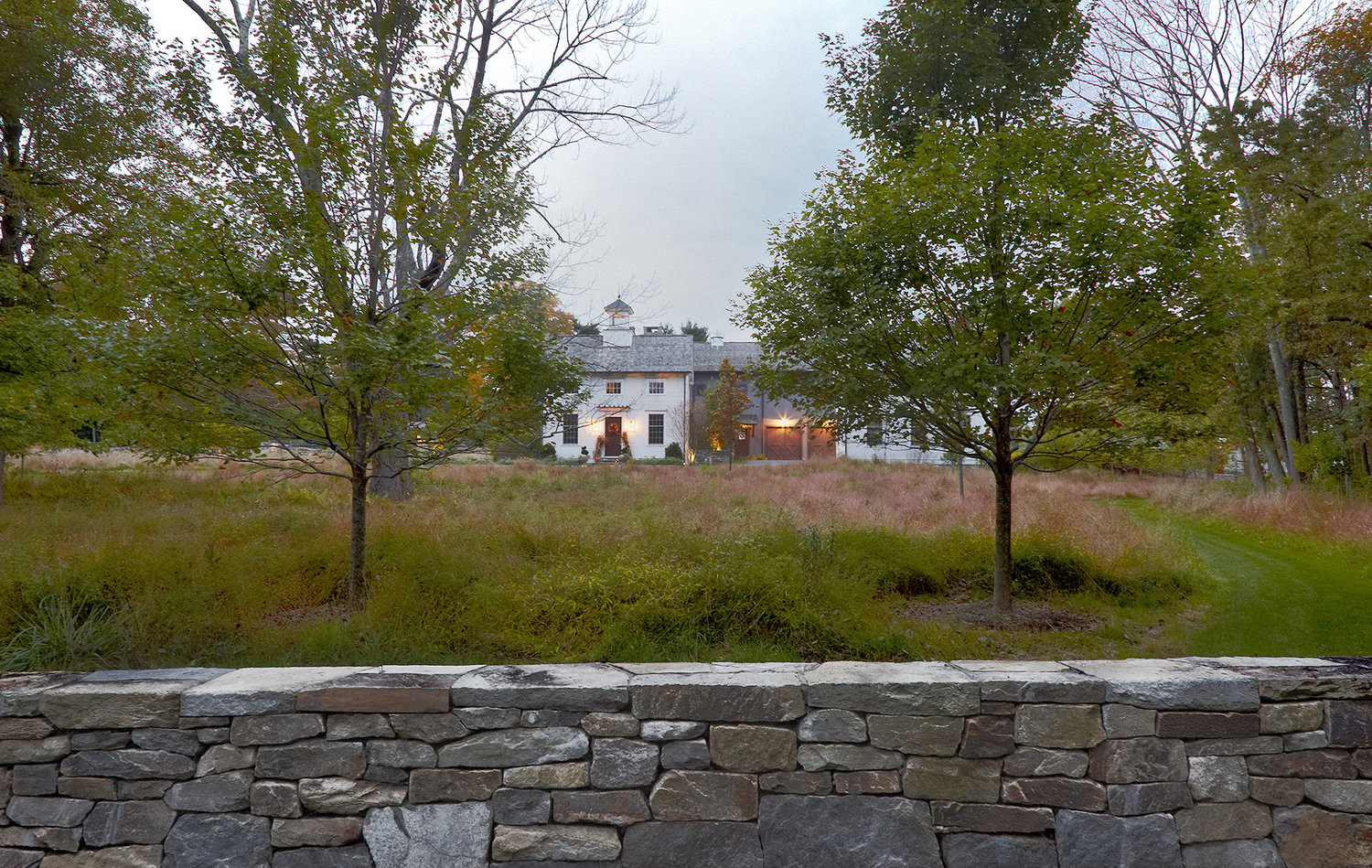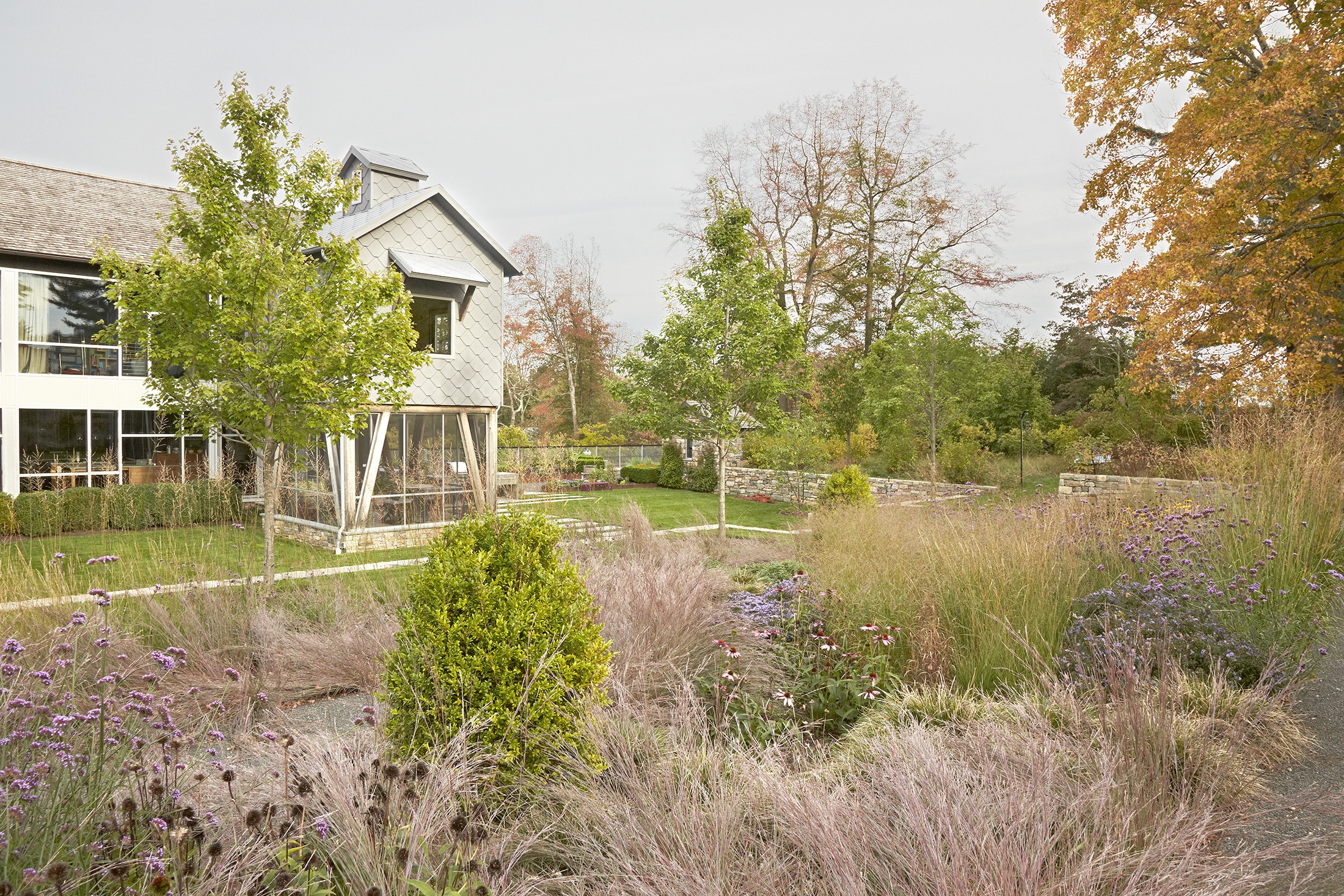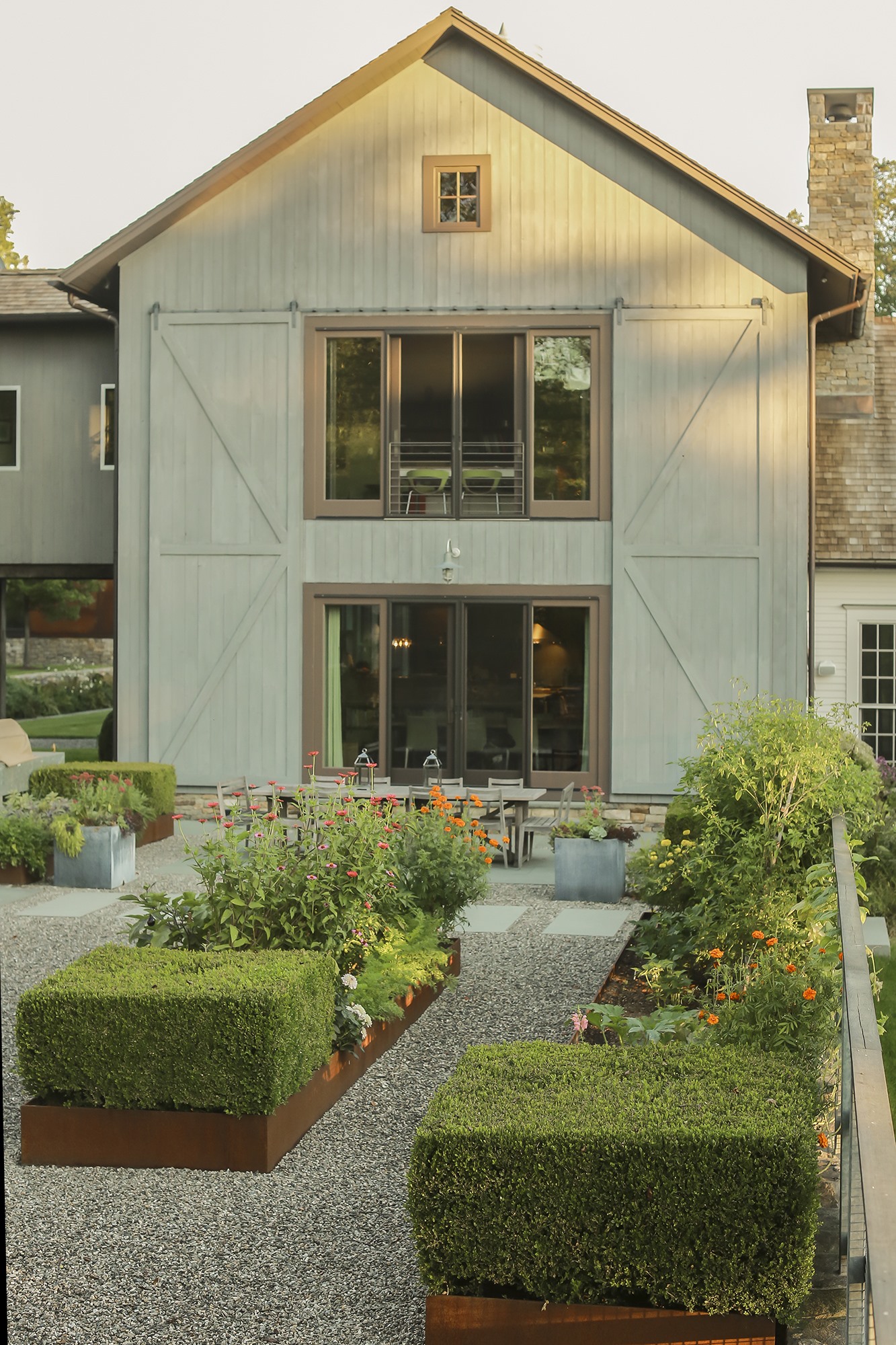 STIMSON与业主密切合作,创建了一个属于多代人的家园,表达了现代家庭当代的生活需求,同时保留了历史农场的完整性。古朴的乡村景观与新潮的现代景观并置,是材料、种植基调和整体景观表达的指导语汇。
STIMSON worked closely with the owners to create a multi-generational homestead that expresses the contemporary needs of the modern family while preserving the integrity of the historic farm. The juxtaposition of old and new, rustic and modern, became a guiding language for the materials, planting palette, and overall landscape expression of the project.
▼古朴的乡村景观 The old rustic landscape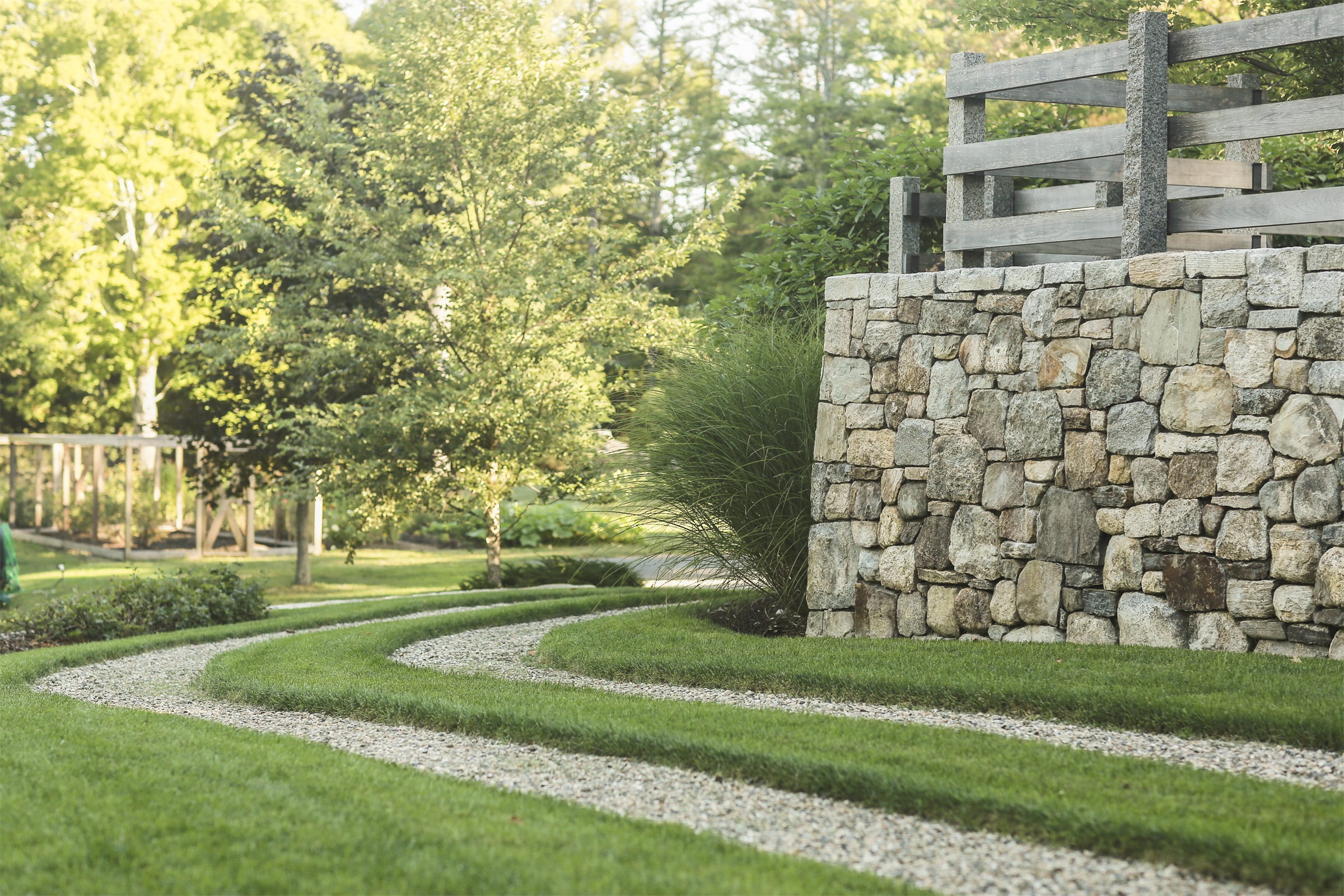 ▼新潮的现代景观 The new modern landscape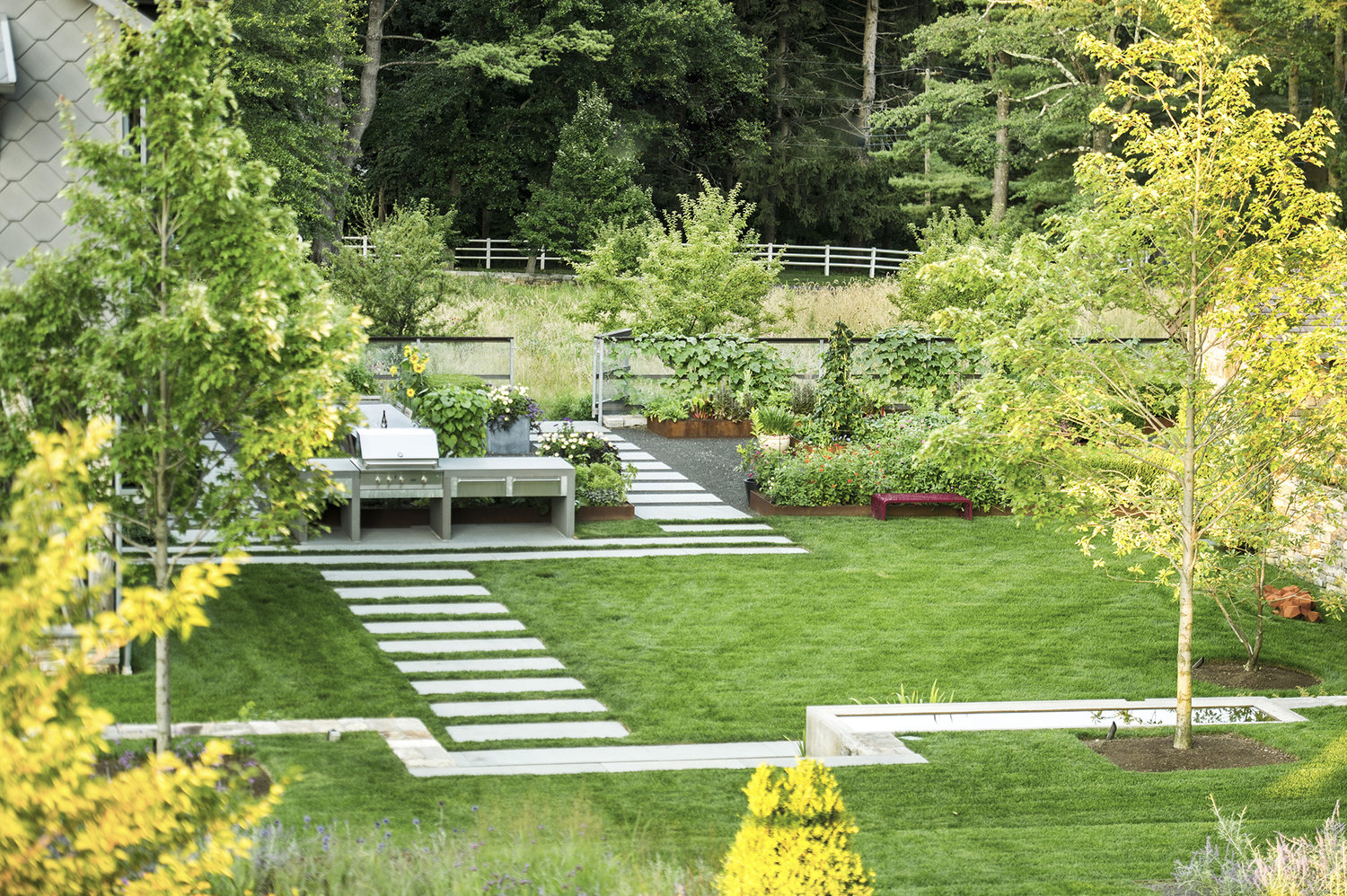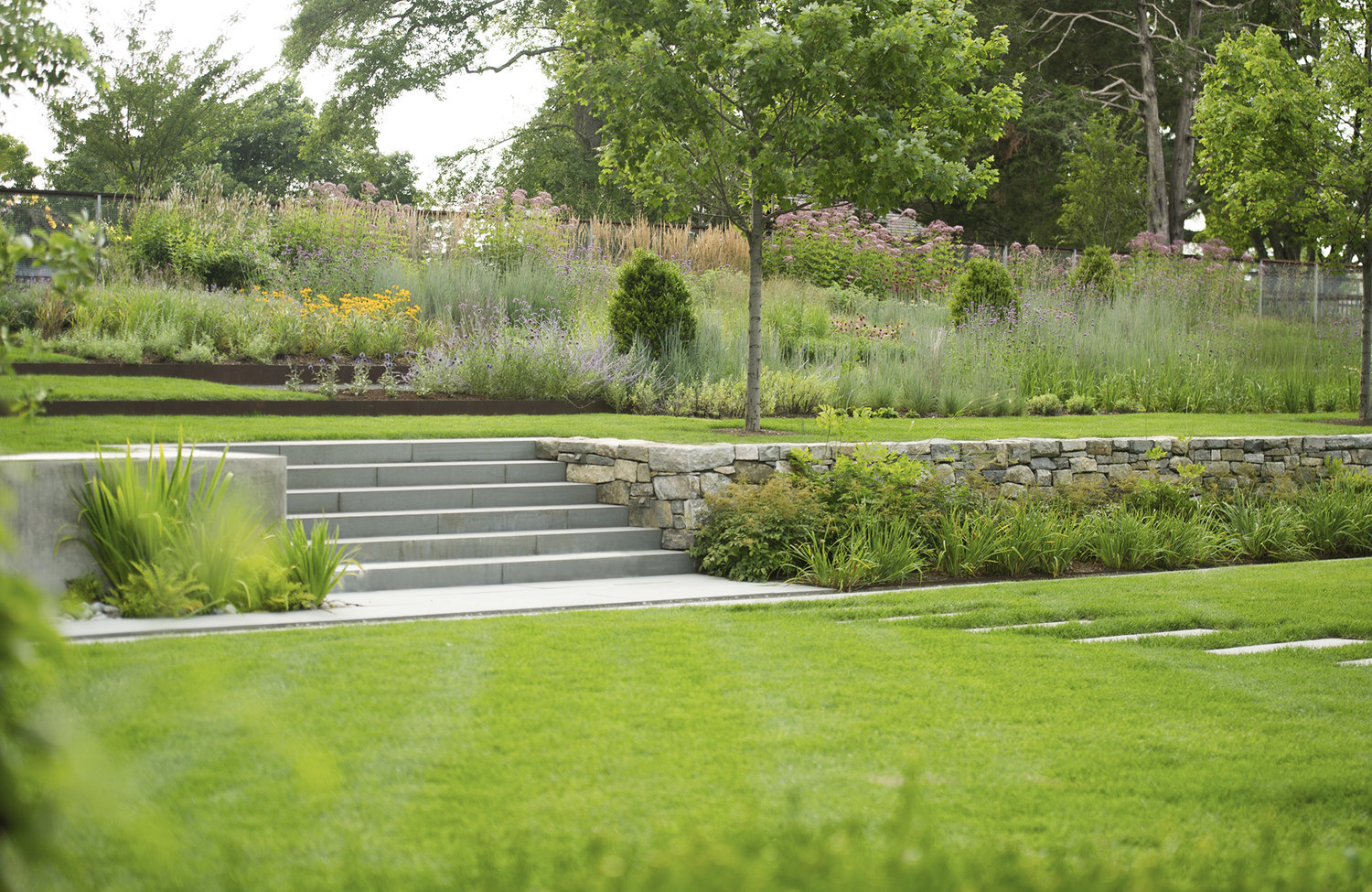 新的农场景观被构想为与房子相邻的一系列户外客厅,有一个厨房花园和通向历史小路的多年生花园。花园重新诠释了场地上的草地,选择栽植季节性的植物来展示它们不同的颜色和纹理。
The new farm landscape was conceived as a series of outdoor rooms adjacent to the house, with a working kitchen garden and perennial garden stepping up to the historic lane. The garden is a collection that reinterprets the site's meadows, selected for seasonal display of color and texture.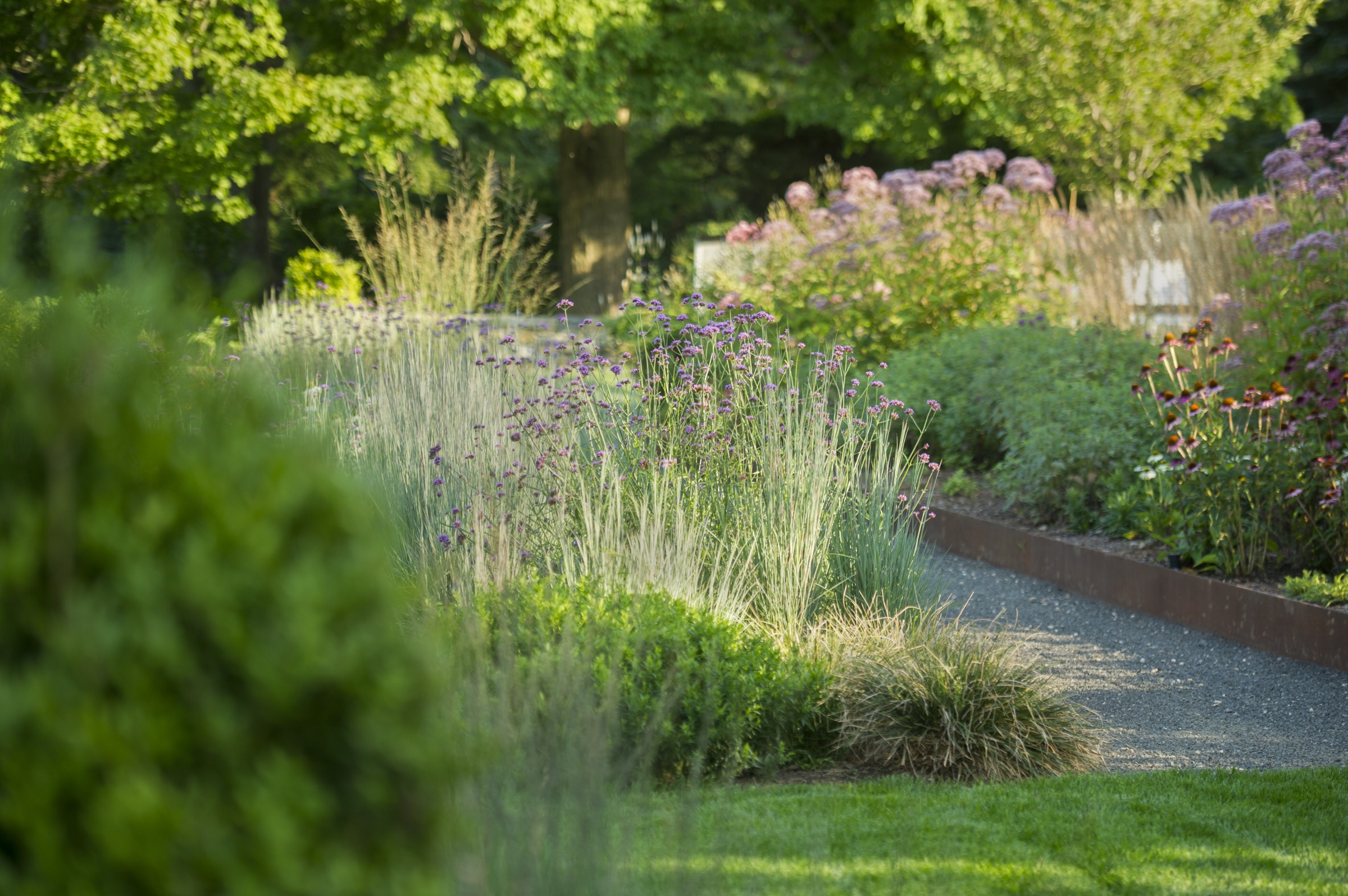 在花园上方,一个新的游泳池、凉亭和游乐花园汇聚在历史悠久的小路上,巧妙地融入历史悠久的石板墙碎片中。生锈的钢材、花岗岩和再生石材的使用呼应了遗址的传统工艺,同时也表达了业主对现代艺术和建筑的喜爱。这些材料也发扬了土地的遗产,农民以其双手塑造了这片长达一个多世纪的景观。
Above the gardens, a new pool, pavilion, and play garden converge at the historic lane, carefully inserted between fragments of the historic farm walls. The use of rusted steel, granite, and reclaimed stone respond to the site's heritage, yet also expresses the owners' affinity for modern art and architecture. These materials also carry forward the property's legacy; in the hands of the farmer, they shaped this landscape for well over a century.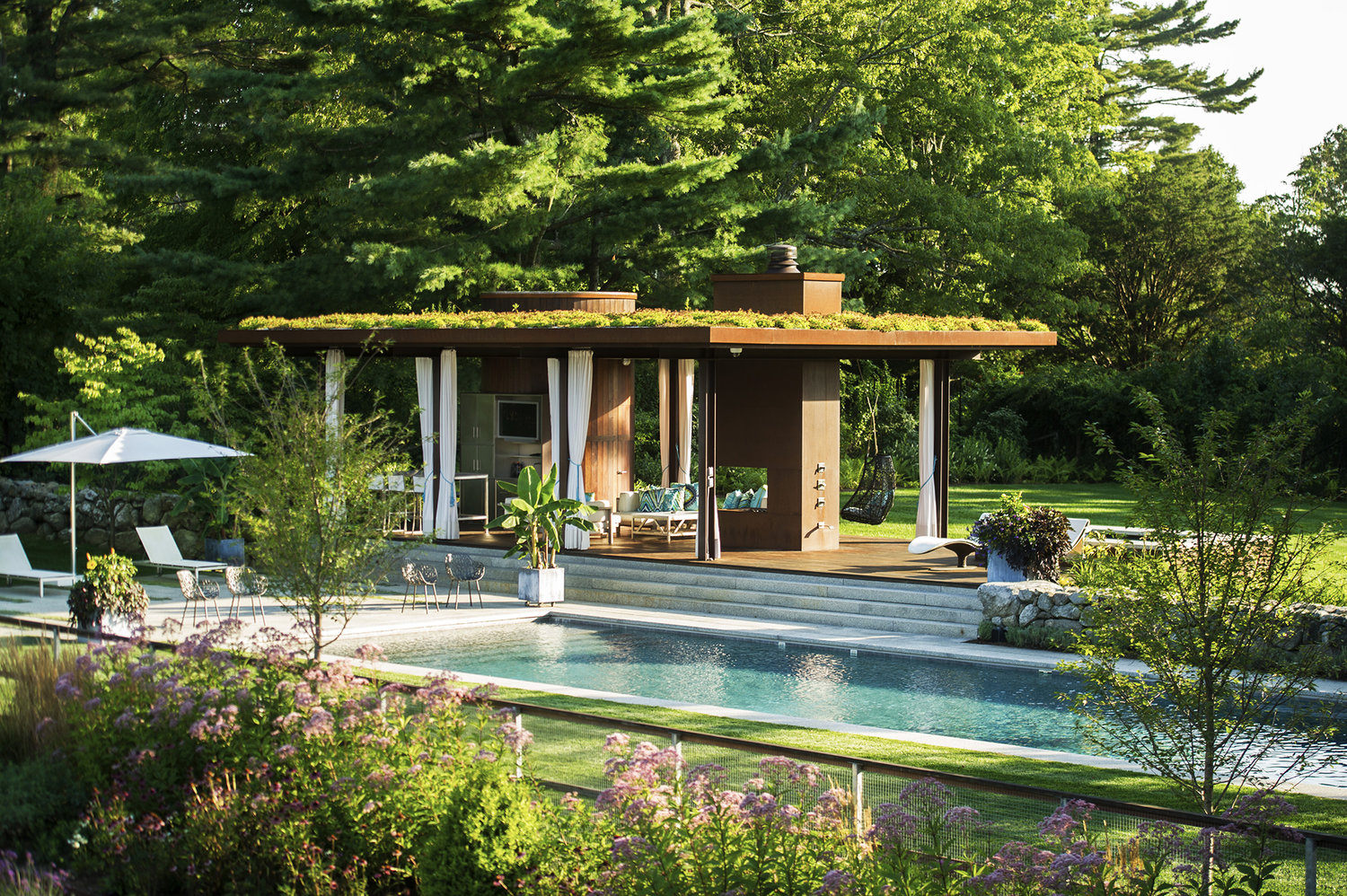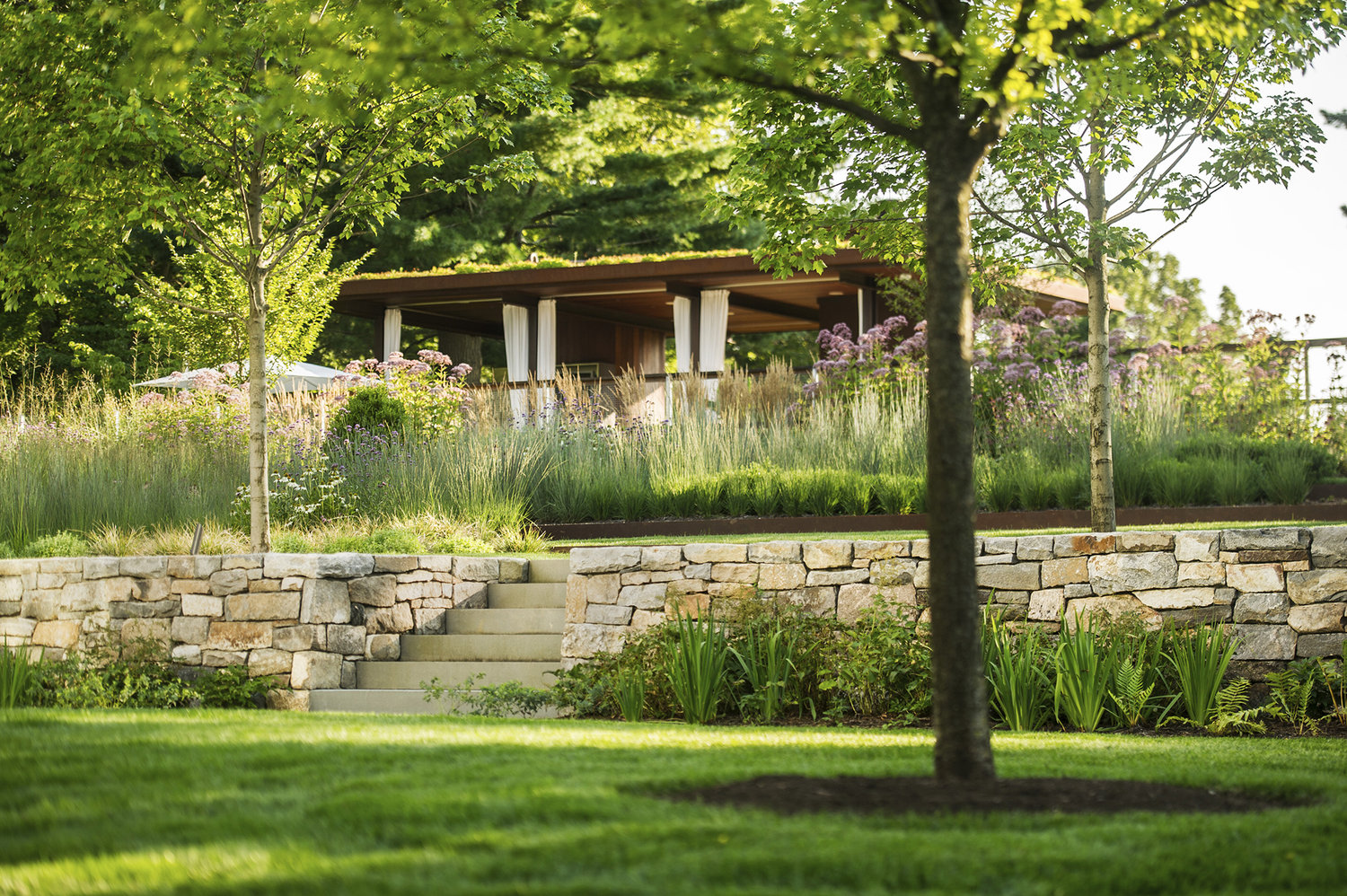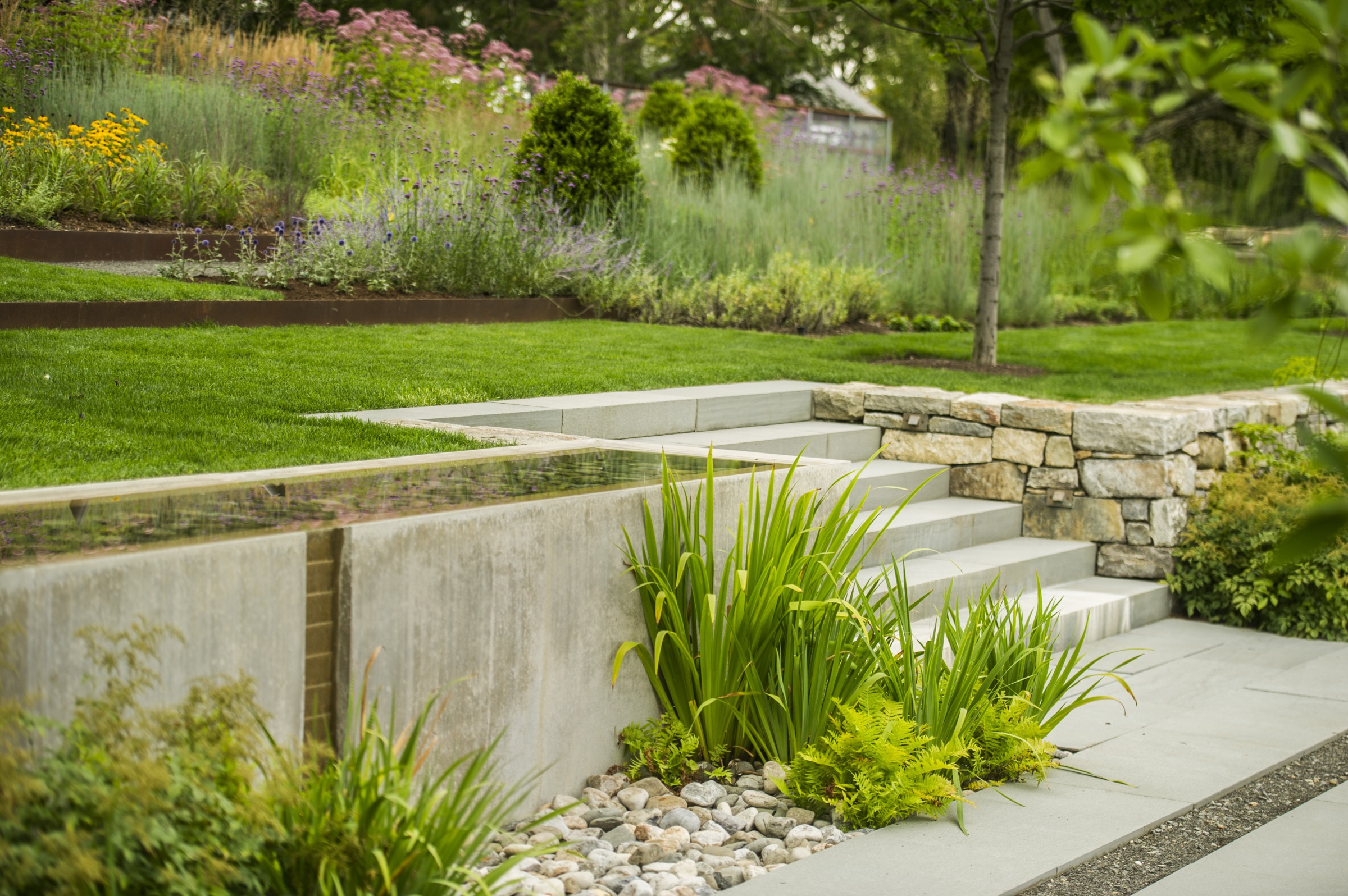 项目名称:Cider Ridge农场
竣工年份:2016
面积:20 英亩
项目地点:康涅狄格州威尔顿
景观/建筑公司:Stephen Stimson Associates Landscape Architects, Inc.
网站:https://www.stimsonstudio.com
联系邮箱:info@stimsonstudio.com
主创:Beinfield Architecture
设计团队:Stephen Stimson、FASLA、Lauren Stimson、ASLA、Masha Hranjec、Stephen Carrolla
合作者:Beinfield Architecture
照片来源:Neil Landino
摄影师网站:https://landinophoto.com
Project name: Cider Ridge Farm
Completion Year: 2016
Size: 20 Acres
Project location: Wilton, Connecticut
Landscape/Architecture Firm: Stephen Stimson Associates Landscape Architects, Inc.
Website: https://www.stimsonstudio.com
Contact e-mail: info@stimsonstudio.com
Lead Architects: Beinfield Architecture
Design Team: Stephen Stimson, FASLA, Lauren Stimson, ASLA, Masha Hranjec, Stephen Carrolla
Collaborators: Beinfield Architecture
Photo credits: Neil Landino
Photographer's website: https://landinophoto.com
---
"乡村农场简洁干净,花园里的多年生植物种植有序,而不失自然感。"
审稿编辑  HOU
更多 Read more about: STIMSON STUDIO