澳派景观设计工作室:中海杭州·寰宇天下B地块项目,位于杭州市滨江区(杭州国家高新技术产业开发区)钱塘江边,与杭州老城区隔江相望。江面上往来货船络绎不绝,船上货柜色彩斑斓,杭州集装箱水运特色成为城市线上一道靓丽的风景。景观设计灵感便是通过对当地文化与经济活动特色的解读与提炼,同时从建筑外立面渐变的形体与层次丰富的色彩出发,打造灵动变化的景观空间,让景观与建筑相呼应,呈现绝妙的景观效果,来呼应钱塘江边城市的发展与文化传承。
ASPECT Studios: COHL Hangzhou Business Center Plot B is located in Binjiang District (Hangzhou National High Tech Industrial Development Zone), facing the Hangzhou old city across theriver.Continuous cargo ships flow on the river , filled with colourfulcontainers , creating  a beautiful watertransport scenery within the city line. The design inspiration comes from the interpretation and refinement of the local culture and economy, meanwhile abstracted the shapeand rich color from the building facade, creating a vibrant landscape space. The design reflects the development and spirit of the city along the Qian Tang River.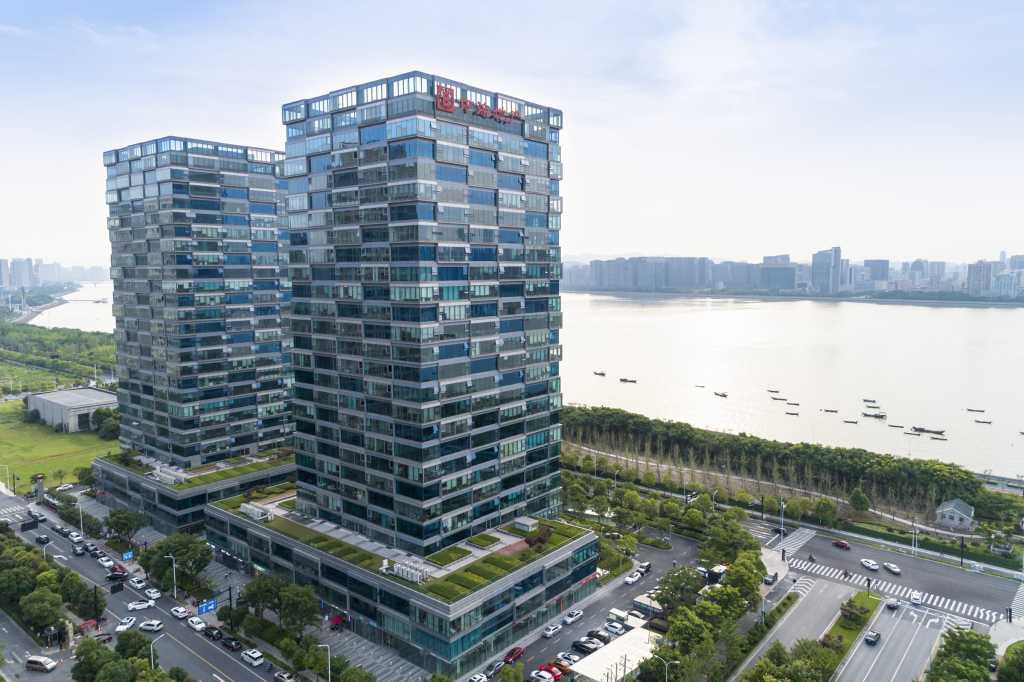 ▼屋顶花园 Roof Top Garden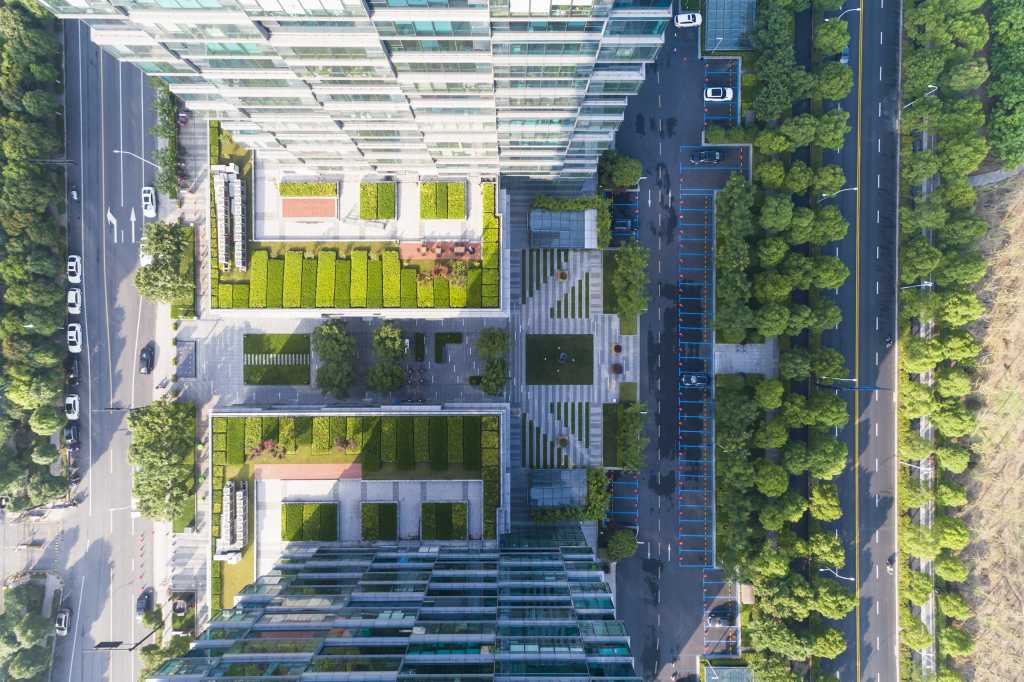 ▼建筑外观Building Façade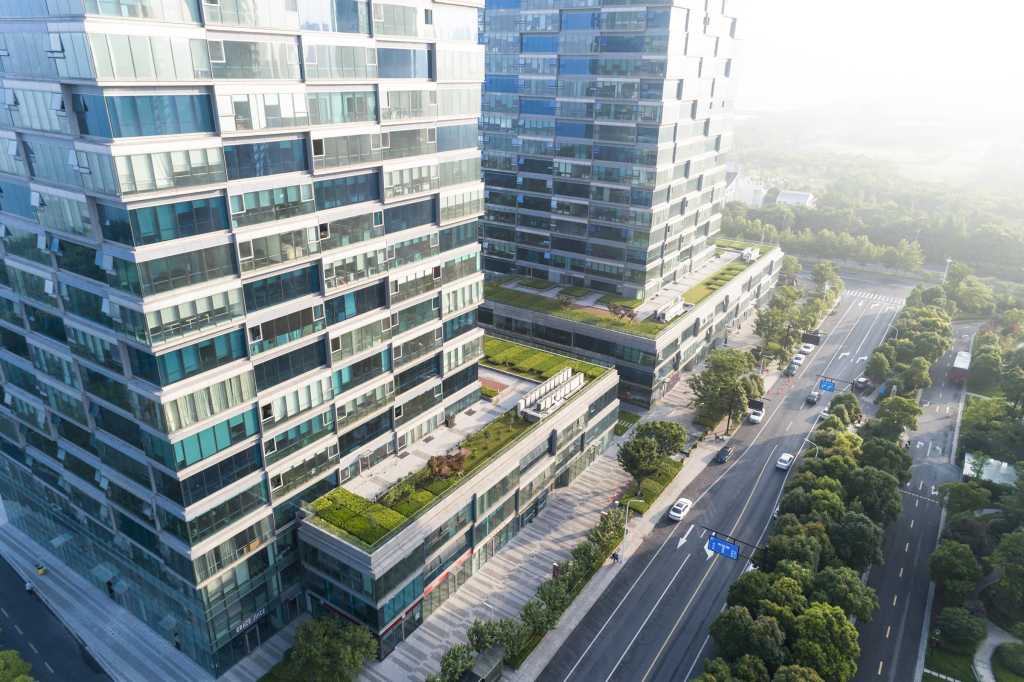 ▼"晶彩"地面铺装设计 Crystal Cubical Paving Design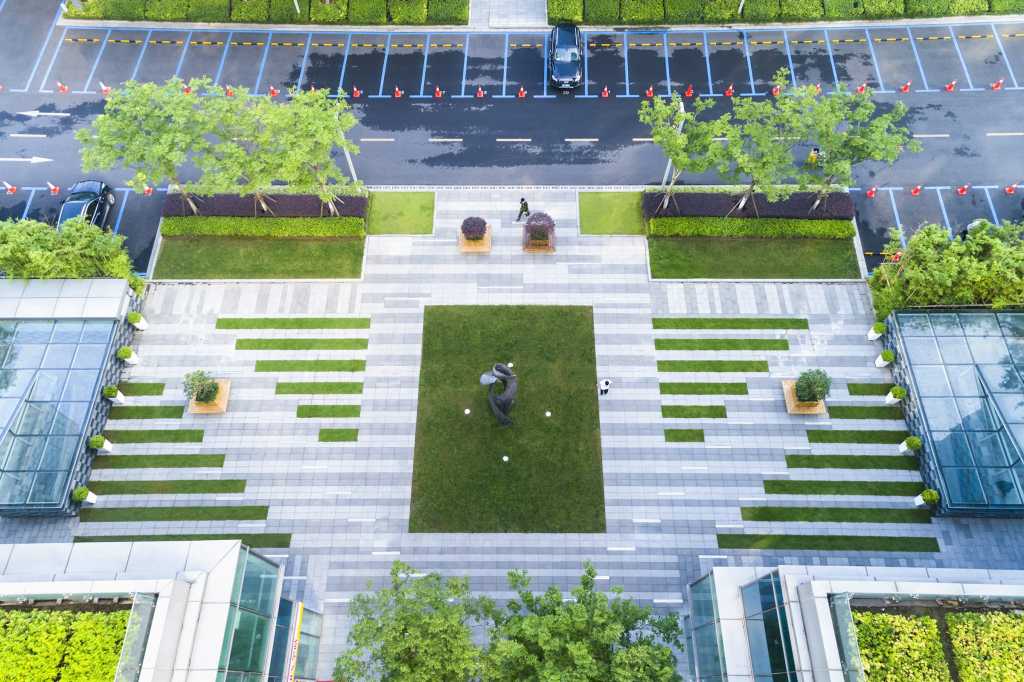 整个商业内街及商业延展区均以特色方格状铺装为主,再次与建筑呼应,是建筑的延续。以中轴线为基准,在区域内布置休闲座椅、遮阳棚,及水景点缀。 办公塔楼前设计大型种植池,为整个区域增添绿意,放松纾缓上班族的心情与紧凑工作节奏,在工作之馀仍可以片刻小憩去拥抱大自然。
The pavement in the inner retail streetis featured by square lattice, andreflective to the building. Based on the central axis, the layout of leisureseats, canopy, and waterscape embellishment, the layout of large planting poolsin front of the office tower are created for more greenery atmosphere in thewhole area, providing a relax and eye-catching space for people, allowing themchance to embrace nature from their intensive workload.
▼中轴线动感铺地与地面灯光铺装设计vivid paving in central axis and inground lighting design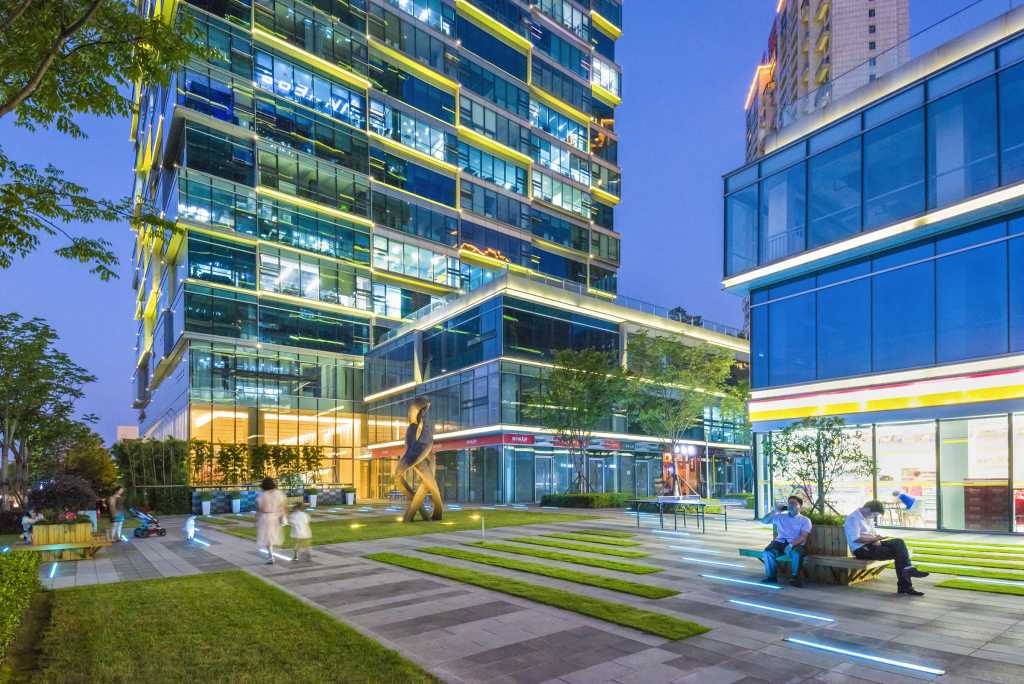 景观设计整体以简约、现代风格为主,融入线性几何设计手法,不仅强调视觉上的舒适感,还注重提升商业办公的附加值。通过设置可以举办小型聚会及商业活动的阳光草坪,以及休闲座椅,鼓励办公人群走到户外,享受花园式的社交活动,从而激活场地。
The design is overall simple and contemporary, integratingwith geometric rhythm. It is not only focus on the vision aesthetic but also aim at improving more function for this area. It provides the chances forpeople having small social gathering on the sunny lawn, enjoying intimate communication on the surrounding seats. It leads for new life style and activatingthe space.
澳派景观设计团队萃取从古至今杭州悠久的运河生态文化 , 为中海杭州·寰宇天下商务中心, 倾情打造别具一格的城市花园客厅,精彩演绎犹如绿色航道的景观设计风采。
Inspiredby the canal ecological culture of ancient Hangzhou, ASPECT Studios created aunique urban garden for COHL Hangzhou Business Center, perfectly interpreted a green canal for landscape design.
▼平面图Master plan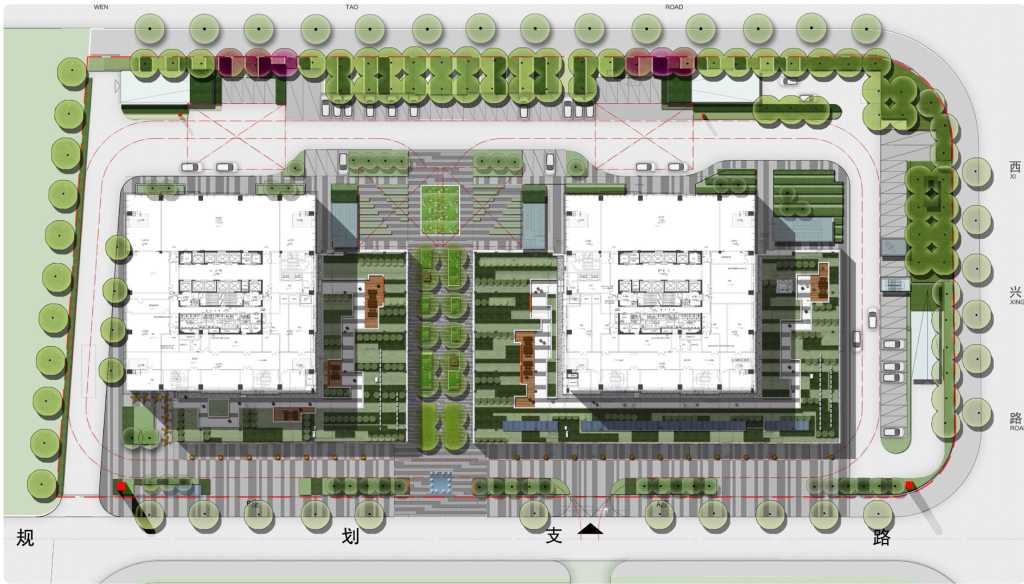 项目名称:中海杭州·寰宇天下B地块
项目类型:商业办公写字楼
项目地点:浙江杭州
业主:中海地产
景观设计:澳派景观设计工作室
摄影: 大拙建筑空间摄影
时间:2016
景观项目总面积:12,406 平方米
Project Name:COHL Hangzhou Business Center Plot B
Project Type:Office Building
Location:Hangzhou Zhejiang
Client:COHL
Landscape design:ASPECT Studios
Photography:Plainness Architectural Space Photography Studio
Year:2016
Total landscape area:12,406 Spuare meters