本文由 pk_iNCEPTiON授权mooool发表,欢迎转发,禁止以mooool编辑版本转载。
Thanks pk_iNCEPTiON for authorizing the publication of the project on mooool, Text description provided by pk_iNCEPTiON.
pk_iNCEPTiON:很久以前,一个有远见的老师为Sawarpada村庄一所农村学校的贫困学生开发了一种独特的教学方法。这个小学有40名学生,在过去10年里,两名教师一直在一个六角形的教室里上课。由于缺乏资源,他们找到了利用墙壁、地板甚至现有树木的方法。
pk_iNCEPTiON:A story starts long back with the visionary teacher; he developed a unique teaching method for the underprivileged students of a rural school at Sawarpada village. It is a primary school for 40 students with two teachers who held classes in one hexagonal room for past 10 years. As lack of resources, they discovered a way to use walls, floors & even the existing trees.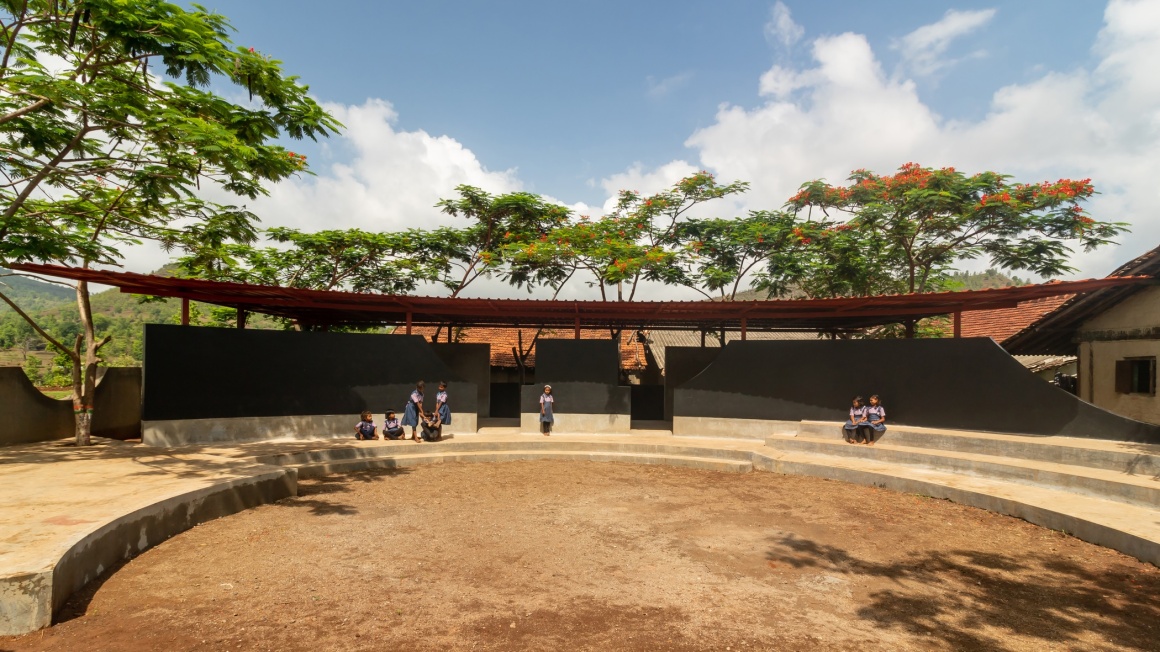 Shree Saraswati基金会是一个非政府组织,其发起者帮助了许多村庄和学校。该组织的宗旨主要是为学校提供合适的资源以适应他们的学习方式,并且为村民提供多用途的基础设施,以满足医疗保健和社交聚会需求。他收到了一位学校老师的请求,希望在教室里再建一堵低矮的复合墙。
The benevolent founder of `Shree Saraswati foundation' an NGO, who helps many villages and schools, received a request from this school teacher for an additional class room with low height compound wall. Our approach was mainly to focus on providing appropriate resources for the school considering their way of learning along with the multipurpose infrastructure for villagers as there is a lack of basic facilities like healthcare & social gatherings.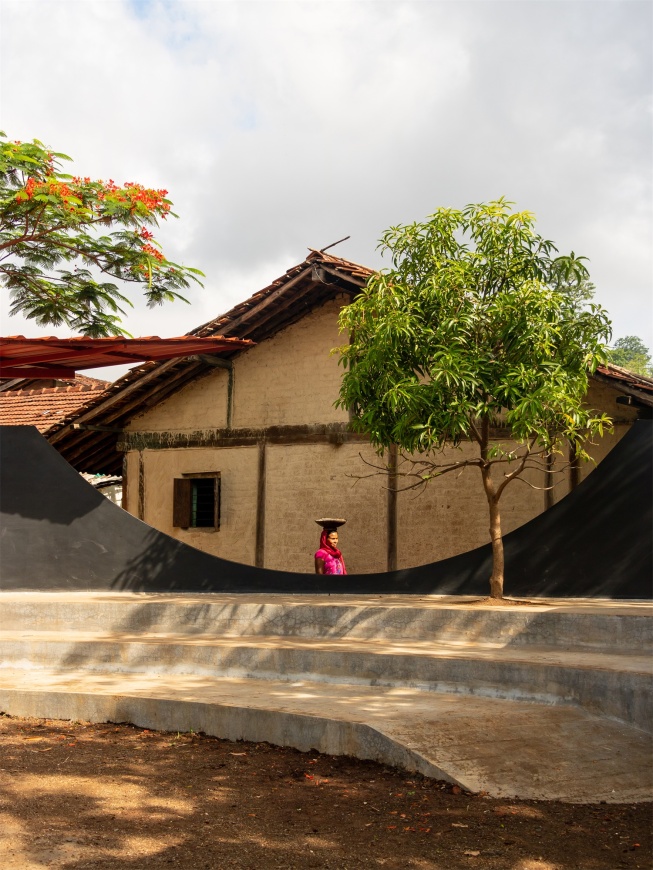 最初的想法是用一组连续的曲线构成复合墙,墙内部是教室,外部是游戏区。这条曲线就像一块永不停歇的画布。随着设计的改进,它发展为一个单一的曲线墙,而不是几条小曲线,并确保了公共活动空间的利用。这个设计也呼应了现有的六角形教室,保证了交通动线的连接和便利。
Initial idea was to have continuous set of curves for a compound wall, arranged in a configuration to achieve class room inside and play areas outside. This curve would act as an unending canvas for writing. It further got developed as a single curve wall instead of several small curves that ensured the utilization of space for communal activities too. This origination would also respond to the existing hexagonal classroom providing connectivity and easy in movement.
▼设计生成 Design Process
▼鸟瞰 Aerial view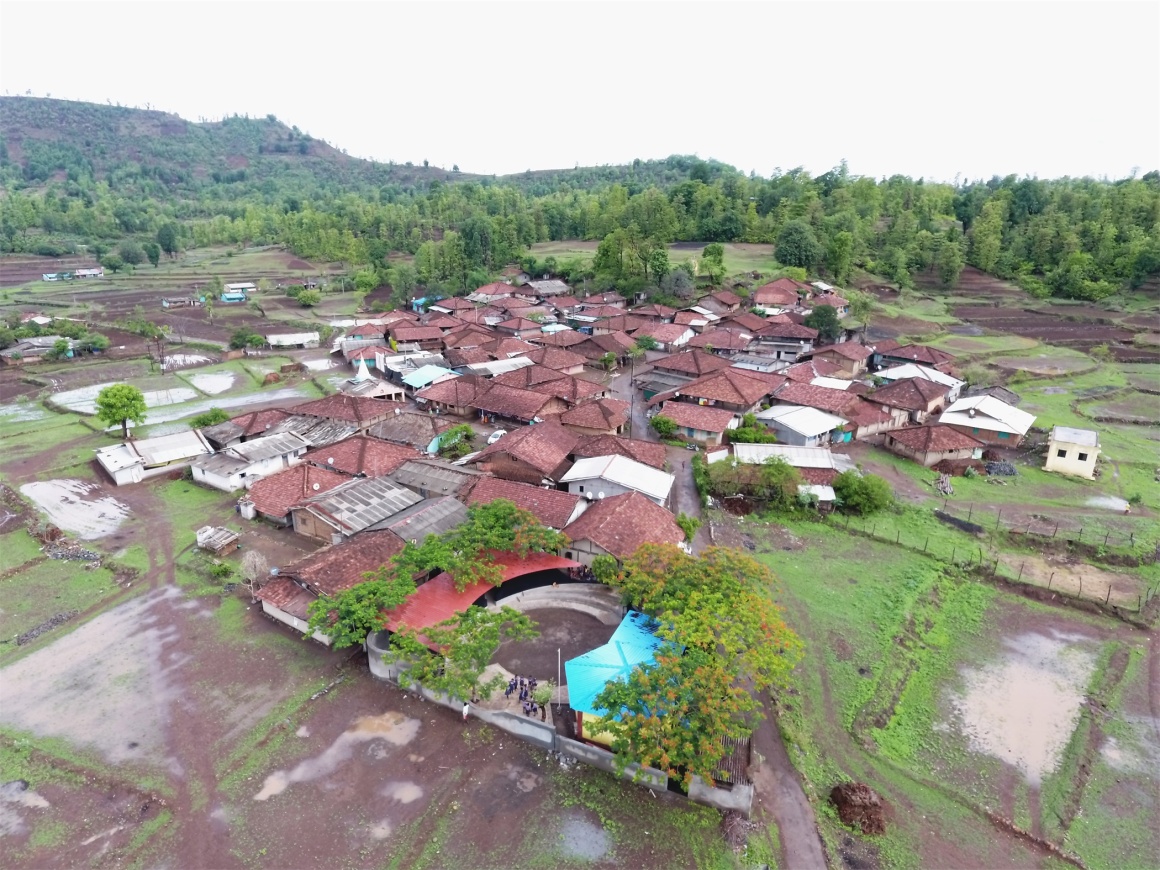 有屋顶的空间通过增加与曲线平行的墙壁来创建,可以容纳两个教室。一个非正式的活动区分隔并连接了两个教室,这也有助于唯一的老师管理学生,并帮助他们像以前一样合作学习。教室覆盖着金属屋顶,沿着墙的曲线延伸,与室内和室外空间相呼应。
A covered space is created by adding a wall parallel to the curve which could accommodate two classrooms. In this formation an informal activity area is created which divides as well as connects both the classrooms. This also helps the only teacher to establish control over students and help them study in collaboration as they were doing previously. The classrooms are covered with metal roof which goes along the curve of the wall, complimenting both the inside and outside spaces.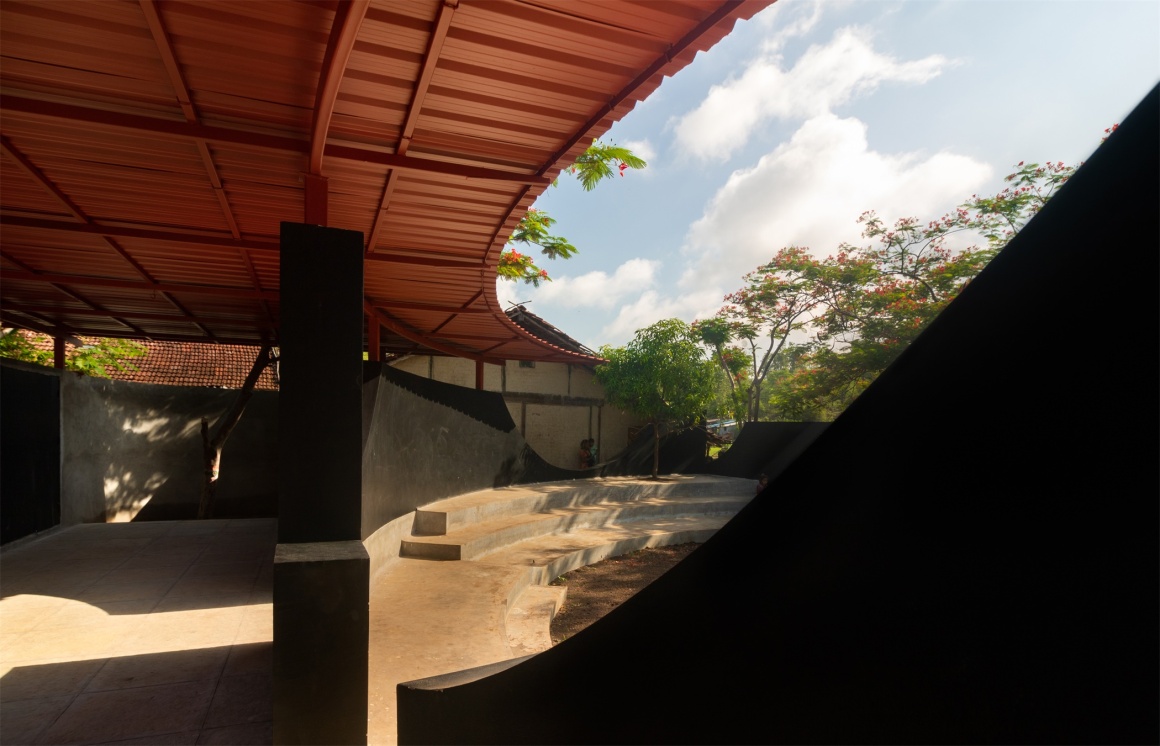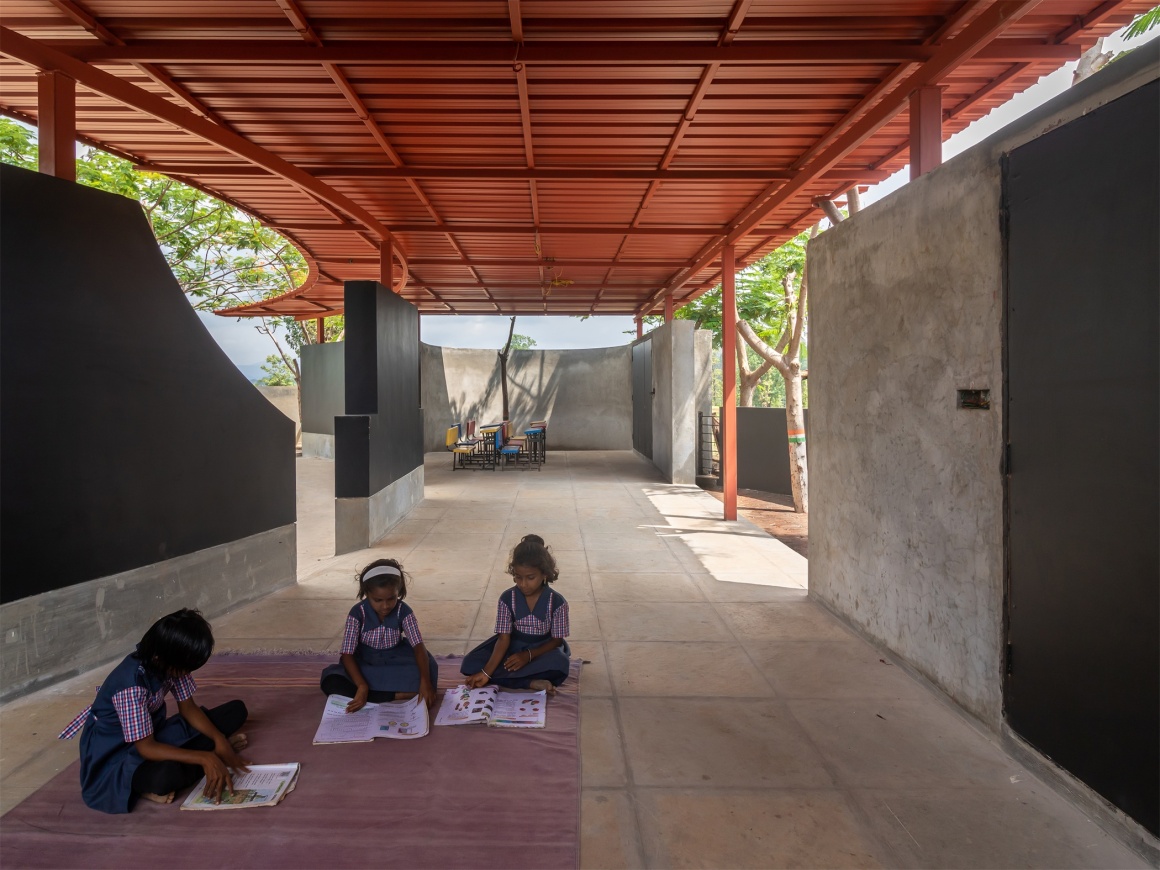 屋顶的陶瓦颜色与周围民居的屋顶景观融合在一起。
The terracotta color of the roof merges with roofscape of the surrounding settlement.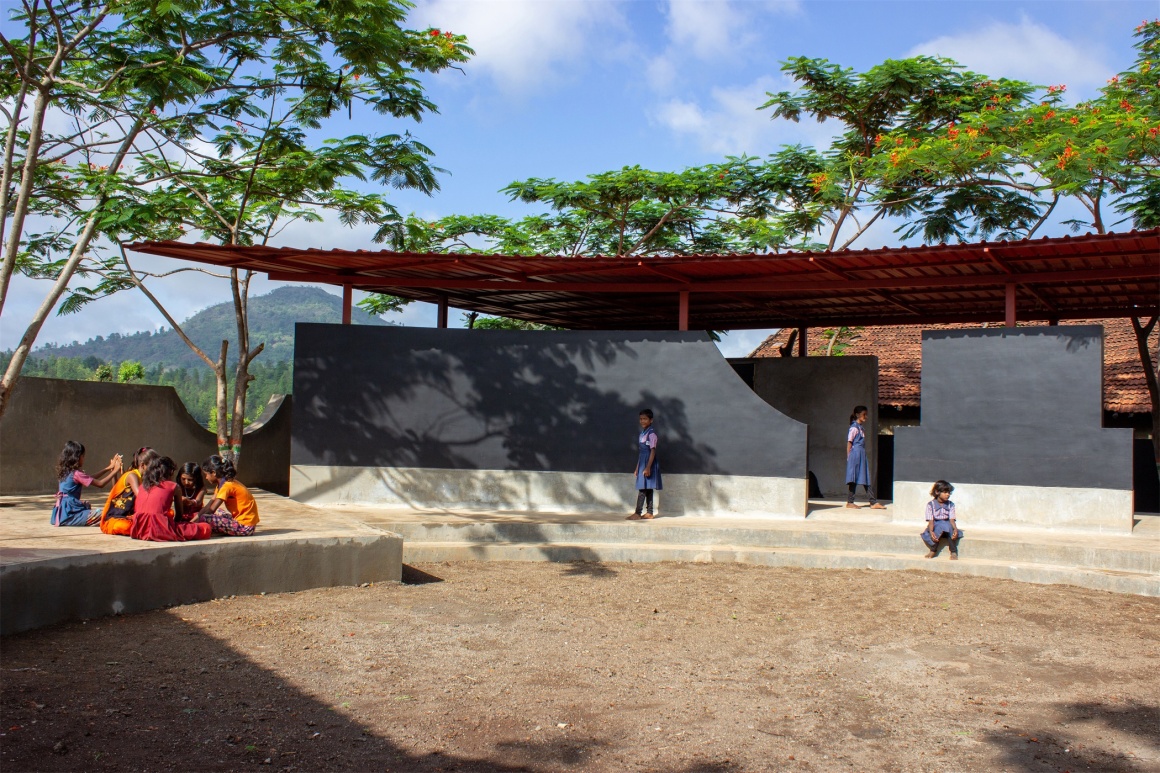 在教室里增加了半圆形庭院,为学生们种植的树木腾出了空间。
The addition of semi circular courtyards in the classroom was a response to enclose existing trees planted by students in the premises.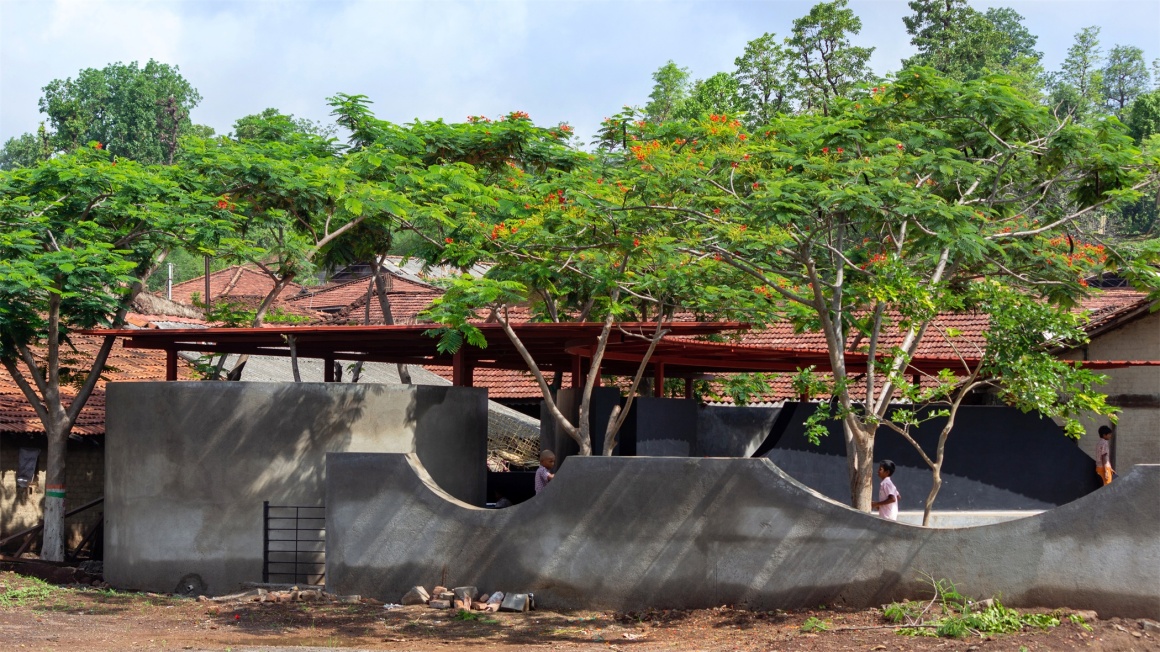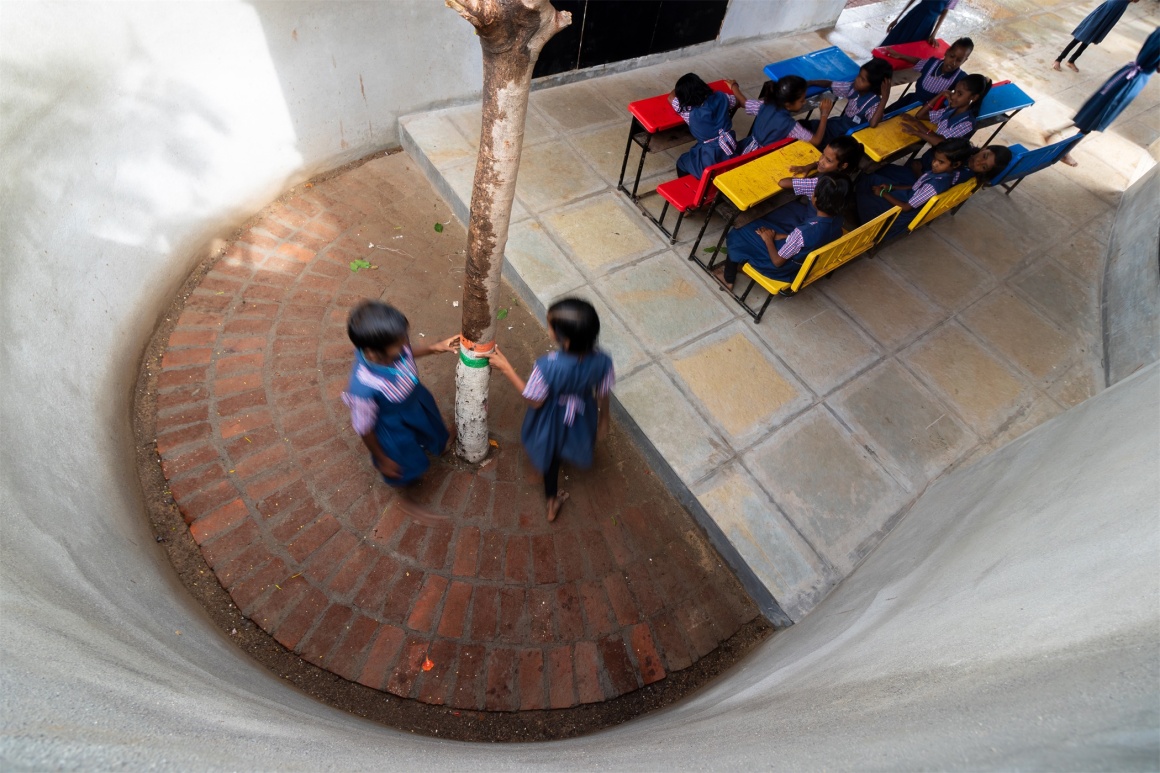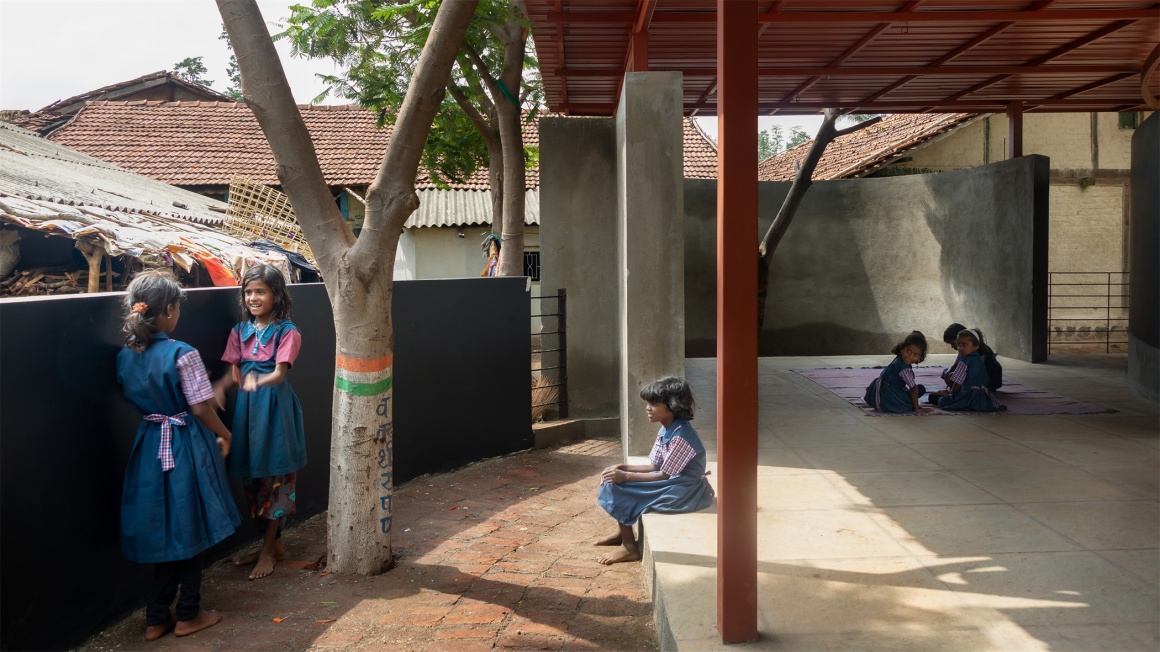 为了提供停车空间,入口处设置了一个黑色凹面,狭窄的墙面开口成为了入口,引向圆形的操场,操场周围是连接新旧结构的圆形底座。
Spatial Experience: To embrace parking a concave black surface is set forth at the entrance. The narrow opening becomes the entrance which directs you towards the circular playground surrounded with circular plinth connecting both old and new structure.
底座的高差变化创造出了圆形剧场和舞台。
Further a change of level is created into the plinth to include amphitheater and stage.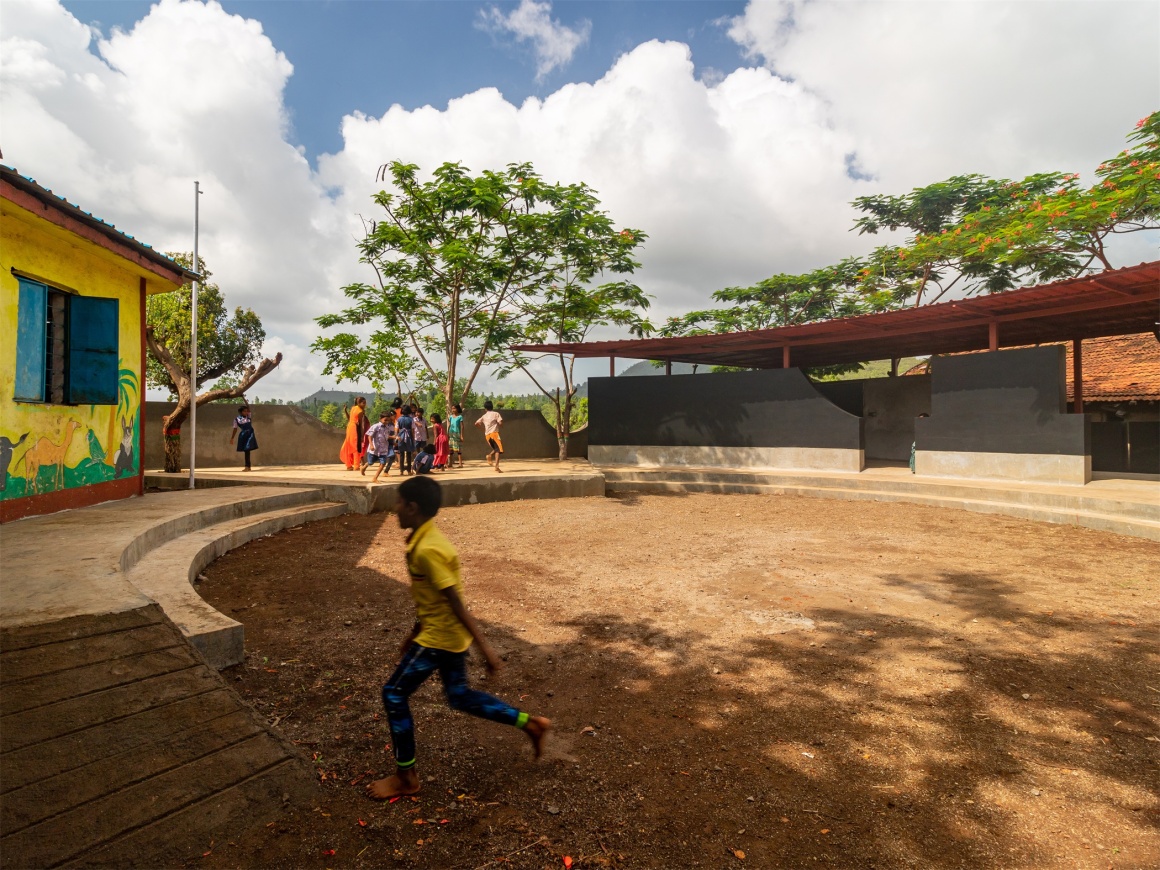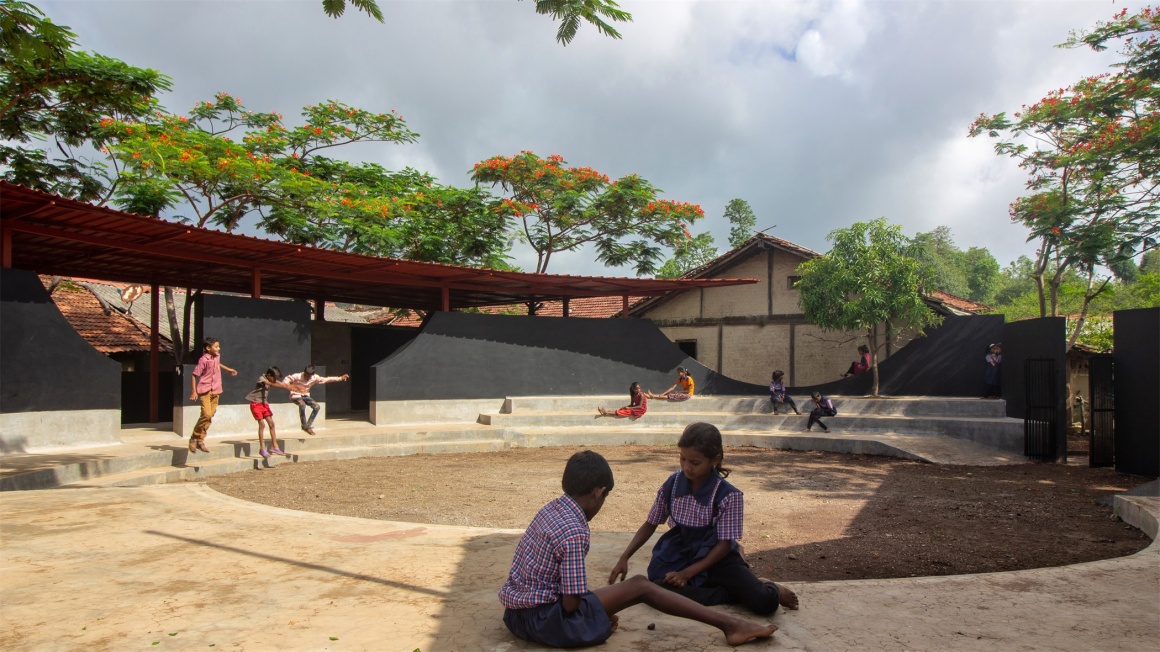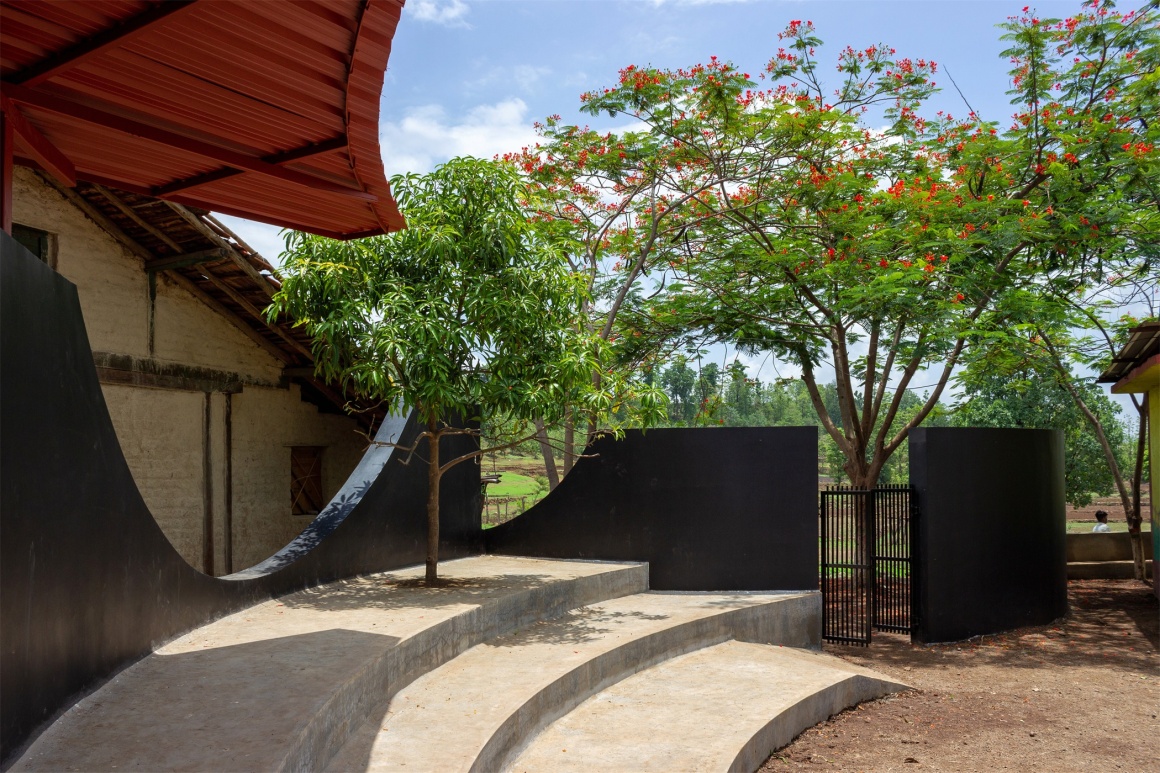 包围中央开放空间的黑色墙壁被切成倒拱状。在操场里村庄和学校可以相互交流。这些倒拱也成为孩子们玩乐的元素。
The black wall enveloping the central open space is sliced in inverted arches at some point where the village and school can interact with each other. These inverted arches also become the playful element for the kids.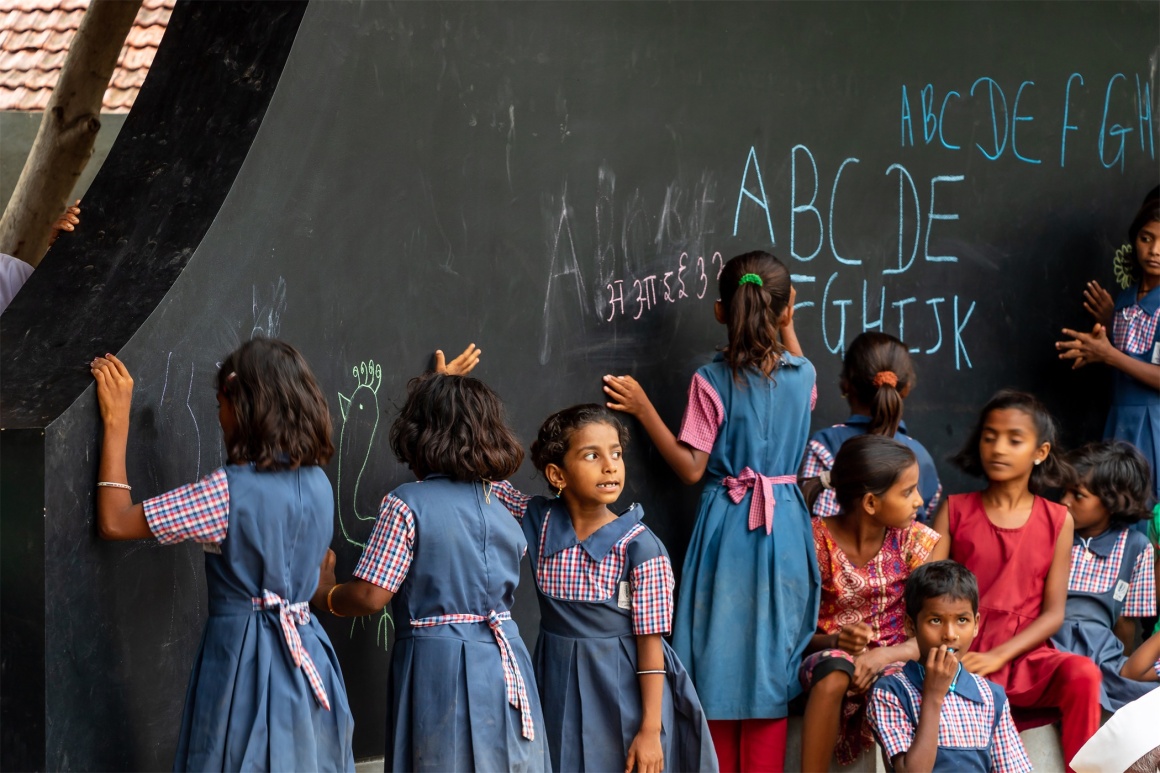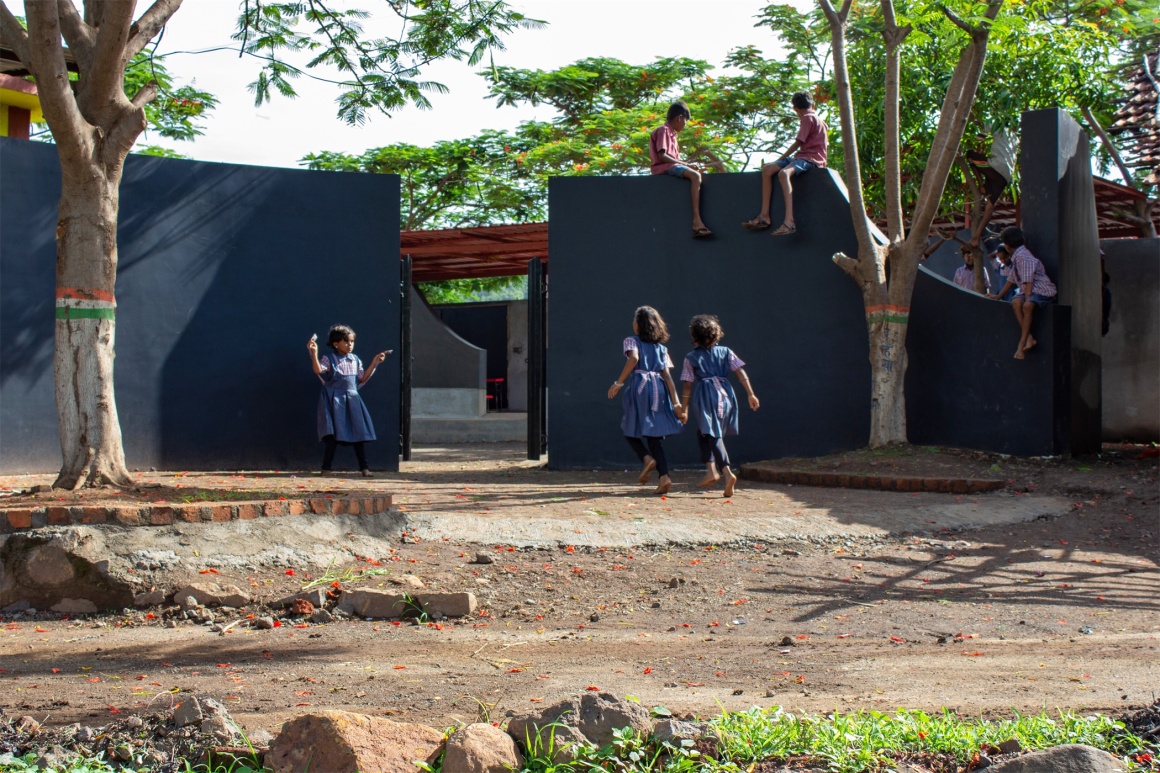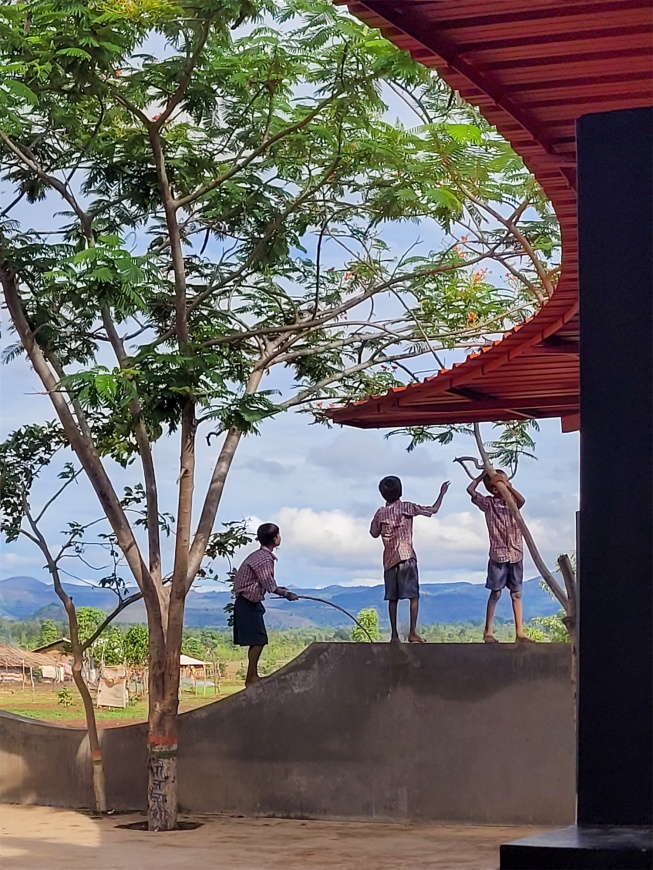 内部或外部,水平或垂直,实体或空白,边缘或表面,所有这些元素在一起是社区传播生活色彩的画布。学习、节日、工作、社交聚会、政治活动、表演、戏剧、临时卫生保健和更多功能在这里产生。"首先是生命,然后是空间,然后是建筑,反过来是行不通的。" Jan Gehl。
Inside or outside,  horizontal or vertical, solid or the void, edge or surface, all together is the canvas for community to spread the color of their life: Learning spaces, festivals, workshops, functions, social gatherings, political campaigns, performances, plays, temporary health care and many more and thus the name 'Community Canvas'. "First life, then spaces, then buildings – the other way around never works – Jan Gehl"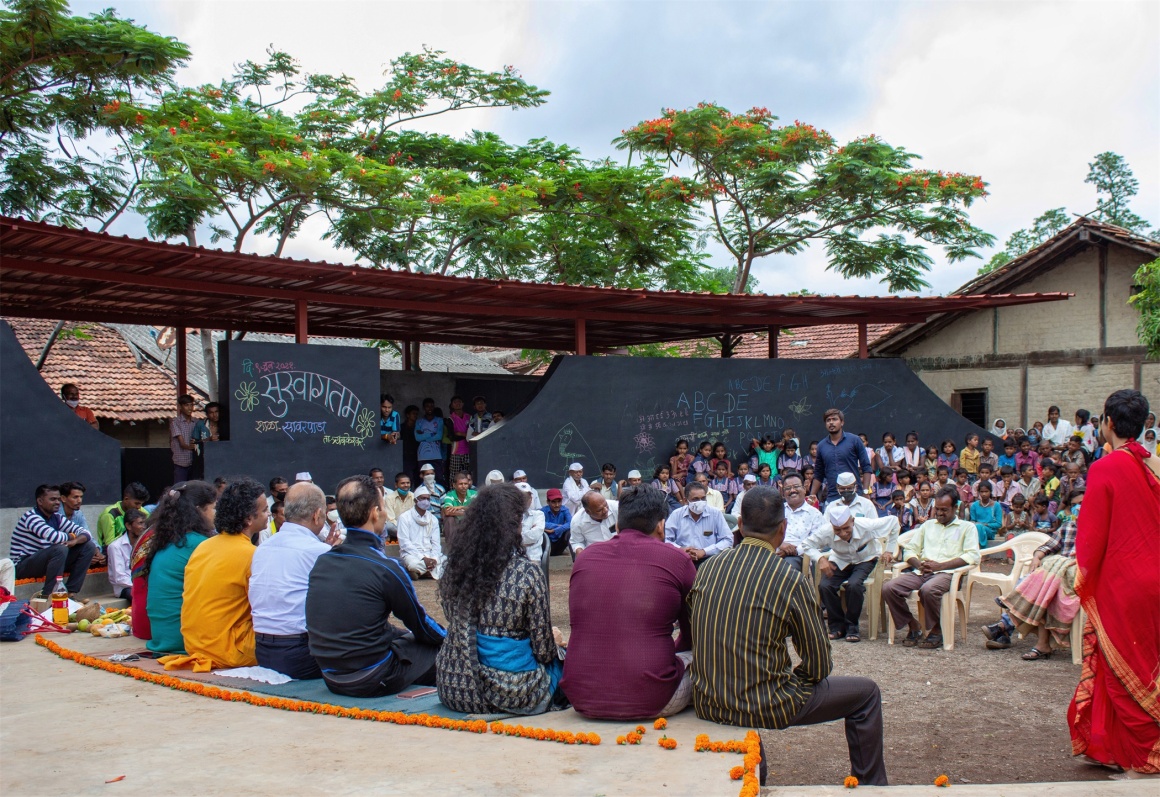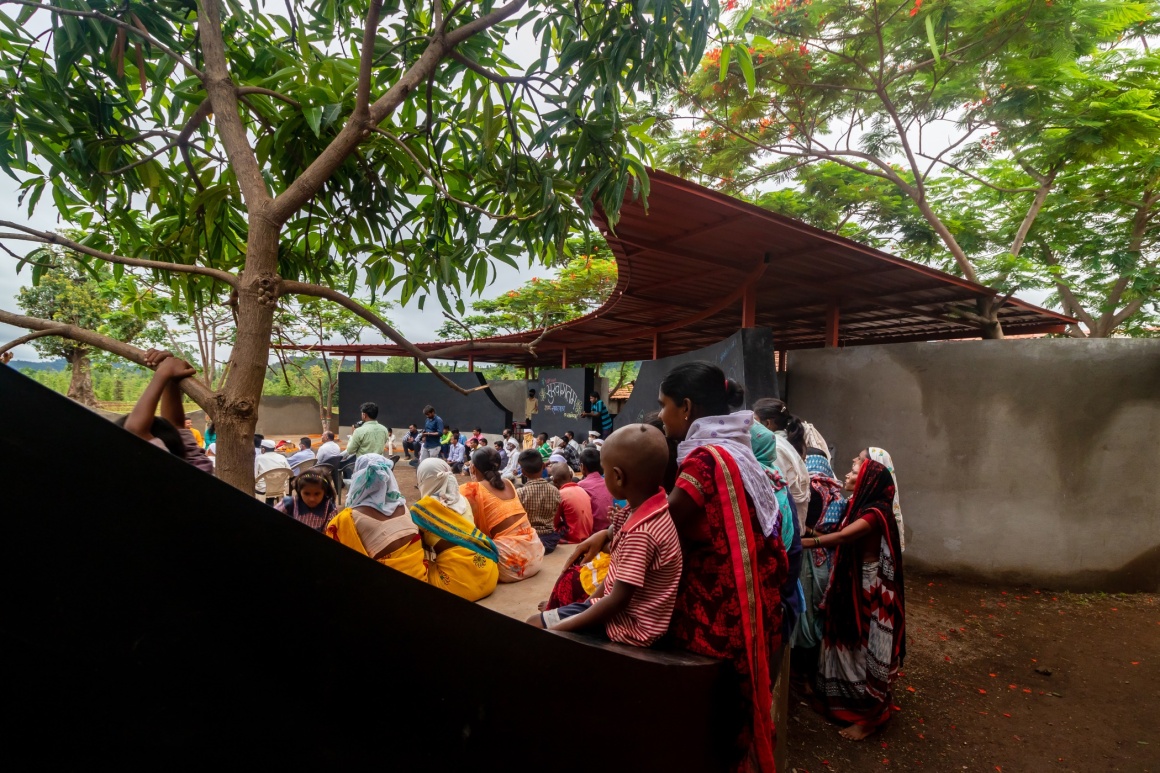 ▼功能分区 Functions
▼模型 Model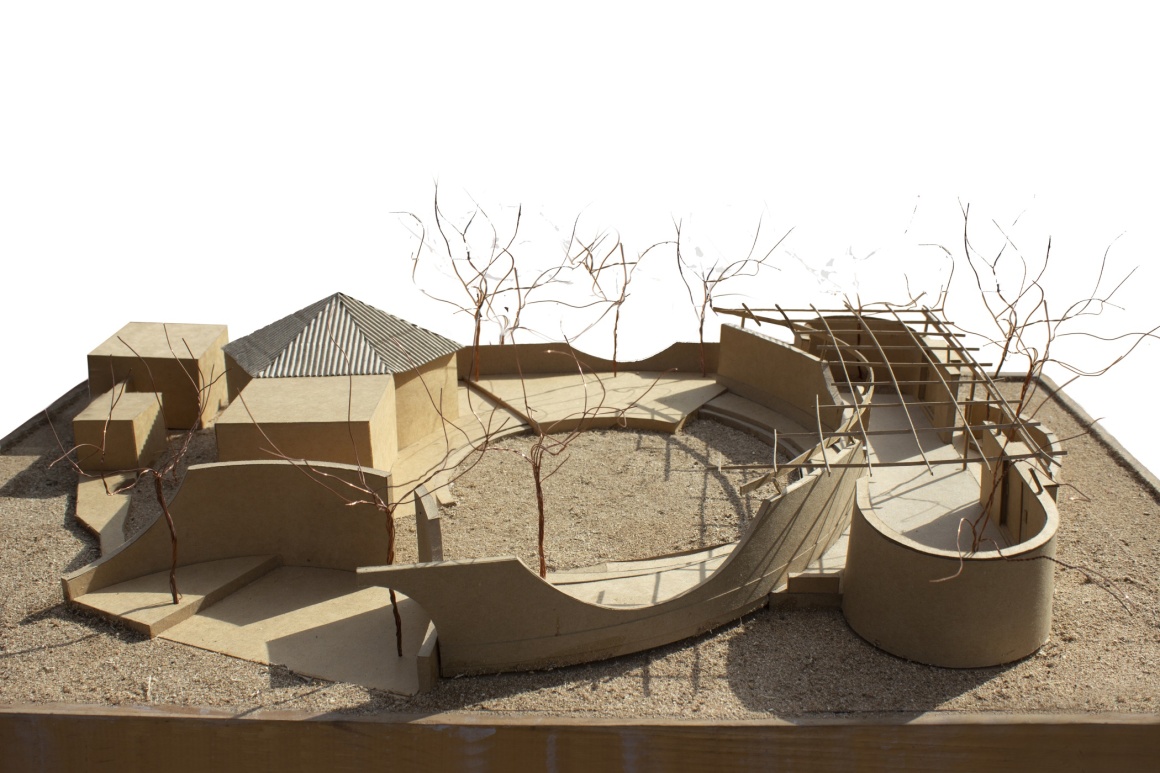 ▼ 平面图 Plan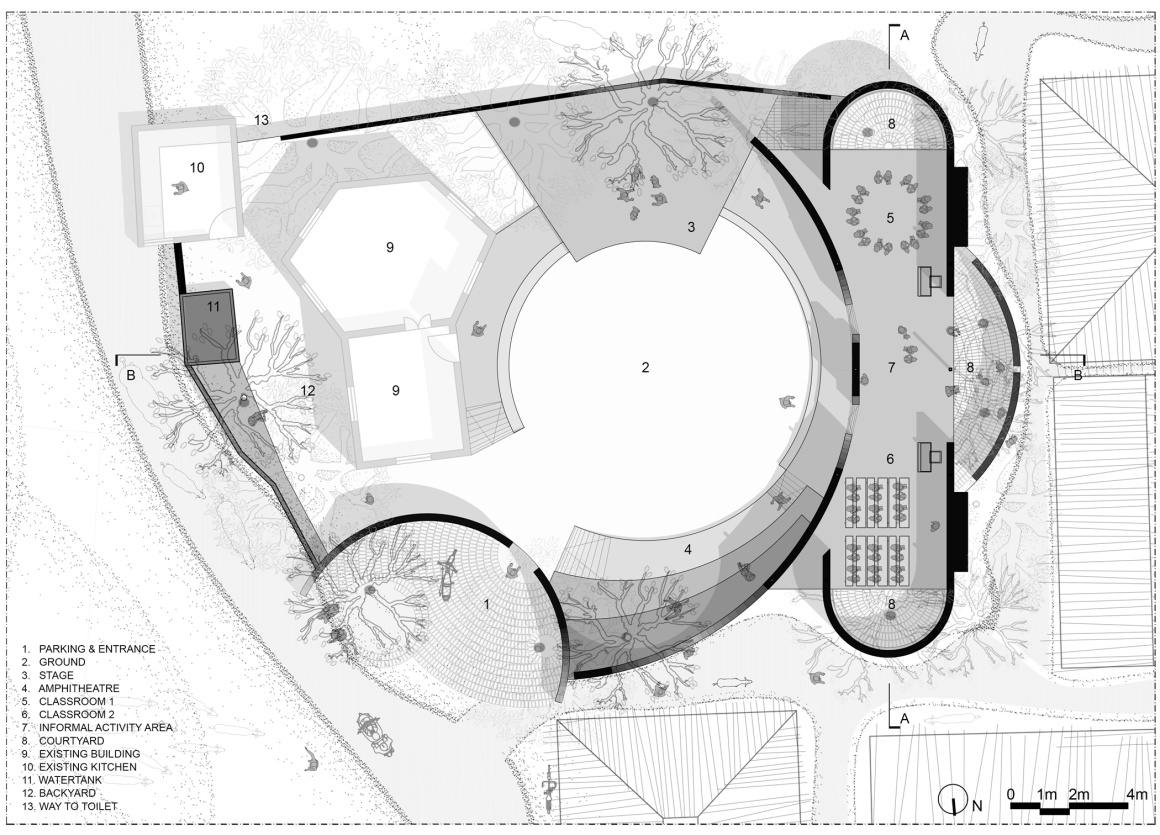 ▼ 剖面图 Section
项目名称:社区画布
面积:64平方米
地址:印度,马哈拉施特拉邦
设计公司:pk_iNCEPTiON
设计主创:Ar. Pooja Khairnar
设计团队:Pooja Khairnar, Aashlesha Bhosale, Tanishq Tejnani, Harshada Pathrabe, Shrutika Oak, Akshay Sonawane
客户:Vasundhara Talware, Shree Saraswati Foundation (非政府组织)
场地监管:Pooja Khairnar, Rishikesh Khedkar, Snehal Joshi
其他:Bhagyashree Talware (财务管理), Manjari Shah (非政府组织支持者), Snehal Joshi (团队管理)
施工团队:Talware Group, Aadesh Kankaria(Engineer), Salim Khan(Head Meson)
摄影:Yash Katariya, Aashlesha Bhosale, Neel Bothara, Sagar Bondarde
编辑:寿江燕
Project Name: Community Canvas
Gross Built Area (m2/ ft2): 64 sq.m
Project location: Sawarpada, Nashik, Maharashtra
Office Name: pk_iNCEPTiON
Lead Architects: Ar. Pooja Khairnar
Design team: Pooja Khairnar, Aashlesha Bhosale, Tanishq Tejnani, Harshada Pathrabe, Shrutika Oak, Akshay Sonawane
Client: Vasundhara Talware, Shree Saraswati Foundation (NGO)
Site Supervision: Pooja Khairnar, Rishikesh Khedkar, Snehal Joshi
Other Participants: Bhagyashree Talware (Finance Management), Manjari Shah (In support for NGO), Snehal Joshi (Team management)
Execution Team: Talware Group, Aadesh Kankaria(Engineer), Salim Khan(Head Meson)
Photo Credits: Yash Katariya, Aashlesha Bhosale, Neel Bothara, Sagar Bondarde
Editor: Jiangyan Shou
更多Read more about: pk_iNCEPTiON