本文由HWA安琦道尔景观 授权mooool发表,欢迎转发,禁止以mooool编辑版本转载。
Thanks HWA  for authorizing the publication of the project on mooool, Text description provided by HWA .
HWA安琦道尔:漫悦兰庭,让远航者与家人在时空院境的变换中,归家入梦,共享美好时光。
HWA安琦道尔:Delight Mansion, Let the voyagers return home have a beautiful dream and share their happy time in the courtyard with their families.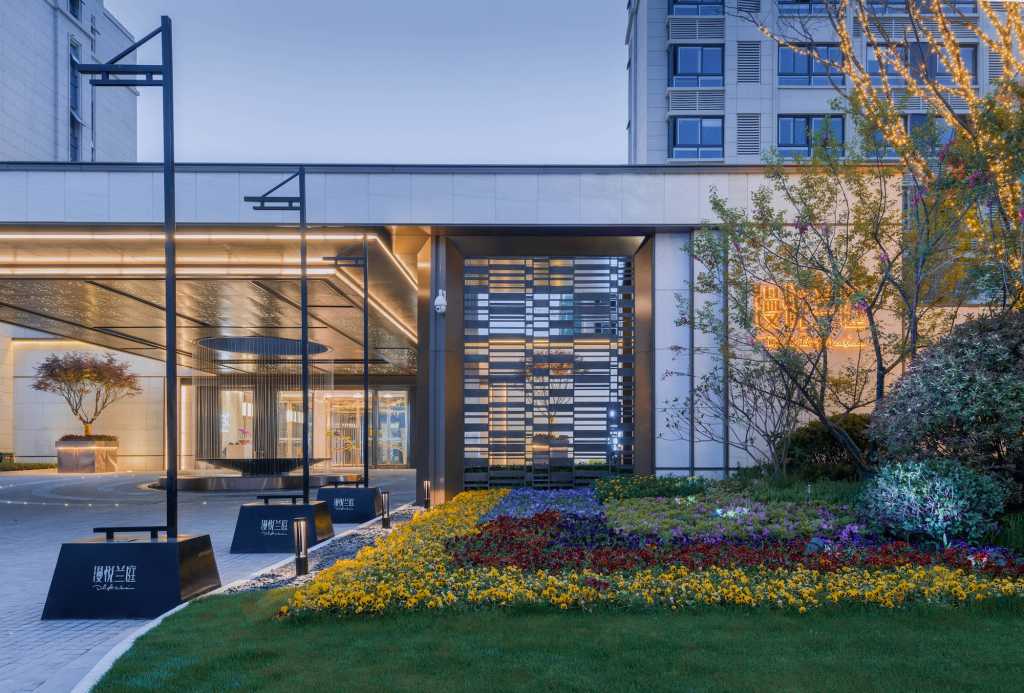 一重院境 —— 呈现
First courtyard – presentation
与市政道路相连接的区域是主入口景观界面,漫悦兰庭的第一印象在这里缓慢呈现,我们把设计范围拓展至市政绿化,形成浪漫的花境,视觉层次感丰富。
The area connected with the municipal road is the main entrance landscape interface. The first impression of Delight Mansion is slowly presented here. We have expanded the design scope to municipal greening, forming romantic flower border and rich visual layering.
入口接待空间,垂直落下的水帘与繁星状的顶部肌理,相得益彰,空灵而梦幻,繁星点缀的星空,潺潺的流水声,让归航人在归家入梦前增添一分浪漫与平静。
The reception space at the entrance, the vertically falling water curtain and the starry top texture complement each other. The sky dotted with stars and the rippling sound of water add a romantic and calm feeling to the homebound before returning home to have a dream.
二重院境 —— 交融
Second courtyard —— blending
穿过预接待区,映入眼帘的便是核心水庭。平静的水面,虚实掩映的回廊、明暗恍惚的光影,是"江枫渔火"的写意,是"疏影横斜水清浅"的灵动。曾经的人们"听风、观水、享光",而今,远航者置身在这里,与时空对话、转换、交融,享受漫悦兰庭自己的时区。
Through the pre-reception area, what you see is the core water court. The calm water surface, the cloister hidden by the actual situation and the dim light and shadow are the freehand brushwork of " Maple trees near the river and lights on fishing boats" and the clever work of " Sparse reflection in clear water". People used to " listen to the wind, watch the water and enjoy the light". Now, the voyager is here to talk, change and blend with time and space, enjoying his own time.
三重院境 —— 沉淀
The third courtyard —— precipitation
后庭空间是以观赏为主的通行空间。在连廊的边界运用轻盈的立面格栅,将光与影带入到空间中,展示出细腻的观感,庭中 "一叶扁舟"小品营造出宁静而柔美的氛围,与案名"漫悦兰庭"交相呼应。
The back court space is a passage space mainly for viewing. At the border of the gallery, light vertical grids are used to bring light and shadow into the space, showing a delicate look and feel. The " one leaf boat" sketch in the court creates a quiet and gentle atmosphere, which echoes with the project name " Delight Mansion".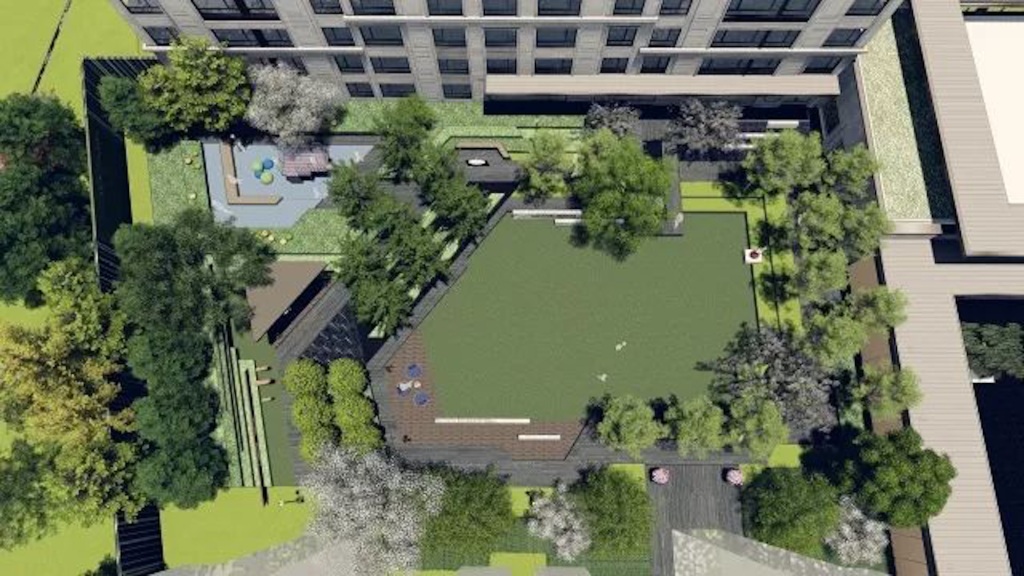 四重院境 —— 入梦
Fourth courtyard – dream
转折进入后场,展现于眼前的是另一派自然天真的景像,设计师将这里划分成一个个尺度亲切的小空间,林木葱葱、移步易景。这里是整个漫悦兰庭景观的缩影,远航的人们在这里归家入梦,悦动的涌泉、绿意盎然的草坪、高大的点景乔木、静谧的景观廊架、趣味的情景小品、儿童游戏的器械,共同形成了静谧舒适、灵动有趣的空间。
Turning into the backcourt, another kind of natural scene is displayed in front of us. The designer divides the area into small and friendly spaces with lush trees .While moving, the landscape is also changing.This is the epitome of the whole Ddigdt Mansion landscape. The people who sail far away come home to dream here. The pleasant fountain, the lawn in full of green, the tall trees with scenic spots, the quiet landscape gallery, the interesting scene sketch and the children's game equipment together form a quiet, comfortable and interesting space.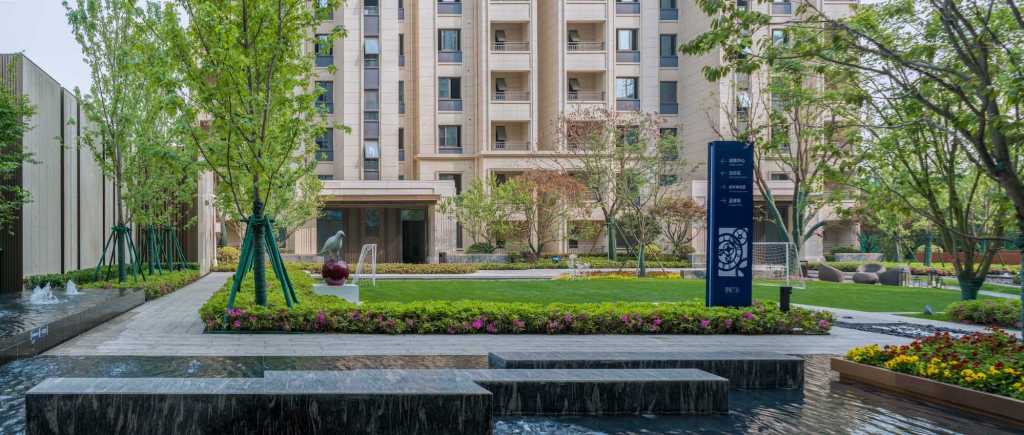 值得一提的是,我们在有限的空间里同样营造出多转折的趣味场所,远航者在这里听水声、嗅花香,卸下疲惫,闲庭信步、悠然自得。
It is worth mentioning that we have also created interesting places with many turns in our limited space, where the long-distance travelers listen to the sound of water and smell the flowers, unload their fatigue, walk around in idle courts, and enjoy themselves.
设计师的话 —— 回归
我们希望在这里能够体现与自然亲密接触的生活方式,回归生活的本心,通过景观这个最接近自然的载体,使人剥离忙碌的生活状态,协调、均衡时空的转换,而景观设计的内涵和语言,都从场地本身出发,诠释生活本真的居住语言。
Designer's words —— return
We hope that we can embody the life style of close contact with nature at here, return to the original life, and through landscape, the carrier closest to nature, make people stay away from busy life state, coordinate and balance the transformation of time and space. Meanwhile, the connotation and language of landscape design are all starting from the site itself, interpreting the real living language of life.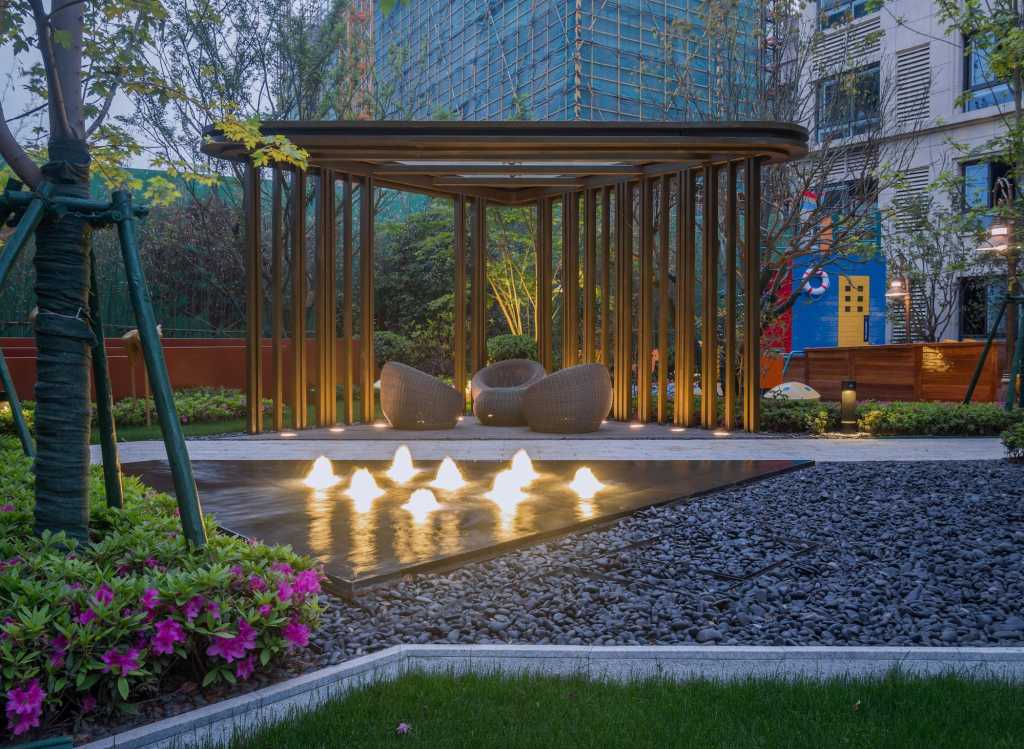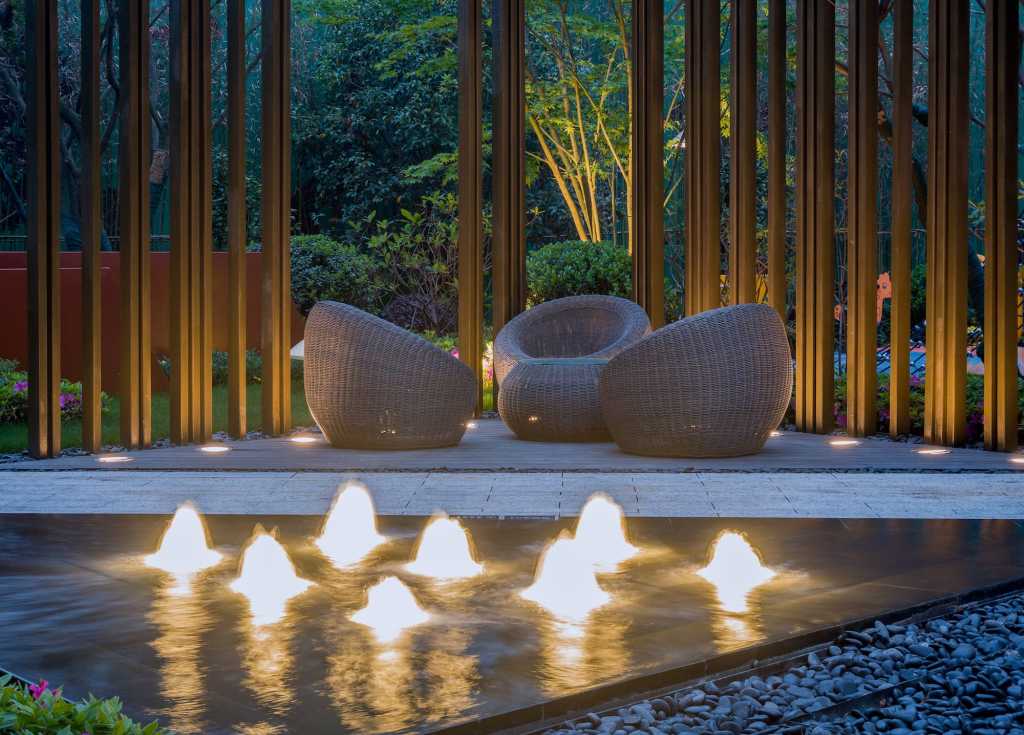 总平面图  Master Plan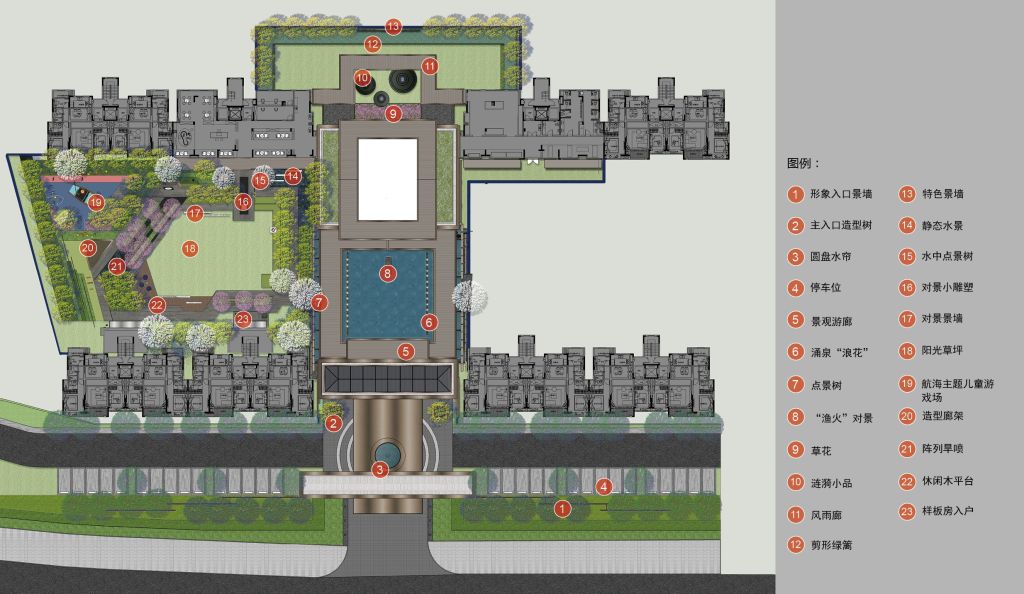 项目名称:中南碧桂园漫悦兰庭
项目地址:江苏省太仓市北环路17号
业主单位:中南置地,碧桂园集团
景观面积:4732㎡
完成时间:2018年4月
景观设计:HWA安琦道尔
主创人员:汤越峰、邓妤、熊莹、刘万红
摄影:陈冠宇
Project name:
Project address: No. 17, beihuan road, Taicang city, Jiangsu province
Client: ZHONGNAN-ZHIDI, Country Garden
Landscape area: 4732 ㎡
Completion date: April 2018
Landscape design: HWA Design Group
Design Team: Tang yuefeng, Deng fung, Xiong ying, Liu wanhong
Photography: Chen Guanyu
更多:HWA 安琦道尔