Reed Hilderbrand:  杜克大学以"森林中的校园"著称。在历史悠久的西广场(现在以美国黑人建筑师朱利安·阿比勒(Julian Abele)的名字命名),高大、宽阔的树木和清扫草坪的经历在校园生活中影响深远。这次全面的更新中包括雨水管理的新基础设施、滋养土壤生物的干预措施、改善可达性,以及沿建筑立面种植以增强空间体验。设计师也开始在杜克大学种植下一代标志性的树木。
Reed Hilderbrand:  Duke famously identifies itself as "a campus in a forest." Experience of tall, broad trees and sweeping lawns on historic West Quad (now named in honor of African-American architect Julian Abele) figures strongly in the life of the campus community. In this comprehensive renewal, improvements include new infrastructure to manage stormwater, interventions to nourish soil biology, subtle changes to improve accessibility, and plantings to enhance spatial experiences along the facade of the buildings. Designers also began planting the next generation of iconic trees at Duke.
这所大学已经重建了一个复杂的、多层次的后台区,成为西校区充满活力的学生生活区。这次更新的中心是Crown Commons,从公共用餐到研讨会课程,再到自学活动,成年的树木和雨水花园为各种类型的社会活动提供了空间。该项目是与Grimshaw、James Carpenter、ArcOps以及学校合作的结果,目的是创建Brodhead中心学生会。
艺术家James Carpenter创造了一座连接Brodhead中心与Abele Quad以及西校区中心区的雕塑桥。棱柱形玻璃镜片插入白色混凝土箱中,将日光引入桥下空间。当人们从上面的桥经过时,可以看到阳光斑驳地穿过了这个户外客厅。
The University has rebuilt a complex, multi-level, back-of-house zone, into a vibrant student life district for its West Campus. The epicenter of this renewal is Crown Commons, where mature trees and rain gardens structure space for many types of social activities, from communal meals to seminar classes to solitary study. The project is the result of interdisciplinary collaboration with Grimshaw, James Carpenter, ArcOps, and the University to create the Brodhead Center student union.
Artist James Carpenter created the sculptural bridge linking the Brodhead Center to Abele Quad and the core of West Campus. Prismatic glass lenses inserted within white concrete coffers channels daylight into the spaces area below the bridge. As people pass on the bridge above, light dapples across this important new outdoor living room.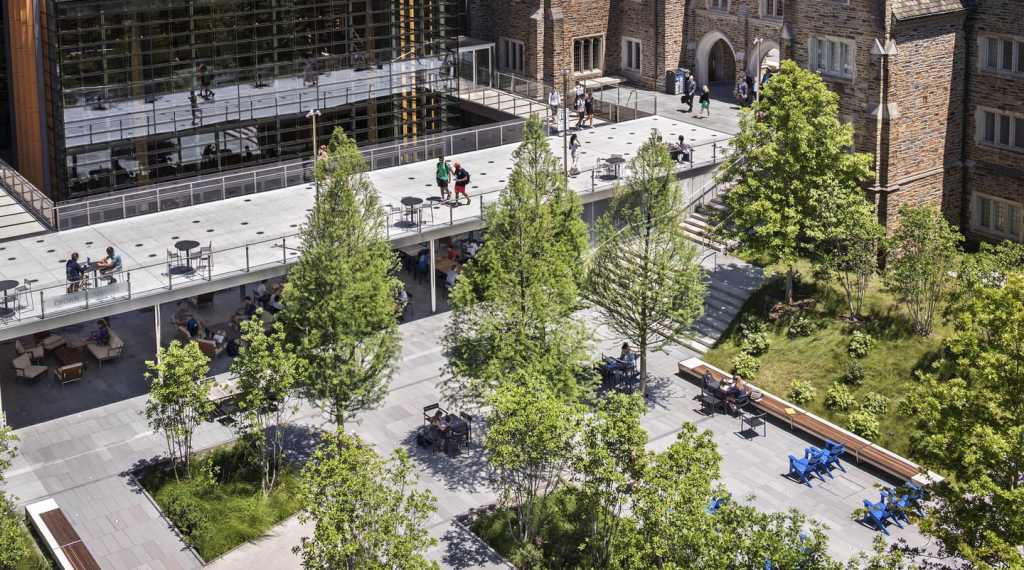 屋顶和铺地表面的雨水被用来灌溉种植雨水花园中的甜叶菊、乡土草和野生蓝莓。一片光秃秃的柏树林用结构土支撑,旨在将树的健康和寿命最大化。当地的林地种植包括橡树、郁金香白杨和山茱萸,在邻近的Kilgo住宅和Crown Common之间创造了视觉和听觉的缓冲。百叶窗式的木质特色墙划分出酒吧和休息区,这些区域由定制的长椅、大型野餐桌、软垫椅子和沙发、咖啡馆座位和杜克蓝阿迪朗达克椅子组成。夜幕降临,当地灯以及立柱被点亮时,广场将会发生变化。
Stormwater from roofs and paved surfaces is directed to irrigate and inundate raingardens planted with sweetbay magnolia, native grasses, and wild blueberry. A grove of bald cypress trees is supported with structural soils designed to maximize tree health and longevity. A native woodland planting including oaks, tulip poplar, and dogwood creates a visual and sonic buffer between the adjacent Kilgo residence and Crown Common. Louvered wood feature walls define the pub and lounge areas which are diversely furnished with custom benches, large picnic tables, upholstered chairs and sofas, cafe seating, and Duke-blue Adirondack chairs. At night the plazas are transformed when a constellation of in-ground lights, as well as uprights, are illuminated. The Duke community uses the commons simultaneously and in different ways, day and night.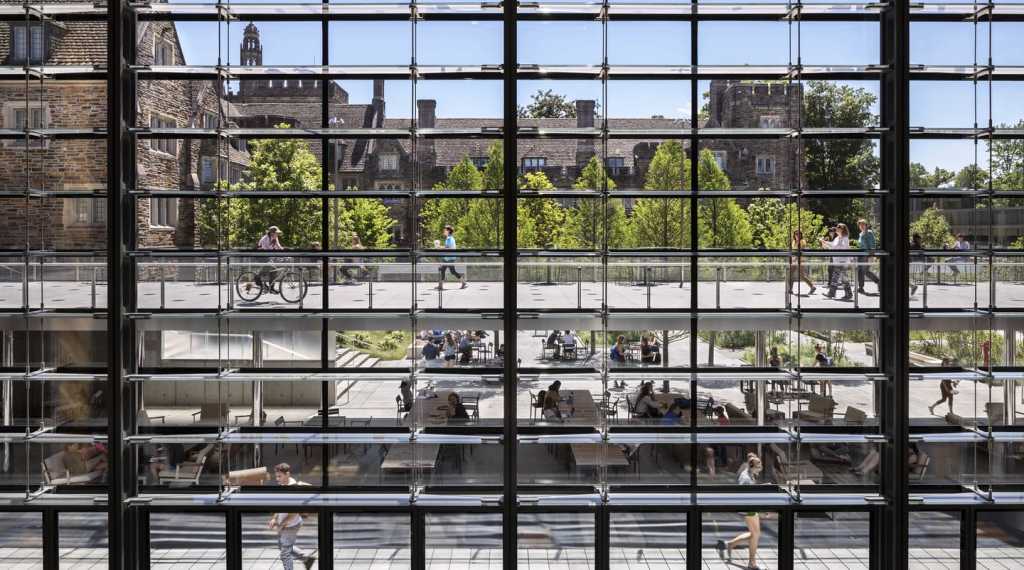 性能改进
用一种综合方法通过硬磐提供排水,并使Abele Quad土壤恢复活力(上图);一套具有表现力的设备过滤并管理着从公共空间到中空区域的峰值流量(下图)。
Improved Performance
An integrated approach provides drainage through hardpan and reinvigorates the soils of Abele Quad (above); an expressive set of devices filter and manage peak flows form the commons to the hollows (below).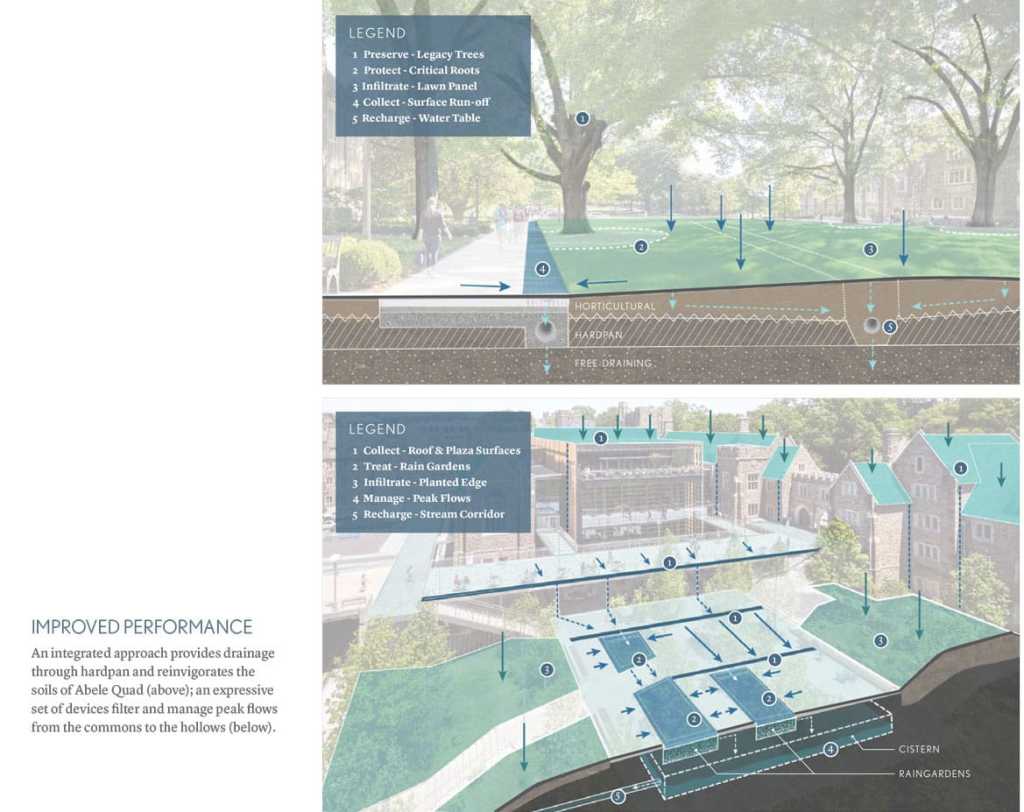 Abele Quad
地点: 美国北卡罗来纳州达勒姆
日期: 2010 – 2017年
面积: 7.5英亩
领导: Gary Hilderbrand; Eric Kramer; Leah Broder; Jennifer Lee Mills
团队: Irrigation咨询公司; Jeffrey L Bruce & Company; Stewart Inc.
Abele Quad
Location: Durham, NC, USA
Dates: 2010-2017
Size: 7.5 acres
Leadership: Gary Hilderbrand; Eric Kramer; Leah Broder; Jennifer Lee Mills
Team: Irrigation Consulting Inc.; Jeffrey L Bruce & Company; Stewart Inc.
Crown Commons
地点: 美国北卡罗来纳州达勒姆
日期: 2012 – 2016年
面积: 3英亩
领导: Gary Hilderbrand; Eric Kramer; Leah Broder; Geoff Fritz; Leslie Carter; Jennifer Lee Mills
团队: Grimshaw Architects; James Carpenter; Architecture Operations
Crown Commons
Location: Durham, NC, USA
Dates: 2012-2016
Size: 3 acres
Leadership: Gary Hilderbrand; Eric Kramer; Leah Broder; Geoff Fritz; Leslie Carter; Jennifer Lee Mills
Team: Grimshaw Architects; James Carpenter; Architecture Operations
奖项:
2018年大学规划师学会风景园林优秀作品(总体设计)
波士顿风景园林协会2018年设计成就奖
Recognition:
2018 Excellence in Landscape Architecture, Society of College & University Planners (General Design)
2018 Merit Award for Design, Boston Society of Landscape Architects
更多 Read more about:Reed Hilderbrand