本文由 Mayslits Kassif Roytman Architects 授权mooool发表,欢迎转发,禁止以mooool编辑版本转载。
Thanks Mayslits Kassif Roytman Architects for authorizing the publication of the project on mooool, Text description provided by Mayslits Kassif Roytman Architects.
MKR Architects:该生态湖公园位于以色列佩塔提科瓦城市的高街附近,在密集的城市结构中引入了一个自然绿洲("绿肺")和野生动物保护区。作为连接市中心和规划中的Yarkon河区公园的绿色网络的一部分,该项目也创建了一个独特的公共空间,为居民和游客提供了一系列的娱乐活动,以及一个远离城市喧嚣的机会。
MKR Architects:Situated adjacent to the city's high street, Eco Lake Petach Tikva introduces a natural oasis ("green lung") and wildlife sanctuary within a dense urban fabric. The project creates a unique public space that offers residents and visitors a range of recreational activities as well as a tranquil momentary departure from the city, and is part of the green network linking downtown Petach Tikva with the planned Yarkon River regional park.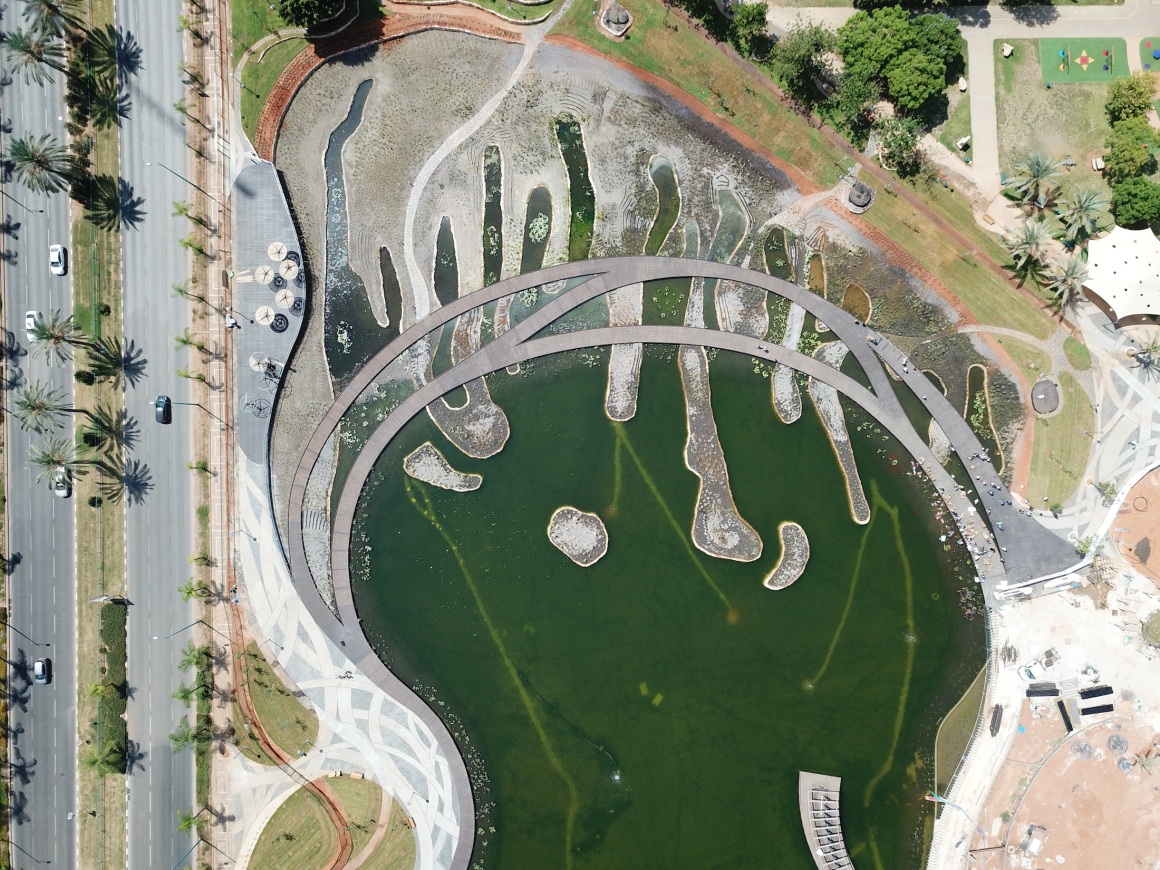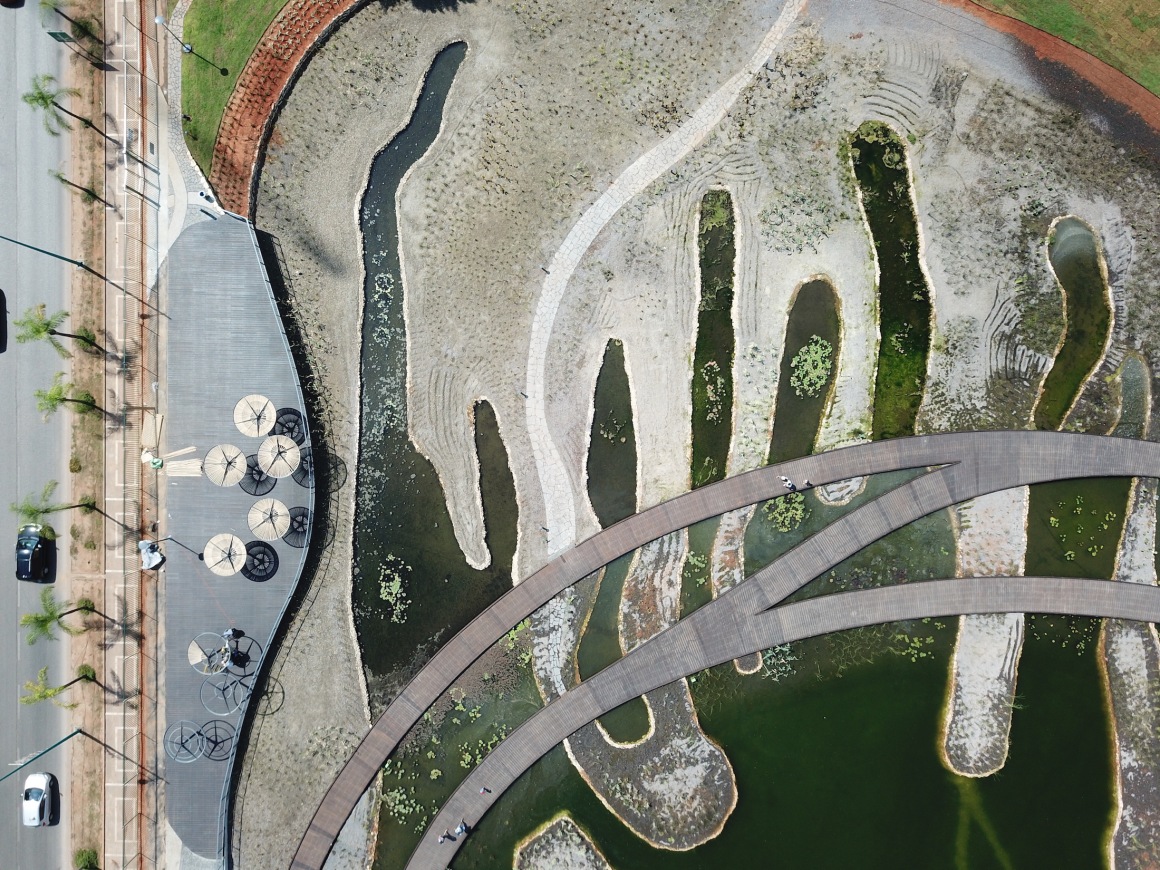 这个小型的互联水池系统里的湖水来自城市排放的污染水。与传统采用的机械和化学过滤系统不同的是,这种人造"湿地"的植被自然过滤出水会流经每一个水池,沿途促进生态系统更加丰富多样。
A system of small interconnected pools source the lake's water from a local contaminated well. As opposed to conventionally employed mechanical and chemical filtering systems, the vegetation of this man-made "wetland" naturally filters the water as it passes through each pool, along the way stimulating a rich and biodiverse ecosystem.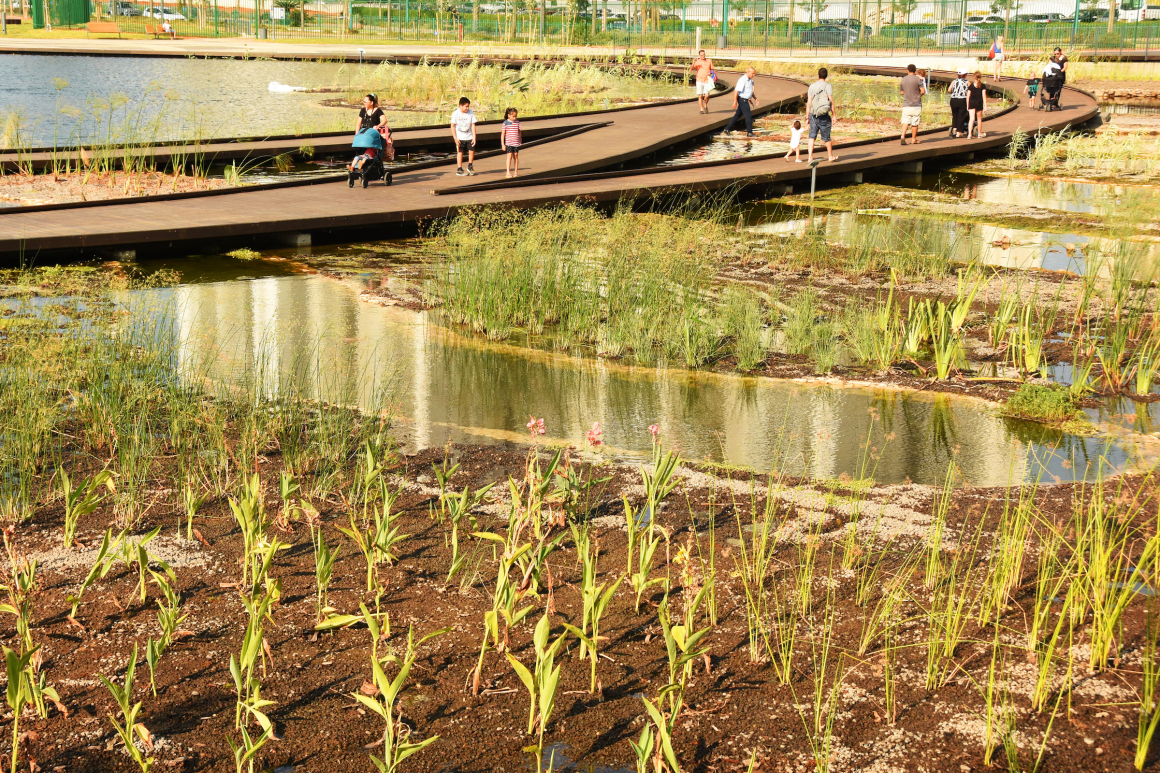 动植物作为野生化的代表,也吸引了大量的自然物种进入城市环境中,为公众提供了一个与自然互动的特殊机会。
The flora and fauna act as agents of rewilding, attracting a wide array of natural species to the urban setting and offering a special opportunity for the public to interact with nature.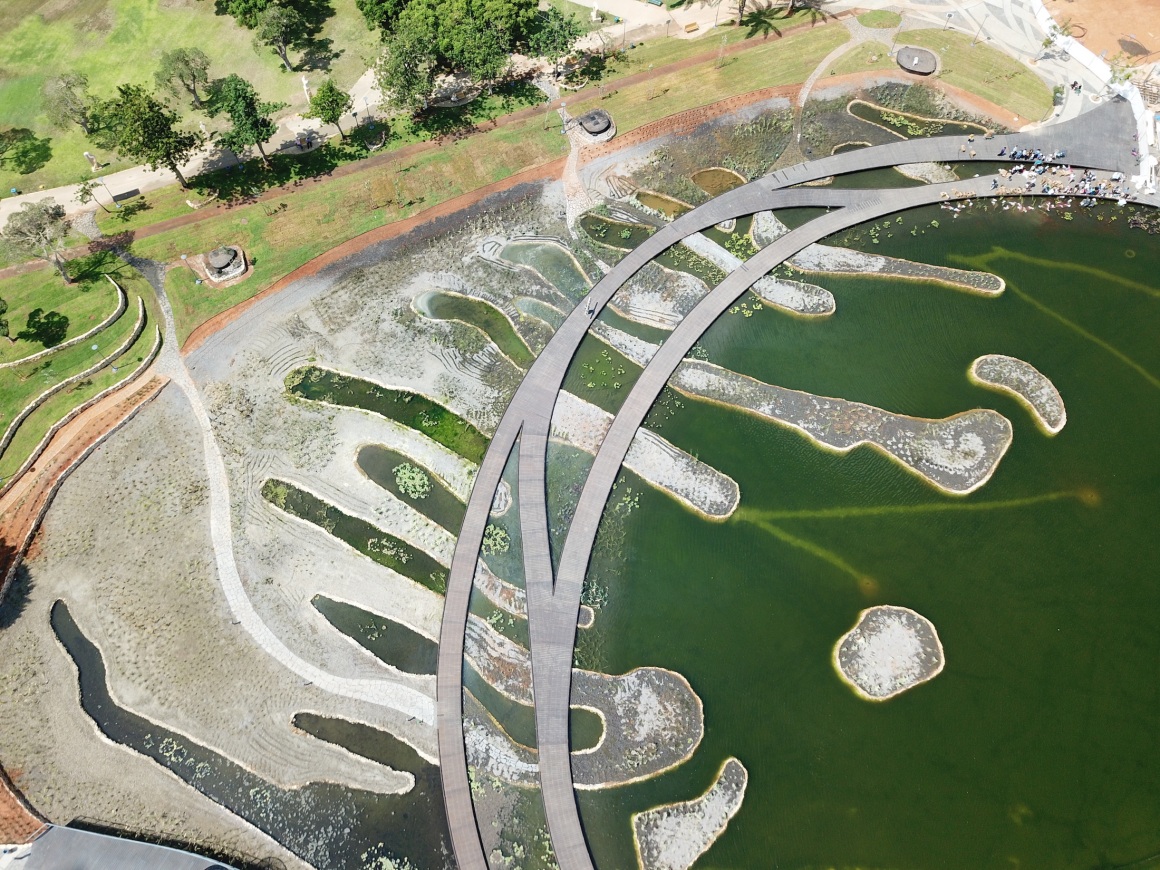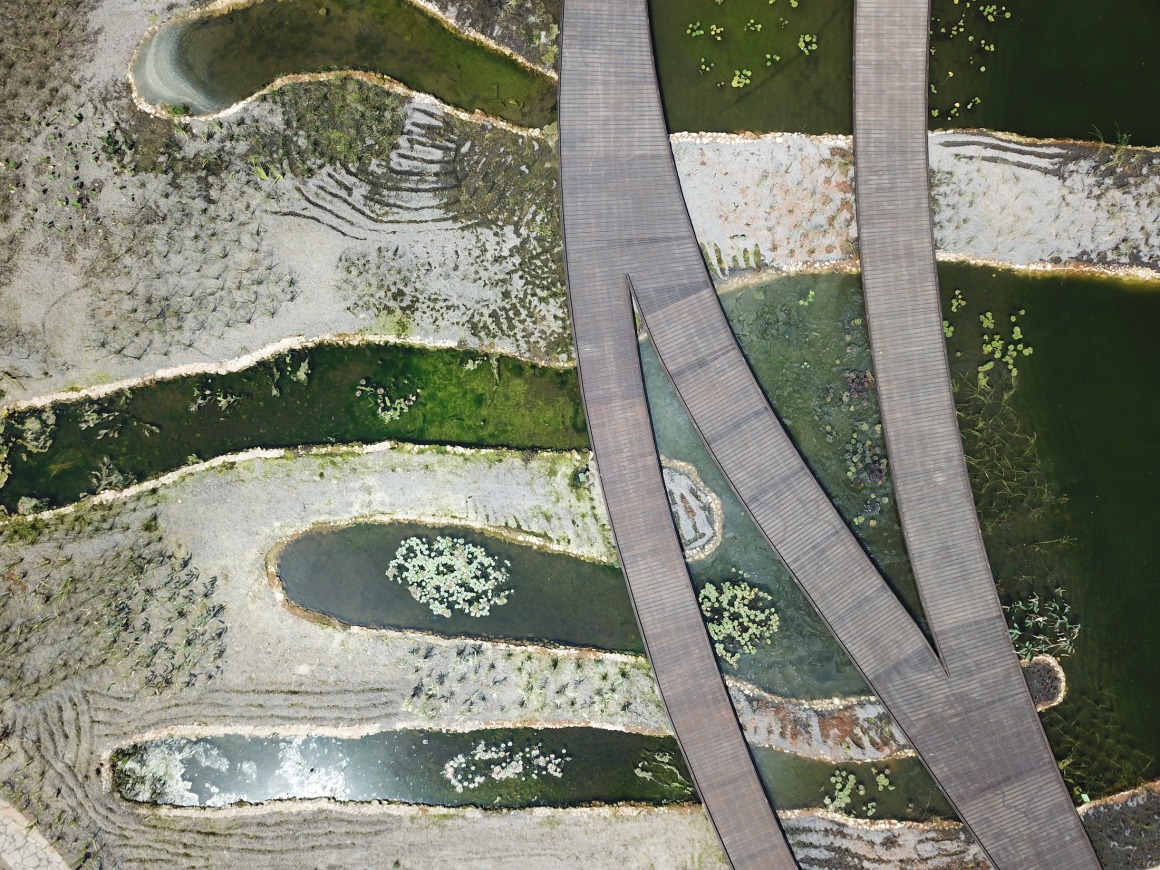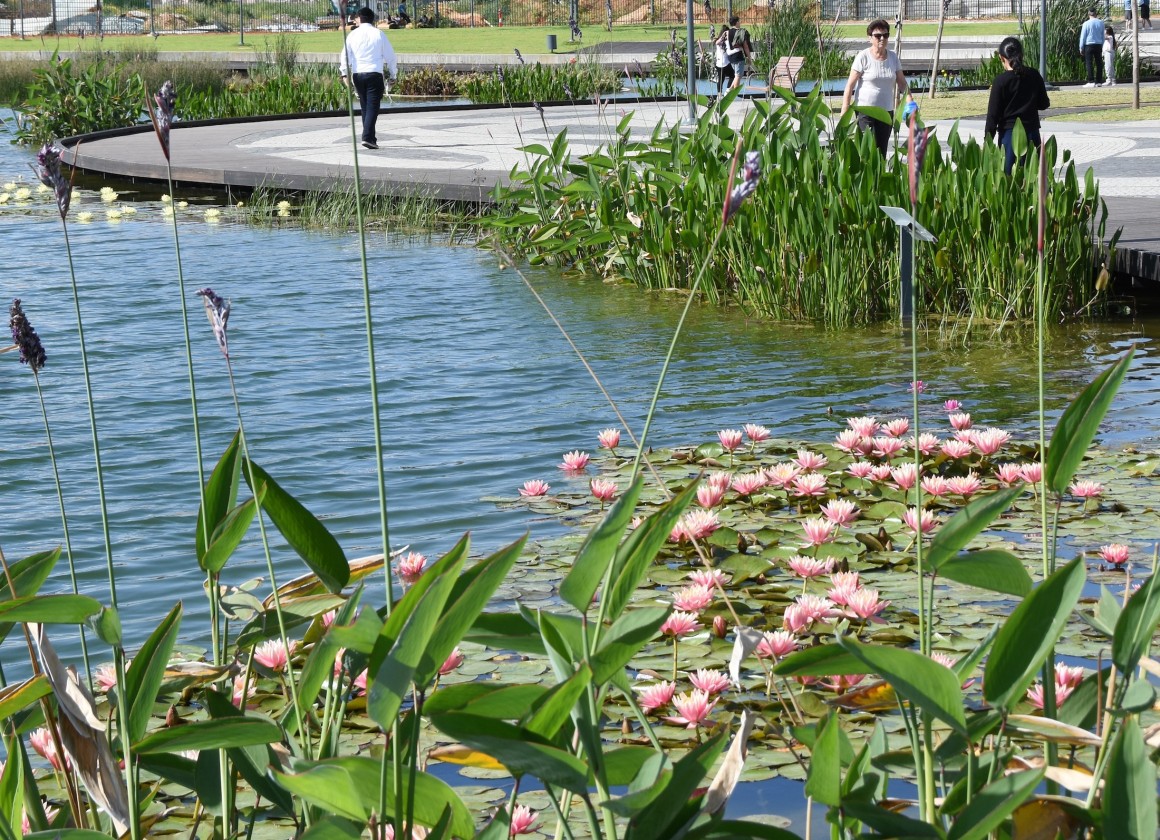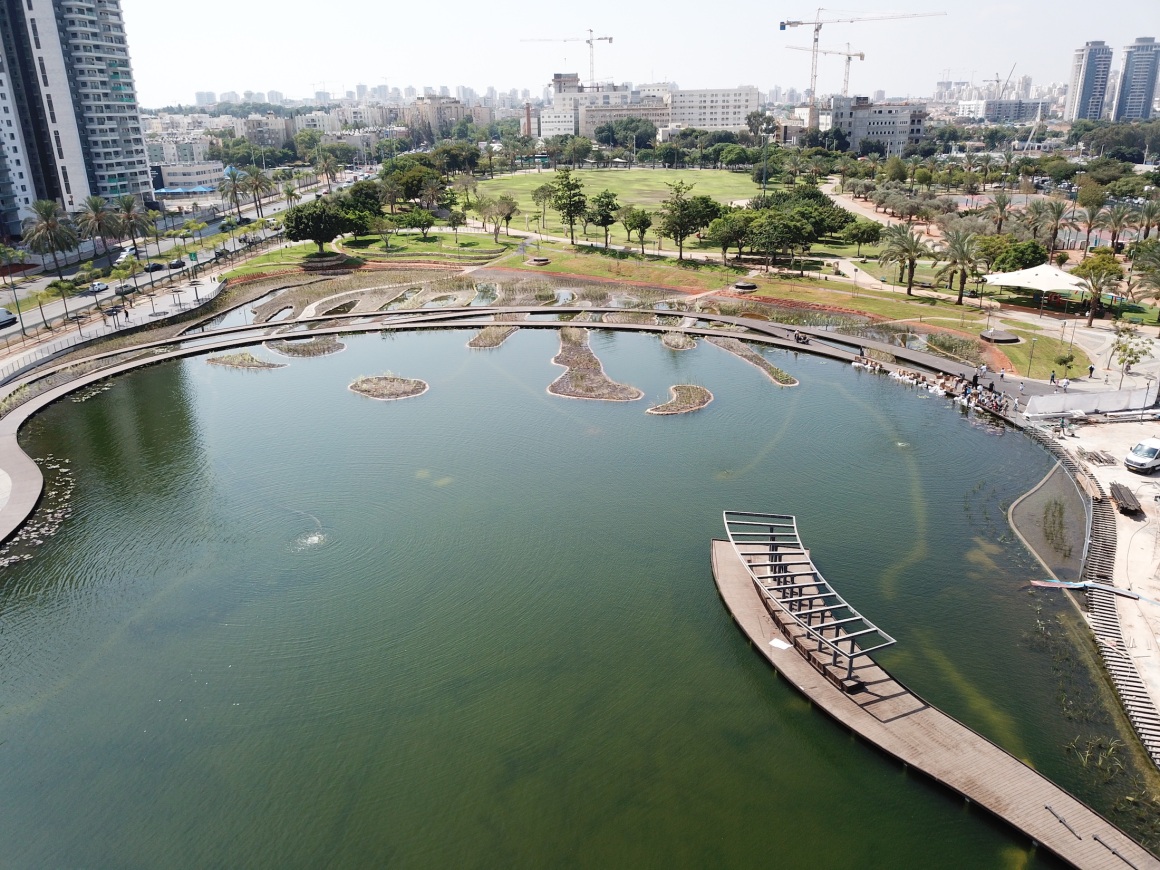 该公园设计还包括一个漂浮在湖中的蜿蜒步道系统,可作为公众远足、慢跑及自行车道;可以俯瞰湖泊和过滤池的座位平台;满足健身和游戏的综合设施;以及屋顶仿佛交错山脊的钢竹遮阳结构。另外还有正在建造的租船码头和餐厅,该餐厅拥有一个凸起的绿色屋顶观景台和一个与水相连的公共露台。
The park design includes a system of floating footpaths meandering through the lake; extensive hiking, jogging and bicycle paths; seating terraces which overlook the lake and filtering pools; fitness and play complexes; and steel and bamboo shading structures whose canopies are interlaced with climbers. In process are a boat rental pier and a restaurant that includes a raised green roof observation deck and a public terrace which meets the water.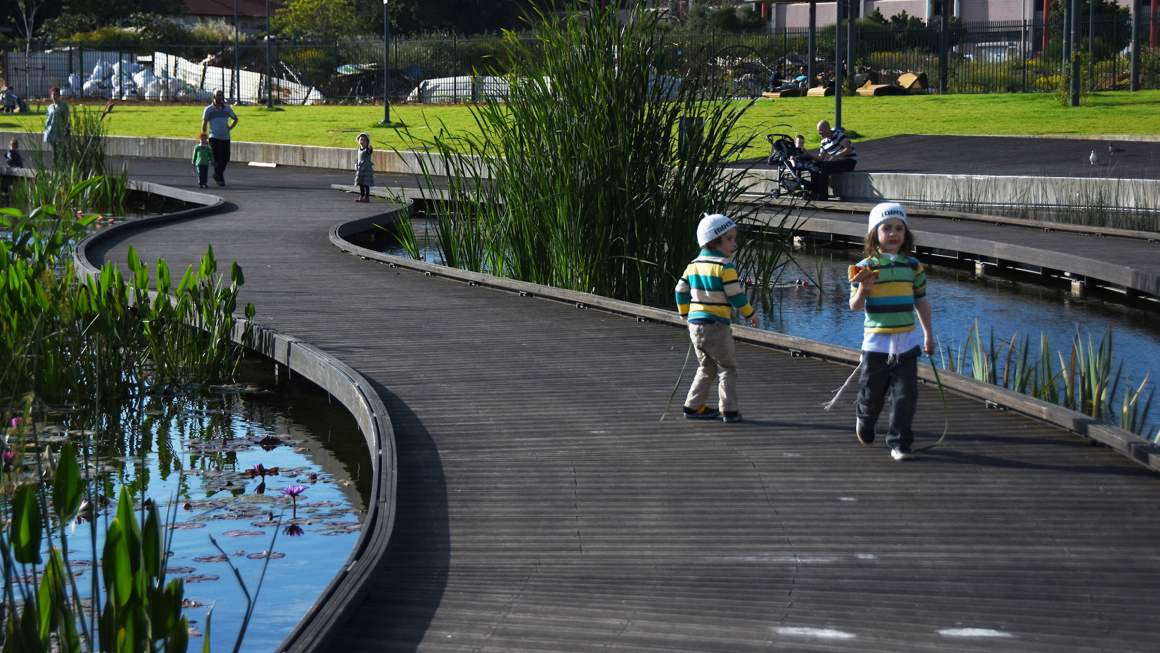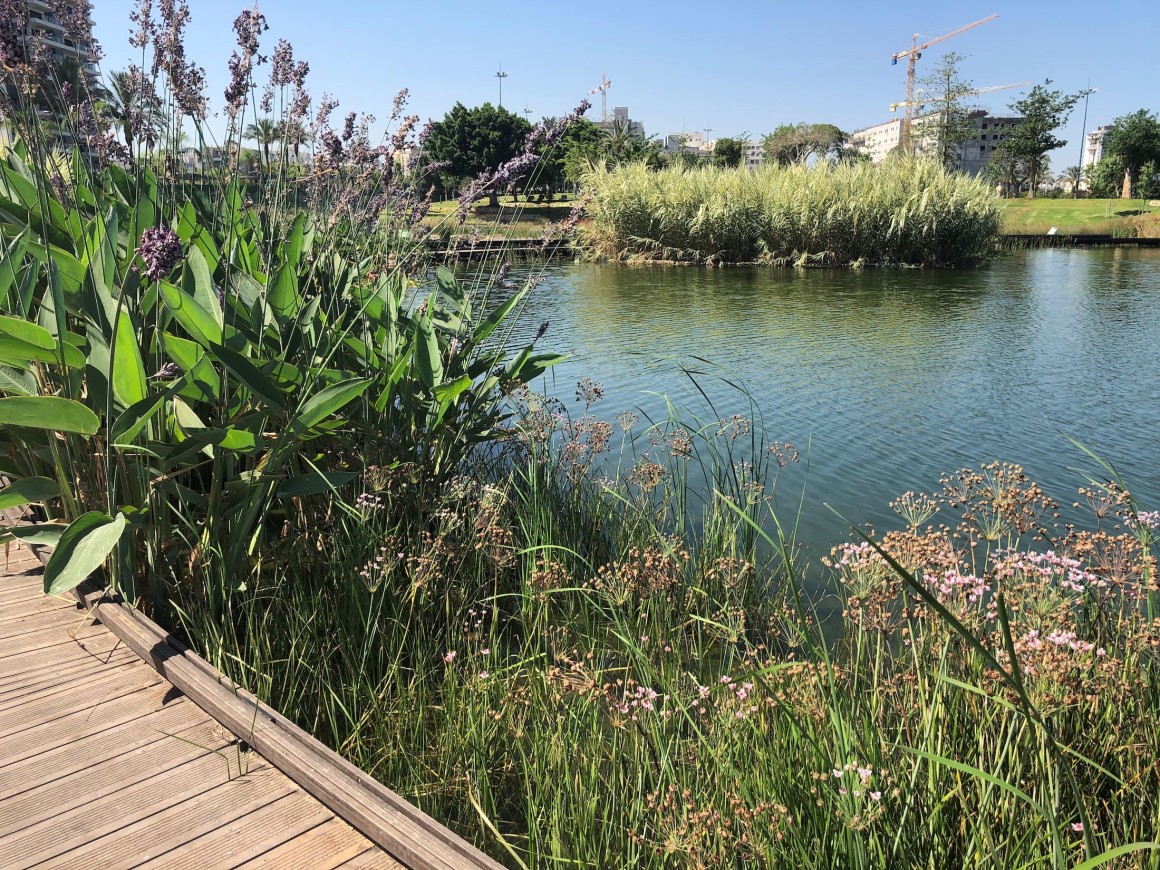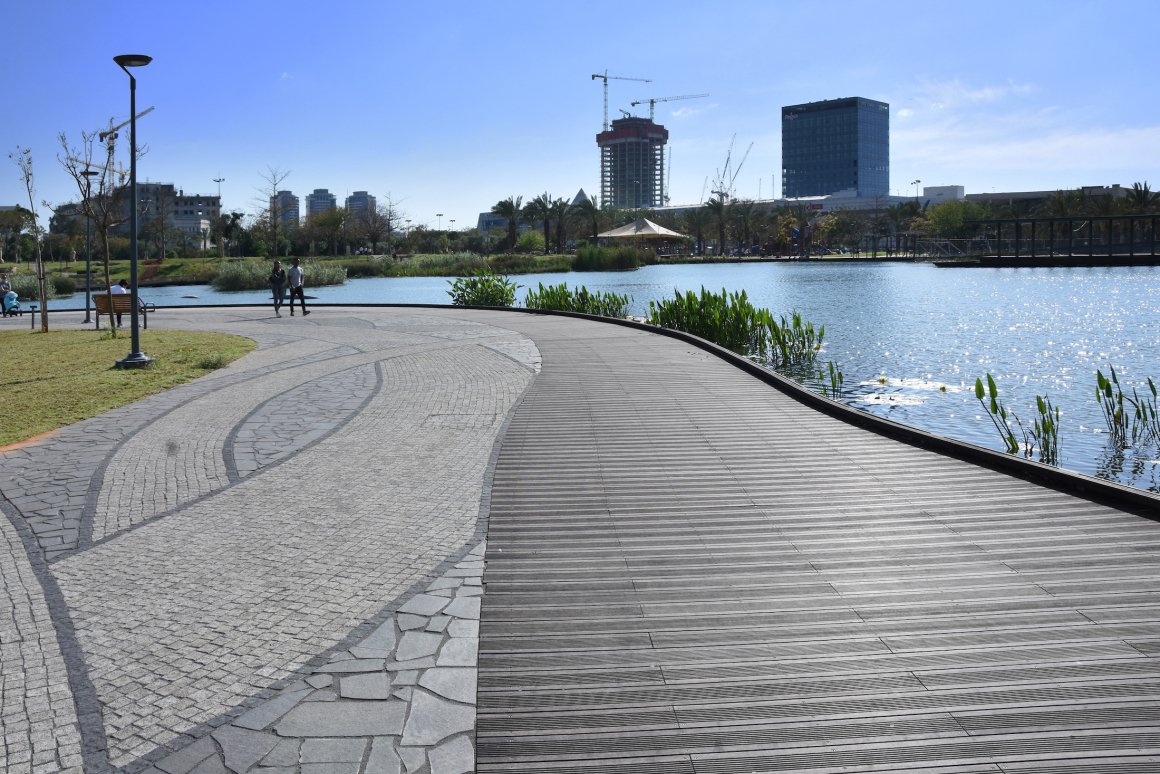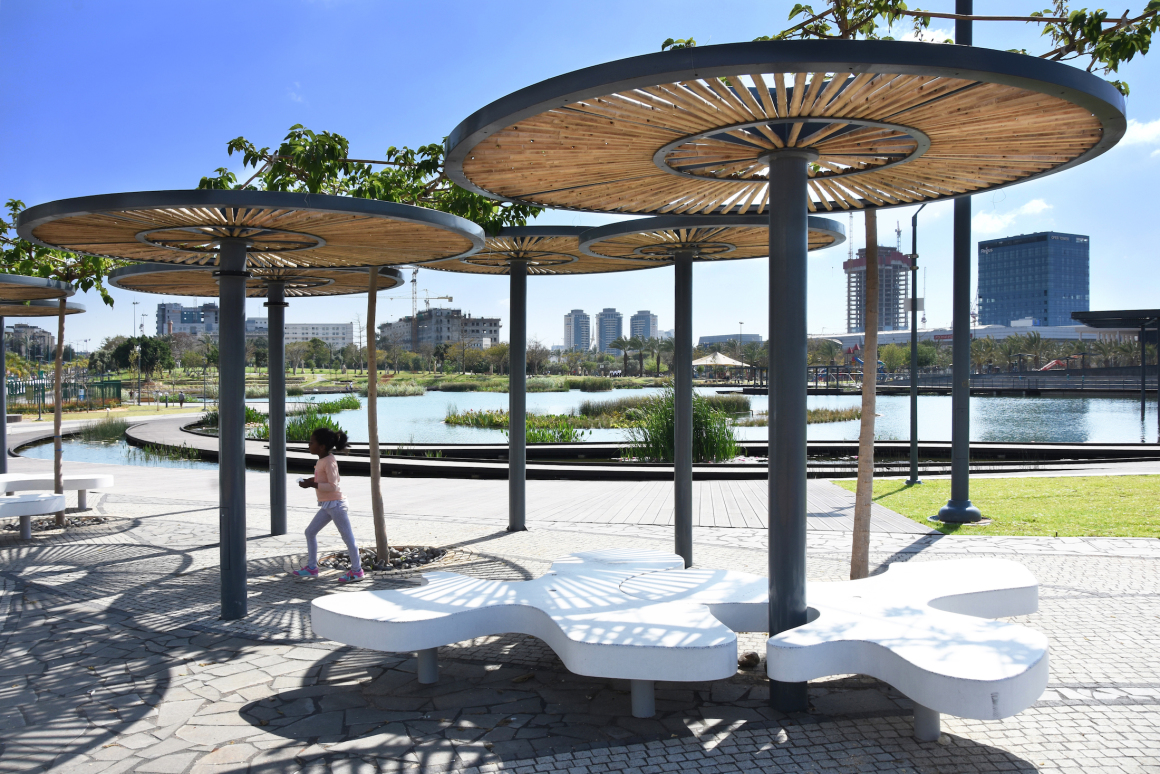 ▼生态建造过程 Process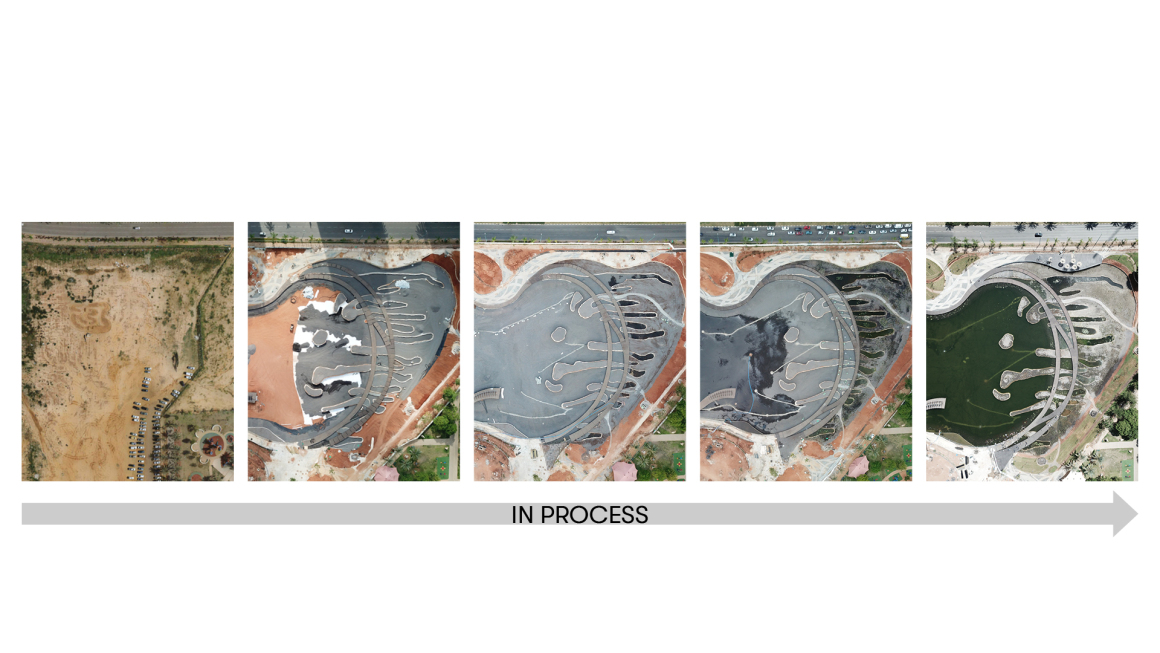 ▼施工过程视频 Construction Video
▼施工过程图 Construction Process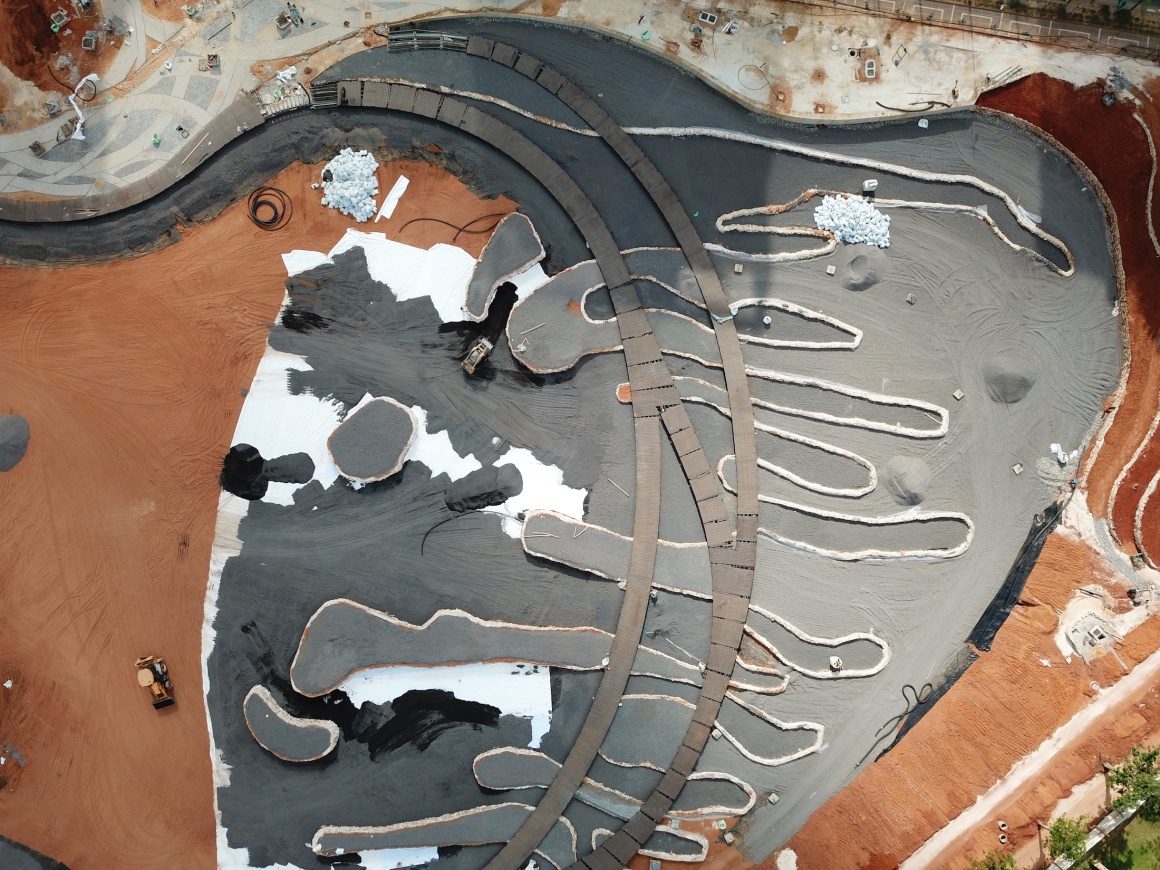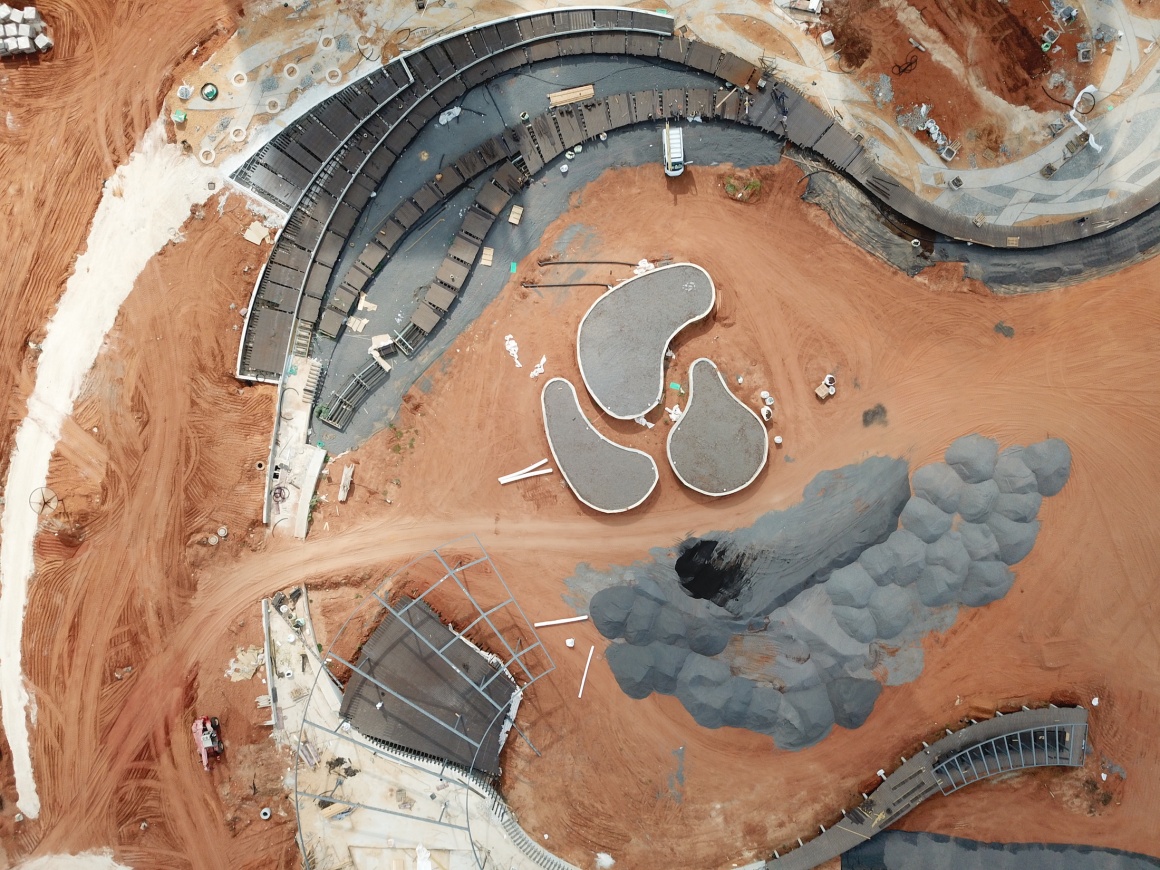 项目名称:佩塔提科瓦城市生态湖
完成:2019年
总建筑面积:4.2万平方米,其中湖区1.4万平方米
项目地点:以色列,佩塔提科瓦市中心,
设计公司:Mayslits Kassif Roytman Architects
公司网址:mkarchitects.com
联系邮箱:info@mkarchitects.com
公司地点:特拉维夫
首席建筑师:MKR partners & Igal Tartakovsky
首席建筑师联系邮箱:ganit@mkarchitects.com
Project Name: Eco Lake Petach Tikva
Completion Year: 2019
Gross Built Area: 42,000 m2 of which 14,000 m2 – lake
Project location: City center, Petach Tikva, Israel
Architecture Firm: Mayslits Kassif Roytman Architects
Website: mkarchitects.com
Contact e-mail: info@mkarchitects.com
Firm Location: Tel Aviv
Lead Architects: MKR partners & Igal Tartakovsky
Lead Architects e-mail: ganit@mkarchitects.com
更多 Read more about: Mayslits Kassif Roytman Architects