本文由 ROMERA Y RUIZ ARQUITECTOS 授权mooool发表,欢迎转发,禁止以mooool编辑版本转载。
Thanks ROMERA Y RUIZ ARQUITECTOS for authorizing the publication of the project on mooool. Text description provided by ROMERA Y RUIZ ARQUITECTOS.
ROMERA Y RUIZ ARQUITECTOS:  桥梁的设计为该项目建筑空间建立了一种新的联系方式。该方案解决了不同层次的多重连接;它将周围环境与室内空间连接起来。
ROMERA Y RUIZ ARQUITECTOS:  Extending bridges, projecting new relationships in the facility INFECAR. The proposal solves multiple connections at different levels; it connects the immediate surroundings with the interior spaces.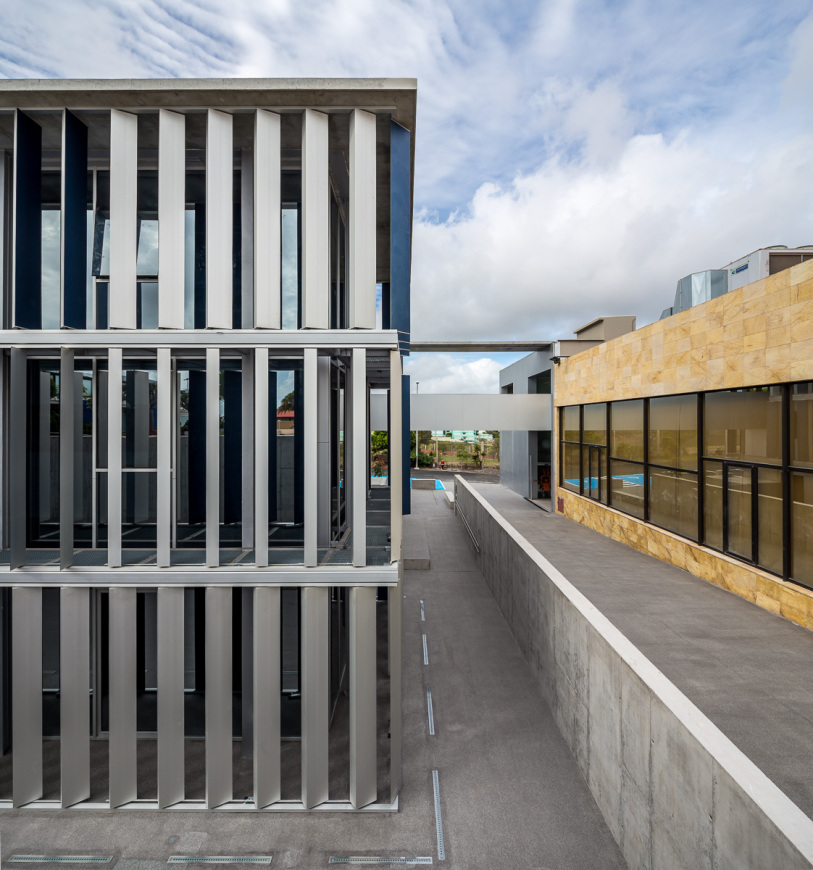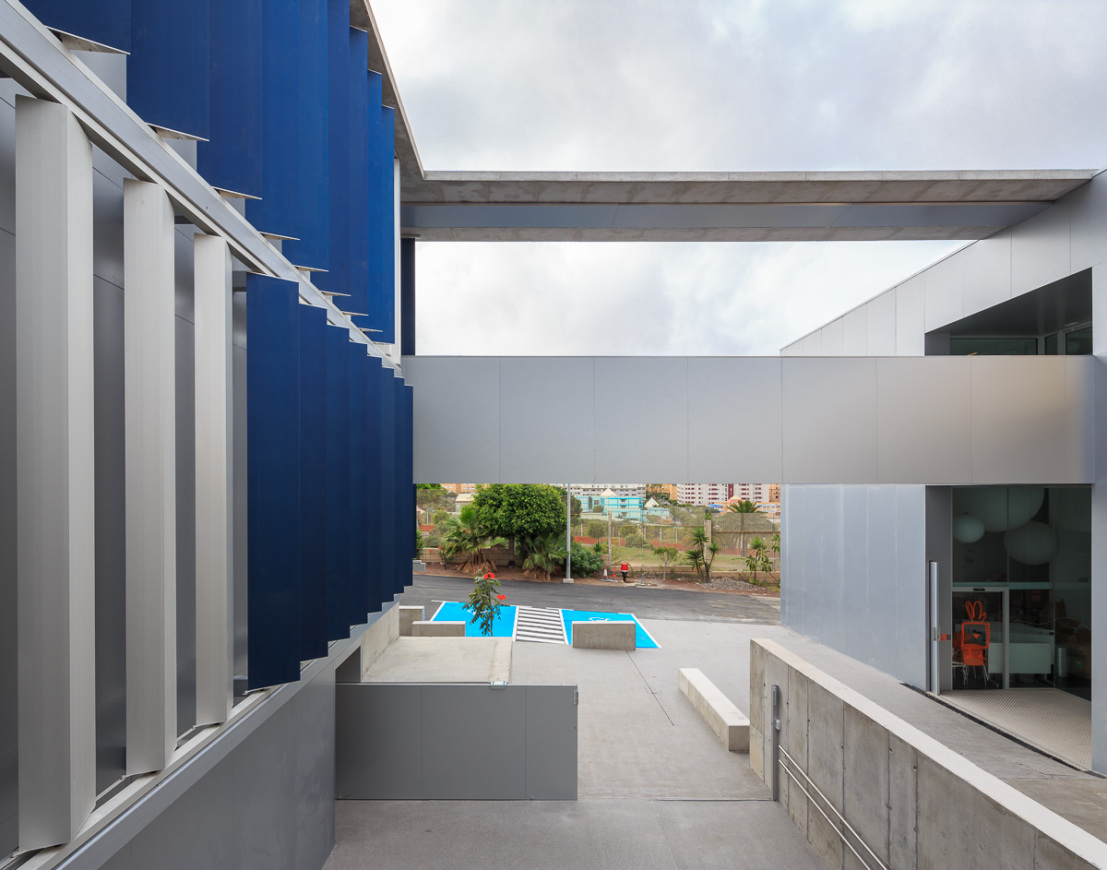 桥梁连接了围墙内街道上两栋Incube建筑高层空间。连接了Incube的主入口。连接了菜市场周边街道的主要通道。连接了广场。连接了内部庭院、中间空间、广场和内部空间。(E1连接庭院-广场,E2连接1楼层-庭院,E3连接为庭院和内部空间提供餐饮服务的活动空间)。
Connection with the Incube building, through a walkway that connects the high floors of both buildings over the inside street of the enclosure. Connection from the main access of Incube. Main access from the perimeter street of the fairgrounds. Steps from the plaza. Accesses from the inner patio, intermediate space, filter between the plaza and the inside space. (E1 link patio –plaza, E2 connection floor -1-patio, E3 events connection, catering service to patio and inside space).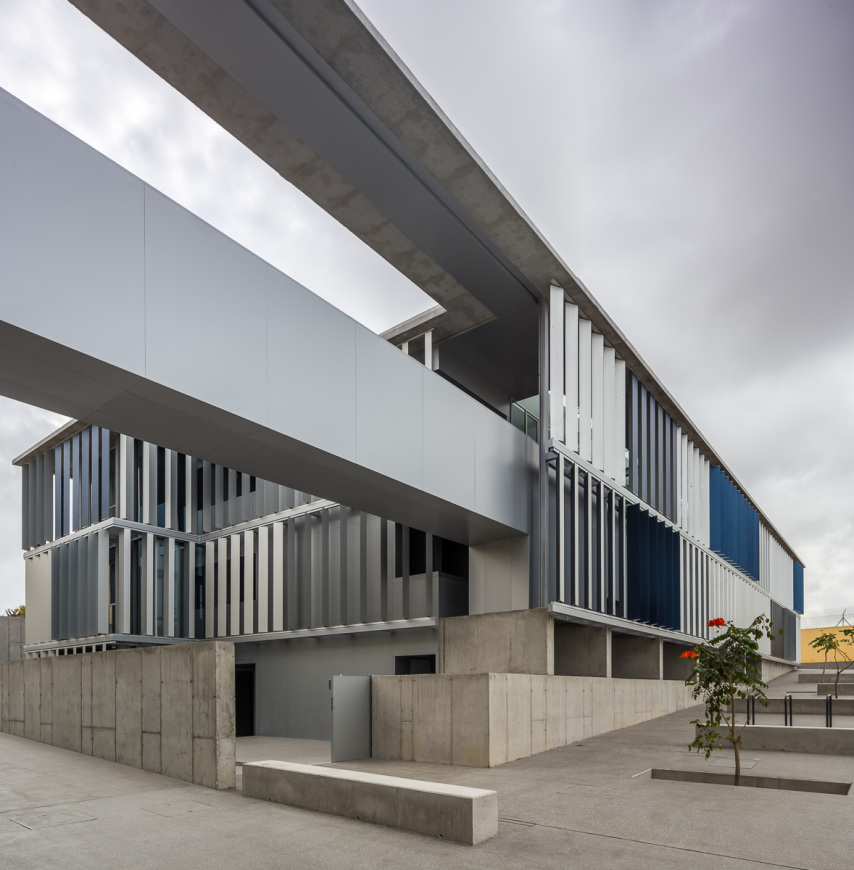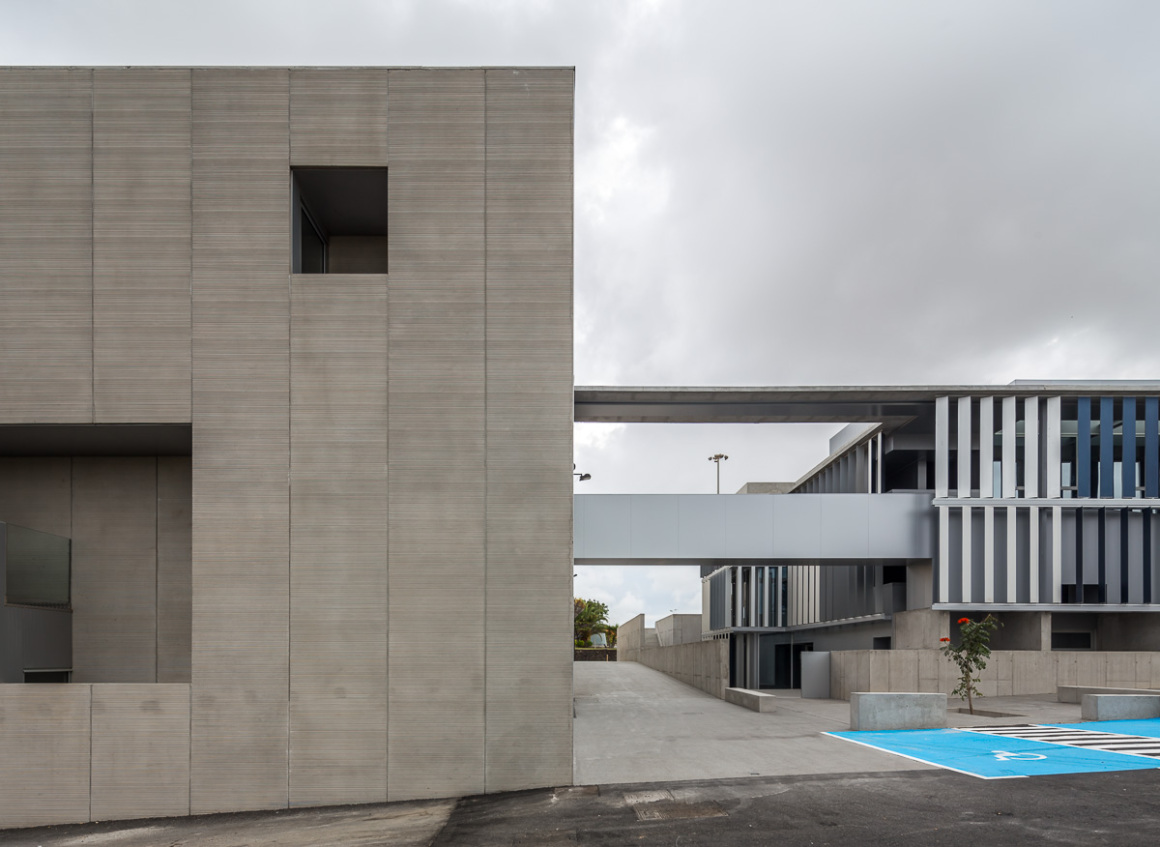 ▼外立面细节details of facade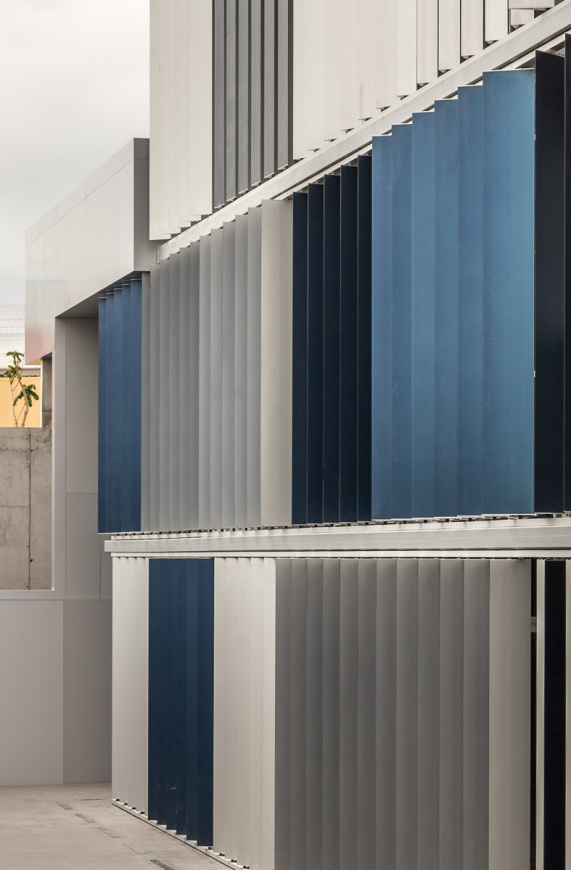 设计师由既定建筑外部范围深入研究了如何有效连接建筑内部空间的方式。按实际要求,方案中的两倍的高度需要放大到三倍高度中。该项目主要围绕空间交互性来展开,重新定义了分散空间的关系,并加强了街道、广场、天井、露台、工作空间和其他附近建筑之间的联系。通过使用相同材料、混凝土、铝和玻璃,制成不同的厚度,放置不同的位置,打造宜人的、开放的空间。
Regulations and location are interpreted in favor of the inside space through the exploration of spatial relations which spread out beyond the established physical boundaries. The two heights required by the regulation are amplified in a triple height space.The project surround spaces of exchange and define discrete spaces, links between streets, plaza, patio, terrace, work spaces and the rest of nearby constructions. It offers a different perspective to each orientation using the same materials, concrete, aluminum and glass, placed in variable thicknesses, habitable, open to visits and measurable.
▼室内空间的联系the connection of interior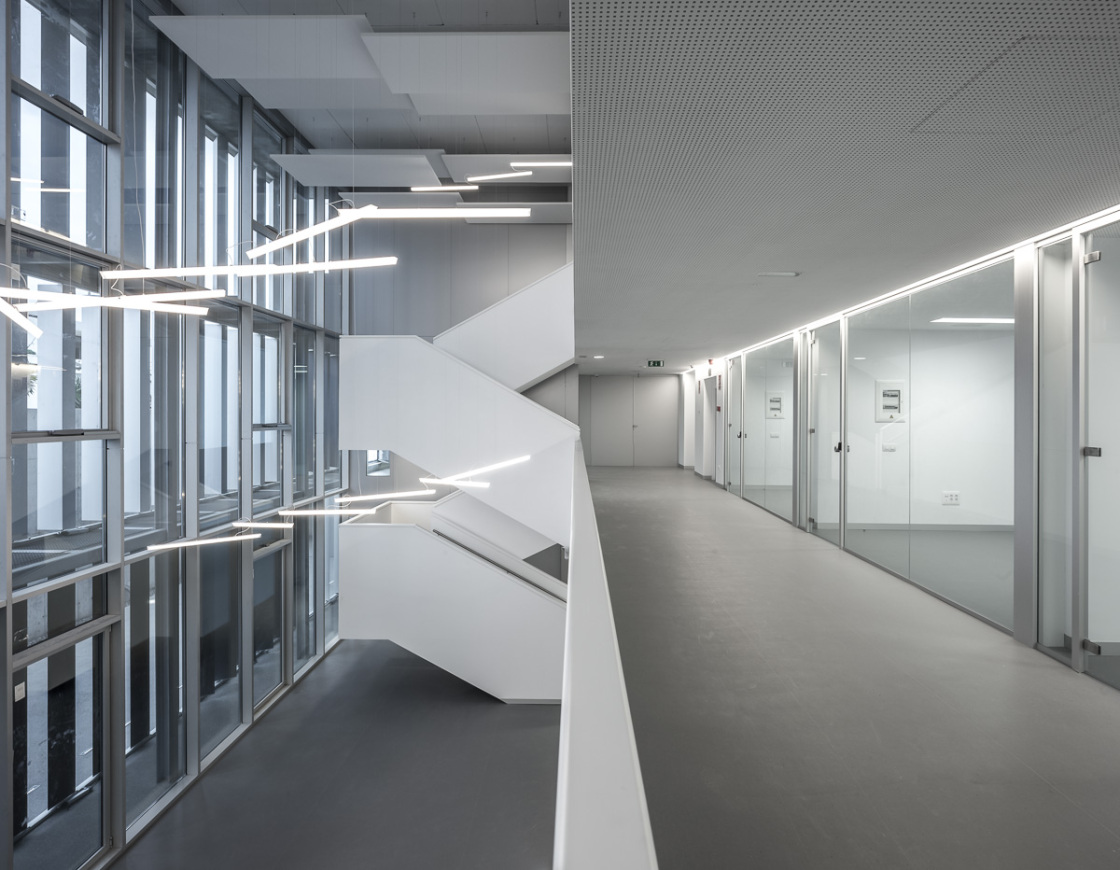 室内光线的变化取决于项目预制外立面板的厚度和方向。
Light sifts inside in gradient depending on the projected thickness and the orientation of the programmed lamas.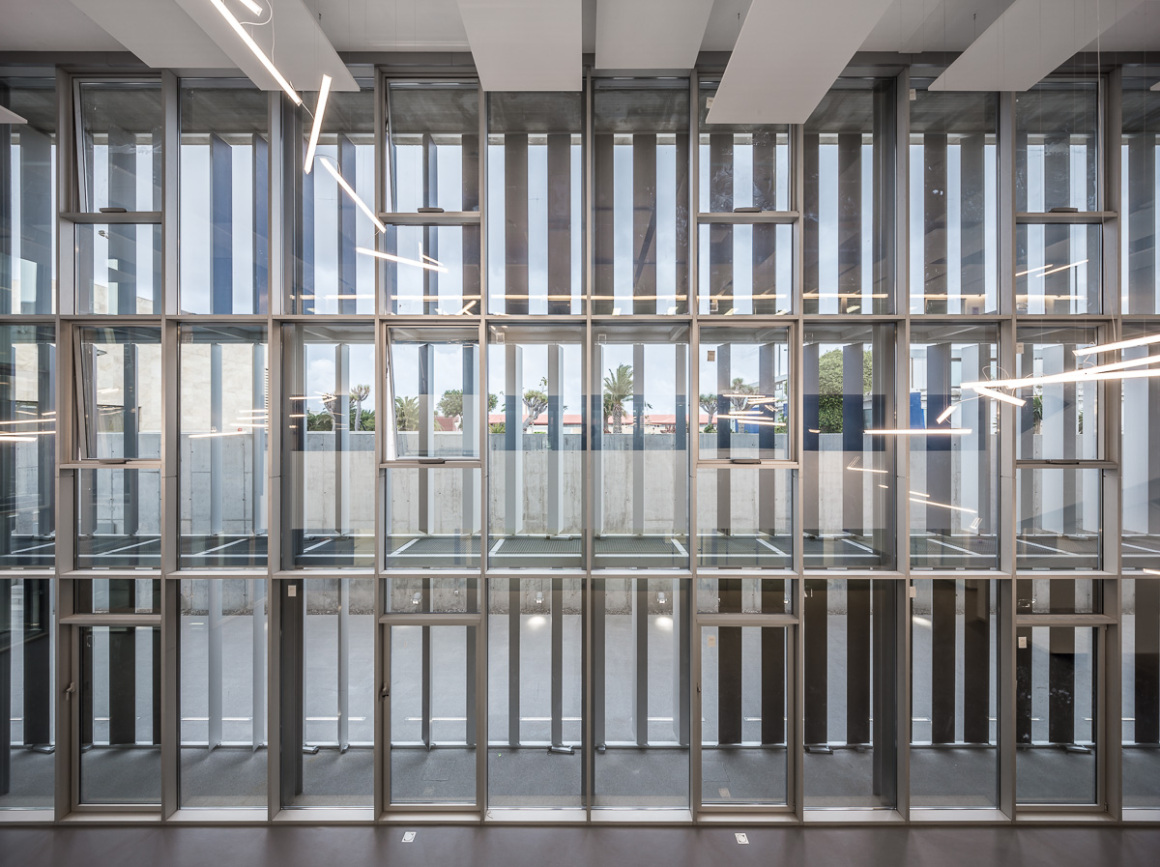 站在建筑外侧,你会看到整个U形过道与建筑外墙和谐统一的画面,走过混凝土墙,向我们迎来的具有丰富景观元素的广场,广场围墙设置为断点式连接,打破了实体围墙的沉闷,也使得围墙"虚化"在空间中。
The U shaped walkway is absorbed by the thickness of the skin, the concrete walls spread out to create the tapestry in the plaza in low relief, the boundaries of the area become dissolved in the inside space.
▼广场the plaza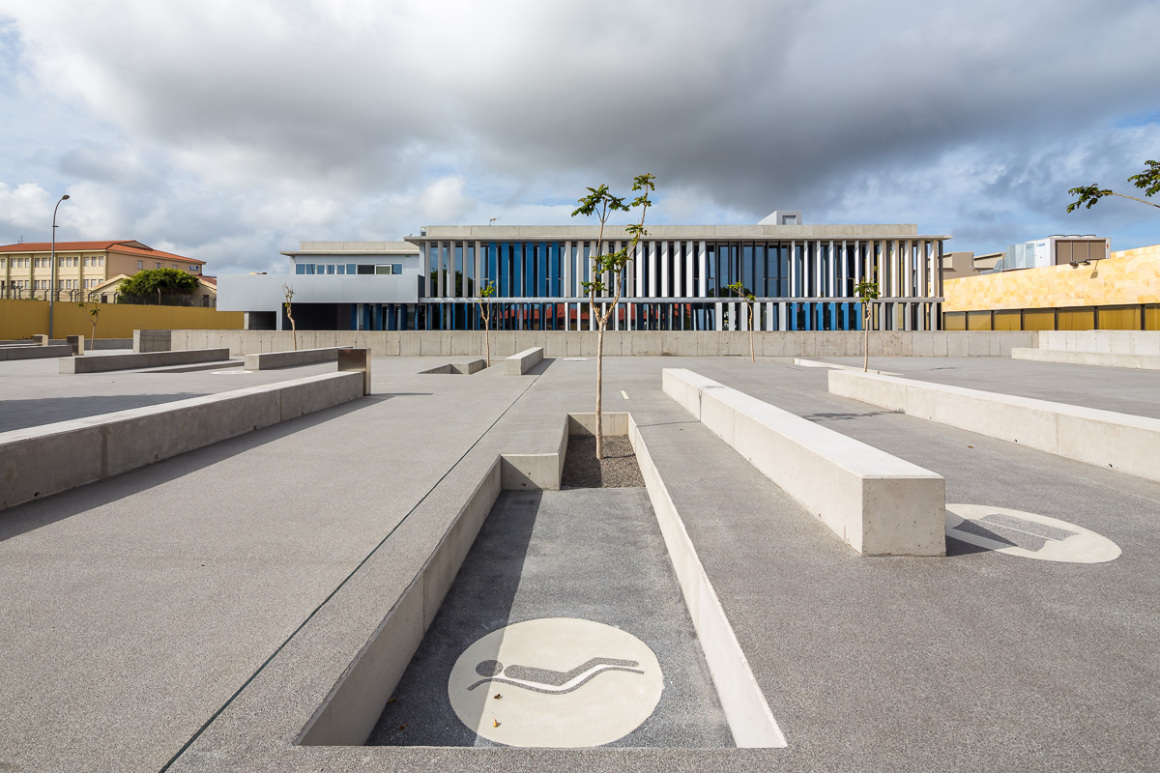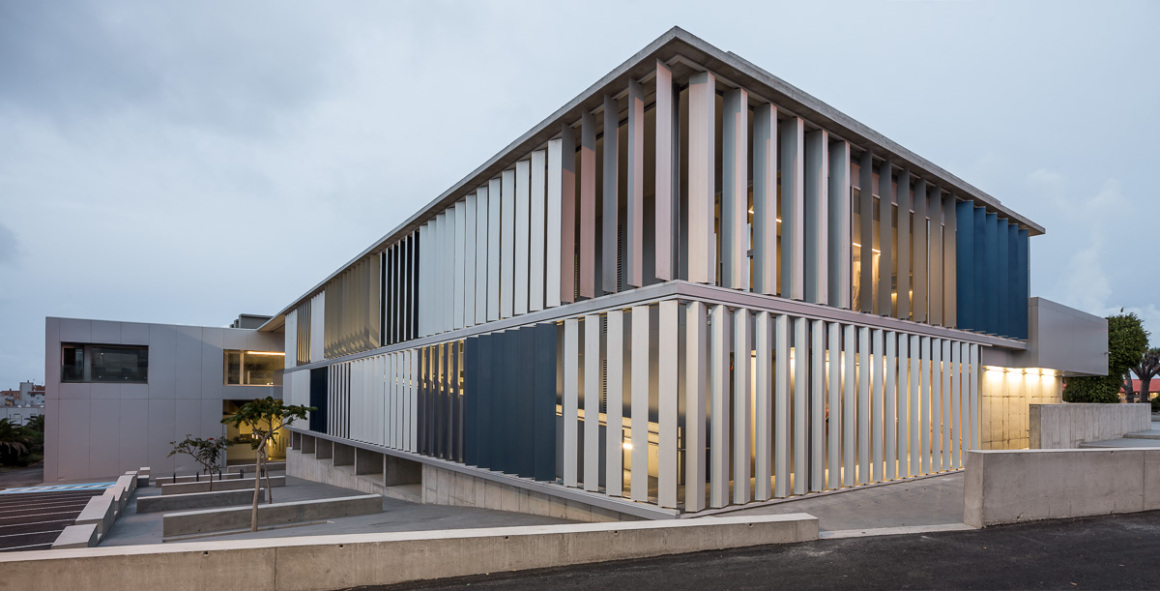 项目名称:  EDIFICIO PASARELA 天桥大厦
项目位置:  加那利群岛博览会场地第6号地块,拉菲亚大道第1号,拉斯帕尔马斯德格兰卡纳利亚
建筑师:
ROMERA Y RUIZ ARQUITECTOS, SLP(PEDRO ROMERA GARCÍA y ÁNGELA RUIZ MARTÍNEZ)
合作方:
建筑师:  Paula Cabrera fry, Jos é Manuel L ó PEZ Cabrera, ROC í o Narbona Flores, Tamara napona Flores, dew, Rocío Acosta Martinez.
结构顾问:  Hugo A. Ventura Rodríguez
设施顾问:  Constantino J. Gonzalvo Ortiz
业主:  SOCIEDAD DE PROMOCIÓN ECONÓMICA DE GRAN CANARIA, S.A.U. (CABILDO DE GRAN CANARIA)
图片:  SIMÓN GARCÍA ASENSIO
施工单位:  SATOCAN, S.A.
技术建筑顾问:  EDWARD LYNCH
Full name of the project:  EDIFICIO PASARELA
Situation data:  PARCELA Nº6 del Recinto Ferial de Canarias, AVENIDA DE LAFERIA Nº1, Las Palmas de Gran Canaria
Full name and date of birth of the author:
ROMERA Y RUIZ ARQUITECTOS, SLP (PEDRO ROMERA GARCÍA y ÁNGELA RUIZ MARTÍNEZ)
Collaborator:
Architect:  Paula Cabrera fry, Jos é Manuel L ó PEZ Cabrera, ROC í o Narbona Flores, Tamara napona Flores, dew, Rocío Acosta Martinez.
Structure:  Hugo A. Ventura Rodríguez
Facility:  Constantino J. Gonzalvo Ortiz
Promoter:  SOCIEDAD DE PROMOCIÓN ECONÓMICA DE GRAN CANARIA, S.A.U. (CABILDO DE GRAN CANARIA)
Photography:  SIMÓN GARCÍA ASENSIO
Construction company:  SATOCAN, S.A.
Technical Architect:  EDWARD LYNCH
更多read more about: ROMERA Y RUIZ ARQUITECTOS