本文由DDON笛东授权mooool发表,欢迎转发,禁止以mooool编辑版本转载。
Thanks DDON for authorizing the publication of the project on mooool, Text description provided by DDON.
DDON笛东:太仓,有如其名之富饶。静静地躺卧在长江口南岸。被淞沪怀抱下的太仓,有如一颗明珠。在江南母亲的呵护下,伴随着烟雨朦胧的滋润,它那样的令人心驰神往。以"沉浸式自然体验"为触发,利用竖向条件,描摹自然界中的形态,将风、光、瀑音、树影引入设计。
DDON:Taicang, as its name suggests, is a beautiful and richly endowed city. Embraced by Wusong and Shanghai, it is just like a pearl shining on the south bank of the Yangtze Estuary, which boasts pleasant climate and beautiful scenery.With the aim to provide "immersive natural experience", the design team has taken advantages of the local resources and introduced natural elements such as the wind, light, sound of waterfall, and shadow of trees into the design.
▼主入口夜景 night view
导视系统,引入停车场空间,为之后主景做铺垫。先抑后扬,利用挡景,以营造豁然开朗之感,入口转折处利用栅格虚掩,隐隐约约,逐渐将主景凸显出来。
The signage system leads to the parking space which paves the way for the main landscap behind.At the turn of the entrance, the main landscape will gradually unfold behind the grille, providing an open and delightful view.
▼入口局部细节 Local detail of main entrance
太仓人通过船运形成了第一批富起来的人,以"船头"的概念来打造这个眺望台,体现太仓人竞奔不息、勇立潮头的精神内涵。
Since Taicang people first accumulated their wealth by shipping, the designer draws inspiration from it and creates a gazebo in the shape of a ship's bow.
▼设计动图演示 Design animated demo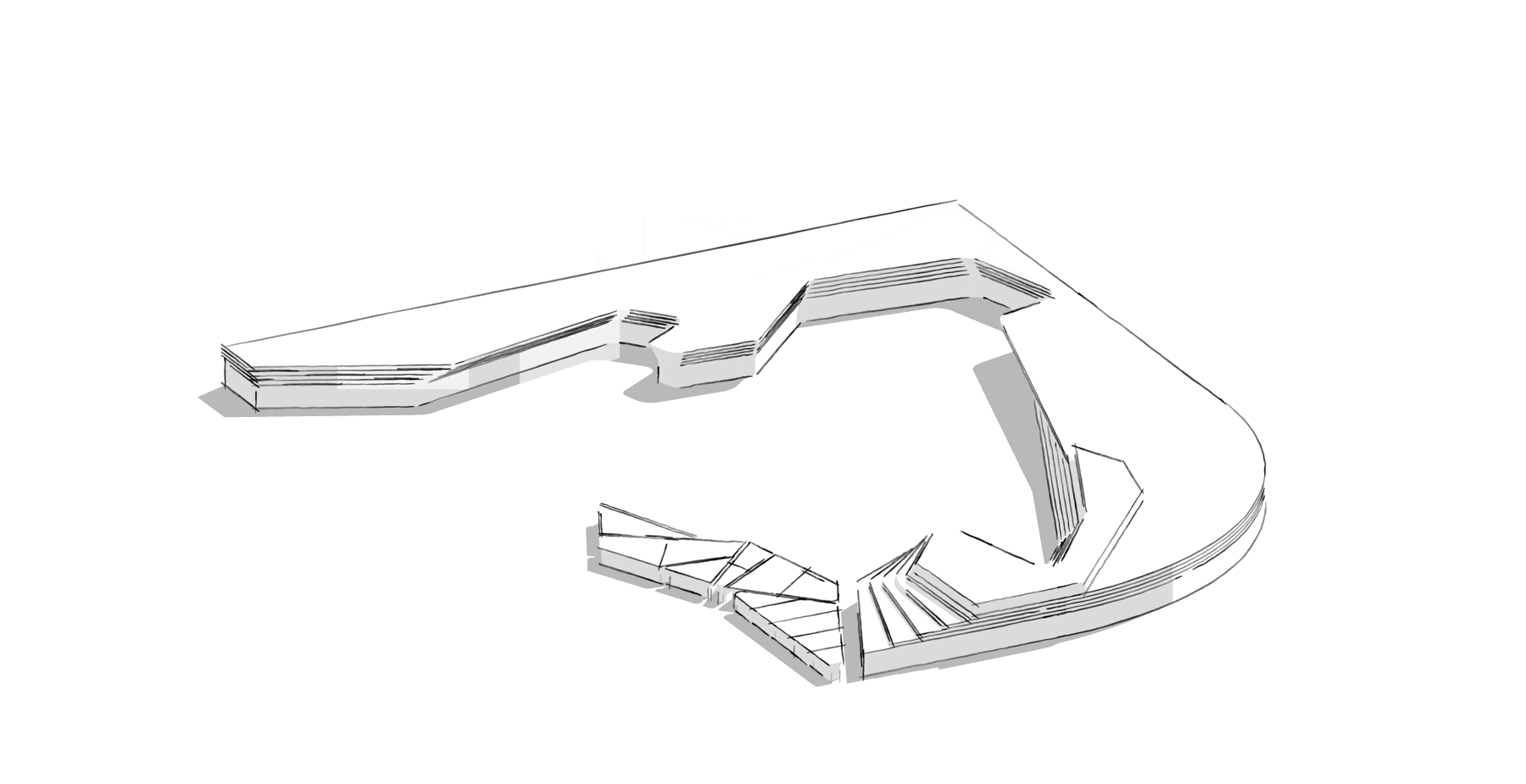 下沉山水园利用高差将水设计成了6种形态,静水、迷雾、水幕、溪流、叠瀑、直瀑。
水景节奏逐步从平缓到强烈,由静谧到悦动再到震撼,高差布局和空间的进退形成悬壁、汀滩、谷音和水瀑的景观效果。
In the sunken garden, waterscapes appear in six different forms: mirror water, water spray, water curtain, brook, cascade and waterfall.
From gentle to violent, from quiet to shocking, the waterscapes are well designed according to the heights and space features, to create impressive landscape effects like suspended wall, shoal, echo of valley and waterfalls.
其中水瀑通过高差的设计处理形成三种形式——离落式、传落式和布落式(源自日本《作庭记》对瀑布十种形态的描述——向落、片落、传落、离落、棱落、布落、丝落、重落、左右落、横落)。
There are three types of waterfalls formed by various heights and landforms —— plunge waterfall, segmented waterfall and sheet waterfall (three of the ten waterfall types described in the famous Japanese masterpiece "Sakuteiki", literally "Notes on Garden Design") .
结语 conclusion
利用光、石、镜、植被,相互交叉,汇集成一个清静幽深的居住环境,既有着东方"一木一乾坤"的简练含蓄,又有着北欧有机现代主义的特色,保持自然肌理,营造现代东方的静谧的氛围。
Light, stone, mirror and plant are employed and combined to form a tranquil and elegant living environment, which features both the oriental simplicity and the Nordic modernism. Following the natural style, it creates a modern oriental atmosphere for the space.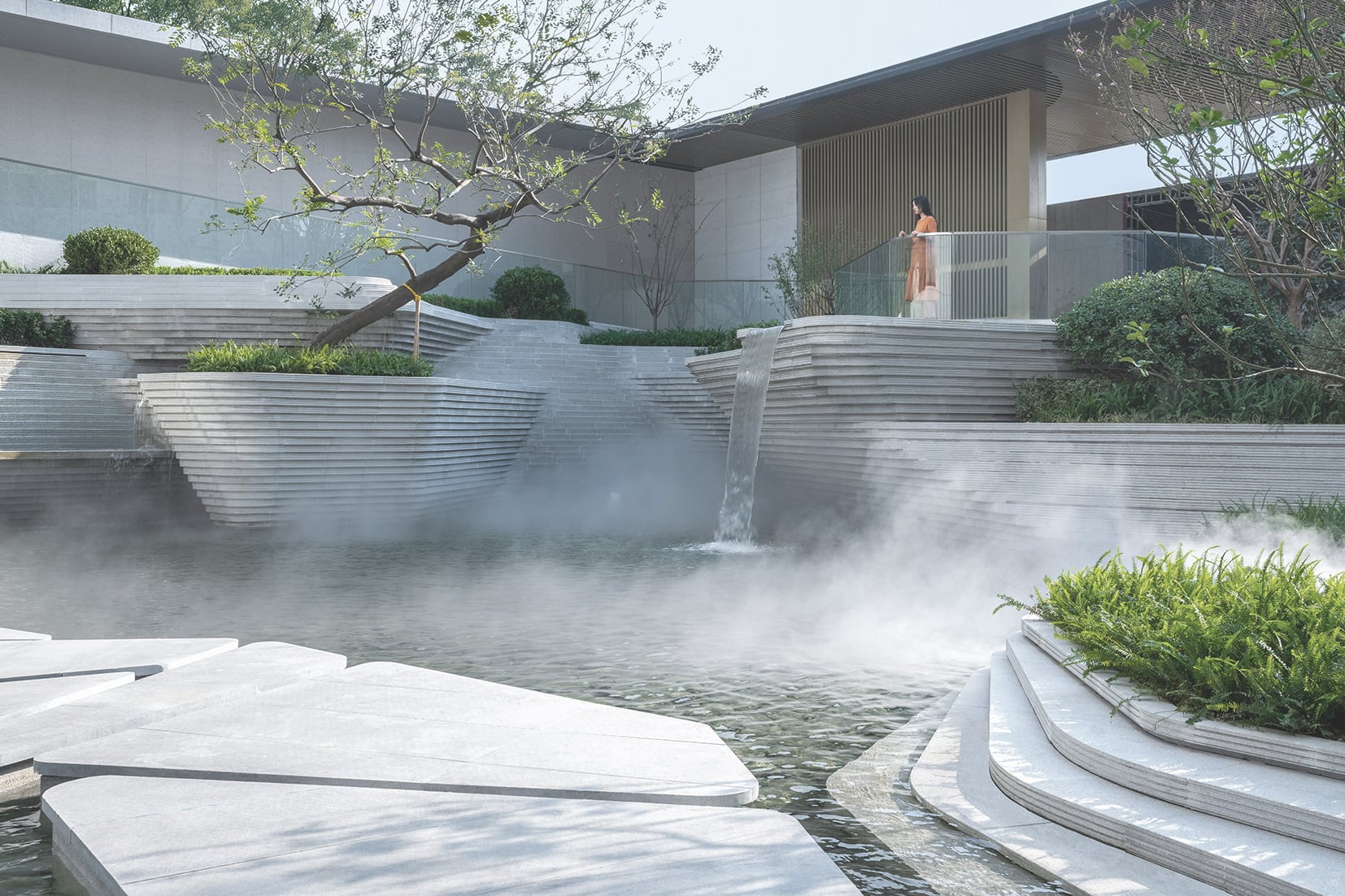 项目名称:阳光城中南.翡丽云邸
委托业主:太仓彤光房地产开发有限公司
项目地点:江苏省太仓市
竣工时间:2019年8月
景观面积:4000m2
景观设计:DDON笛东
公司网站:www.ddonplan.com
联系邮箱:yuanzhen@ddonplan.com
建筑设计:上海天华建筑设计有限公司
摄影:邱日培
Project Name:PHILIPPE CLOUDS
Entrusted owner:Taicang Tongguang Real Estate Development Co., Ltd.
Project Location:China, Jiangsu, Taicang,
Completion time: August 2019
Landscape area: 4000m2
Landscape Design: DDON
Company website: www.ddonplan.com
Contact Email: yuanzhen@ddonplan.com
Architectural Design:Shanghai Tianhua Architectural Design Co., Ltd.
Photo:Qiu Wen Architectural Photography–Qiu Ripei
项目中的植物、材料运用 Application of plants and materials in this project
更多 Read more about: DDON笛东