本文由Studio Libeskind授权mooool发表,欢迎转发,禁止以mooool编辑版本转载。
Thanks Studio Libeskind for authorizing the publication of the project on mooool, Text description provided by Studio Libeskind.
Studio Libeskind:Studio Libeskind(纽约)与GRIP Metal(多伦多)合作,在第16届威尼斯双年展上展示了一个公共艺术装置"Facing Gaia"。该装置位于Giardini della Marinaressa,一个毗邻双年展的Giardini入口的公共公园。该项目在使用先进材料的同时,通过地球和人类之间的关系,探索时间、空间和存在的连续性。
Studio Libeskind:Studio Libeskind (New York) in collaboration with GRIP Metal (Toronto) presents Facing Gaia, a public art installation at the 16th International Architecture Exhibition of La Biennale Di Venezia. Facing Gaia is located in the Giardini della Marinaressa, a public park adjacent to the entrance of the Giardini of the Biennale. Reminiscent of ancient forms while employing advanced materials, the project explores the continuum of time, space and existence through the relationship between the planet and humanity.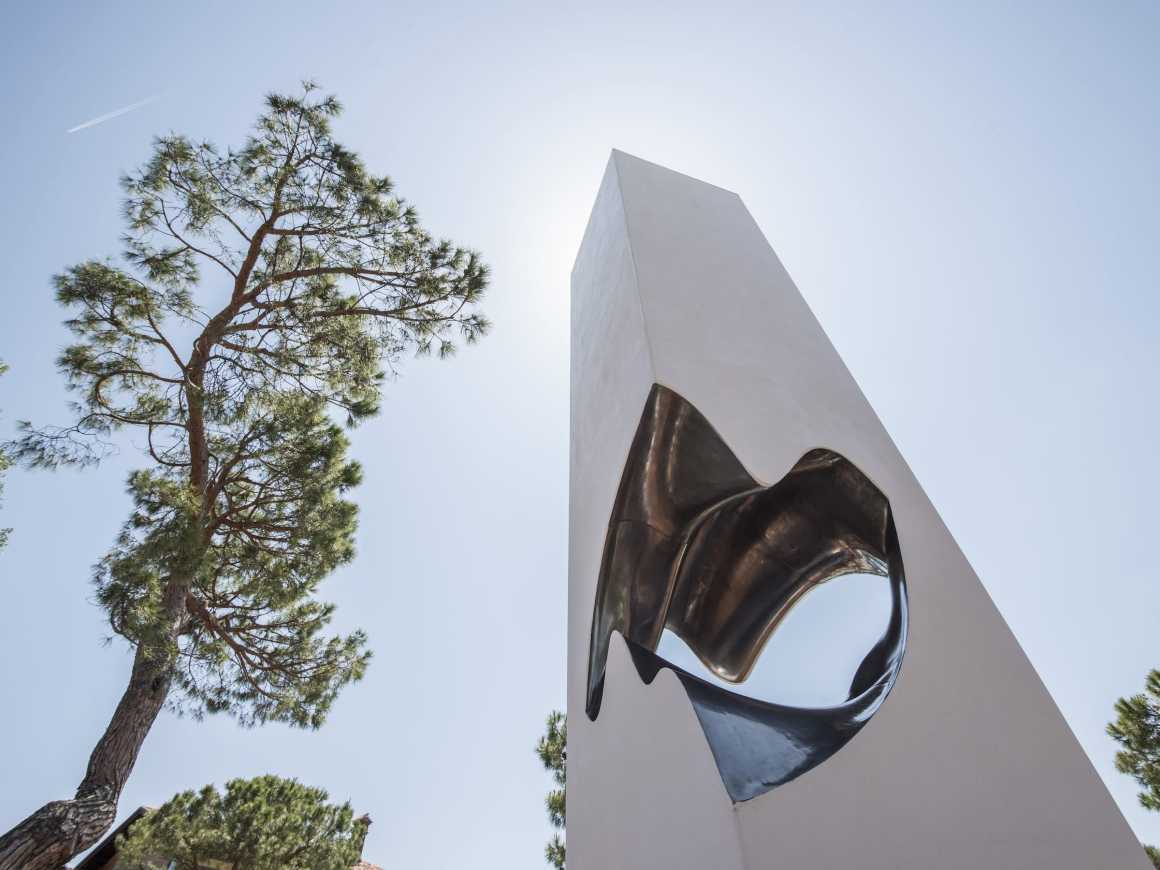 "Facing Gaia是一种建筑假设,一个冥想…一个想法……一个问题……" 建筑师丹尼尔·里伯斯金解释道,"它着眼于地球、自然以及人类在这个不断变化的生态系统中所扮演的角色的不稳定未来。" "很高兴能参加今年的双年展——我认为总的主题与目前形势非常相关且及时的" 里伯斯金补充道。
"Facing Gaia is an architectural hypothesis. A meditation…An idea… A question… One that looks to the instability of the future of the earth, nature and the role humanity has played in this mutating ecology," explains architect Daniel Libeskind. "It is such a pleasure to participate in the Biennale this year—the overall theme I believe is extremely relevant and timely," added Libeskind.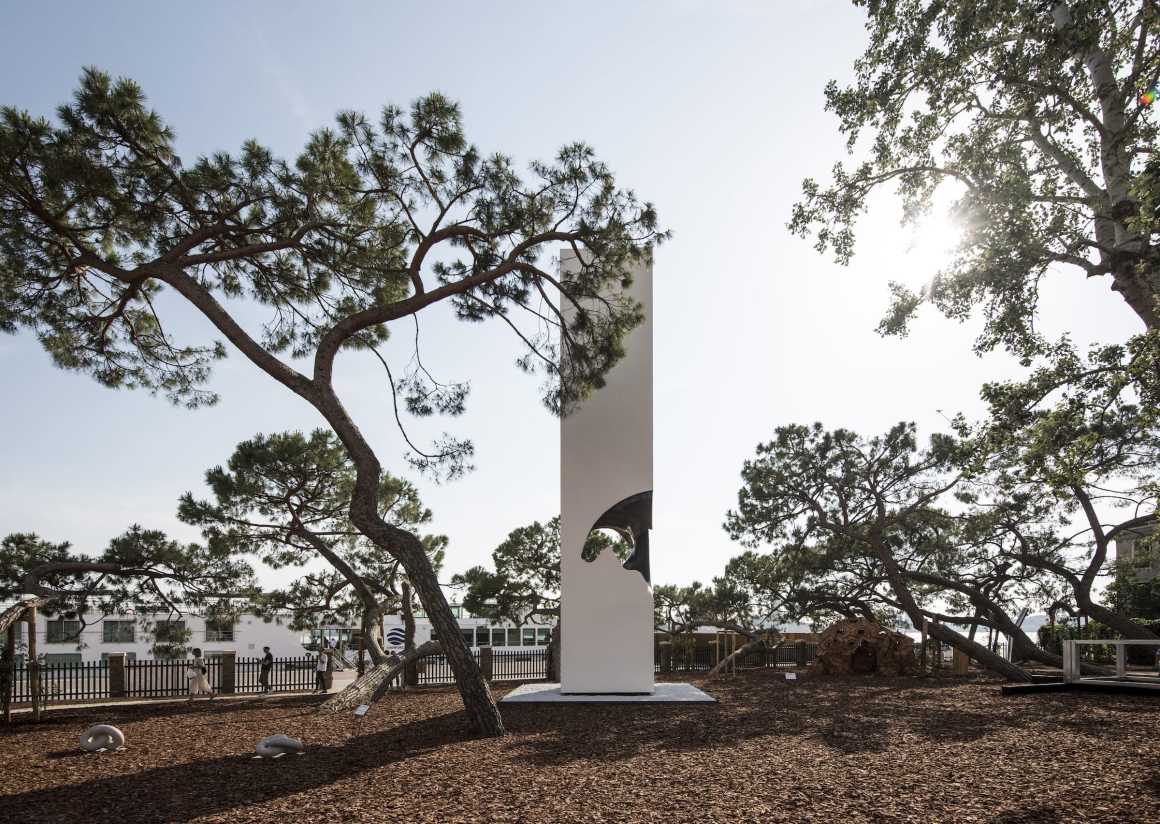 矗立在亚得里亚海边的这座12米高的白色单体被漂浮的无定形空隙一分为二。中间这个起伏的镜面空间代表无限和有限、可能或不可能,同时反映了周围的花园、水和行人。
Standing at 12-meters-tall at the edge of the Adriatic Sea, the gleaming white, monolithic tower is bisected by a floating amorphous void. This undulating mirror-finished space in between represents the infinite and the finite, the possible and the impossible, while reflecting the surrounding gardens, water and pedestrians.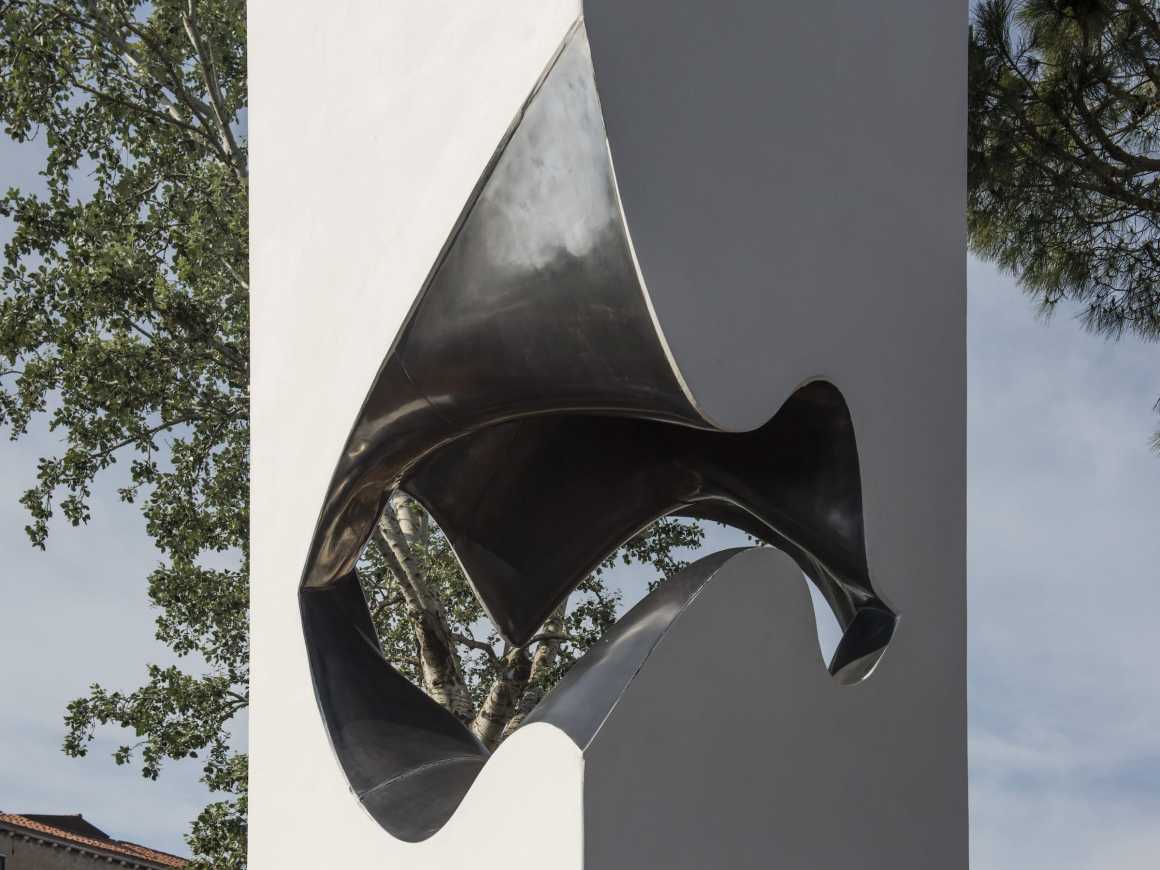 装置的名字来源于盖亚(地球上的生物)正处于危机时刻的概念。人类正处在一个资源和空间日益枯竭的世界的十字路口——在这个时刻,我们正以先进的技术和不断增强的联系能力进行扩张。我们正在进入一个从可持续性到可行性的文化转变,而这个艺术装置矗立在悬崖边上,就像一座灯塔。
The title is derived from the concept that Gaia (the living Earth) is at a moment of crisis. Humanity is at a crossroads in a world where we are running out of resources and space—in a moment where we are expanding with progressive technologies and the increasing capacity to connect. We are moving into a cultural shift from sustainability to viability. Facing Gaia stands as a beacon on the edge of this precipice.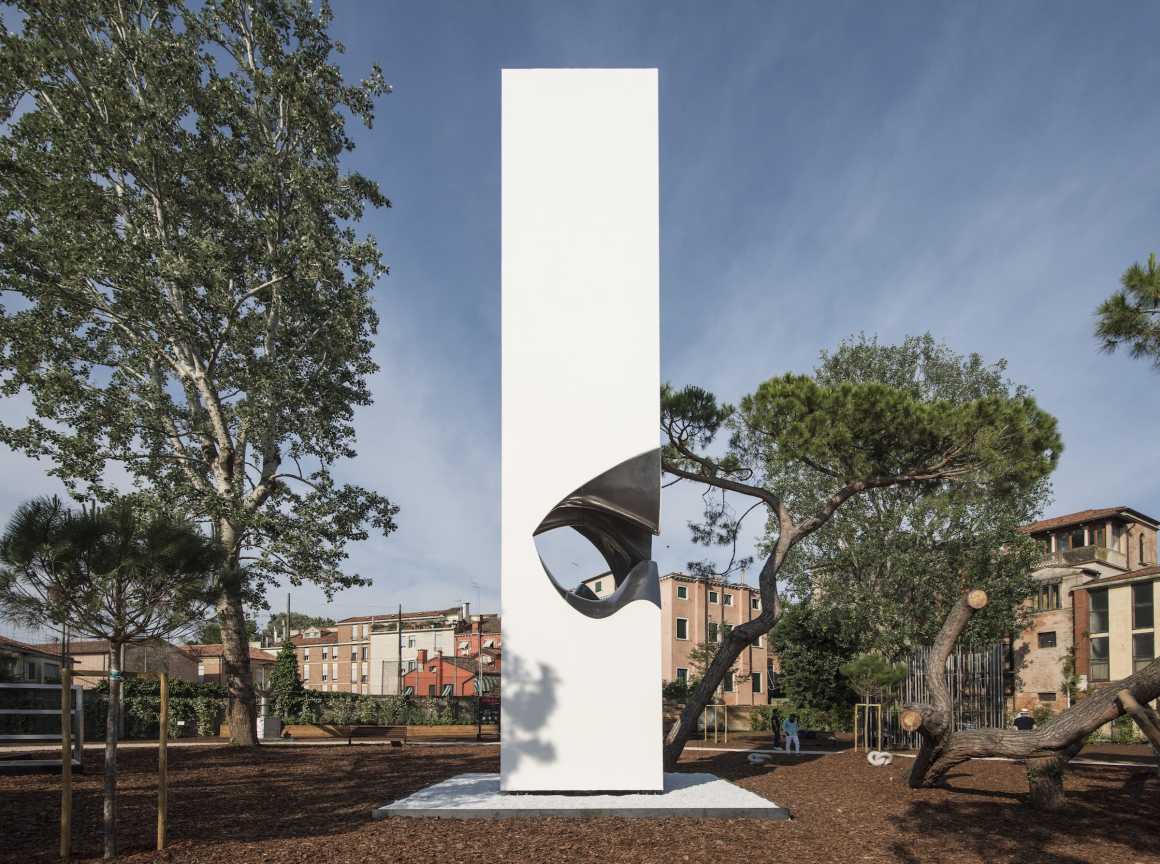 "塔的组成、材料、以及它反射的光,探索了稳定和空虚之间的张力;中心、外围、垂直的以及围绕它的东西,每一刻都旨在以最基本的形式展示建筑所蕴含的力量和意义。"丹尼尔·里伯斯金说。
"The composition of the tower, the materials, and the light it reflects, explores the tension between stability and emptiness; centrality and periphery and the vertical and what surrounds it. Each moment aims to reveal the embodied power and meaning of architecture in its most basic form" said Daniel Libeskind.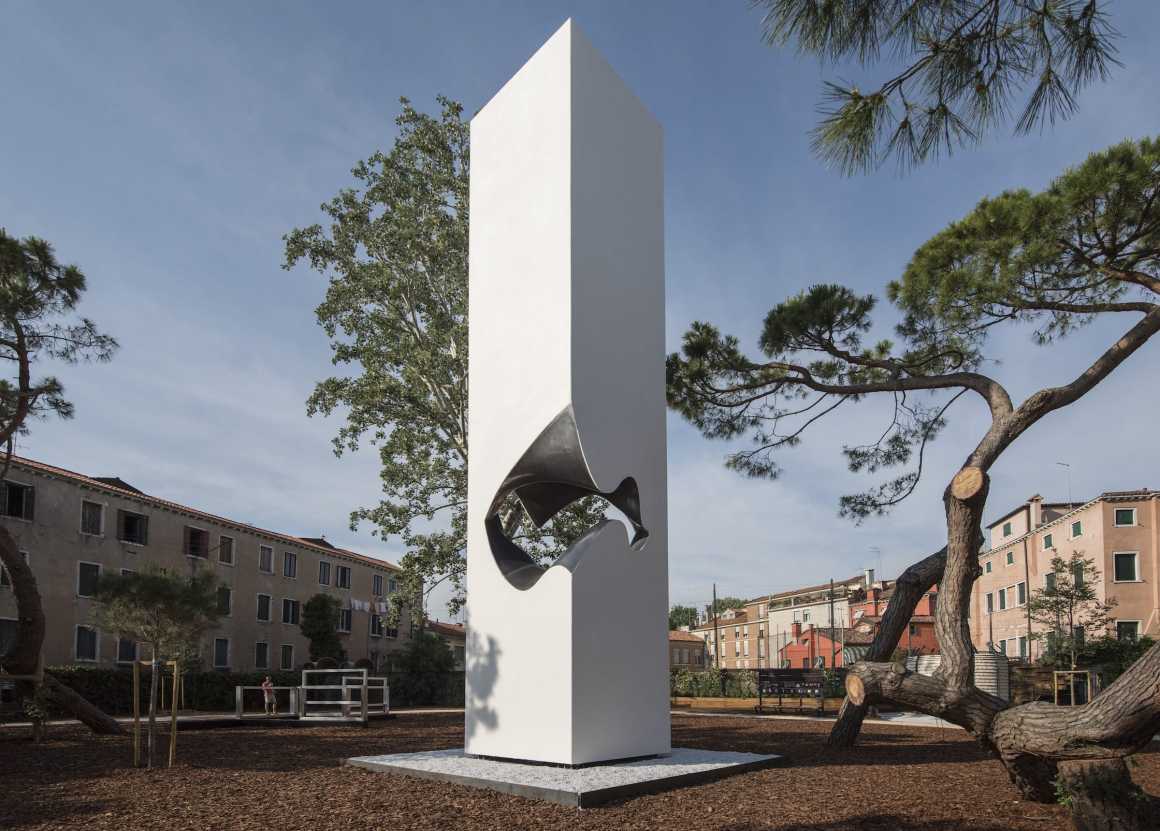 Libeskind与GRIP Metal合作,结合最前沿的建筑技术建造了这座塔,立面采用GRIP金属技术,在加拿大多伦多预制而成,内部空隙采用3D打印技术、可回收的聚丙烯玻璃填充树脂。这座塔最终在威尼斯由当地工匠完成,该工艺结合了新的轻质木材和钢材预制施工技术,先进的大规模3d打印技术,以及当地工艺技术。
The Studio collaborated with GRIP Metal to fabricate the tower employing future methods of construction. The façade was created using GRIP Metal Technology and was prefabricated in Toronto, Canada. The interior void was created with 3D Printing technology recyclable polypropylene glass filled resin. The tower received its final finish in Venice with local craftsmen. The process brings together new lightweight wood and steel prefabricated construction techniques, advanced large scale 3Dprinting, with local craft.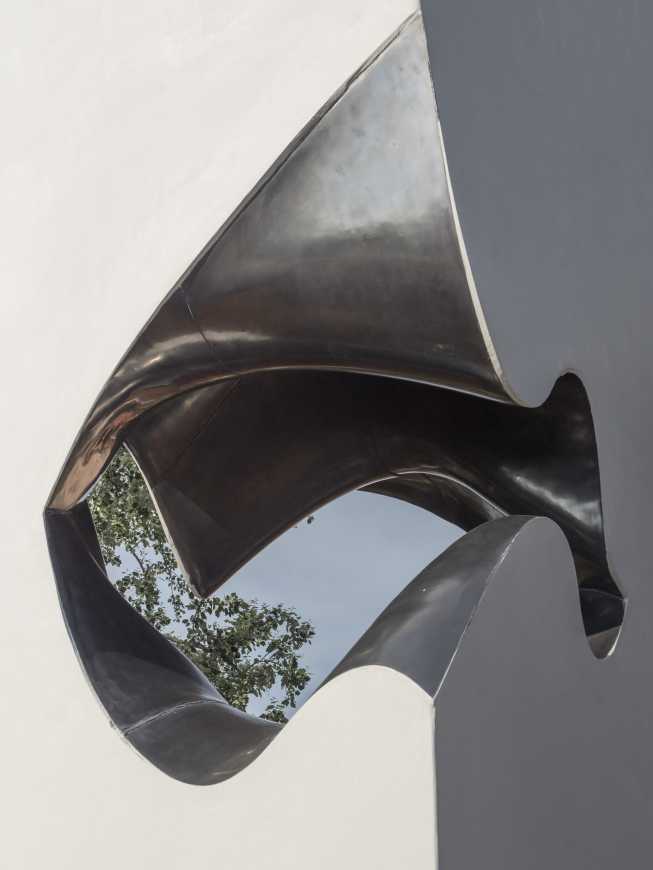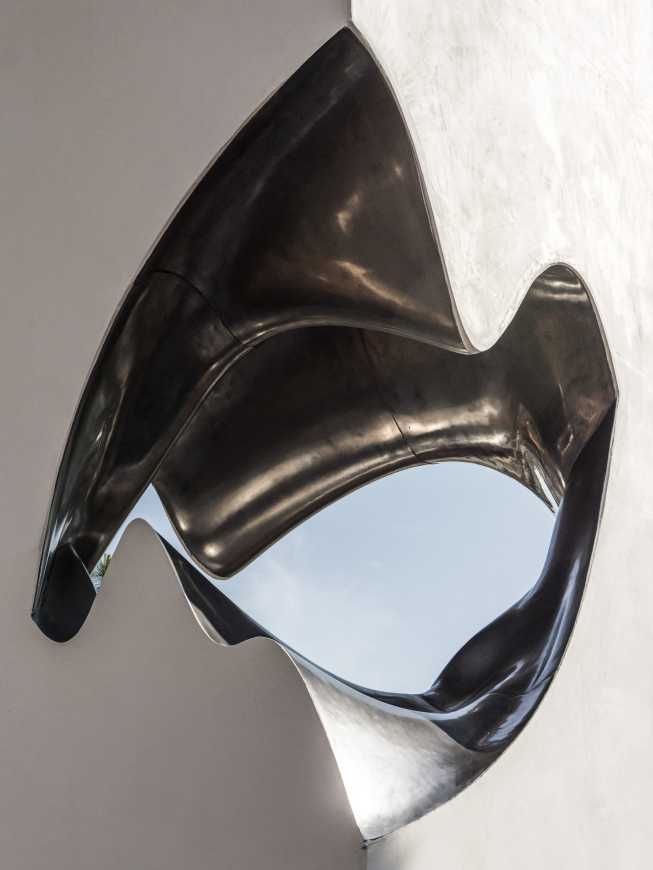 项目名称:Facing Gaia
地点:意大利威尼斯
完成年份:2018年
设计:Studio Libeskind
合作方:GRIP Metal
Project name: Facing Gaia
Location: Venice, Italy
Completion: 2018
Design: Studio Libeskind
Collaborators: GRIP Metal
更多 Read more about: Studio Libeskind