本文由 Atelier Starzak Strebicki 授权mooool发表,欢迎转发,禁止以mooool编辑版本转载。
Thanks Atelier Starzak Strebicki for authorizing the publication of the project on mooool. Text description provided by Atelier Starzak Strebicki.
Atelier Starzak Strebicki:这个移动式的展览装置由钢板组合而成,是为响应艺术天堂(Przystań Sztuki)项目的实际需求。在材料的选择上,主要考虑到对多变气候的抵抗能力、洁净度的保持能力以及视觉的美观度。
Atelier Starzak Strebicki:Mobile exhibition system is the collection of the objects made of steel sheet which are a practical response to the needs of the project of Przystań Sztuki. The choice of material was based primarily on the criterion of resistance to frequently changing weather conditions and ease of maintaining its cleanliness and aesthetics.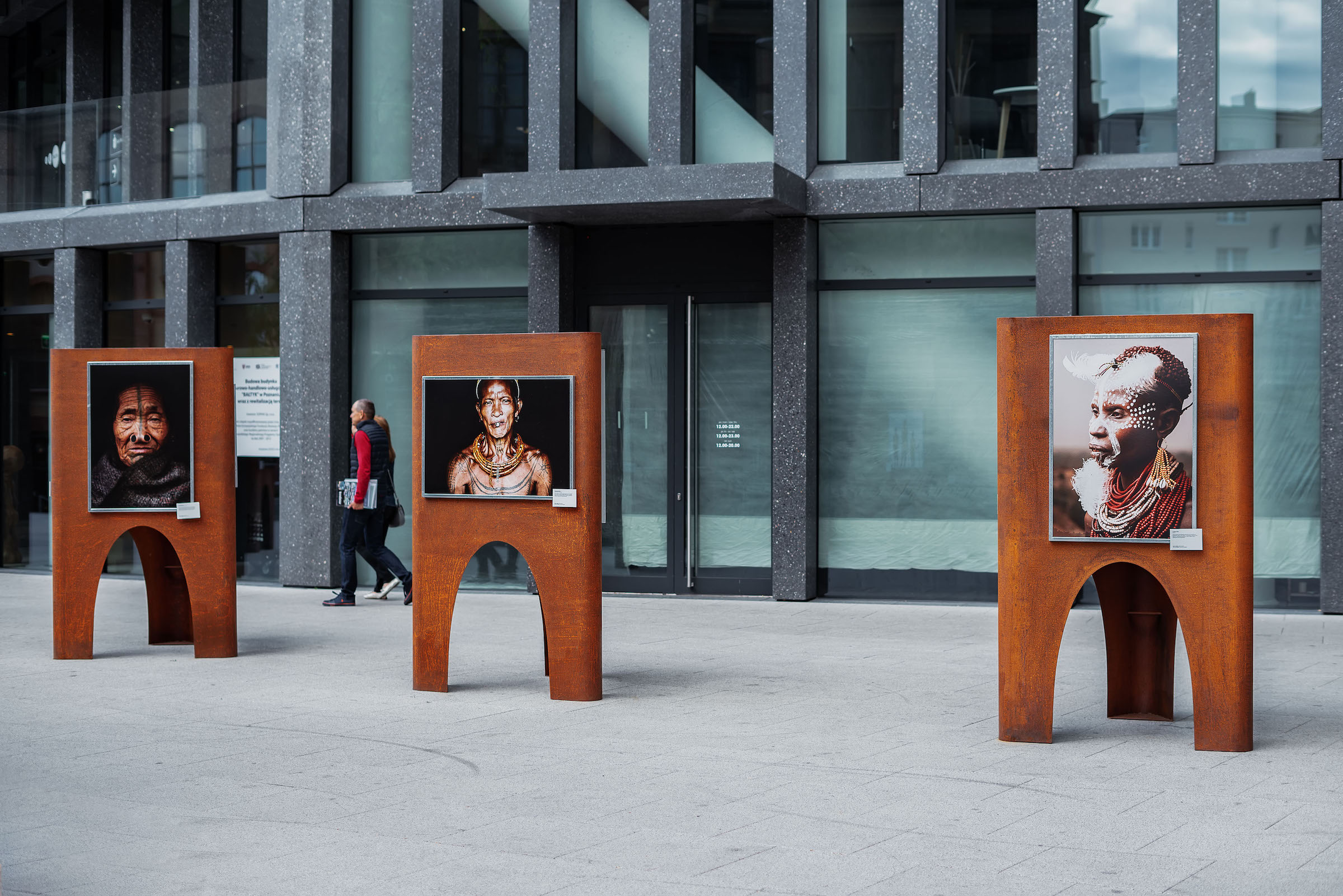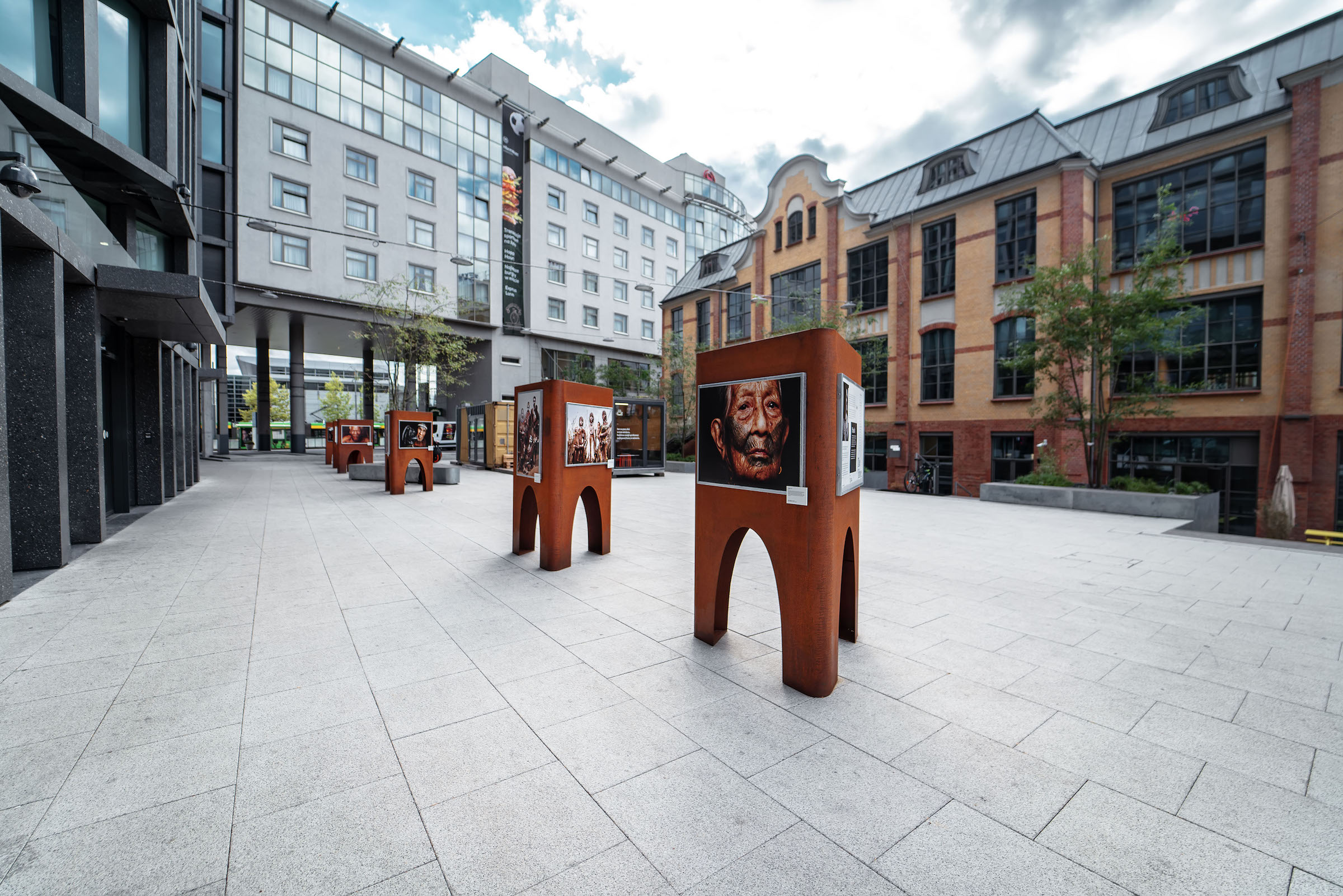 氧化后的金属板使其具有防腐的保护功能,这种氧化作用使得该装置呈现出美丽的外观:它本身的外形和质感,加上氧化后的铜色,将其与康科迪亚建筑(Concordia)和Bałtyk办公楼相协调,和谐融入环境而不突兀。
The sheet metal used for the construction of the objects has undergone a process of accelerated oxidation which allowed obtaining a protective function against corrosion. The oxidation also made it possible to give the displays an aesthetic look: thanks to their raw form and copper color, they perfectly fit in the space between the post-industrial Concordia building and the modern architecture of the Bałtyk Office.
▼装置与环境空间相协调 The exhibition system is coordinated with the environmental space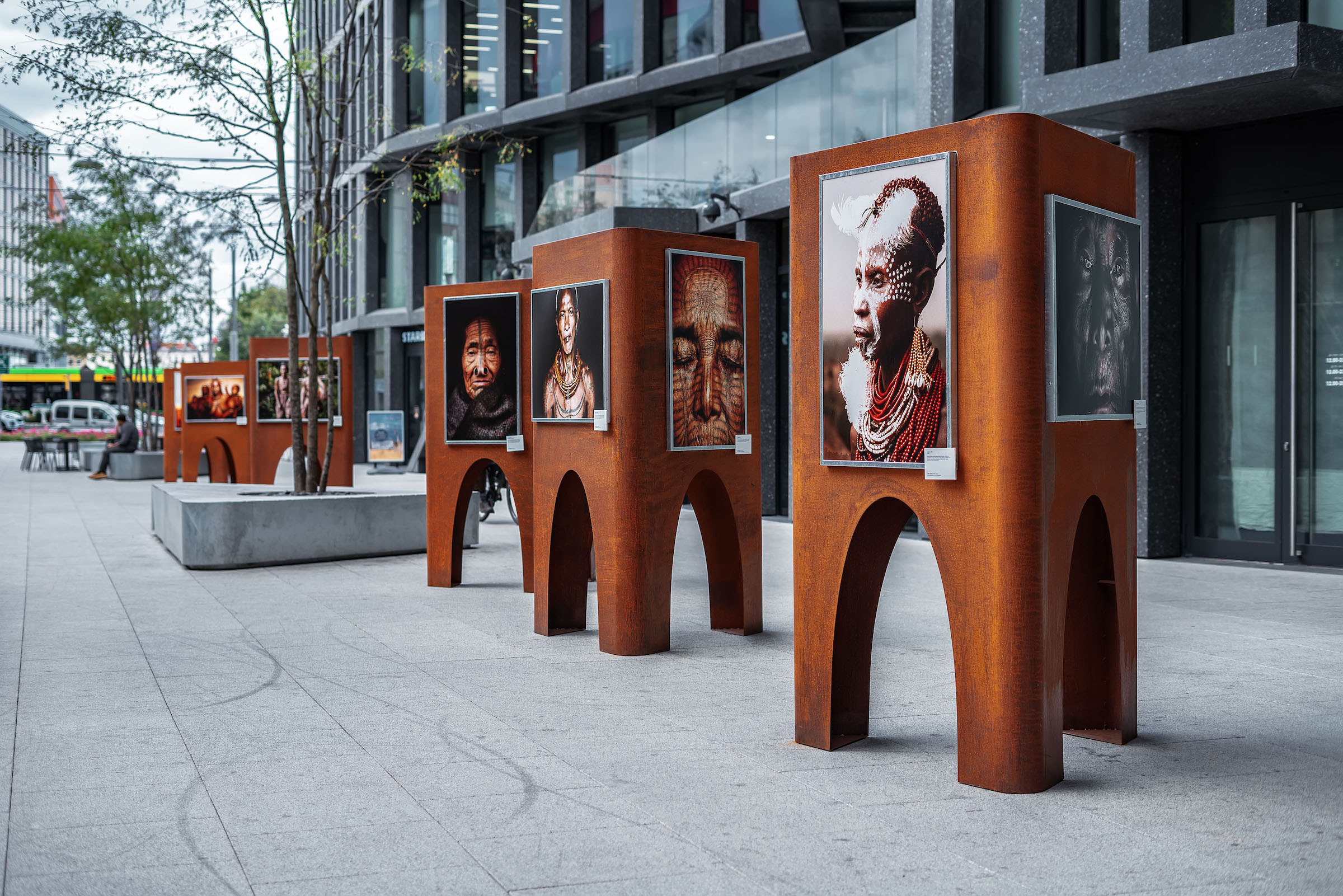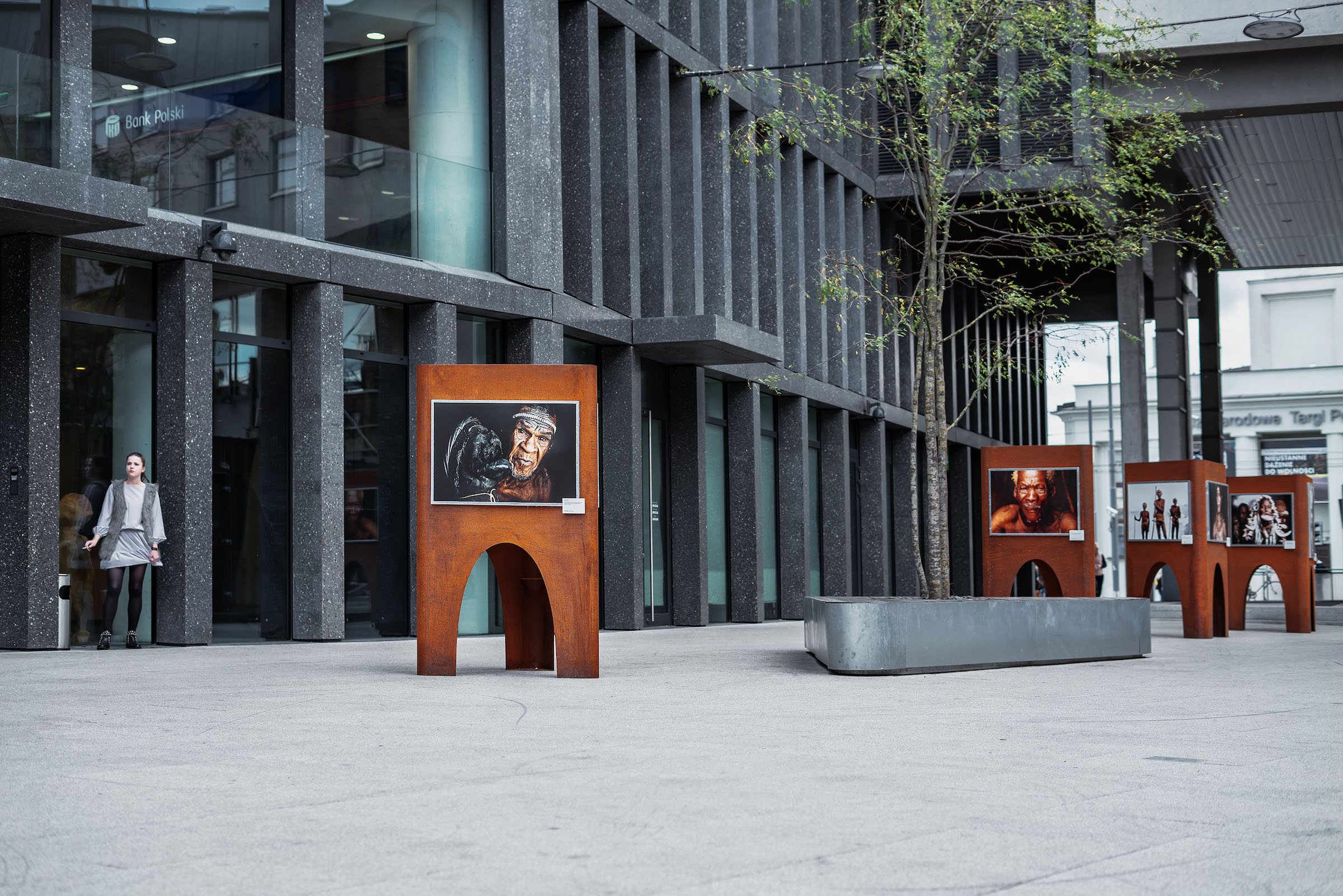 在设计上,装置被设计成能够适应多功能物品的展示,根据这些展品的使用性质来满足现代策展的要求。装置中央区的移动式面板为其带来了灵活性,使视觉类的艺术作品不仅可以在竖向上展示,也可以在横向上展示,例如摄影作品、画作副本、海报等。这让艺术作品的布局陈列更具灵活性和多样性,其中展示的元素可以相互结合。
The displays have been designed to serve as multifunctional objects which due to the nature of their use will meet the requirements set by modern curatorial practices. The movable panels located in the central part of the displays provide flexibility and enable the exposition of works of visual arts (e.g. photography, reproduction of paintings, posters) both horizontally and vertically. This allows for mobility and diversity of layouts in which the exhibited elements can be combined with each other.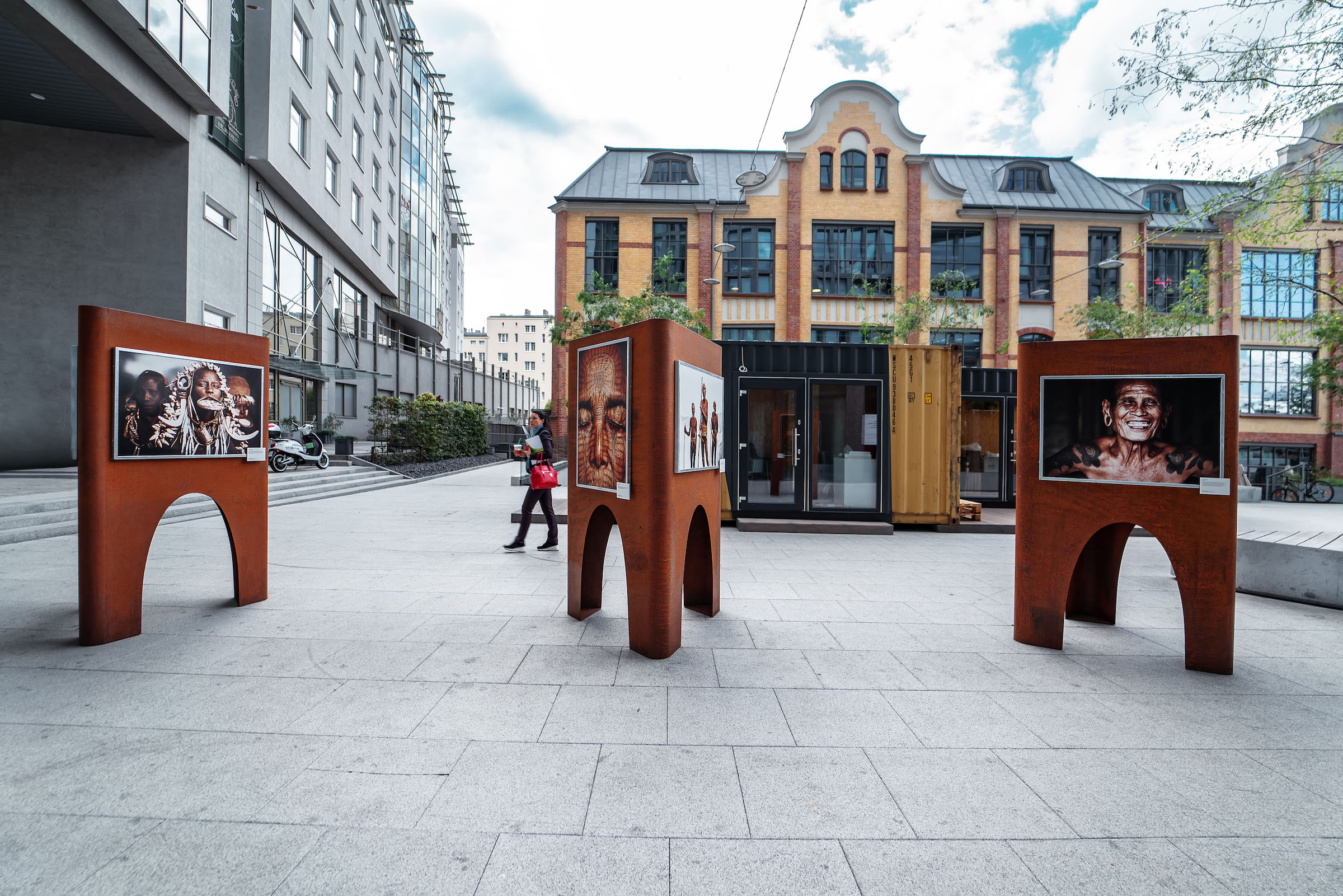 在设计过程中,还应注意确保整个展览装置能够抵抗不利的天气,尤其是场地空间内经常发生的强风。装置底部的开放式形态使其易于移动,使用较为便利,可以自由移动到不同的空间中。
When creating the design care was also taken to ensure that the entire exhibition system is resistant to unfavorable weather conditions, especially to the strong gusts of wind which often occur in the space of the Przystań Sztuki. Freedom and ease of use is provided by the open shape at the bottom which makes it easy to move objects and position them in different configurations.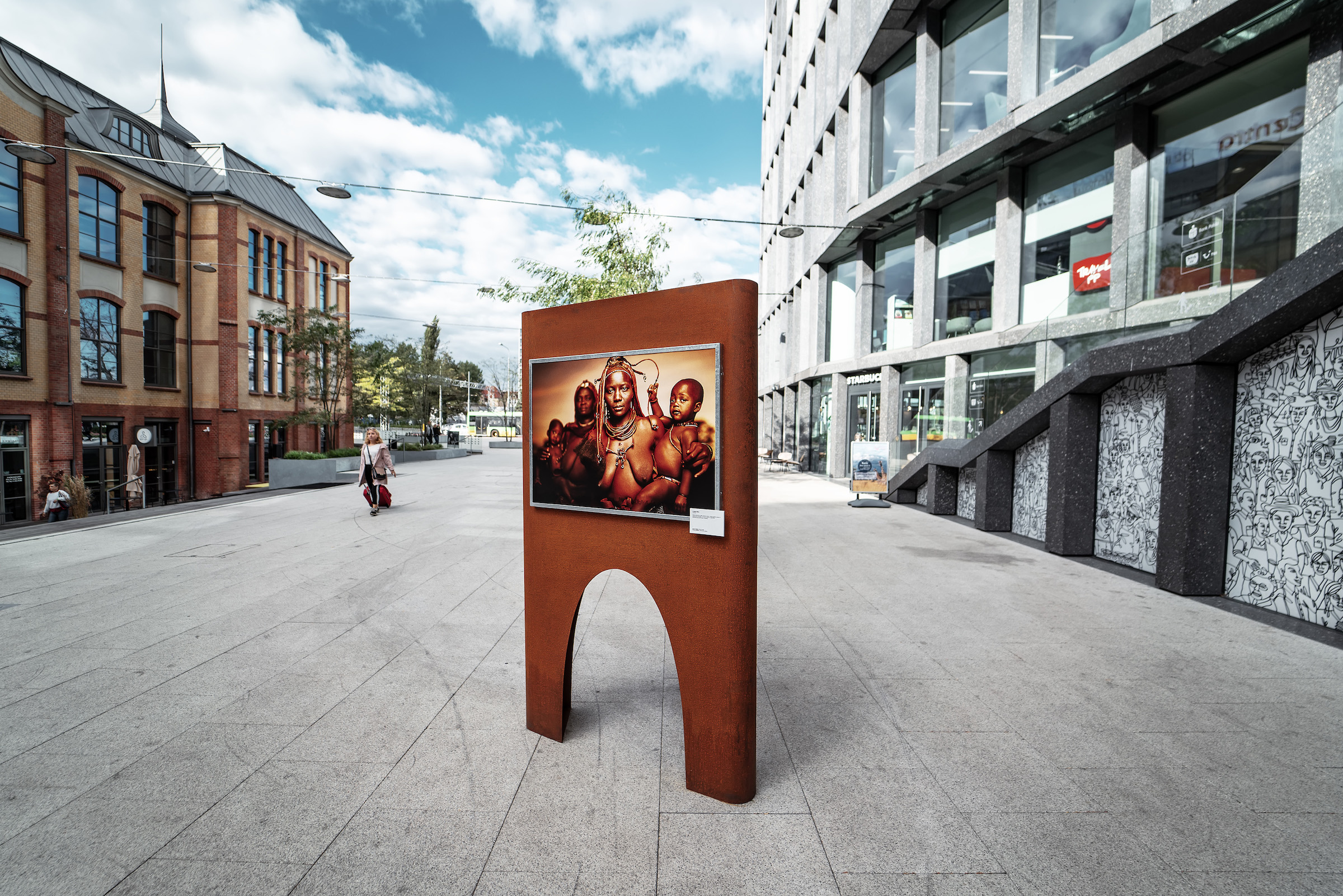 ▼效果图 Renderings
地点:波兰波兹南
设计师:Atelier Starzak Strebicki
年份:2018年
状态:已完成
客户:私人
设计团队:Jola Starzak, Dawid Strębicki, Anastasiia Oksiukovska, Zuzanna Wysoczyńska
摄影:Mateusz Bieniaszczyk
Location: Poznań, Poland
Architect: Atelier Starzak Strebicki
Year: 2018
Status: Completed
Client: Private
Team: Jola Starzak, Dawid Strębicki, Anastasiia Oksiukovska, Zuzanna Wysoczyńska
Photography: Mateusz Bieniaszczyk
更多 Read more about: Atelier Starzak Strebicki