本文由 Batlleiroig 授权mooool发表,欢迎转发,禁止以mooool编辑版本转载。
Thanks Batlleiroig for authorizing the publication of the project on mooool, Text description provided by Batlleiroig.
Batlleiroig:该项目位于巴塞罗那埃尔帕皮奥市的Roques Blanques地区公墓,设计内容包括建造一个带有长长路径的大型绿色露台,即"Camino del Bosque",以便扩容1100座新坟墓。这次基于尊重和保护科尔塞拉公园自然框架内环境的干预,是对这个建于1985年的墓地最后一次扩建的一部分,与此同时,修复的Can Tintorer农舍,也是batlleiroig团队开展的首批项目之一。
Batlleiroig:The project is located in the regional cemetery of Roques Blanques in the municipality of El Papiol in Barcelona. The action consists of generating a large green terrace with a long path, the 'Camino del Bosque', prepared to house a total of 1,100 new graves. This intervention, based on respect and conservation of the environment in the natural framework of the Park of Collserola, is part of the last extension of the cemetery, opened in 1985, with the recovery of the Can Tintorer farmhouse corresponding to one of the first projects carried out by the batlleiroig team.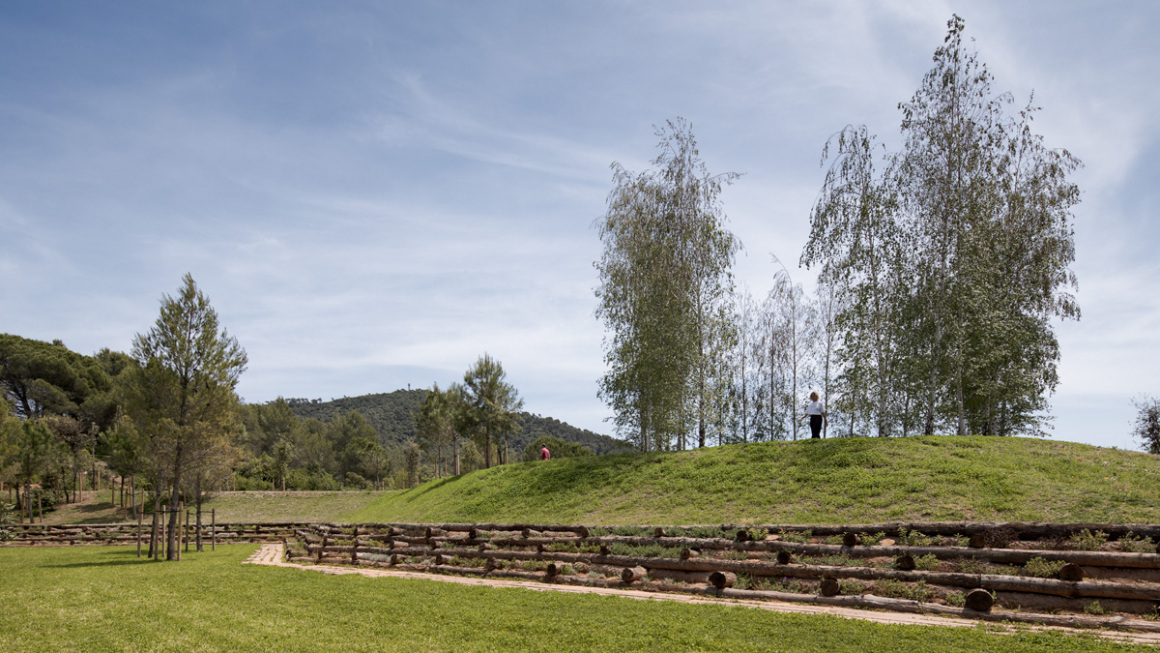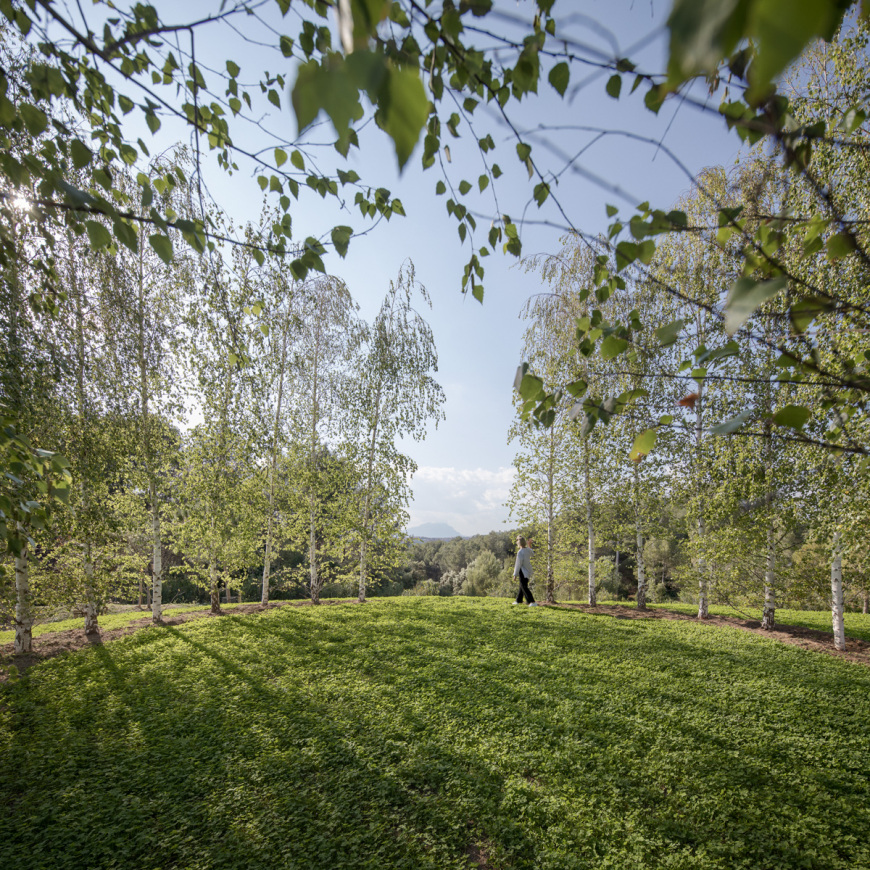 Roques Blanques公墓项目在我们公司(batlleiroig)已有30年的历史,设计团队根据客户的需求变化,提出了新的埋葬模式,希望帮助记忆和促进家庭与死者的关系。
The Roques Blanques cemetery project, with 30 years of history in our firm, has been able to adapt to the changes in customer demand, proposing new paradigms of burial, with the aim of facilitating the memory and the relation of families with their deceased.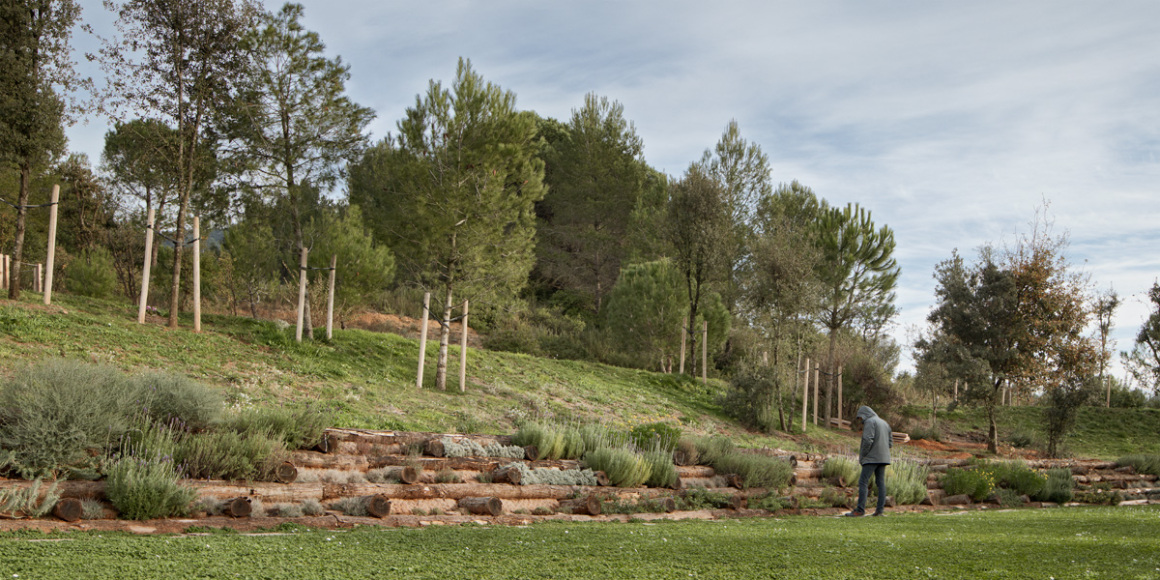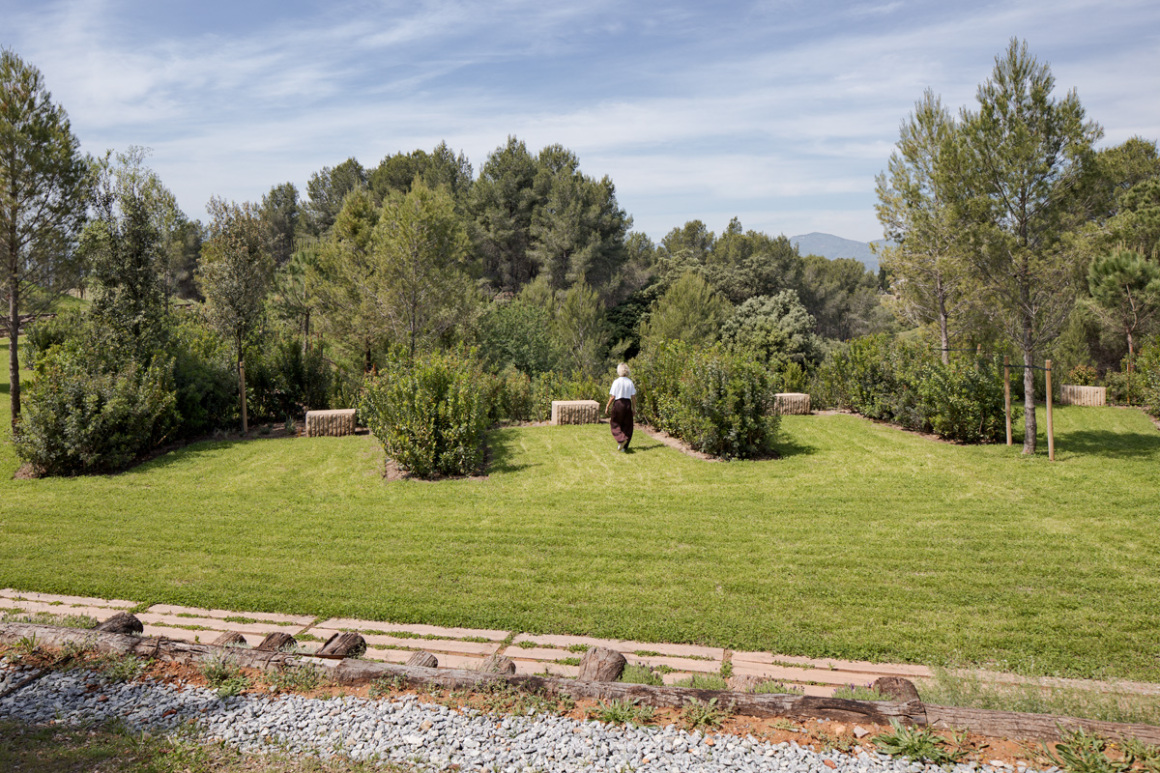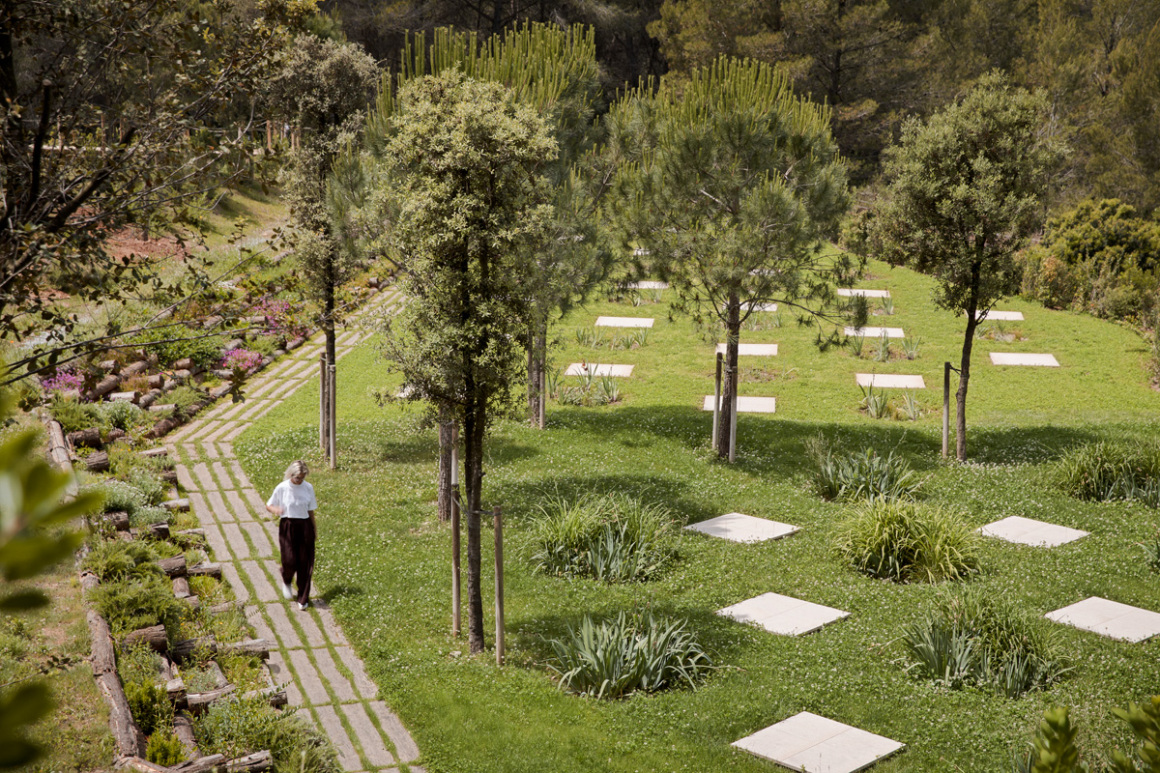 设计从树干、树枝和大地中汲取灵感,模仿河流水坝的形式,创建出真正的建筑生态和生物降解工程。方案中的墙体由双重栗子树干框架组成,它们形成内部覆盖有泥土和石头的蜂窝状结构,并提供种植新灌木的生物空间。
Learning from castors, which build from trunks, branches and earth, generating true buildings of ecological and biodegradable engineering in the form of water dams along the rivers, the proposed Krainer Wall consists of a double framework of chestnut trunks forming a cellular structure with the interior covered with earth and stones, and a bioroll confining the new shrub plantations.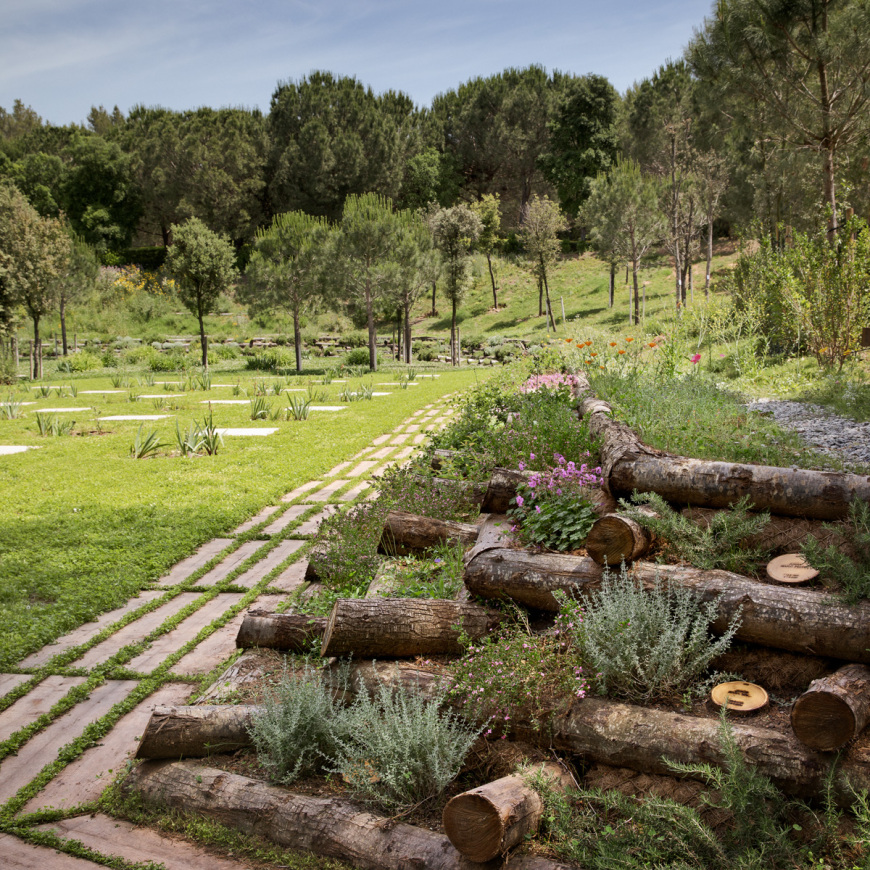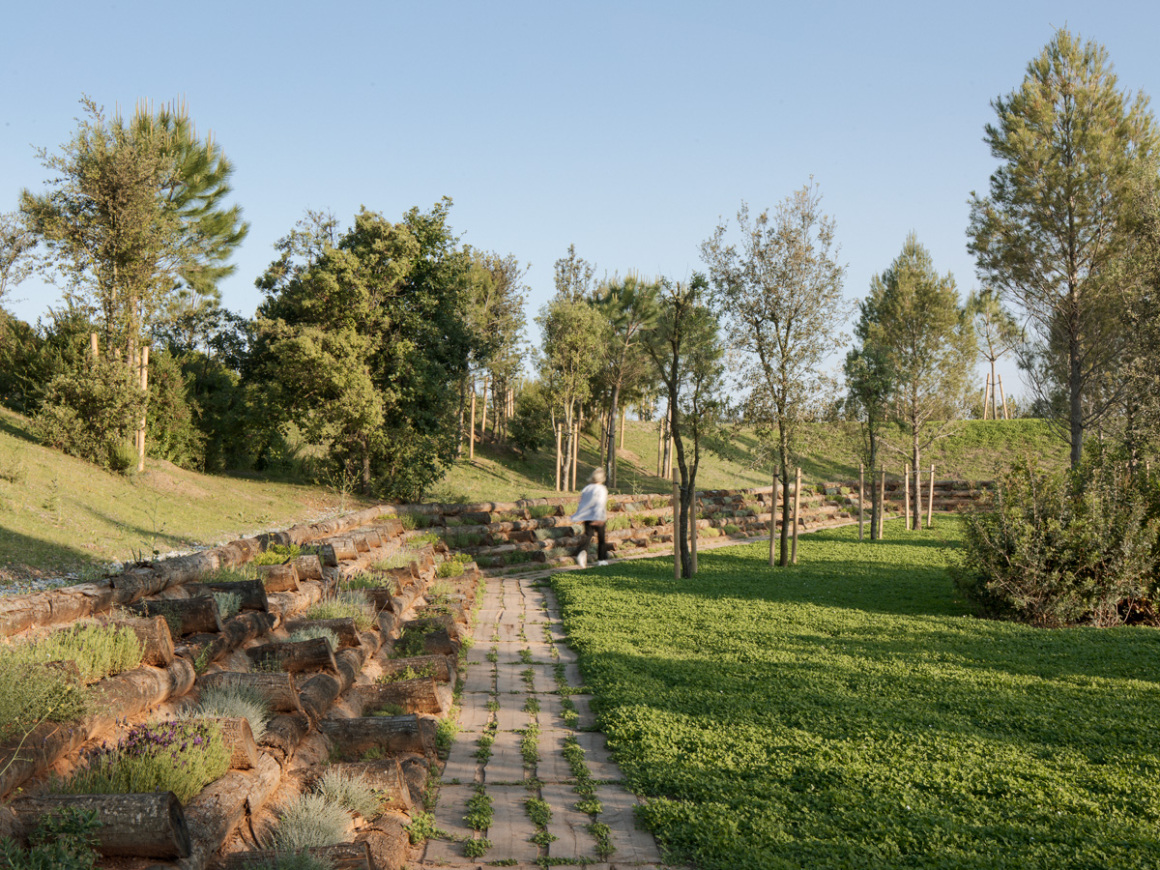 这是一种结合死亡和生物材料的技术,名为"living entramat",它会随着时间的推移而自然演变,将死亡元素(树干)的降解与活元素(植物)的生根和生长联系起来,在这个自然的动态中,唤起内在生命的循环,体现墓地的特质,作为人们和他们祖先之间的一个交汇点,循环往复。
It is a technology combining death and living materials, named 'living entramat', which evolves over time, relating the degradation of dead elements (the trunks) to the rooting and growth of living elements (the plants), in a natural dynamic that evokes the cycle of intrinsic life in the idiosyncrasies of a cemetery, as a meeting point between people and their ancestors, over time.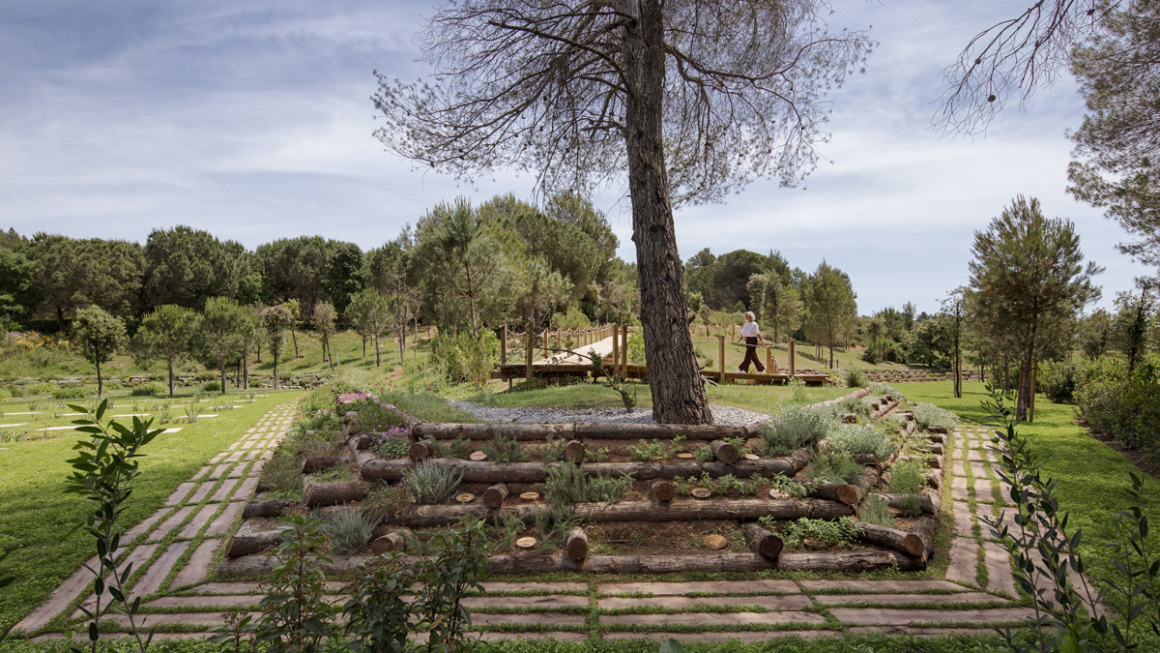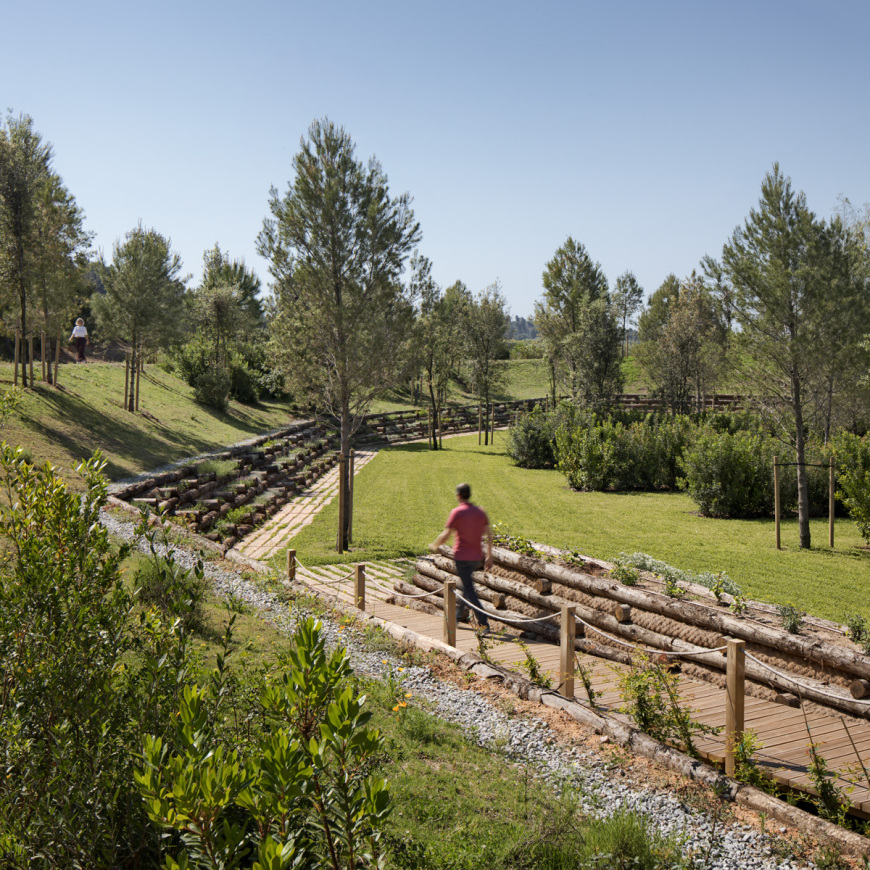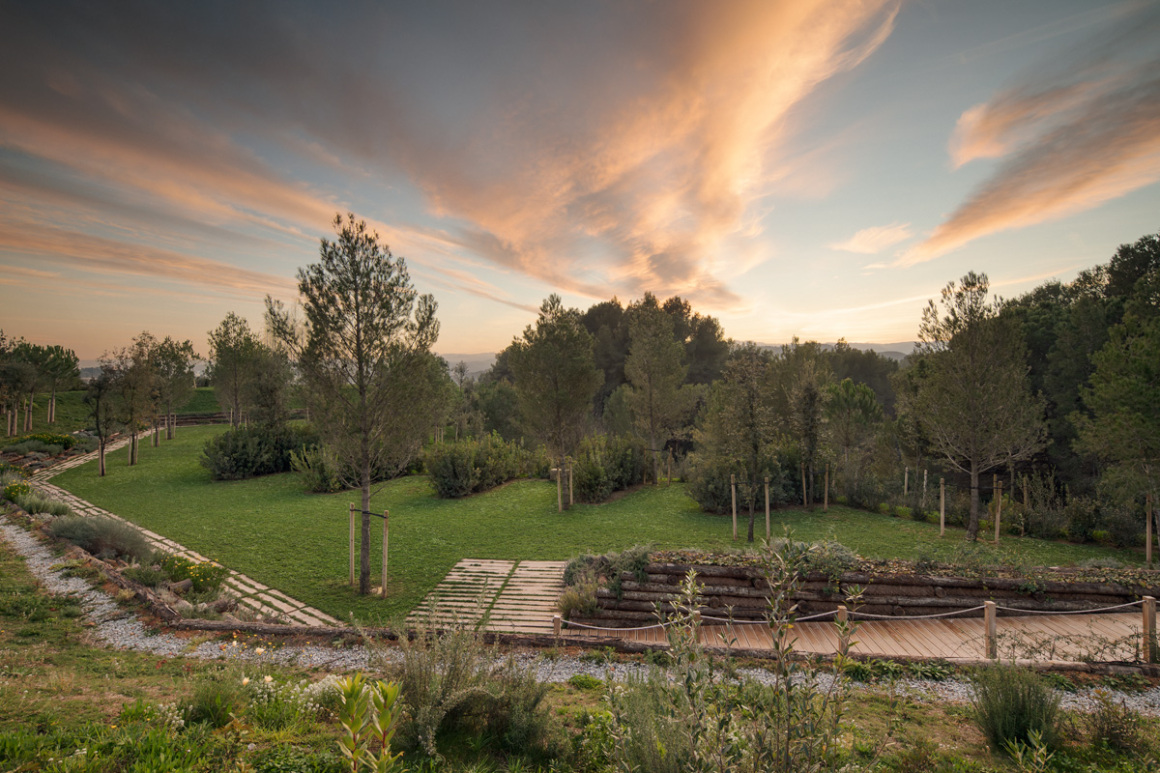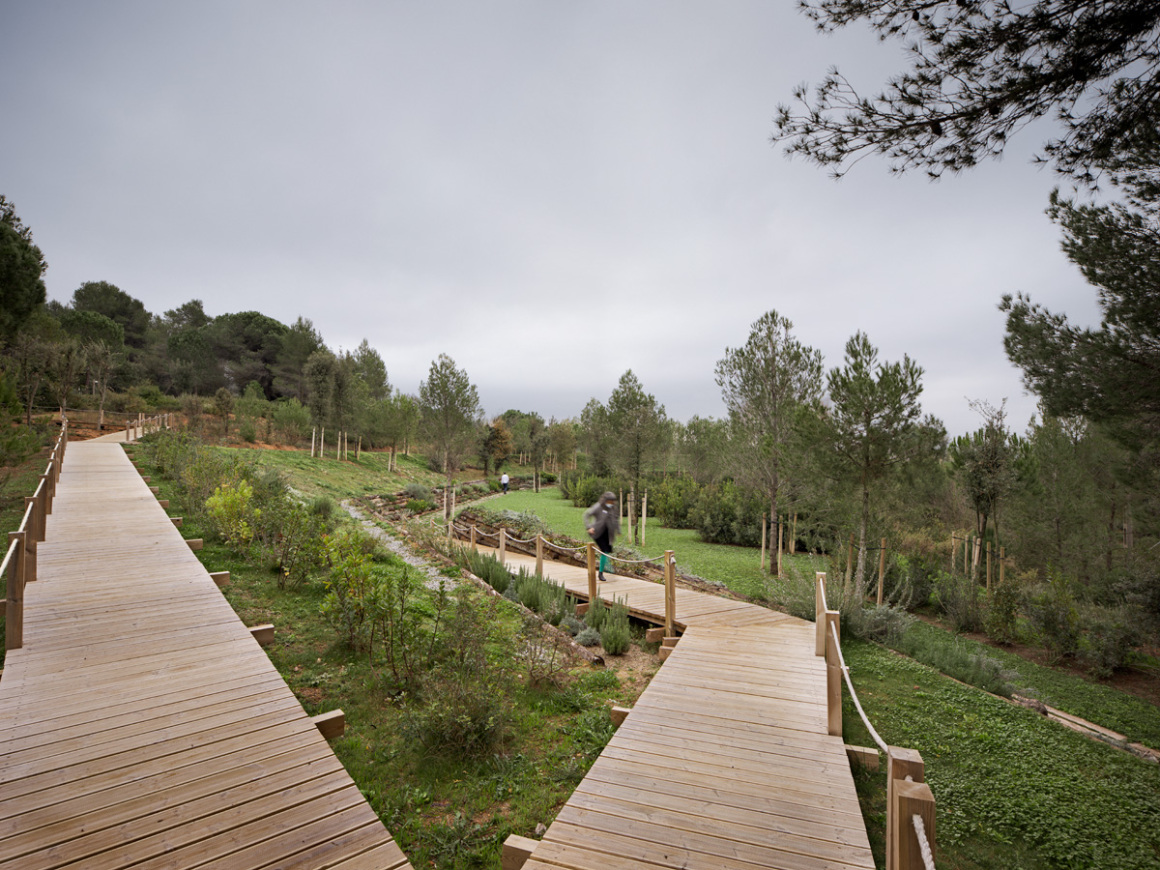 ▼项目总平面 Master Plan.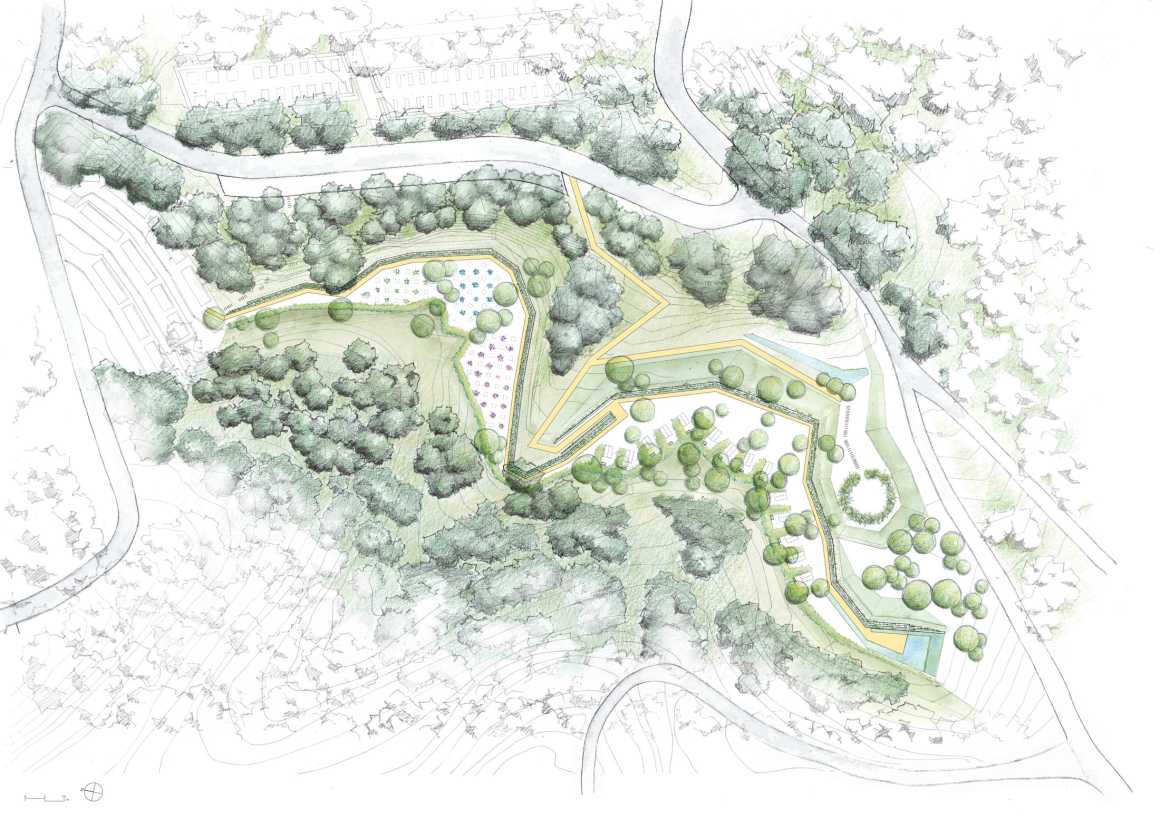 ▼项目剖面 Section.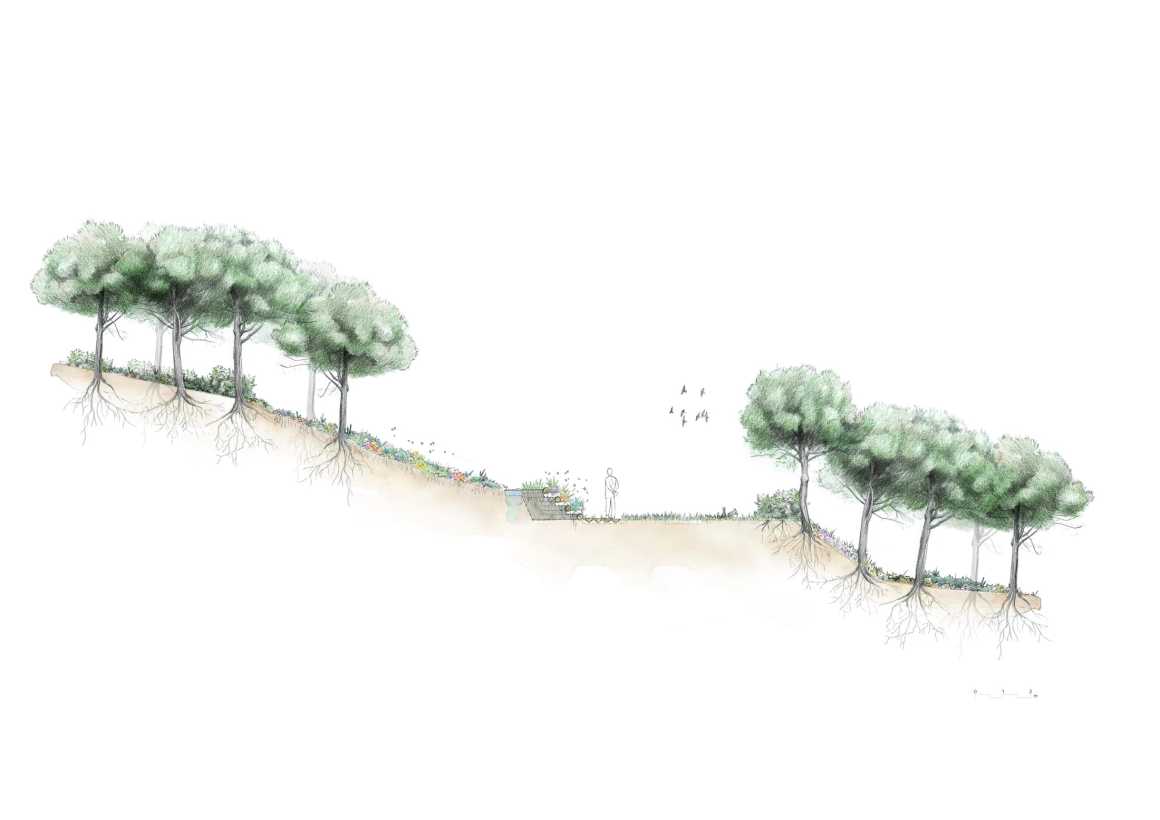 项目名称:林中小径
完成:2020年
面积:8900平方米
项目地点:西班牙 巴塞罗那 埃尔帕皮奥尔
景观设计:batlleiroig
公司网址:http://www.batlleiroig.com/
联系邮箱:communication@batlleiroig.com
主创建筑师:Batlle i Roig Arquitectura – Enric Batlle, Joan Roig, Iván Sánchez – Architects
设计团队:Mario Súñer(项目经理) / Livia Valentini(建筑师和景观设计师) / Dolors Feu (农业工程师和景观建筑师) / Yago Cavaller (农业工程师和环境学家)
合作者:Javier Lamata (项目经理) / Naturalea / World Nature
客户:CIG · Altima
建造商:Dragados / Tau-icesa / Acsa / Moix / Pasquina
照片来源:Jordi Surroca
摄影师网址:http://www.jordisurroca.com/
Project name: Forest Path
Completion Year: 2020
Size: 8.900 m2
Project location: El Papiol, Barcelona
Landscape: batlleiroig
Website: http://www.batlleiroig.com/
Contact e-mail: communication@batlleiroig.com
Lead Architects: Batlle i Roig Arquitectura. Enric Batlle, Joan Roig, Iván Sánchez – Architects
Design Team: Mario Súñer – Project Manager / Livia Valentini – Architect and Landscape Architect / Dolors Feu – Agrigultural engineer and landscape architect / Yago Cavaller – Agrigultural engineer and environmentalist
Collaborators: Javier Lamata – Project Manager / Naturalea / World Nature
Clients: CIG · Altima
Builder: Dragados / Tau–icesa / Acsa / Moix / Pasquina
Photo credits: Jordi Surroca
Photographer's website: http://www.jordisurroca.com/
奖项 Awards
2018 Catalonia Construction Award in the Innovation in Construction category
2018 Ecomed Award for the best project in Soil Bioengineering
2018 Cemeteries of Spain Award in the best Environmental Initiative category
2018 EMAS Award for the improvement of environmental behavior
更多 Read more about: BATLLE I ROIG ARQUITECTURA