本文由 Studio Lasso 授权mooool发表,欢迎转发,禁止以mooool编辑版本转载。
Thanks Studio Lasso for authorizing the publication of the project on mooool, Text description provided by Studio Lasso.
Studio Lasso:新潟青陵大学位于日本海岸附近,校园被松林环绕,包括校园庭院花园中也有许多松树林。
Studio Lasso:The Niigata Seiryo University is located near the Japan Sea coast, therefore the campus are embraced by pine wood land and courtyard garden includes the pine woods too.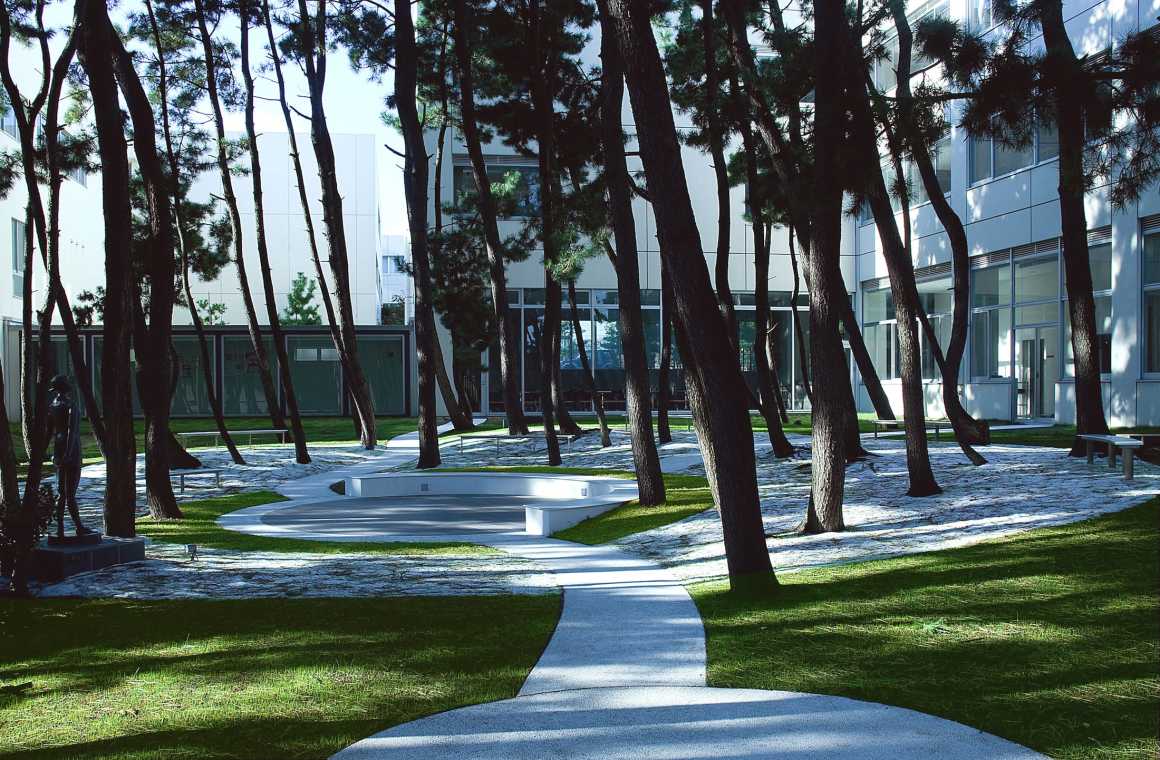 这所学院在100年前专为女性教育而设的,其独立和专业精神已延续到今天并被发扬光大。项目所在庭院被一个接一个增加的几栋建筑包围着,整个空间并没有被利用起来,反而被禁止进入成为"禁地"了。
The College has been set up 100 years ago for the education of women, and its spirit of independent and professionalism has been taken over to a day. The courtyard is surrounded by the several buildings that are added one by one, but the space was not in use and forbidden to enter.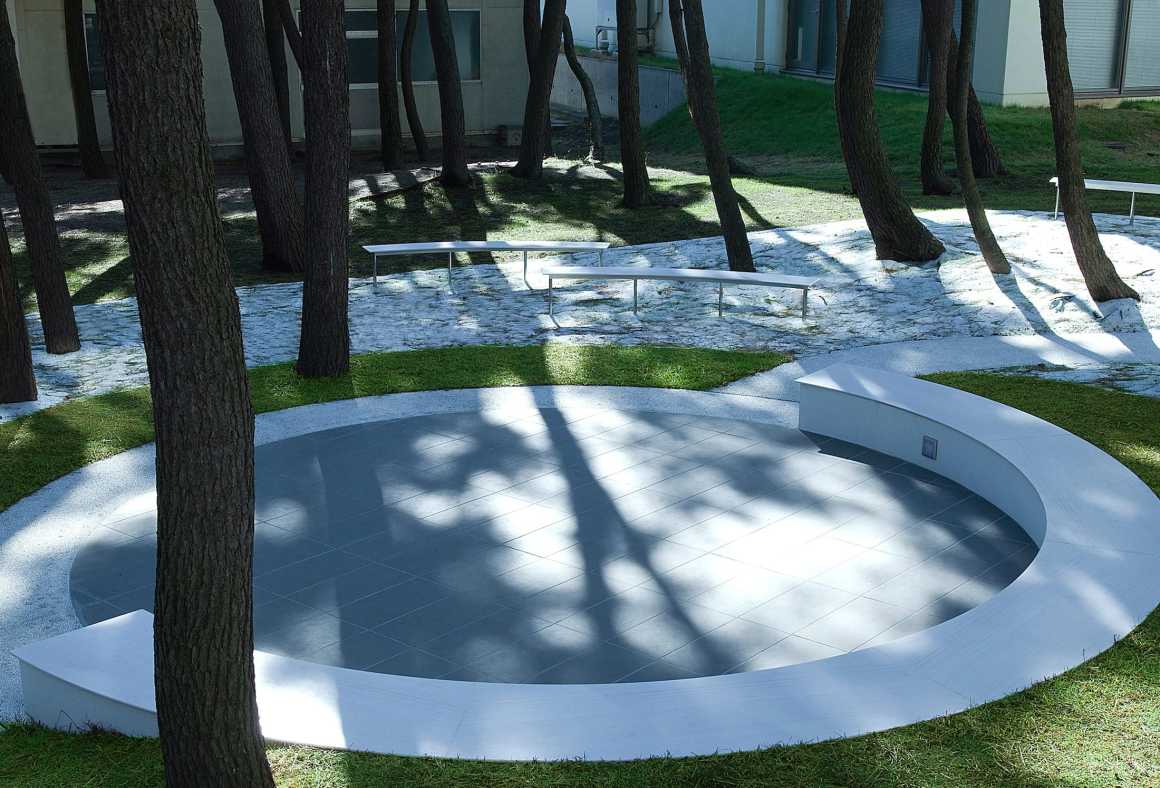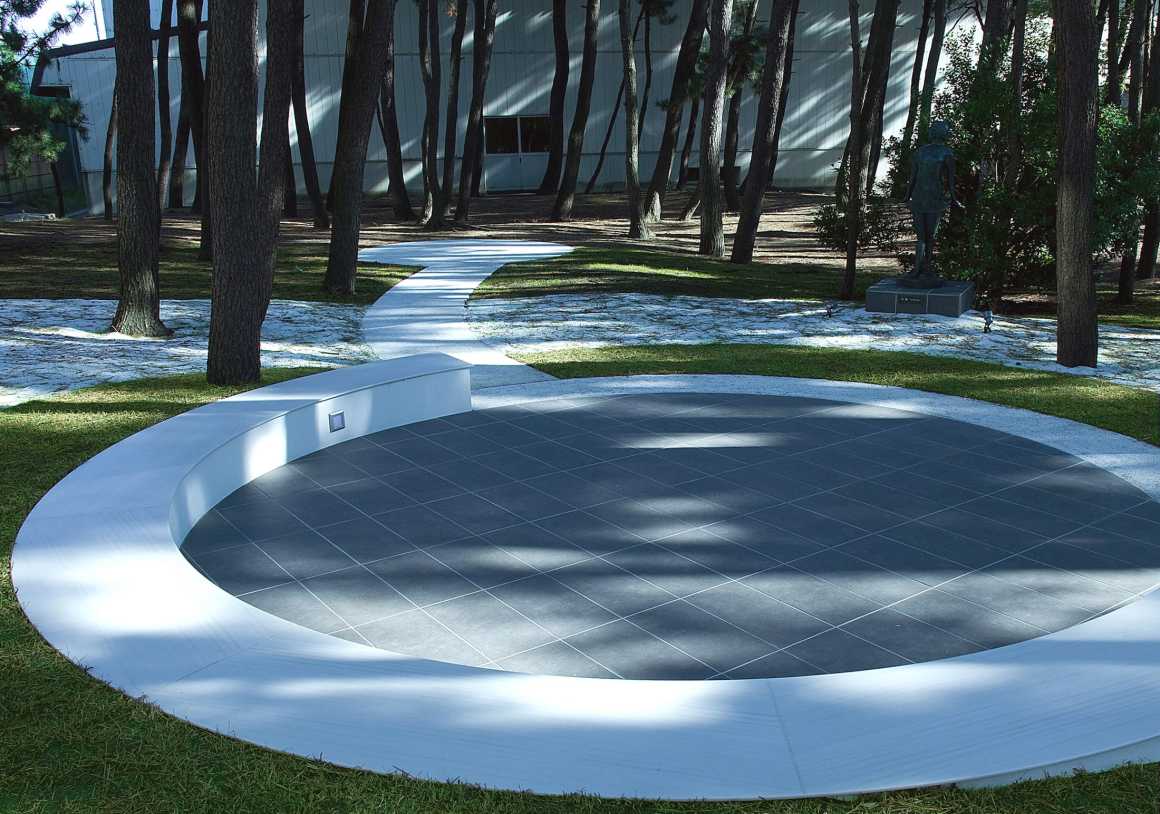 在这个独特的环境中,庭院花园的空间设计将这几栋建筑连接起来,花园中的小路引导学生们聚集到中心空间。
In this unique environment, the courtyard garden has been designed so that the space is going to connect several buildings and the students are led to the central space by the path to gather around.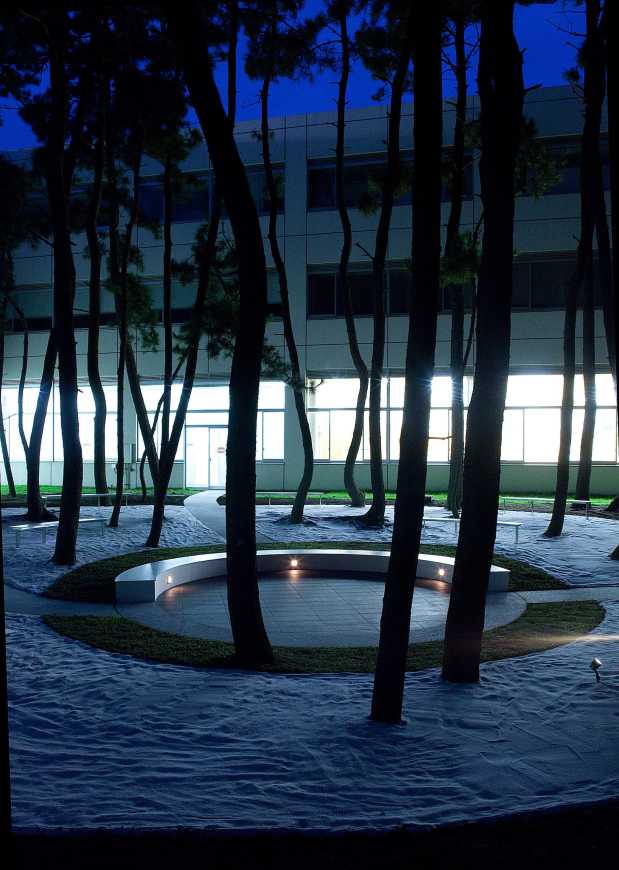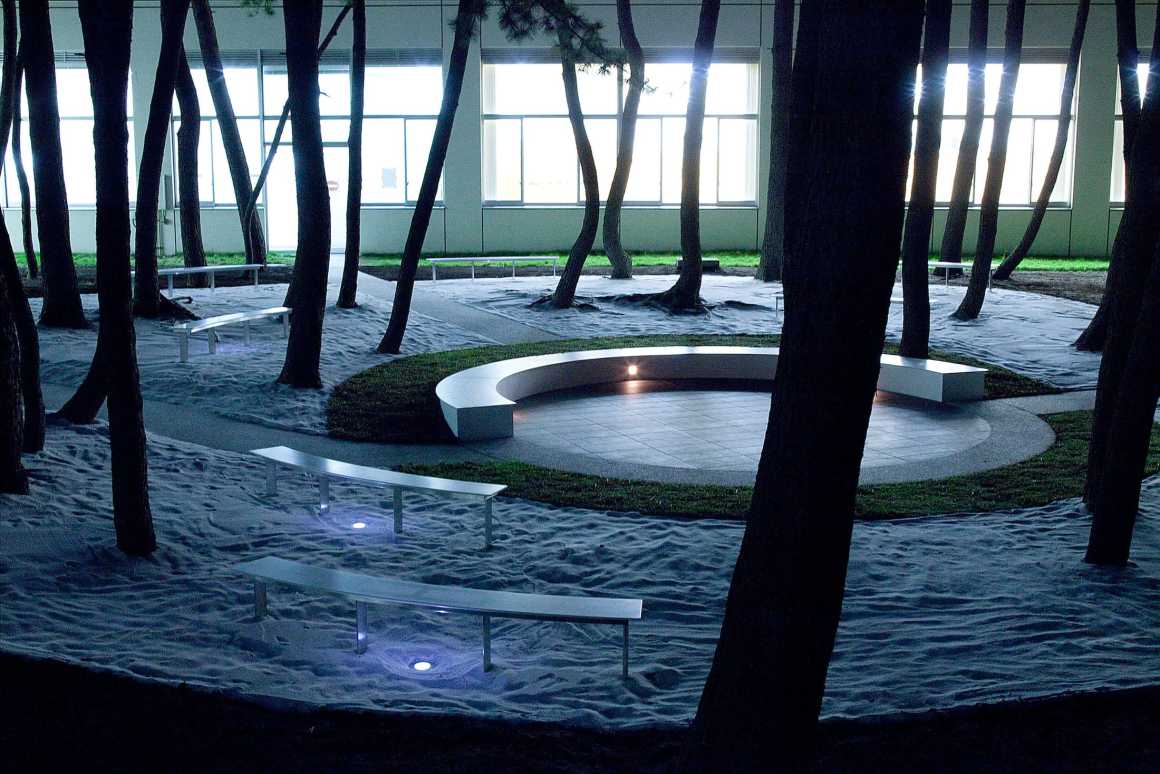 花园中心的活动舞台可以看作一个活动空间,每个人都可以在这里见面社交、互相激励,并创造各种各样的活动。花园的结构形式和材料使松树的阴影变得更加柔和,增强了它们的美感,设置在花园中心位置的少女雕像,则象征着校园自由和独立的精神。
The central event stage can be a space where everyone can meet, and stimulate each other to create various activities.
The form of structure and the materials were decided so that  the shadow of pines reflects softly and enhance their beauty. The sculpture of girl's figure has been set up at the focal point of the garden, that symbolises the spirit of freedom and the independency.
▼效果图  Perspective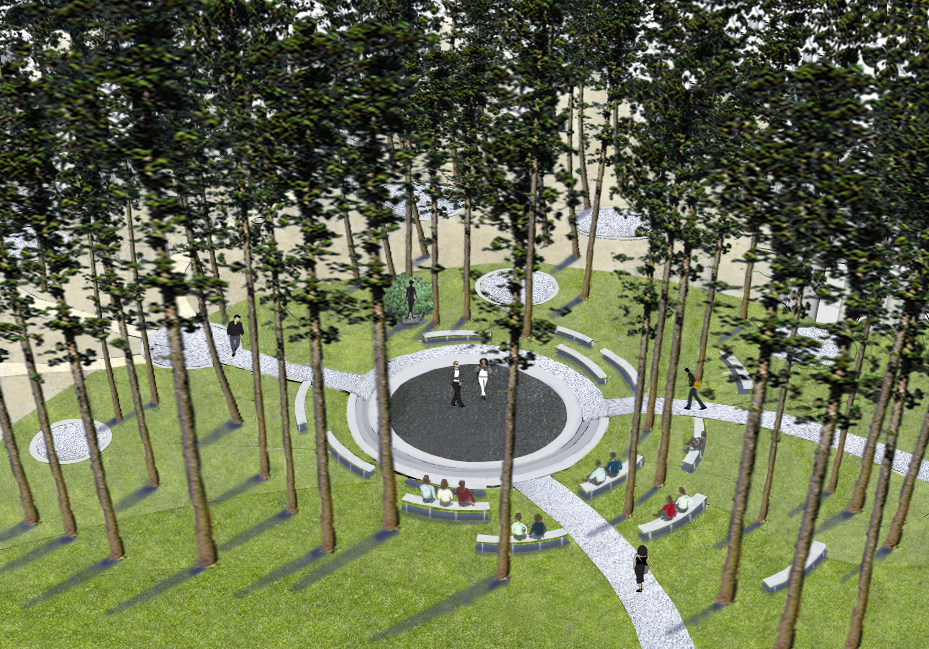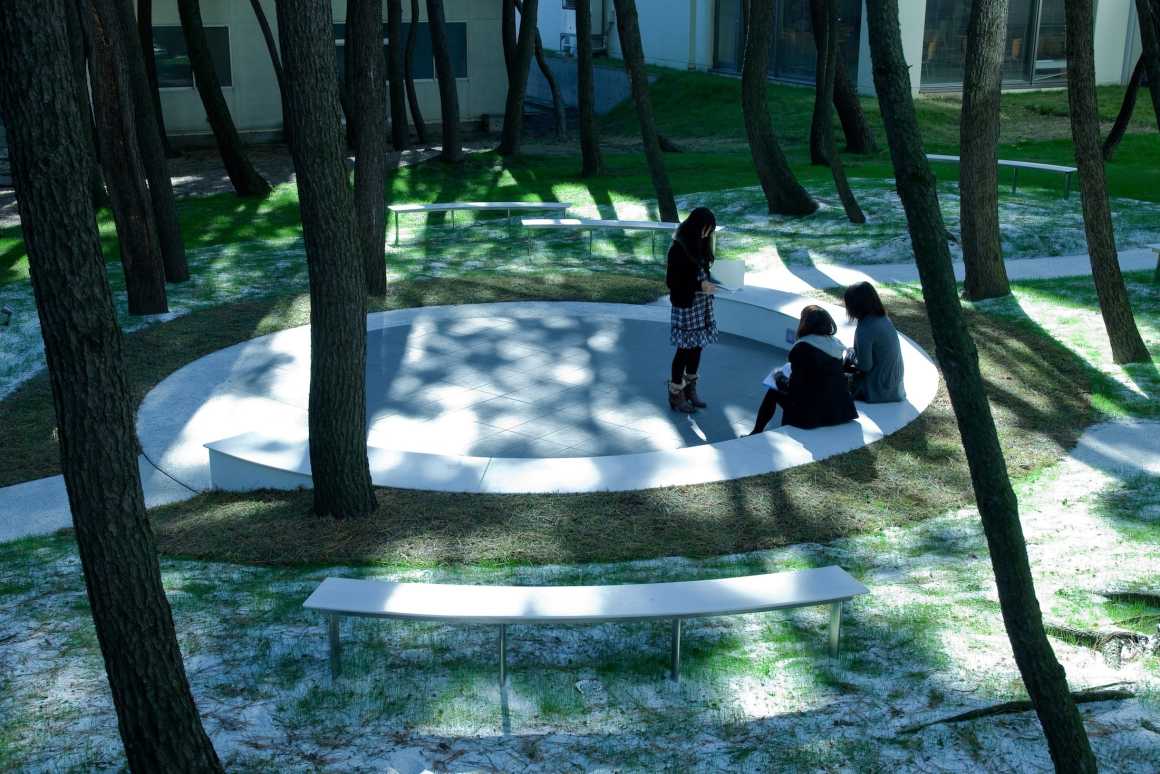 ▼花园细节图  Detail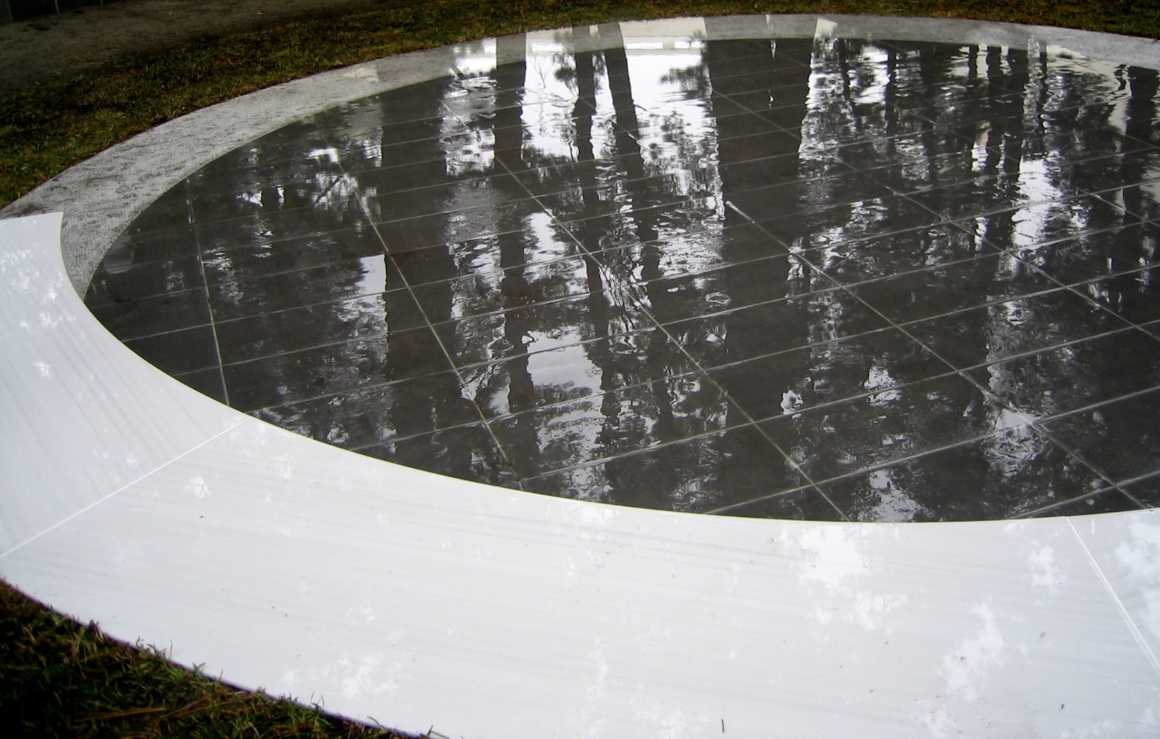 ▼花园三维模型  3D model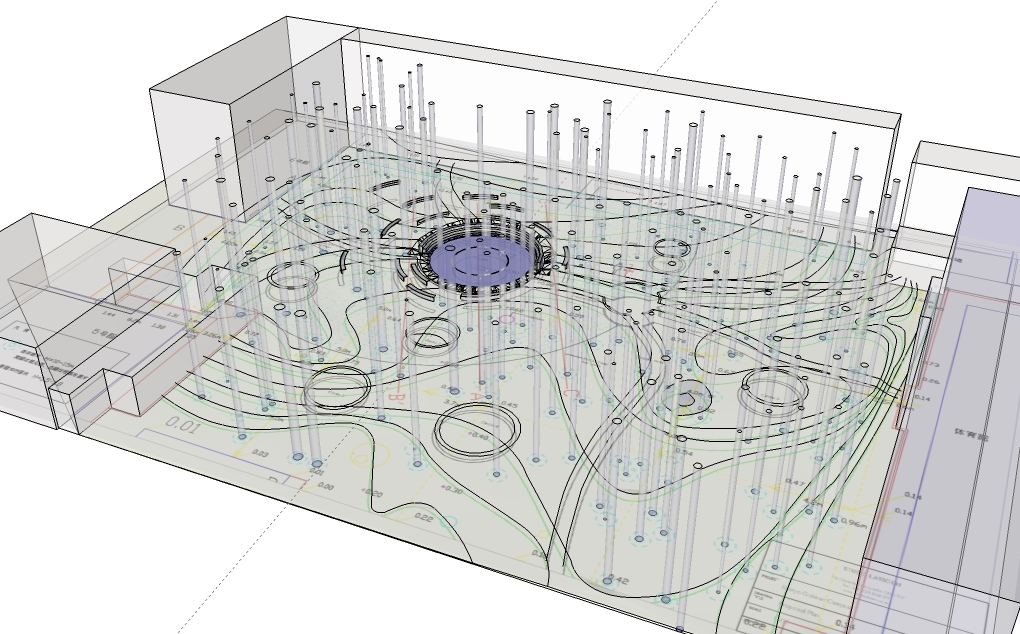 项目名称:松林花园
地点:日本新潟市新潟青陵大学
完成:2010年10月
项目面积:510平方米(一期)
客户:新潟青陵大学
设计公司:Studio Lasso Ltd
设计师:Haruko Seki
雕塑家:Akita Koda
建筑设计:Green Sangyo Co . Ltd
协调员:Kajima Corporation Horuriku分公司
摄影师:Kiyotaka Okoshi / Haruko Seki
Project name: Garden of Pinewoods
Location: Niigata Seiryo University, Niigata City, Japan
Completion: October 2010
Project Area: 510 square metre (Phase-1)
Clients: Niigata Seiryo University
Design Company: Studio Lasso Ltd
Designer: Haruko Seki
Sculptor: Akita Koda
Construction: Green Sangyo Co Ltd
Coordinator: Kajima Corporation Horuriku Branch
Photographer: Kiyotaka Okoshi / Haruko Seki
更多 Read more about: Studio Lasso Ltd