本文由 荷于景观 授权mooool发表,欢迎转发,禁止以mooool编辑版本转载。
Thanks WATERLILY for authorizing the publication of the project on mooool. Text description provided by WATERLILY.
荷于景观:  绿地东北亚国际博览城地处哈尔滨新区,区位条件优越,战略地位重要,是中国唯一的以对俄合作为主题的国家级新区和最北部的国家级新区。
WATERLILY:  The Greenland Northeast Asia International Expo City is located in the Harbin New District, with superior geographical conditions and important strategic position.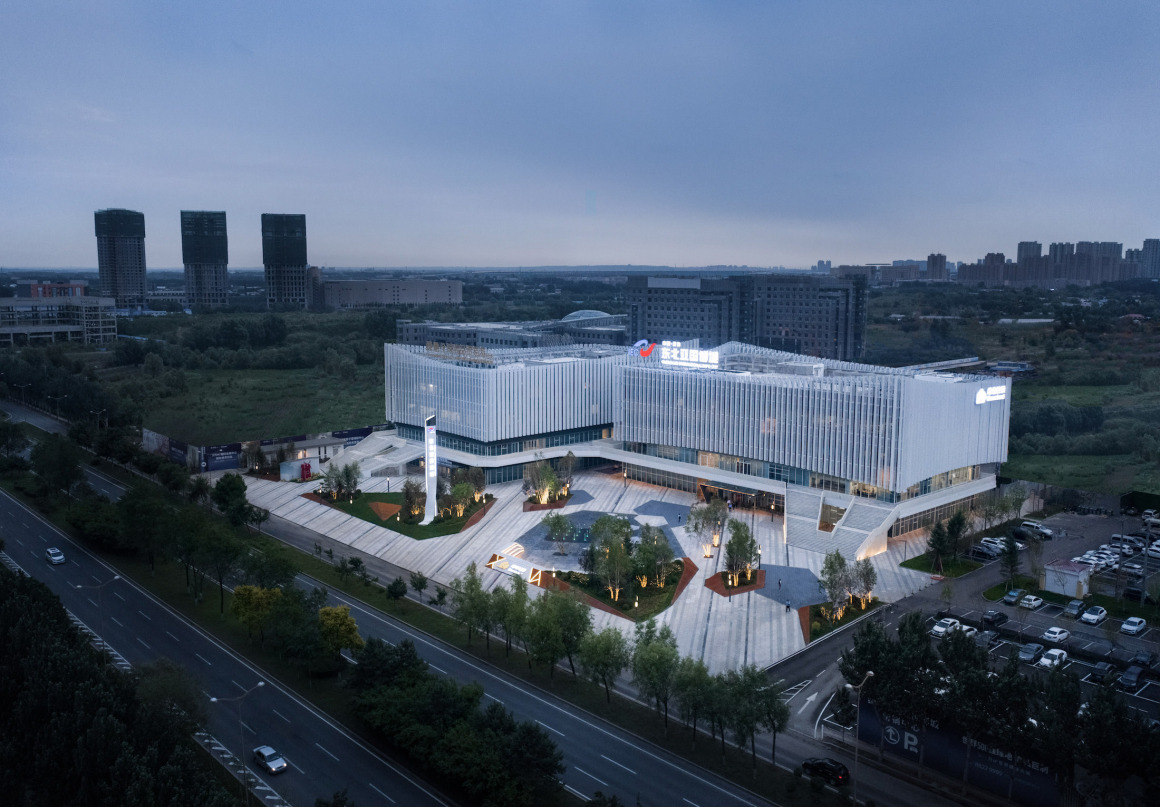 场地溯源 BACKGROUND
东北的大地印象一直以壮阔的大山及美丽的江景闻名,"生女直之地有混同江、长白山。混同江亦号黑龙江,所谓'白山黑水'是也。若是说长白山作为源头孕育了松花江,那松花江可称得上哈尔滨的文化之源,松花江的初冬融雪场景更是哈尔滨这片黑土的一片壮丽江景。
我们的故事,便从松花江开始。
The impression of the earth in the Northeast has always been known for its magnificent mountains and beautiful river views. "Huangtong River and Changbai Mountain are the birthplaces of straight daughters. The Hungtong River is also known as Heilongjiang.
Our story begins with Songhua River.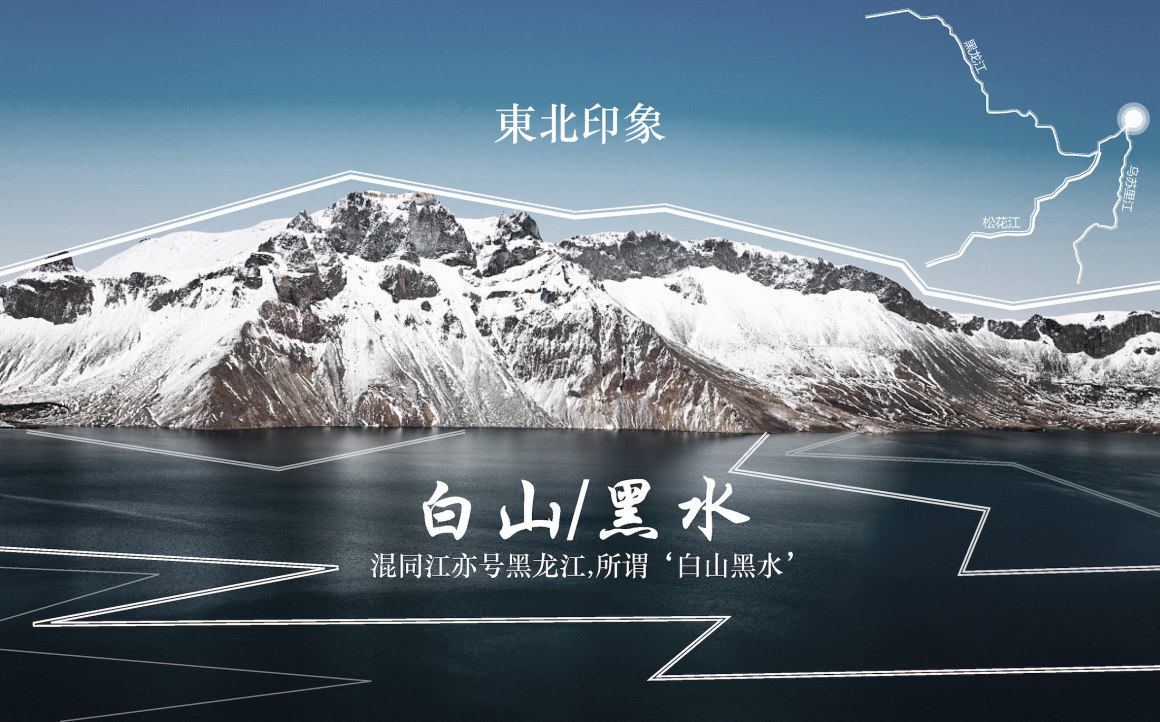 设计概念 DESIGN CONCEPT
延续建筑的概念,提出以"ICE BREAKING"为整体设计概念贯穿,与建筑的突破之意不谋而合。
整体场景以大尺度冰裂地景艺术呈现,强化哈尔滨冬季印象,赋予场地特色。试图展现一个以记忆、文化与童趣的"开江"(破冰)世界,同时能成为高艺术性的人气网红景点。
Continuing the concept of architecture, it is proposed to use "ICE BREAKING" as the overall design concept, which coincides with the breakthrough of architecture.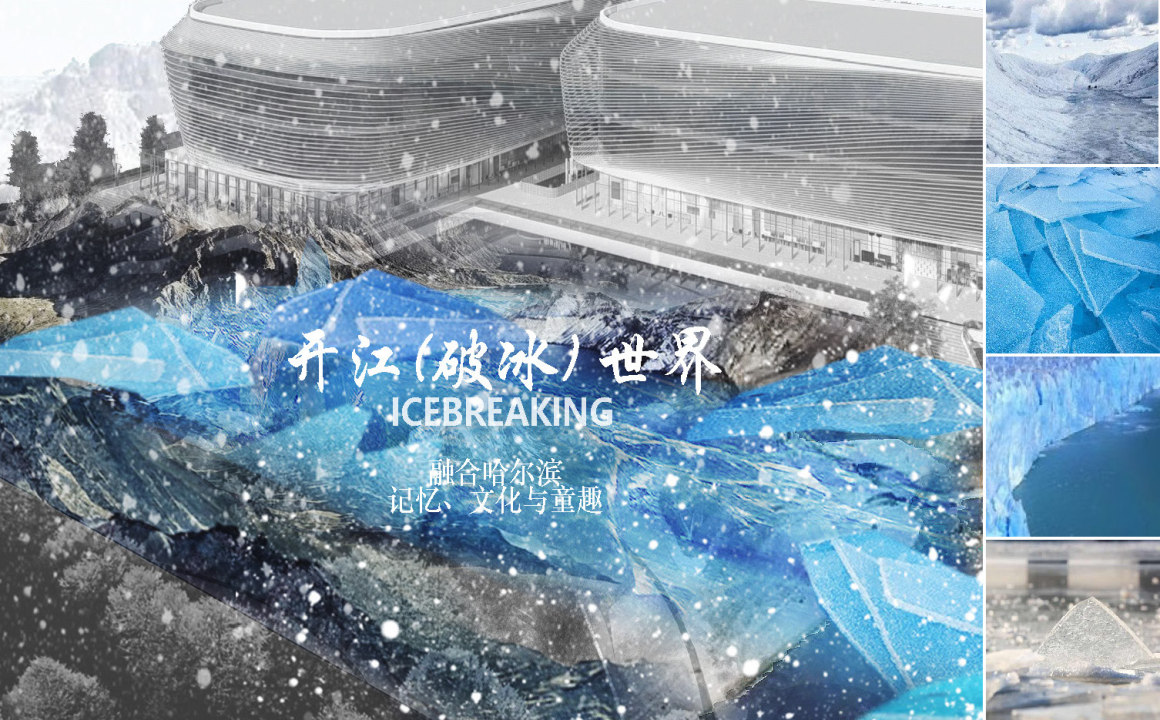 设计内容 DESIGN CONTENTS
整体景观围绕"开江(破冰)"为主轴,貌似于地景中心开凿一个冰洞,散落出碎冰于整个地景上。
The overall landscape is centered around "Kaijiang (Ice Breaking)". It looks like an ice hole was cut in the center of the landscape, and scattered ice was scattered on the entire landscape.
▼效果图 Rendering
大的体块场景呈现宏观大器之感,也同时展示了显著的哈尔滨色,取自冬捕开江丰收之精神,也象征此片黑土(东北)首开区富饶的理想开端。
The large volume scene presents a sense of macroscopic and large objects, and also shows the remarkable Harbin color, taken from the spirit of harvesting the harvest of the river in winter.
▼实景图 Real scene
a. 冰感受 白桦入口迎宾道
区域内入口处的大器之感,景观及建筑的协调感瞬间震撼视觉。碎冰状的异型树池、高低错落的相互呼应,强烈的铺装线性感带来简洁却富有节奏感,加深了场地印象。
The sense of large objects at the entrance of the area, the harmony of the landscape and the building instantly shocked the vision. The ice-shaped shaped tree pond and the high and low staggered echoes each other.
▼效果图 Rendering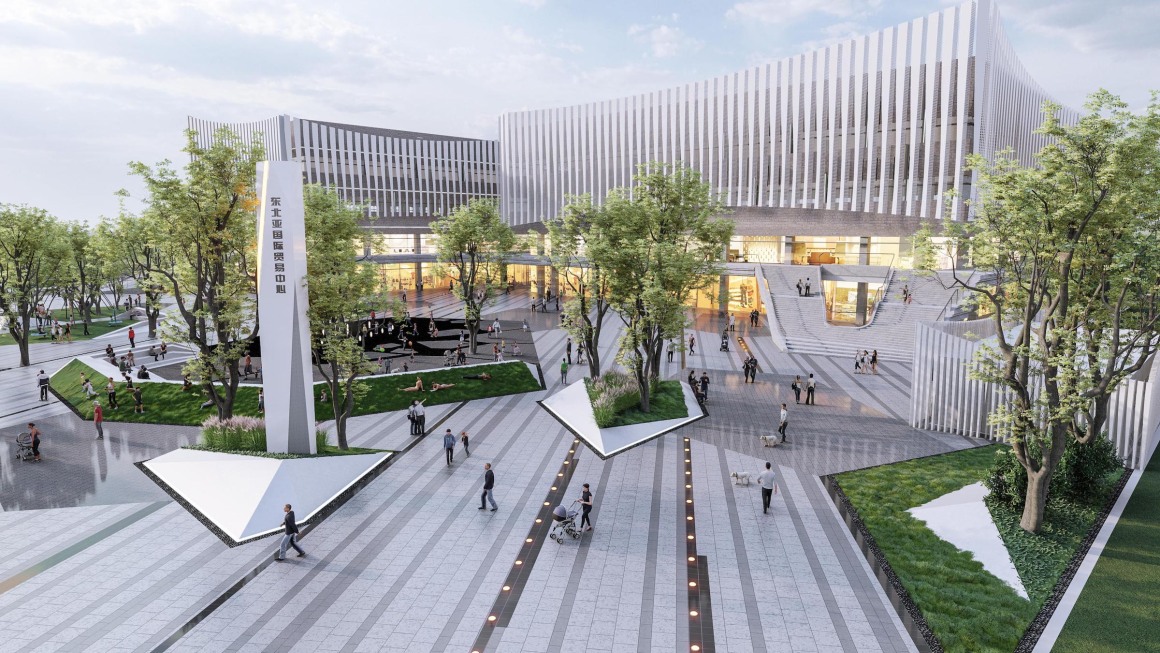 ▼实景图 Real scene
b. 冰生活 装置艺术赏析
取冬捕文化的四手网雕塑,形成一个有趣的体验空间。
The four-handed net sculpture of the winter catching culture forms an interesting experience space.
▼效果图 Rendering
▼实景图 Real scene
c. 冰文化 冬捕场域核心空间
"开江"意向的核心旱喷广场,强烈的破冰感受呈现在景观视觉上,也具备了滑轮、溜滑梯游玩的机能。
孩子们在这里感受游乐,大人们在休憩区就近看护,在这个空间里体验阳光和天空,感受哈尔滨强烈的气息。
The dry spray square, the core of the "Kaijiang" intention, has a strong ice-breaking experience presented in the landscape vision, and also has the function of playing with pulleys and slides.
▼效果图 Rendering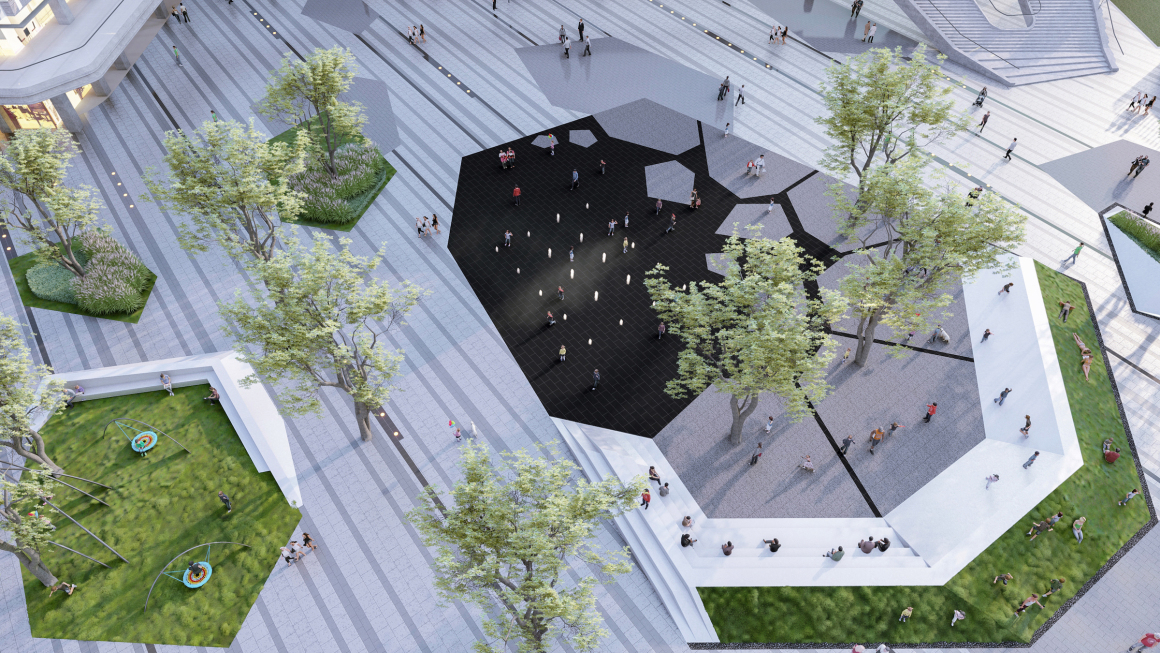 ▼实景图 Real scene
视觉的震撼与层层堆栈的碎冰。
Visual shock and layers of crushed ice.
d. 冰游乐 木意陀螺艺术空间
在建筑架空层下富有哈尔滨冰陀轮文化的陀螺造型雕塑空间,木质感的呈现,带给哈尔滨寒冬之中的一抹温暖。转动哈尔滨人记忆中的童趣,在记忆中随陀螺产生一幕幕的涟漪。
Under the overhead layer of the building, the gyro-shaped sculpture space rich in Harbin ice tourbillon culture, the woody appearance, brings a touch of warmth in the cold winter of Harbin.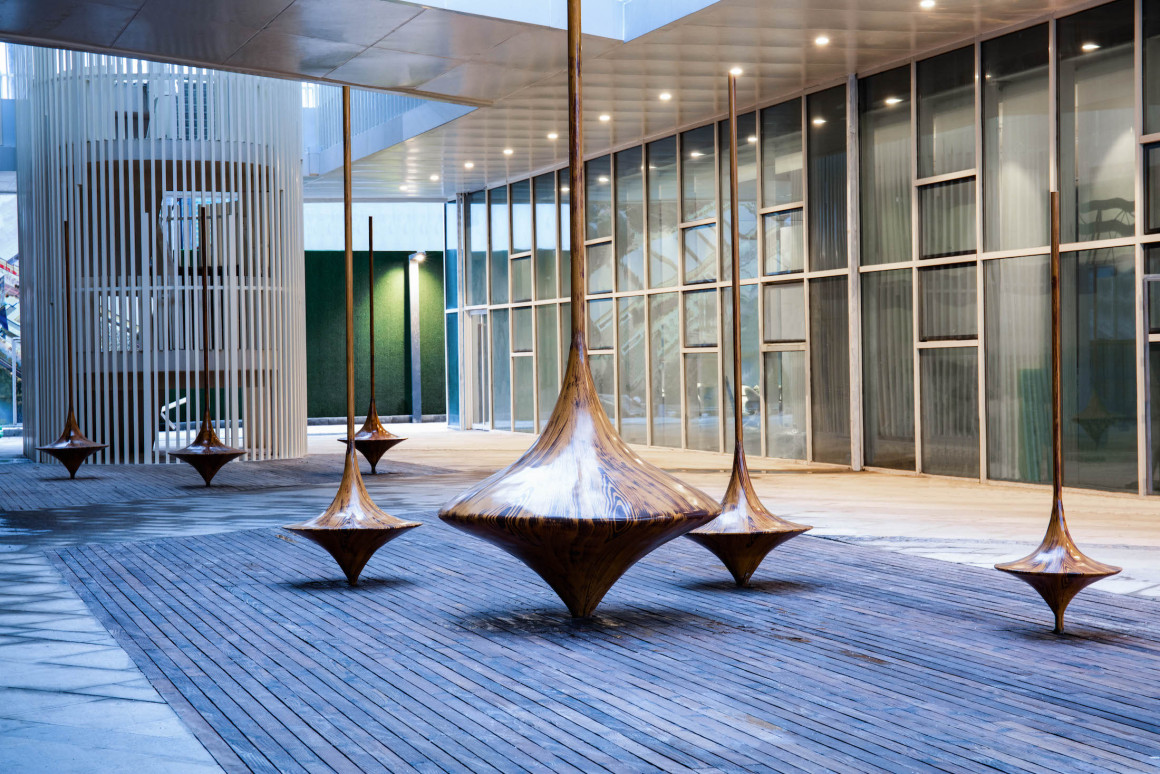 项目名称:绿地东北亚国博城城市展厅(松北区)
项目地址:哈尔滨 松北区 中源大道与东北亚大街交汇处
用地面积:1.1232万平方米
开放时间:2020年5月20日
建筑设计:上海天华建筑
景观设计:荷于景观设计咨询(上海)有限公司
方案设计:林心亭、沈希、周柯涵、徐揚、邱乾元、任雪雪、薛成杰
后期设计总监:林小珊
后期项目经理及团队:夏陳成、傅蓉蓉
项目摄影:直译建筑摄影
Project Name: Greenland International Expo City Exhibition Hall (Songbei District)
Project address: Intersection of Zhongyuan Avenue and Dongbeiya Street, Songbei District, Harbin
Site area: 11,232 square meters
Completion: May 20, 2020
Architectural Design: Shanghai Tianhua Architecture
Landscape design: Waterlily Landscape Design Consulting (Shanghai) Co., LTD
Design team: Lin Xinting, Shen Xi, Zhou Kehan, Xu Yang, Qiu Qianyuan, Ren Xuexue, Xue Chengjie
Later period design director: Lin Xiaoshan
Later period project manager and team: Xia Chencheng, Fu Rongrong
Photography: ArchiTranslator
更多read more about:  荷于景观 WATERLILY