本文由 buerger katsota architects 授权mooool发表,欢迎转发,禁止以mooool编辑版本转载。
Thanks buerger katsota architects for authorizing the publication of the project on mooool, Text description provided by buerger katsota architects.
buerger katsota architects:该度假小屋位于爱奥尼亚海滨,可以私人进入该岛西海岸的一个受保护的海滩。项目场地由岩层、成熟的野生橄榄树林和壮观的爱奥尼亚海景观构成,我们设计的出发点是创建一座单层建筑,以最小的地形和自然干预囊括现有的高大橄榄树。树叶结合抛物线状的悬挑在树冠起到了气候调节的作用,为全天户外生活提供舒适、受保护的空间。
buerger katsota architects:The holiday house is located on a sea front plot with private access to a protected beach on the western coast of the island. The site is shaped by rock formations, a mature wild olive trees' grove and spectacular views towards the Ionian Sea. The starting point for the design of the house was to create a single-storey building engulfing the existing tall olive trees with the minimum impact on the terrain and nature. The trees' foliage and the cantilevering parabolic in plan timber canopy function as a climatic moderator offering comfortable, protected spaces for all-day outdoor living.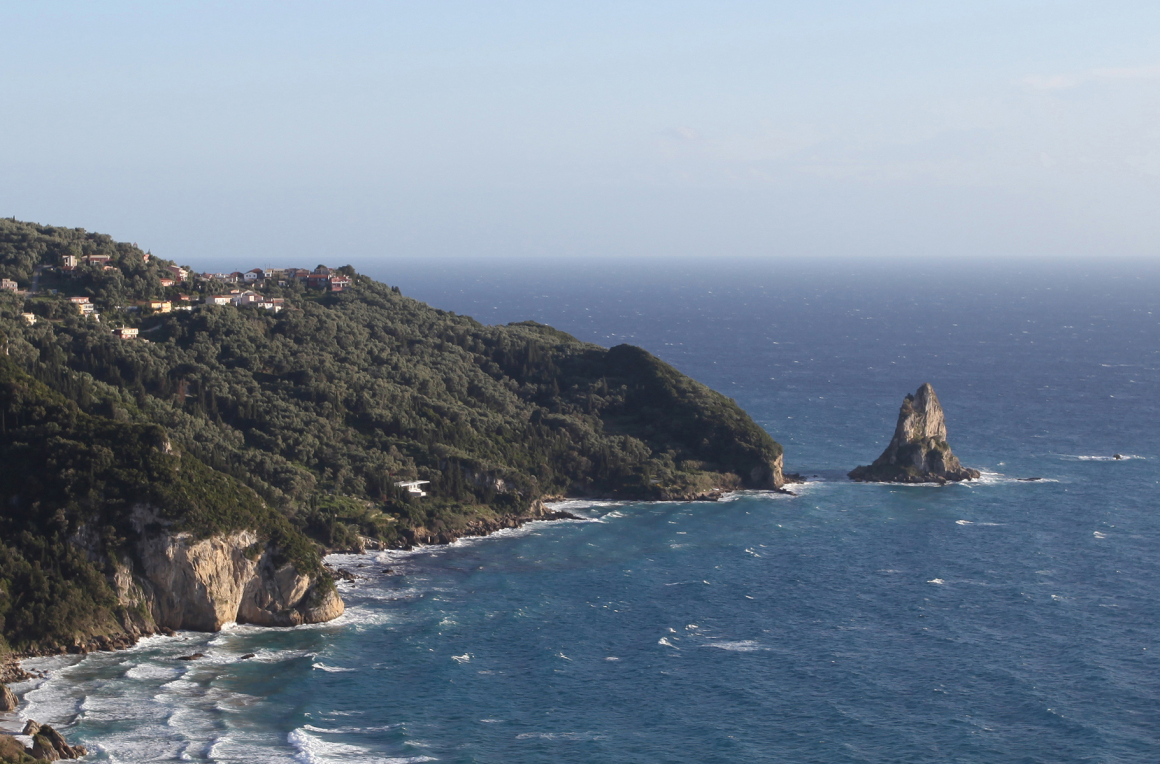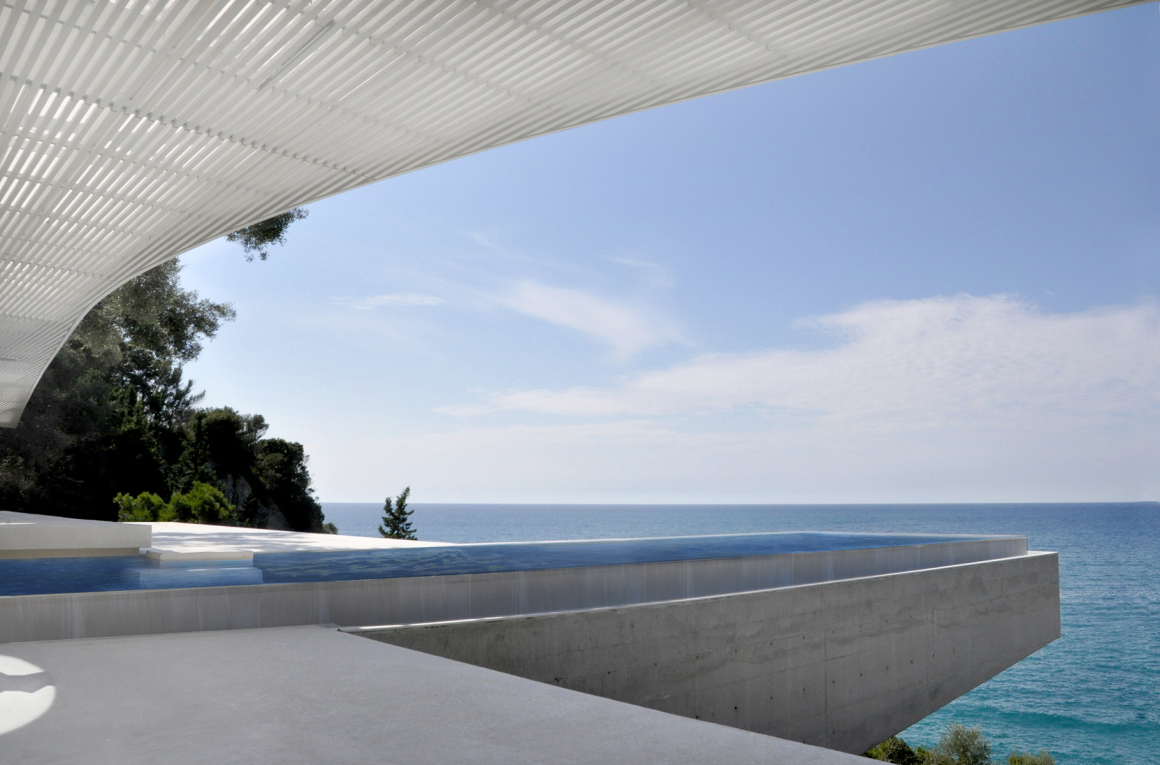 住宅的私人空间——包括卧室和浴室——被组织在4个独立的建筑中,从而在中间形成了定义宁静生活空间的间隙,再通过大量的玻璃构成了户外的"延伸"。与线性住宅垂直的18米长的游泳池有一个9米长的悬挑,悬停在与海平面一致的景观上。统一的α水磨石地面提供了从室内到室外的简单性、材料品质和视觉连续性。
The private spaces of the house -accommodating bedrooms and wet units- are organised within 4 free standing volumes while the interstitial spaces created in the in-between define serene living spaces which through extensive glazing constitute 'extensions' of the outdoors. Perpendicular to the linear house an 18m-long pool cantilevers over a length of 9 meters, hovering over the landscape aligned with the sea horizon. Α terrazzo floor provides simplicity, material quality and visual continuity from the indoors to the outdoors.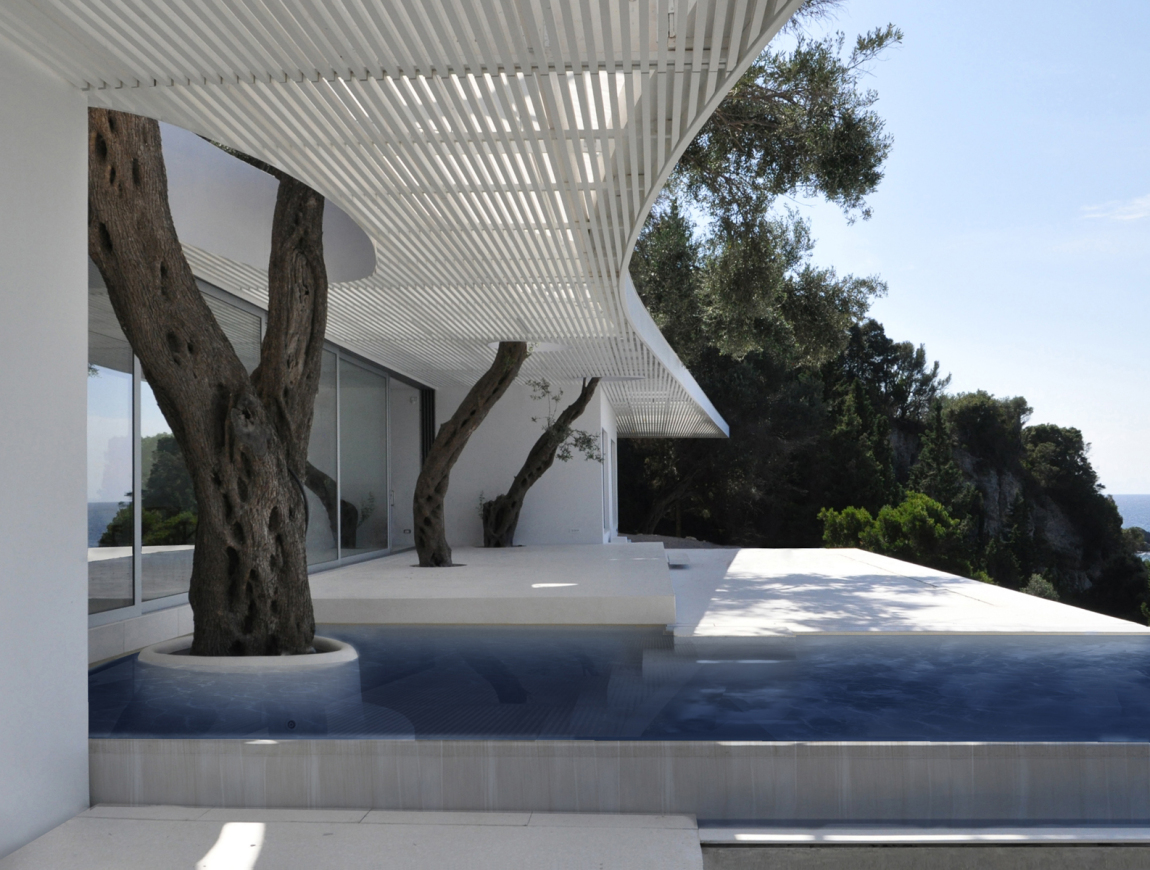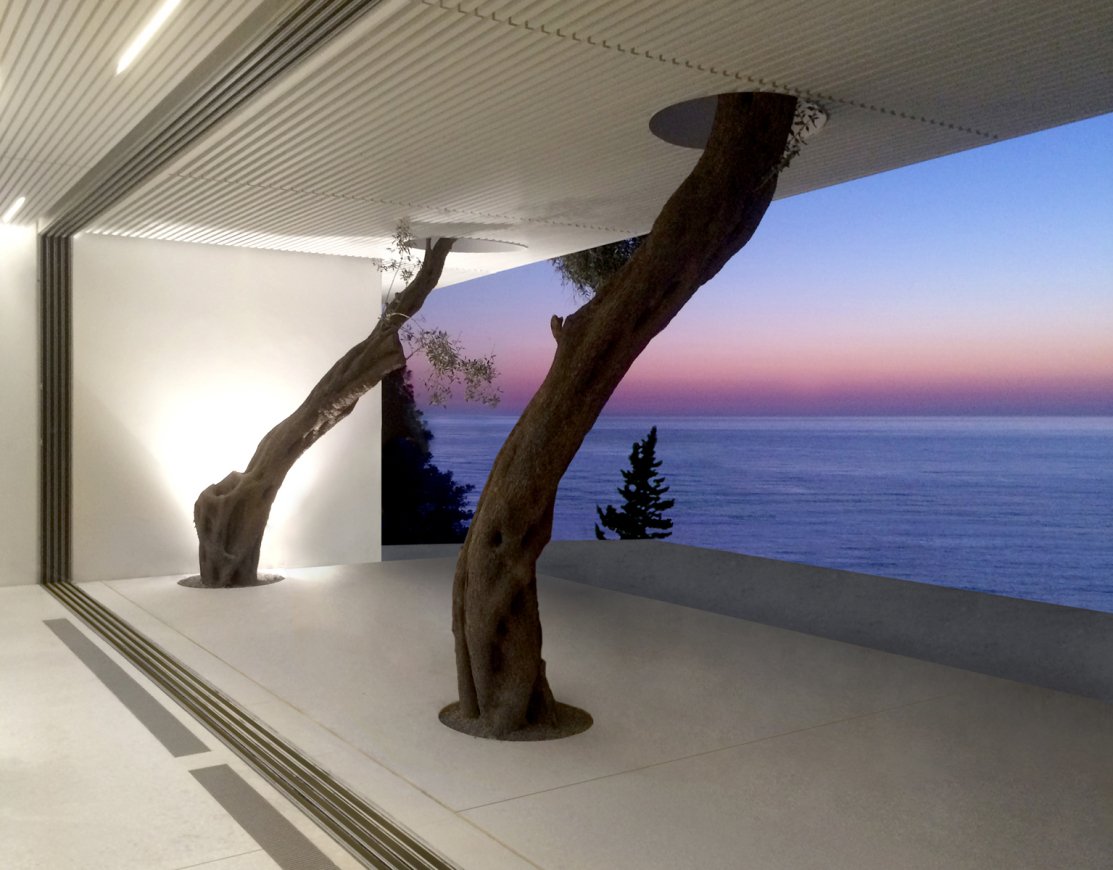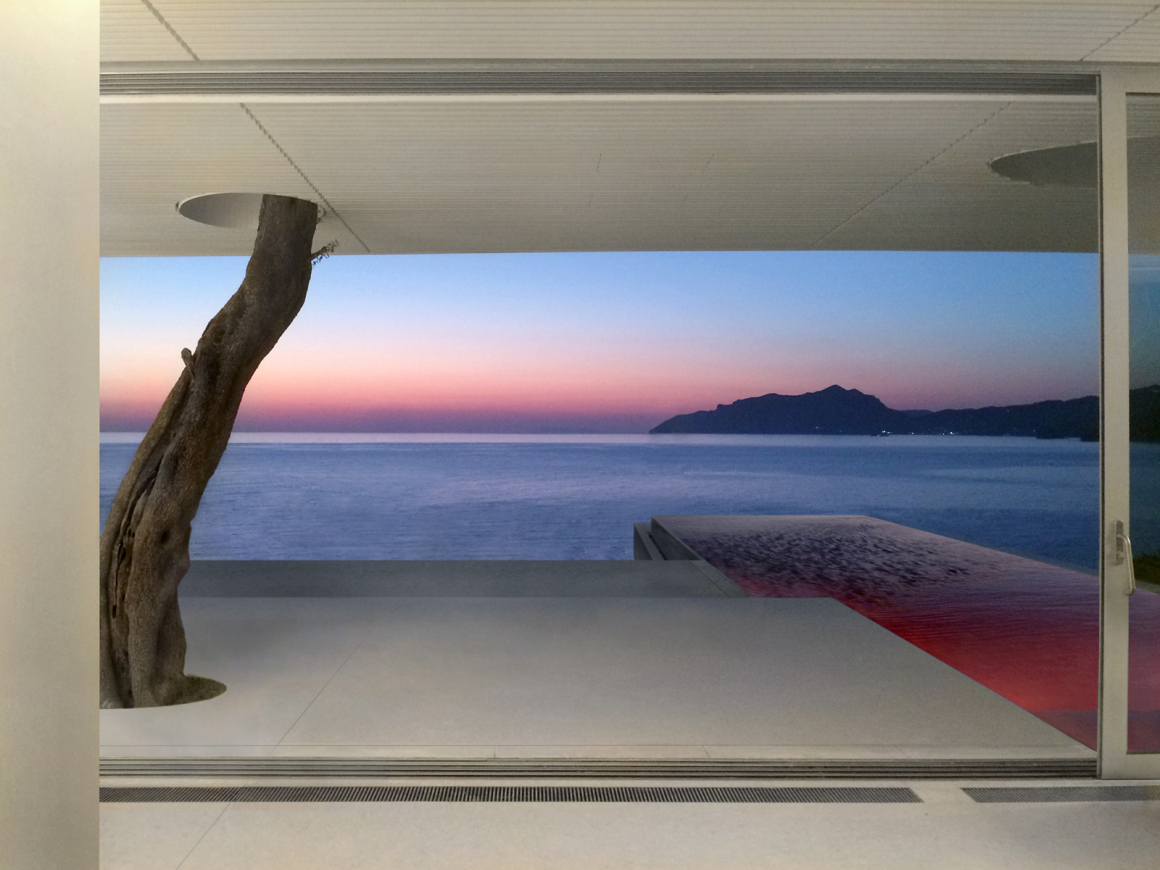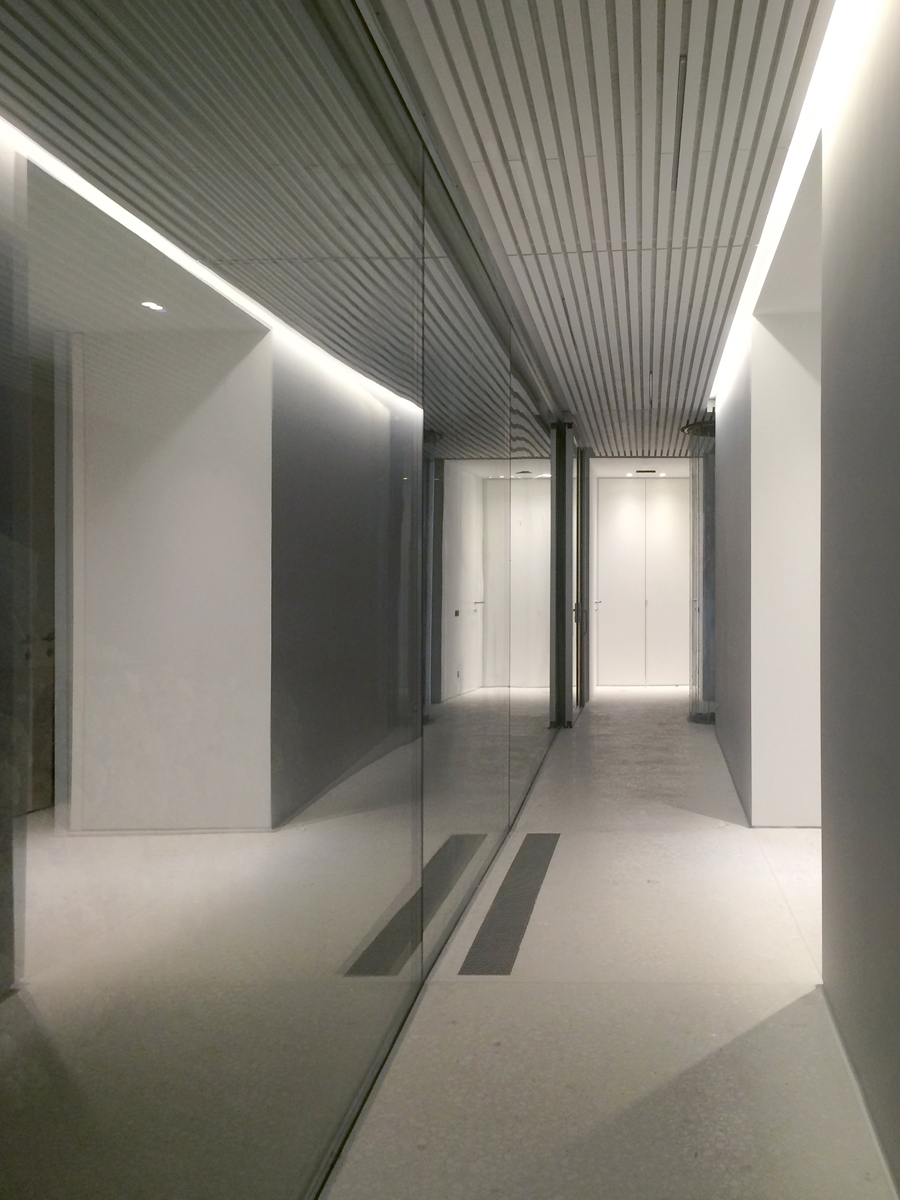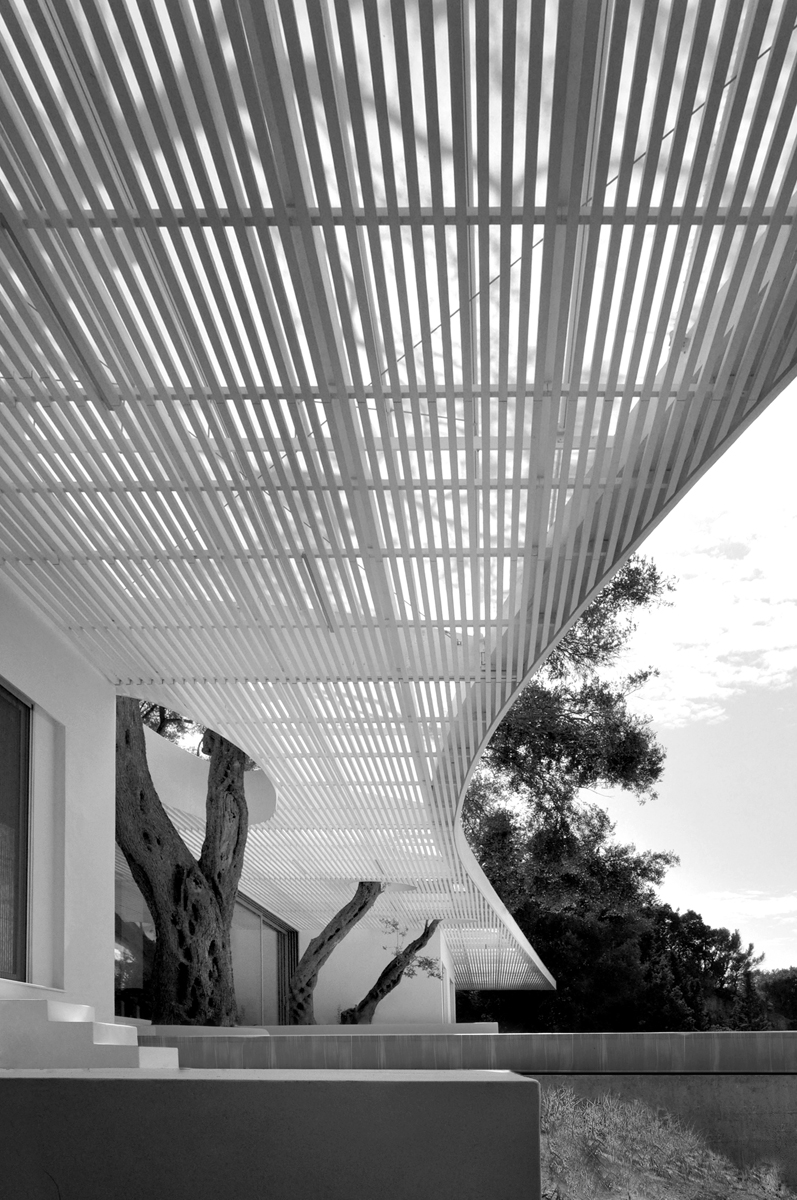 房子的混凝土基座上,装有机械装置、存储空间和蓄水池。单层住宅的墙壁、屋顶和顶棚由预制交叉层压木材建造而成,这样可以在现场进行快速的施工和组装。总而言之,该杰出的住宅设计旨在符合创新的建筑理念,创造了一个完全与其环境融为一体的、具有最大能源性能的典型住宅,在最大程度上,以最小的体积融入橄榄树林肌理和景观规模。
The house sits upon a concrete base which houses mechanical installations, a storage space and a cistern. The walls, roof and canopy of the single storey house are constructed from prefabricated cross laminated timber allowing for swift construction process and on-site assembly. The outstanding design in line with the innovative construction philosophy, allowed for the creation of a prototypical house fully integrated in its context, with maximum energy performance and mostly, with the minimum possible volume adapted to the grid of the olive grove and the scale of the landscape.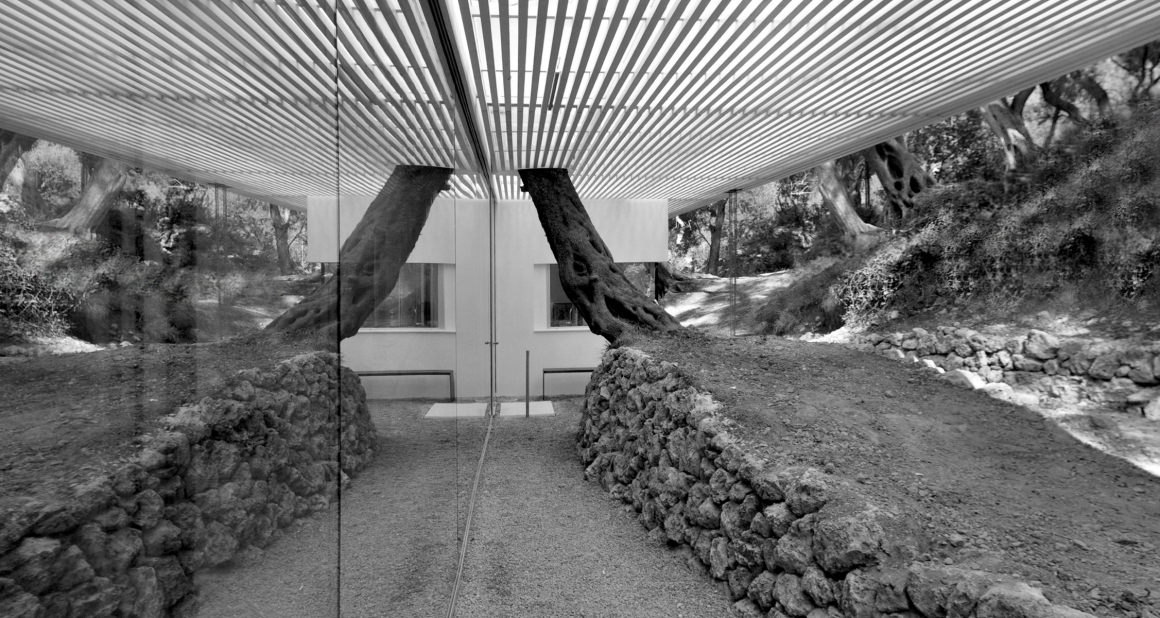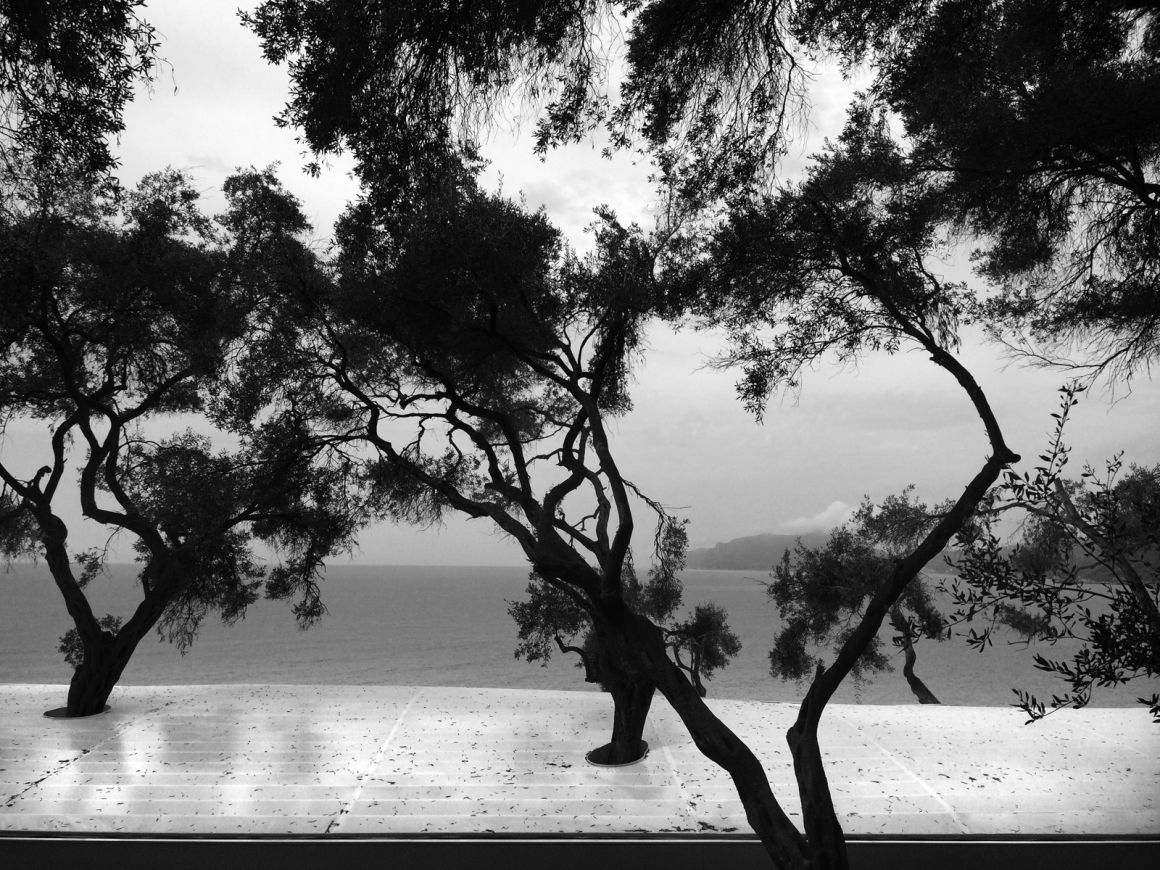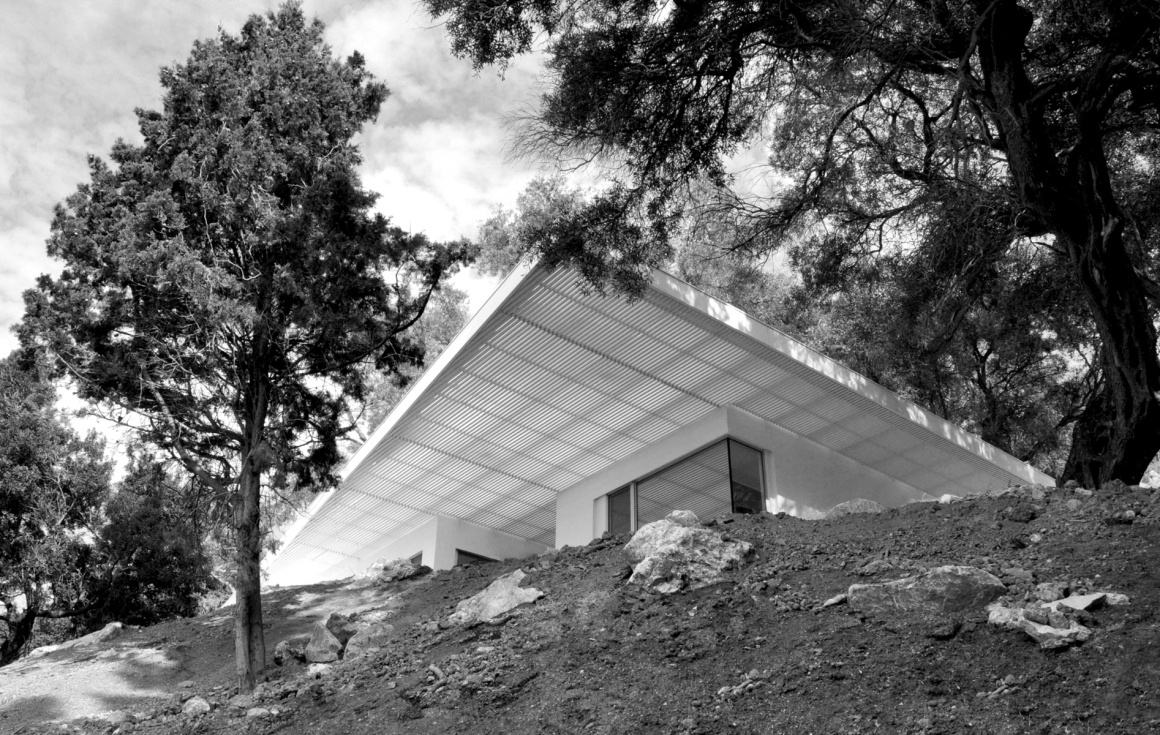 ▼住宅模型 Model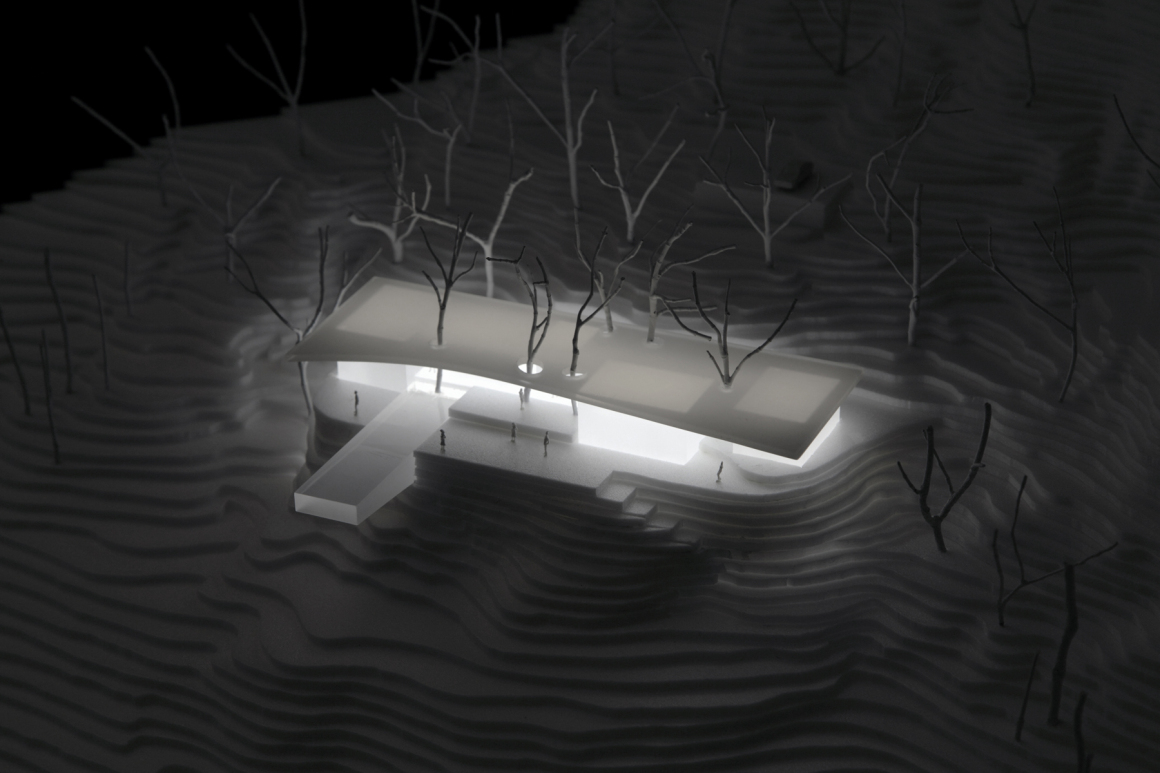 ▼住宅平面图 Plans
▼住宅剖面图 Sections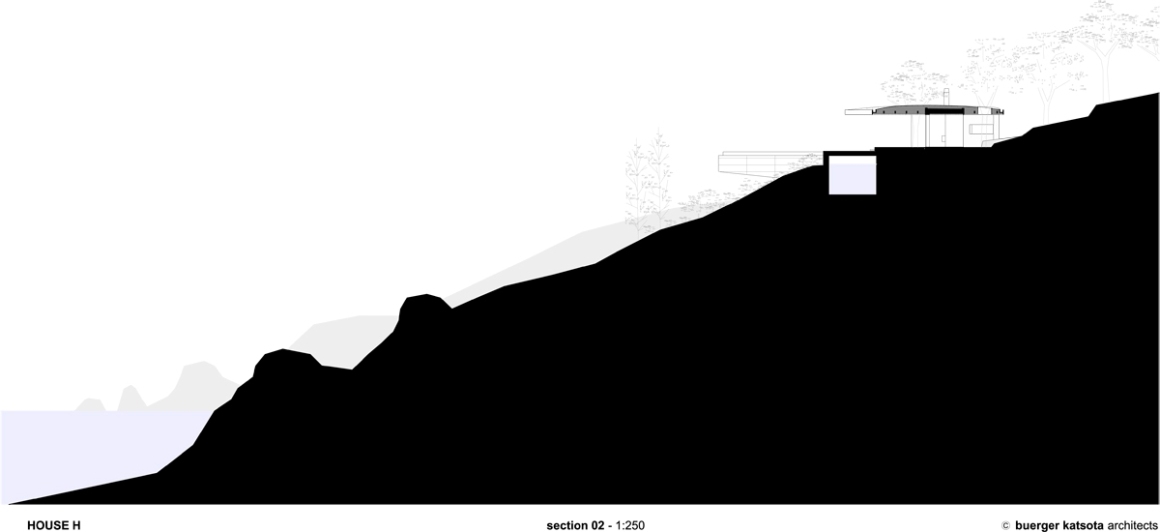 ▼住宅结构分解图 Exploded Perspective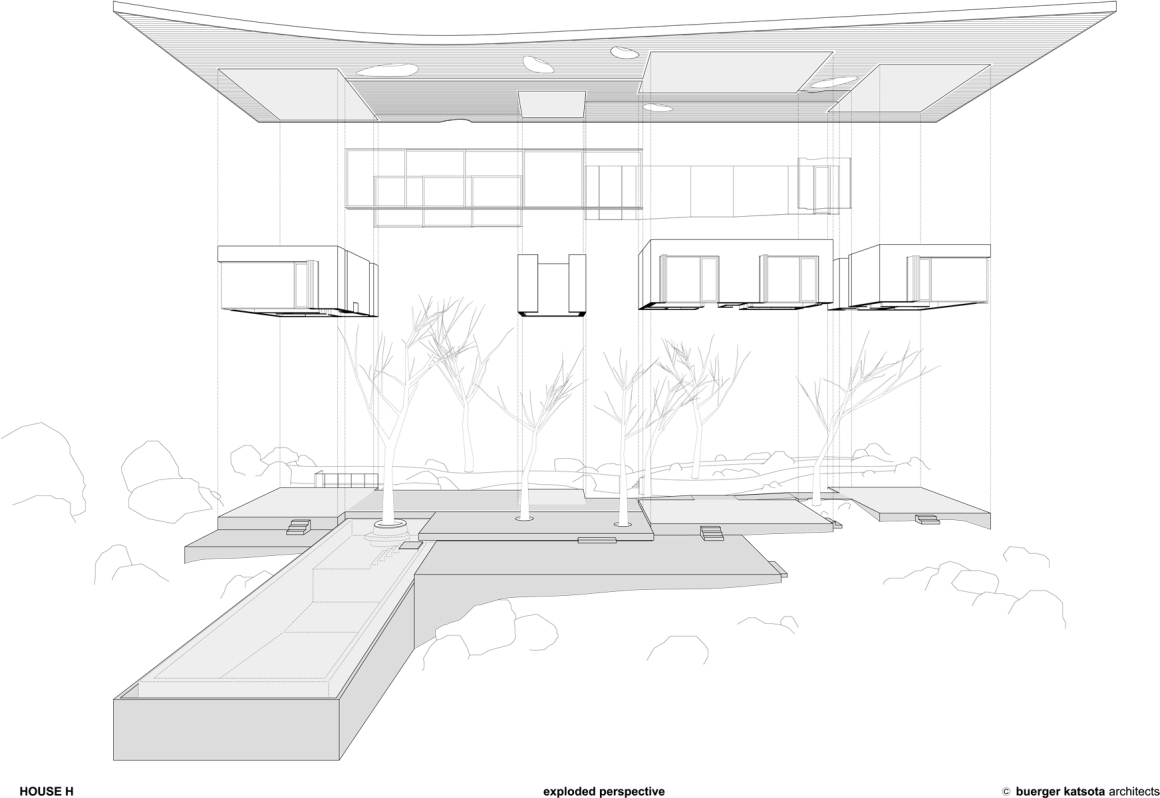 项目地点:GR 爱奥尼亚海
建筑设计:buerger katsota Architects
设计团队:Stephan Buerger, Demetra Katsota, Stephanos Conidaris, Flavian Lekkas, Daphne Mintza
结构工程:Panagiotis Panagiotopoulos
机电工程:Tetras SA
景观设计:Skopos Design
现场管理:New Age Development LP
建筑面积:280 m²
设计:2012年
完成:2014年
Location: Ionian Sea, GR
Architects: buerger katsota architects
Design team: Stephan Buerger, Demetra Katsota, Stephanos Conidaris, Flavian Lekkas, Daphne Mintza
Structural engineering: Panagiotis Panagiotopoulos
Electrical and mechanical engineering: Tetras SA
Landscape design: Skopos Design
Site management: New Age Development LP
Built area: 280m²
Design year: 2012
Completion year: 2014
更多 Read more about: buerger katsota architects