本文由 Redland-scape.Ltd. 授权mooool发表,欢迎转发,禁止以mooool编辑版本转载。
Thanks Redland-scape.Ltd. for authorizing the publication of the project on mooool, Text description provided by Redland-scape.Ltd.
Redland-scape:IDEO MOBI Sukhumvit 40是位于曼谷市中心素坤逸路的一处高级住宅,这里面临城市污染和绿地匮乏的问题。设计团队通过在住宅周围创造一个支持多元活动且具有生物多样性的城市绿洲,将居民与自然交织联系起来。通过开辟中央庭院和室外空间来提升空间可用性,有助于创造居于自然安宁的生活新体验,并以可持续的方式提高生活质量。
Redland-scape:IDEO MOBI Sukhumvit 40, premium design residential, located on Sukhumvit road which is in the center of Bangkok that amid of urban pollution and absence of green spaces problem. The design team carries out a concept which intricately connects the resident with nature by creating an urban oasis enriched with biodiversity built around spectacular activities right at their home. By creating central courtyard and outdoor space in order to increase the usability, helping to enhance new experience of living among natural and peaceful and the quality of life in a sustainable way.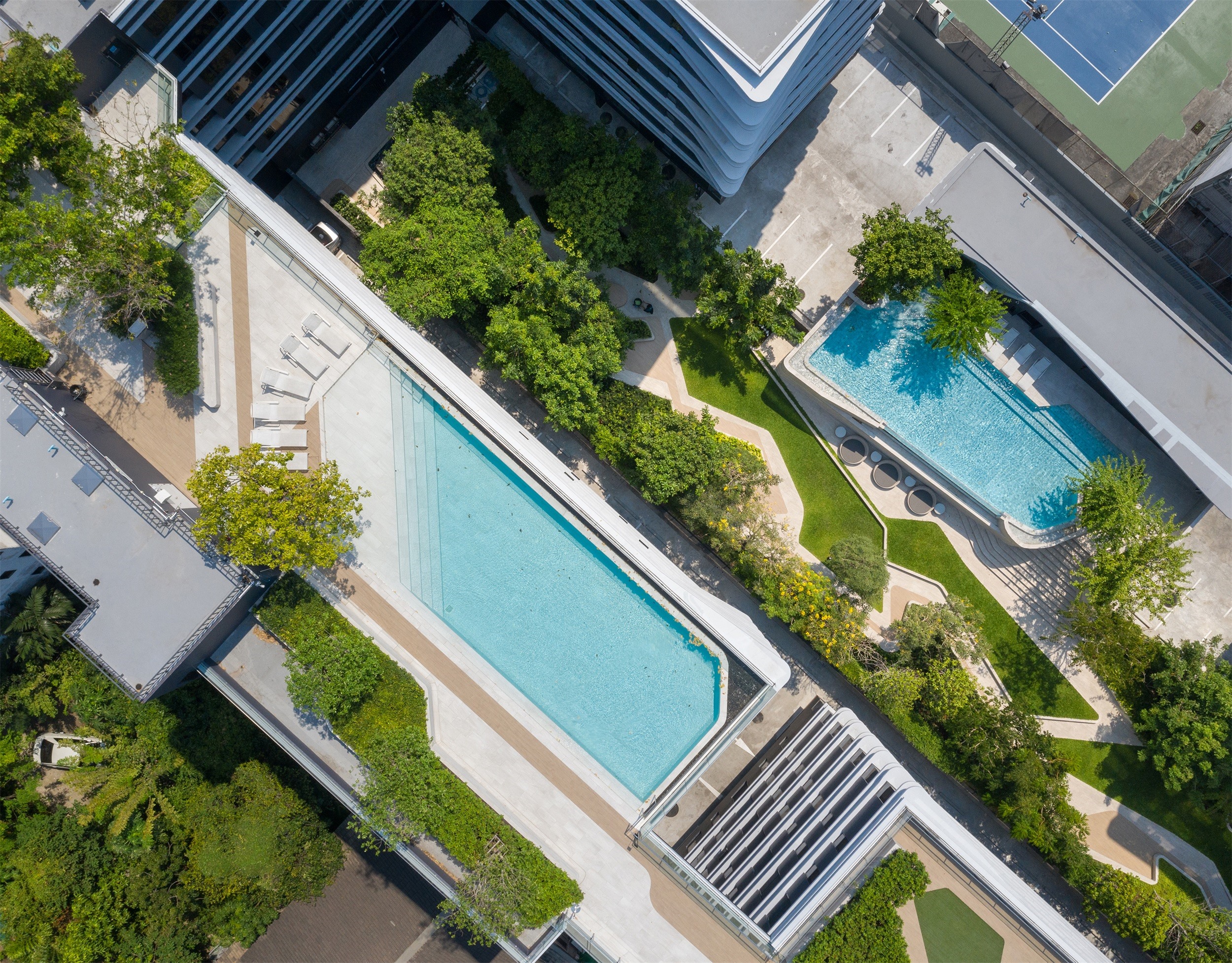 设计团队直面场地挑战,与建筑师合作提出了若干解决方案,通过垂直堆叠单元以减少建筑占地面积,并增加绿地以创造绿色庭院。庇护庭院(Sanctuary Courtyard)是景观构思的重点,景观与建筑相互协作,打造从庭院到屋顶花园的视觉连接。这个以现代语言设计的住区景观其特点是隐喻的绿色碎片,就像一片绿洲自然地出现在城市空间之中。
After facing several challenges on the property, the design team collaborated with architects to propose several options to reduce the building footprint and increase green space by stacking up the units vertically and expanding into the ultimate green space besides creating a greenery courtyard. Sanctuary Courtyard was selected as a main key for landscape concept. Landscape work collaborated with Architect to propose visual link from courtyard to roof garden. Landscape characteristic was design as in modern language which is metaphor green fragmentation. Like Green oasis which is naturally occurred in the middle of urban space.
▼项目鸟瞰 Aerial view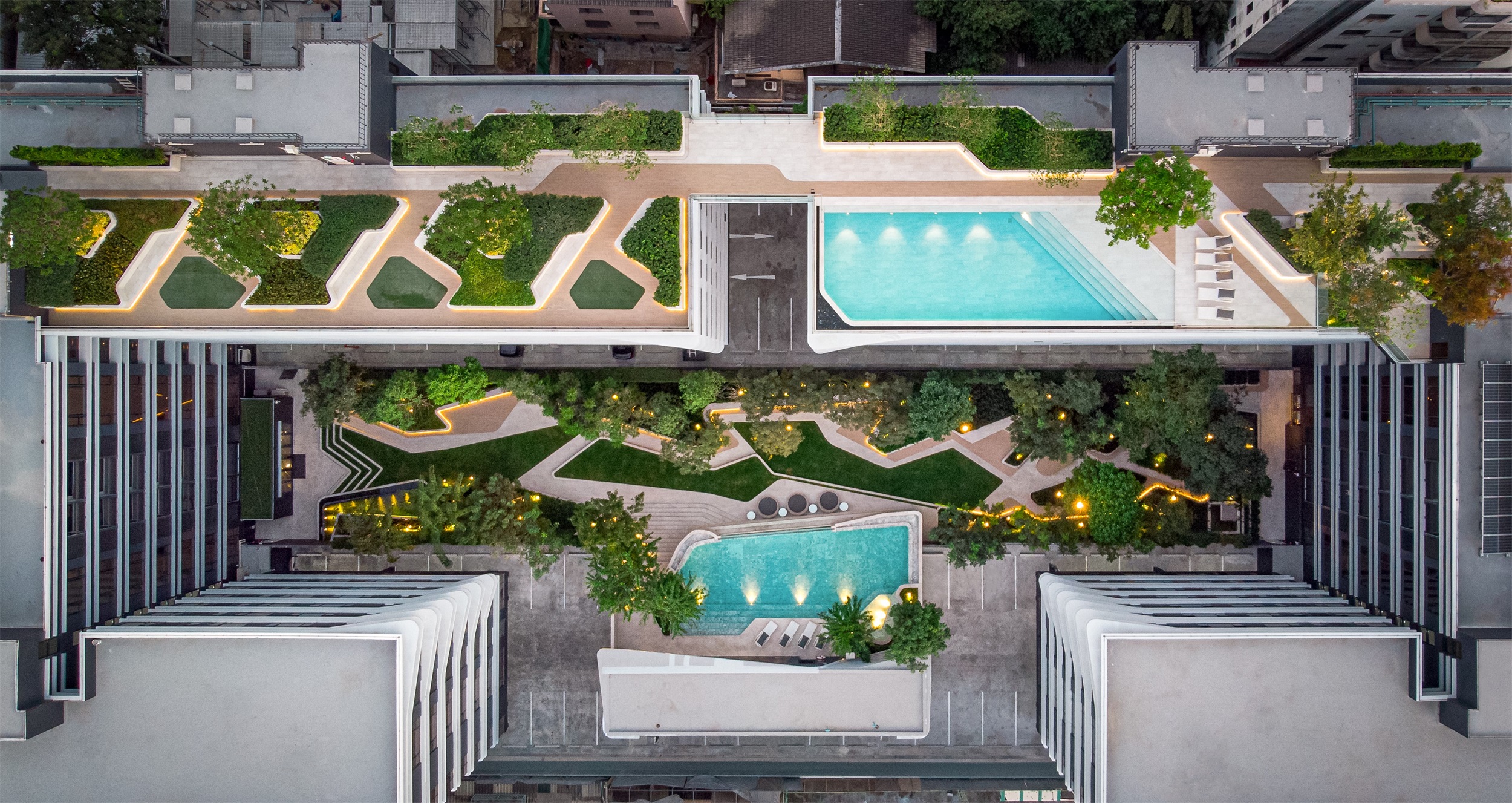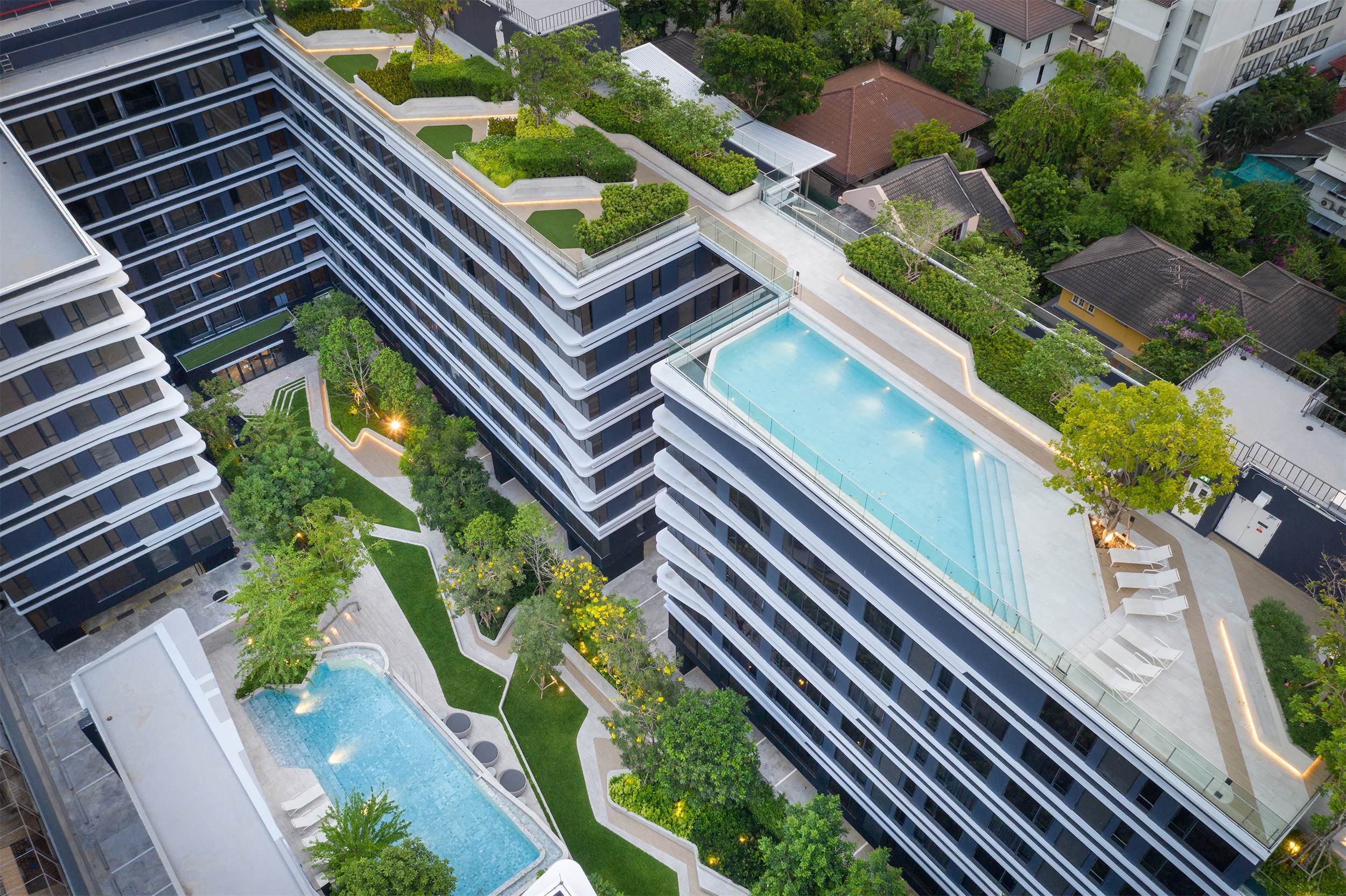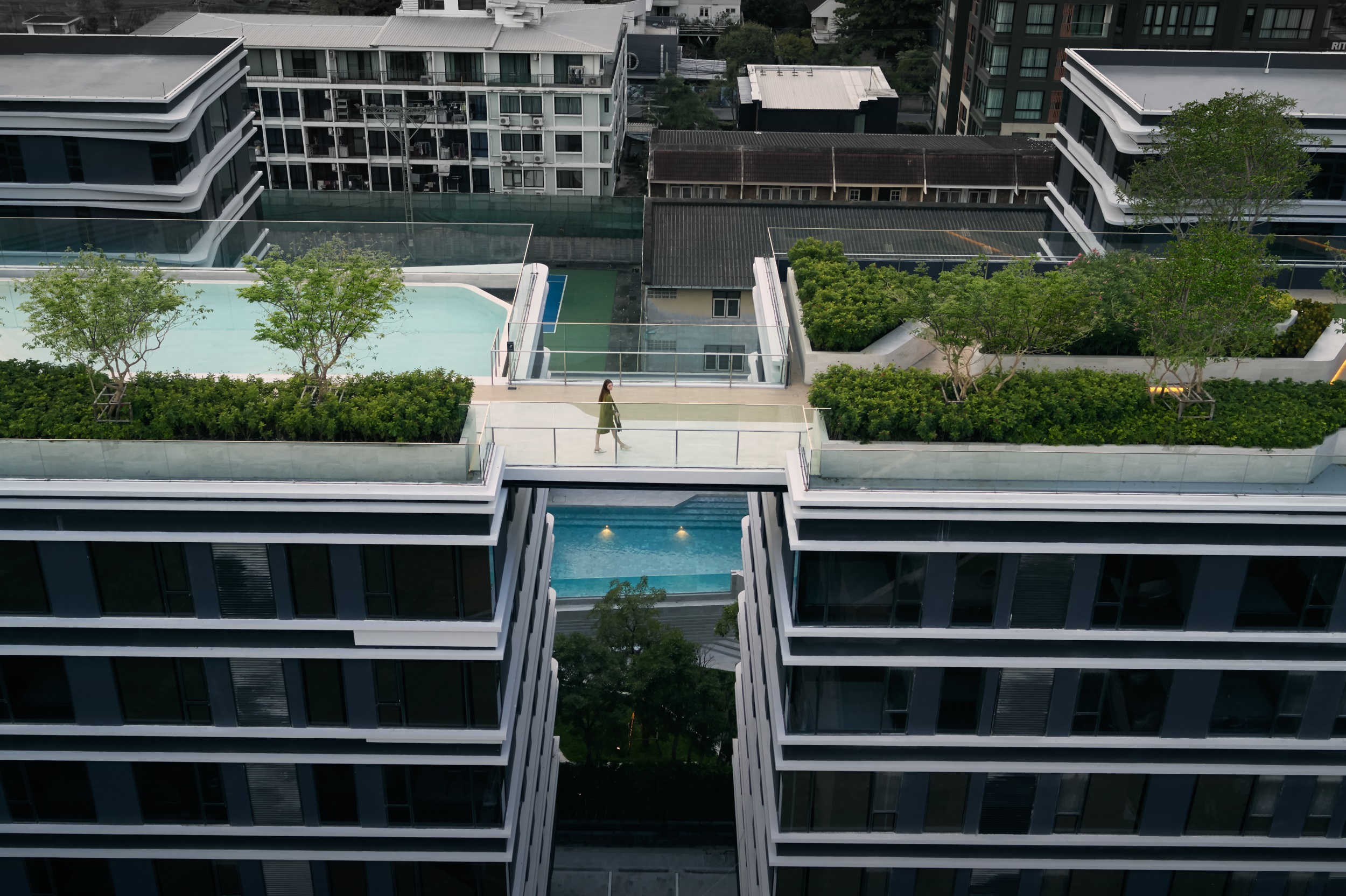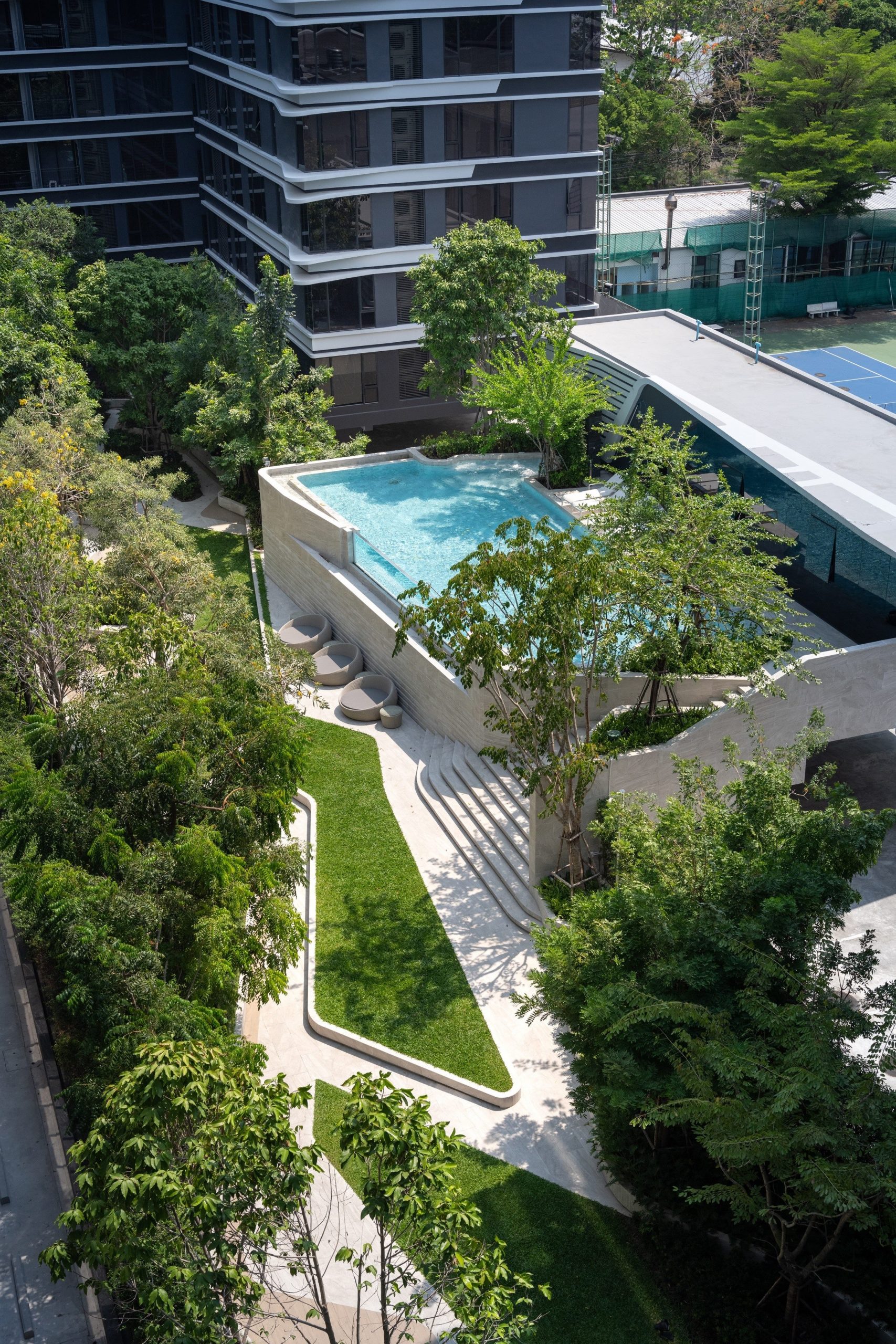 ▼屋顶泳池与地面抬升式泳池 Top view of the two swimming pools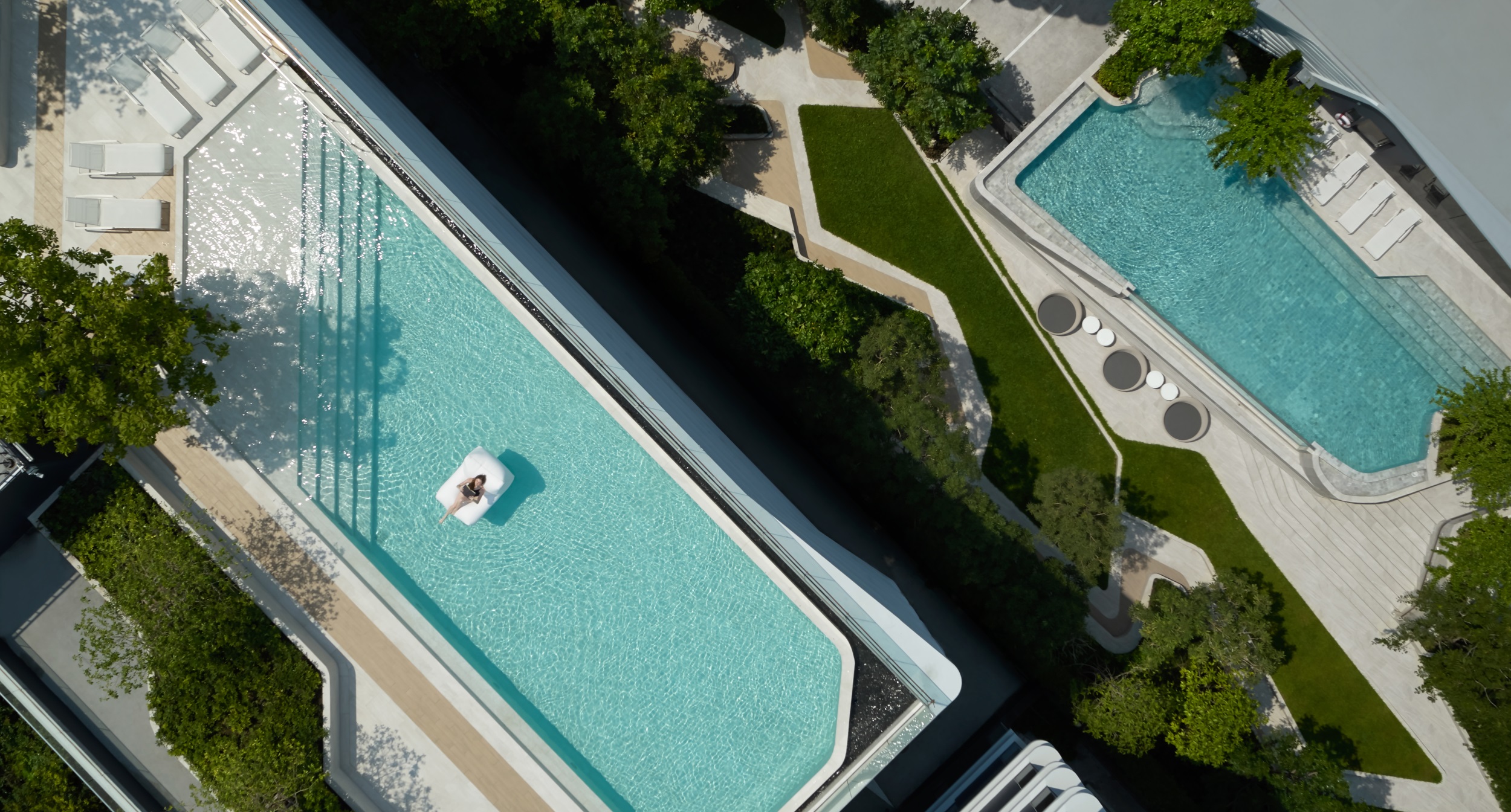 ▼地面抬升式游泳池,一侧设置玻璃幕墙 The pool is elevated from the ground creating a glass wall
▼屋顶泳池 Rooftop pool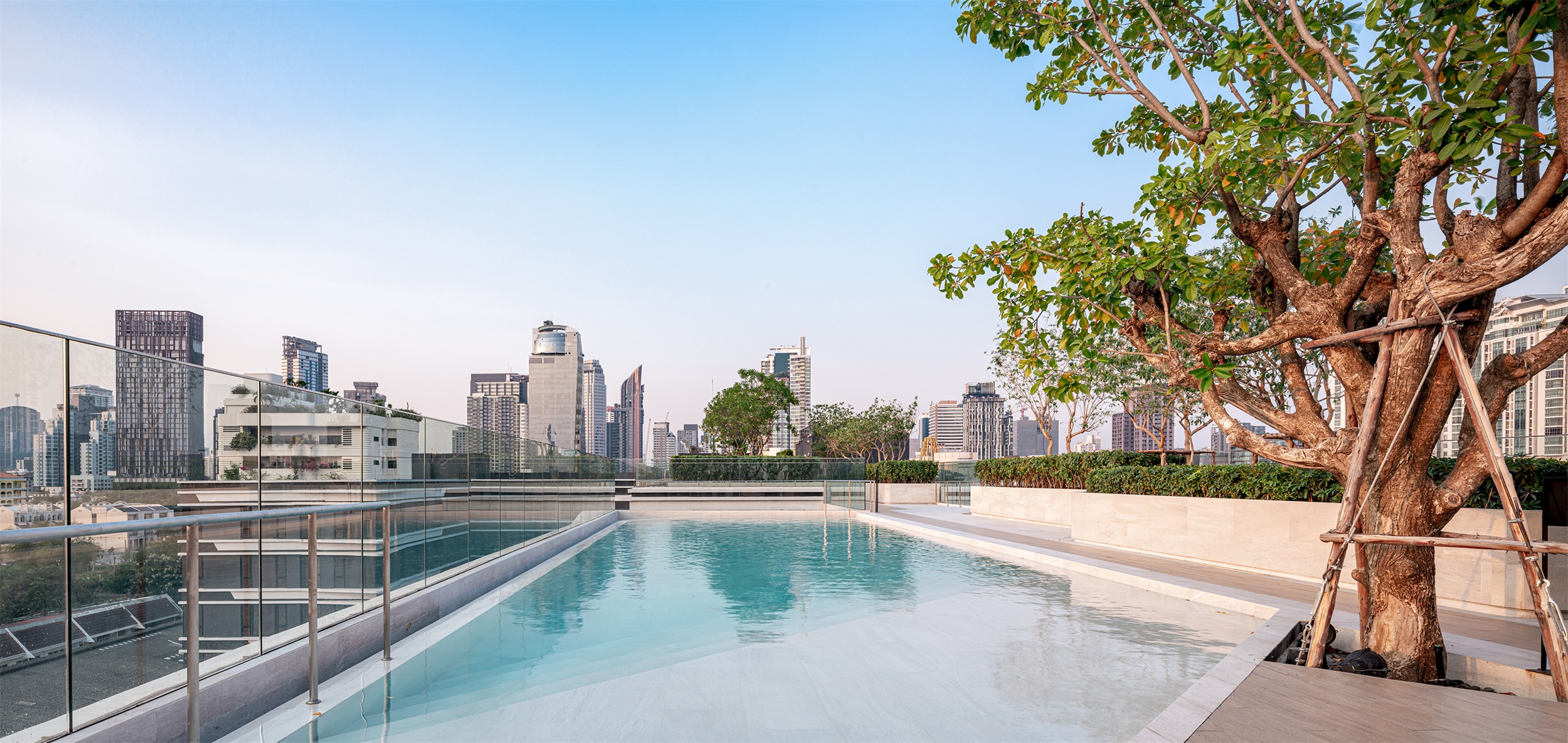 软景也具有重要意义,设计将其作为一片物种多样化的城市森林来实现城市绿洲的特点。植物的精心挑选是为了更好地过滤灰尘和净化空气,与此同时还能帮助使用者减轻身心压力和降血压,帮助提高居民自身的免疫力。
Softscape also significant design as a urban forest with species diversification to achieve Urban forest Characteristic. The planting was also meticulously selected in order to serve as a first line defense in filtering dust and purifying the air. In addition, Benefits for user by reduces stress and high blood pressure and also boost the immune system.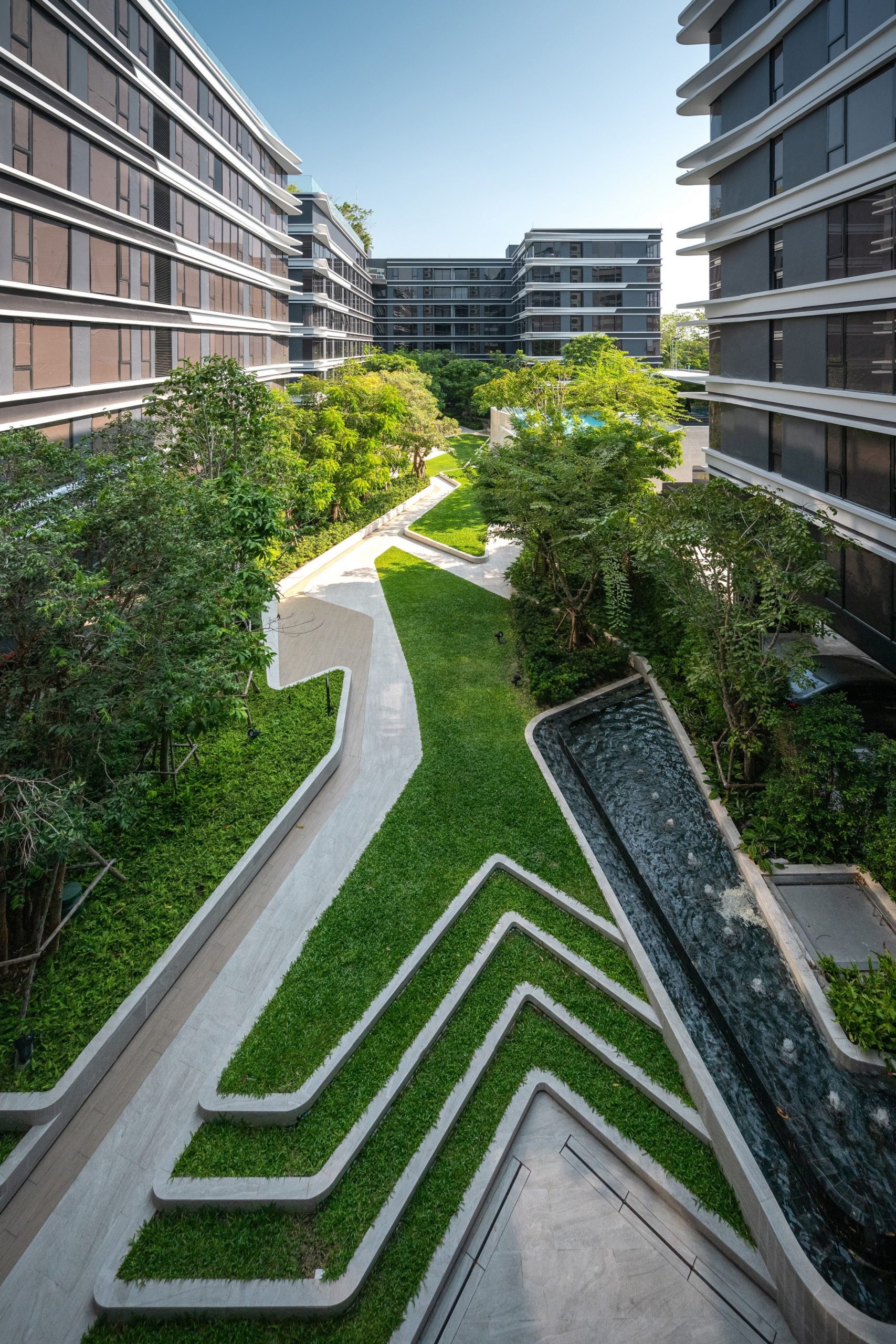 ▼地面层平面图 Ground floor plan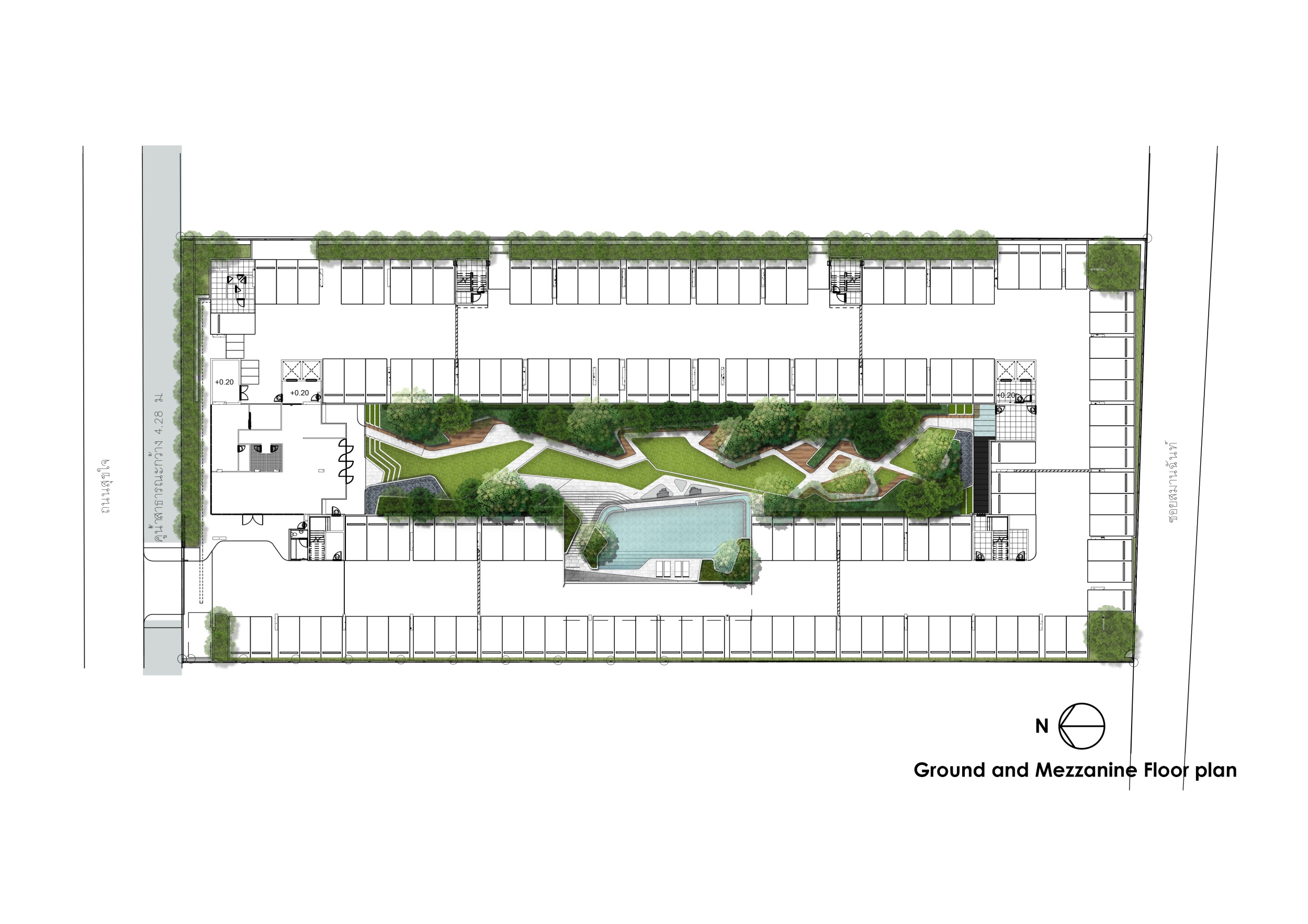 ▼屋顶层平面图 Roof floor plan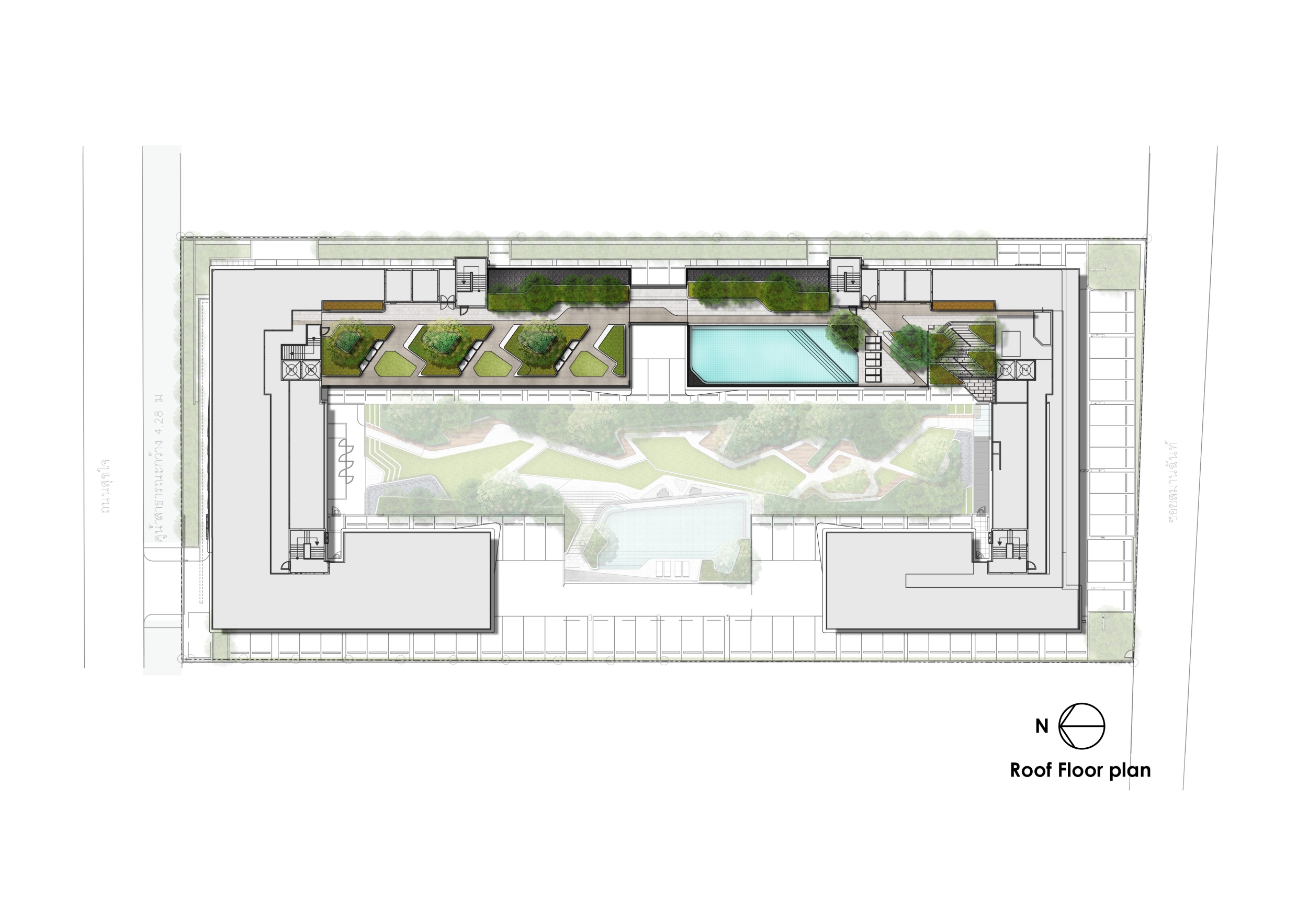 ▼概念分析 Concept diagram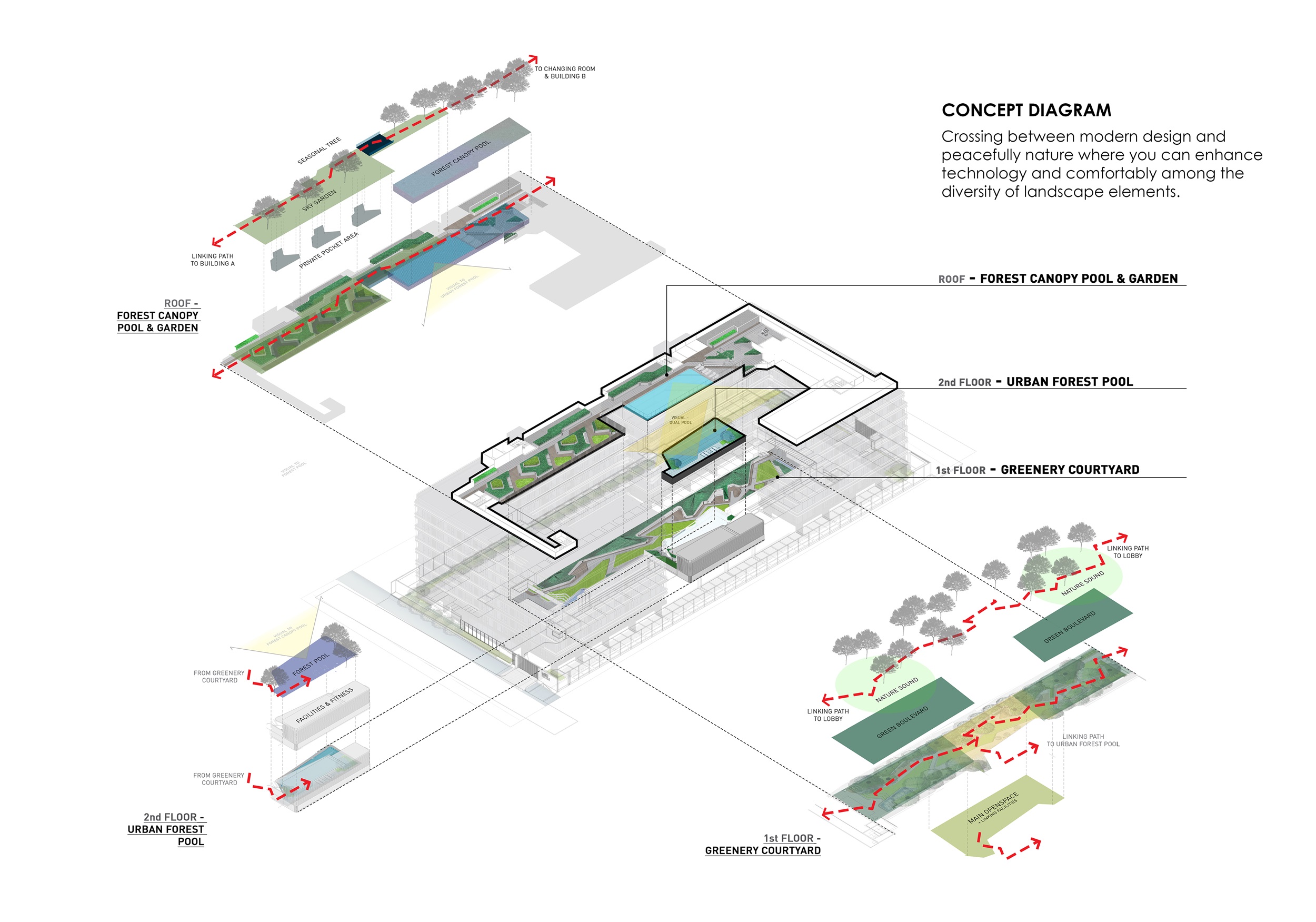 ▼分层分析 Layered graph
▼种植分析 Planting diagram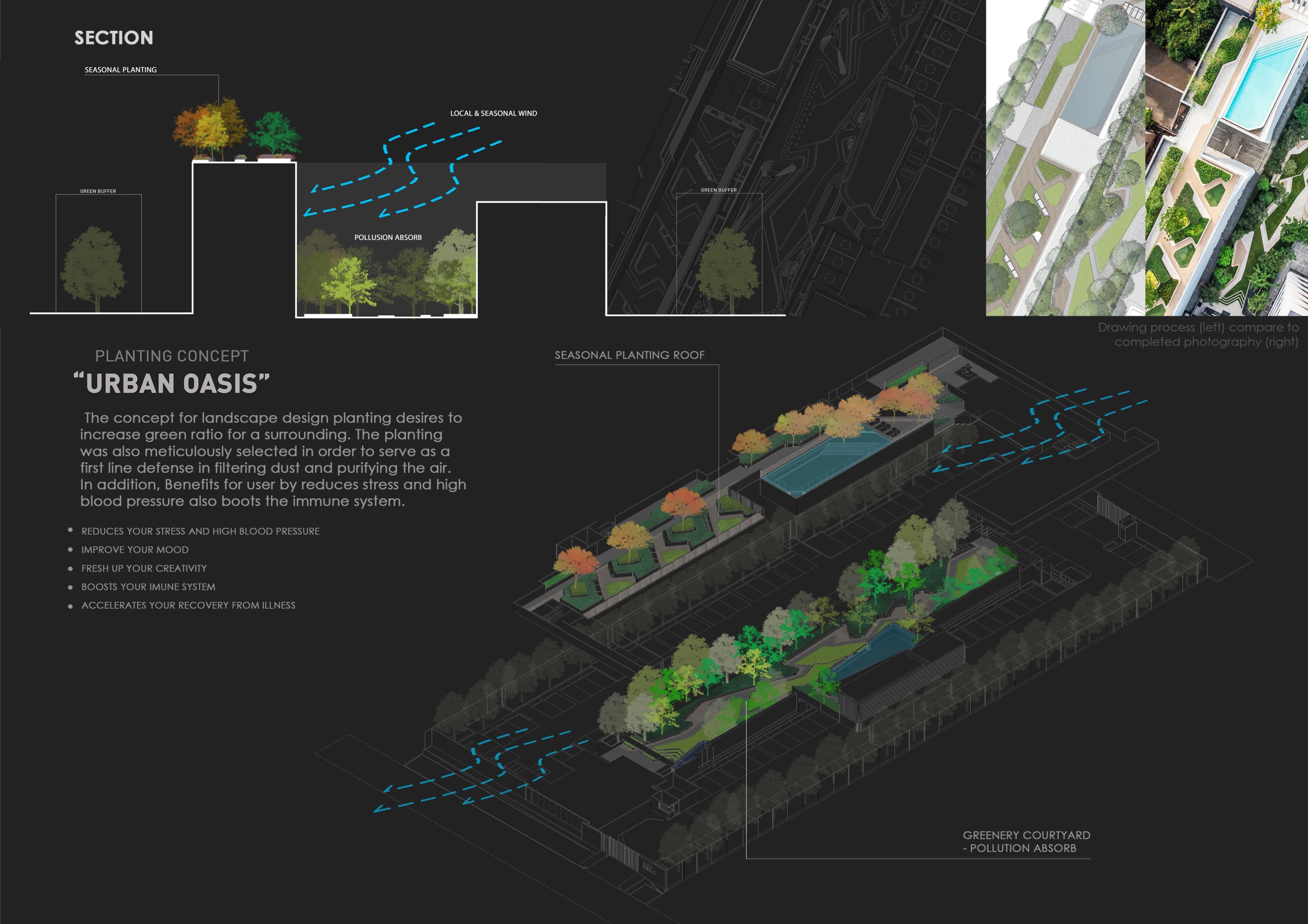 项目名称: IDEO MOBI Sukhumvit 40 – 隐秘的庇护庭院 – 闹市区的隐秘庇护所 – 城市里的隐蔽绿意
景观设计: Redland-scape.Ltd.
公司网站: www.redland-scape.com
联系邮箱: infos@redland-scape.com
项目地点: 泰国曼谷Ekkamai
完成年份: 2018
客户: Ananda Development
Project Name: IDEO MOBI Sukhumvit 40 – The Hidden Sanctuary courtyard – Midtown hidden sanctuary – The urban hidden greenery
Landscape Architect: Redland-scape.Ltd.
Website: www.redland-scape.com
Contact e-mail: infos@redland-scape.com
Project Location: Ekkamai, Bangkok, Thailand
Completion Year: 2018
Client: Ananda Development
更多 Read more about:Redland-scape.Ltd.