Stu/D/O: 在为一家领先的农业贸易公司重新设计一栋7层的办公楼时,设计师设想了一种新的工作场所体验,用"水稻梯田"的概念来靠近设计想法,这成为公司理念和商业运作的在建筑上的体现。

Stu/D/O: In rethinking a 7-storey office building for a leading agricultural trading company, we envision a new workplace experience by approaching the design with a concept of the 'rice terrace' that becomes an architectural embodiment of the company's philosophy and business operation.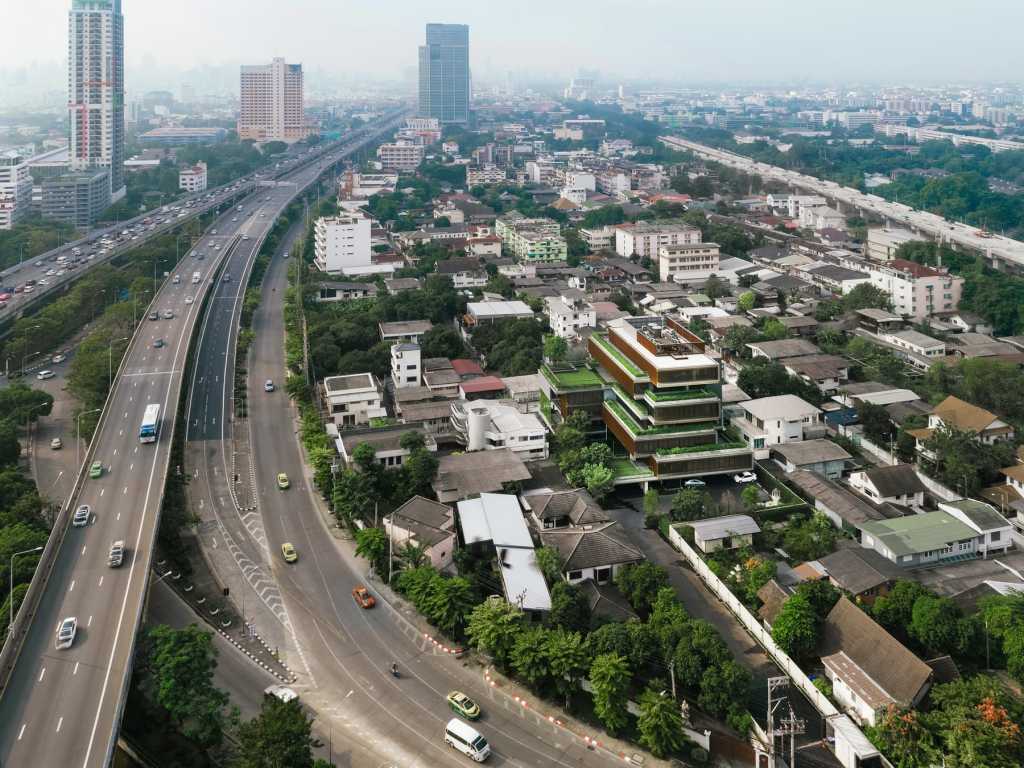 由于场地的各种限制条件,如退距规定、高度限制和不寻常的场地边界,为了满足公司的功能要求,建筑必须高效。通过将每层的体量稍微改变,创造一系列重叠的悬臂和梯田。堆叠式露台是一种将复杂的东西简单化的解决方案,它可以将室外的当地动植物引入到建筑的多个区域和功能区中。
Due to various site restrictions such as setback regulations, height limits, and the unusual site boundary, it became necessary for the architectural massing to be efficient in order to fulfill the functional requirements of the company. This was resolved by shifting the mass of each floor to slightly different from each other, creating a series of overlapping cantilevers and terraces. The simplicity of the stacked terrace has become a sophisticated solution allowing the local flora and fauna of the outdoor landscape to permeate into multiple areas and functions of the architecture.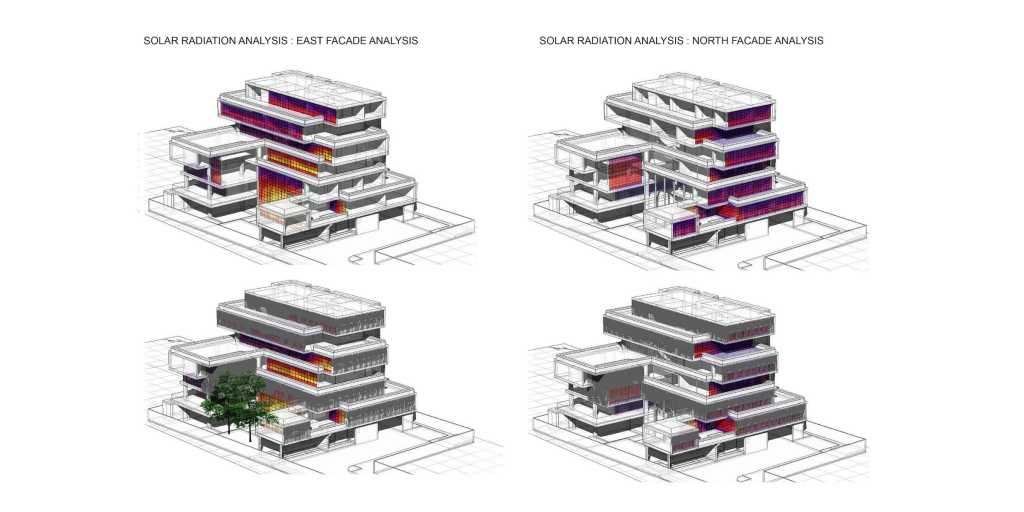 这些"梯田"成为一个灵活的公共区域,鼓励人们主动认知场地以培养他们对公司的归属感和认同感。悬挑的屋檐为白天的聚集、分享、户外工作提供了充足的遮荫,还允许空间的使用功能多样化。这为整个工作场所提供了一种自然直观的氛围,促进了联系和相互作用,消解了内部和外部之间的界限。
These 'rice terraces' become a flexible common area for all, encouraging an awareness of place to foster a sense of belonging and shared identity for the company as a whole.The overhanging eaves provide ample of shading for gathering, sharing, working outdoors during the day which allows for multiple and diverse use of space. This provides a natural and intuitive atmosphere for the overall workplace inciting connectedness and interaction over compartmentalization; dissolving the boundaries between the interior and the exterior.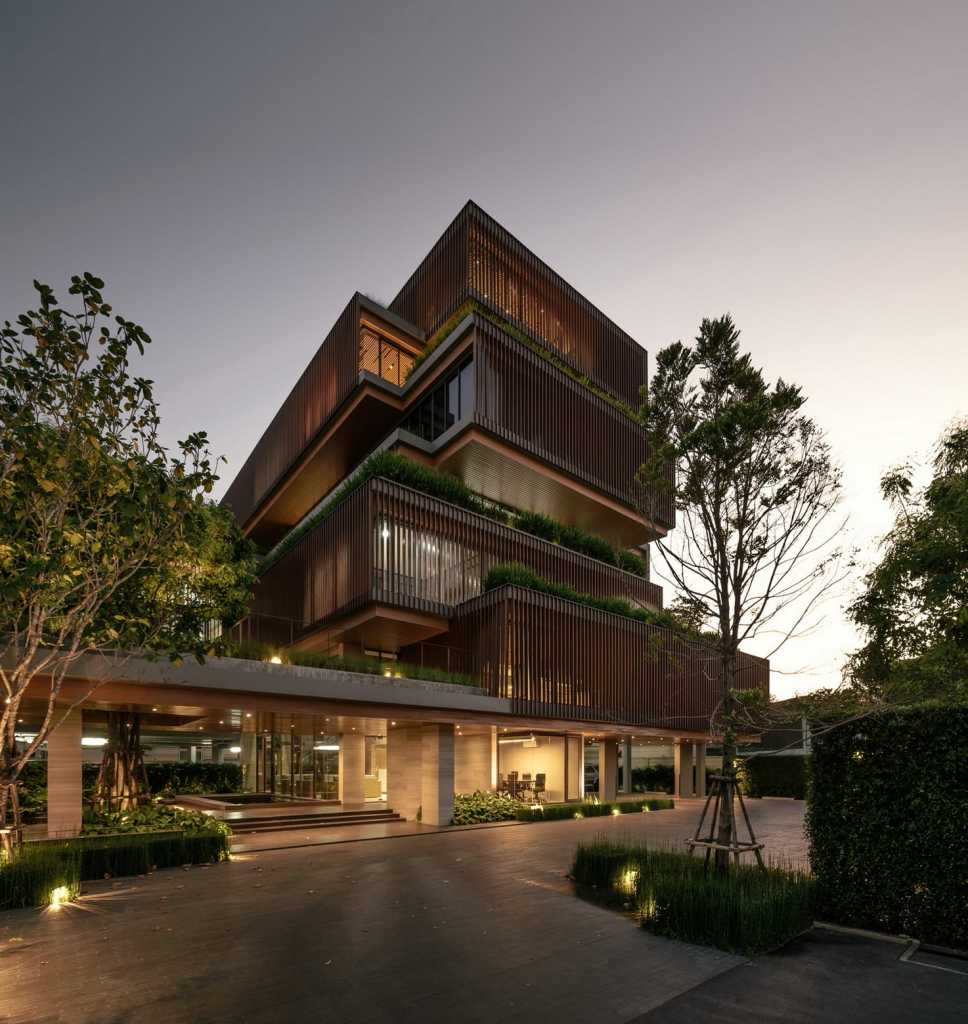 除了功能性,设计师还根据泰国的热带气候制定了一项环境设计策略。其中一项内容包括建筑立面的铝制垂直翅片,它已经成为内外部之间的多重介质。在计算太阳高度角及其周期时,为了确定太阳光线在各个方向上的方位,每个散热片的尺寸都经过校准。它不仅是一个遮阳装置,同时也是自然通风的通道和周边住宅的隐私屏障。有了这些垂直板条对过度暴露的光线和太阳多余热量的过滤,将有助于减少建筑和人对空调的依赖。每一层"水稻梯田"的巨大体量也有助于减轻建筑的冷负荷,作为一种完全自然的隔热材料,可以避免对热量的直接获得。这为建筑创造了一个小气候,将有助于中和可能出现的不平衡气候条件。
Beyond functionality, we have created an environmental design strategy in accord with the tropical climate of Thailand. One of this feature includes the aluminum vertical fins of the facade that has become a multi-mediator between the exterior and the interior. In calculating the sun angle and its cycle, the dimensions of each fins was calibrated to resolve the orientation of the sun's ray in all directions. More than a shading device, it also acts as a passageway for natural ventilation, and a privacy filter from the neighbouring residences. These vertical slats help to significantly reduce the reliance on air-conditioners by filtering over-exposed light and excess heats from the sun. The sheer mass of the 'rice terrace' on each floor also helps to soften the cooling load of the building acting as a completely natural insulation from the direct heat gain. This results in the creation of a microclimate for the building which helps to neutralize the imbalanced climate conditions that may arise.
立面铝制垂直片   Aluminum vertical fins of the facade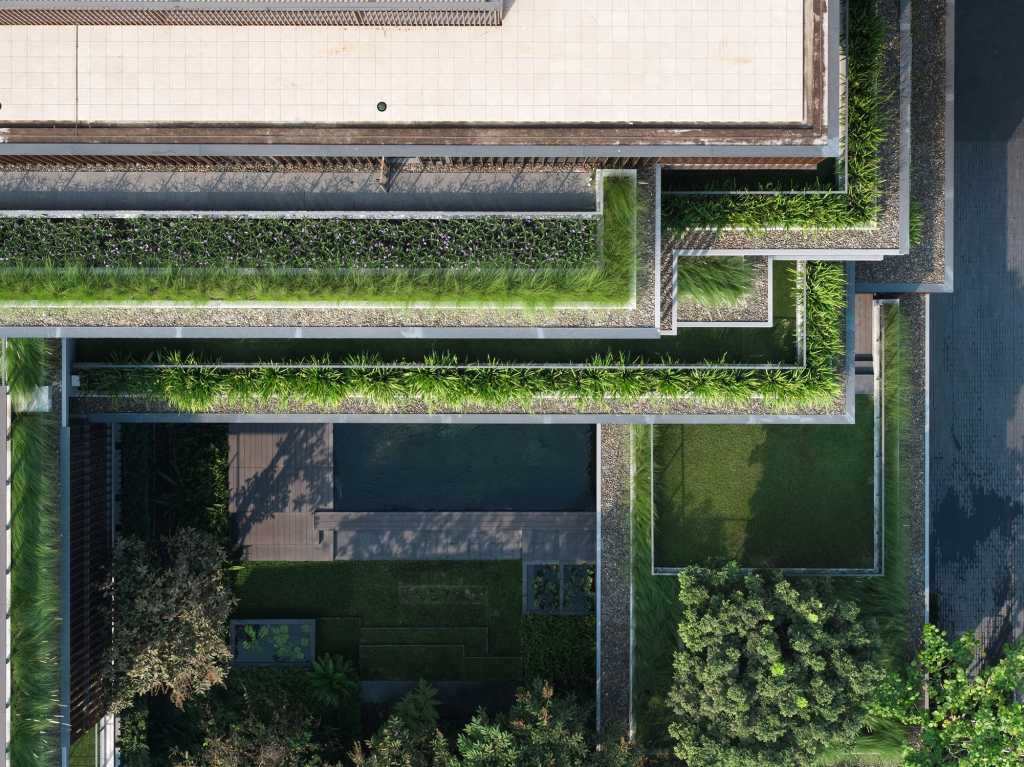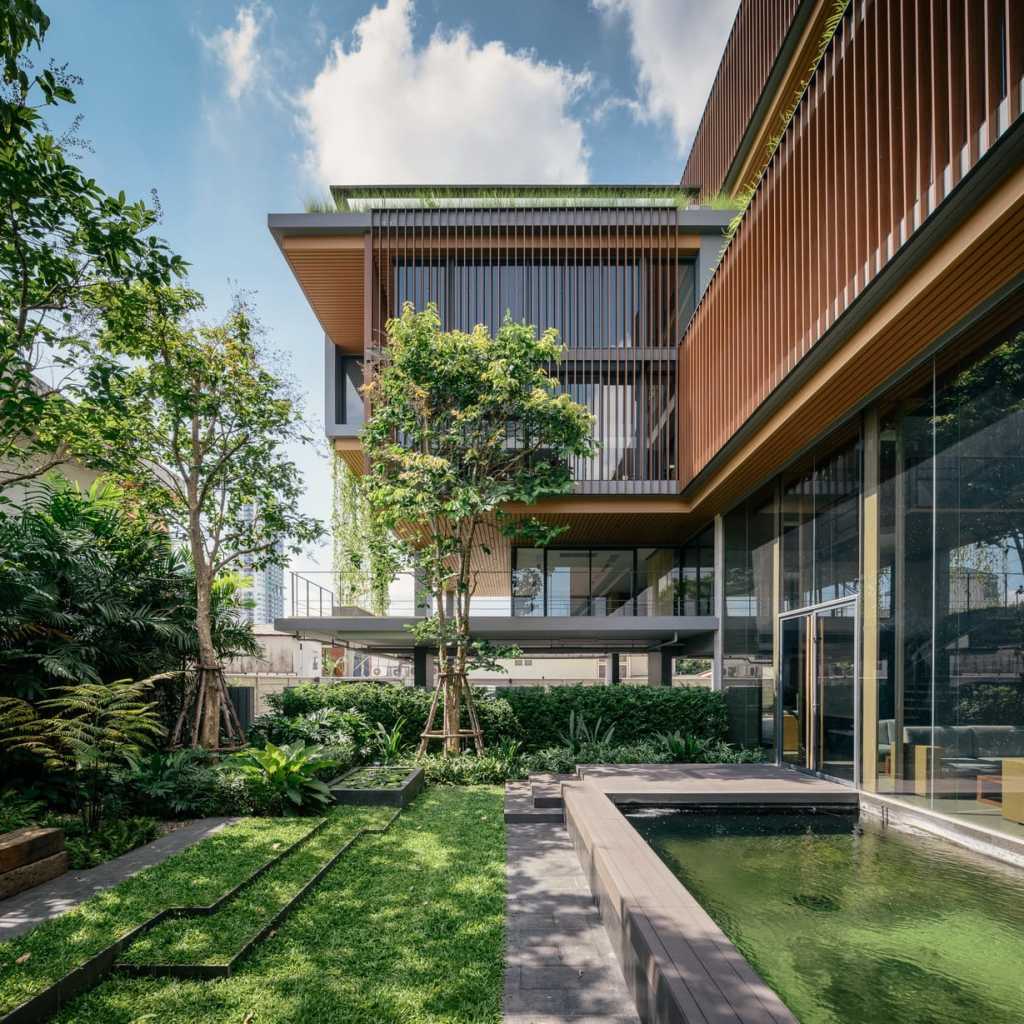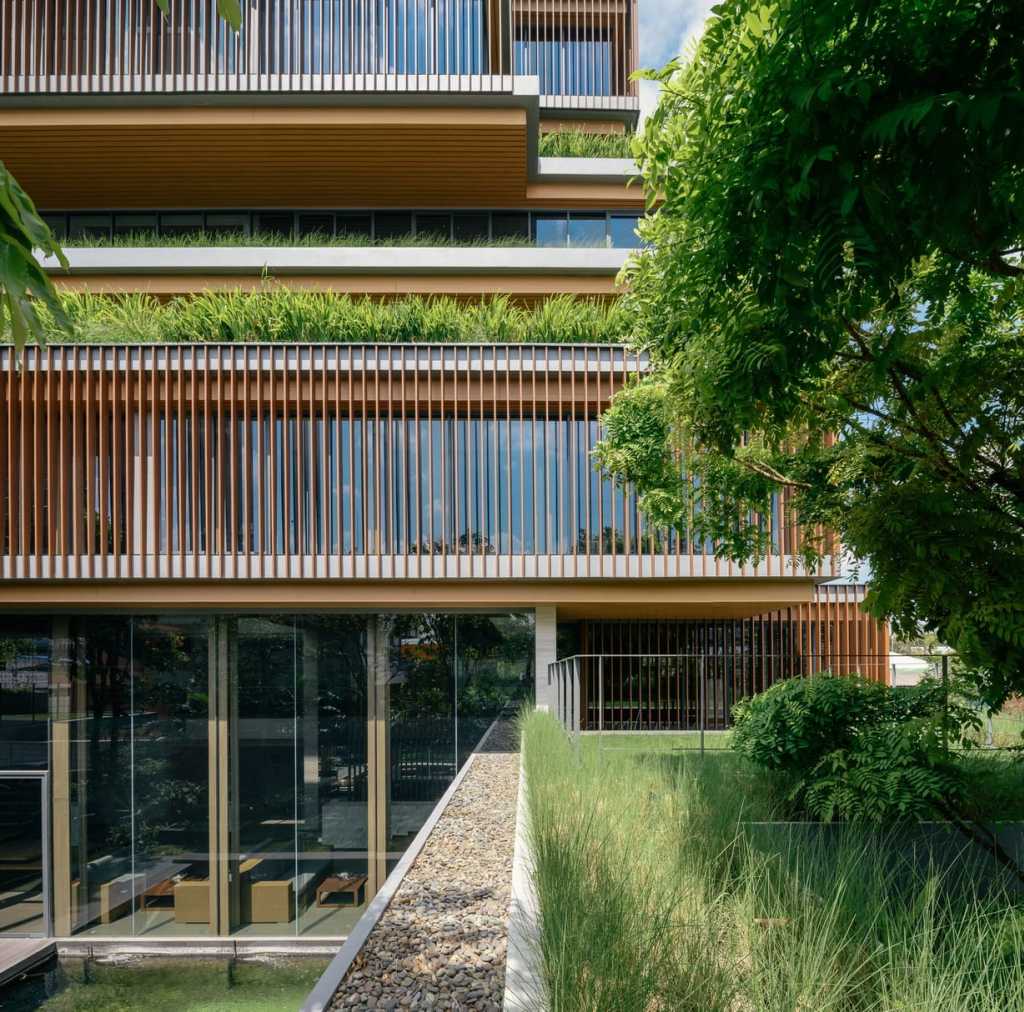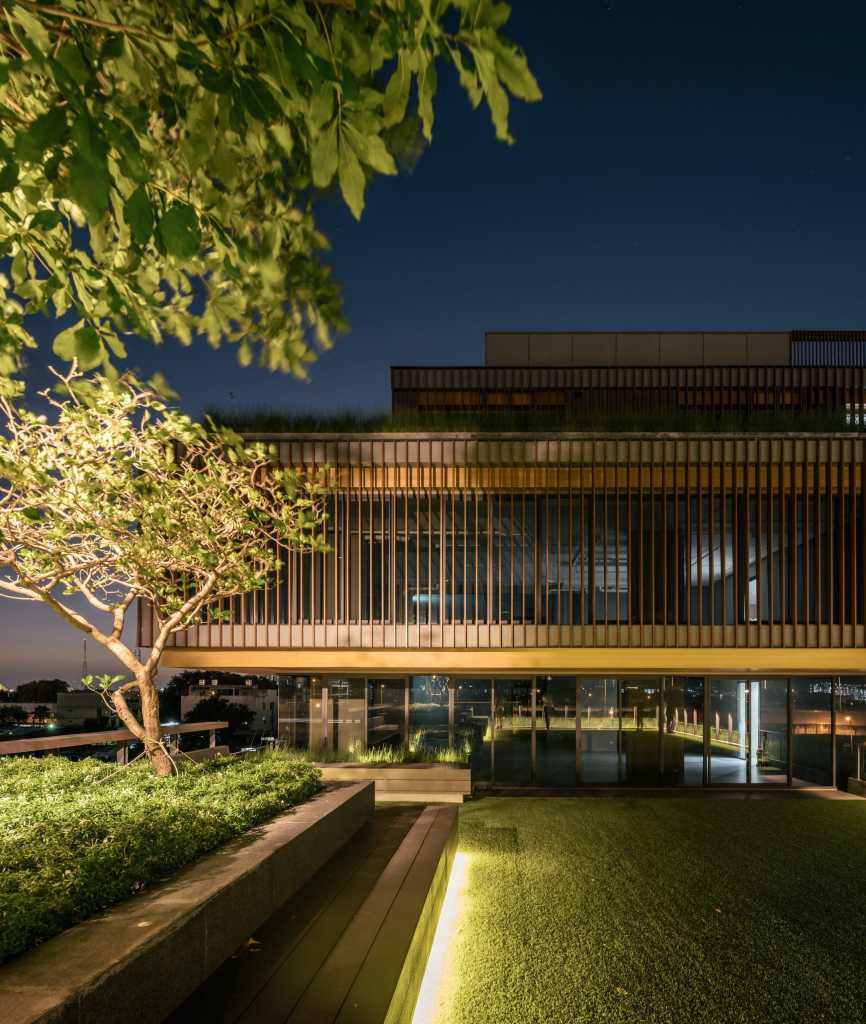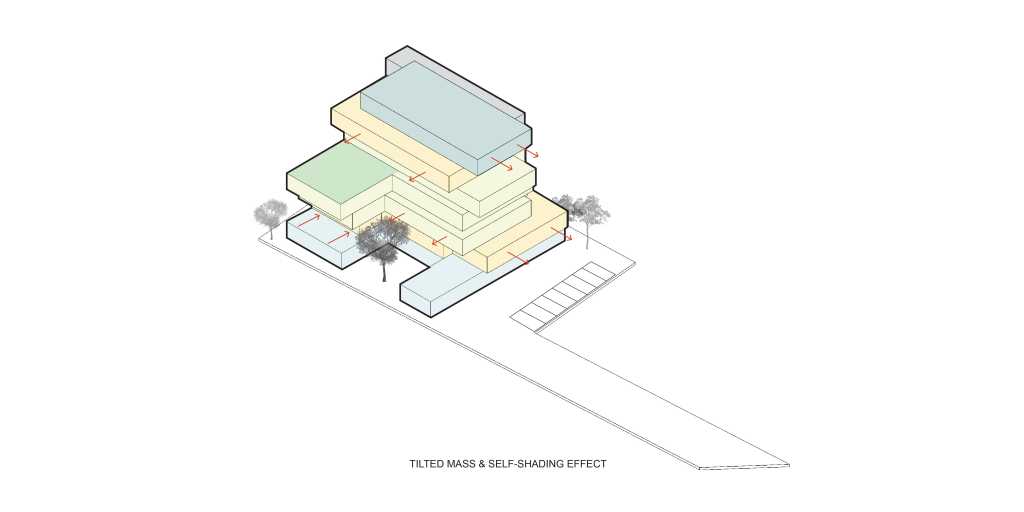 立面及最终设计  Facade & Final Design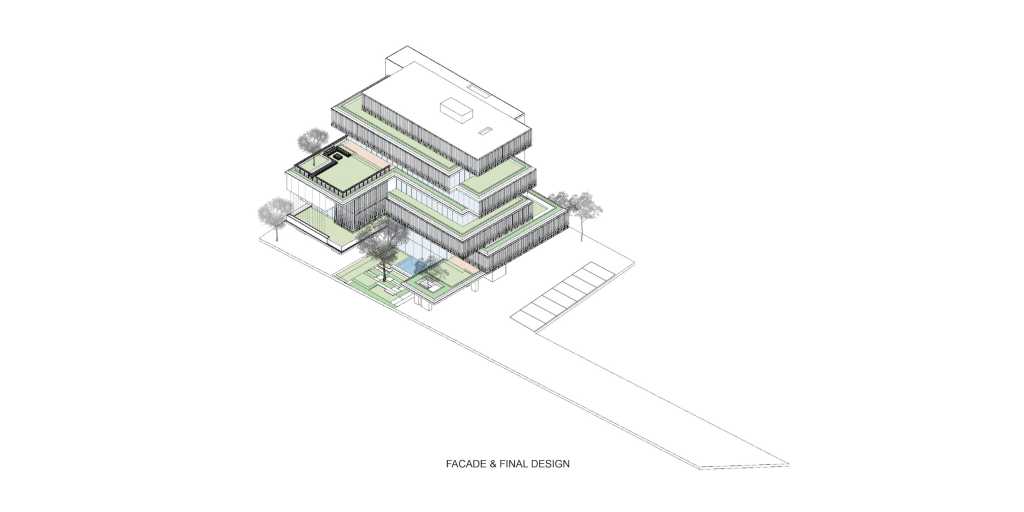 我们设想了一个不同于典型办公建筑的工作环境,为了创造一种新的工作体验,这种体验不仅可以成为提高每个职员生活质量的催化剂,它还可以延伸到场地之外,成为周围环境的绿色空间。
We envision a working environment that is distinct from a typical office building, not only by seeking to create a new working experience that can become a catalyst to increase the quality of life for each office member, but also to extends beyond the site to become a green space for the surrounding context as well.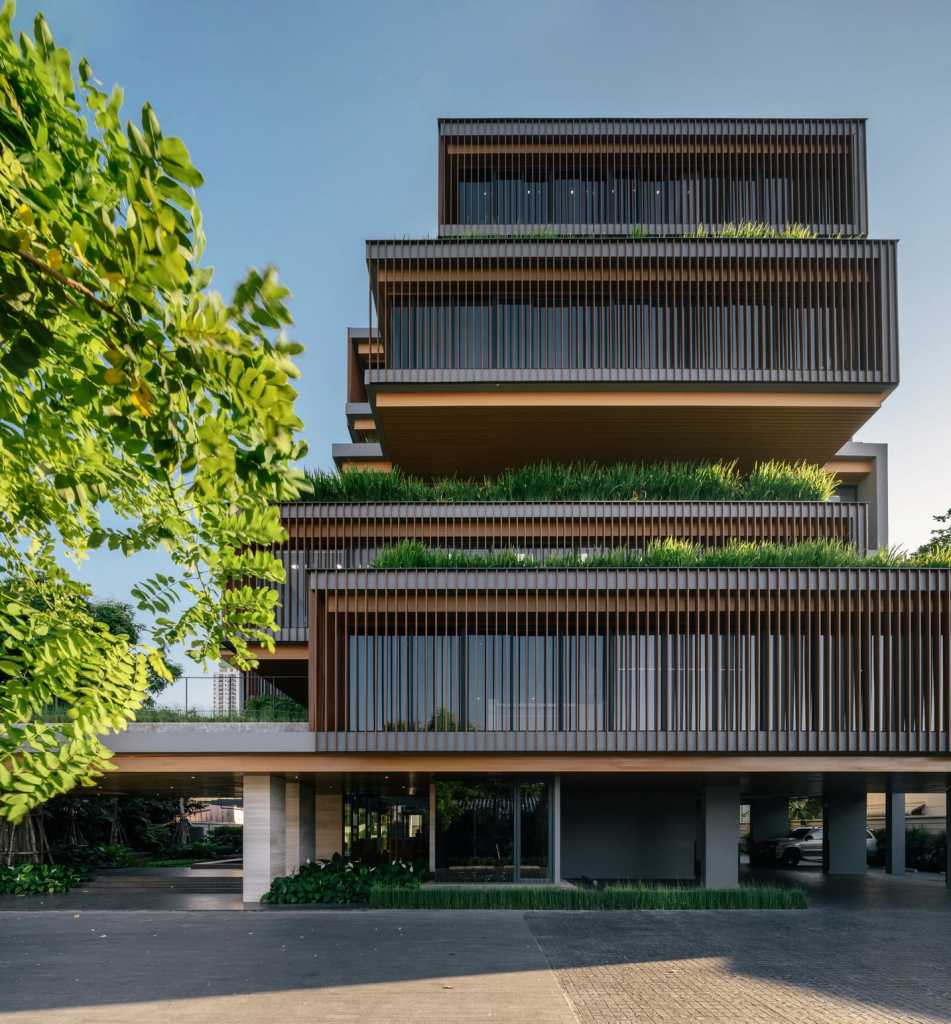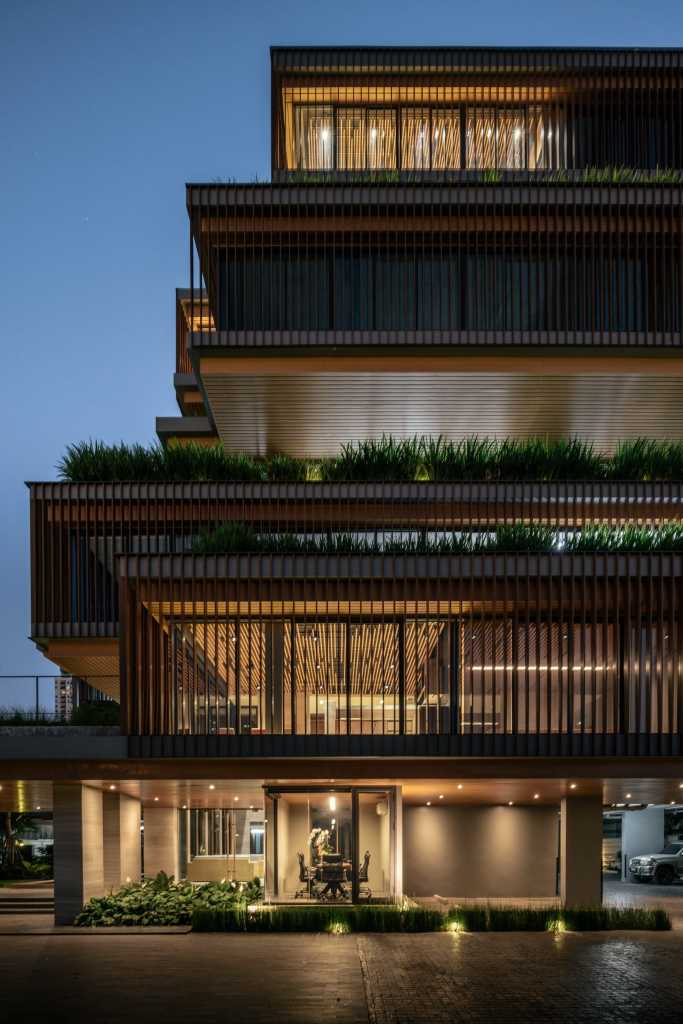 立面图1  Elevation 1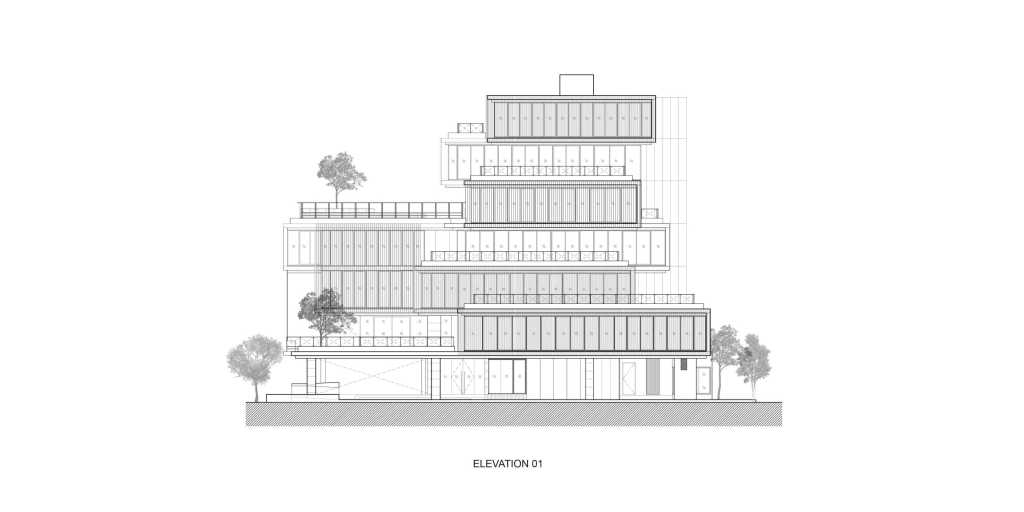 立面图2  Elevation 2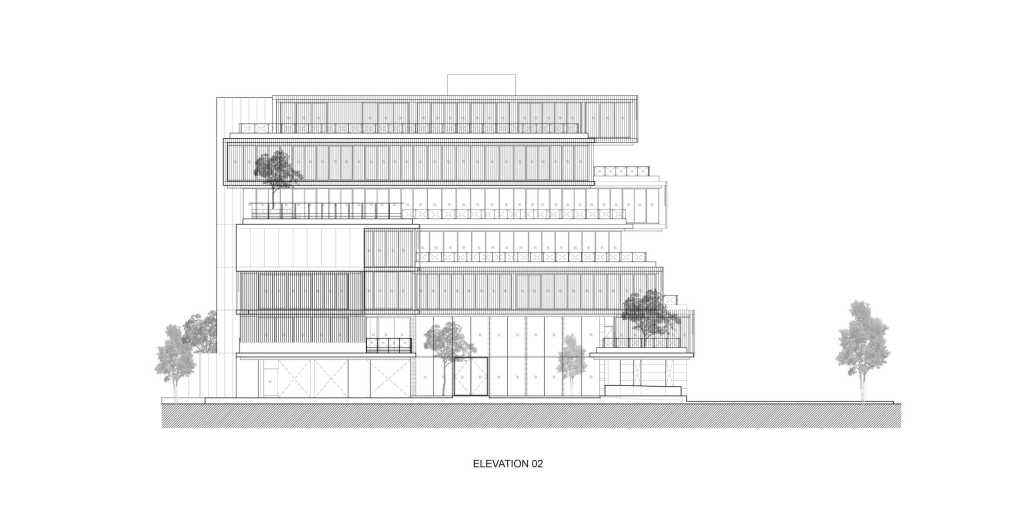 二层平面  Second Floor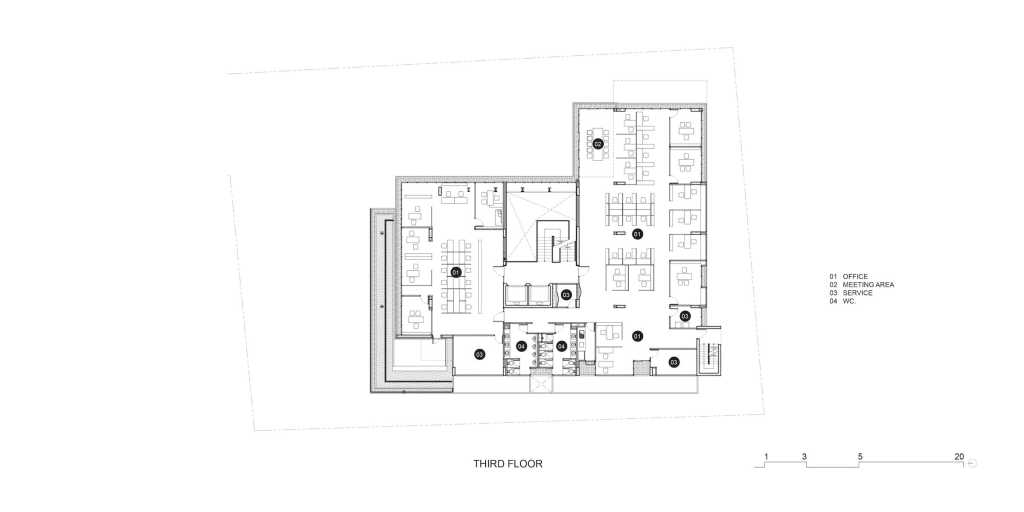 地点: 泰国曼谷
类型: 建筑和室内设计
项目: 办公楼
客户: Inter Crop Co.,Ltd.
场地面积: 2450平方米
建筑面积: 3500平方米
设计: 2014年5月
完成时间: 2018年
Location: Bangkok, Thailand
Type: Architecture and Interior Design
Program: Office Building
Client: Inter Crop Co.,Ltd.
Site Area: 2,450 sqm.
Built Area: 3,500 sqm.
Design: 2014-5
Completion: 2018 
Stu/D/O项目团队: Apichart Srirojanapinyo; Chanasit Cholasuek; Supachart Boontang; Patompong Songpracha
景观设计: Field Landscape Studio
结构工程: Wasan Thongpoon
机械工程: MEE Consultants
咨询公司: Rising Group
承包商: Chaiwat Construction
可视化: Stu/D/O, DOF
摄影: Stu/D/O, Chaovalith Poonphol
Stu/D/O Project Team: Apichart Srirojanapinyo; Chanasit Cholasuek; Supachart Boontang; Patompong Songpracha
Landscape Architect: Field Landscape Studio 
Structural Engineer: Wasan Thongpoon
Mechanical Engineer: MEE Consultants
Consultants: Rising Group
Contractor: Chaiwat Construction
Visualizer: Stu/D/O, DOF
Photography: Stu/D/O, Chaovalith Poonphol
更多 Read more about:Stu/D/O Architects