本文由 spaceworkers 授权mooool发表,欢迎转发,禁止以mooool编辑版本转载。
Thanks spaceworkers for authorizing the publication of the project on mooool, Text description provided by spaceworkers
spaceworkers:罗马式艺术展示中心坐落在波尔图卢萨达村的一块扩展开发区域中,与周边的Praça das Pocinhas城市广场,以及该城的标志性建筑物Senhor dos Aflitos教堂之间建立起了紧密的联系。
spaceworkers:Located in the district of Porto, in the Village of Lousada, the Interpretation Centre of Romanesque is located in an area that is an expansion of this village marked by a strong relationship with an urban square called Pra-ça das Pocinhas and with the Senhor dos Aflitos Church – a strong reference in the town center.
▼项目及周边环境概况  Overview of video project and surrounding environment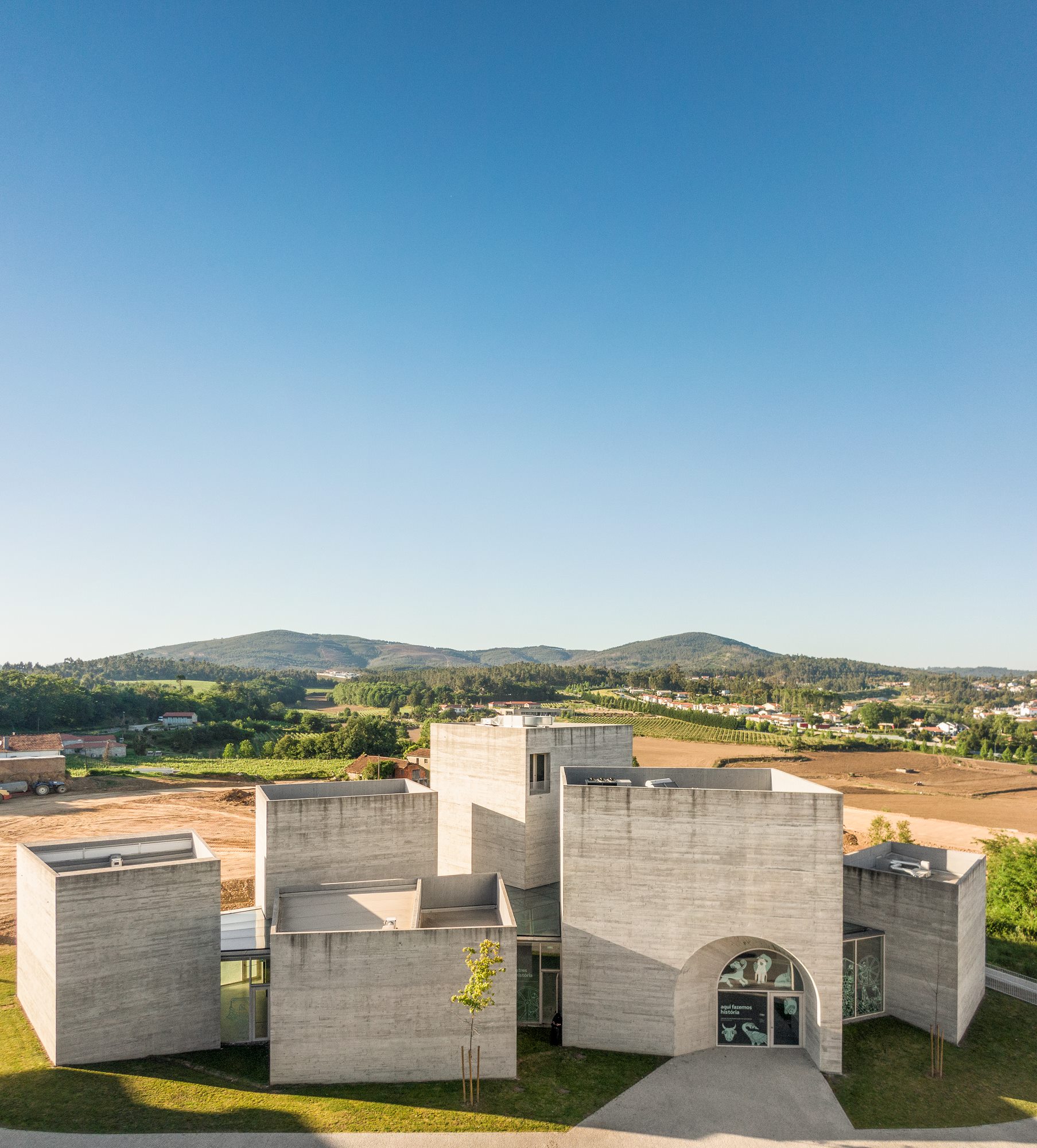 建筑设计试图通过在村庄广场边界上种植,创造某种与场地之间的联系,在其自身体量与周围环境之间建立一种城市连续性,使它成为这个村庄中心的一个新的标志物。
The building seeks to create a relation with the site by its implantation on the village square limit establishing an urban continuity between its volumetries and the surroudings and making it a new element of reference for this village center.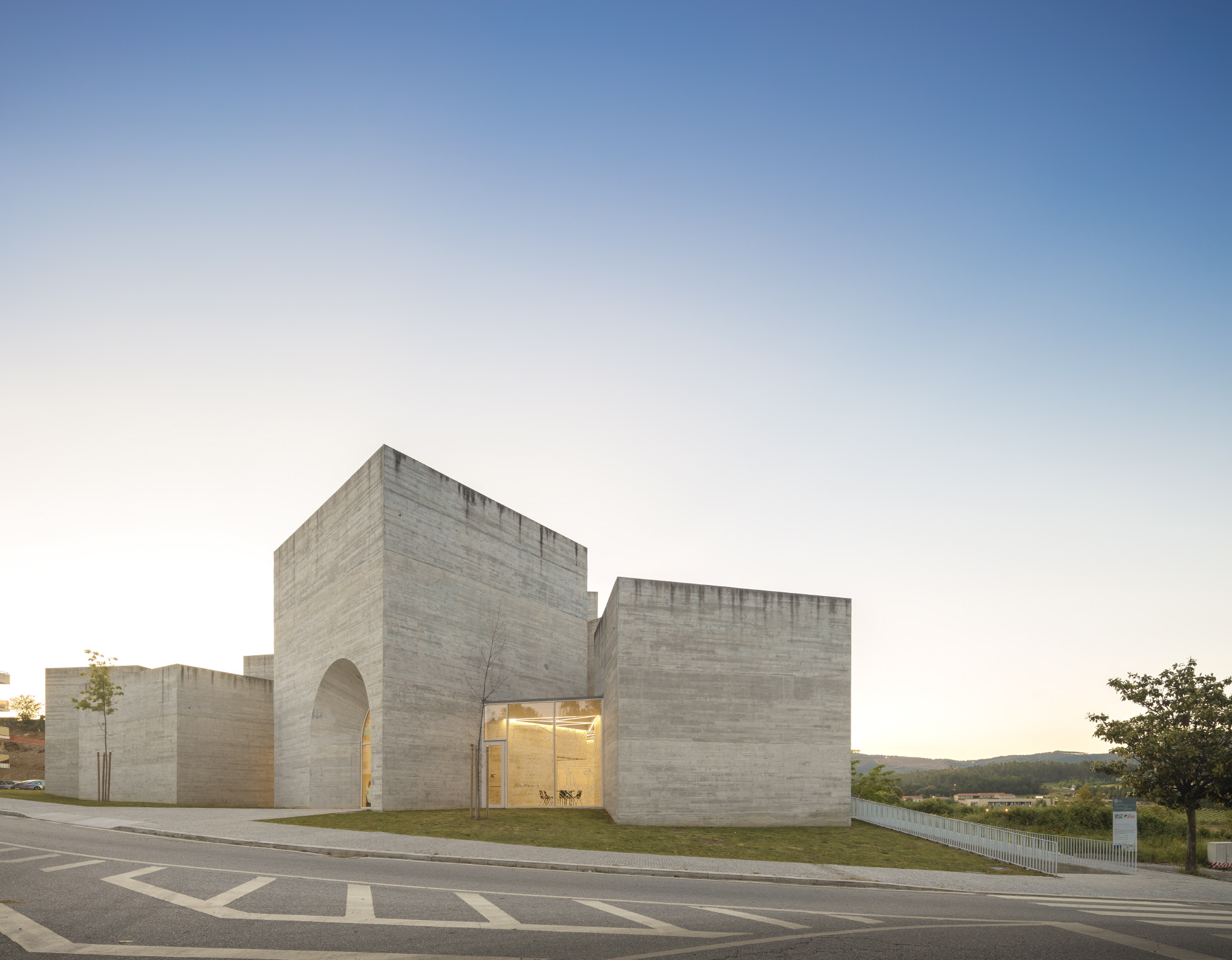 ▼项目视频  video
基于葡萄牙罗马式建筑的生成概念,该建筑旨在成为现在和遥远的古罗马时期之间的过渡元素。以一种简朴的方式,创建出一个包含了多样性统一的体量,以多个不同高度和大小的体量组合出现,诠释了罗马式建筑给我们留下的多样性。
Based on the generator concepts of Romanesque architecture in Portugal, the building aims to be a transitio-nal element between the present and the distant Romanesque past. In an austere way, the volumetry propo-sed contains the principles of unity within diversity, appearing under the form of several volumes with different heights and dimensions, demonstrating the diversity that Romanesque buildings have left us.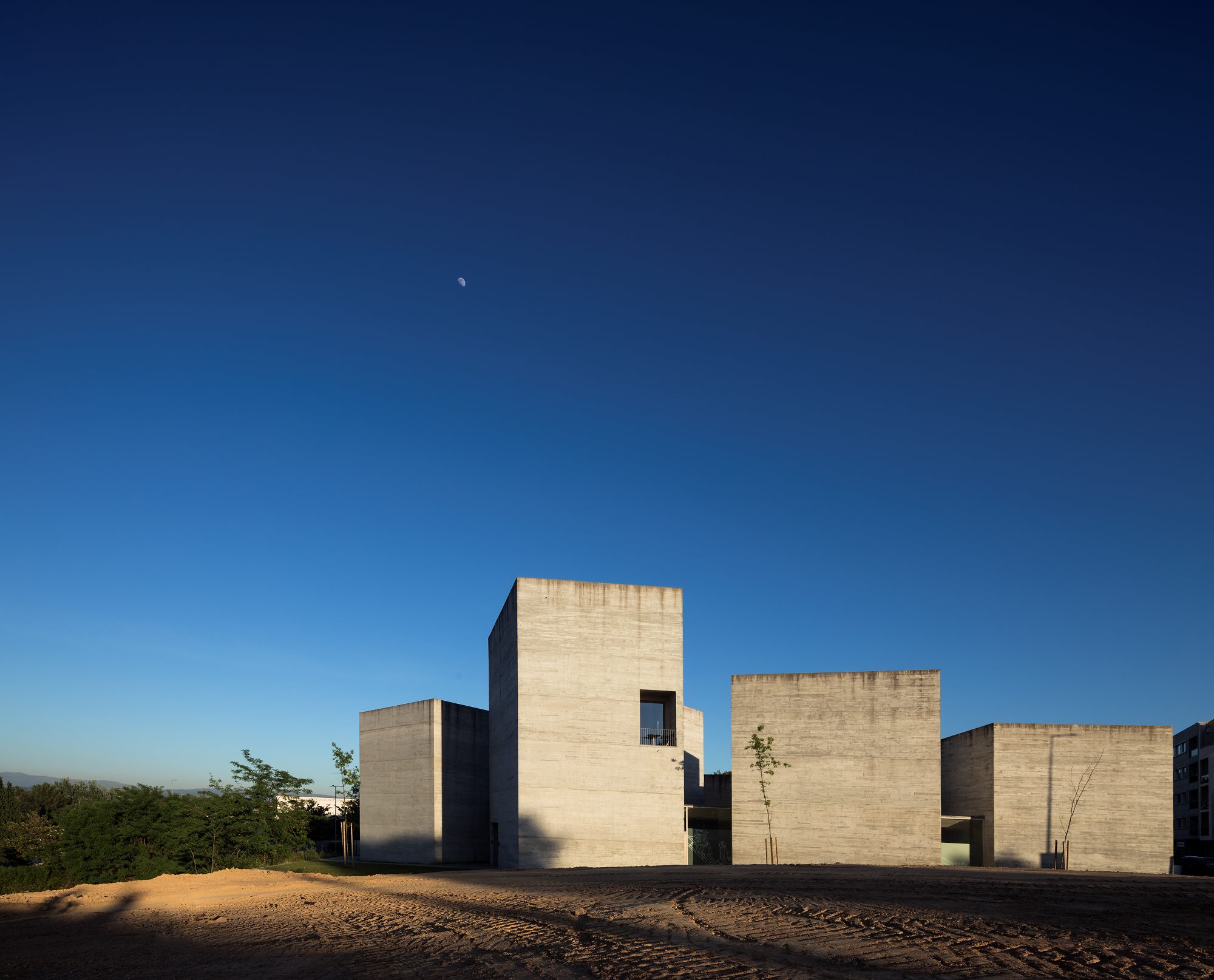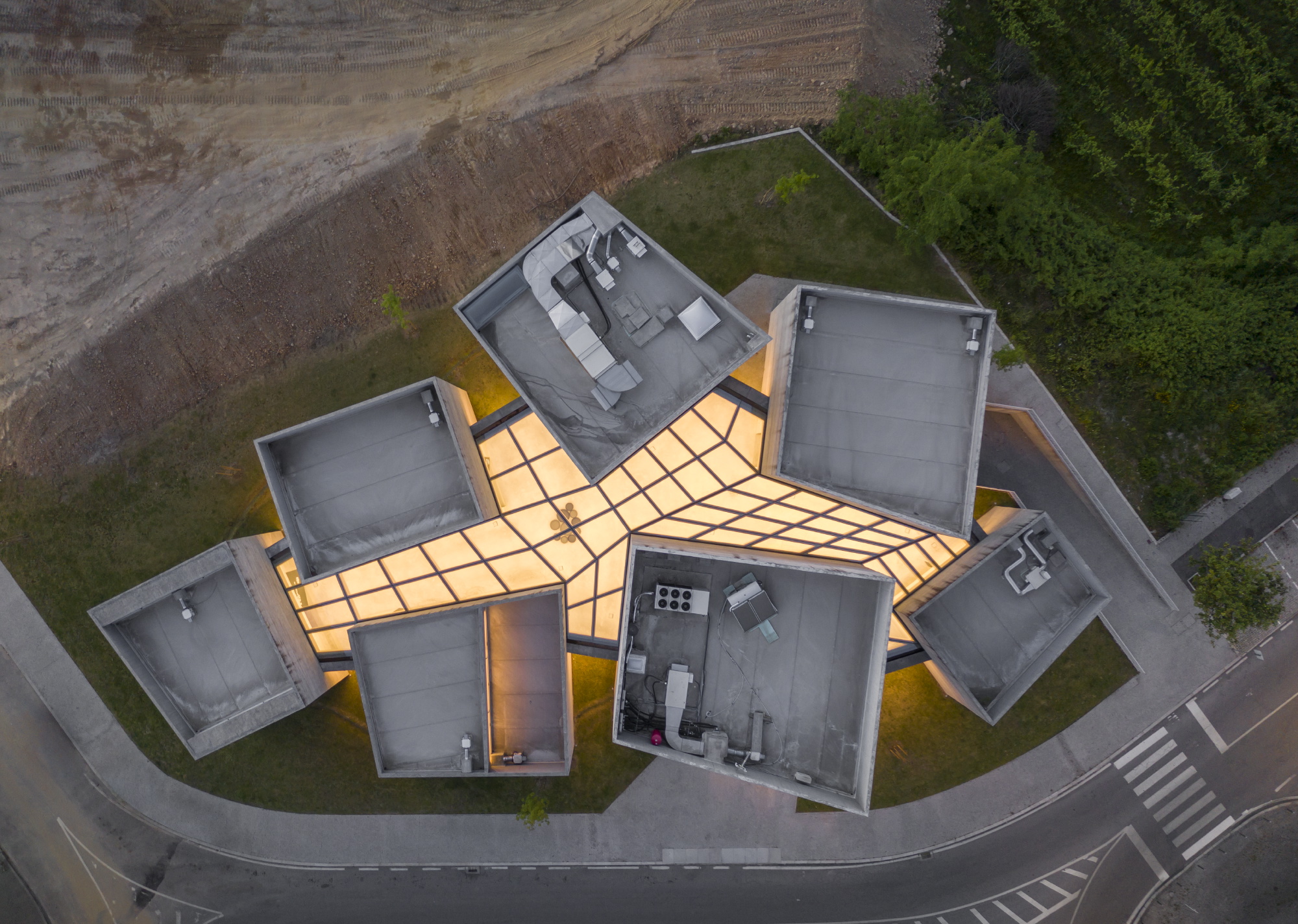 每个体块都是一个独立的展示空间。为了方便探索它们之间的联系,设计师在其中融入了乡村街道的概念,作为空间体验的统一元素和发生器——回廊——被玻璃覆盖的中央空间,以此贯通每个体块入口。这个中心空间不受采光限制,大大丰富了它与展览空间之间持续的明暗对比。
Each volume is a distinct exhibition space. To explore the relation between them, it was created an idea of rural street as a unifying element and generator of life experiences – a cloister – a central body covered by glass that procedes the entry in each volume. This central space allows the light invasion into the space and explores the constant bright/dark relationship between it and the exhibition spaces.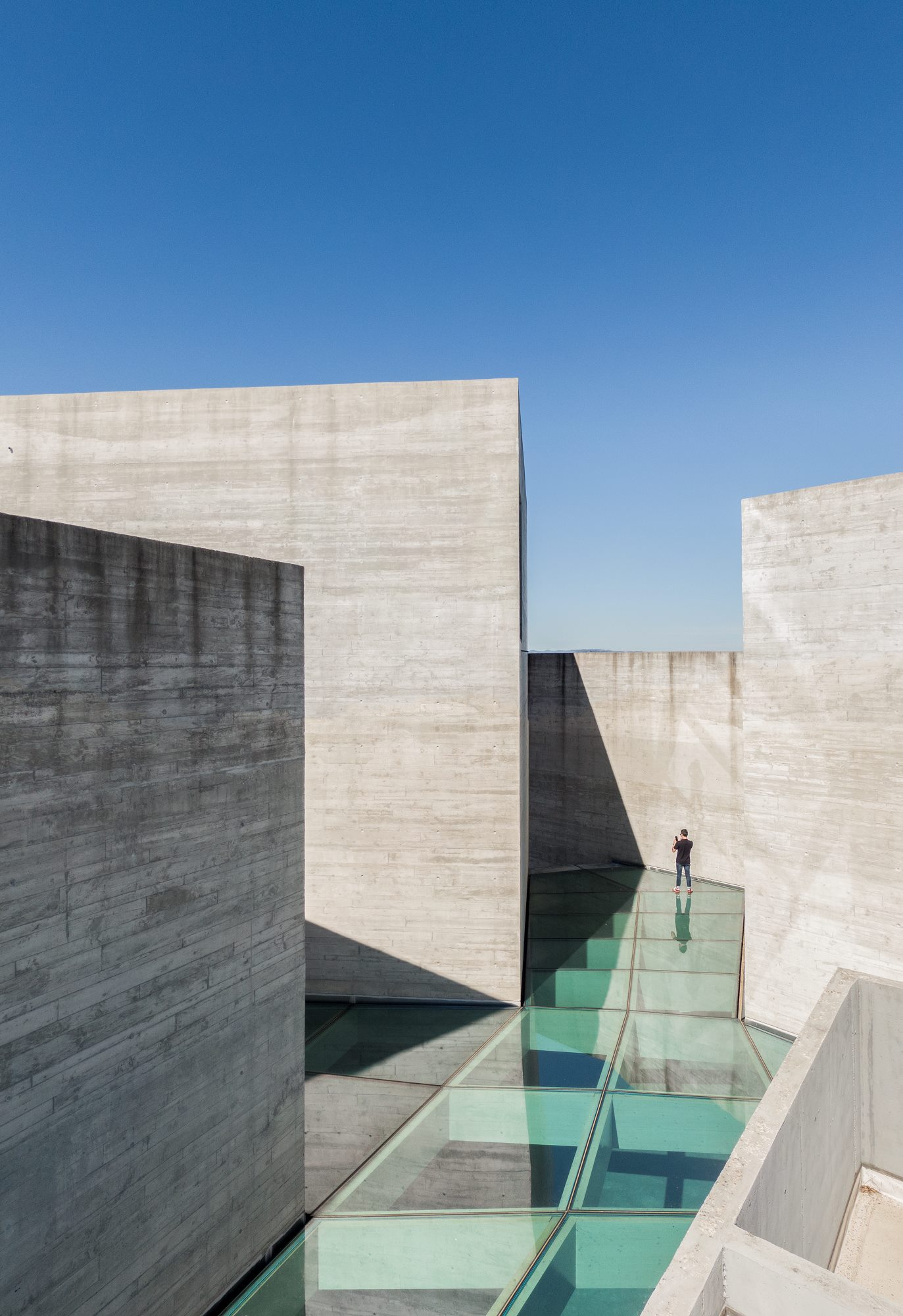 ▼回廊空间 Cloister space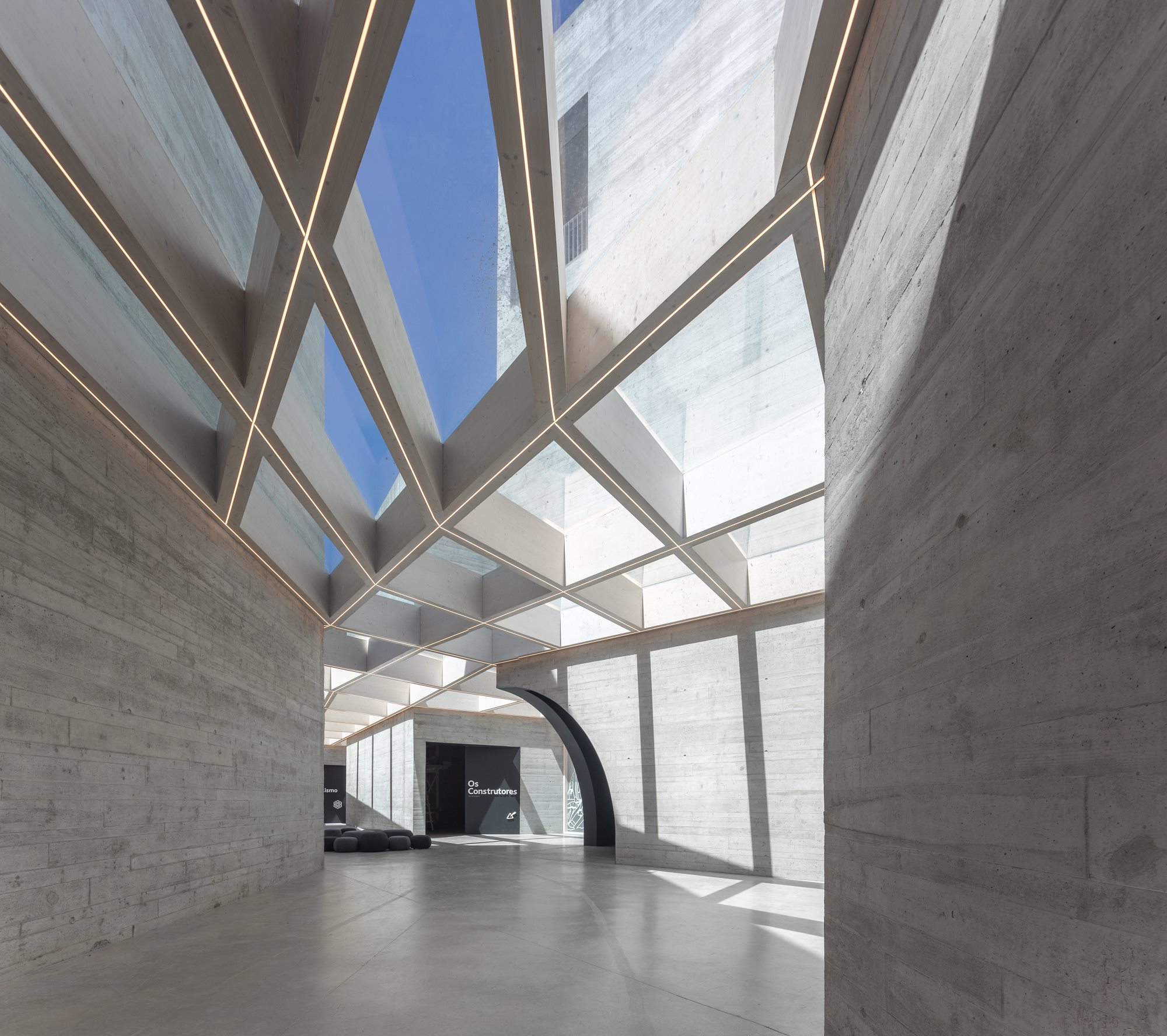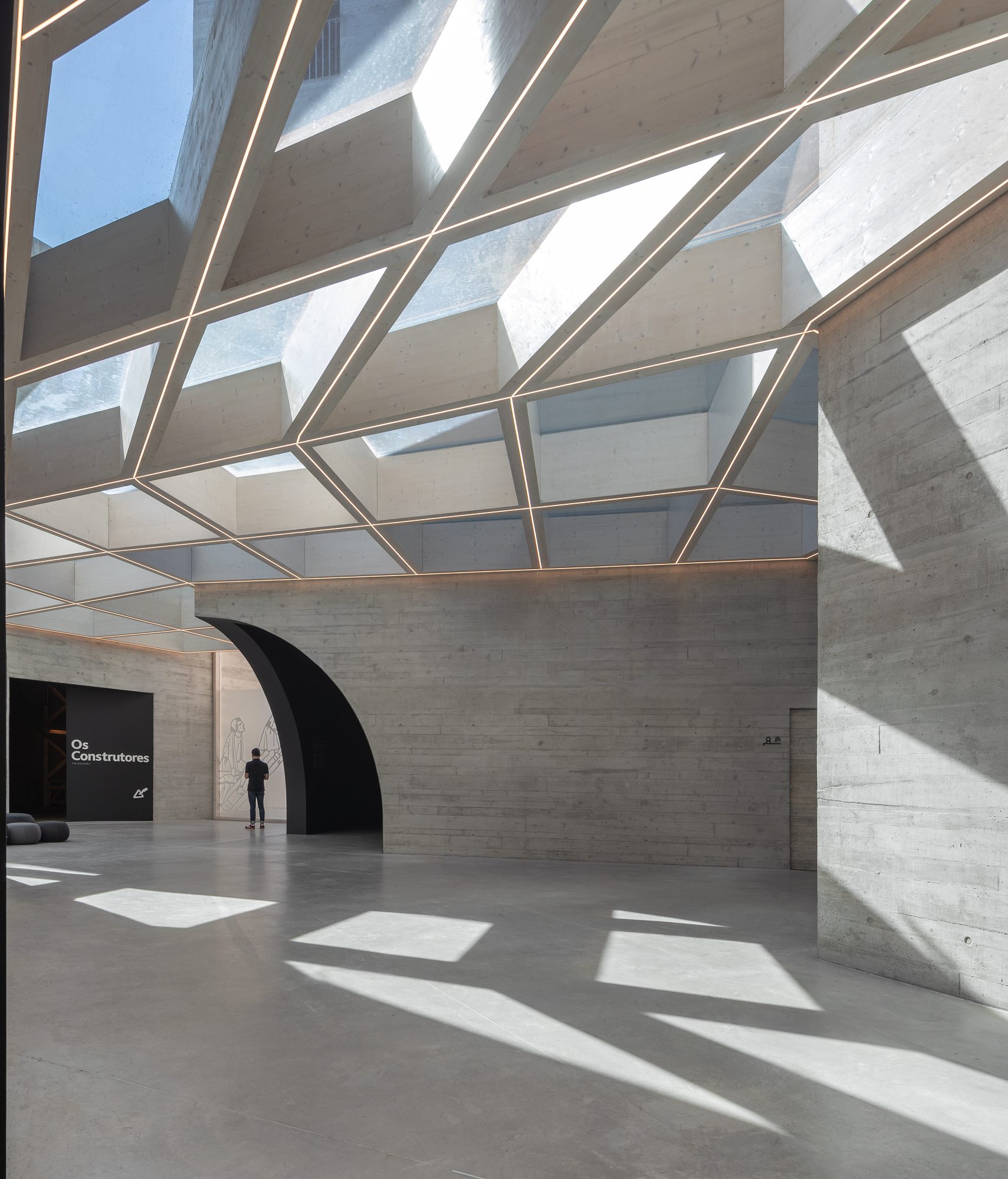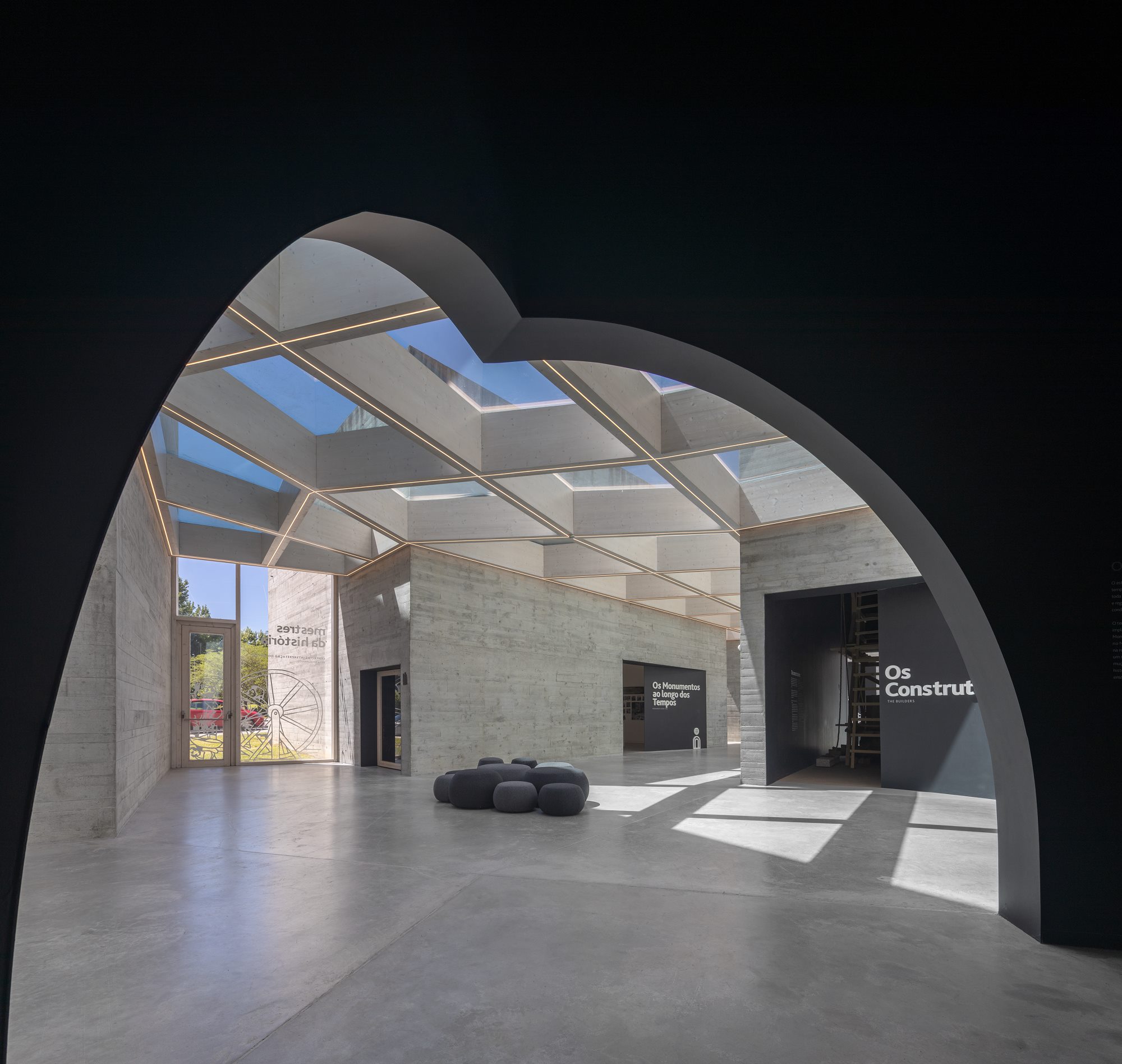 内部展览空间的规模及形状设计,反映出的纪念意义旨在让我们了解罗马式建筑的内部。因此,每栋建筑的天花板都重新诠释了罗马式建筑中常用的一种屋顶类型。
Internally the exhibition spaces reflect a bit of monumentality, referring us to the interior of the Romanesque buildings, not only for its scale but also by their shapes. Therefore, each of the volumes ceilings reinterprets one of the roof types used in Romanesque architecture.
▼独特的仿罗马式天花板  Unique imitation Roman ceiling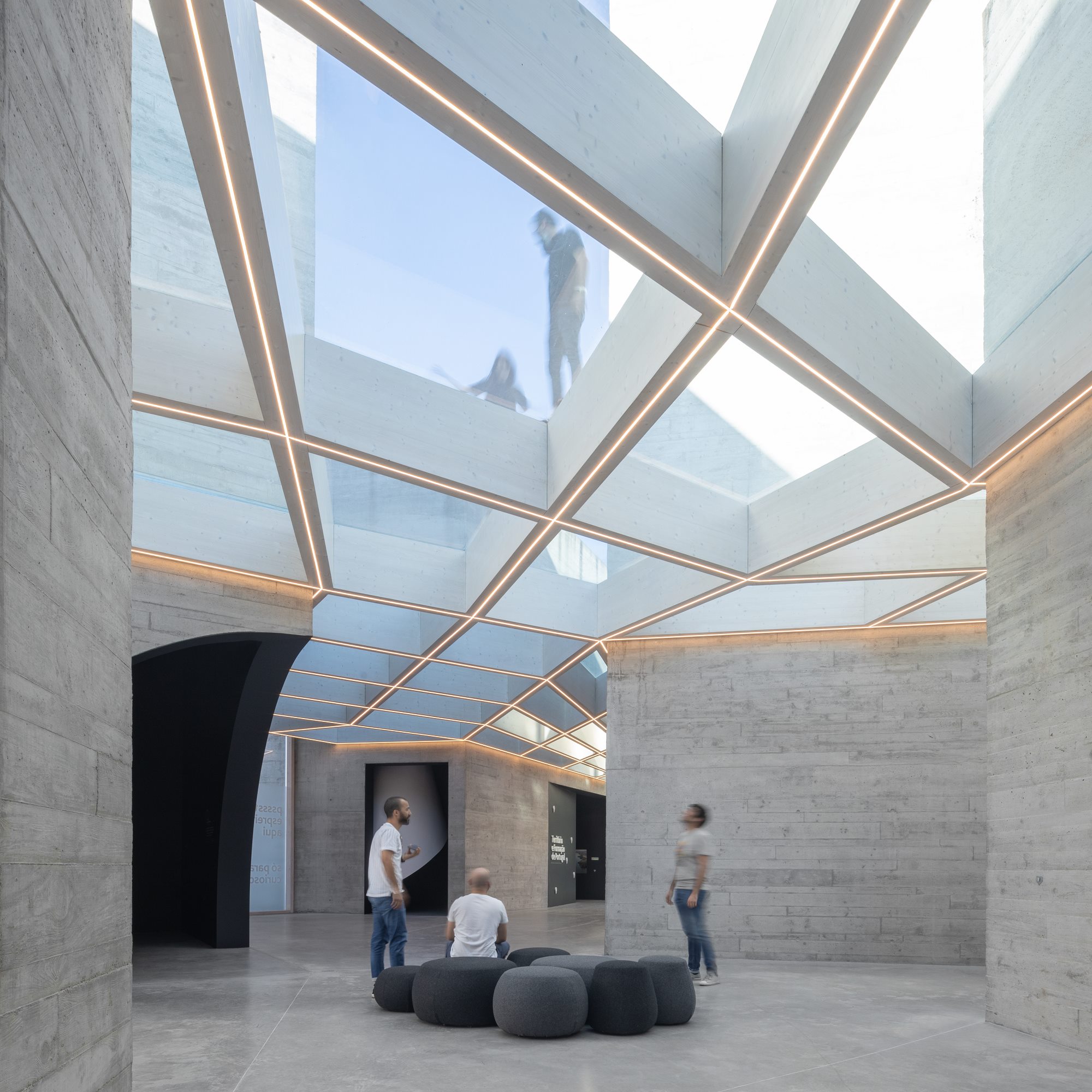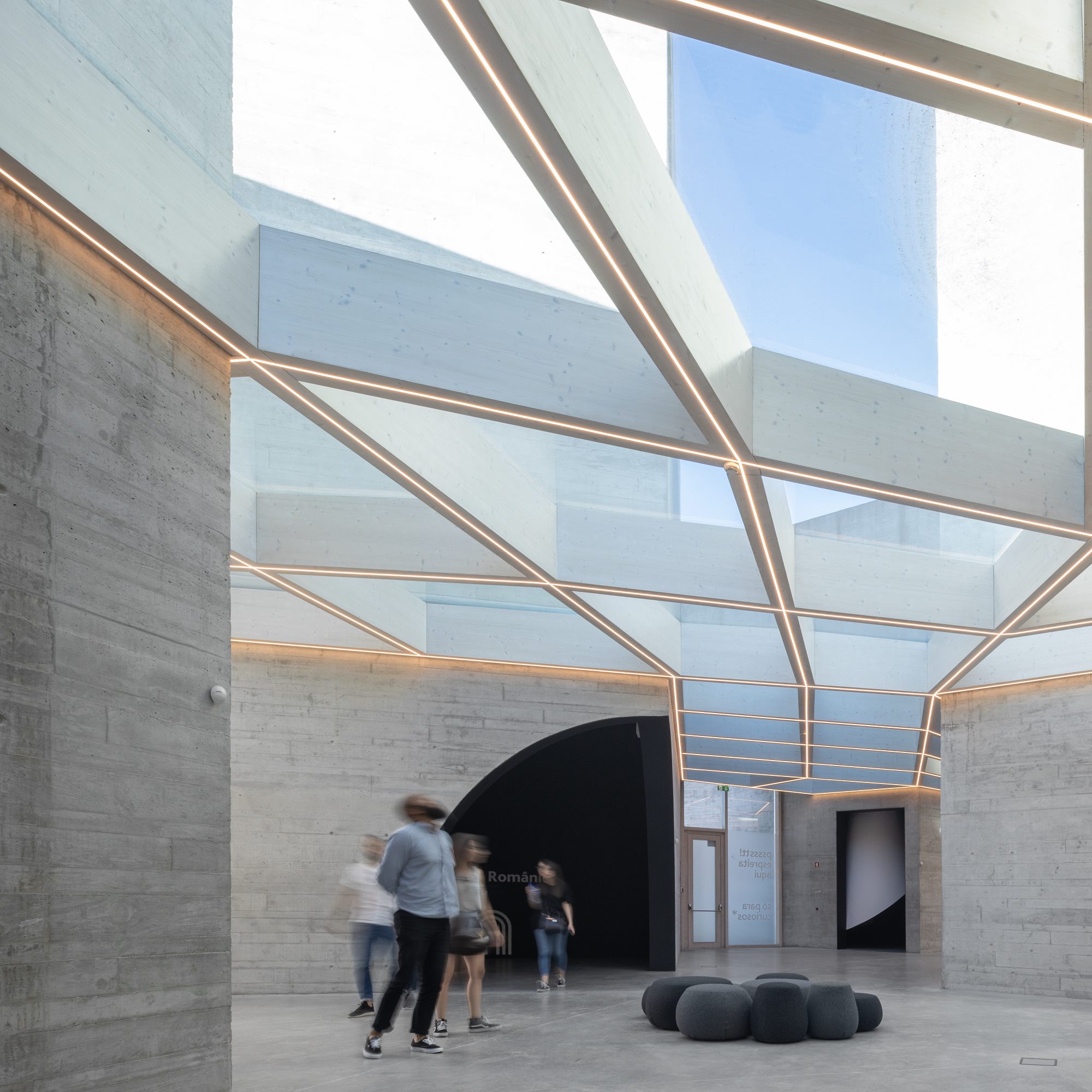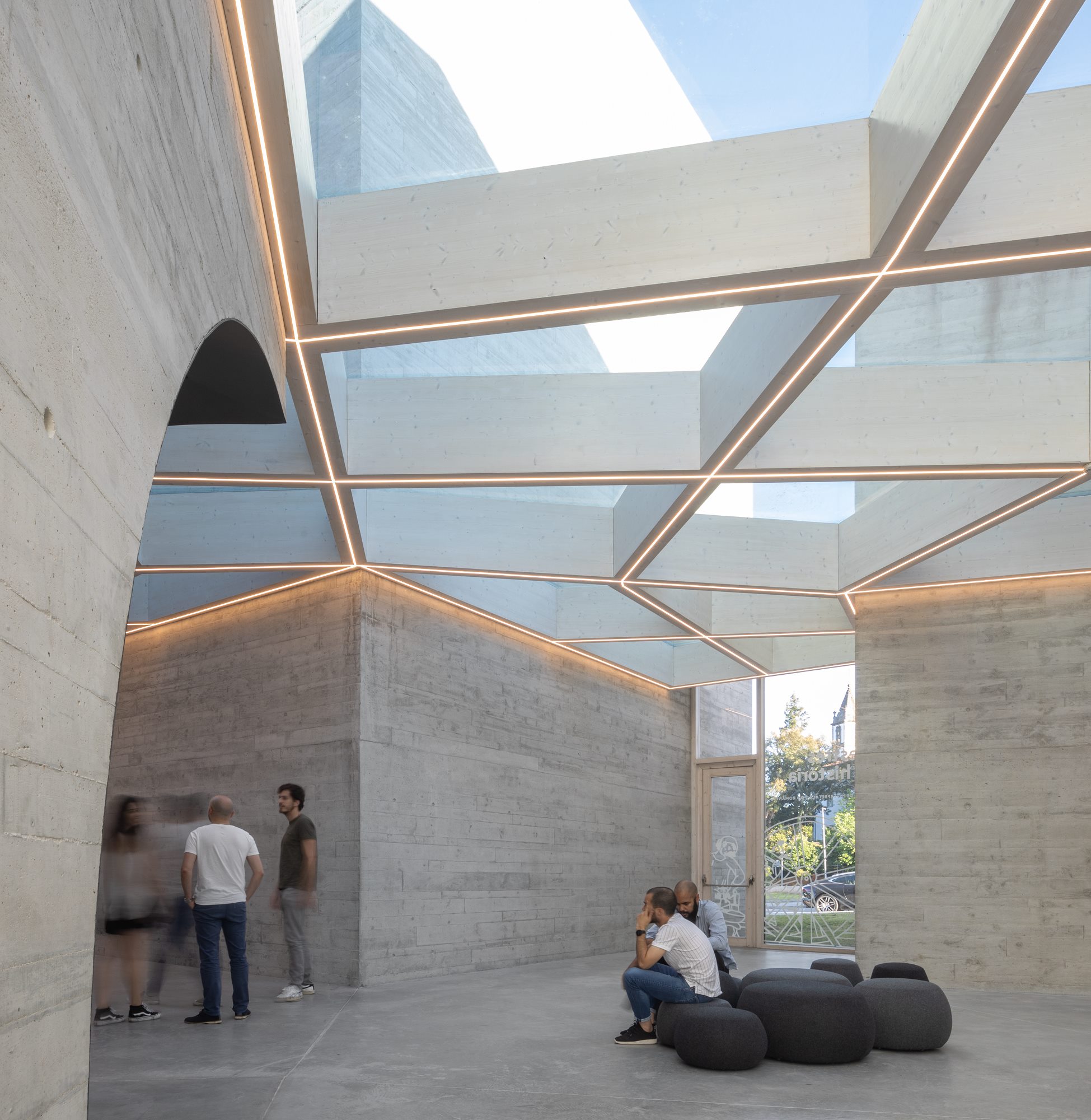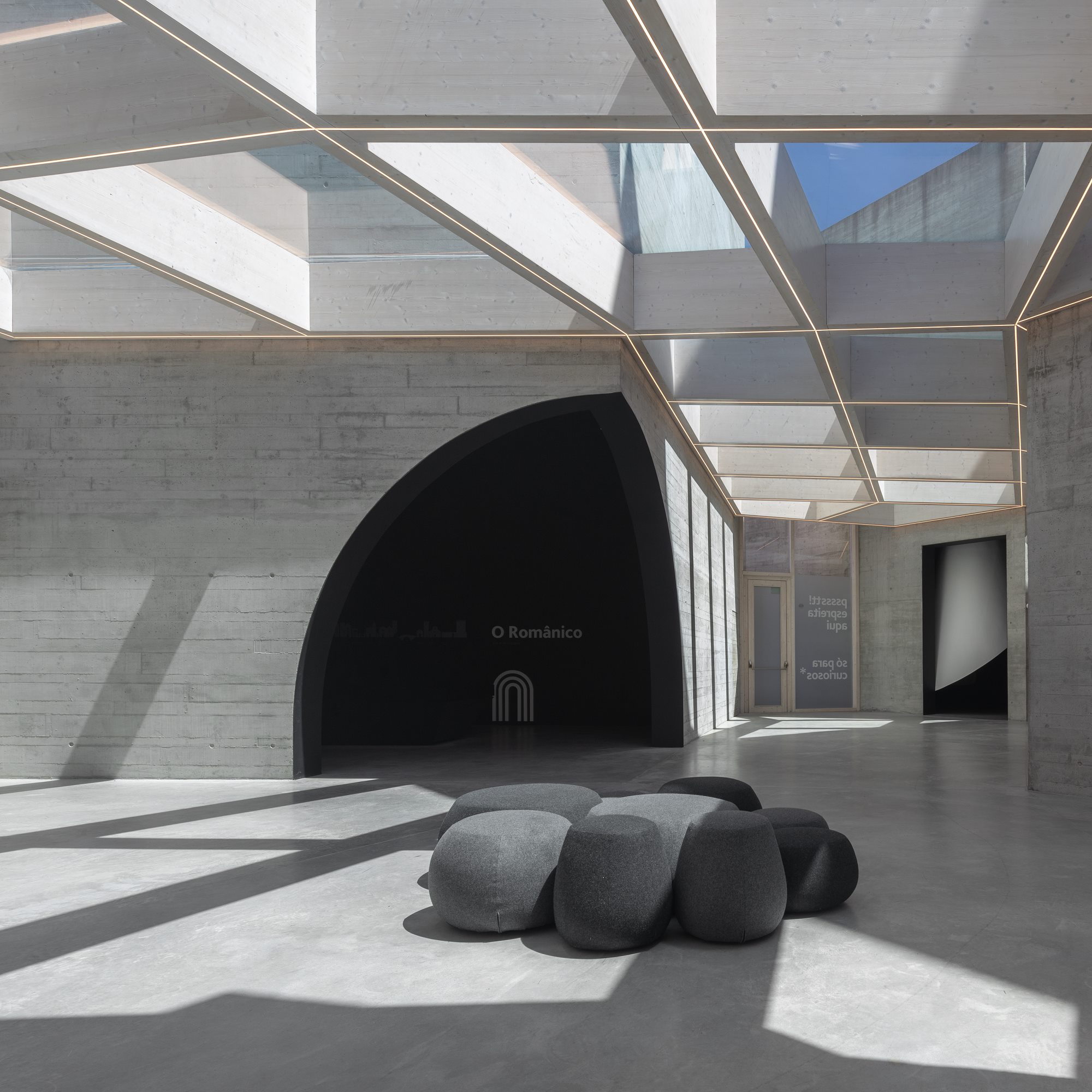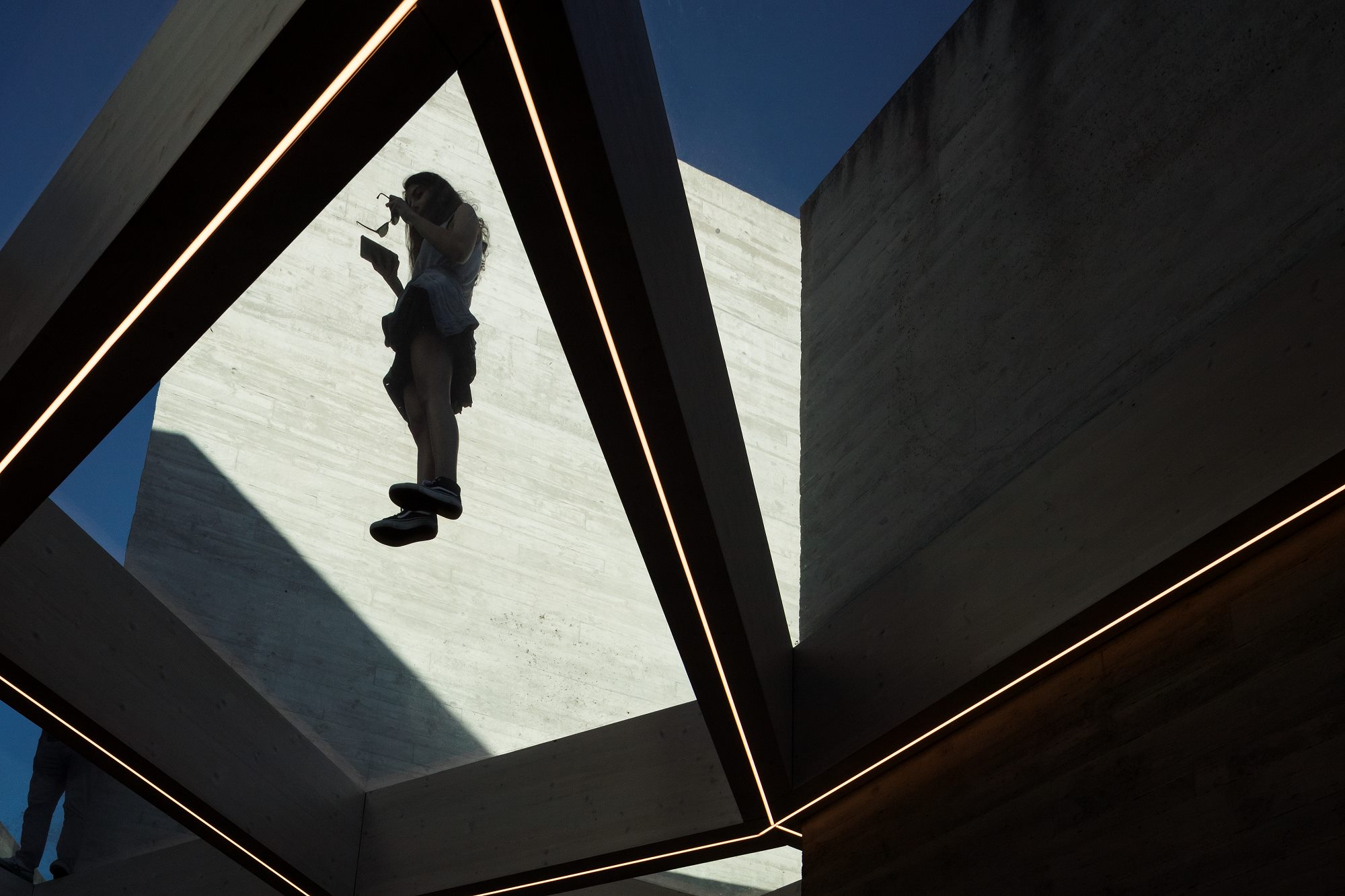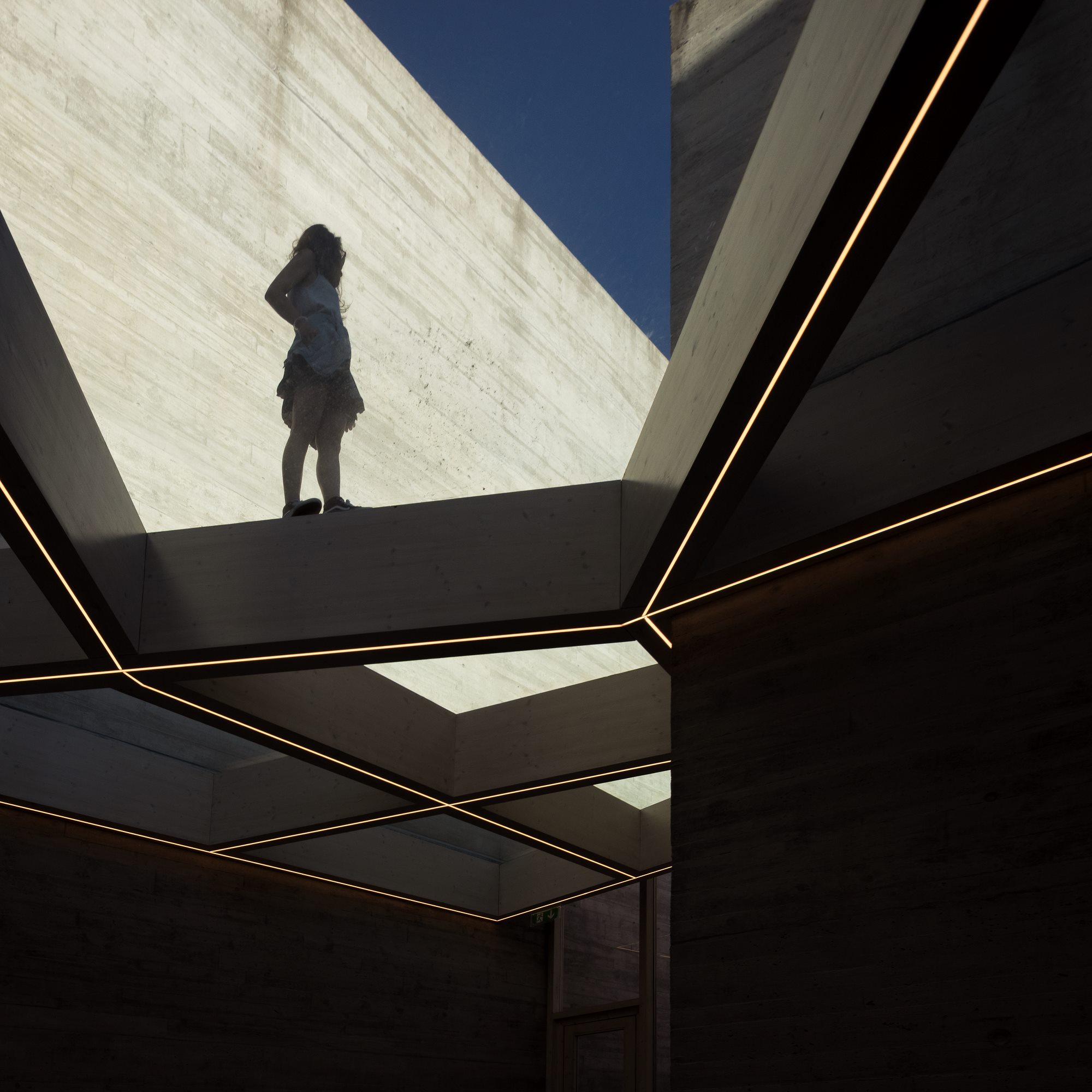 在材料选择方面,设计团队希望用简单朴素的混凝土和石材来打造一种融合了不同时代风格的建筑,试图在现代感与传统之间,寻求一种共生关系。
As materiality it was eligible the nowadays stone to build the building – the concrete in its apparent and auste-re natural state. Therefore, building always tries to be contemporary but without forgetting the important past, by creating an atmospheric symbiosis between this different times.
▼展厅内部空间 Interior space of exhibition hall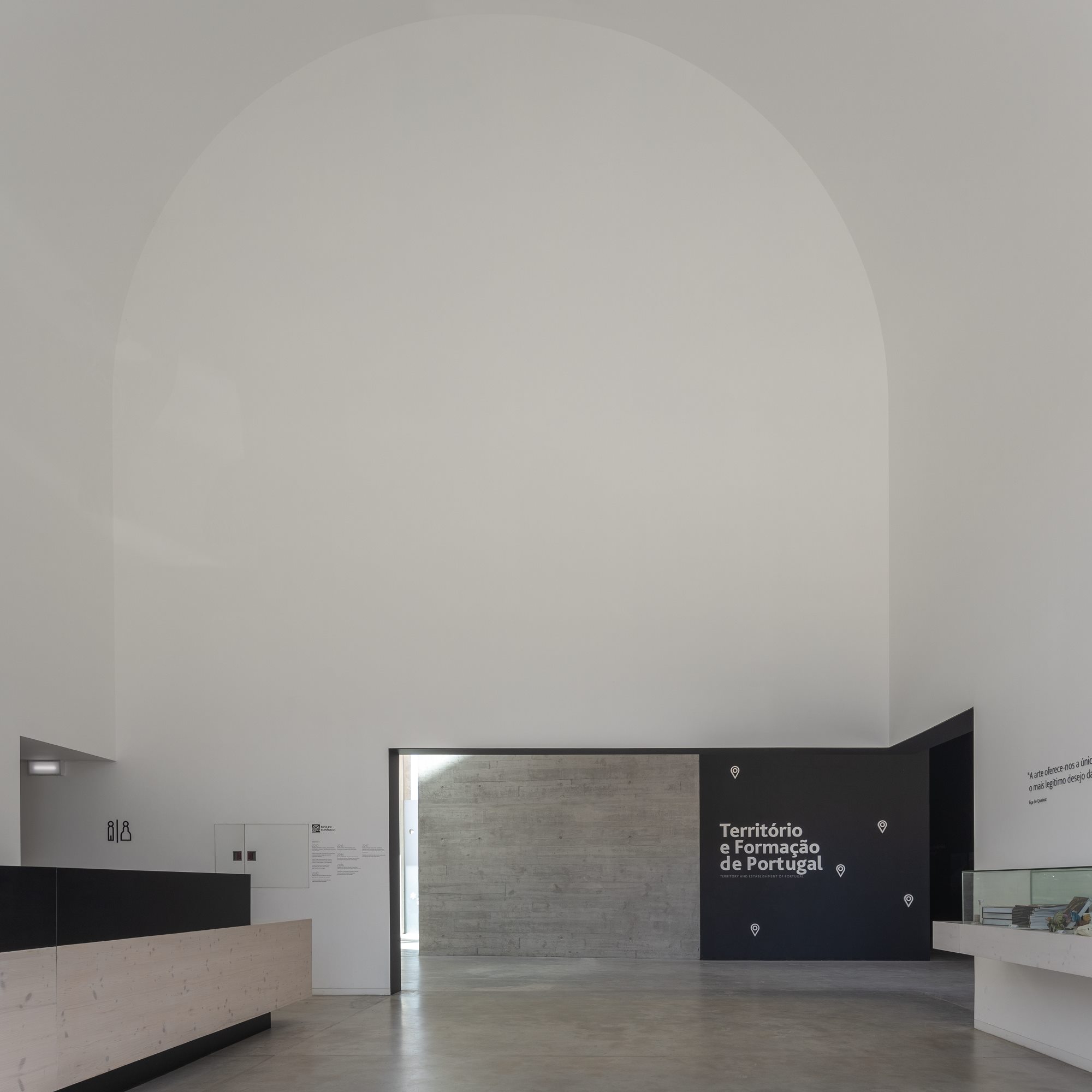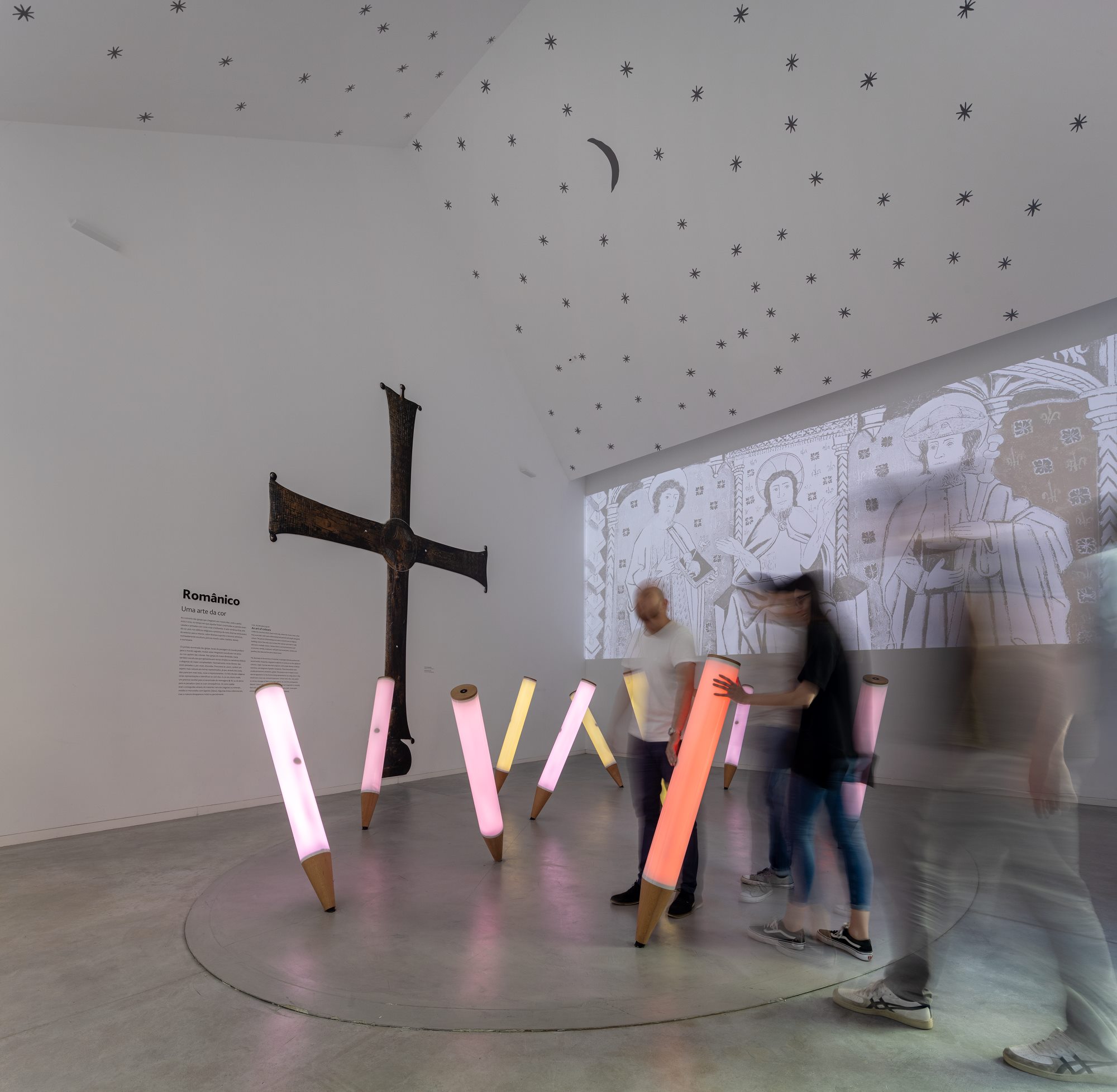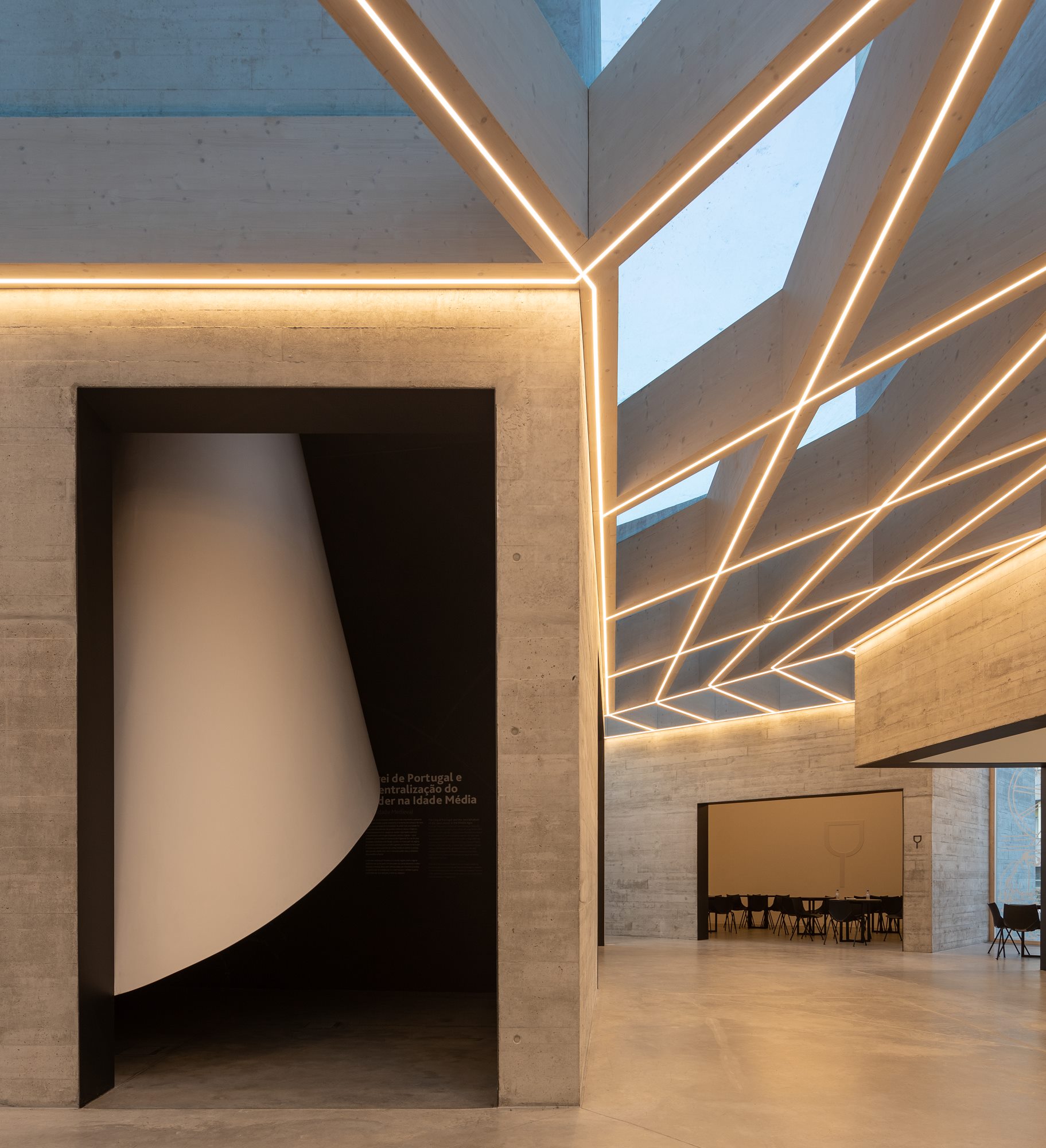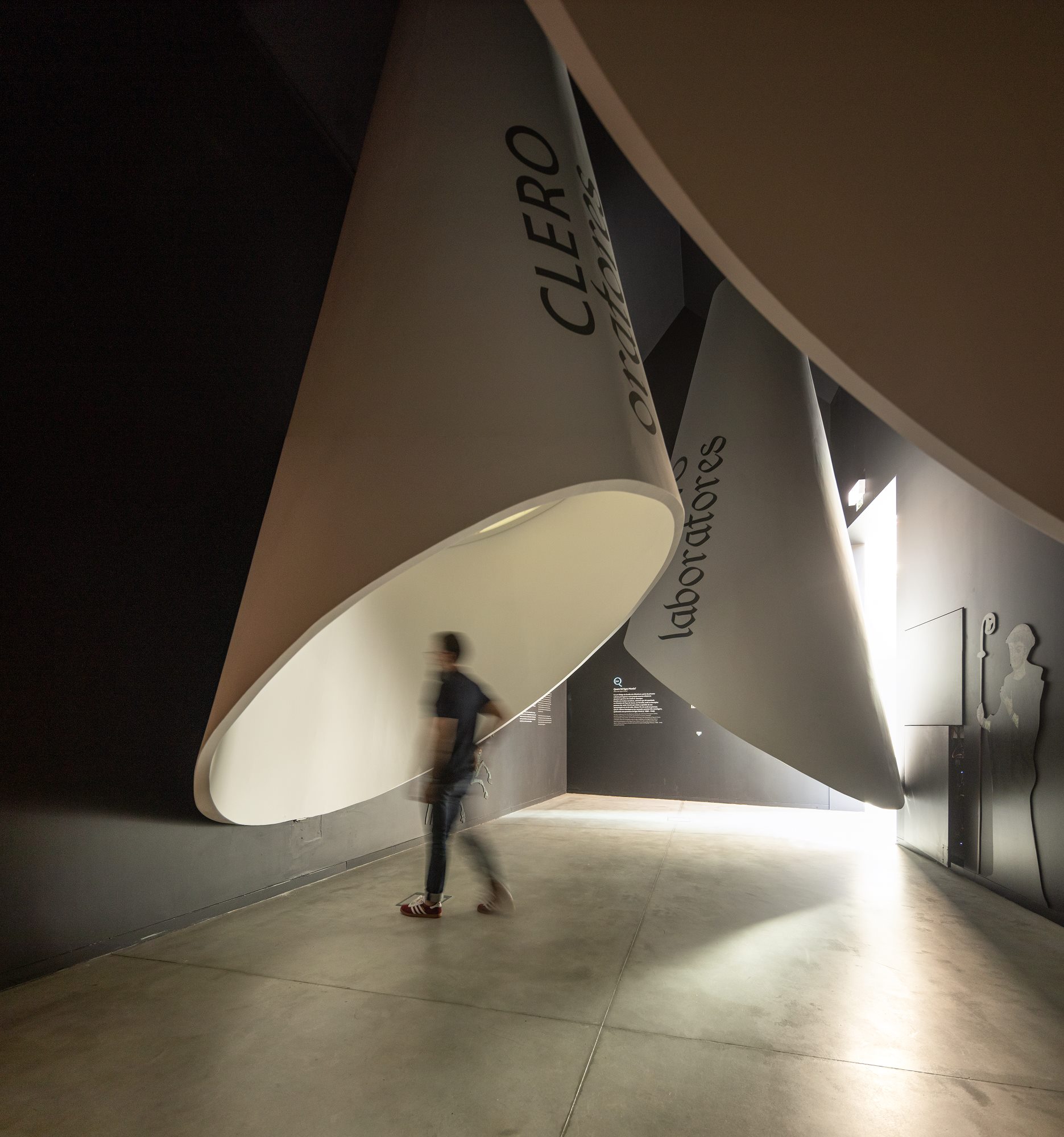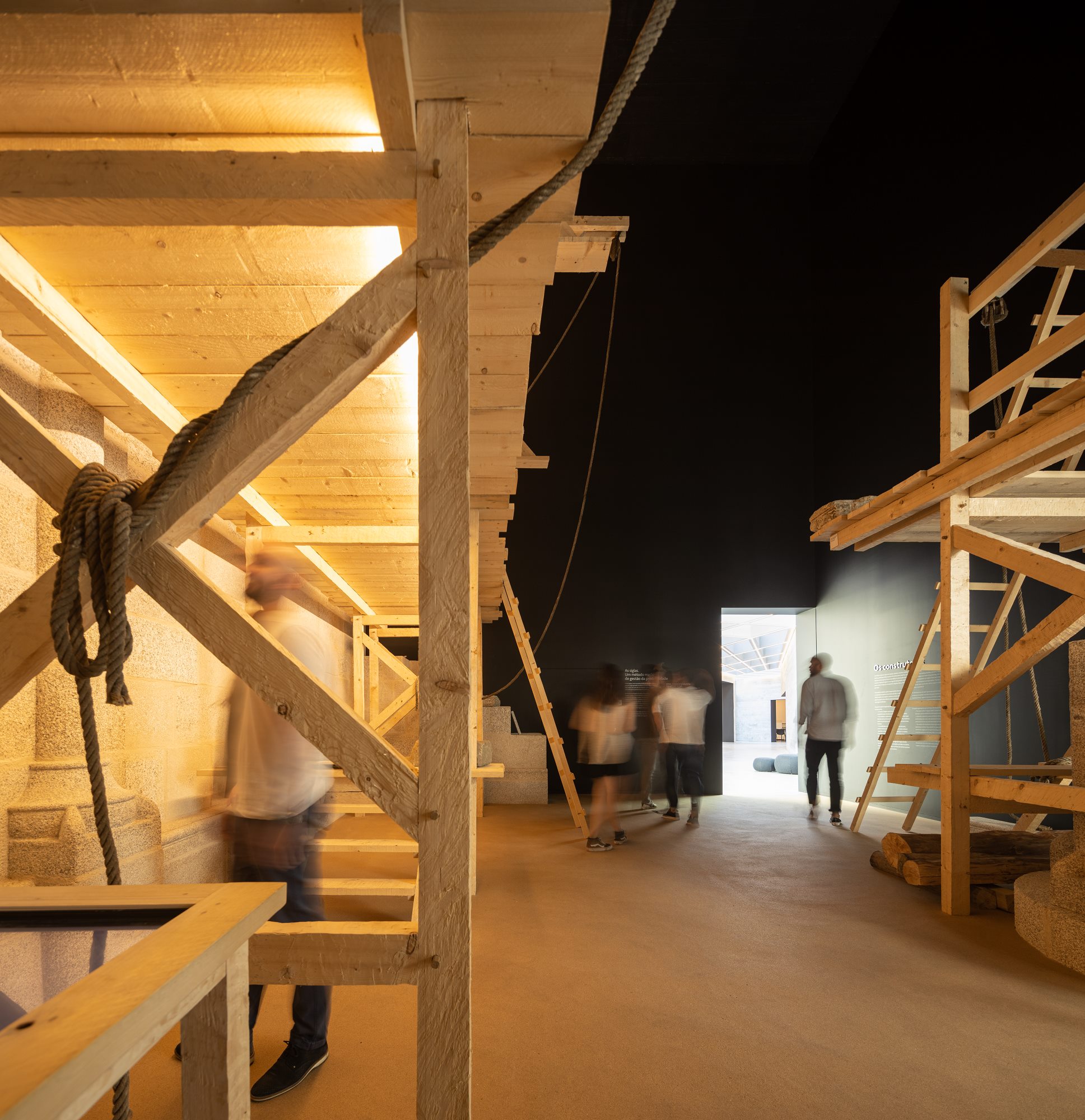 ▼项目总平图 Site Plan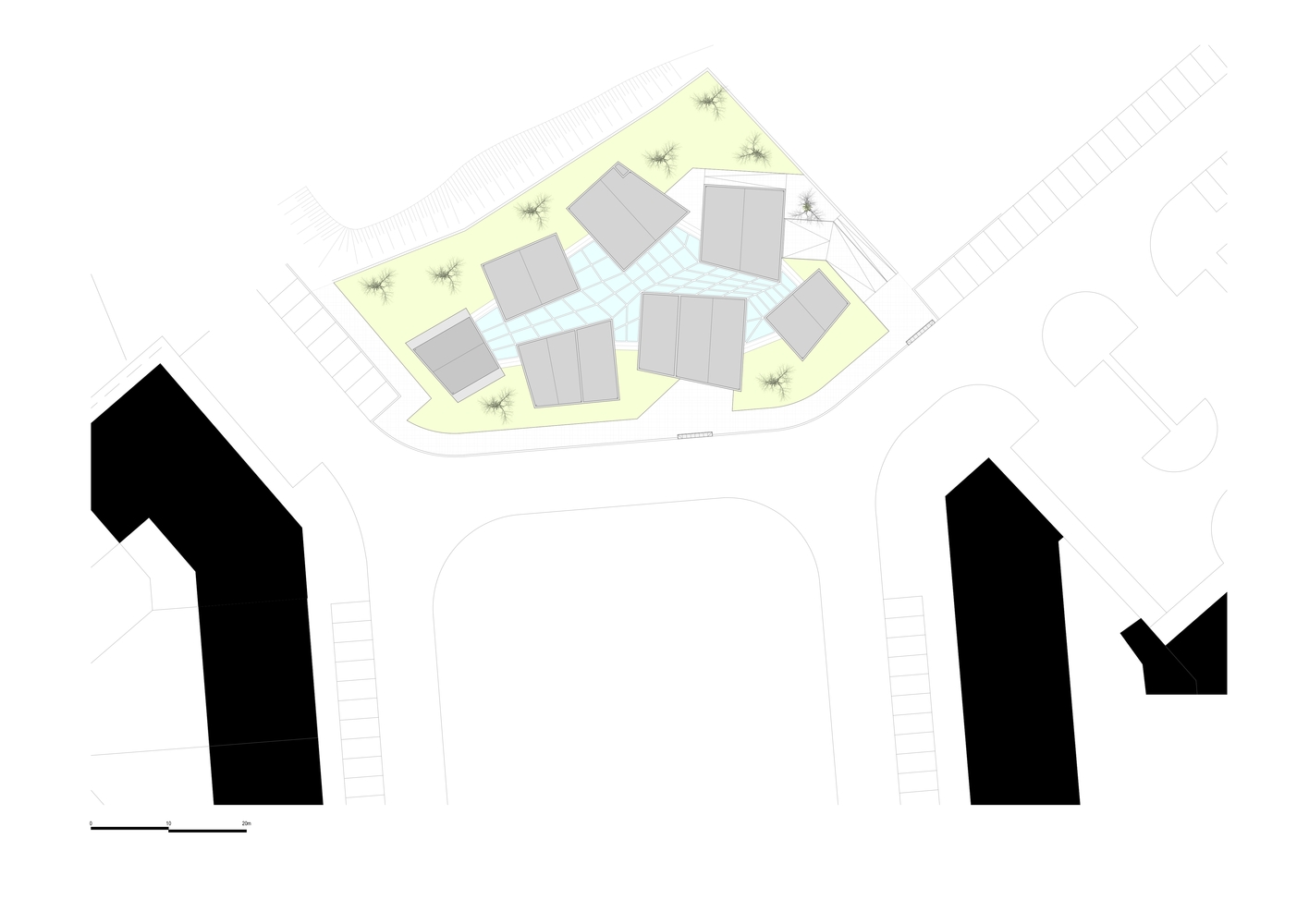 ▼各层平面图  Floor Plans
▼剖面图 Section
项目名称:罗马式艺术展示中心
完成:2018
规模:1550平方米
项目地点:葡萄牙卢萨达
建筑公司:spaceworkers
公司网站:www.spaceworkers.pt
联系邮件:press@spaceworkers.pt
首席建筑师:Henrique Marques , Rui Dinis
建筑团队:Rui Rodrigues, Sergio Rocha, Rui Miguel, Marco Santos和Monica Pacheco
家具设计:Bairro Design
财务总监:Carla Duarte – CFO
客户:Lousada Municipality
合作者:aspp Engenheiros, Lda。
图片来源:Fernando Guerra | FG+SG
摄影师网站:http://ultimasreportagens.com/
视频来源:Building Pictures
视频网站:https://www.buildingpictures.pt/
Project name: Interpretation Centre of Romanesque
Completion Year: 2018
Size:1550 m2
Project location: Lousada, Portugal
Architecture Firm: spaceworkers
Website: www.spaceworkers.pt
Contact e-mail: press@spaceworkers.pt
Lead Architects: Henrique Marques and Rui Dinis
Architects Team: Rui Rodrigues, Sérgio Rocha, Rui Miguel, Marco Santos and Mónica Pacheco
Furnitrue Design: Bairro Design
Finance Director: Carla Duarte – CFO
Clients: Lousada Municipality
Collaborators: engineer: aspp Engenheiros, Lda.
Photo credits: Fernando Guerra | FG+SG
Photographer's website: http://ultimasreportagens.com/
Video Credit: Building Pictures
Video´s website: https://www.buildingpictures.pt/
更多 Read more about:spaceworkers