本文由 Sher Maker 授权mooool发表,欢迎转发,禁止以mooool编辑版本转载。
Thanks Sher Maker for authorizing the publication of the project on mooool, Text description provided by Sher Maker.
Sher Maker:家是一种建筑环境,是为了与家所属的人一起成长而设计的。因此,它可以说是"人们成长的家",而不仅仅是一栋建筑。
Sher Maker:Home is a built environment that design literal for grow together with people that home belongs to.  Therefore, it can be used to say "people grow the home" than just built it.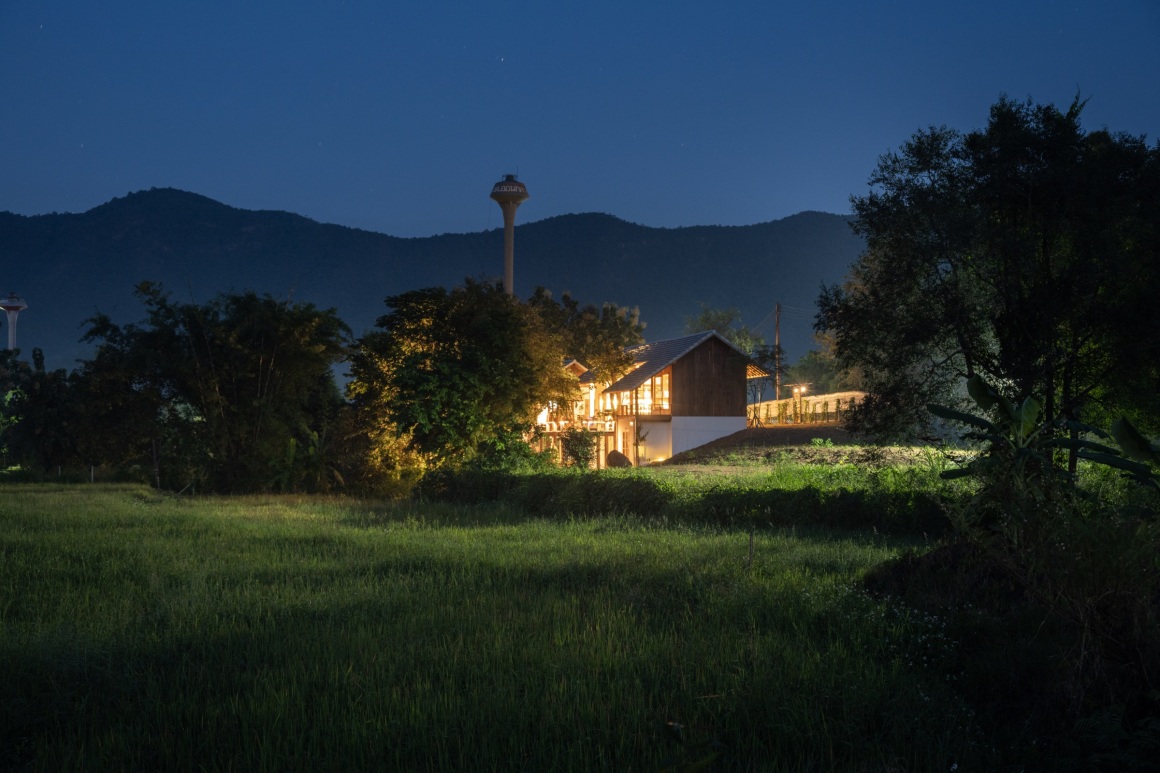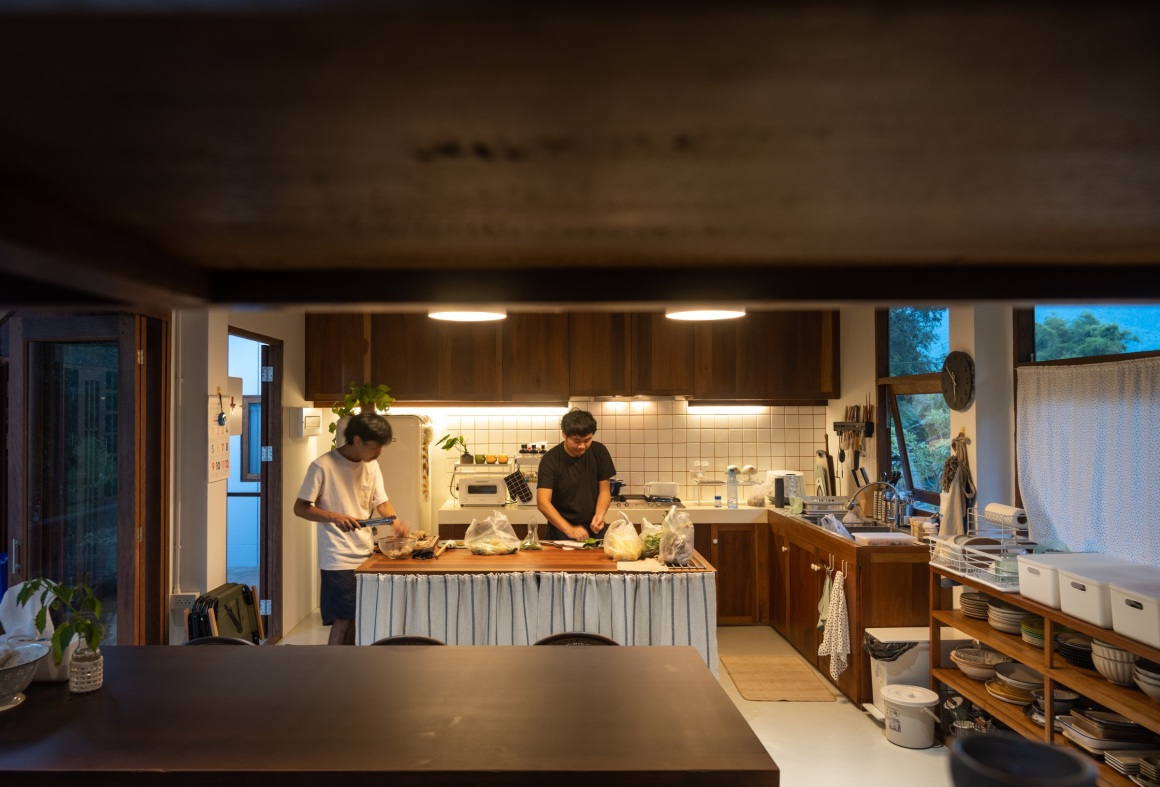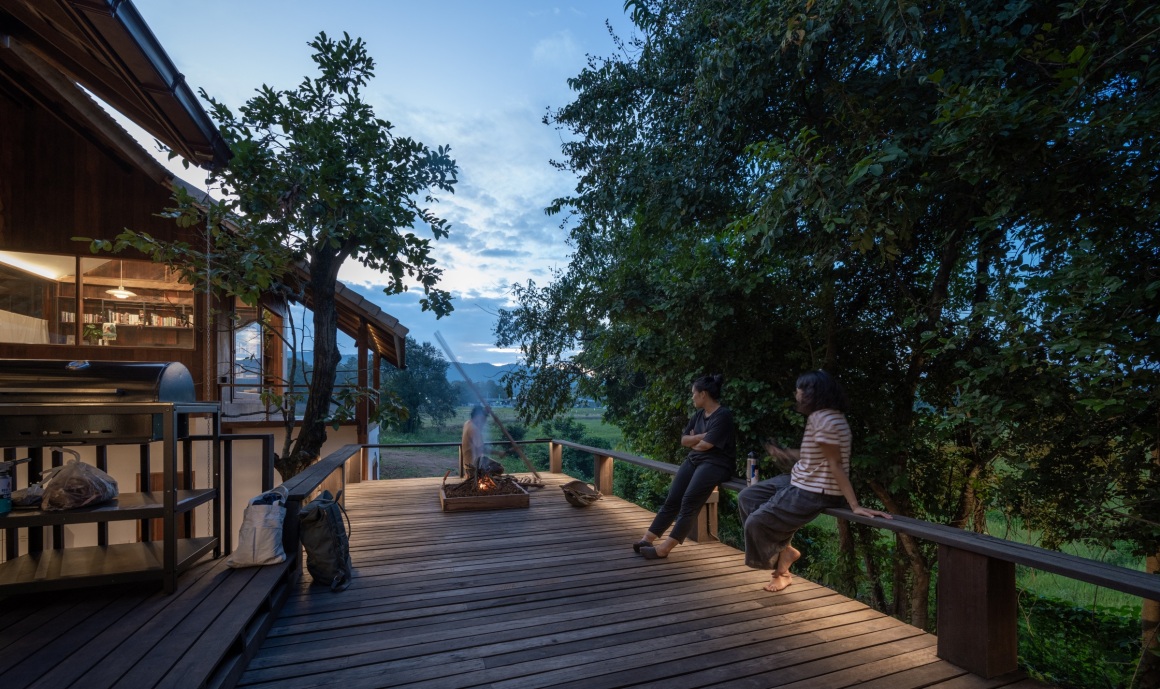 这栋两层楼的住宅使用面积为 260 平方米,建筑主体沿着地形纵向排布,并有一个主露台将每个功能分区连接在一起。
This two storey house consist of 260 sq.m. of use area, Main body of this house dispersed along the length of the land with main terrace to link every function together.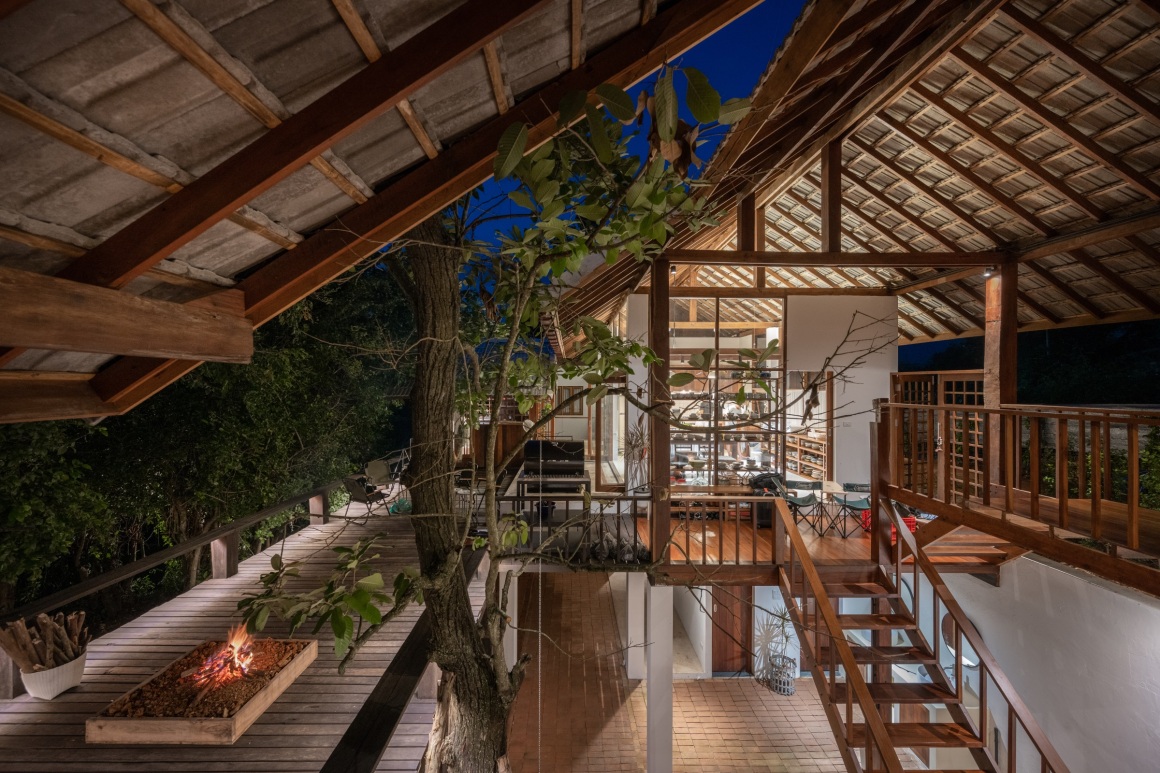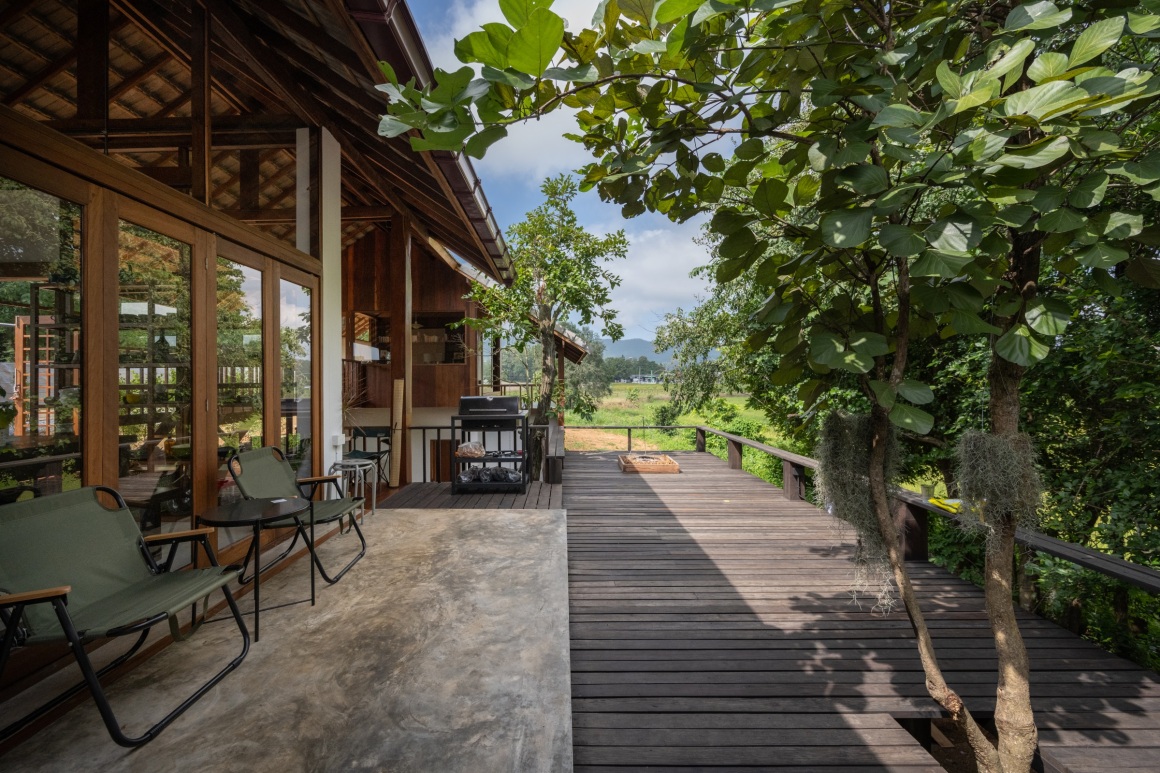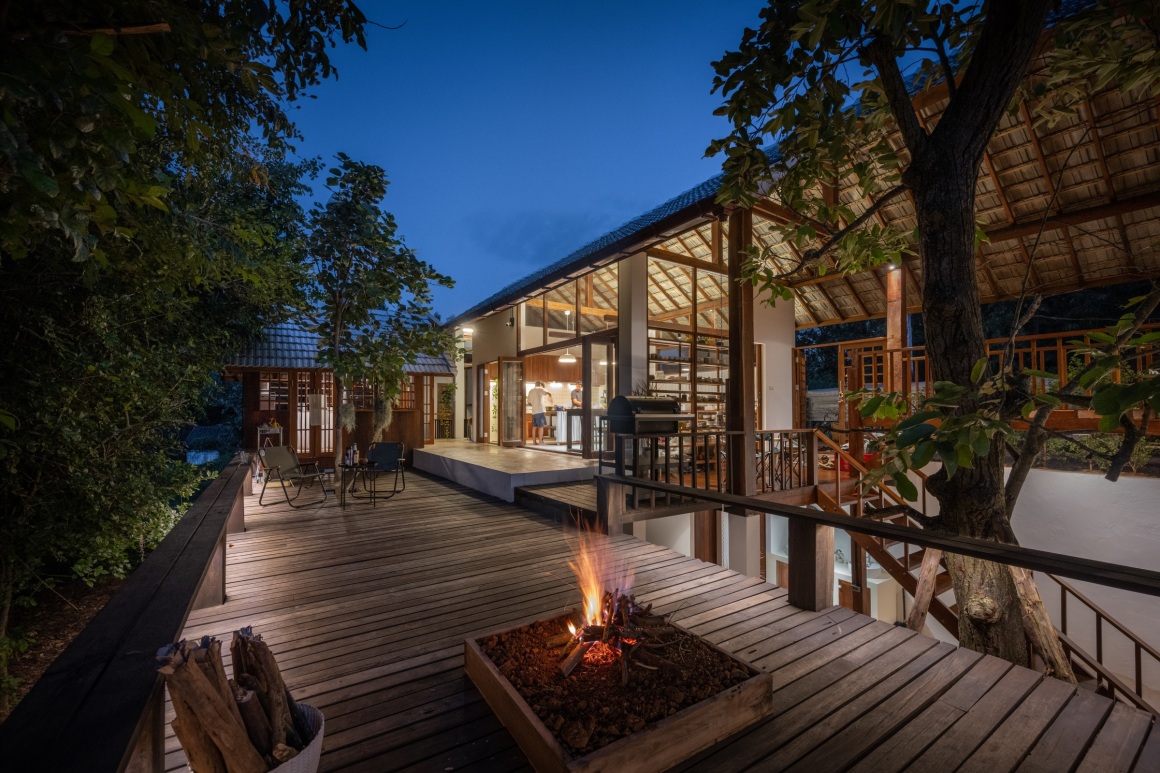 建筑正面有一条乡间小路,背面是树林和稻田。
Front side along with small village road, back side along with existing tree and rice field.
▽鸟瞰 Aerial view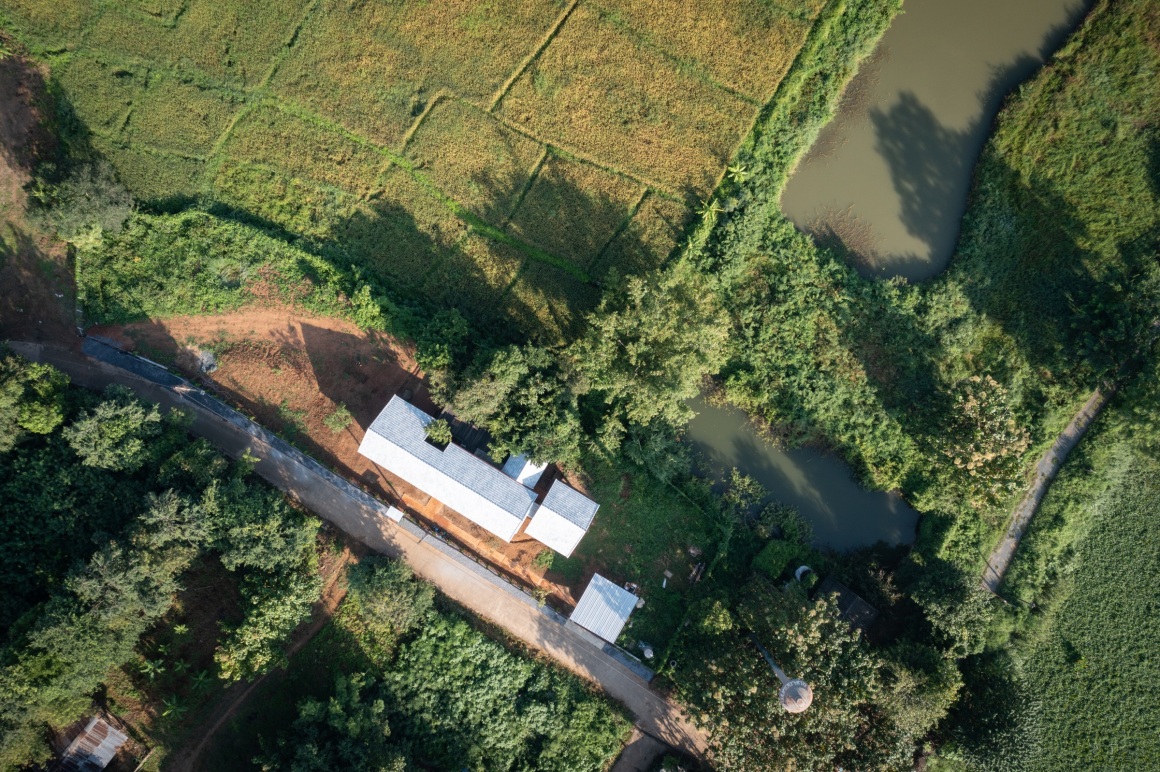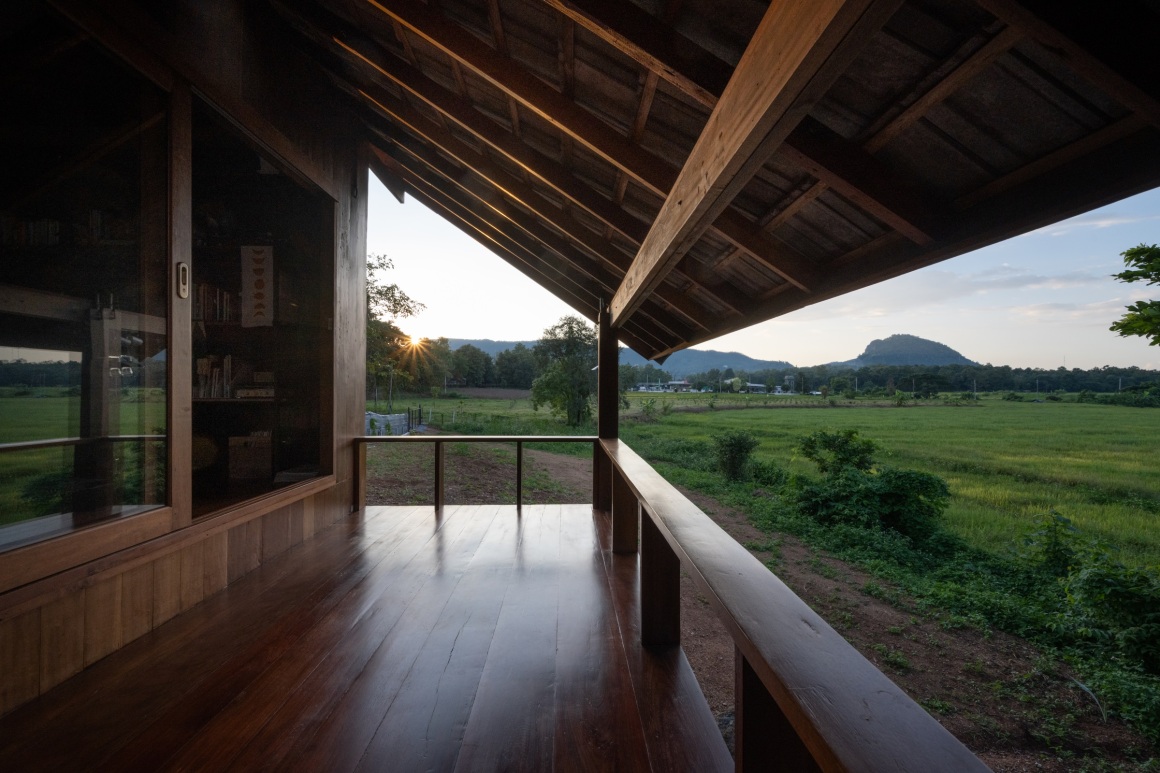 由于土地坡度的限制,我们需要从上层进入主露台和厨房,这一层由卧室、厨房、客厅等功能分区组成。
With the land condition, land slope make we need to approach from the upper floor to the main terrace and kitchen hall, This floor consist of function like bedroom, kitchen hall, living room.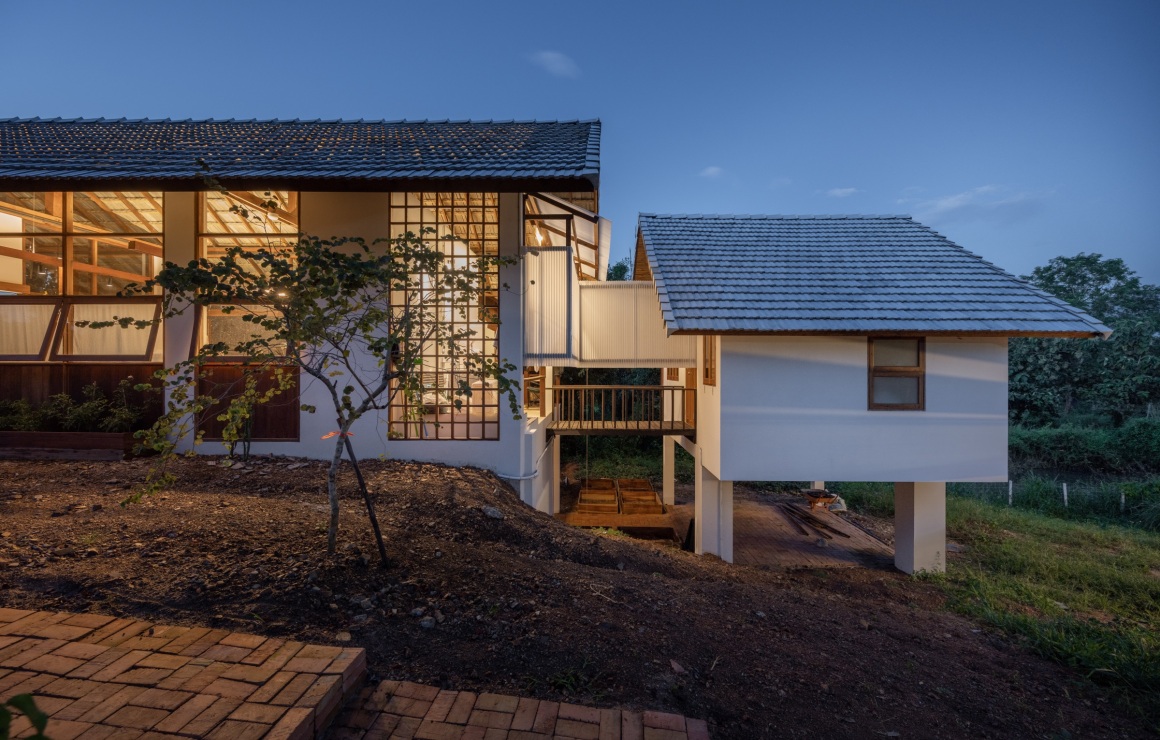 ▽上层入口  The entrance of the upper floor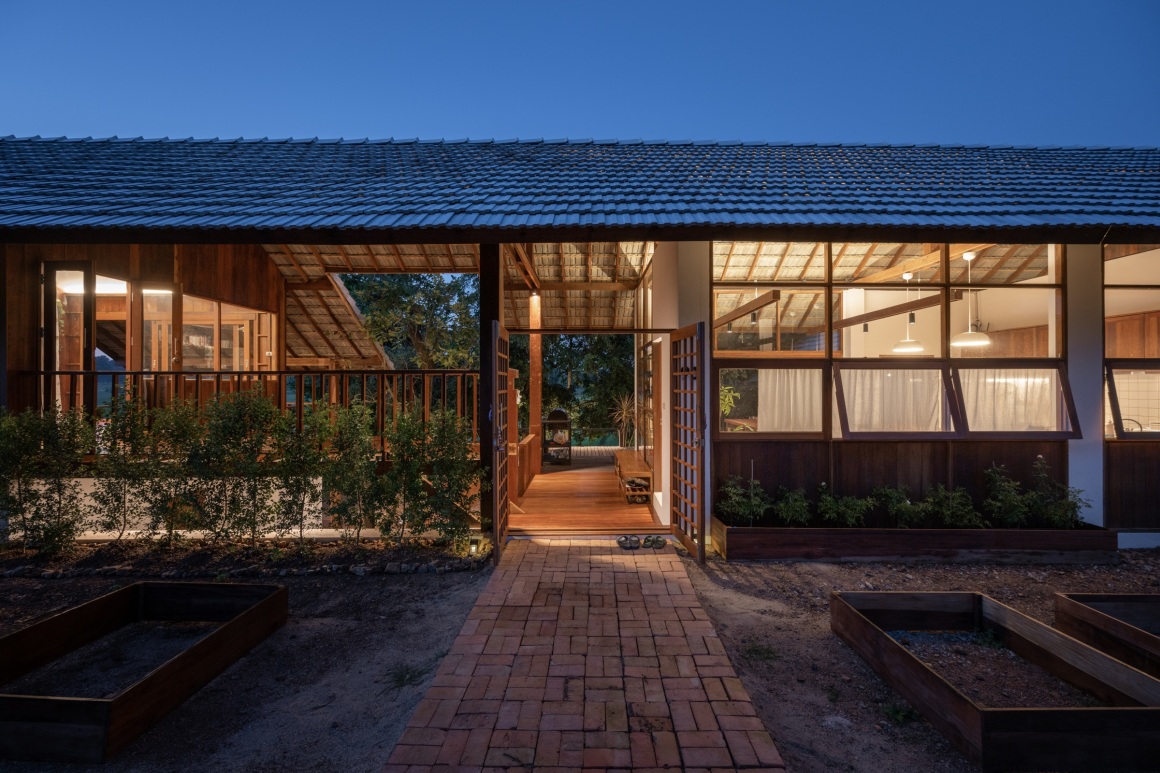 ▽卧室 Bedroom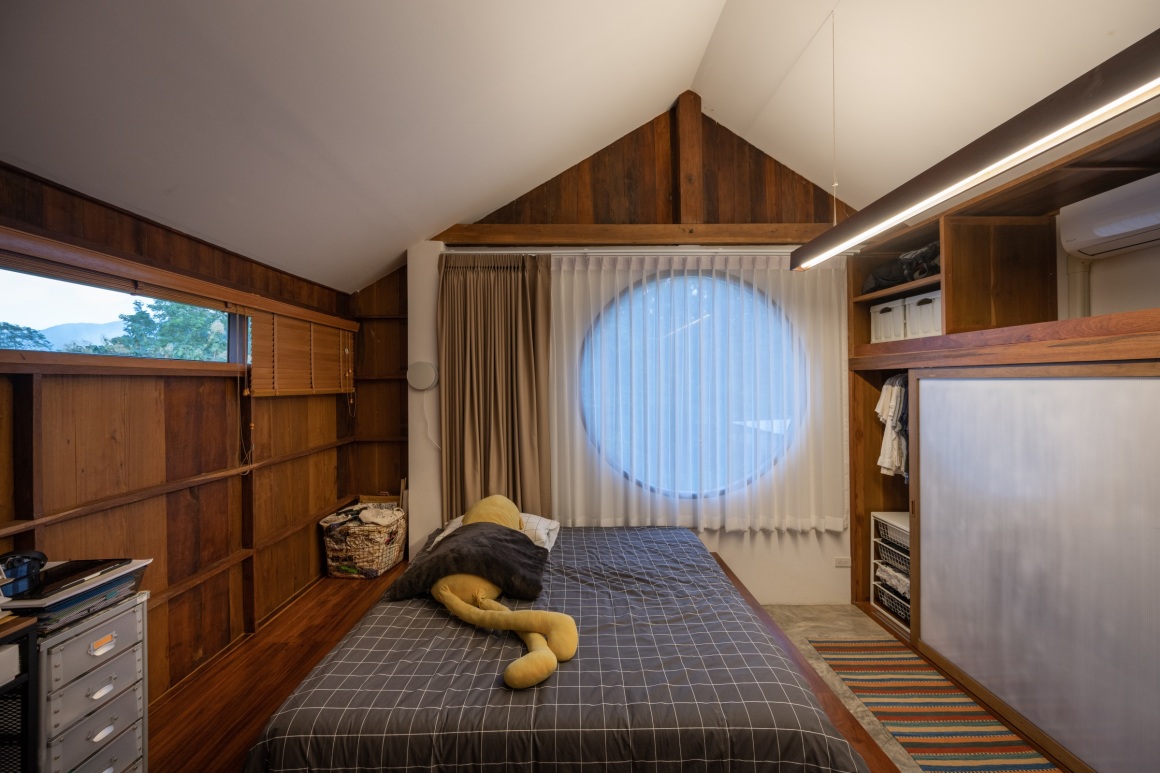 ▽厨房 Kitchen hall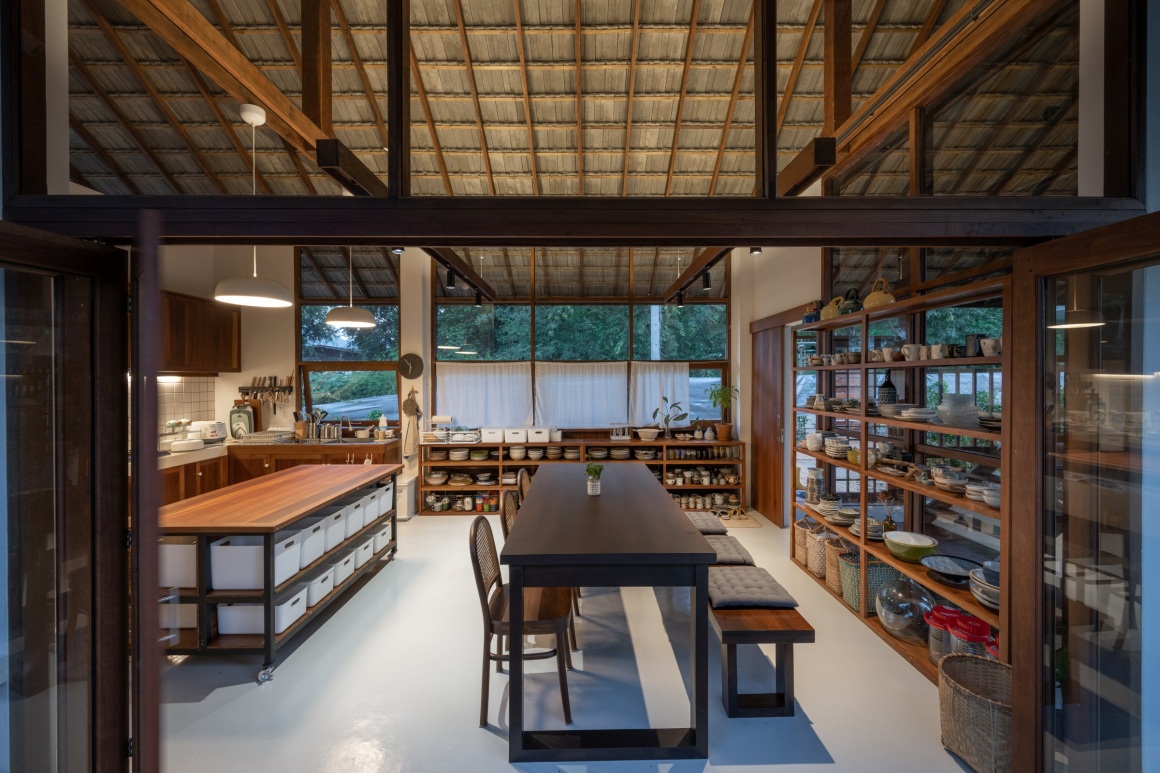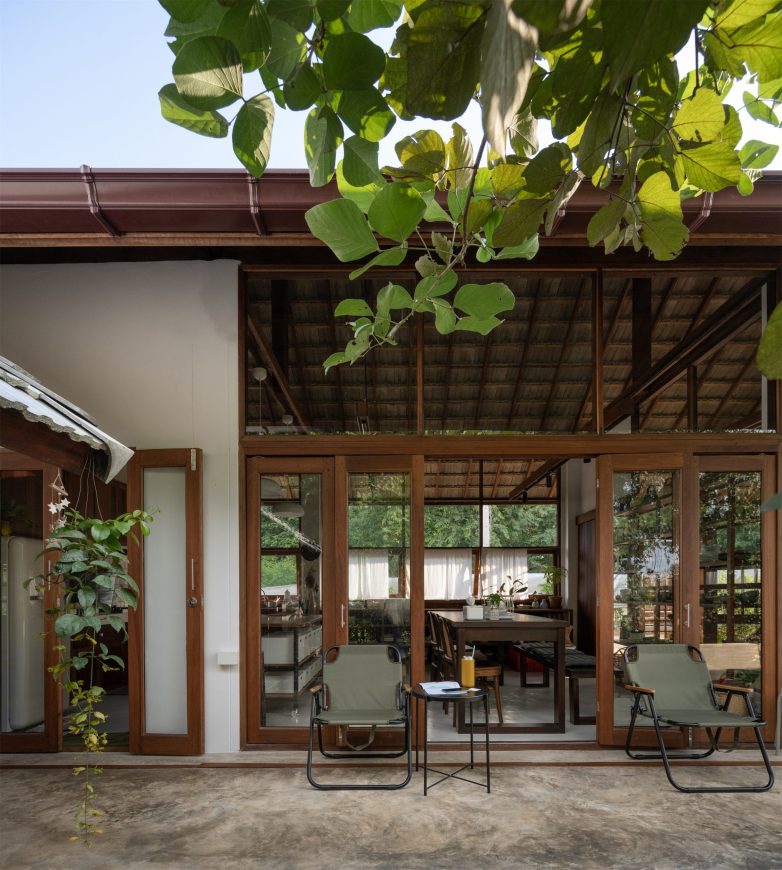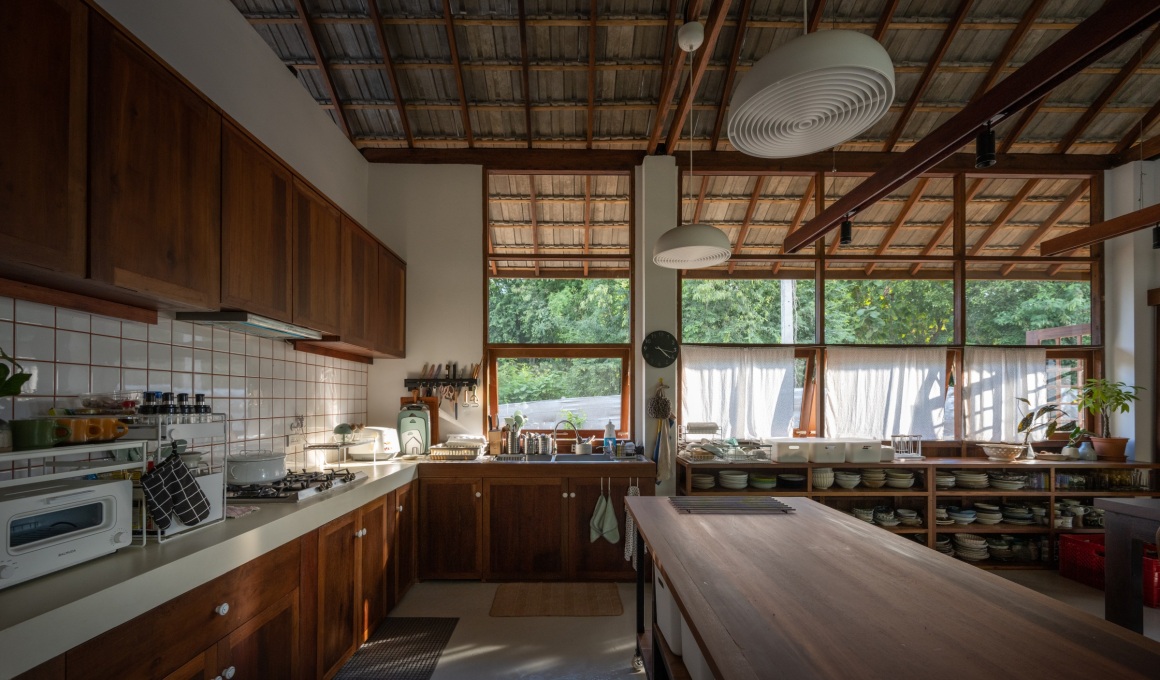 ▽客厅 Living room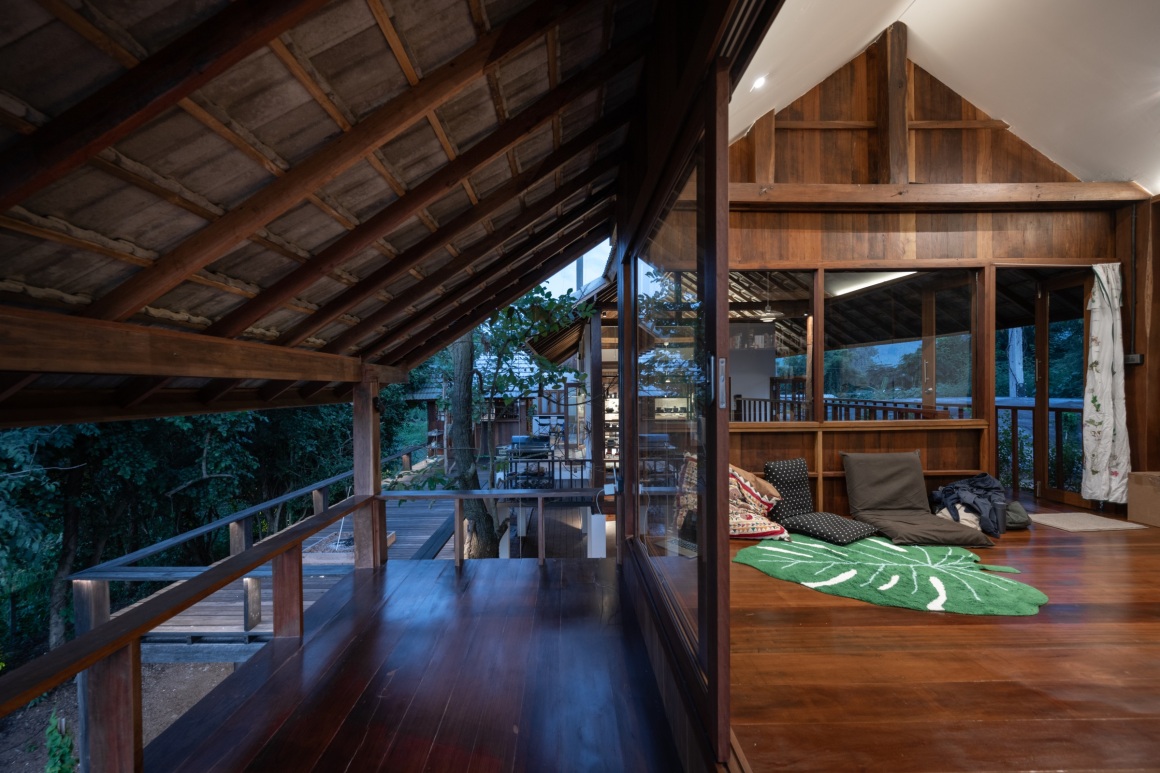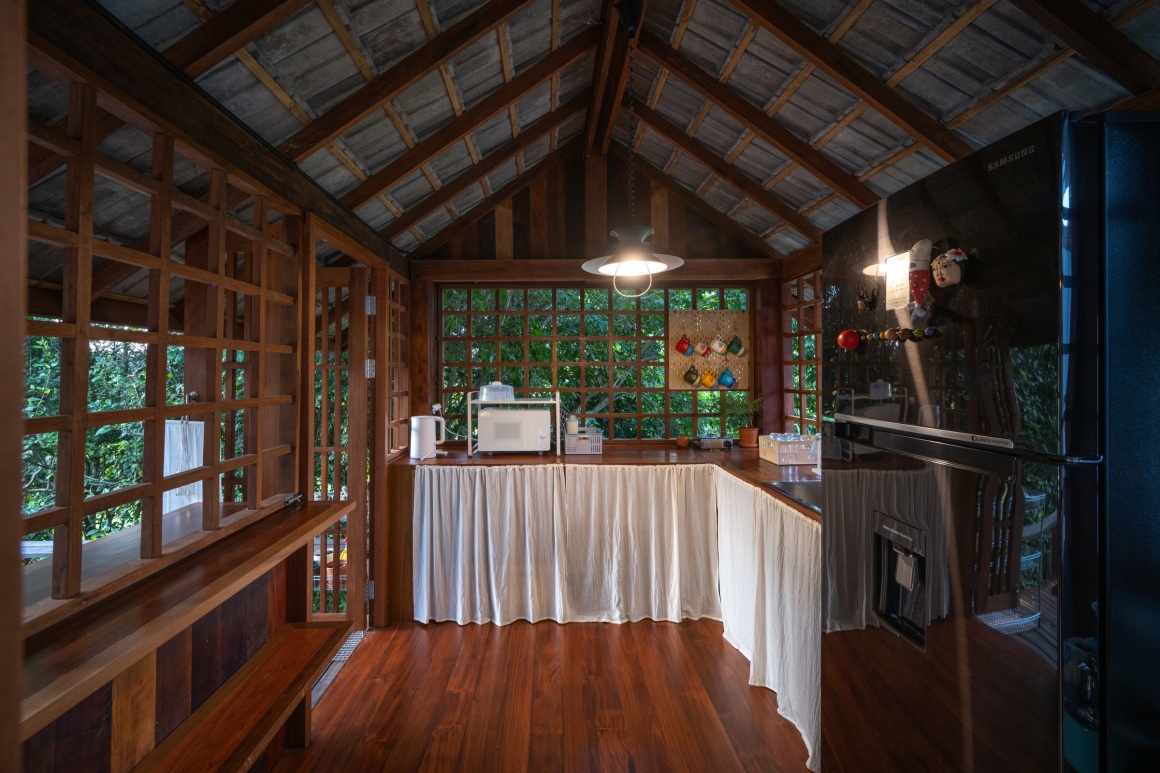 下层由储藏室和音乐工作室组成,混凝土墙体下沉并与地坡接壤,从正面可以看出地坡和建筑上下层的过渡关系。
Lower floor is concrete wall sunken in to land slope consist of storage and music composer studio. From the front elevation side we can see relationship of slope and transition level of house from roof to lower floor.
▽音乐工作室 Music composer studio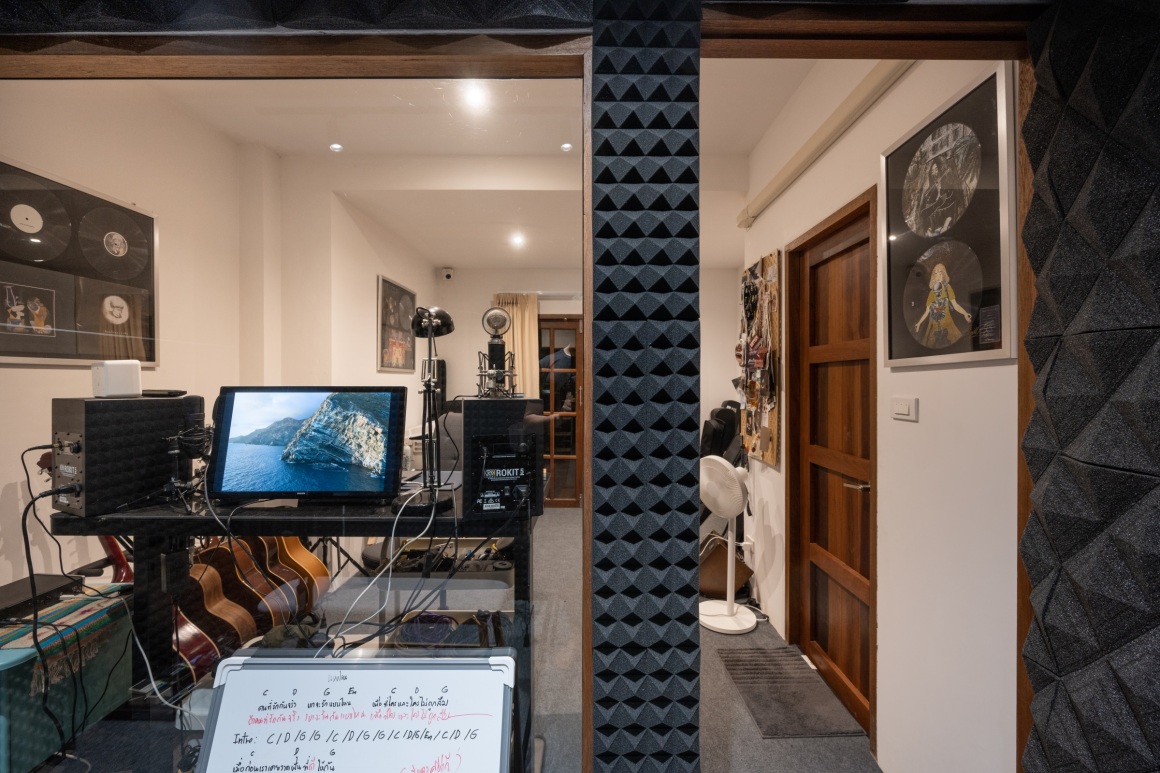 ▽下层空间 Lower floor space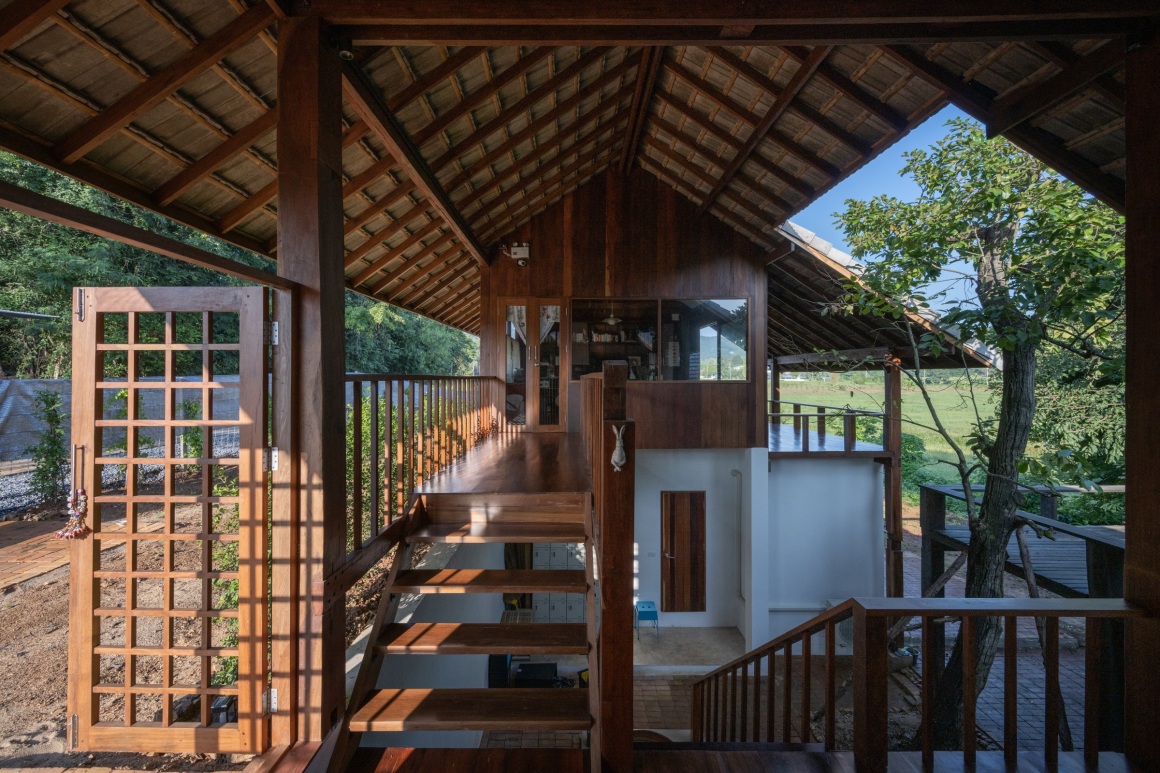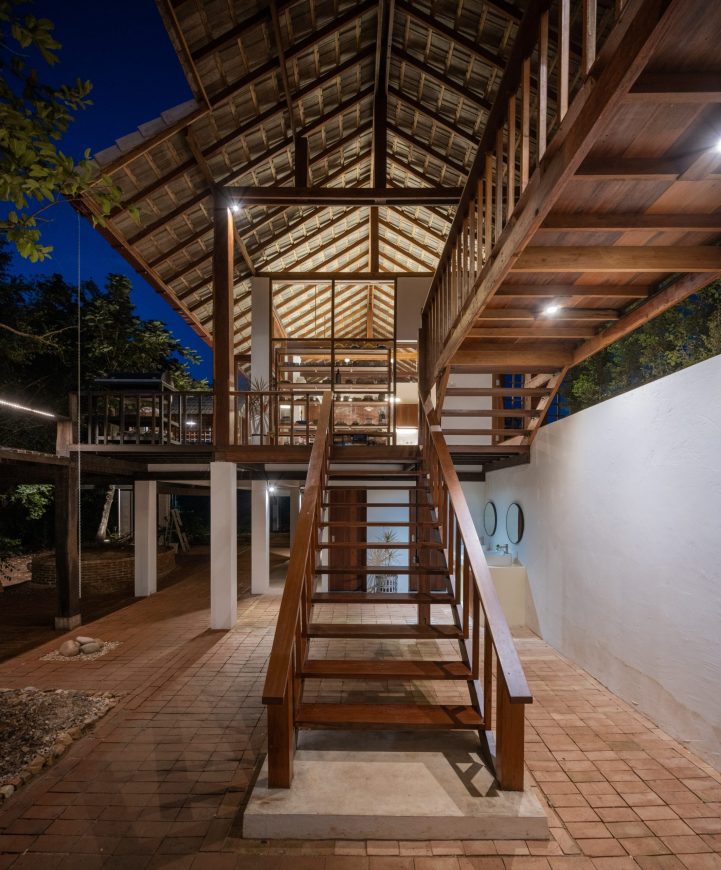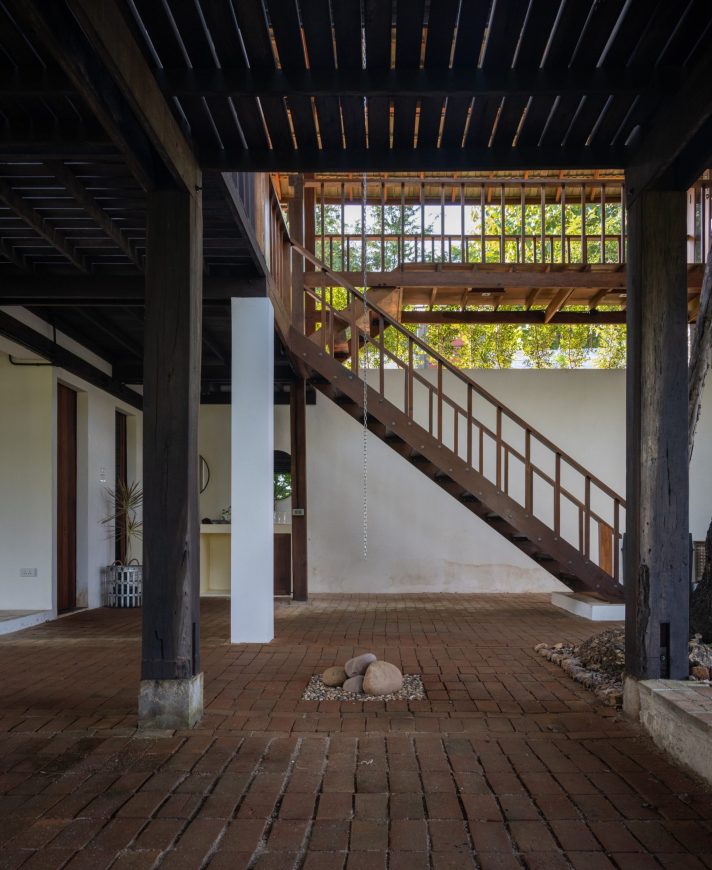 主露台由不同材料组合而成,与建筑周围树木和位于建筑中心的白柳桉相得益彰,它们共同连接和融合了建筑周围的自然景观。
Transition level of terrace in different material and composition play with existion surrounding tree and main tree in the center of house. White meranti is the main center tree of this house, Use for link and blend the house with natural surrounding landscape.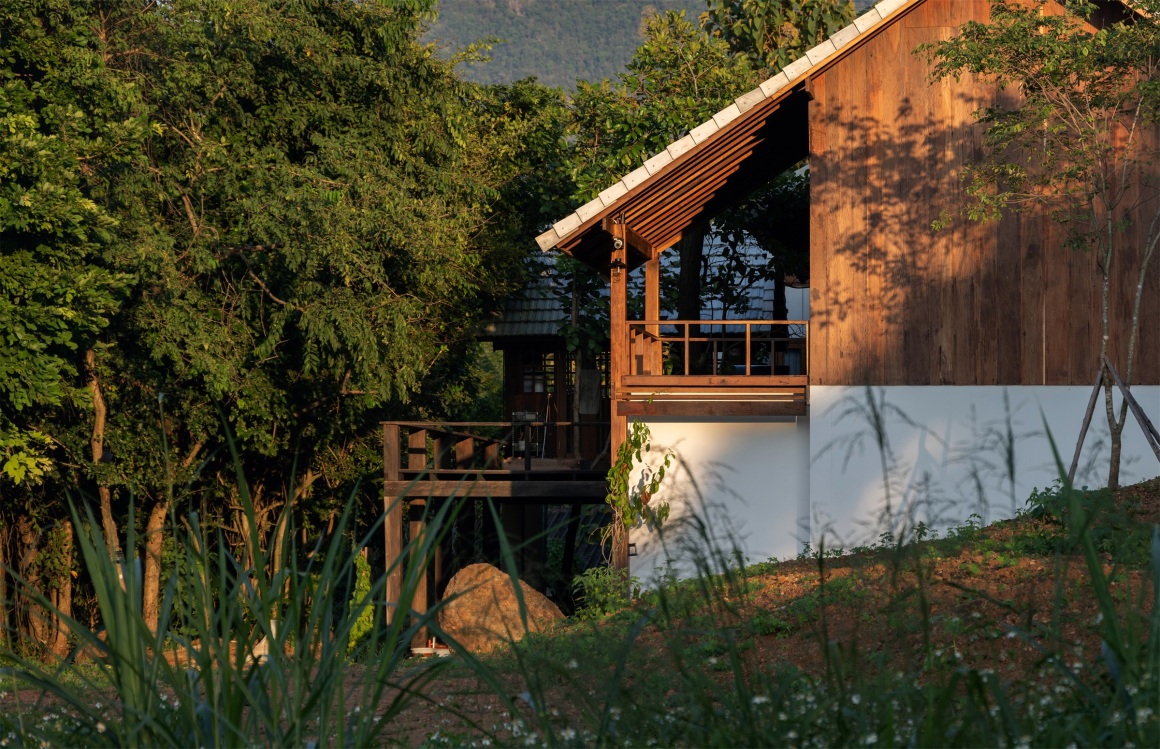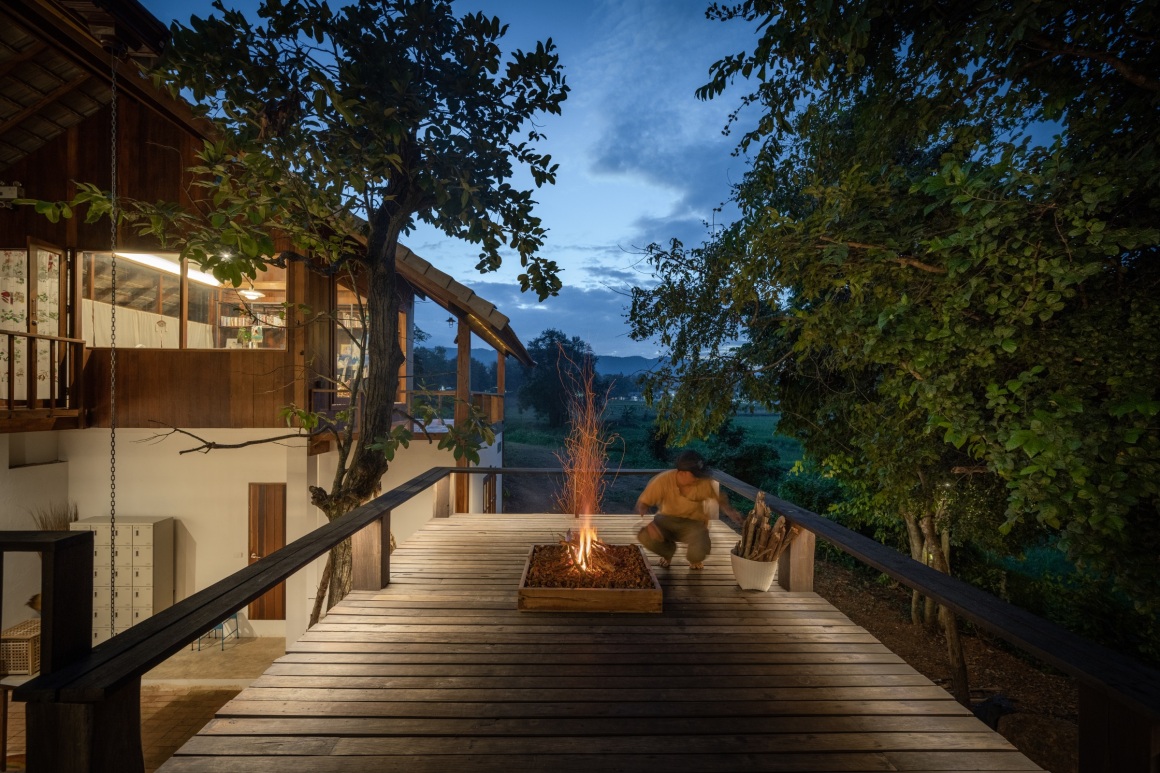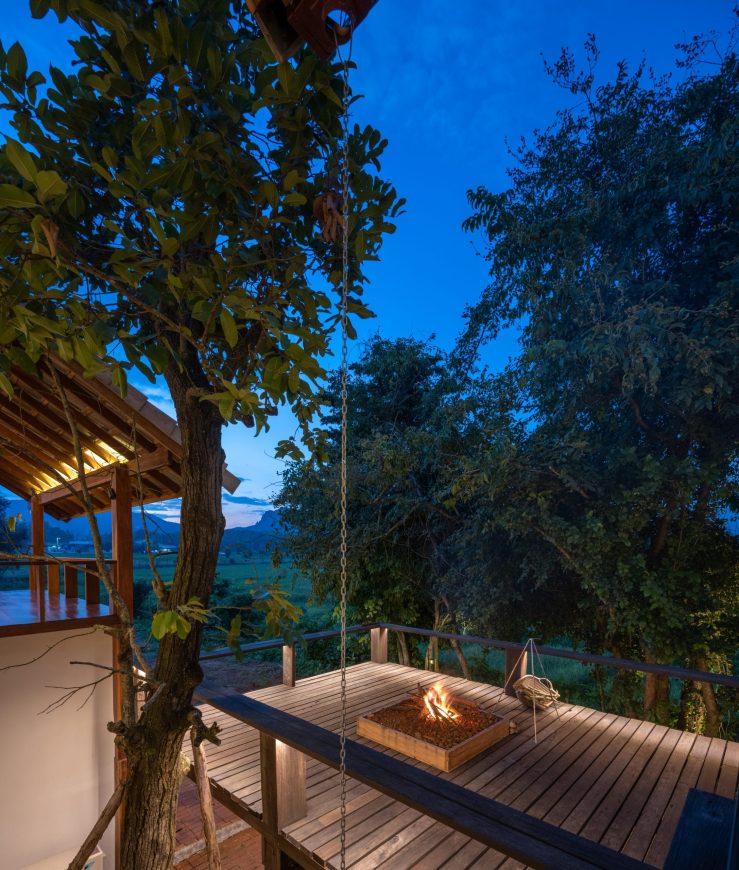 ▽建筑中心的白桦桉 White meranti is the main center tree of this house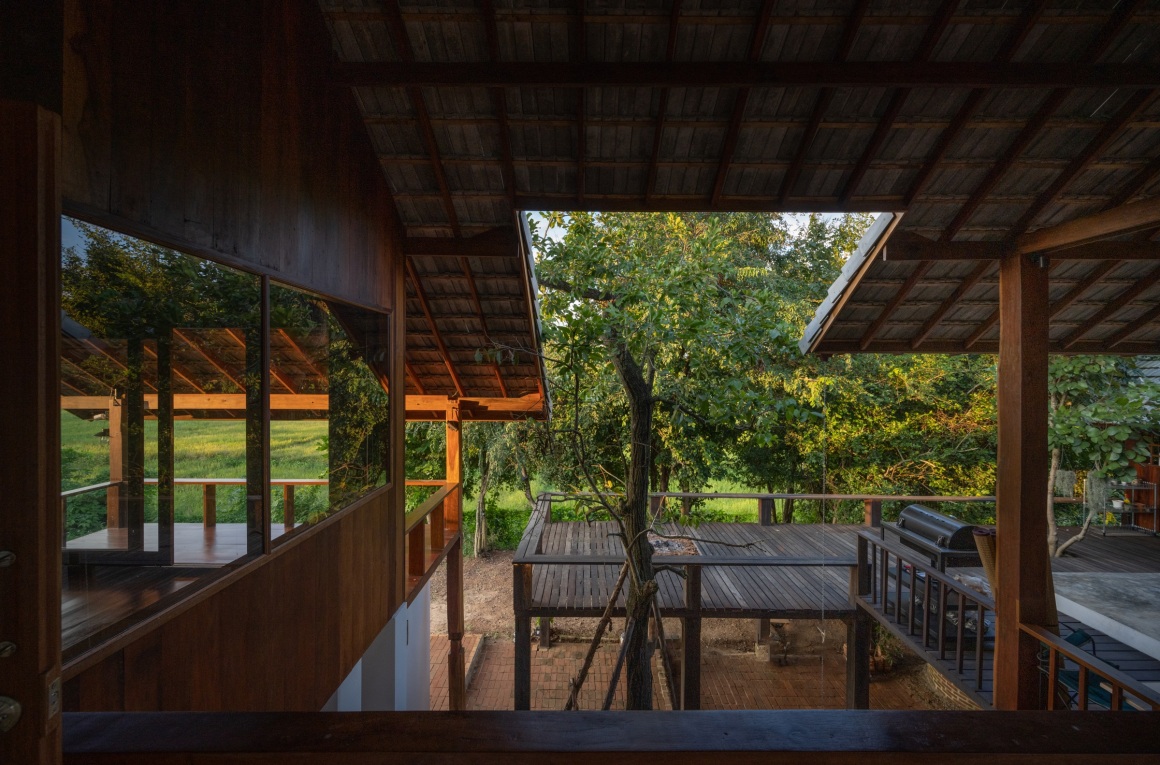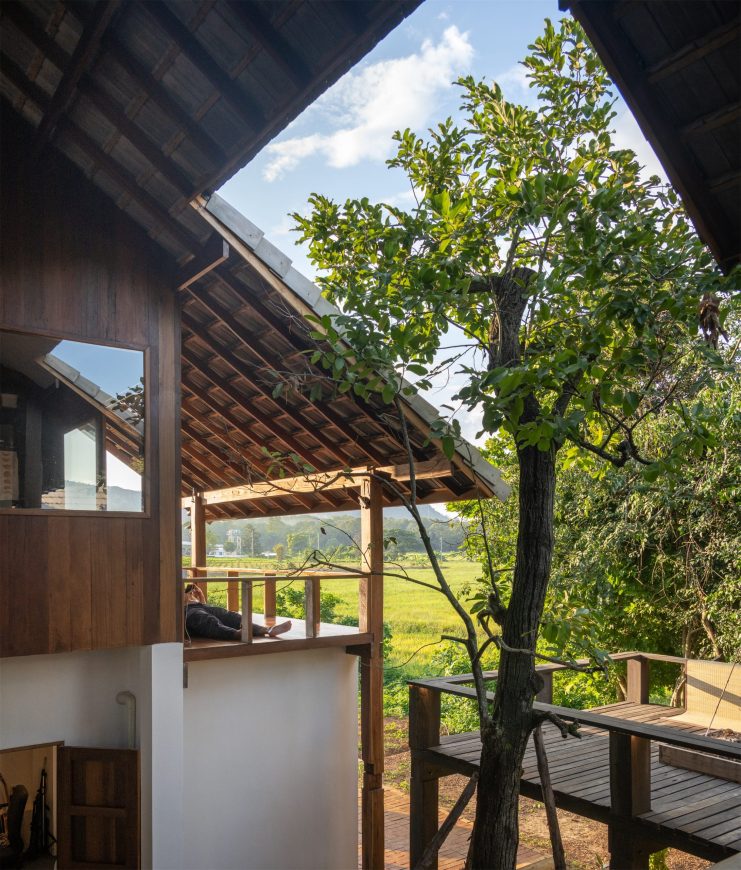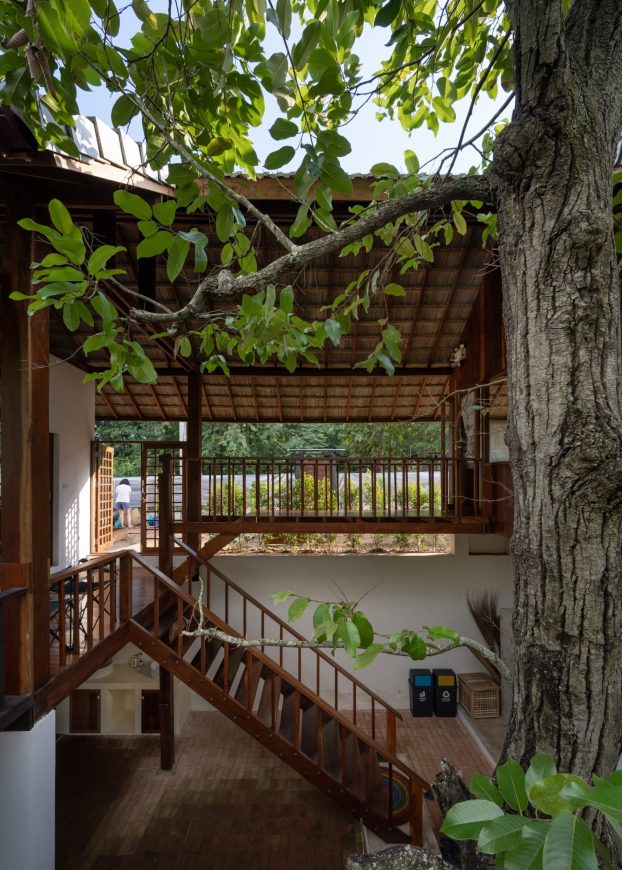 设计师根据业主的喜好从当地回收了木材进行处理,并制作了许多小物件,使这栋住宅更像是一个家。
Main material that intimates with onwer's sensation be wooden element, that found and treated from a used wood in local area. Archive the wood to many small element in home is the main purpose to make house to be home.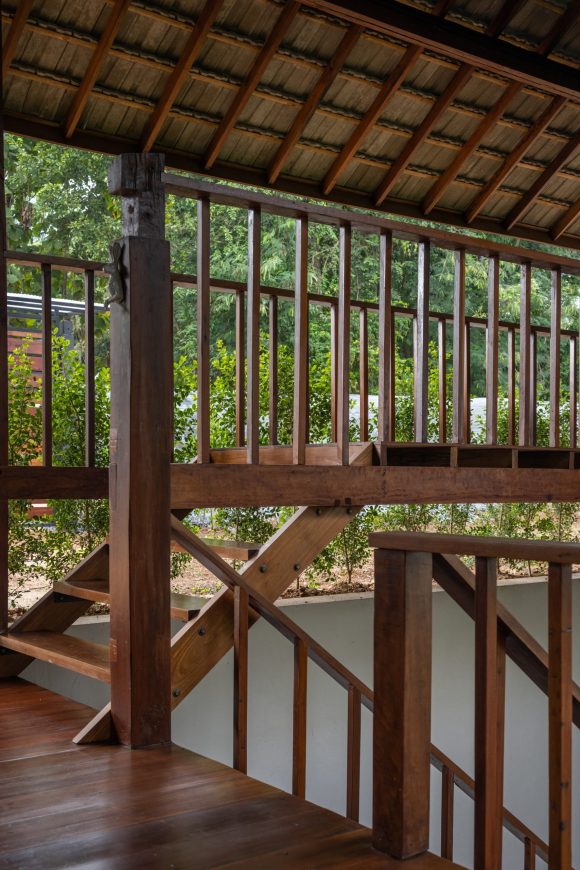 建筑使用的另一种材料是泰国北部的传统兰纳瓷砖,建筑团队使用这种材料彰显了一种瑕疵的美感。
Another material use is normal traditional lanna tile can find in northern of Thailand. Some clue of imperfection showing by the way local builder team use this sort of material.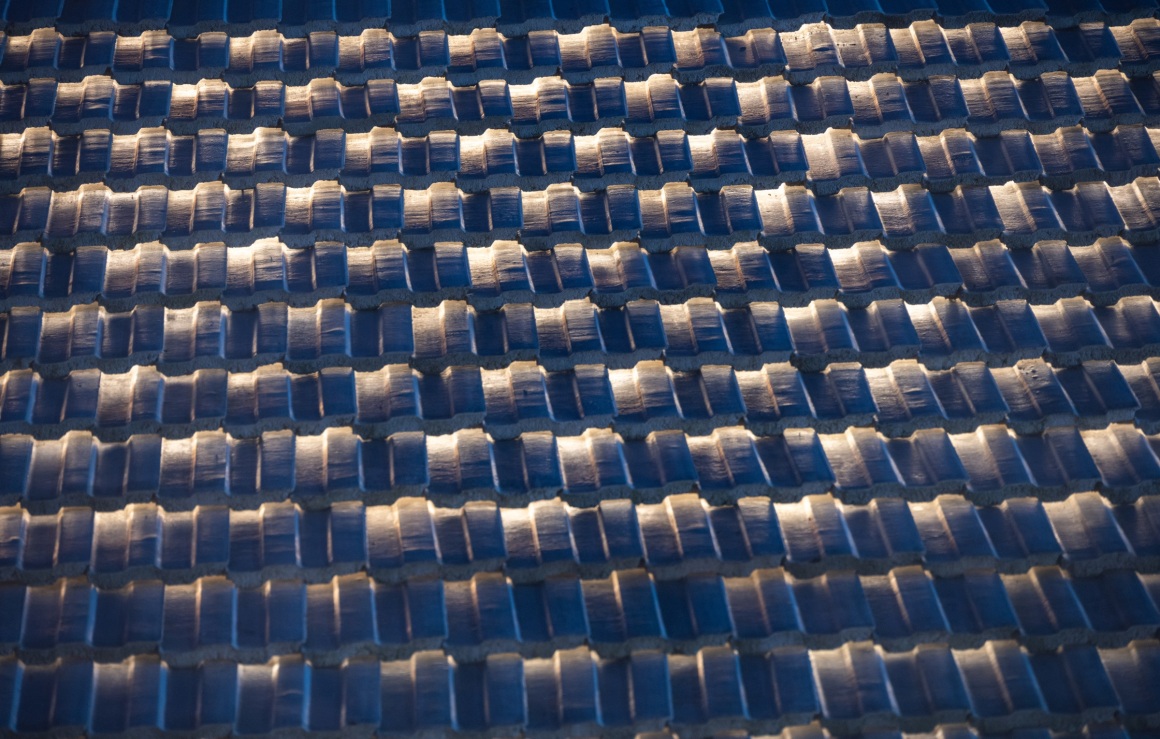 设计师意图采用最简单的施工方法来进行建造,无需做Hi-craft,当地建造团队可以很轻松胜任。有些环节他们也可以和业主一起商量,充分体现了住宅"家和人一起成长"的主旨。
For this house we have a intension to make the most easy system of construction method that local builder team can carry it with normal usage, No need to do Hi-craft, Just simply build method that they easy to understand. Some part they also have the power to make decision together with the owner, that why can say "home and people is growing together".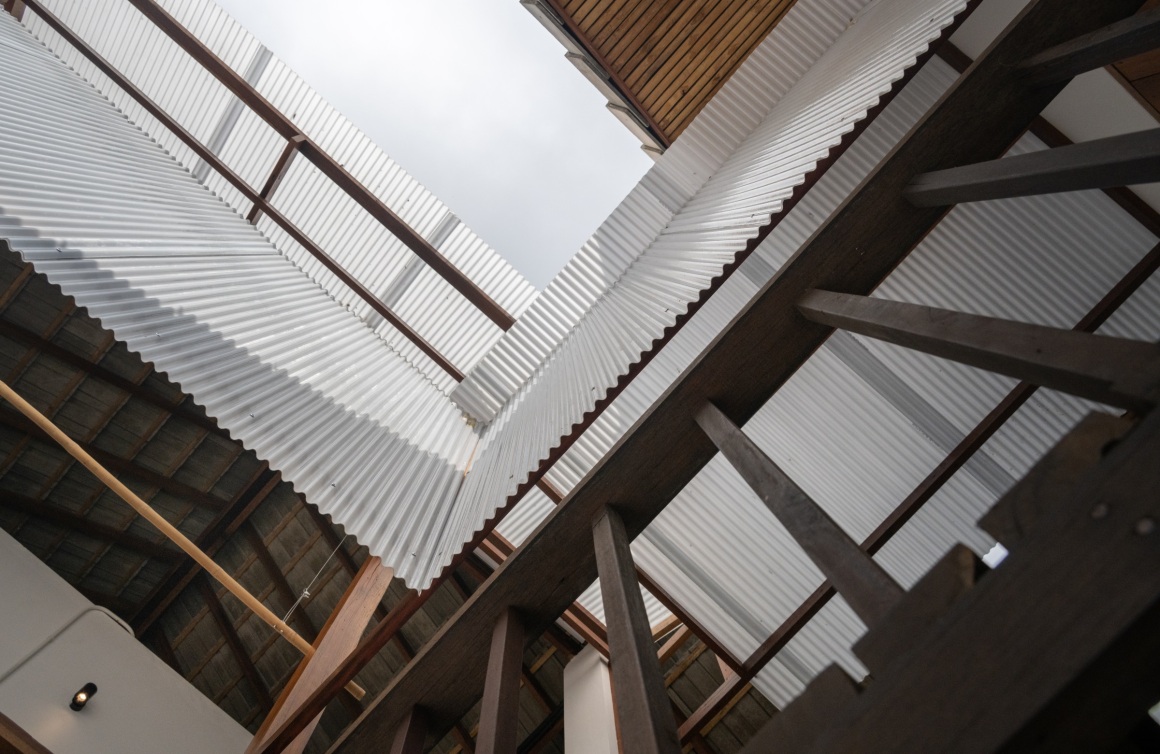 ▽区位图 Site plan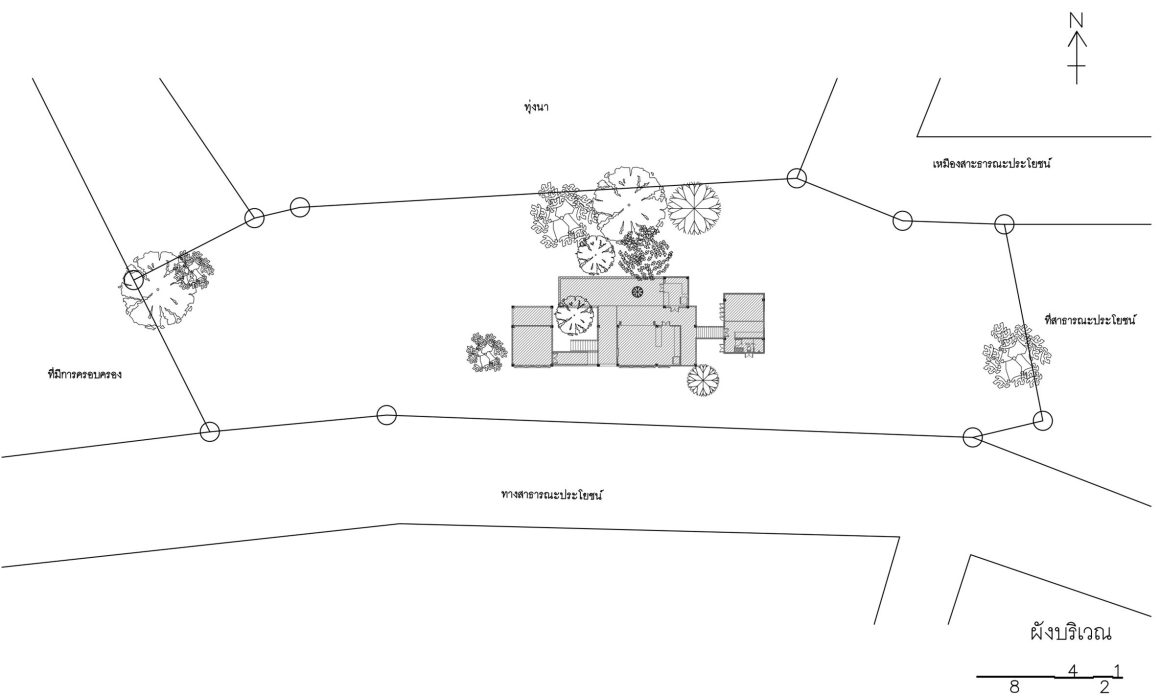 ▽下层平面图 1st floor plan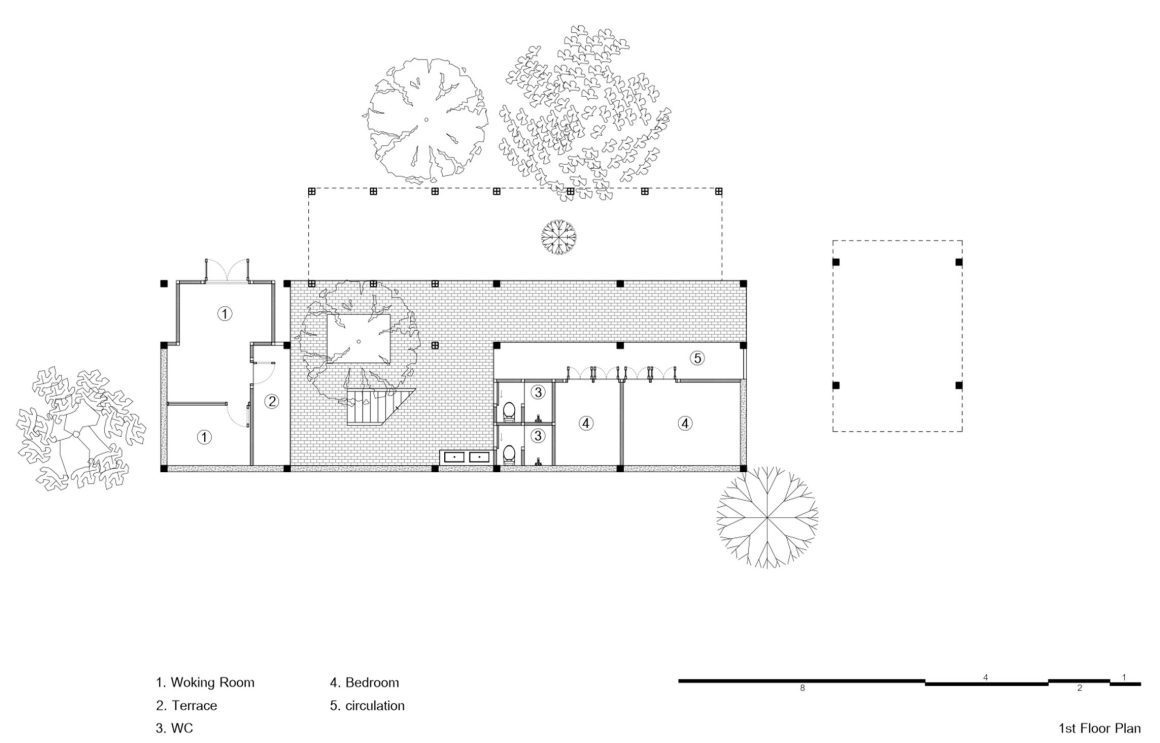 ▽上层平面图 2nd floor plan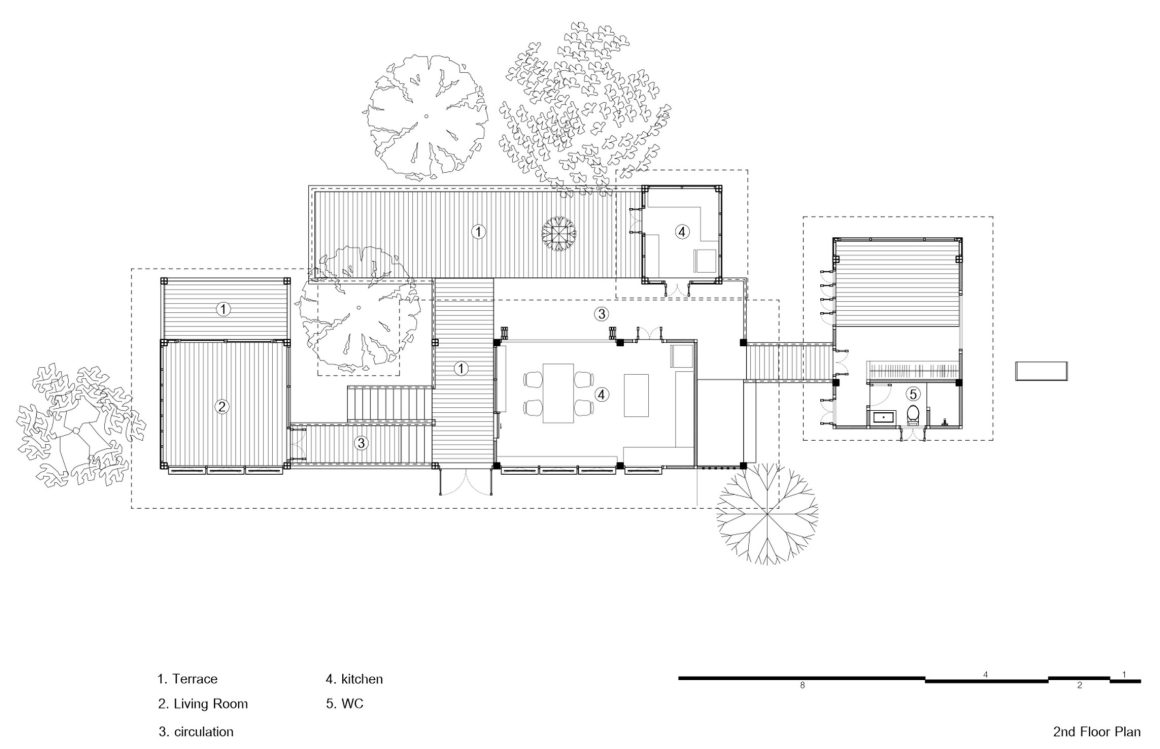 ▽剖面图 Section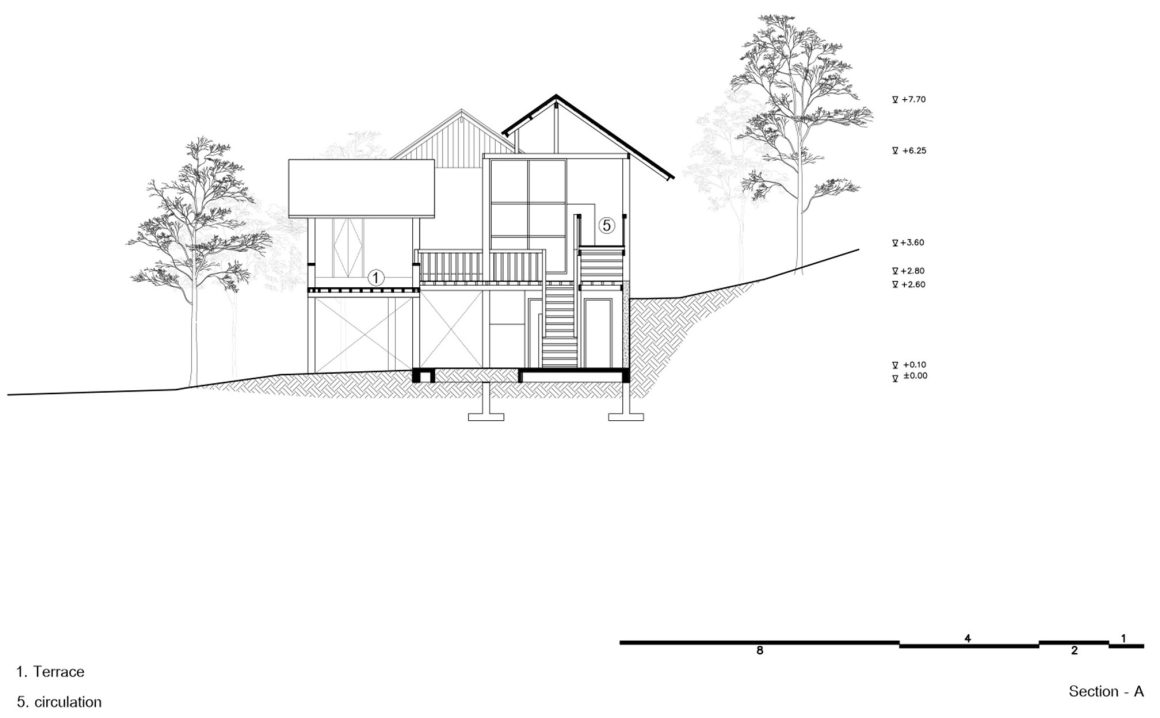 项目名称:Khiankhai Home & Studio
完成年份:2021年
面积:260平方米
项目地点:泰国,清迈市
景观/建筑公司:Sher Maker
网站:www.shermaker.com
联系电子邮件:shermakers@gmail.com
首席建筑师:Thongchai Chansamak
设计团队:Sher Maker
客户:Sarosat Yodying, Budsarapan Praitong,
合作方: Sher Maker builder team
照片来源:Rungkit charoenwat
Project name: Khiankhai Home & Studio
Completion Year: 2021
Size: 260 sq.m.
Project location: Mae On,Chiangmai, Thailand
Landscape/Architecture Firm: Sher Maker
Website: www.shermaker.com
Contact e-mail: shermakers@gmail.com
Lead Architects: Thongchai Chansamak
Design Team: Sher Maker
Clients: Sarosat Yodying, Budsarapan Praitong
Collaborators: Sher Maker builder team
Photo credits: Rungkit charoenwat
---
" 让住宅变成一个家,而不仅仅是建筑。"
审稿编辑: gentlebeats
更多 Read more about: Sher Maker