本文由 奥雅设计 L&A design 授权mooool发表,欢迎转发,禁止以mooool编辑版本转载。
Thanks L&A design for authorizing the publication of the project on mooool. Text description provided by L&A design.
奥雅 :成都天府大道西侧的保利·中航天空之城儿童乐园,位于保利中航A1A2示范区公共花园轴线中草坪的一侧,也是轴线的一个端点。洛嘉儿童的设计团队在接到项目需求的时候,公共花园已经定位为天空之城,旨在打造一座云端花园,记录童年奇妙的梦想。如何在云端花园里打造一个具有科技感与未来感的儿童乐园?这便成为了设计师们头脑风暴的重点。
L&A:The oriental garden is located between tangyun road and north Yangzi river road, and the south of avenue is full of cherry blossoms. We feel the rhythm of the modern city here, also the ancient charm of Tang style in the Jian Zhen era. During the artistic conception of slender west lake, it brings us a feeling of Hangzhou west lake.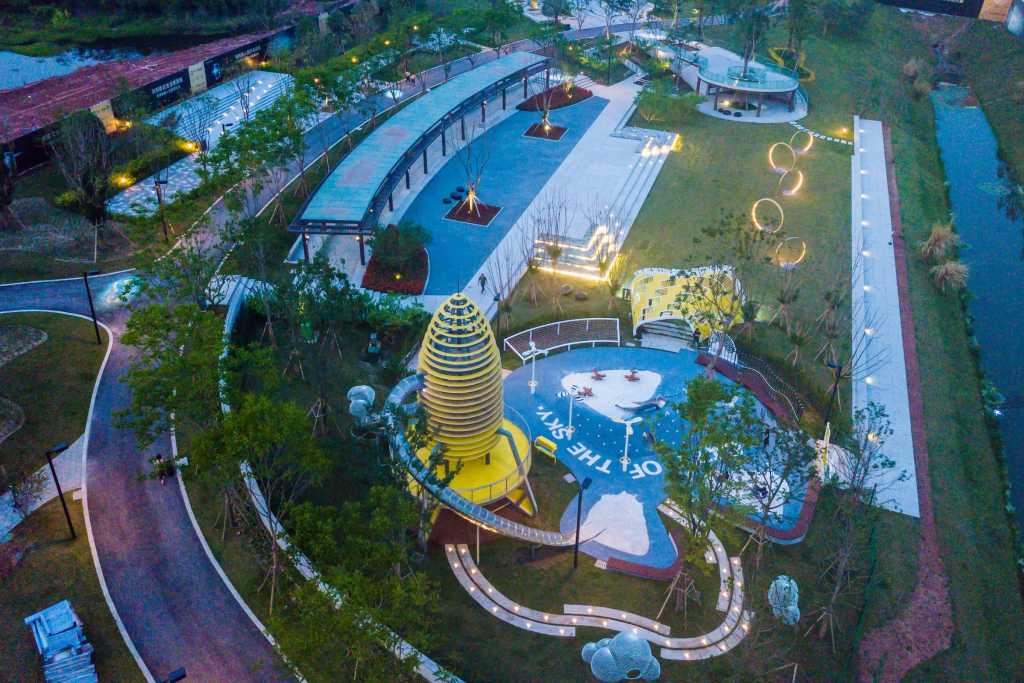 天空之门
The gate of the sky
经过多重比选和头脑风暴选择的火箭,是整个乐园标志的存在。冲上云霄的火箭,最高点有12米高,是大孩子的勇敢挑战。
Rockets selected through multiple comparison and brainstorming are the signs of the whole paradise. The rocket that soared into the sky, with its highest point 12 meters high, is a courageous challenge for the child.
竹蜻蜓
洛嘉儿童的设计师们制作了很多模型,来推敲竹蜻蜓的设计,尝试了很多种图案样式,想要达到不同的视觉效果。
Bamboo dragonfly
The designers of La V-onderland have made many models to examine the design of bamboo dragonflies. They have tried many patterns and to achieve different visual effects.
飞行摇马
趣味坡地
可以攀爬,可以滑滑梯,还可以捉迷藏。
Interesting sloping land
You can climb, slide, also hide and seek.
云朵屋
躺网
大人和孩子们都可以慢悠悠的躺在躺网上,看天上的云飘过。
Laying net
Adults and children can both lie leisurely on the laying net and watch the clouds float across the sky.
星光秋千
Starlight swing
这是一个科技感与未来感并存的儿童乐园,洛嘉儿童第一次尝试将声光电互动科技应用在儿童场地上。对于未知的东西:光是怎么亮的,喷雾是什么时候喷出来的,小朋友们总是充满好奇。
当夜幕降临,孩子们乐此不彼的奔来跑去,随音乐和喷雾舞动开怀大笑。这一幕幕场景,便是洛嘉儿童孜孜不倦创新儿童设计的动力所在。
This is a children's paradise with a sense of science and technology and a sense of the future. This is the first time that La V-onderland are trying to apply sound and photoelectric interaction technology to children's playground. Children are always curious about the unknown things, like how bright the light is and when the spray comes out.
When night fell, the children ran around happily, dancing and laughing with music and spray. This scene is the motive force behind La V-onderland untiring innovation in children's design.
夜幕降临,只要小朋友们对着我们的声音收集装置一起大声喊"火箭发射!",当声音足够大的时候,灯光会亮到火箭顶,点火-喷雾-发射-灯光声音互动秀就开始啦。
火箭会倒计时轰隆隆发射,火箭下方小舞台便成了大型的儿童蹦迪现场。
As night falls, as long as the children shouted at our sound collection device together, " rocket launch! ", when the sound is loud enough, the light will shine to the top of the rocket, and the interactive show of ignition – spraying – emission – light and sound will begin.
The rocket will countdown rumble to launch, and the small stage below the rocket will become a large-scale children's disco scene.
灯光声音喷雾互动秀一次停止之后,再重新喊"火箭发射!",便重新再来一回。现场玩乐的小朋友们一遍一遍来回喊启动,完全停不下来,大小孩,小小孩,大人们的笑声一起冲入云霄。
After the interactive show of light, sound and spray stopped once again, they shouted again " rocket launch! ". The children playing on the scene shouted back and forth over and over again, and they couldn't stop. People here burst into laughter together.
总平面图  Master Plan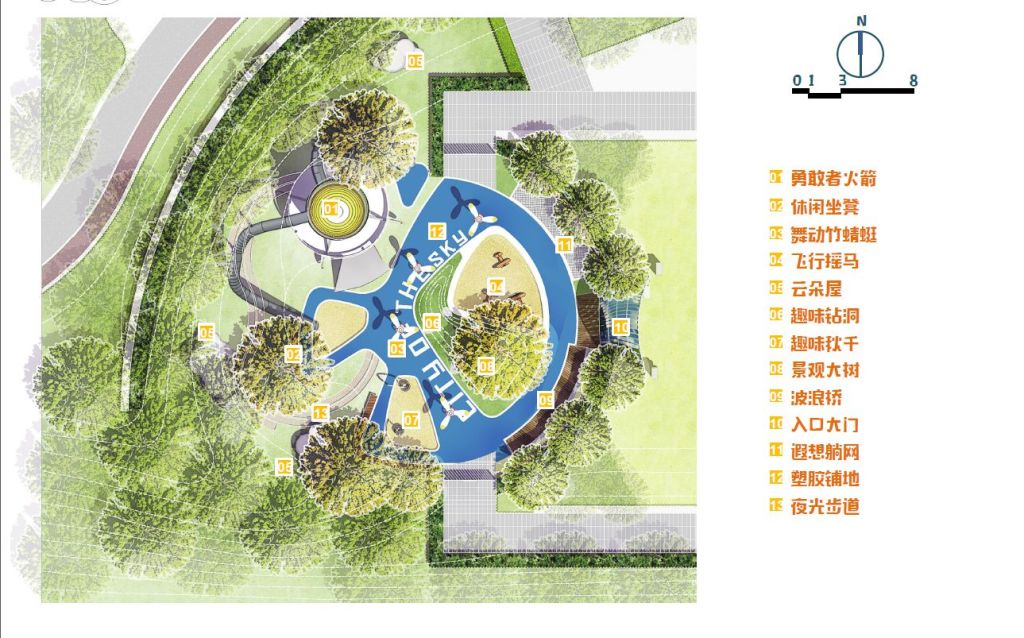 项目名称:成都·保利中航天空之城儿童乐园
项目地点:成都市天府新区
项目类型:综合楼盘
占地面积:900㎡
客户单位:成都航逸置业有限公司
乐园设计:奥雅设计上海公司洛嘉团队
设计时间:2017年7月
建成时间:2018年4月
Project name: Kid's Playground City Of The Sky
Project location: Tianfu new district, Chengdu, China
Project type: comprehensive residential
Area: 900 ㎡
Client: Chengdu hangyi real estate co., ltd.
Paradise design: La V-onderland
Design time: July 2017
Completion date: April 2018
更多More:奥雅