Stu/D/O:  Kurve 7是位于曼谷东部密集住宅区(Krungthep Kreetha 7)内的一个社区购物中心。 Stu/D/O通过使用一系列柔和的曲线策略来定义、构建、引导和连接场地以实现他们的目标——即创建一个新的社区商业空间,通过一系列露天花园和公共空间连接在一起,而不是让它成为一个封闭的大型社区购物中心。
Stu/D/O:  Kurve 7 is a community mall located within a dense residential district in the Eastern part of Bangkok, Krungthep Kreetha 7. Using a series of soft curvature strategies to define, frame, lead, and connect, Stu/D/O is able to realize their goal of creating a new neighborhood commercial space that is linked together by a series of open air garden and public space rather than creating a large enclosed community mall.  
由于分区限制,该地块被分成9个独立的街区,每个街区的商业面积不超过300平方米。小型商业街区分为前后两个纵向组,开辟了一条弯曲的长廊,既延长了走廊空间,又提供了新的视觉趣味。为了能直观地将分开的体量连接在一起,设计师使用了连续的曲面屋顶在建筑上连接这些块。这个裸露的混凝土屋顶的中心在它的垂直轴线上被抬高了1.5米,形成了一条限定主入口的倾斜屋顶线。然后,以类似的方式抬升入口序列处的地平面来创建出一个平缓倾斜的斜坡,将最远的边界连接到中心。与入口的曲线设计一起,这三条曲线定义了主要的道路,并创造了私密空间,它成为了一个圆形露天剧场和公共花园。
Due to zoning restrictions, the massing is divided into nine separated blocks with the commercial area no larger than 300 square meters each. The small commercial blocks are organized into two longitudinal groups in the front and rear, opening up a curve promenade that elongates the corridor space while providing new visual interests. In order to visually link the separated programmatic massing together, a continuous curved roof is used to architecturally connect the blocks. The center of this exposed concrete roof is lifted up 1.5 meters in its vertical axis, creating a sloped roofline that defines the main entrance. The ground plane at the entry sequence is then lifted up in a similar manner to create a gently sloping ramp, connecting the furthest boundary to the center. Together with the curving plan that pulls in the entry way, these three curves define the main approach and create an intimate space that becomes an open air amphitheater and garden for the public.
总平面图  Master Plan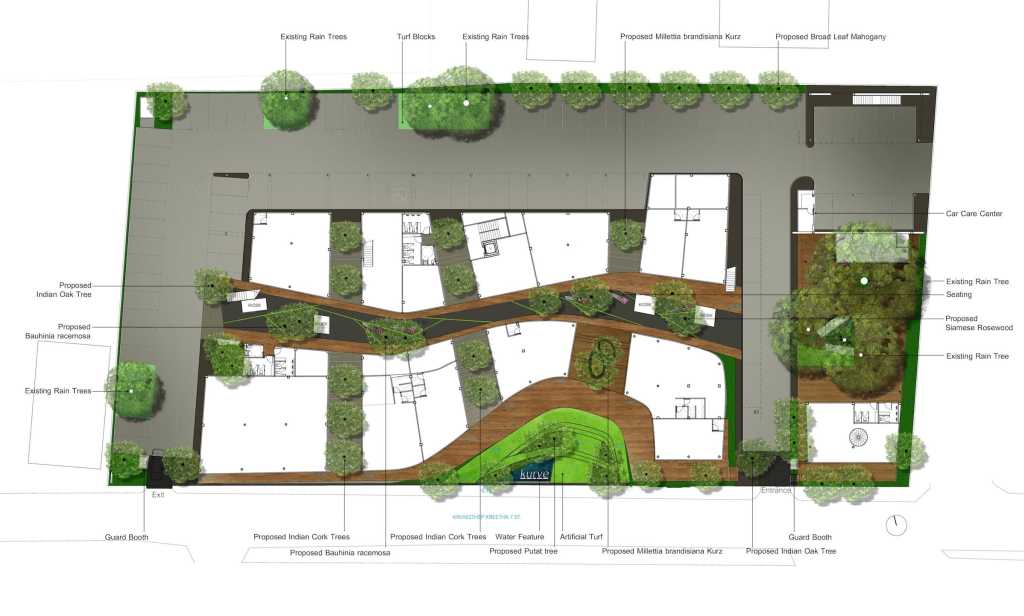 一层平面  Floor Plan Level 1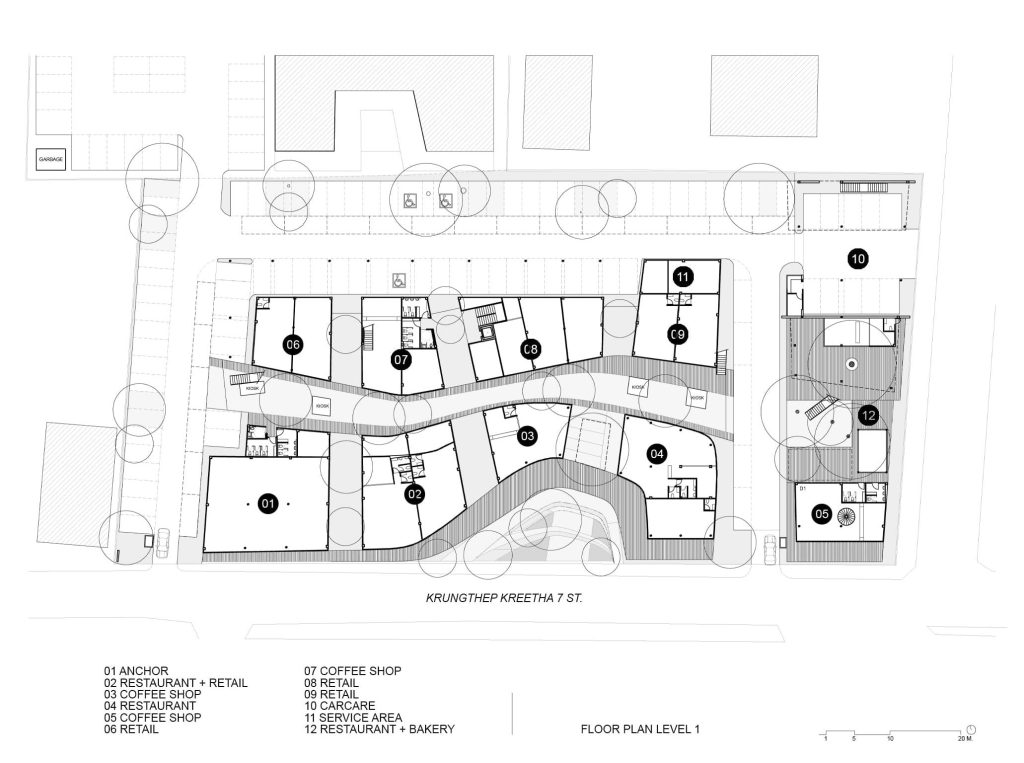 二层平面  Floor Plan Level 2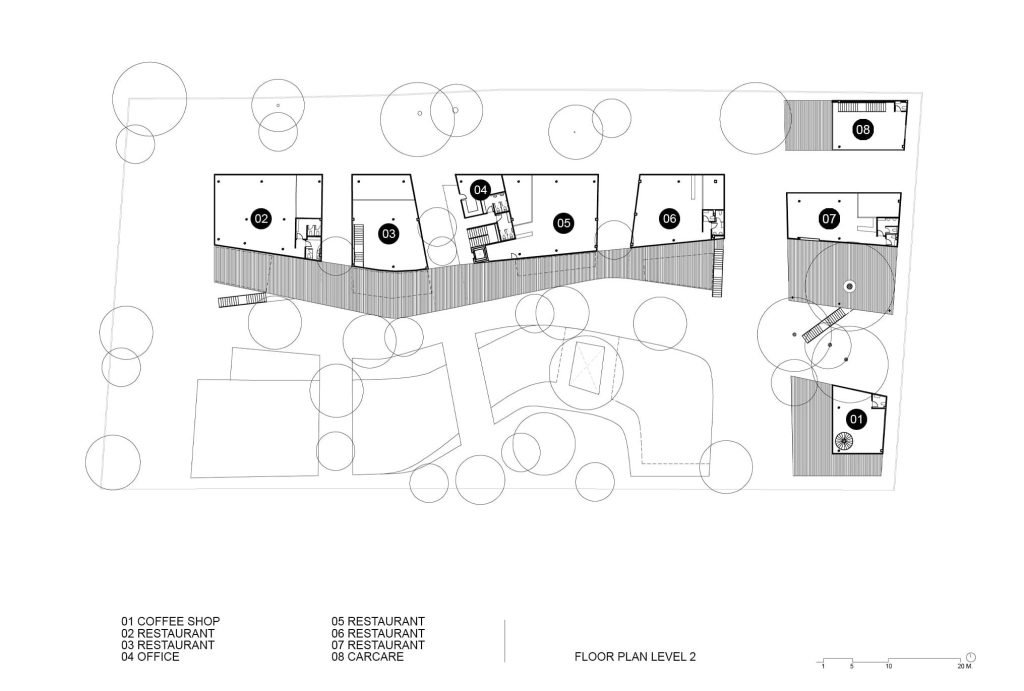 立面  Elevation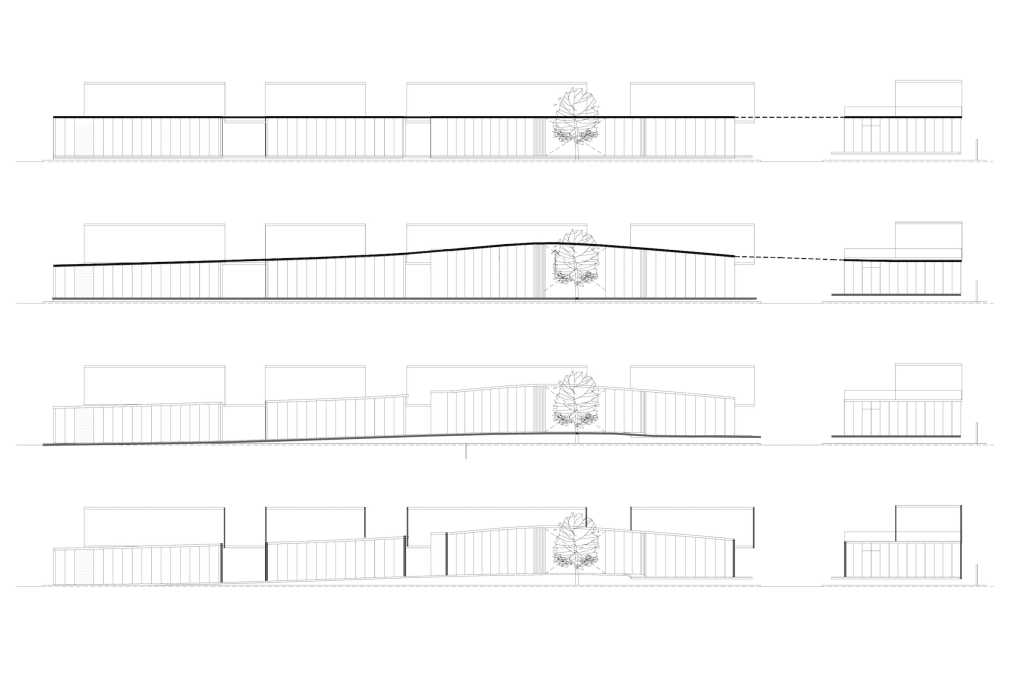 沿街立面  The Street Facade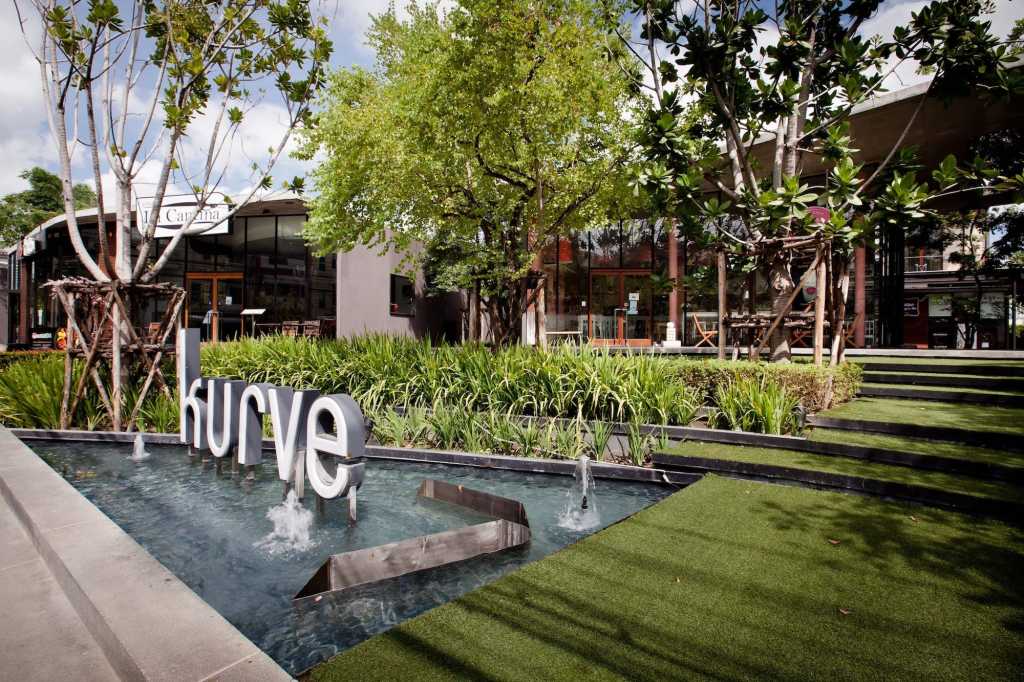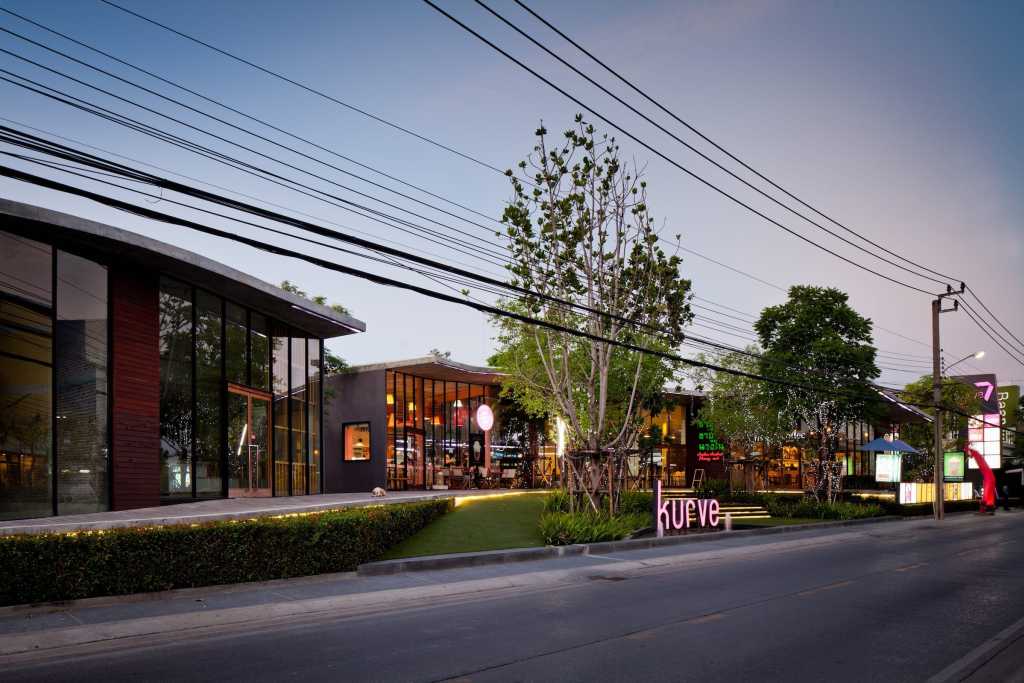 材料的处理用于强调项目的每个建筑元素。连续弯曲的屋顶平面由裸露的混凝土构成,而地面则由木板和绿色植物构成。垂直面用深色粗糙的混凝土纹理处理,而弯曲的立面采用地板到天花板的玻璃和金属框架细节处理。现存的树木保存完好,周围环绕着梯田,构成了场地的主要用餐区。
The treatment of materials is used to emphasize each architectural elements of the project. The continuous curved roof plane is constructed from exposed concrete, while the ground plane is defined by wood planks and greenery. The straight vertical planes are treated with a dark rough concrete texture while the curving front facades are treated with floor to ceiling glazing and metal framing details. Existing trees are well preserved and surrounded with terraces, defining a main dining area of the project.
建筑模型  Model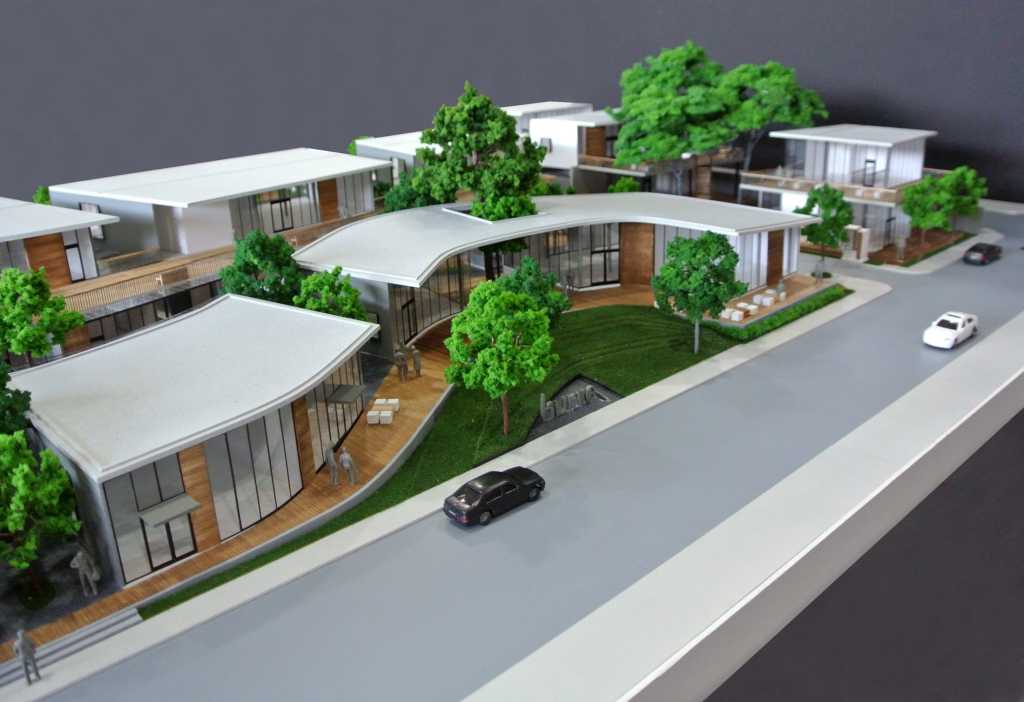 项目名称: Kurve 7
项目地点: 泰国曼谷
客户: Kurve 7 Co.,Ltd.
计划: 社区购物中心
面积: 4000平方米
结构工程: Panit Supasiriluk
机械工程: MEE Consultants
建筑设计: Stu/D/O Architects
室内设计: Stu/D/O Architects
景观设计: Teerachai Tharawongthawat
平面设计: Amnaj Suriyawongkul
照明设计: Siriluck Chinsaengchai
设计时间: 2011 – 2012
状态:完成于2014年
摄影: Stu/D/O Architects; Ketsiree Wongwan
Project Title: Kurve 7 
Project Location: Krungthep Kreetha 7 Road, Bangkok, Thailand
Client: Kurve 7 Co.,Ltd.
Program: Community Mall
Area: 4,000 square meters
Structural Engineer: Panit Supasiriluk
Mechanical Engineer: MEE Consultants 
Architect: Stu/D/O Architects
Interior Architect: Stu/D/O Architects
Landscape Architect: Teerachai Tharawongthawat
Graphic Designer: Amnaj Suriyawongkul
Lighting Designer: Siriluck Chinsaengchai
Design: 2011-2012
Status: Completion 2014
Photo Credits: Stu/D/O Architects; Ketsiree Wongwan
更多 Read more about:Stu/D/O Architects