本文由 奥雅设计 L&A Design 授权mooool发表,欢迎转发,禁止以mooool编辑版本转载。
Thanks L&A Design for authorizing the publication of the project on mooool, Text description provided by L&A Design.
奥雅设计:与海为邻,住在无尽蓝的隔壁,却无壁可隔,一无所有,却拥有一切。——余光中《与海为邻》
每个场地都有属于这片场地特有的气质。在这里,方案与场地独一无二的自然景观相融合,苍茫、质朴。
L&A Design: Neighboring to the sea, living at the side of endless blue with no wall to separate, I am having nothing, but holding everything.—Neighboring to the Sea, Yu Guangzhong
Each project site owns its own feature. In this project, design elements play well with the nature of the site, vast but simple.
▼场地鸟瞰  Aerial View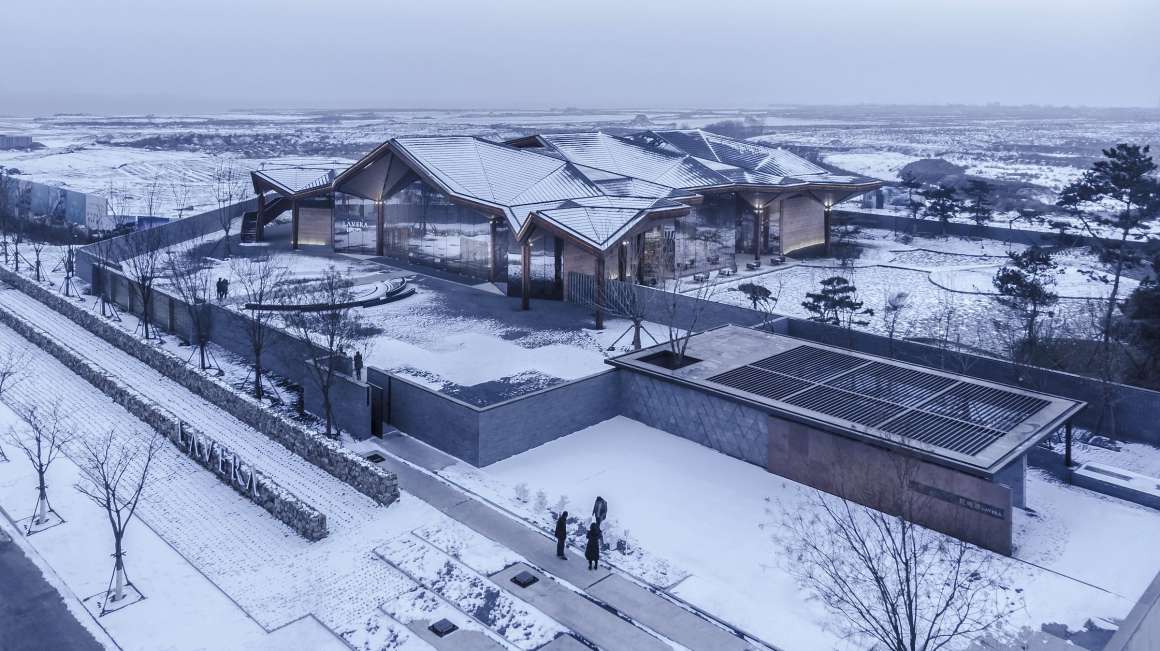 临街界面以当地易得的原石作为主材料,简单造型,朴实质感,凸显场地自然性。
Decoratively paved by local rough stone, the entrance-scape shows its simply elegance, highlighting the beauty of local Nature.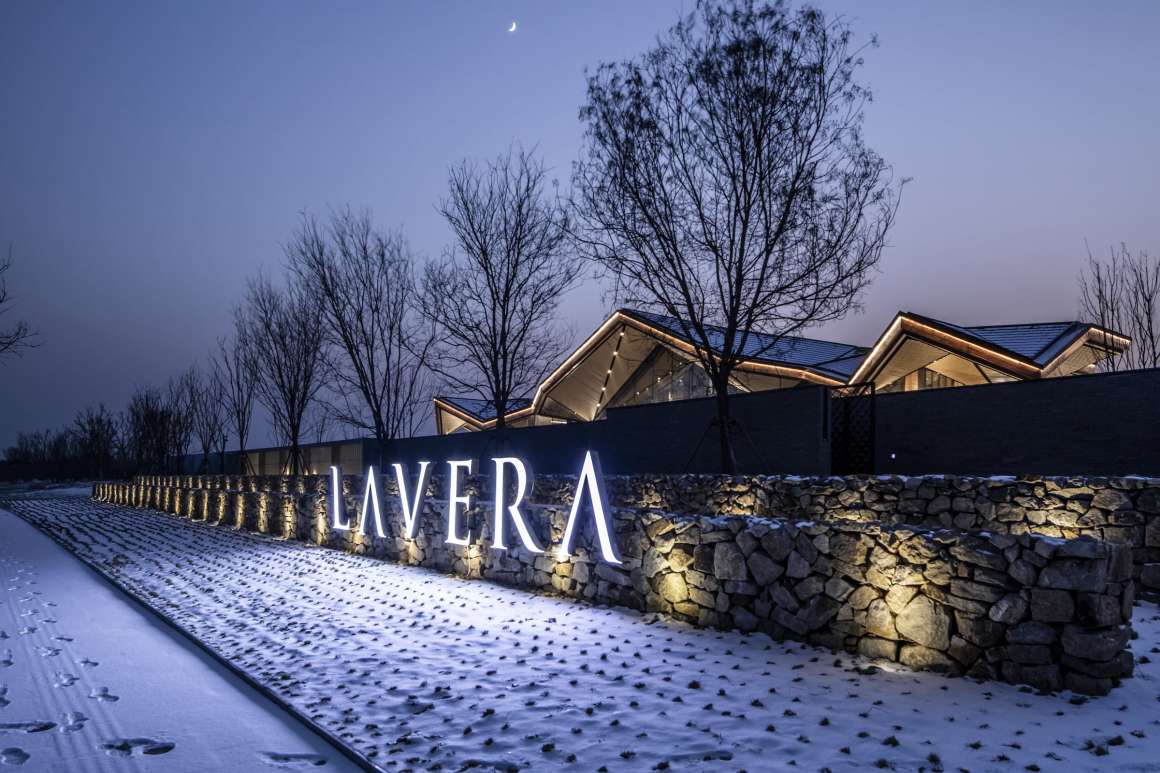 ▼入口空间的构筑物尽量压低,强调横向延展性  The entrance structure is shortly bodied,  to emphasize its horizontal extensibility.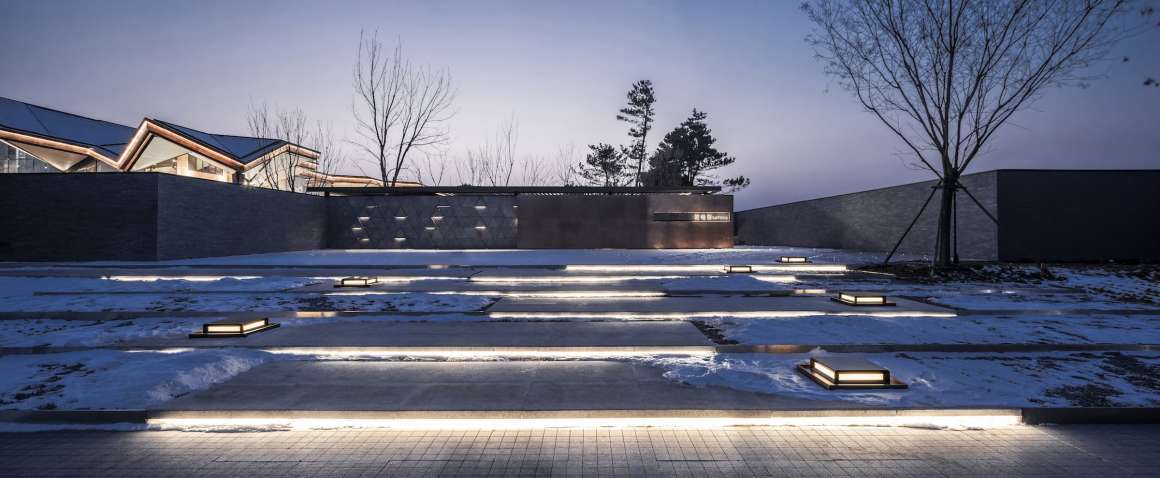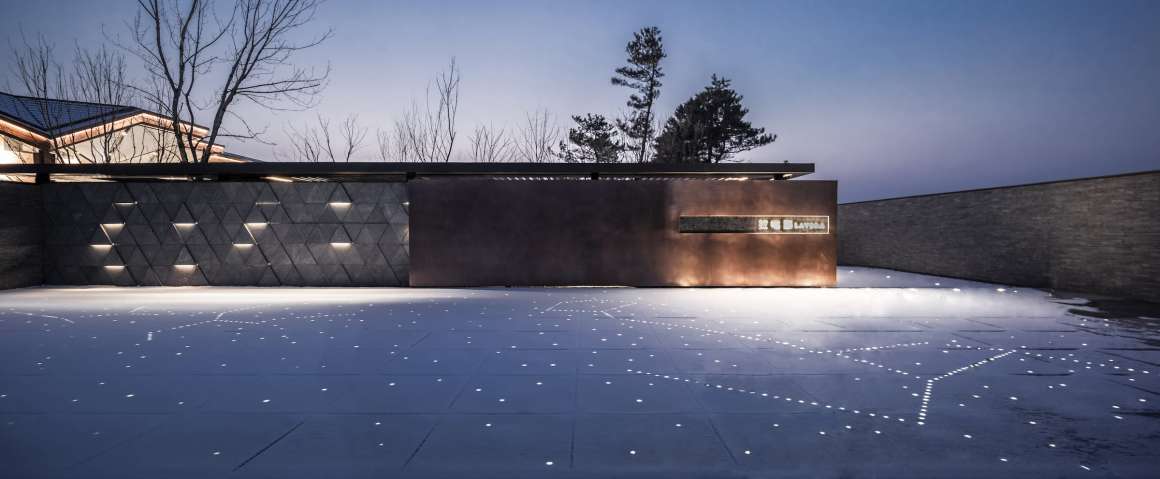 半开敞空间,被两侧围墙包裹,营造一种到达感。星光在脚下闪烁,恍若置身银河的超现实体验。
It's a semi-open space walled on both sides, creating a warm sense of arrival. Treading on the staring ground, you're enjoying the romance of the Galaxy.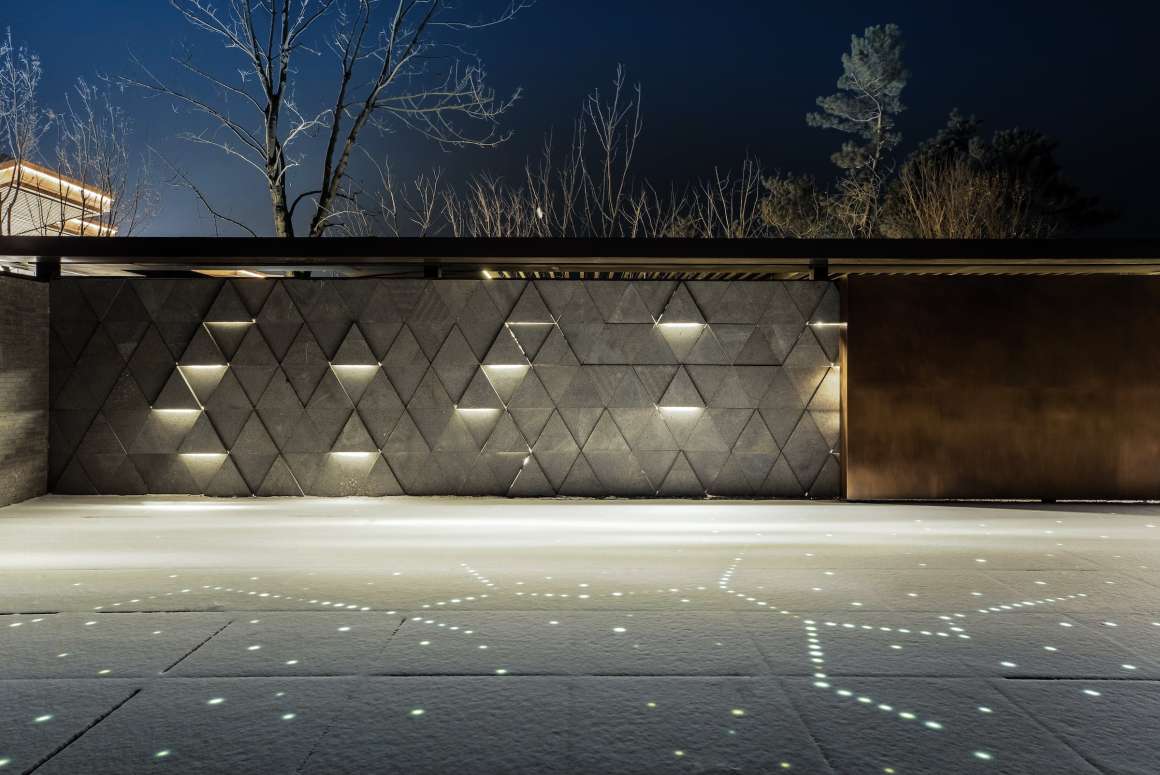 ▼朴素的墙矗立在这里,和光一起,缄默,平静  Stands here a simple wall, playing with the sunlight, silently in the calm.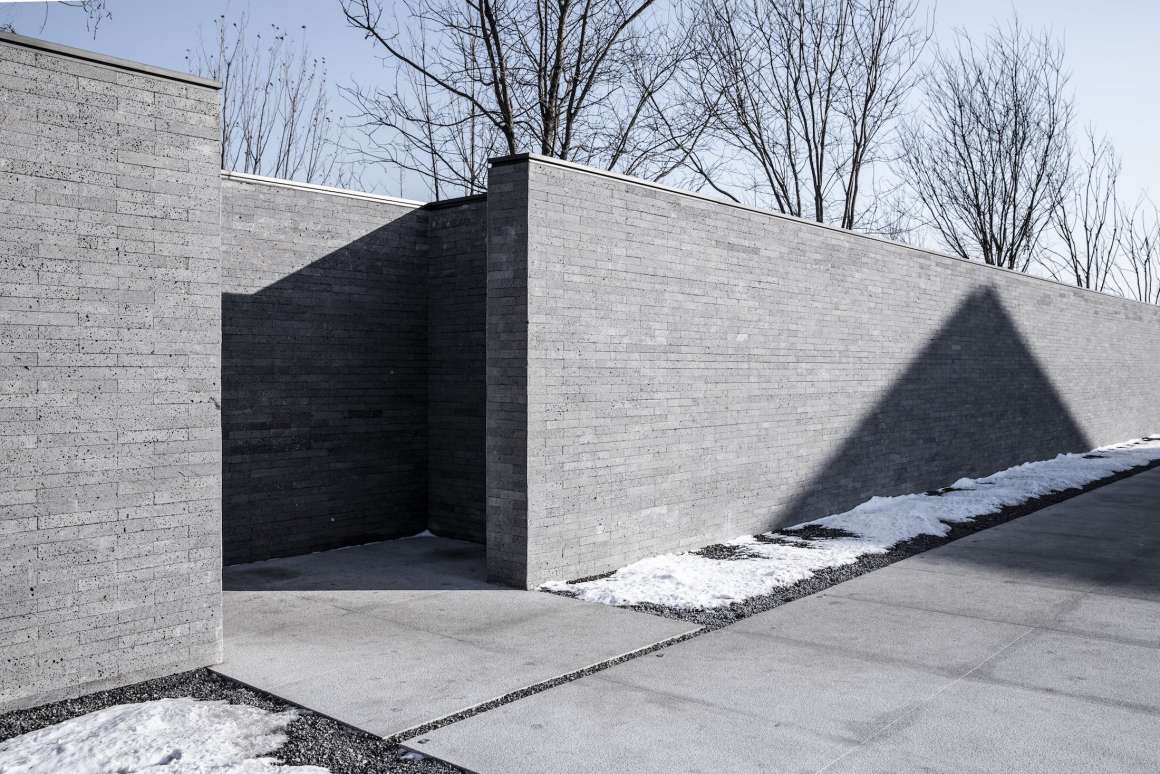 建筑方案以树为原型,进行结构单元的演绎,如一片树林生长在海边。景观则如同林下的一片沙,衬托着树林,空旷,孤独,静默。
The main building is tree-shaped and unit-structured, as a forest growing on the beach. The landscape is designed as sands in the "forest", endowing the "woods" with an outstanding view. A spacious site immersed into the solitary silence.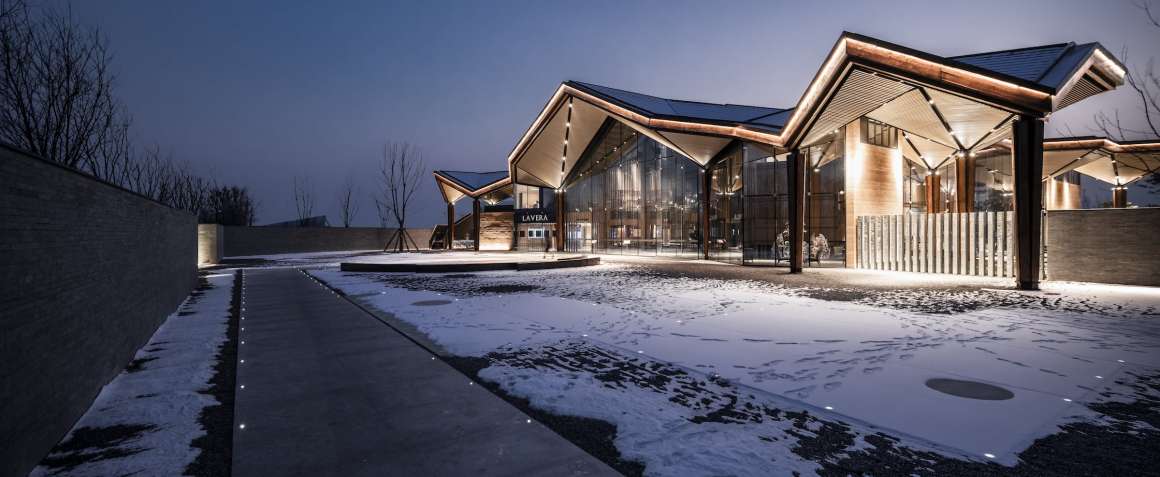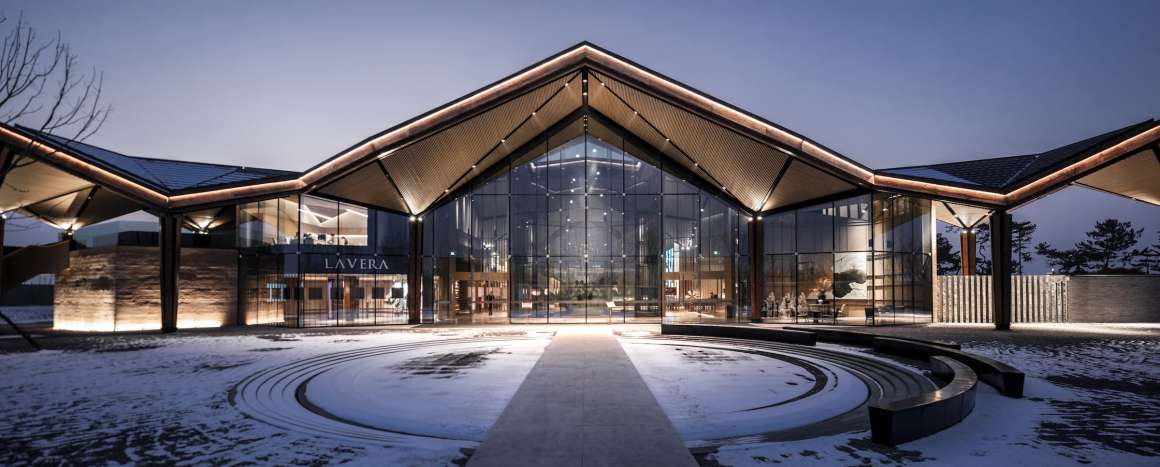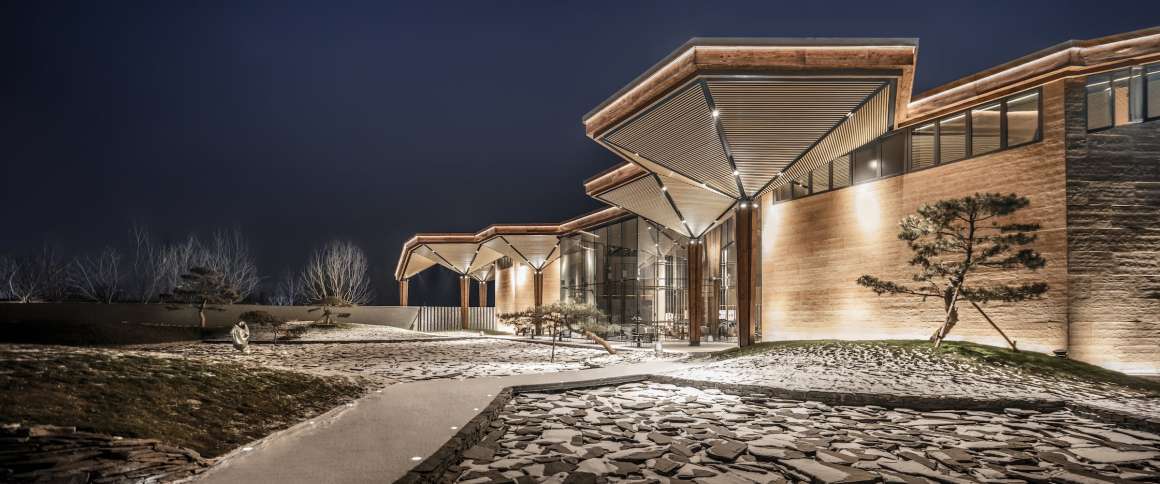 ▼后场舒适的花园可以让人走近前来  The backyard is designed in lifestyle, a cozy garden built leisurely approachable.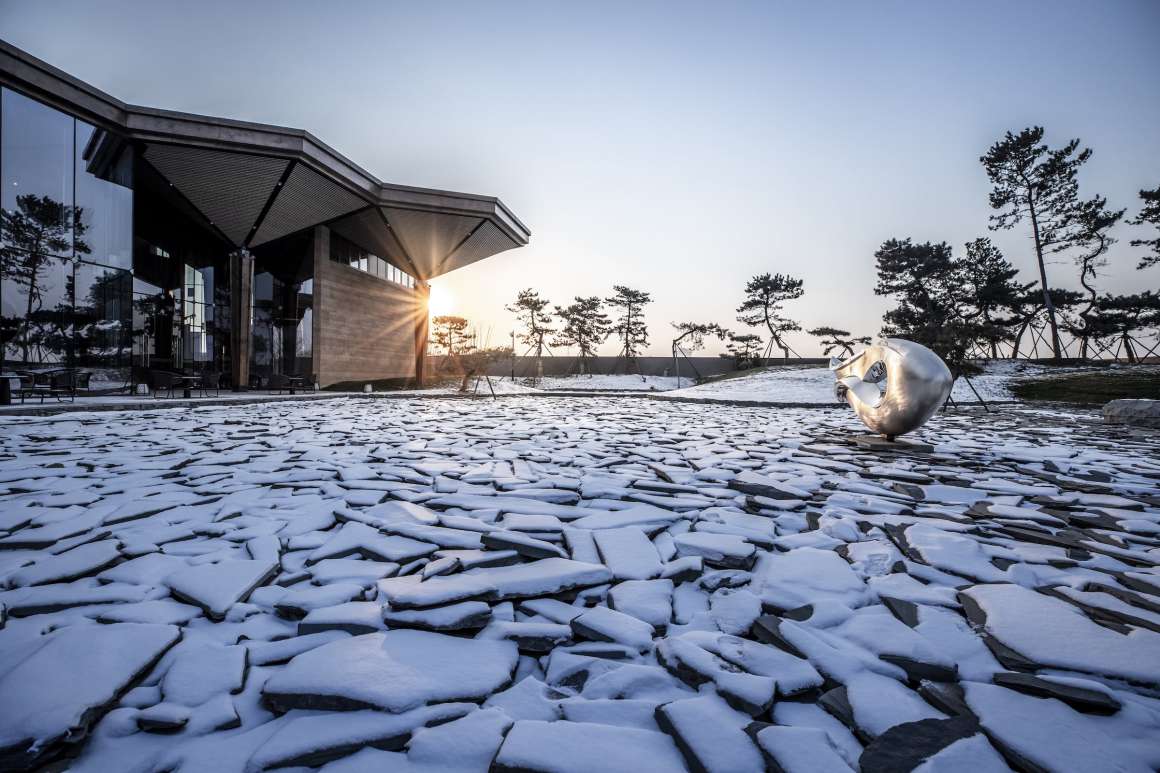 用当地最普通的材料,模仿丘陵、峡谷的意向,做有趣的空间,纯粹并富有质感。
A playful zone is also built by the local stone material, hill and canyon shaped, fully rich in local features.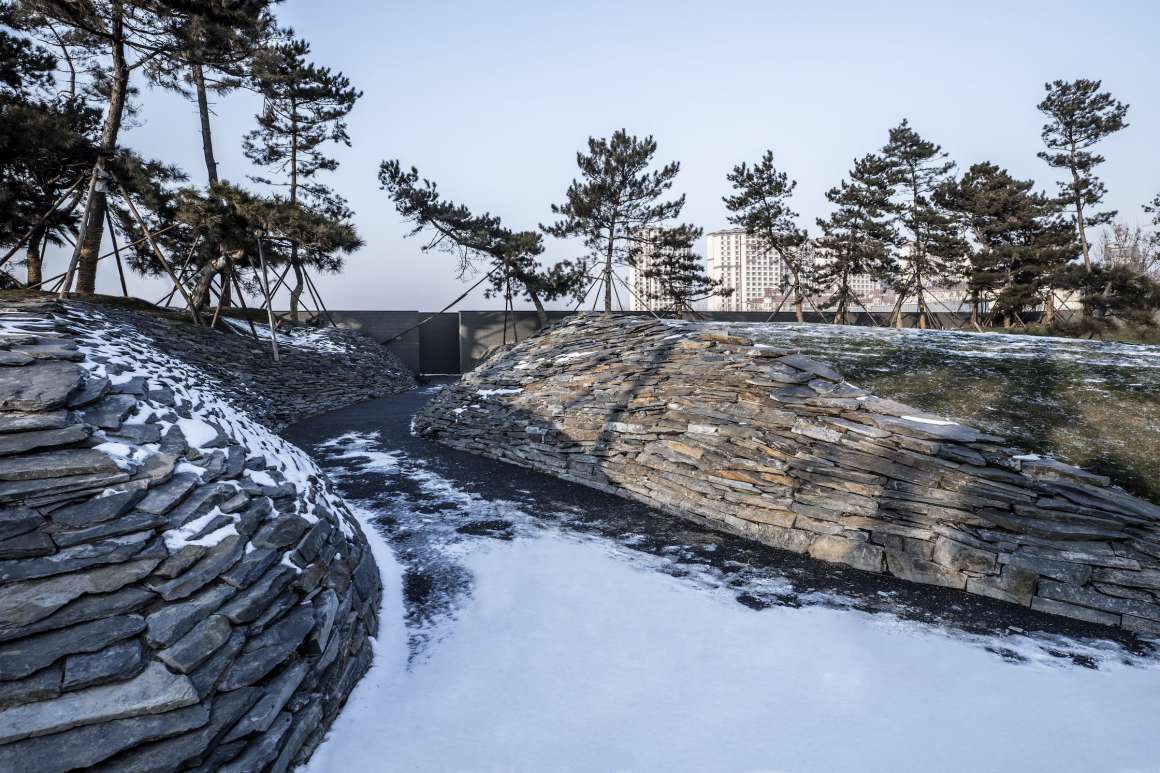 去除夸张的造型,或浮华的材料,最大限度保留场地的景观体验,用最简单真诚的方式与场地对话。所有的物都穿透日常的存在,以一种适合的状态面对周遭一切,景观的诗意便在此显形。
No exaggeration, no magnificence. The existed natural scene is preserved as much as possible to talk with the site in a friendly and sincere way. Everything here is about daily life. A nice landscape design work should be well based on our everyday life.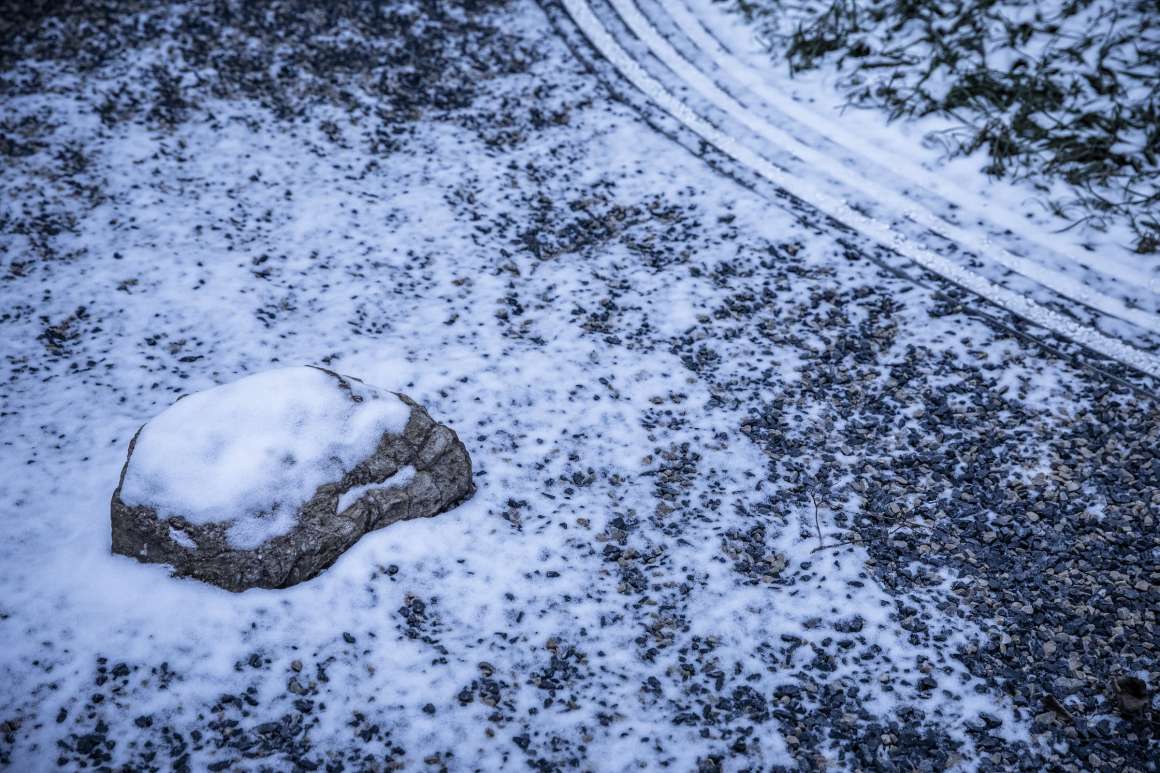 我已把我的梦铺在你的脚下;轻些踩啊,因为你踩着的是我的梦。——叶芝《他但求天上的霓裳》
I have spread my dreams under your feet; tread softly because you tread on my dreams. —Aedh Wishes for the Cloths of Heaven, William Butler Yeats
项目名称:中南拉唯那生活体验中心
项目地点:河北 唐山
项目类型:住宅
占地面积:9000㎡
客户名称:中南置地
景观设计:奥雅设计  北京公司 项目二组
设计时间:2018.2
竣工时间:2018.10
摄影:一辉映画 林一
Project Name: Zhongnan La Vera Lifestyle Center
Project Location: Tangshan, Hebei
Project Type: Residential
Project Site: 9,000m2
Project Client: Zhongnan Group
Landscape Architecture: Project Group II, Beijing Branch, L&A Design
Designing: Feb, 2018
Completion: Oct, 2018
Photography: Yihui Visual Studio Lin Yi
项目中的材料运用 Application of plants and materials in this project
更多 Read more about:奥雅设计  L&A  Design