本文由 Studio Guilherme Torres 授权mooool发表,欢迎转发,禁止以mooool编辑版本转载。
Thanks Studio Guilherme Torres for authorizing the publication of the project on mooool, Text description provided by Studio Guilherme Torres.
Studio Guilherme Torres:2016 年,客户聘请工作室(Studio Guilherme Torres)为其购买的尚处于规划阶段的公寓进行室内设计。数月过去,再之后,他们的家庭逐渐壮大。随着项目的推进以及家庭成员的增加,他们原本购置的房屋已经无法满足其需求,于是开始重新购买房屋​。
Studio Guilherme Torres:In 2016, the clients hired the Studio to develop an interior design project for an apartment they had bought in the planning stage. A few months passed, and soon after, the family grew. As the project developed, the area proved to be far below their space expectations, and the opportunity to buy a house arose.
▽动图 GIF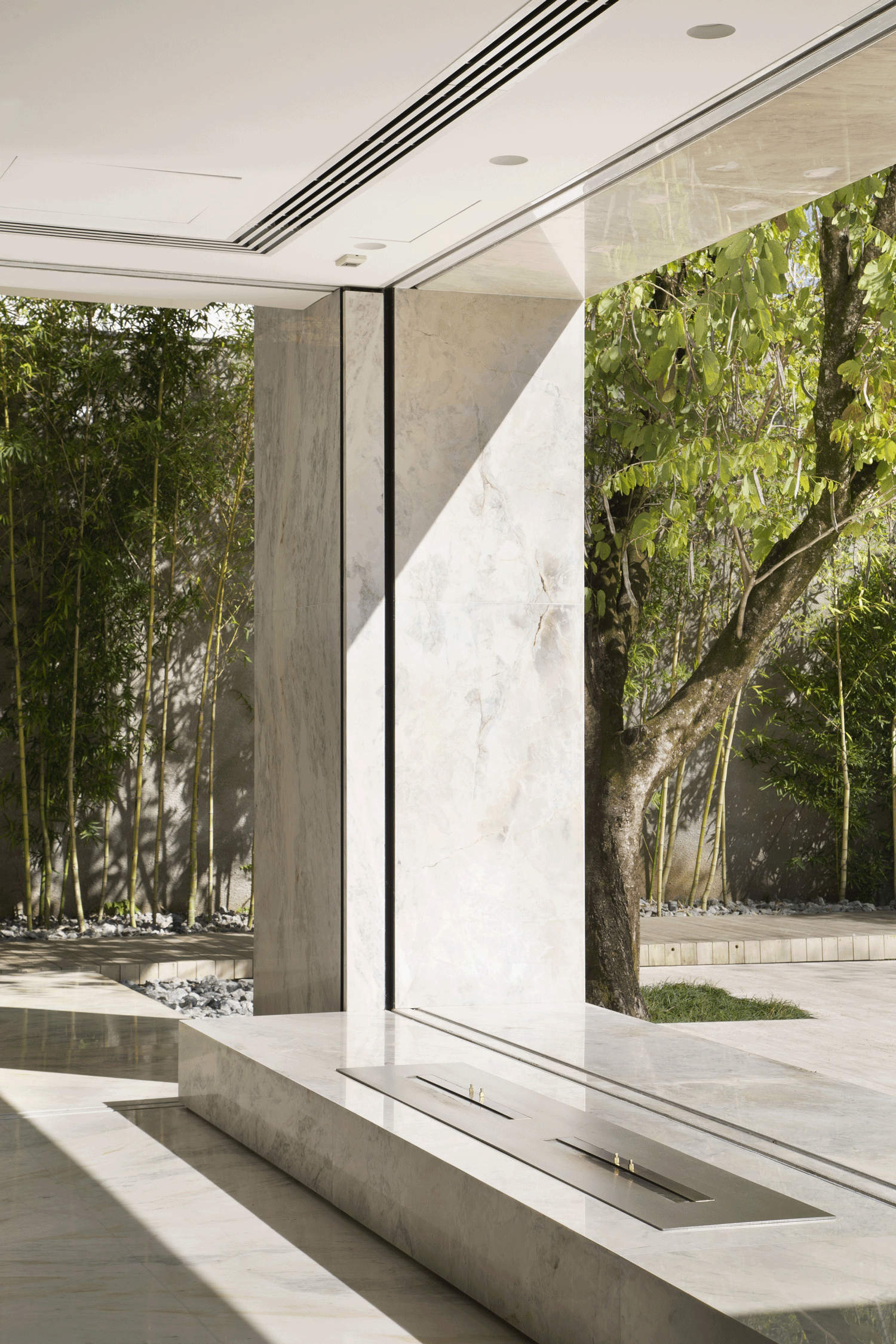 这是一栋大概建于 20 世纪 50 年代末的建筑,位于一个树木繁茂但地处中心的社区,建筑经过不断的扩建和翻新,呈现出多种风格,但它拥有满足客户家庭的理想面积,于是,一项庞大的改建项目开始了。项目重新配置了老旧建筑的所有空间,使其能够适应现代生活。
The building, possibly from the late 1950s, built in a wooded yet central neighborhood, presented a miscellany of styles, arising from successive expansions and renovations, but it had the ideal area. An ambitious remodeling project was then started, which reconfigured all the spaces and brought the construction up to date.
房屋的一部分空间如车库、房前服务设施,以及楼梯的位置得以保留。其他部分则完全重新配置,例如客厅经过改造,完全向房屋后院敞开,游泳池和休闲区也经过了重新布置。
Some of the house's distribution points were maintained, such as the garage and services in the front, as well as the staircase position. Others were completely reconfigured, such as the living room, which now opens out completely to the back of the property, where the pool and recreation area were repositioned.
在改造最初的拆除阶段,团队及时发现原本的建筑结构情况不佳,于是开始重新设计项目结构,其余所有设施也从头开始。
业主的一大诉求是让房屋变得开敞明亮,有尽可能多的开口,并使用能够反射自然光的材料。为此,设计师尝试使用铝制框架和简约的玻璃,并在整个一楼使用白色 Paraná 大理石铺地,部分墙壁使用未经加工的石灰石,这些材料也被用于整个室外区域,包括泳池内壁。
During the initial demolition phase, it was found that many structures were in poor condition. This led to a completely new structural project, as well as all the other facilities, which were redone from scratch.
One of the owner's requests was to make the house extremely bright, with as many openings as possible and with materials that reflect natural light. To achieve this, we explored the use of aluminum frames and minimalist glass, white Paraná marble throughout the first floor, and some walls in raw Travertine, the material chosen for the entire outdoor area, including the pool lining.
枢轴门、墙上的隐藏开口和橱柜,以及二楼地面的饰面均采用 Accoya 材料,这种材料具有天然的灰暗色调,十分耐磨。此外,顶层的地板也同样采用了 Accoya 涂料。
Pivot doors and walls concealing openings and cabinets, as well as the the second level's floor finish, were clad in Accoya, an extremely resistant species of Scandinavian pine that has a natural grayish hue. In addition to the floor of the upper floor, which also received the Accoya coating.
▽动图 GIF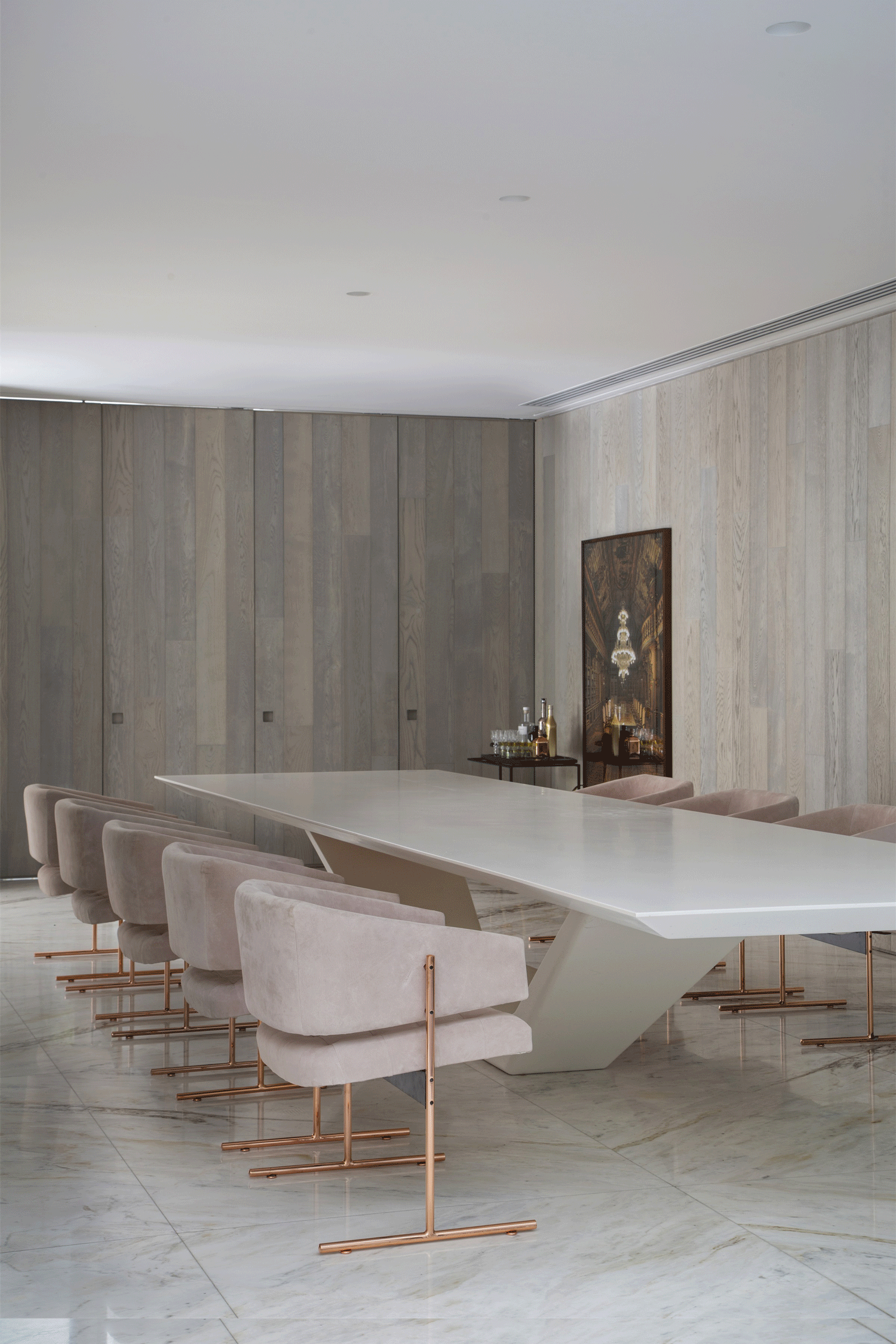 值得一提的是,设计为家庭的三个孩子留出了 150 平方米的顶层空间。客户与设计师共同设计了儿童家具,包括橱柜、带球池的滑梯、舞台、攀爬墙、跑道、"小商店"和 "厨房",为孩子们营造了一个气味无穷的世界!
Most importantly, the house ended up with a 150 square meter rooftop, which was completely intended as a space for the three children. The children's furniture, which includes cabinets, a slide with a ball pit, a stage, climbing walls, a running track, a "little shop" and "kitchen", was all developed by the Studio's architects, along with the client. And the result? The fun never ends!
▽设计图纸  Design drawing
项目名称:Light House
工程竣工年份:2020年
总建筑面积:1226m²
项目地点:巴西圣保罗
办公室:Studio Guilherme Torres
网站:https://www.guilhermetorres.com/
https://www.instagram.com/guilhermetorres/
摄影师:Denílson Machado-MCA Estudio-http://www.mcaestudio.com.br/site/
供应商
大理石:Michelangelo
家具:Studio Guilherme Torres / Etel
细木工制品:Marvelar
建造商:DDK
Corial:Vitti
金属:Deca
地毯:Fenicia
艺术品:Sui
可丽奈材料:Studio Vitty
地毯:Phenicia
Project's Name: Light House
Project completion year: 2020
Gross Floor Area: 1226m²
Project location: São Paulo – Brasil
Office: Studio Guilherme Torres
Site: https://www.guilhermetorres.com/
https://www.instagram.com/guilhermetorres/
Photographer: Denílson Machado – MCA Estudio – http://www.mcaestudio.com.br/site/
Suppliers
Marble: Michelangelo
Furniture: Us / Etel
Joinery: Marvelar
Builder: DDK
Corial: Vitti
Metals: Deca
Carpets: Fenicia
Artwork Boy Dragonfly: Sui
Corian: Studio Vitty
Carpet: Phenicia
---
" 一座简约、开敞、明亮、充满光的住宅。"
审稿编辑: SIM
更多 Read more about: Studio Guilherme Torres