本文由 贝尔高林 授权mooool发表,欢迎转发,禁止以mooool编辑版本转载。
Thanks Belt Collins for authorizing the publication of the project on mooool, Text description provided by Belt Collins.
贝尔高林:伟星玖著里项目基地位于马鞍山市花山区,慈湖河路与花园路交叉口东南角距离马鞍山东站3km,客运枢纽5.2km,市政府约2.7km,周边有学校,医院,购物中心,交通便利,配套较完善。
Belt Collins: The Weixing Jiuzhuli project base is located in Huashan District, Ma'anshan City. The southeast corner of the intersection of Cihuhe Road and Huayuan Road is 3km away from Ma'an Shandong Station, 5.2km from the passenger transport hub, and about 2.7km from the municipal government. There are schools, hospitals, and shopping malls nearby. The transportation is convenient and the supporting facilities are relatively complete.
▼项目区位图 Project location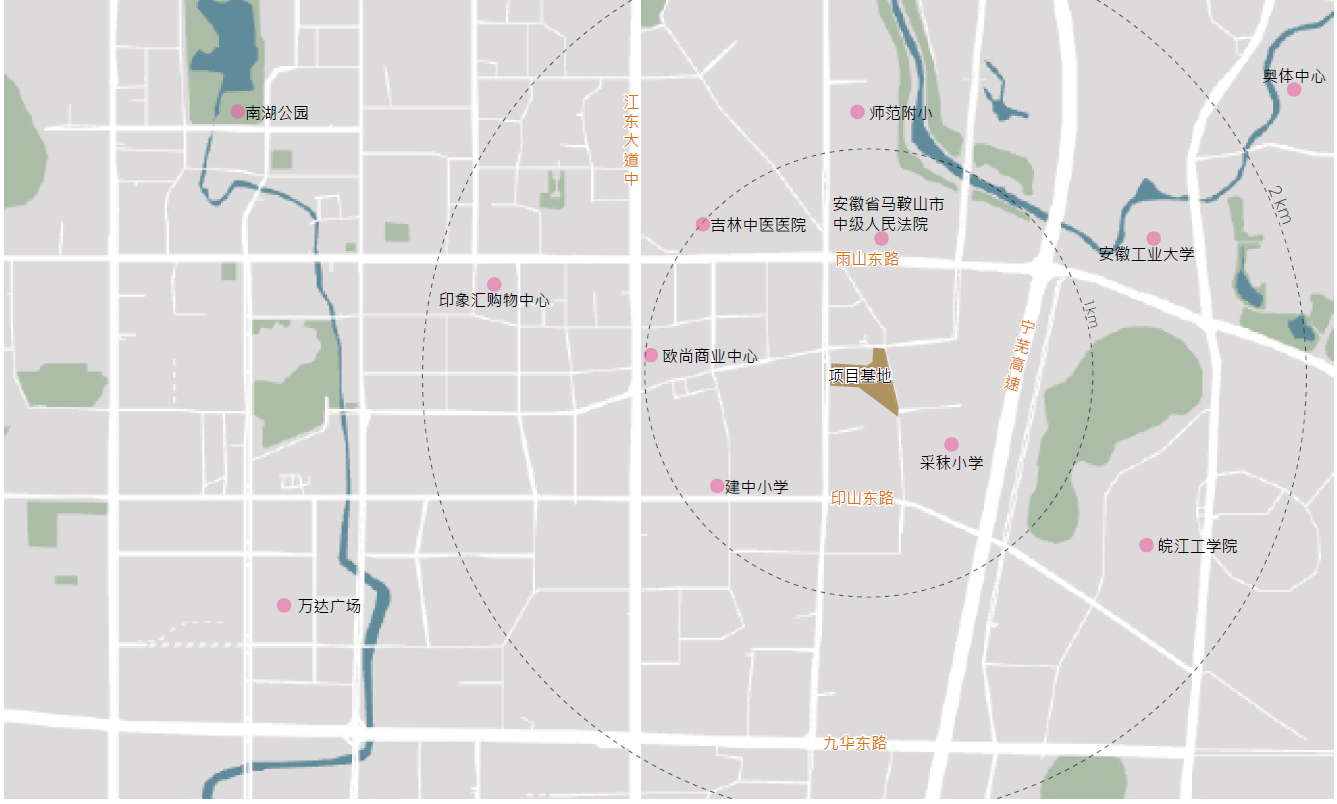 整个项目以"一轴八园林+六重立体花园"布局,打造一段令人恒久眷念的设计旅程。示范区作为项目景观的提炼之地,将园区的深远与禅意凝结,以松、石、泉、流光四种元素营造一席园林盛景,当置身其中,将有"偶得幽闲境,遂忘尘俗心"的脱俗与忘忧。
The entire project is laid out with "one-axis eight gardens + six-layer three-dimensional gardens" to create a long-lasting design journey. As a place to refine the project's landscape, the demonstration area condenses the profoundness of the park with Zen, and uses the four elements of pine, stone, spring, and streamer to create a grand landscape of gardens. The vulgarity and worries of the vulgar heart.
▼空间结构 Spatial structure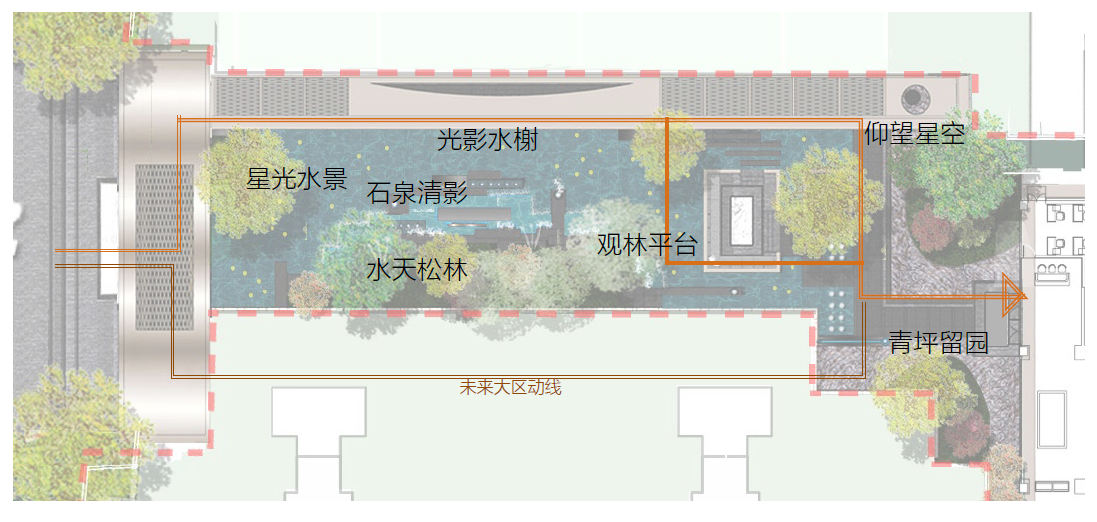 初见
恢宏大气的示范区入口与质感大雅,形态灵巧的特色雕塑相辅相成,铸就来访者深刻的第一印象。入口镜面池底采用蓝珍珠花岗岩材质,不管白昼或者夜晚,都可见点点星光散落其上,宛如星空坠落人间。
Entrance to the magnificent demonstration area with elegant texture, the dexterous and characteristic sculptures complement each other. It creates a deep first impression of the visitor. The entrance mirror pool bottom is made of blue pearl granite. Regardless of day or night, you can see a little bit of starlight scattered on it, like the stars falling into the world.
▼示范区入口 Entrance to the demonstration area
入园
未见其景先闻其声。泉水垂帘,淅沥叮咚之声,如立体交响乐在园中荡漾,令人心旷神怡。松、石、泉三者相映成趣,构建出一幅意蕴深远的中式风情画,彰显大国风范。
Hear the sound before seeing the scene. The curtain of spring water, the sound of dingdong, like a three-dimensional symphony rippling in the garden, it's refreshing. Pine, stone, and spring complement each other, construct a Chinese style painting with profound meaning, demonstrate the demeanor of a great power.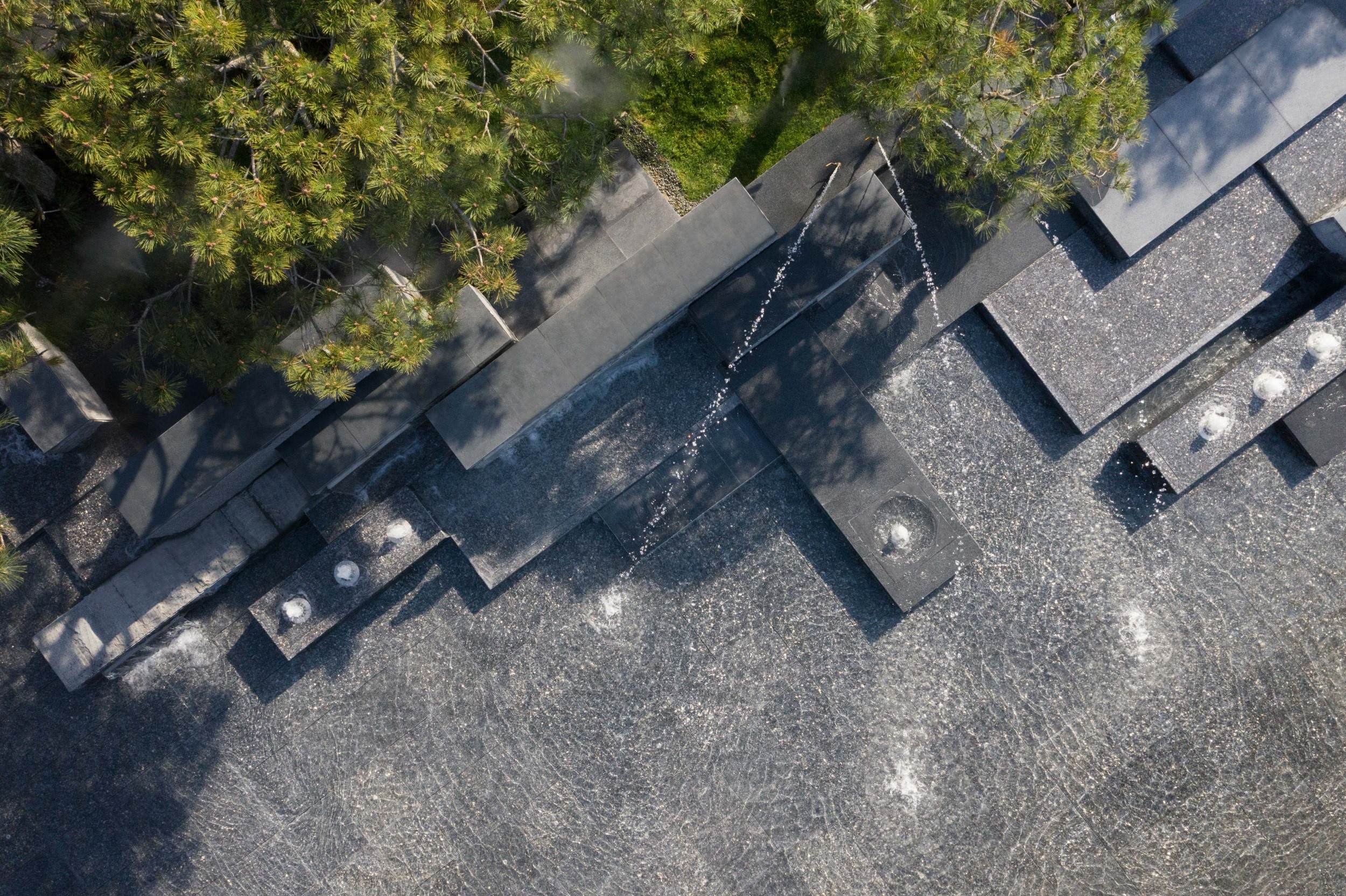 松语
自然、舒展、下垂、弯卷……古松百态的造型诉说着深厚的文化寓意和坚韧不拔的高尚质量,作为植物主景打开天际线,将天光云影引入园中,升华艺术之美。
Natural, stretched, sag, curled…Gu Song's various styles tell profound cultural meaning and perseverance noble quality, open the skyline as the main plant scene, introduce sky light and cloud shadow into the garden, sublimation of the beauty of art.
庭礼
礼序之庭揽乾坤之雅致,负手立于汀步,园中一舒一展皆纳于胸。松枝苍劲,跳泉愉跃,动静闲赋哲明理。此地离尘不离城,待清风徐来,更觉山水有诗意。
The court of ritual order captures the elegance of the universe, stand with your hand in Tingbu, stretching out in the garden is satisfied with the chest. The pine branches are vigorous, jumping into the spring joyfully, philosophy and rationality are given to the rest and the rest. This place is not far from the dust and the city, wait for the breeze to come, feel the landscape more poetic.
▼中庭顶视 Top view of the courtyard
心往
"明月松间照,清泉石上流",王维不愧是山水诗派代表,一语道明松石相映的绝妙氛围,带领人们扎入闲适、离俗的山水意境中,久久不愿离去。
"The bright moon shines among the pine, the clear spring stone is up", Wang Wei deserves to be a representative of the landscape poetry school. In one word, the wonderful atmosphere of turquoise and stone, lead people to plunge into the leisurely, unconventional landscape and artistic conception, long time not want to leave.
流光
从天坠下,流光四散。如水般的月光洒入园中,与嵌入景墙、汀步等园中大小处的流光一并,祈愿福泽传世。
Falling from the sky, the streamer scattered. Moonlight like water spilled into the garden, together with the streamers embedded in the garden wall, Tingbu, etc., may blessings be passed down to the world.
项目名称:马鞍山伟星玖著里
项目地点:安徽省 马鞍山市
开发商:伟星集团
景观设计:贝尔高林国际(香港)有限公司
景观设计风格:现代风格
项目类型:示范区
项目摄影:丘文建筑摄影
Project name: Ma'anshan Weixing Jiuzhuli
Project location: Ma'anshan City, Anhui Province
Developer: Weixing Group
Landscape design: Bell Collins International (Hong Kong) Co., Ltd.
Landscape design style: Modern style
Project type: Demonstration area
Photography: Qiu Wen Architectural Photography
更多 Read more about:  贝尔高林 Belt Collins