本文由 Homologue Studio 授权mooool发表,欢迎转发,禁止以mooool编辑版本转载。
Thanks Homologue Studio for authorizing the publication of the project on mooool, Text description provided by Kalaka Architect.
Homologue Studio:这些建筑结构零星散落地建在很久以前形成的道路旁,没有依据任何严格的模式布局。巨大的公园,高大的树木,环形的湖泊,一条小溪,鸟鸣幽幽,到处充满了生机与活力。
Homologue Studio:Huge park, giant trees, ring-shaped lake, a small creek, full of bird whistle, aliveness, full of life. Without any strict pattern, the buildings are scattered, built next to roads which were formed long time ago.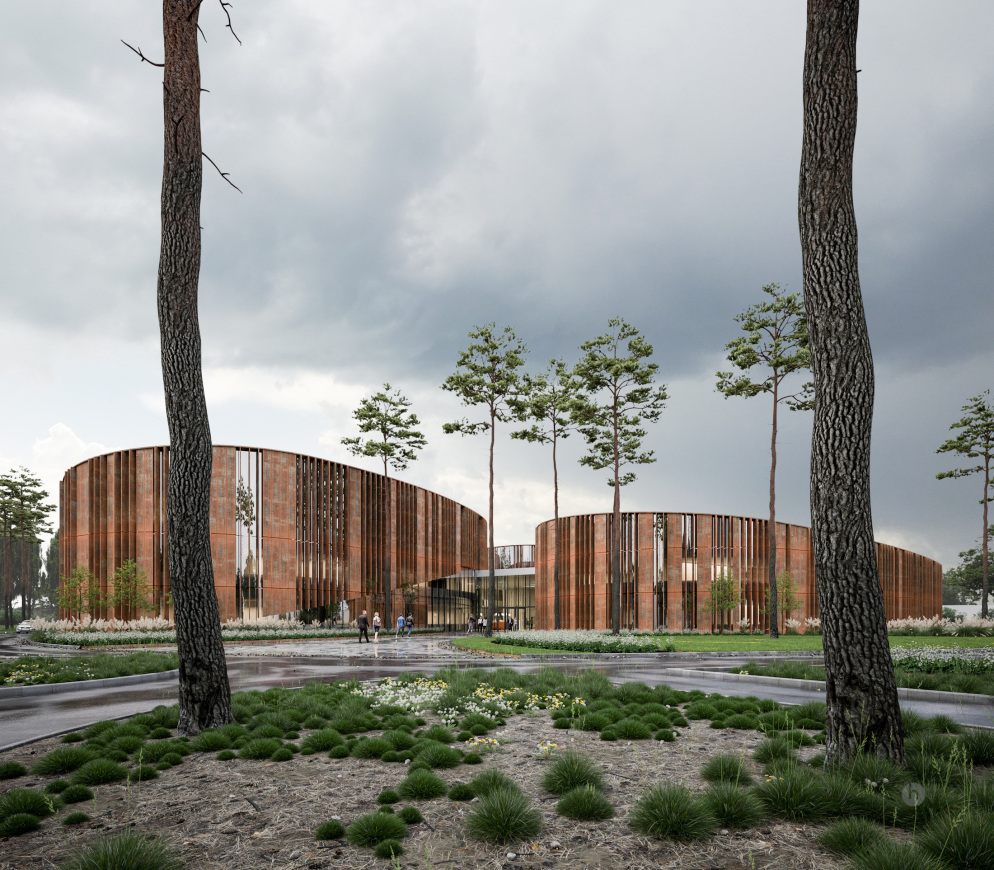 设计挑战 Challange
项目的挑战在于如何在现有的无序系统中融入一个新的大型元素。设计最后提出的解决方案是将项目所需的办公室、实验室、会议室,以及6米跨度的温室空间相邻放置,创造一个900米长的带状空间,并以其作为建筑空间。
设计的目标是将组织部分和功能部分很好地分隔开来,同时创建一个实用性能好且风格统一的建筑。
The challange is to place a new large element into the existing disordered system. By placing the requested offices, laboratories, conference rooms, greenhouses next to each other with a 6 m span creates a 900 m long strip, which was turned into architectural spaces.
The goal was to divide the well separated organizational and functional parts and to create a well usable and uniform building at the same time.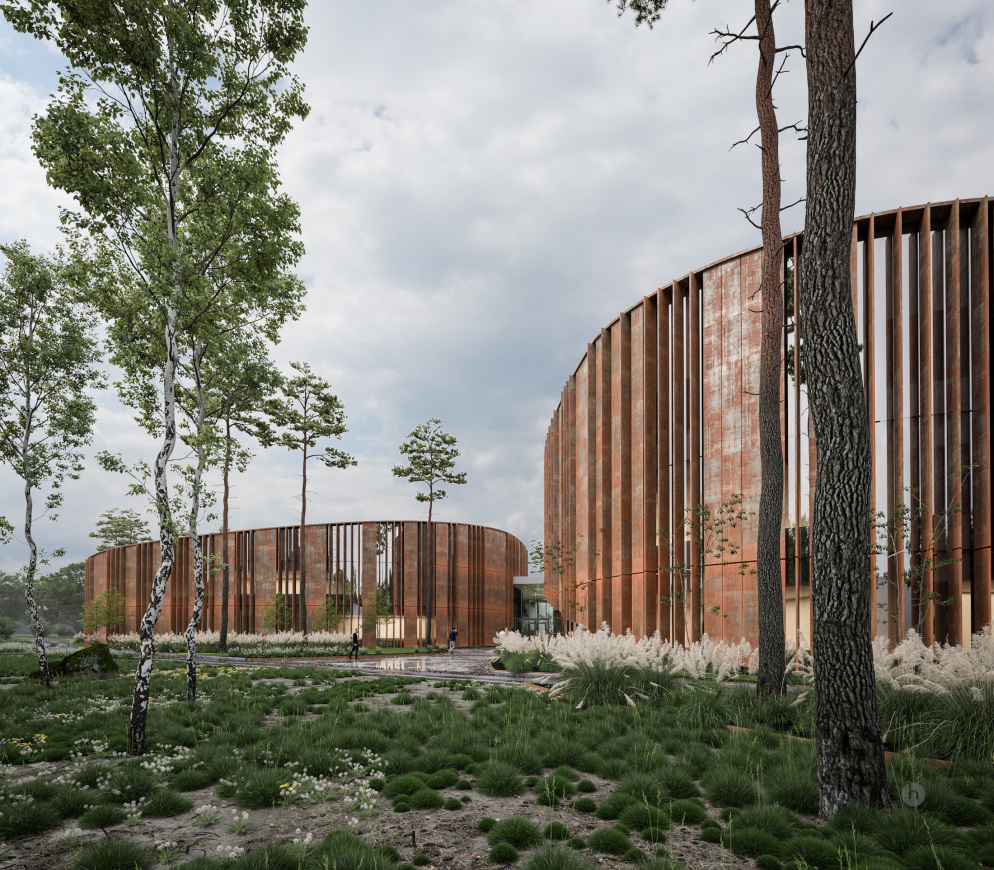 解决方案 Solution
我们的目标是创造一个结构敏感、封闭、精细、可控但有雕塑感的品质建筑。
我们同时运用了展馆和积木系统:将独立的小块,放在一个中心元素上作为展馆。每个学院和部门都是平等的,都可以从中央大厅进入。
The purpose of our work is to create a sensitively structured, closed, fine, controlled but sculptural mass, and architectural quality.
We apply systems with pavilions and blocks at the same time: independent, small blocks, that we put together on a central element as pavilions. Each institute and department is equal, accessible from the central hall.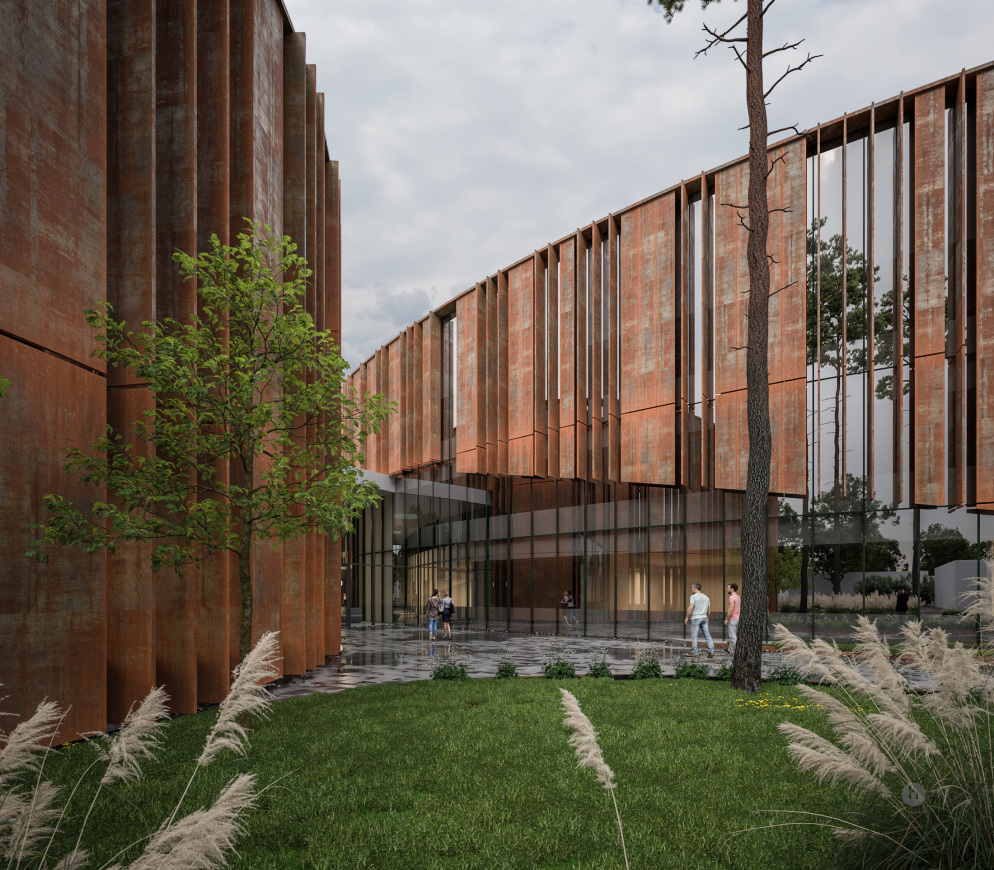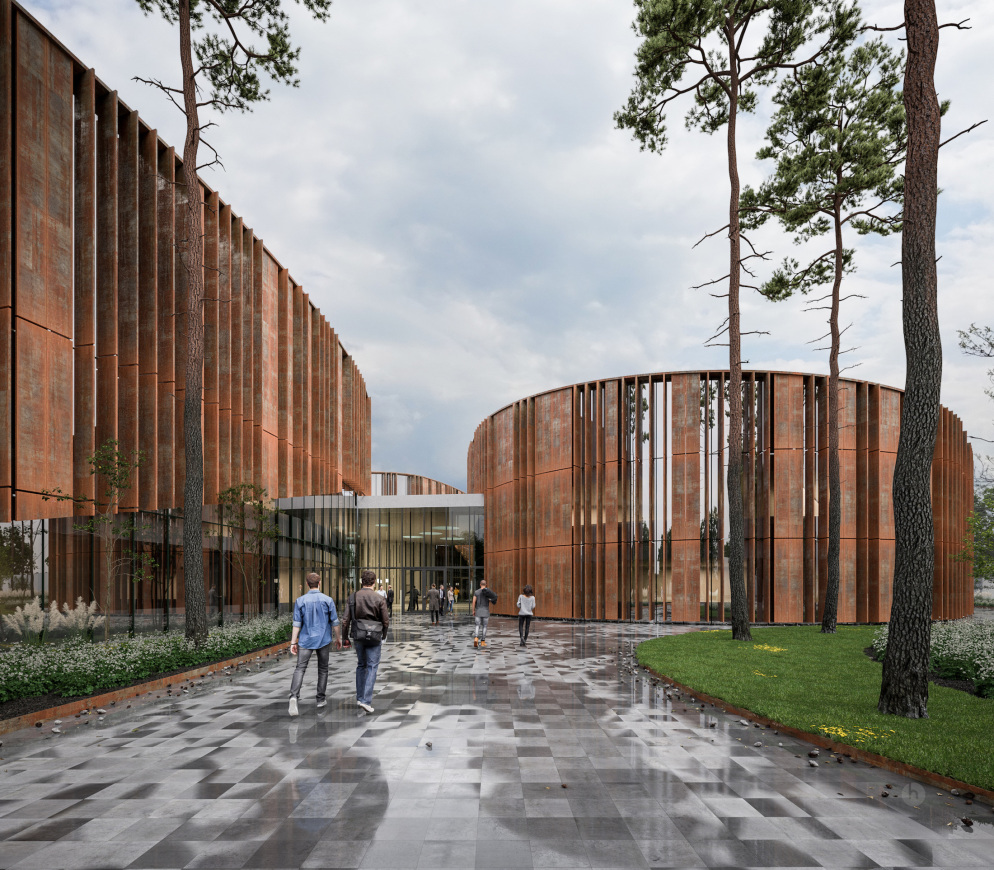 外观 Appearance
建筑外立面的大型防晒保护系统决定了建筑的外观。其立面由框架式的铜制遮阳薄片构成,可根据房子的不同高度进行调节。功能性与外观相辅相成。
The excessive protection against extreme sun exposure determines the look of the building. The facades are made of framed copper shading lamellas, that adjust to the variable height of the house. Functionality meets appearance.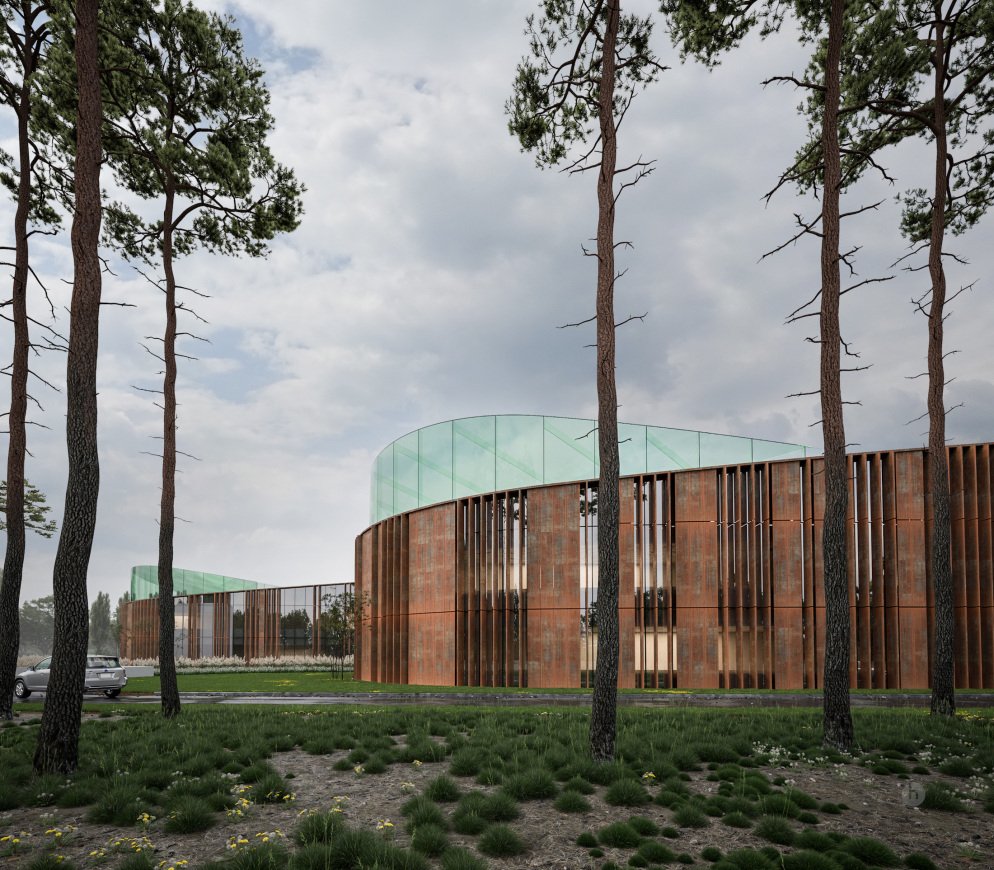 公共空间 Communal spaces
公共生活空间是我们在项目设计中的一个亮点,尤其是中央大厅。建筑内部的花园也可作为日常娱乐的场所。
We consider the spaces for communal life as a piority in our plans, especially the central hall. The inner gardens are for daily recreation purposes.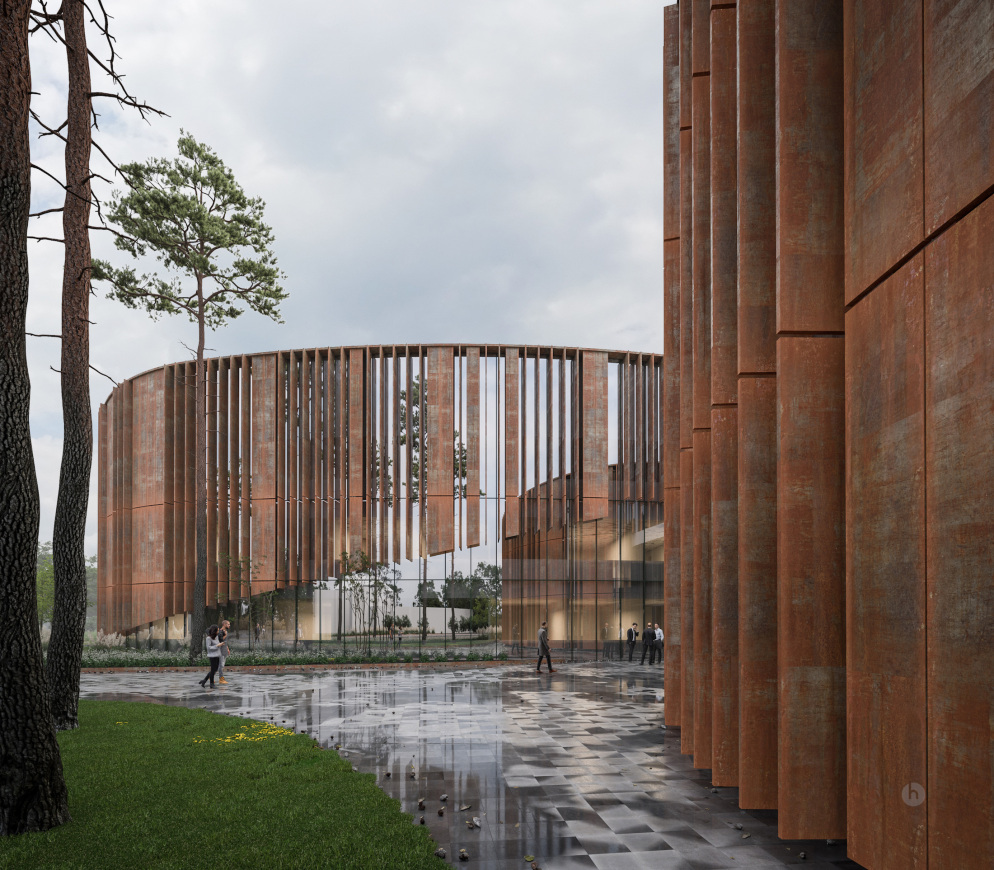 项目名称:匈牙利科学院农业研究大楼
完成:建设中
设计面积:17073平方米
项目地点:匈牙利 Martonvasar
建筑设计:Kaláka Architectural Studio
公司网址:http://www.epiteszkalaka.hu/
联系邮箱:pasztorjozsef@epiteszkalaka.hu
首席建筑师:Pasztor Jozsef
客户:竞赛
图片:Homologue Studio (https://www.behance.net/homologue)
Project name: Martonvasar Agricultural Research Building for MTA(Academy of Science Hungary)
Completion Year: Unbuild
Design Area: 17073 m2
Project location: Martonvásár, Hungary
Landscape/Architecture Firm: Kaláka Architectural Studio
Website: http://www.epiteszkalaka.hu/
Contact e-mail: pasztorjozsef@epiteszkalaka.hu
Lead Architects: Pasztor Jozsef
Clients: Competition
Photo credits: Homologue Studio (https://www.behance.net/homologue)
更多 Read more about: Homologue Studio