GMAA: 冥想亭融入了它所在公园的整体概念,用它自身的品质来增强构图感。这个亭子是通过特定的木制交叉体块倒映在水面,创造了一个与基本方向对齐的整体。
GMAA: The Meditation Pavilion blends in the global conception of the park where it's placed, enhancing the composition with its own qualities. The idea of this pavilion is projected through the particular relation of the wooden volume gently hovering above a crossing water surface, creating an ensemble precisely aligned with the cardinal directions.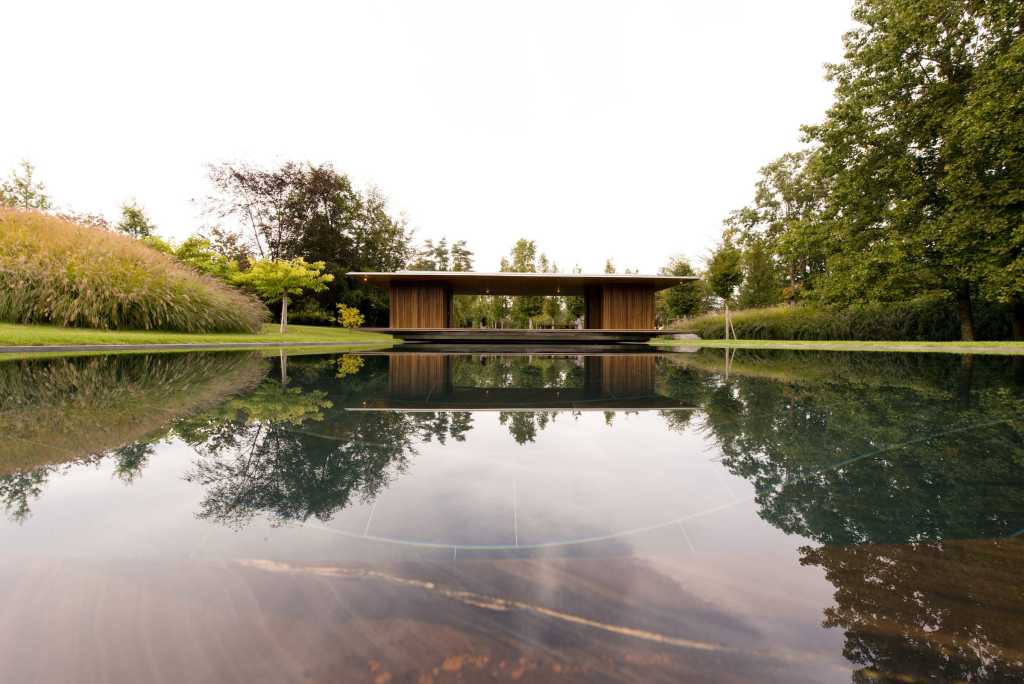 总平面图  Master Plan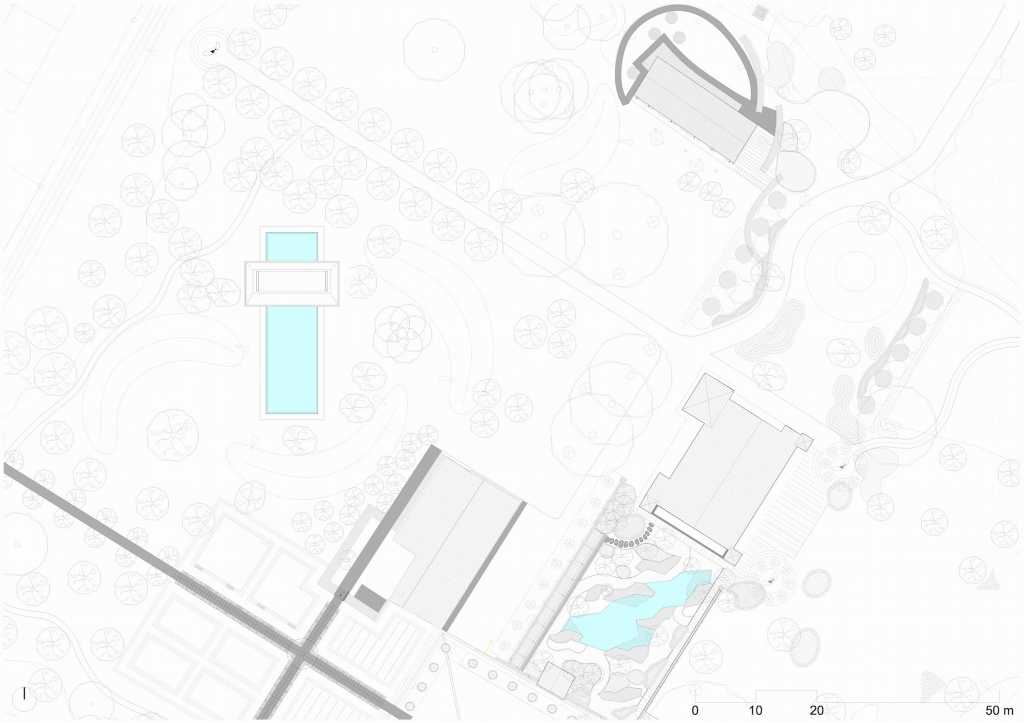 首层平面图  First Floor Plan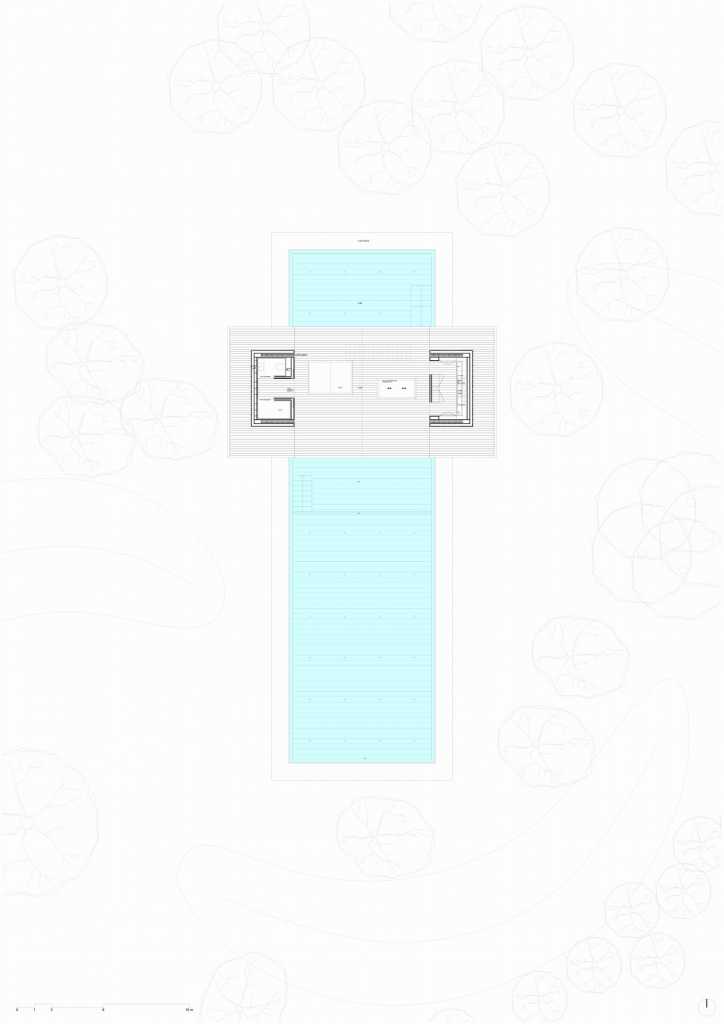 剖面图   Section 
亭子和水面之间诗意的关系通过植物环境的设计得到了强调,限定了亭子在周围私人公园中的位置。
亭子和水池周围的禾本科植物堆形成了一条流动的植物带,随着季节的变化,颜色也发生了变化,亭子被隐藏起来,只允许间接的感知。只有在深入土堆时,它才会被充分显露出来。
The poetic relation between the pavilion and the water surface is highlighted through a work on the vegetal environment that confines the pavilion's position inside the private park that spreads around it.
The Gramineae mounds around the pavilion and the pool create a fluid vegetal belt, changing colors and movements with the seasons, and hiding the pavilion from direct views, allowing only partial or indirect perceptions. It is only fully revealed when penetrating among the mounds.
特别注意的是照明设计(自然的和人工的),它保持了场地的私密性。在这两种横向空间中,自然光透过天窗进入,而悬挂聚光灯和间接照明增强了木材覆层和天花板角落的节奏感。
A special attention is given to lighting design (natural and artificial) in order to preserve the site's intimate character. In both lateral volumes, skylights allow natural light in, while suspended spotlights and indirect lighting enhance the rhythm of timber cladding and the the ceiling's corners.
亭子本身由一个交叉的中央空隙组成,两侧有两个横向空间。它坐落在一个悬在草坪和游泳池上方的木制平台上。该结构由V4A不锈钢制成,在墙壁、地板和天花板上覆盖有热涂层的固体灰木。
The pavilion itself is composed by a crossing central void, flanked by two lateral volumes. The ensemble sits on top of a wooden platform cantilevered over the lawn and pool. The structure is made of V4A stainless steel covered by thermo-coated solid ash wood in walls, floors and ceilings.
中央空隙包括在地板不对称位置上的两个轻微加强件,并且可以通过滑动元件从墙壁内部封闭。每一个侧面的体块都包含不同的功能:西部的更衣室和浴室,东部的夏季厨房和储藏室。为了营造亭子周围的氛围,屋檐上有一个集成的雾化系统。
The central void includes two slight reinforcements on the floor in an asymmetric position and can be closed by sliding elements from inside the walls. Each lateral volume contains a different function: the changing room and bathroom in the west one and the summer kitchen and storage in the east one. In order to refresh the atmosphere around the pavilion, a misting system is integrated along the eaves.
这是与Wirtz国际公司合作的项目
Project in collaboration with Wirtz International NV

项目名称:冥想亭与花园
地点:瑞士日内瓦
年份: 2013年
尺寸: 1000平方英尺- 3000平方英尺
Project name: Mediation Pavilion and Garden
Location: Geneva, Switzerland
Year: 2013
Size: 1000 sqft – 3000 sqft