本文由 TCL 授权mooool发表,欢迎转发,禁止以mooool编辑版本转载。
Thanks TCL for authorizing the publication of the project on mooool, Text description provided by TCL.
TCL:大学景观正在被重塑。他们曾一度被修道院式的宁静所定义,现在他们正在寻找新的方式来融入城市生活。在这个网络和校外学习的时代,大学校园景观在吸引和留住教职员工和学生以及培养有意义的参与、对话和参与方面发挥着至关重要的作用。
TCL:University landscapes are being reinvented. Once defined by the mediative calm of the cloister, they are now seeking new ways to engage in the life of the city. In an age of online and off campus learning, university landscapes are now playing a critical role in both attracting and retaining staff and students and fostering meaningful engagement, conversation and participation.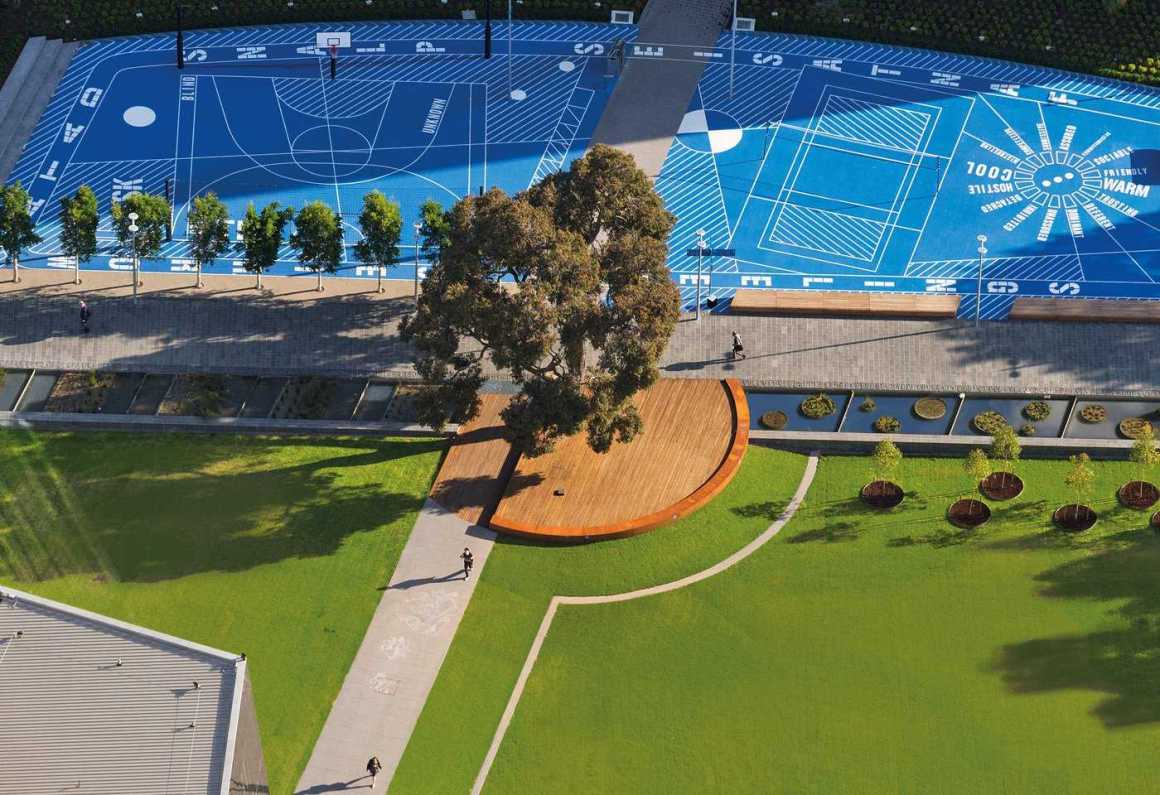 莫纳什大学考尔菲尔德校区的设计鼓励教职员工、学生和游客尽情享受大学文化的活力。它的长廊、草坪、露台和活跃的运动场鼓励了许多学习、社交、娱乐或教育的方式。设计以校园独特的亲密感为基础,鼓励为思想交流、社交、想象、思考和遐想提供"肥沃的土壤",创造培养身心的环境。
The design for Monash University's Caulfield Campus encourages staff, students and visitors to revel in the dynamism of University culture. Its promenades, lawns, terraces and active field encouraging many ways to study, socialise, recreate or be nourished. The design builds upon the distinctively intimate feel of the campus to encourage a 'fertile ground' for the exchange of ideas, socialisation, imagination, reflection and reverie; a setting for the cultivation of the mind and body.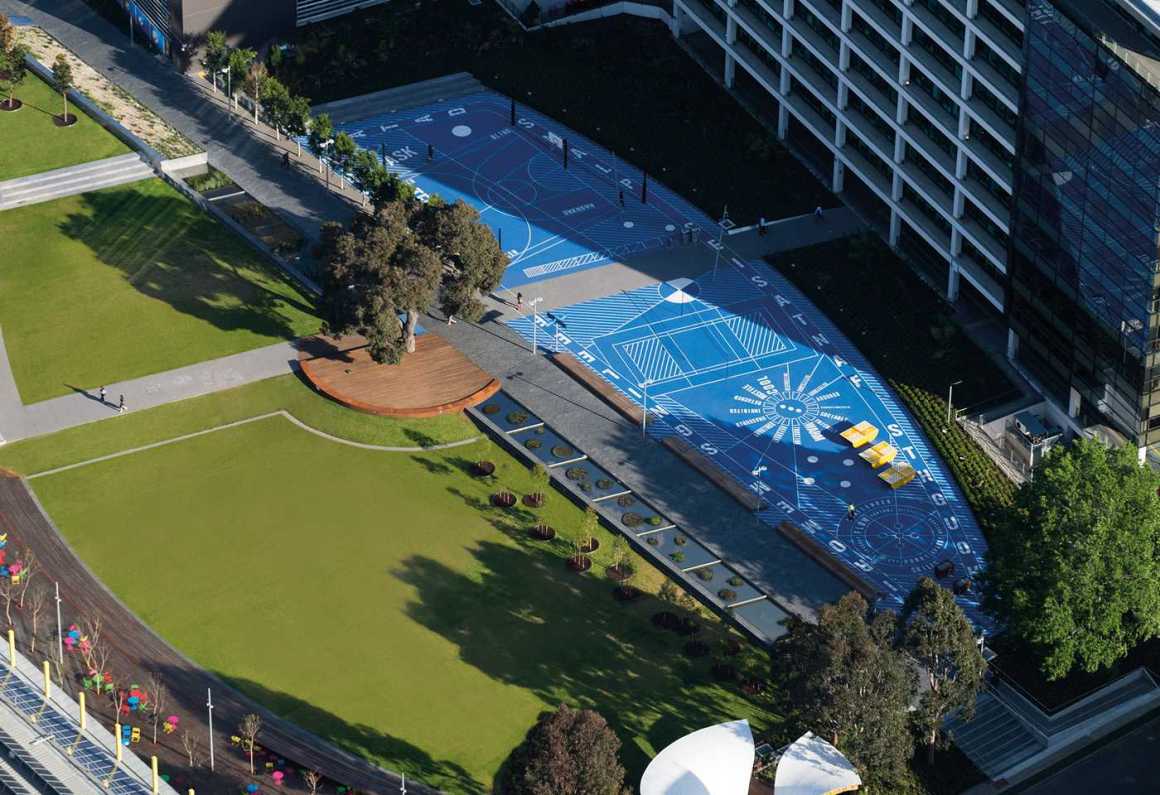 Agatha Gothe Snape和TCL合作了一个综合艺术作品,该作品平面是未来发展计划的蓝图,创造了一个横跨校园中心的多种功能的大线条,一个篮球场和乒乓球场,以及一个活动区,用于发现个性类型、提升团队合作技能和练习专注等其他临时性的锻炼。
An integrated artwork by Agatha Gothe Snape and TCL entitled, The Scheme was a Blueprint for Future Development Programs creates a large line drawing across the centre of the campus with multiple functions, a sports court for basketball and table tennis, as well as an activity zone for other temporal kinds of exercise, such as discovering personality types, refining teamwork skills, and practicing mindfulness.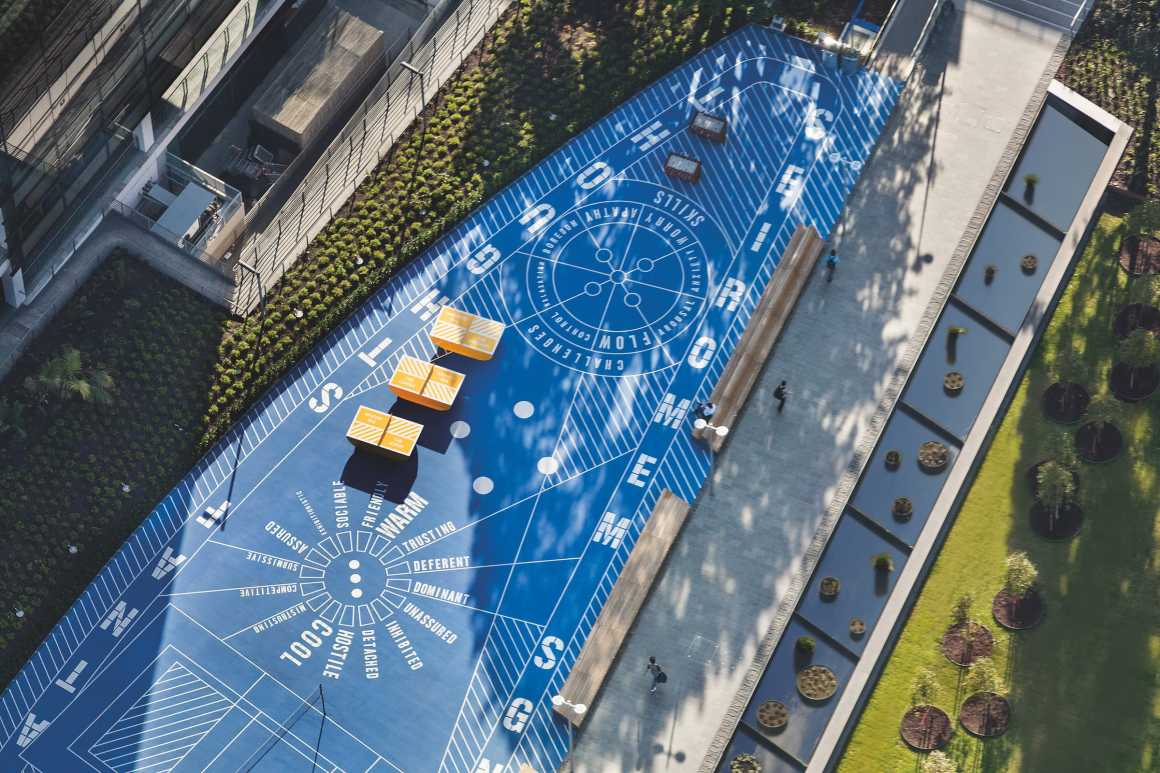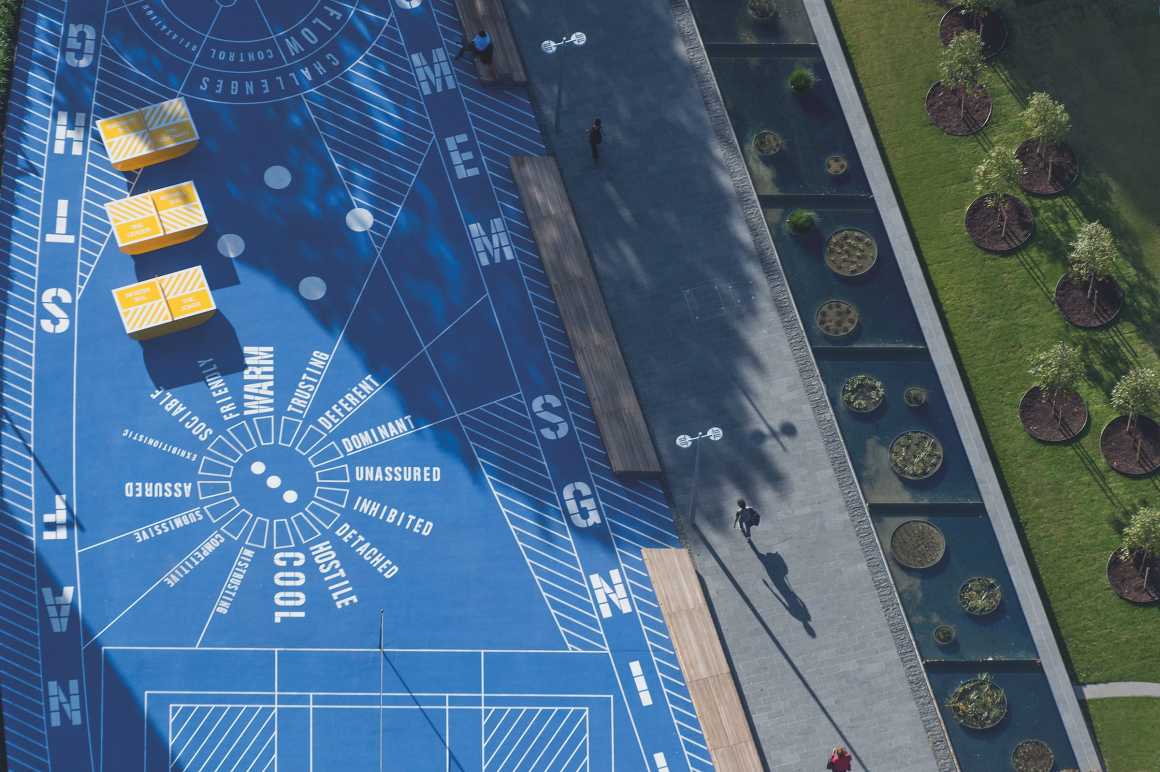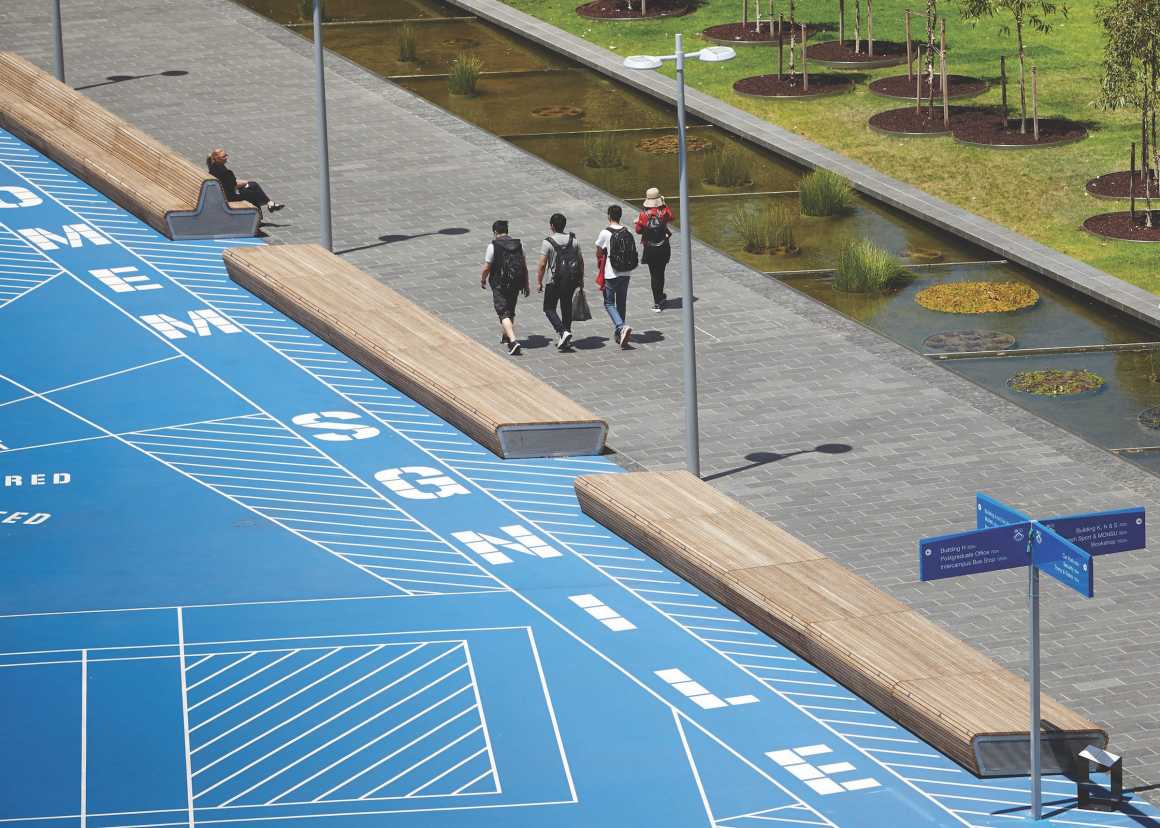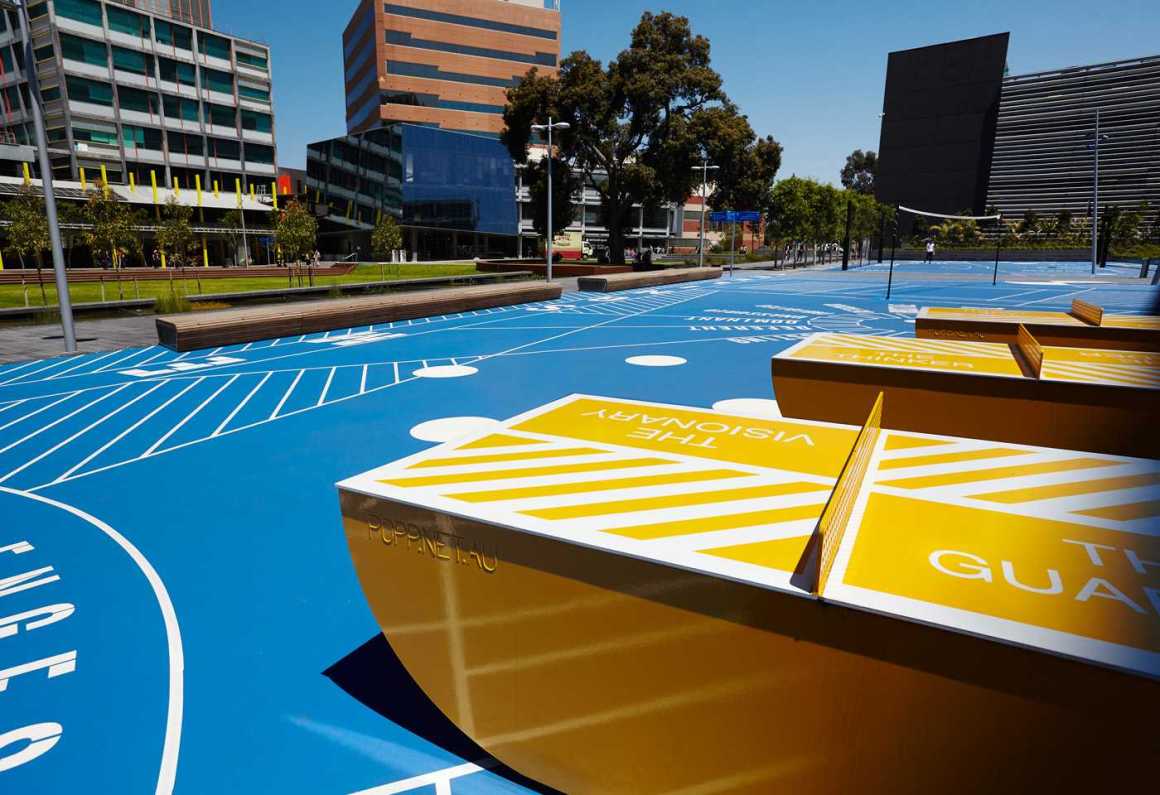 新的活动草坪及相关露台成为了校园的中心。微凹的草坪是一个可全年举办有组织活动的平台,也是校园门外繁忙道路网的绿色喘息之地。优雅的木板露台向北延伸,为户外活动、咖啡厅的桌椅以及从邻近建筑中而来的活动提供了机会。木平台内的蓝花楹树为校园提供了斑驳的树荫和独特的身份特征。
The new event lawn and associated terrace is now the centrepiece to the campus. The slightly sunken lawn is a platform for organised events, throughout the year as well as green respite from the busy road network beyond the campus doors. The elegant deck terrace with a northerly aspect offers opportunities for passive outdoor activity, cafe tables, chairs and spill out activity from adjacent buildings. Jacaranda trees within the decking provide dappled shade and a distinct identity for the campus.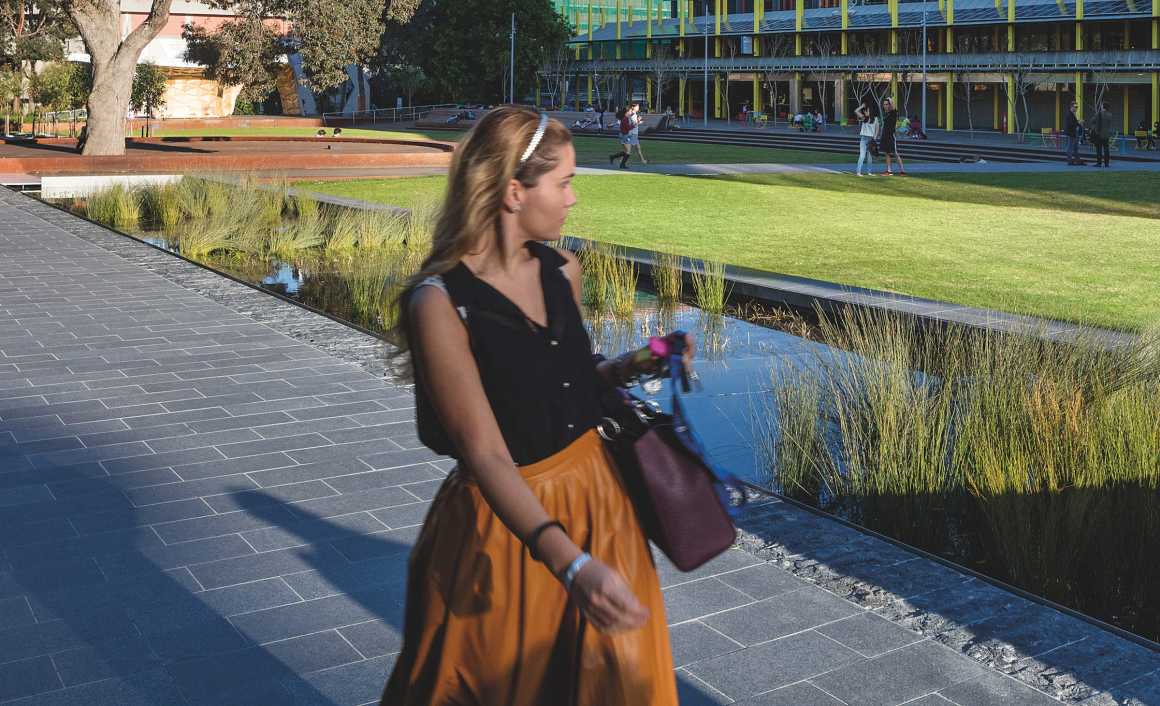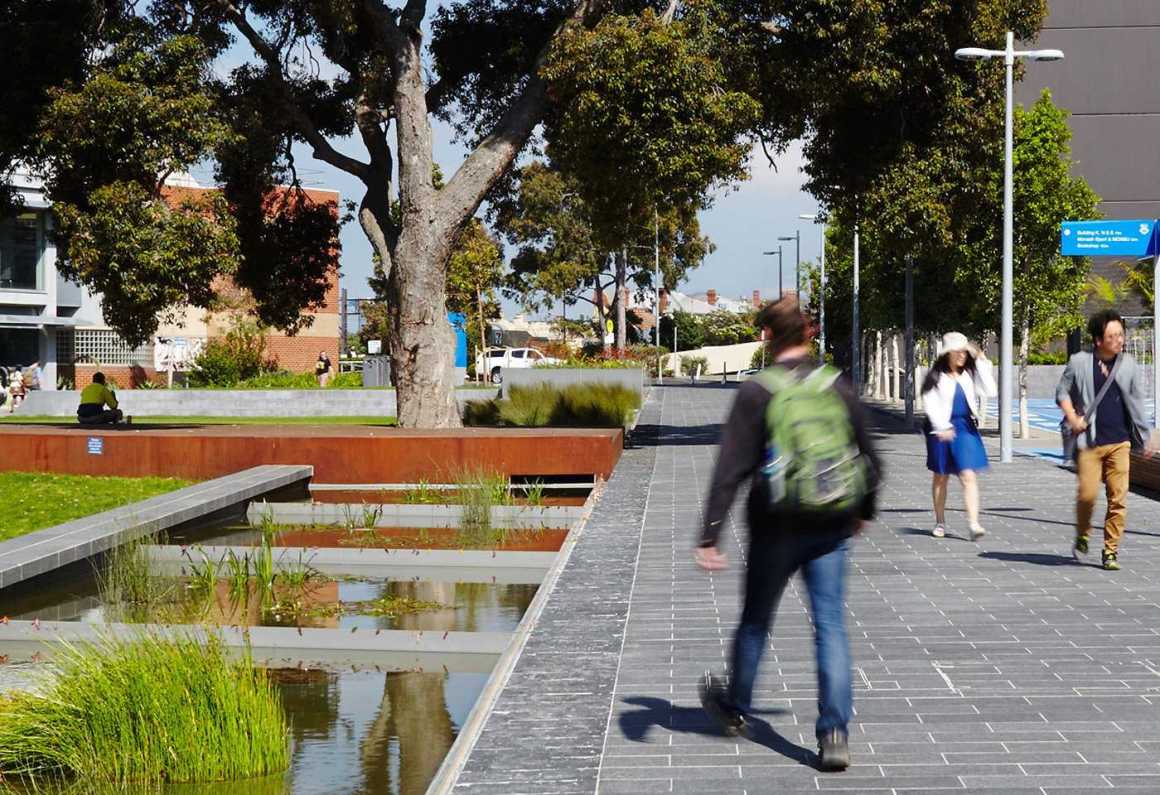 这里曾经是一片混乱的道路和停车场,现在变成了宽阔的长廊和水上景观,给人一种真正到达校园的感觉。考尔菲尔德校园绿地的一个主要环境倡议是作为一个雨水处理和收集系统的中央水脊。这个水敏感的城市设计元素讲述了莫纳什大学关于水敏感城市的开创性研究的故事,并引用了该地区的原始湿地。
What was once a confusing road and carpark is now a generous promenade and waterfeature providing a real sense of arrival to the campus. A major environmental initiative of the Caulfield Campus Green is the central water spine which acts as a stormwater treatment and harvesting system. This water sensitive urban design element tells the story of Monash University's pioneering research on water sensitive cities and references the original wetlands that occupied the area.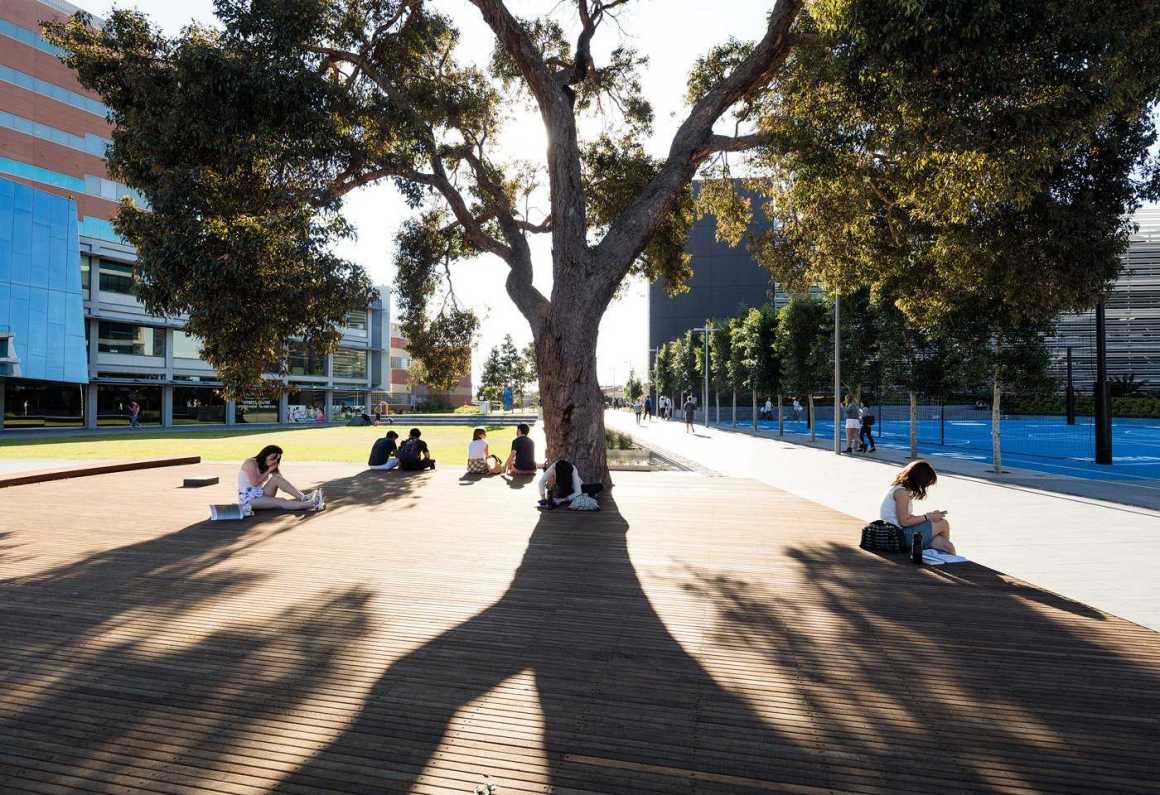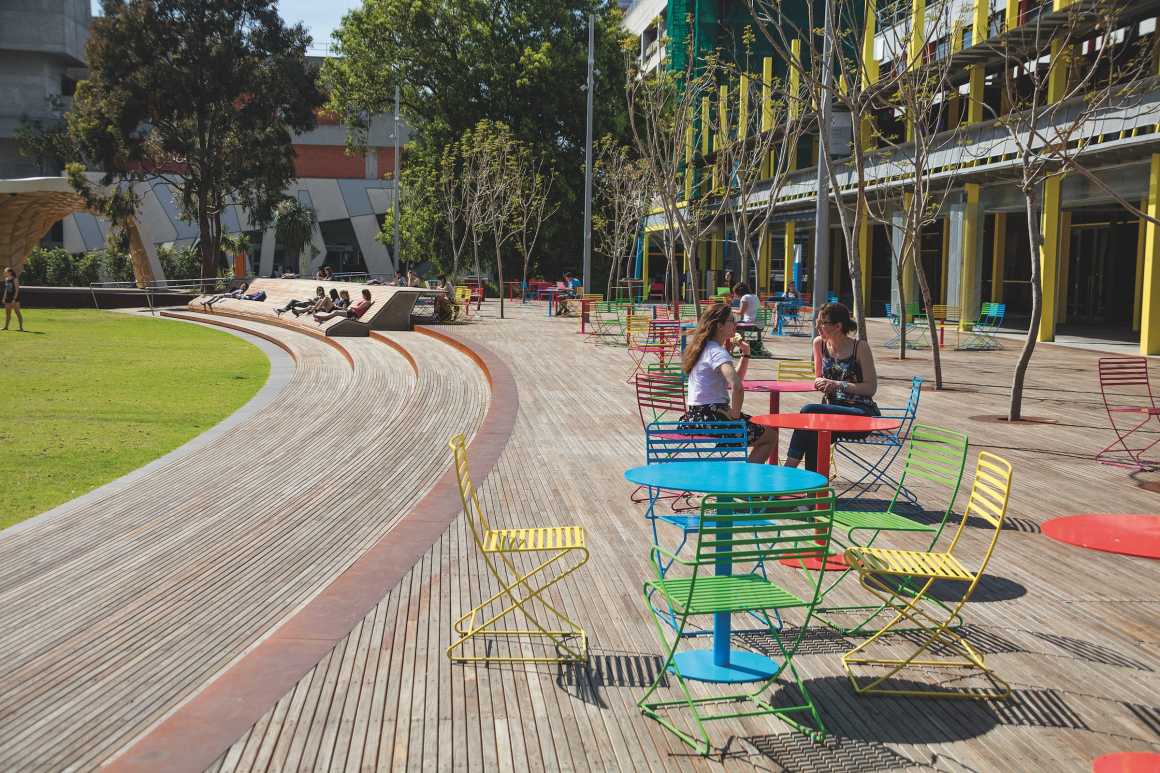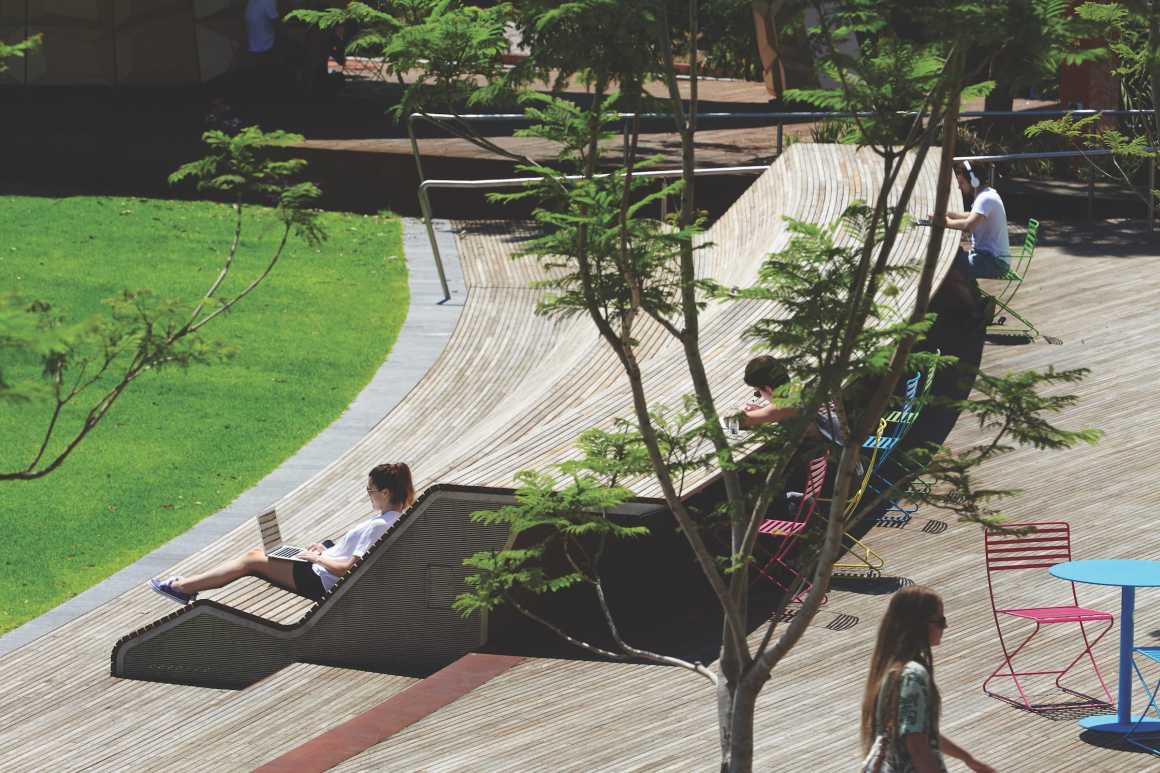 客户: 莫纳什大学
合作伙伴: Agatha Gothe-Snape
地点: 澳大利亚维多利亚州考菲尔德东路900号
竣工日期: 2015年10月
摄影师: Andrey Lloyd和John Gollings
项目团队
景观设计: TCL (Taylor Cullity Lethlean), Perry Lethlean, Elly Russell
水敏城市设计: Design Flow
艺术家: Agatha Gothe-Snape
Client: Monash University
Collaboration: Agatha Gothe-Snape
Location: 900 Dandenong Road, Caulfield East, Victoria
Completion Date: October 2015
Photographers: Andrey Lloyd and John Gollings
Project Team
Landscape Architects: TCL (Taylor Cullity Lethlean), Perry Lethlean, Elly Russell
Water Sensitive Urban Design: Design Flow
Artists: Agatha Gothe-Snape
更多 Read more about: TCL (Taylor.Cullity.Lethlean)