本文由 HIBINOSEKKEI,Inc 授权mooool发表,欢迎转发,禁止以mooool编辑版本转载。
Thanks HIBINOSEKKEI,Inc for authorizing the publication of the project on mooool. Text description provided by HIBINOSEKKEI,Inc.
HIBINOSEKKEI:项目位于宫崎县都城市,雾岛连山山脚下绵延的田园风光中重建的托幼一体园。园舍和当地的羁绊很深。从园舍毕业的孩子中有的成为保育士后重回园舍工作,有的成为父母过后把自己的孩子也送回这个园舍上学。因此以「羁绊」为主题设计了园舍。
HIBINOSEKKEI:It's an architecture project of a Kindergarten and Nursery, situated amidst the rural fields on the foothills of Mt. Kirishima in Miyakonojo, Miyazaki, Japan. It often happened that the very same children who once studied here, came back with their own children even after so many years. It has become an institution that's firmly rooted in the minds of the locals. Taking inspiration from this cycle, the design theme was set as "Connection".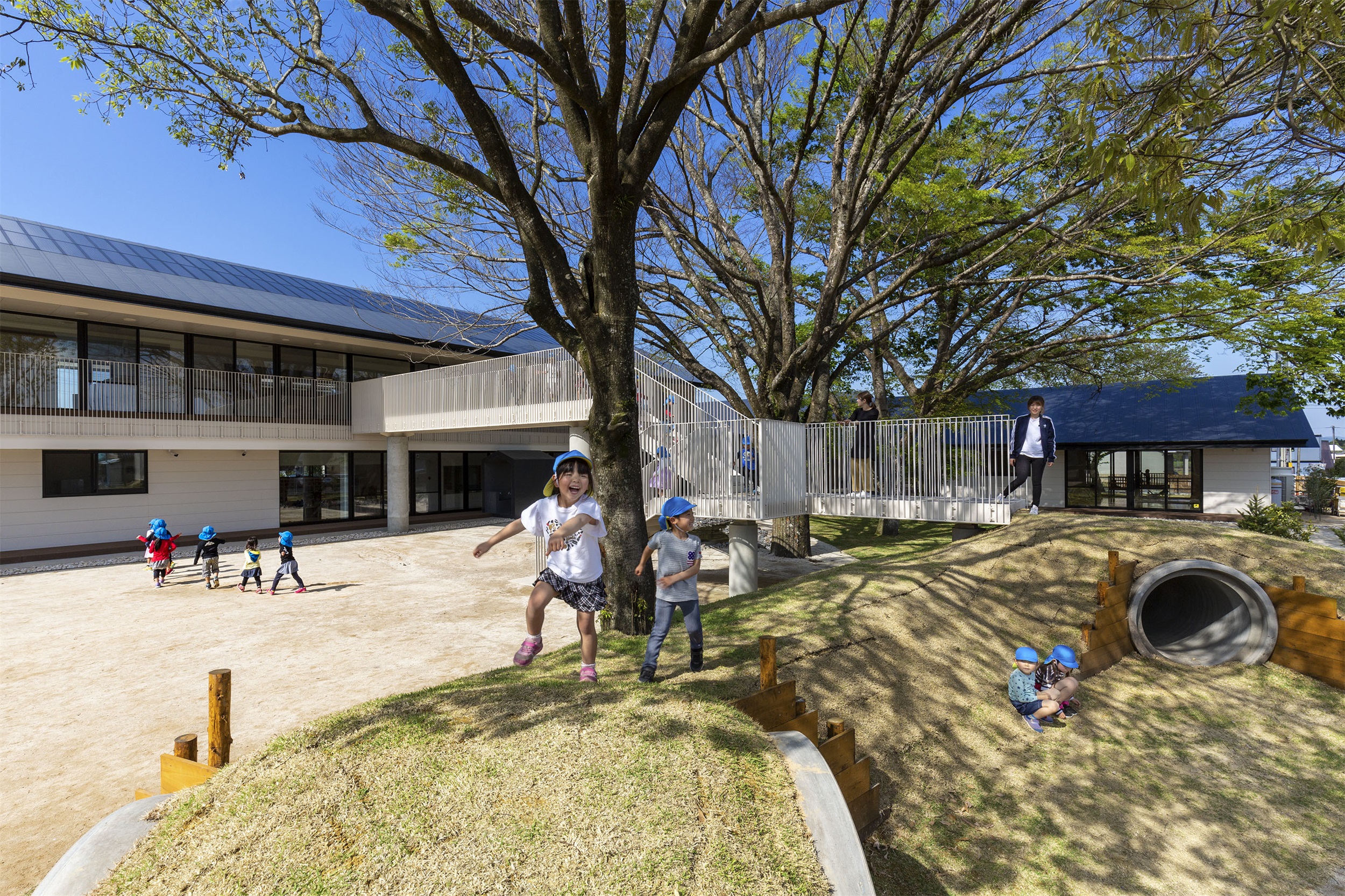 园舍在30年时光中不断增建改造,逐渐脱离了原本希望的保育环境。为了解决对应这个问题,设计师整理了想要真正提供给儿童以及儿童所需要的保育环境,根据不同用途分明地划分了空间。
The existing building was expanded and renovated several times in the past 30 years, but still it was nowhere close to the ideal environment we need for the upbringing of children in today's time. So, after the demolition of the old building, the design of the new building was formulated properly defining the areas meant for different purposes of learning, playing, eating, exercising etc.
▼园舍外观环境 Garden exterior environment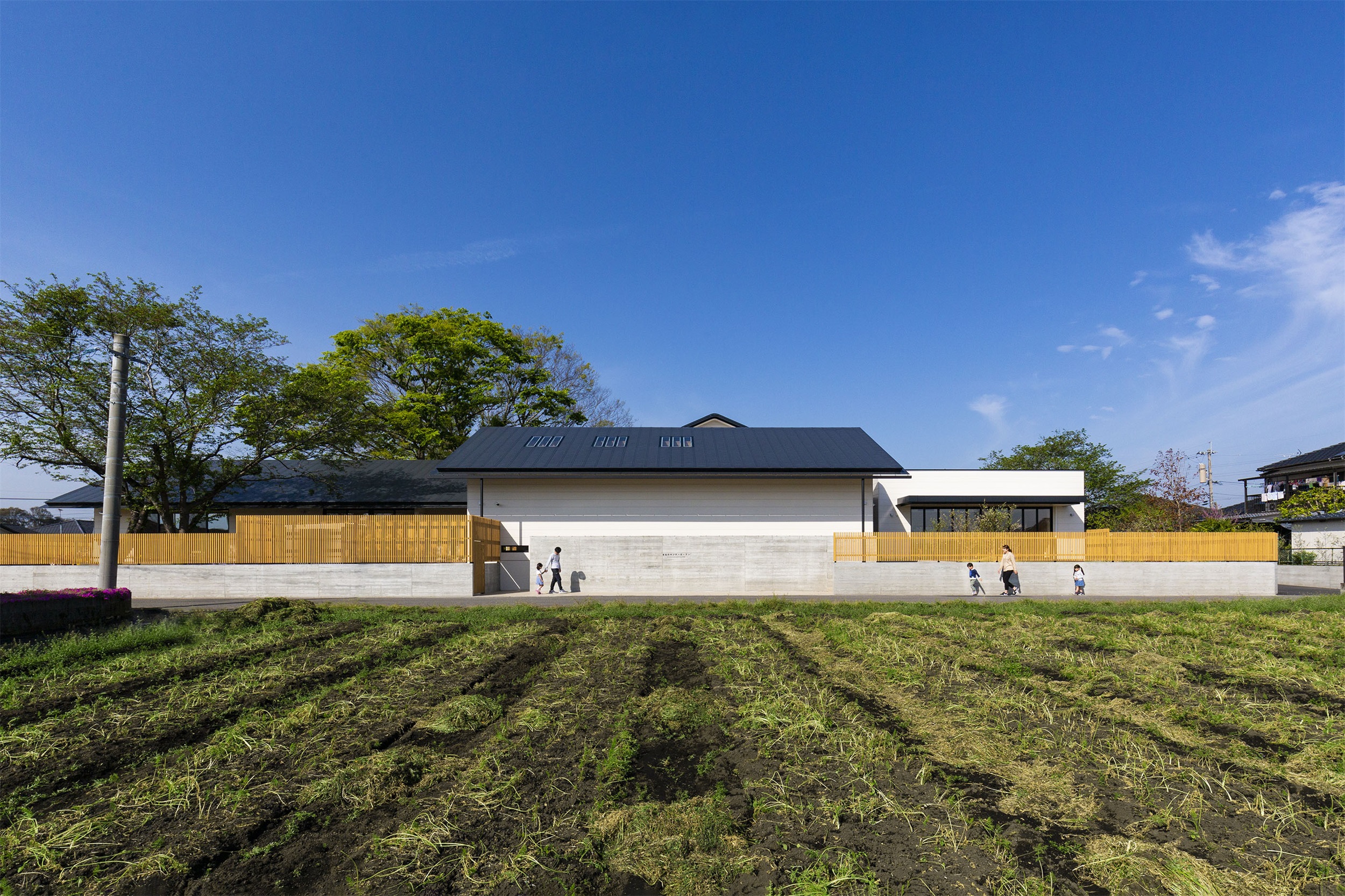 为了突出大树守护孩子们的象征,庭园中的四棵大树被配置在中心位置,不管从哪个保育室都能看见,强调了「羁绊」。避难用楼梯设计成在平时也能游玩使用。从2楼通往庭院的通道能以前以未有过的距离触碰到庭院中的大树。
Four big old trees were retained, with people looking up to them for watching over the upcoming generation. These trees are visible from all the nursery rooms. By designing the building, with them at the center, a visual connection in between the rooms, the trees and the children was established. The emergency staircase from the second floor was extended all the way underneath the tree branches, making it possible for children to closely feel them and hence create a playful environment under. Lots of Cedars and Hinoki Cypress trees from Miyazaki were planted for connecting kindergarten site with the local community and the nature.
▼以四棵大树为中心的庭院 A courtyard centered on four big trees
▼连接2楼的楼梯与大树间的关系 The relationship between the stairs connecting the second floor and the big tree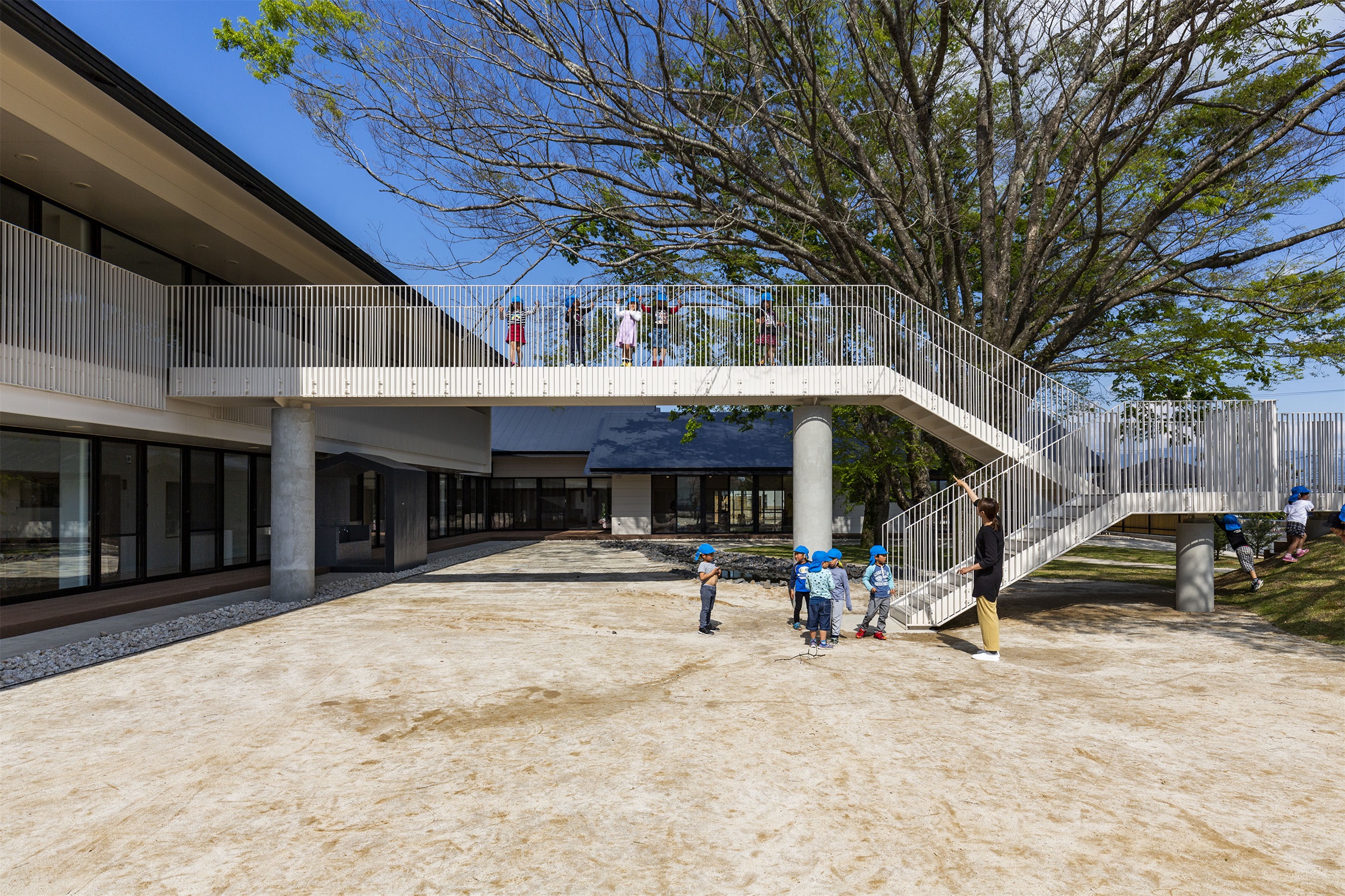 ▼大树下是自然碎石堆砌的庭院水溪 Under the big tree is the courtyard water stream built with natural gravel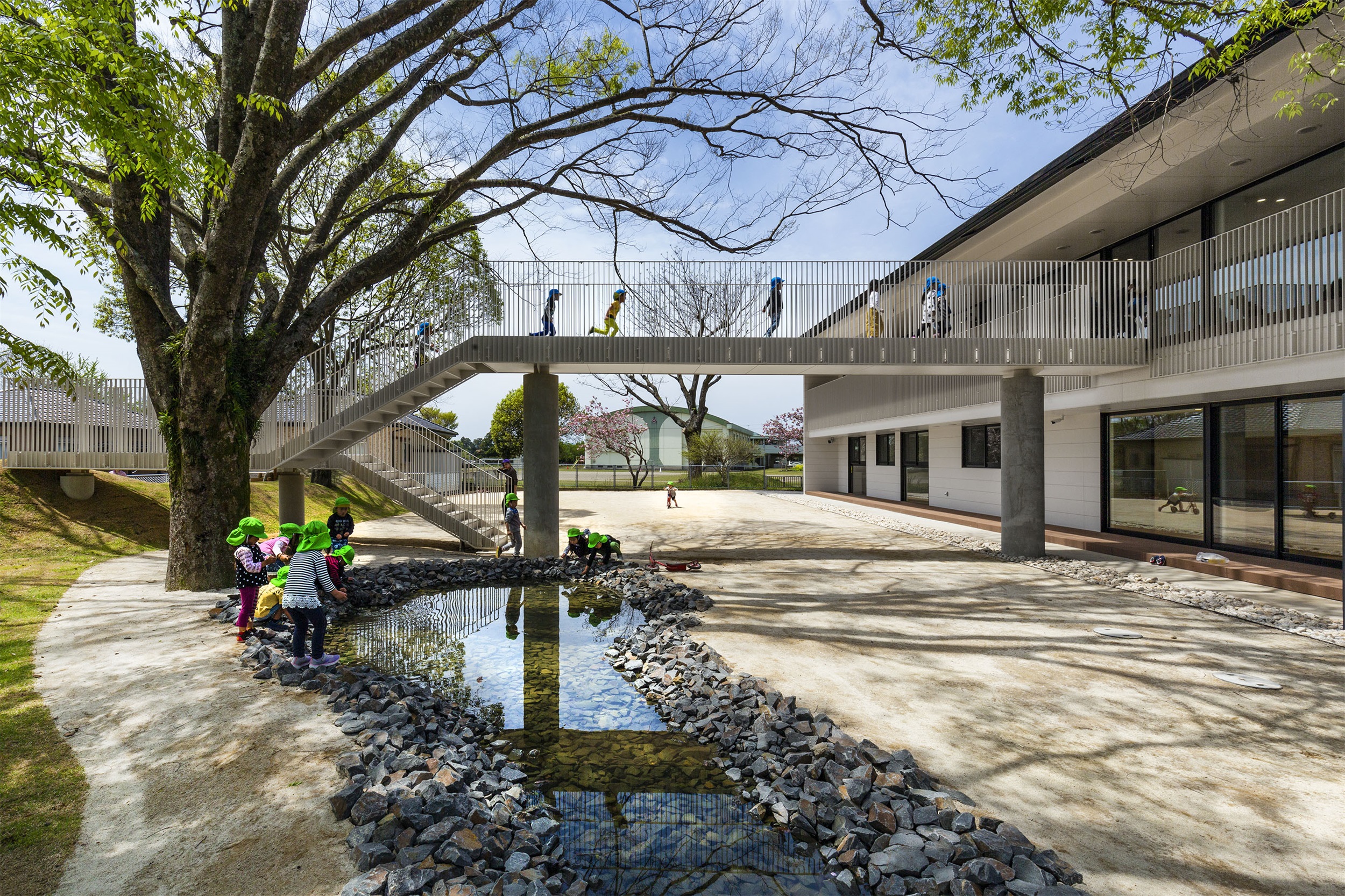 ▼给孩子更多接触自然的机会 Give children more opportunities to be exposed to nature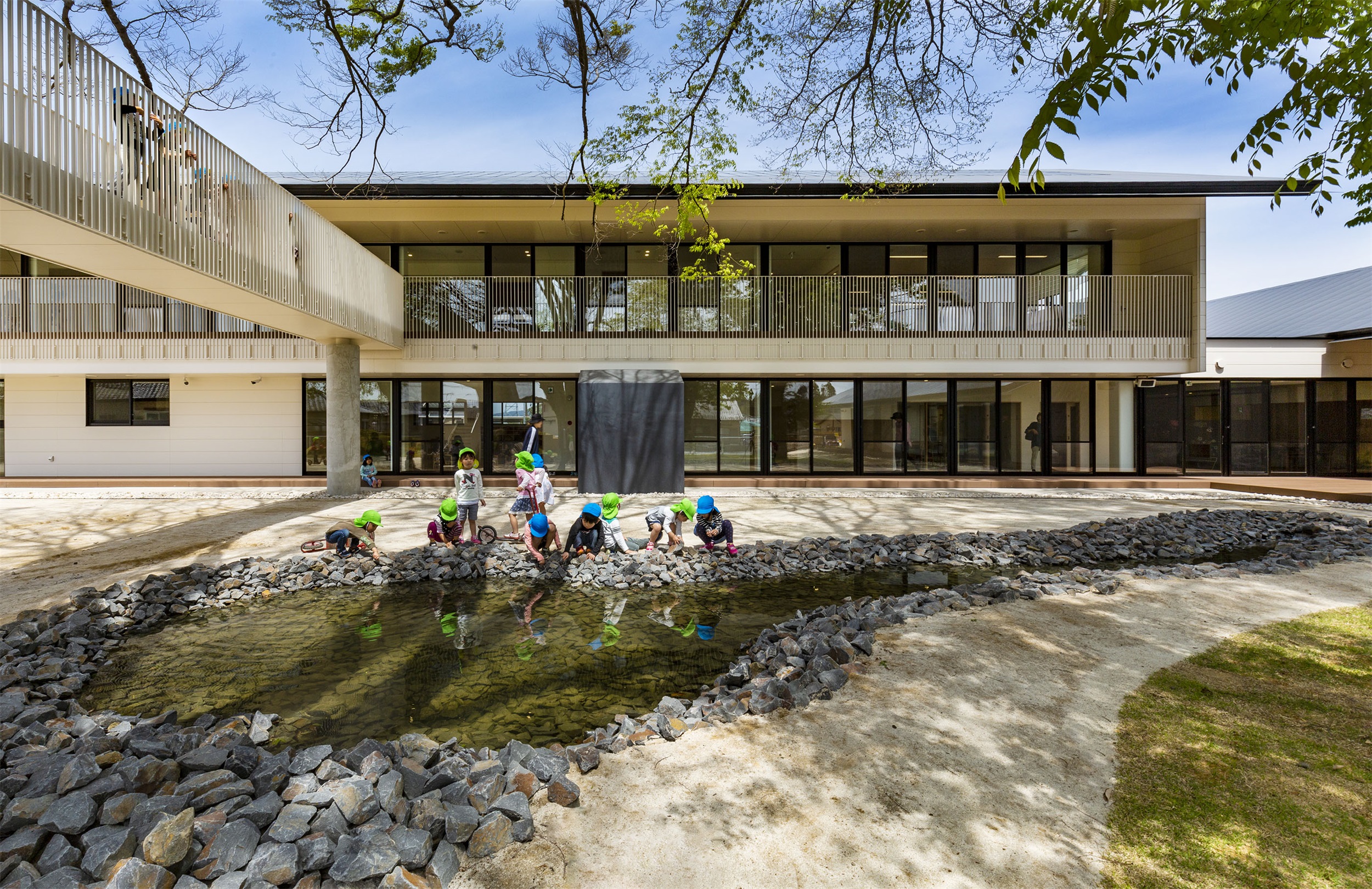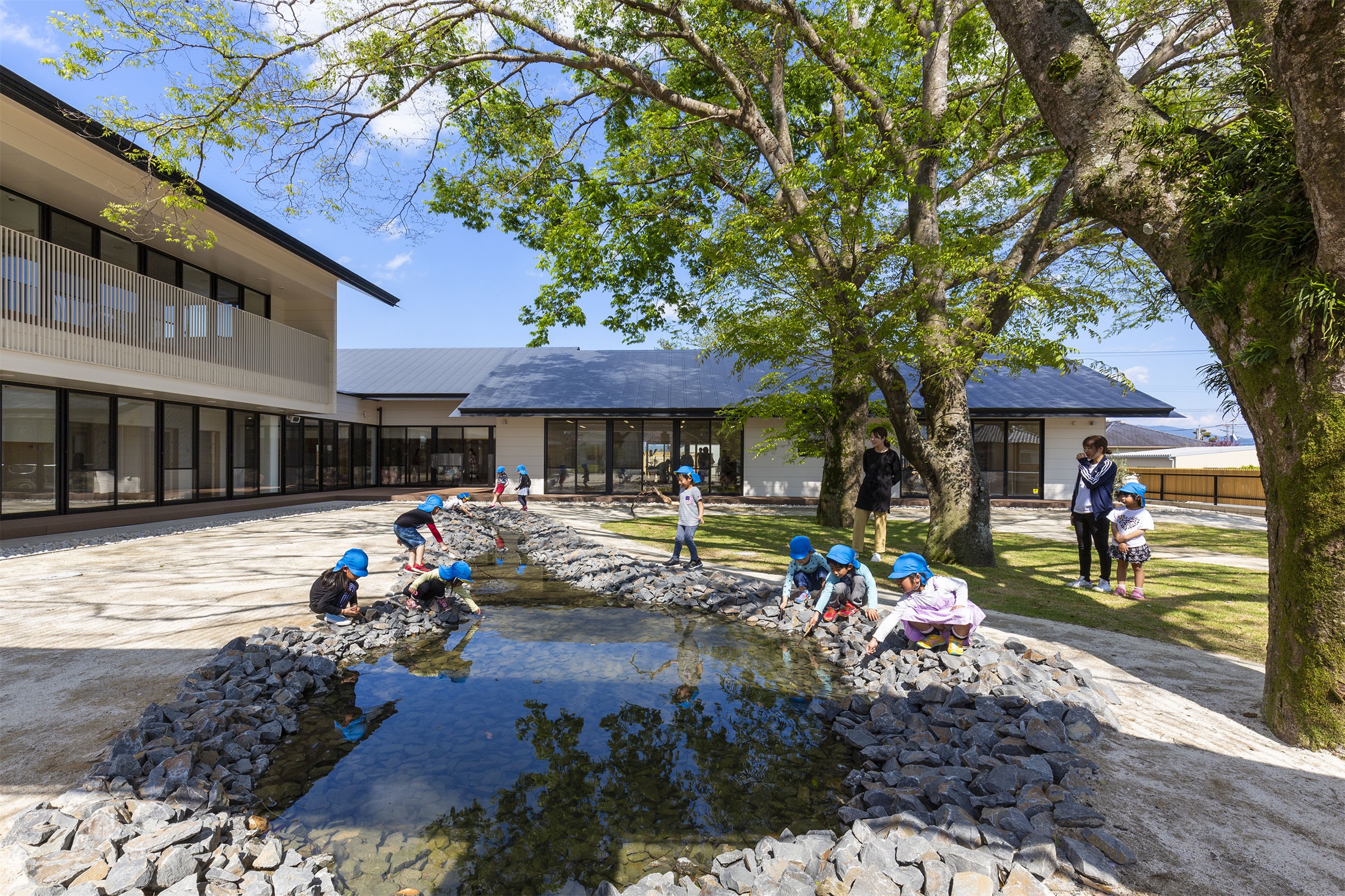 ▼结合土丘微地形设计活动设施和游戏沙坑 Design activity facilities and game sandpits in combination with the micro-topography of the mound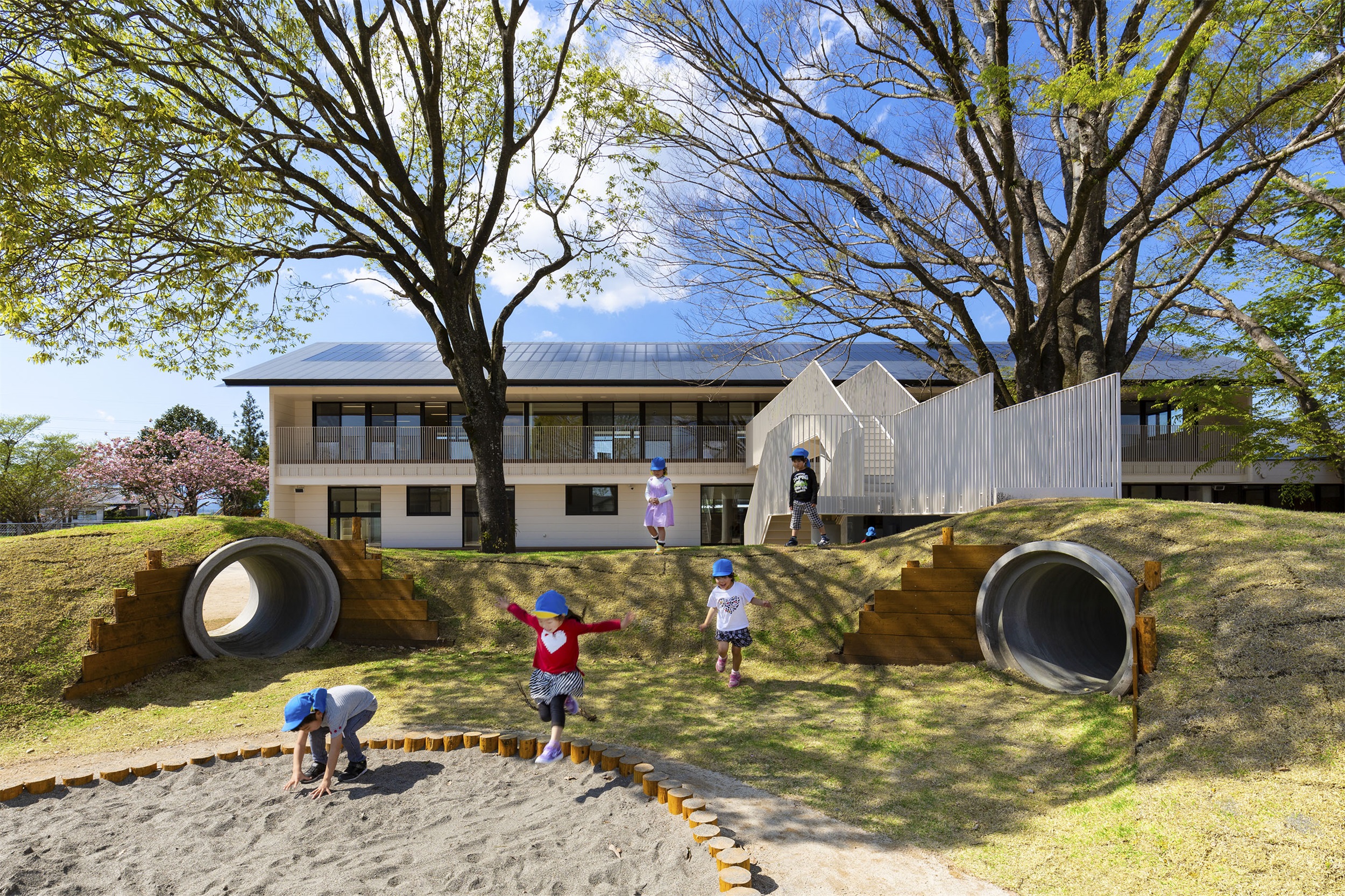 ▼从园舍的走廊下看庭院 View the courtyard from the corridor of the garden house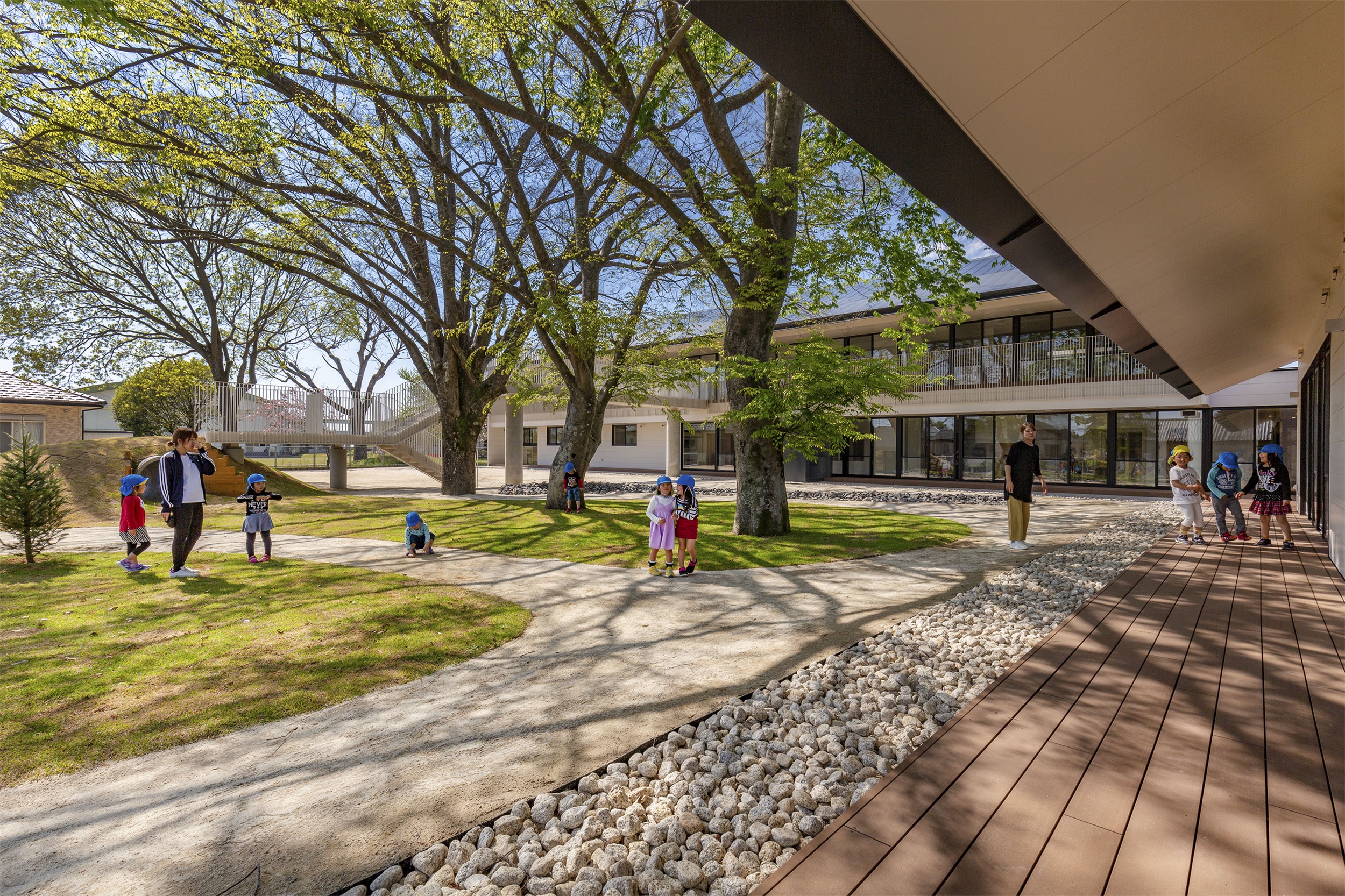 ▼孩子们游走在浅水池中 The children are walking in the shallow pool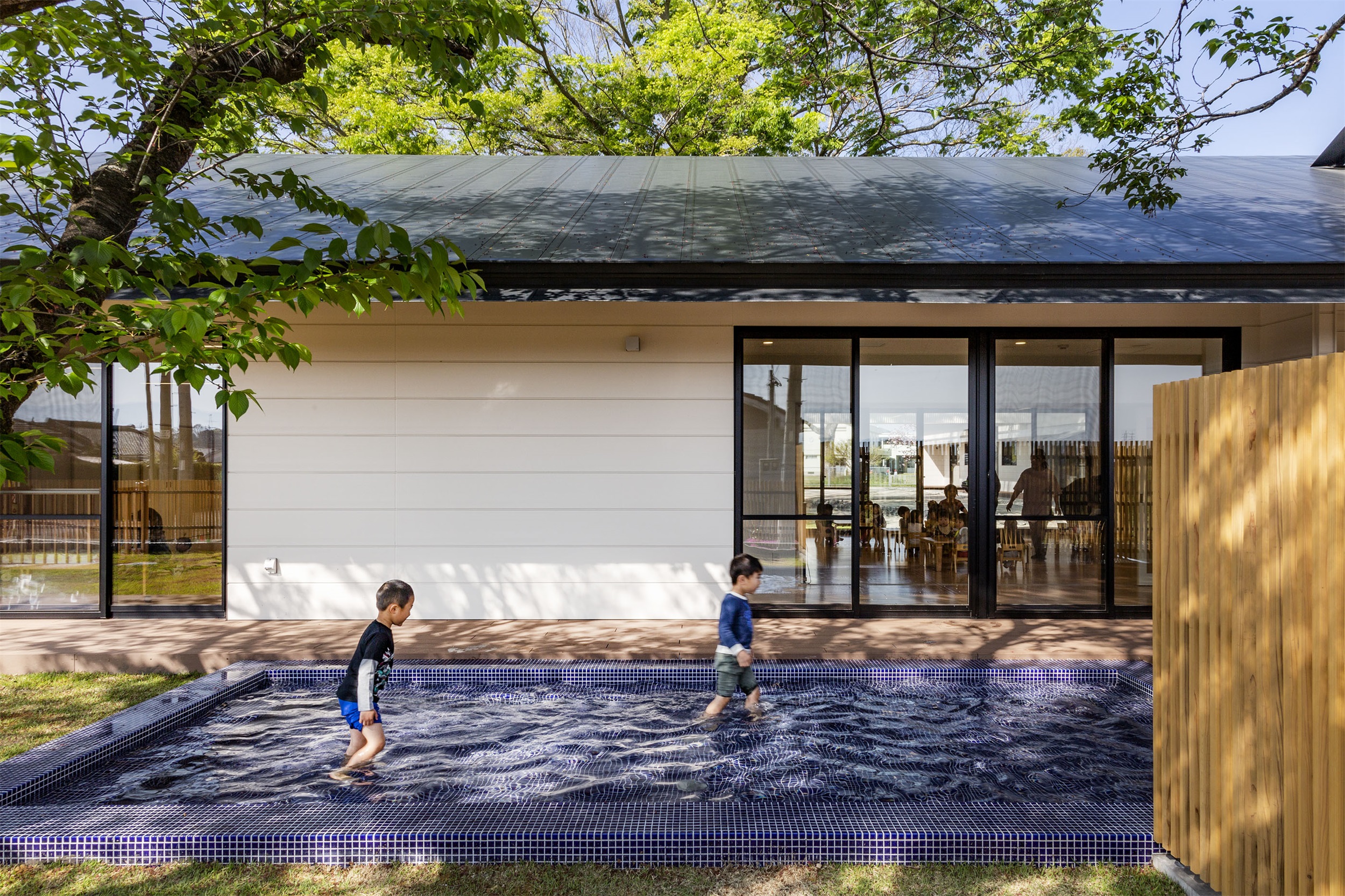 ▼透过园舍外墙上的大窗户看厨房内的景象 See the scene in the kitchen through the large windows on the outer wall of the garden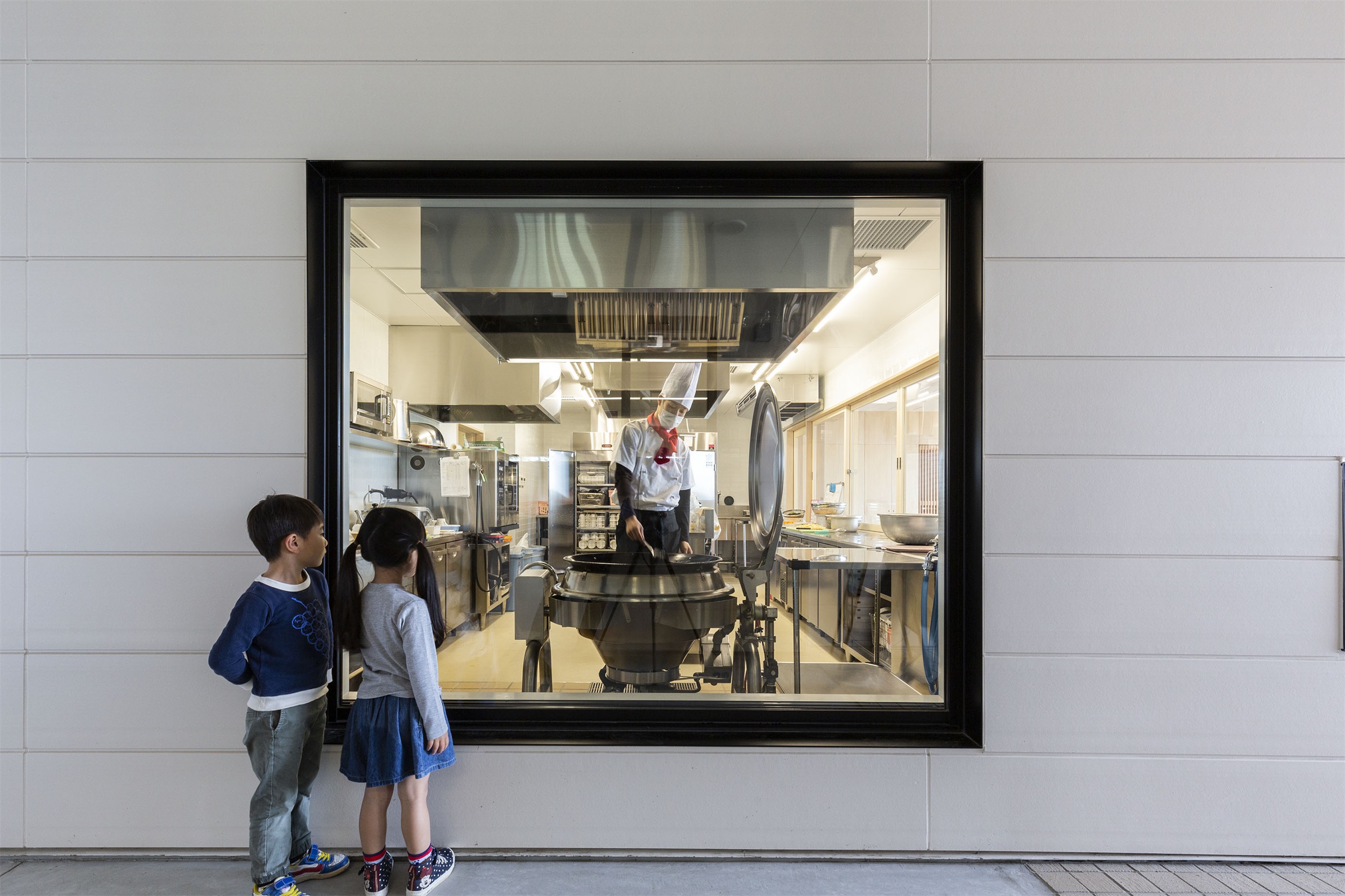 园儿们能接触到的材料广泛使用了宫崎县产的杉木和柏木,即使是材料也注重和当地的连接。着手于现有的问题,通过区分活动身体的空间以及饮食空间,孩子们能够在不同空间中有意识地进行活动学习。
By properly segregating the spaces according to usage, the children may be able to identify, think, learn and evaluate on how to act and behave in that particular place by themselves.
▼以自然杉木和柏木为主的室内用餐空间 Indoor dining space dominated by natural cedar and cypress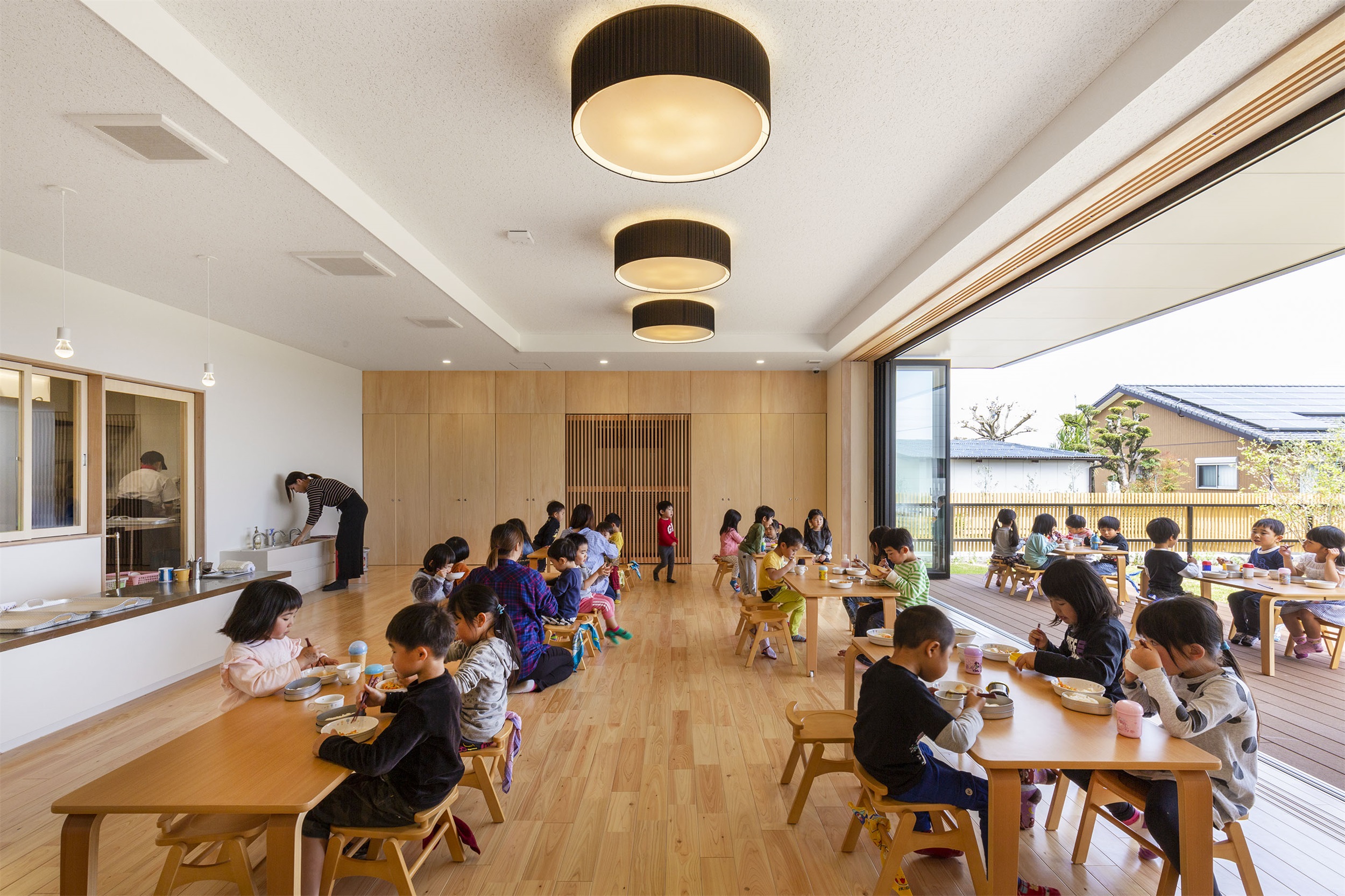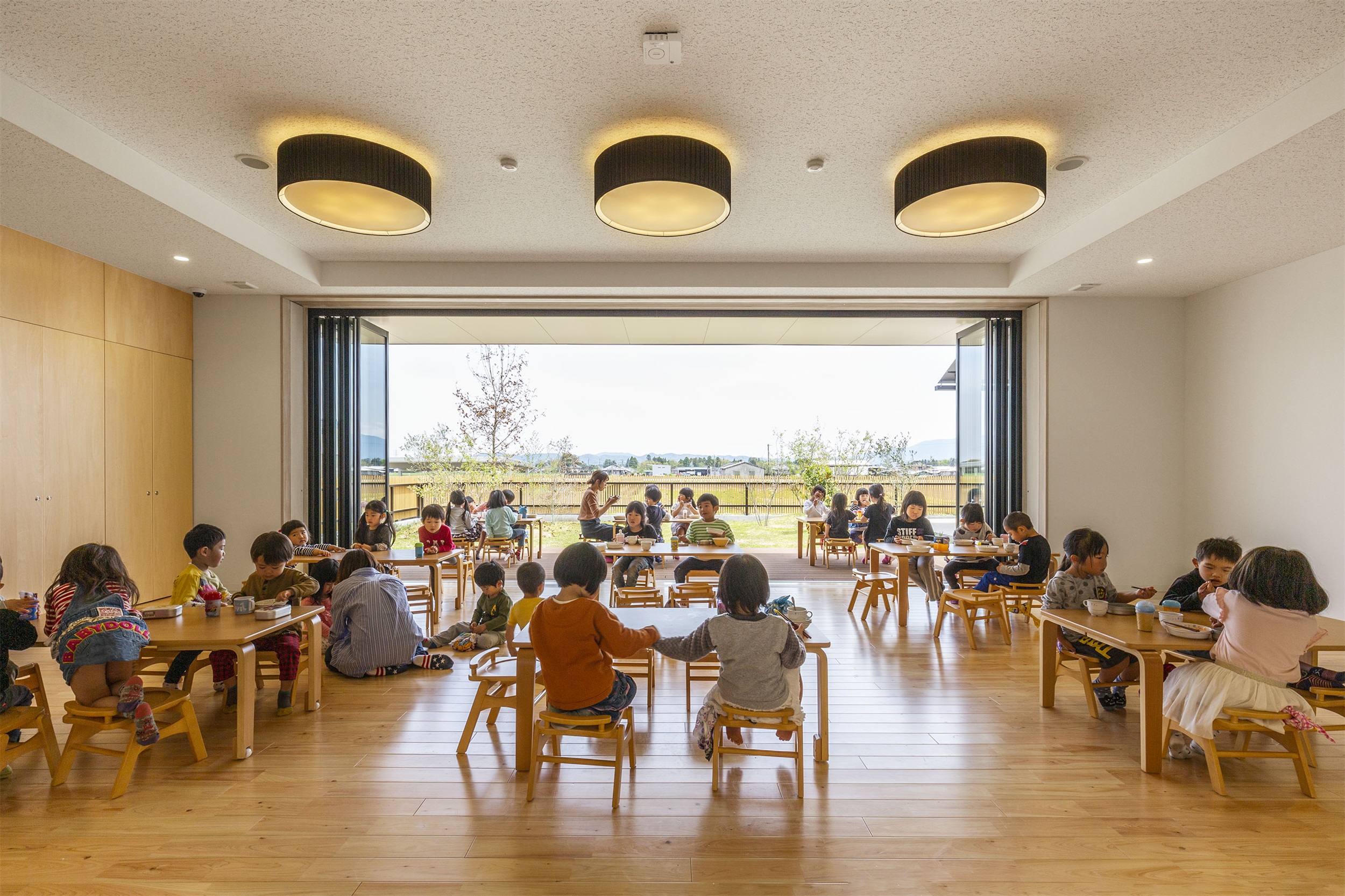 ▼坡屋顶和木饰面的屋顶,结合天窗引入自然采光 Sloping roof and wood veneer roof, combined with skylights to introduce natural light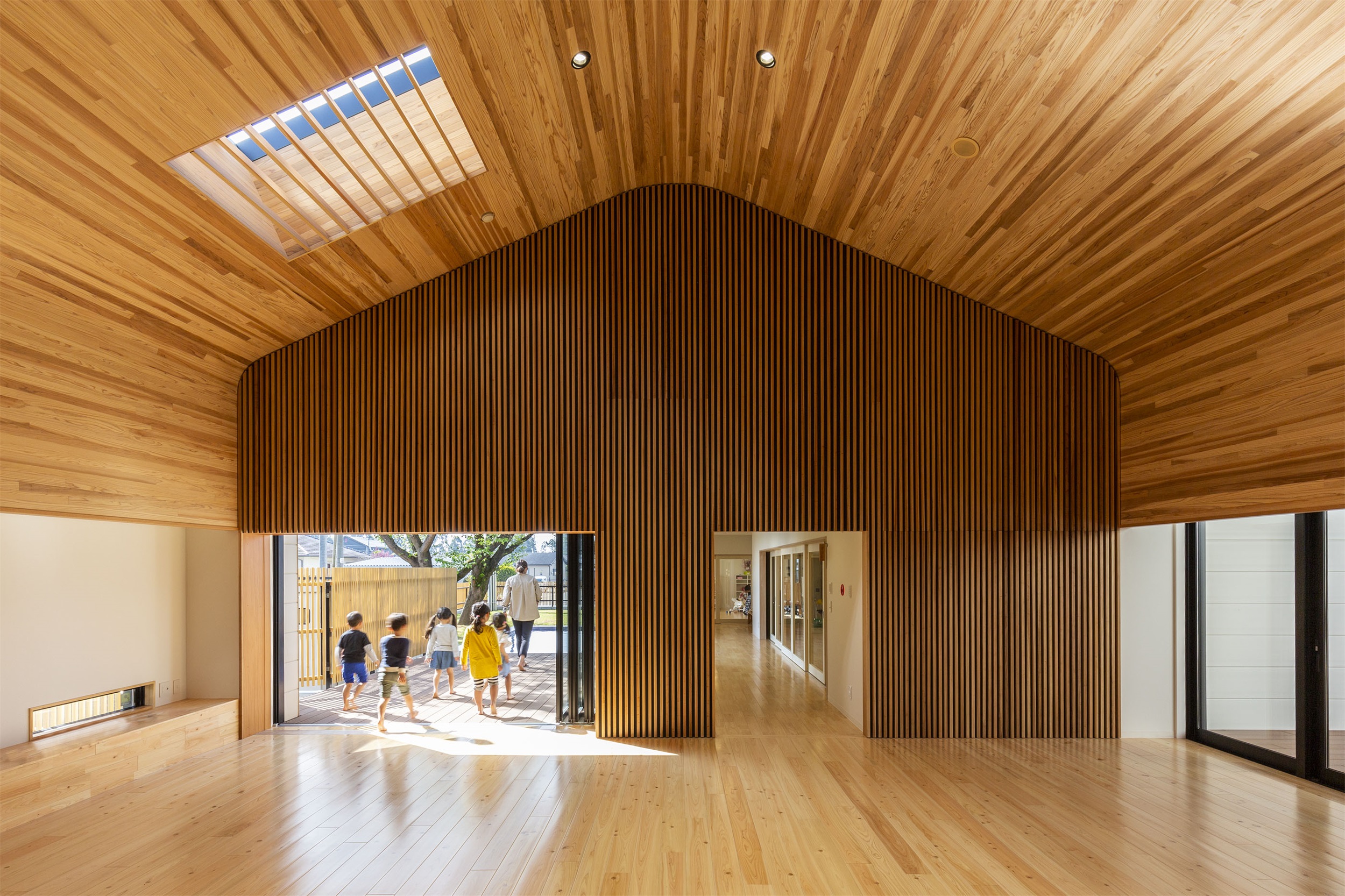 ▼孩子们在不同的空间学习,娱乐 Children study and entertain in different spaces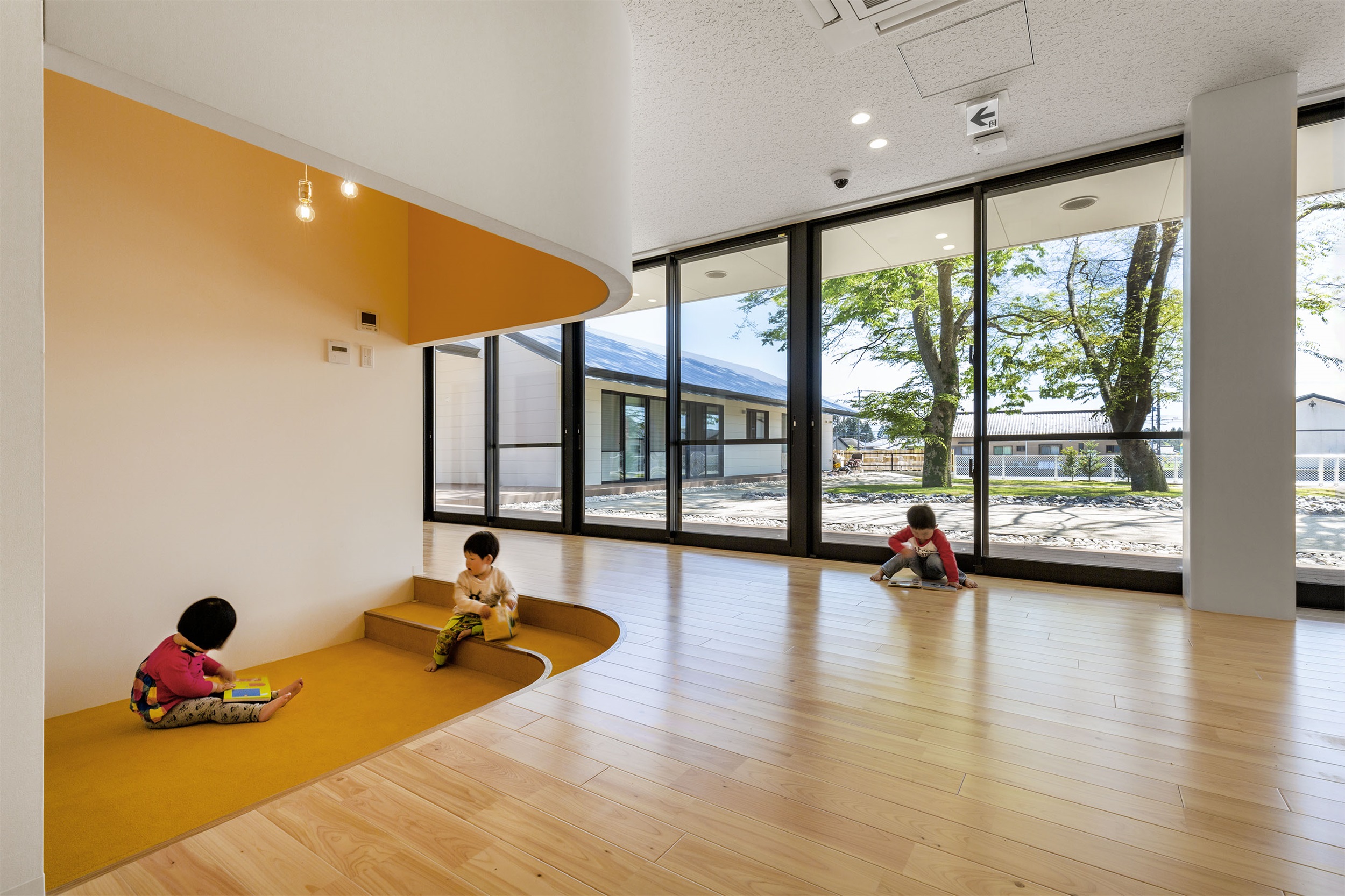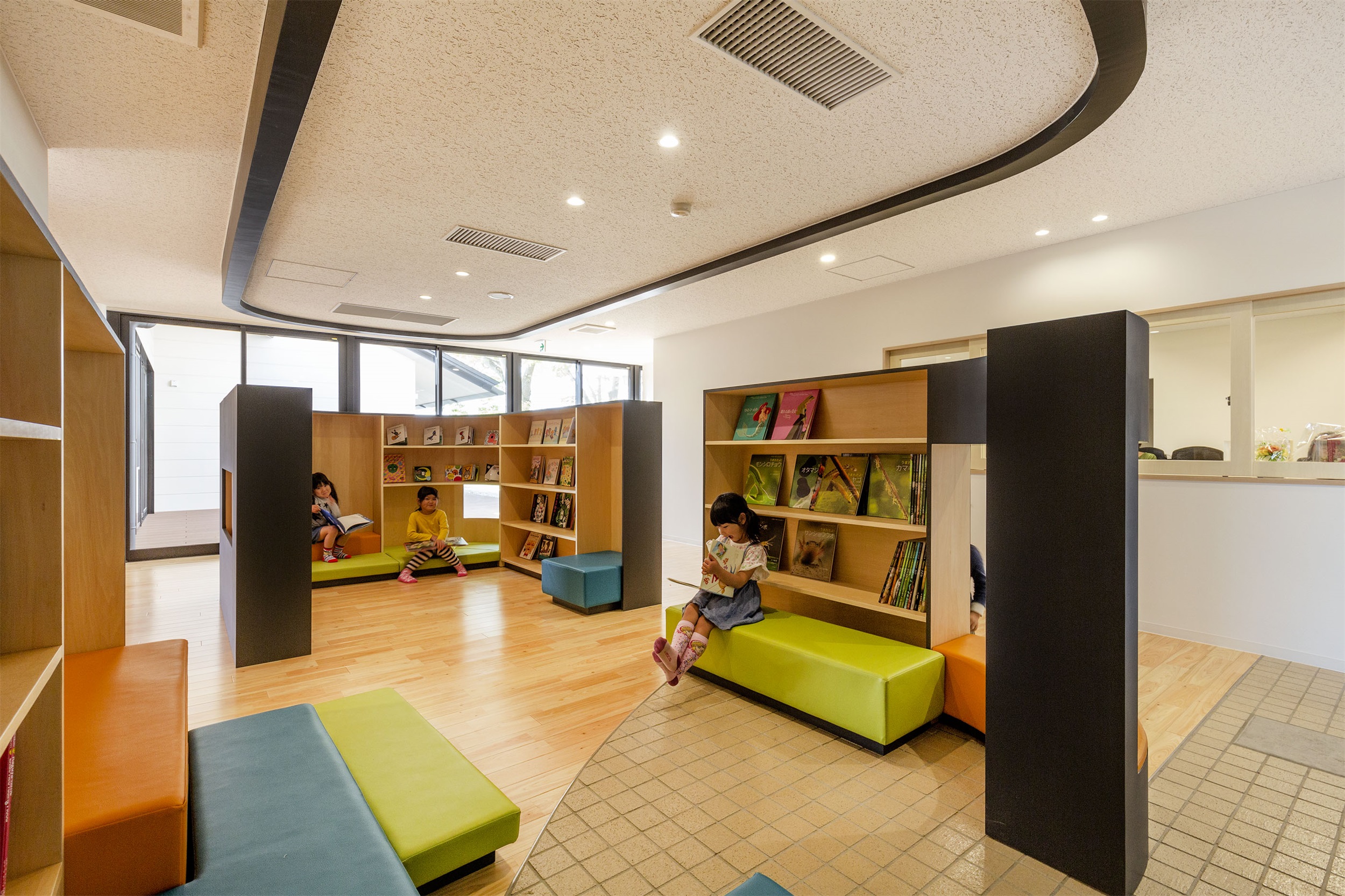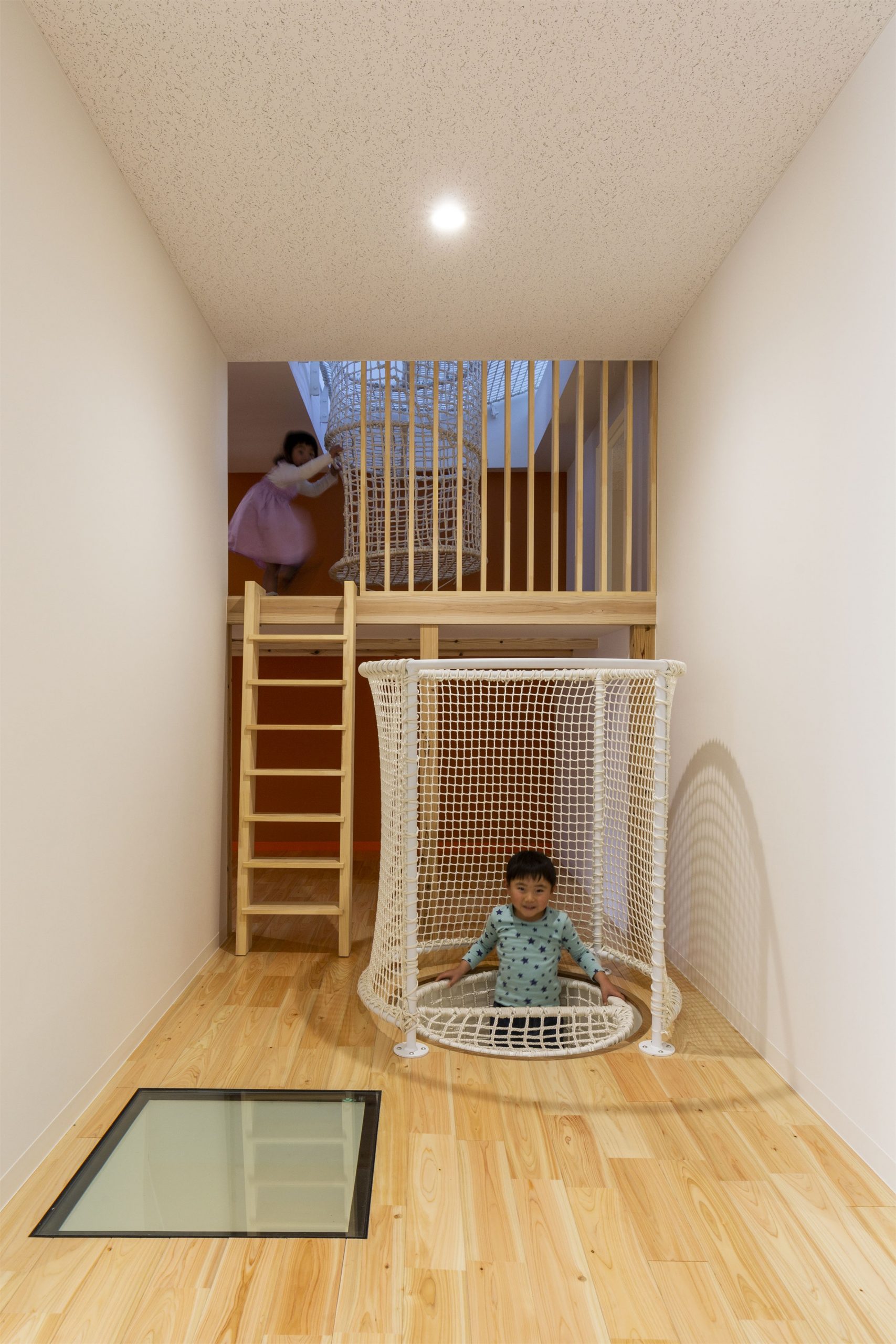 ▼人性化关怀为主的儿童卫生间 Children's bathroom based on humanized care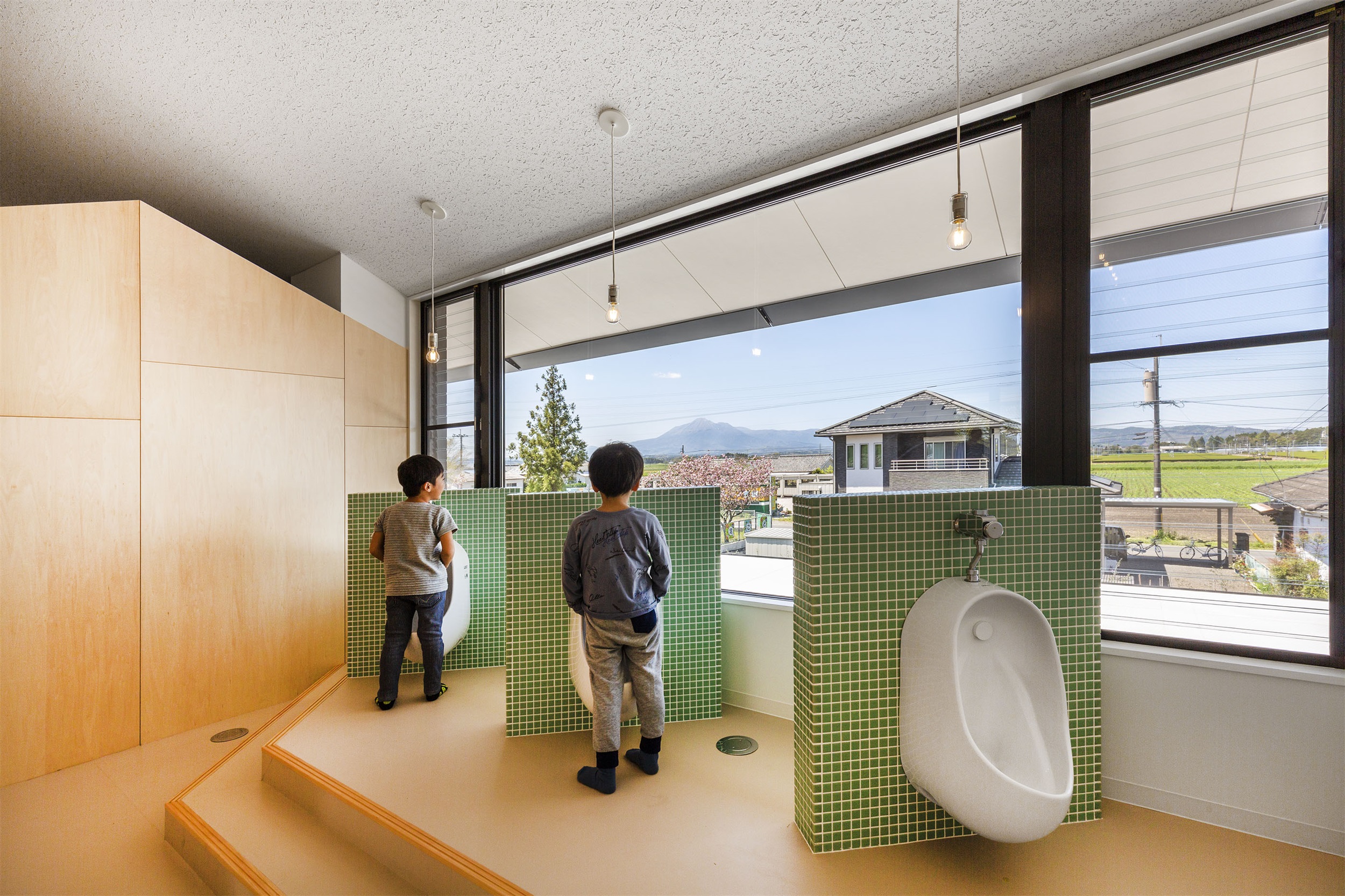 ▼一层平面图 Ground floor plan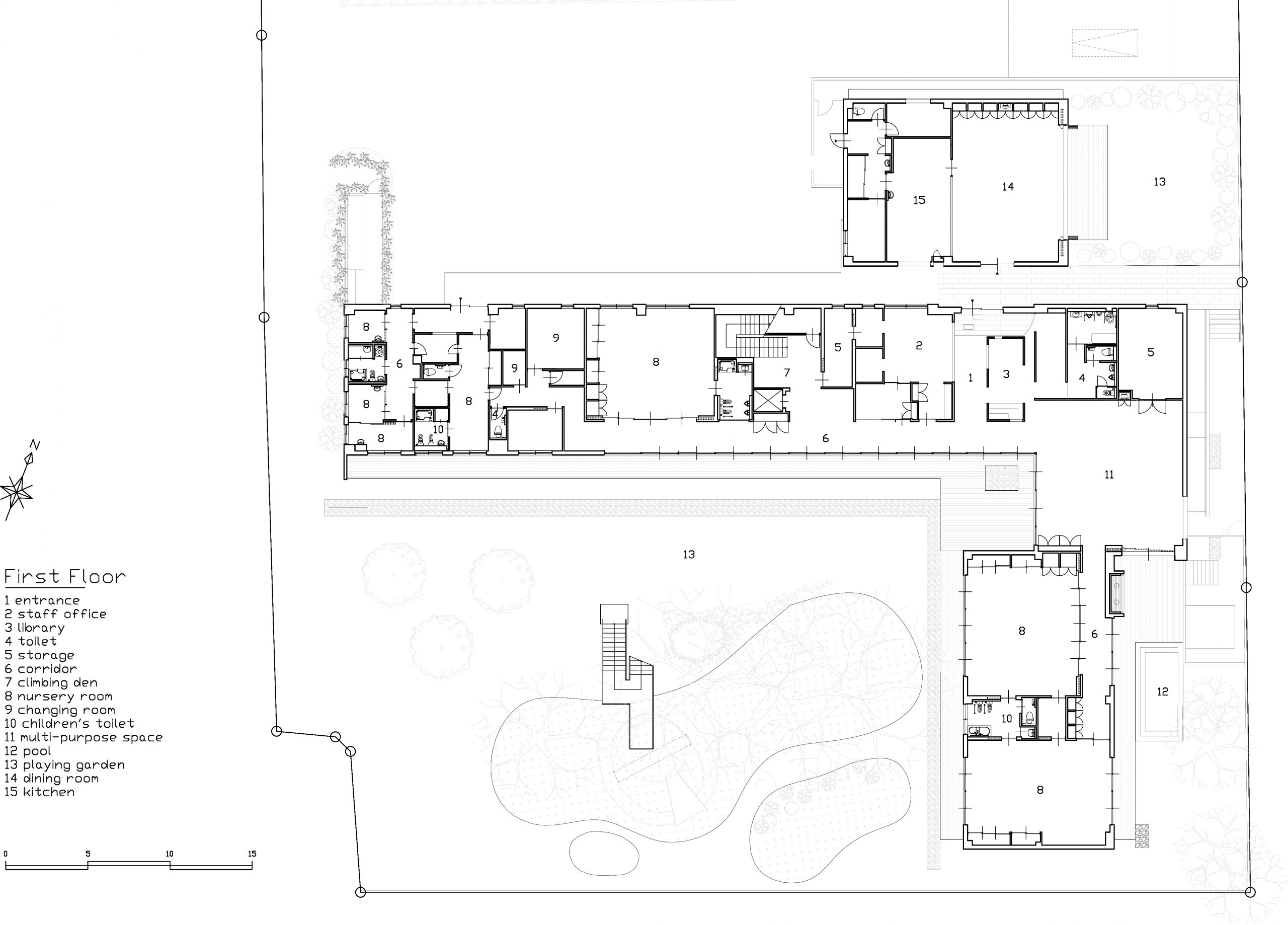 ▼二层平面图 Floor plan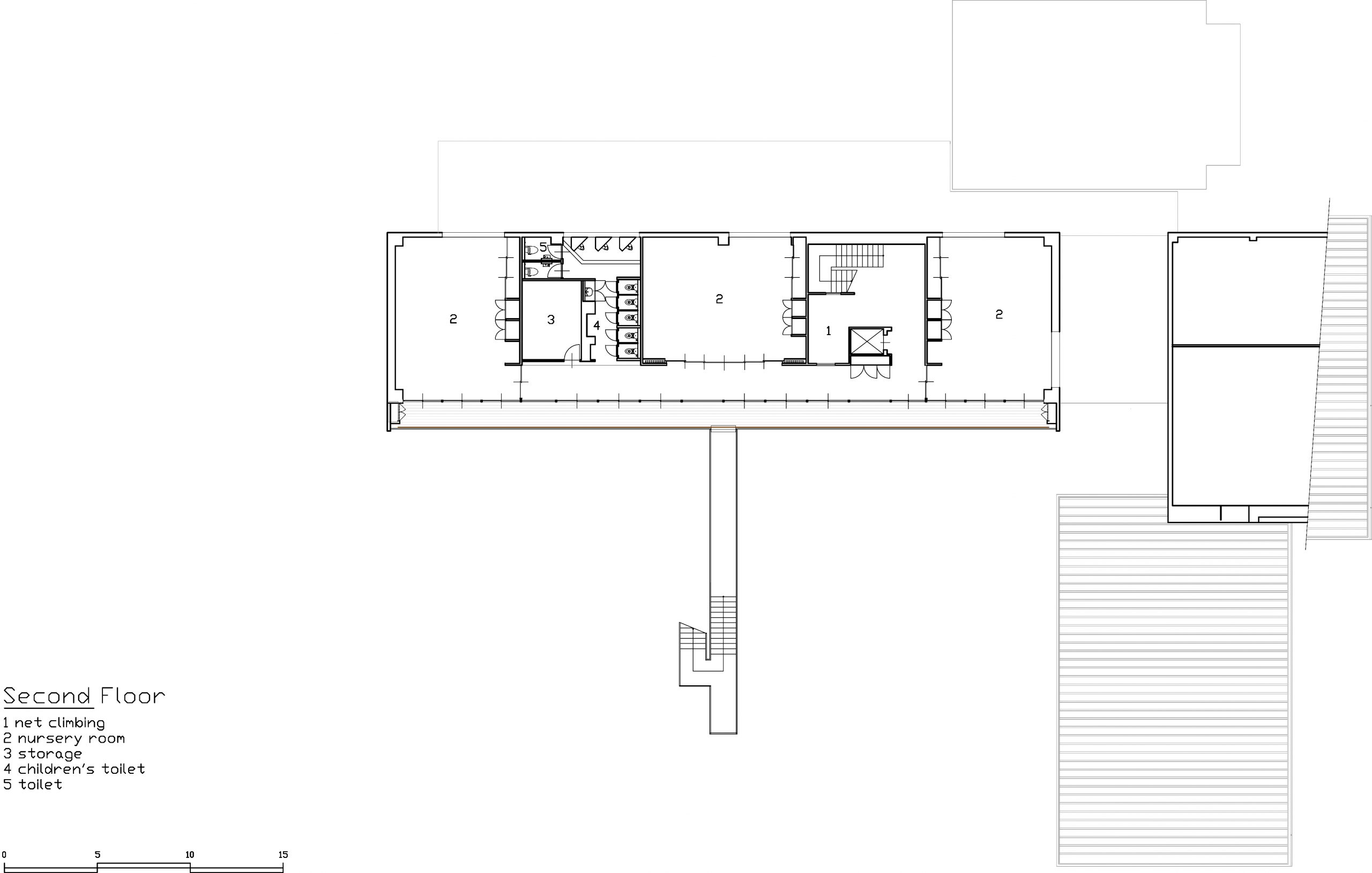 ▼立面图 Elevation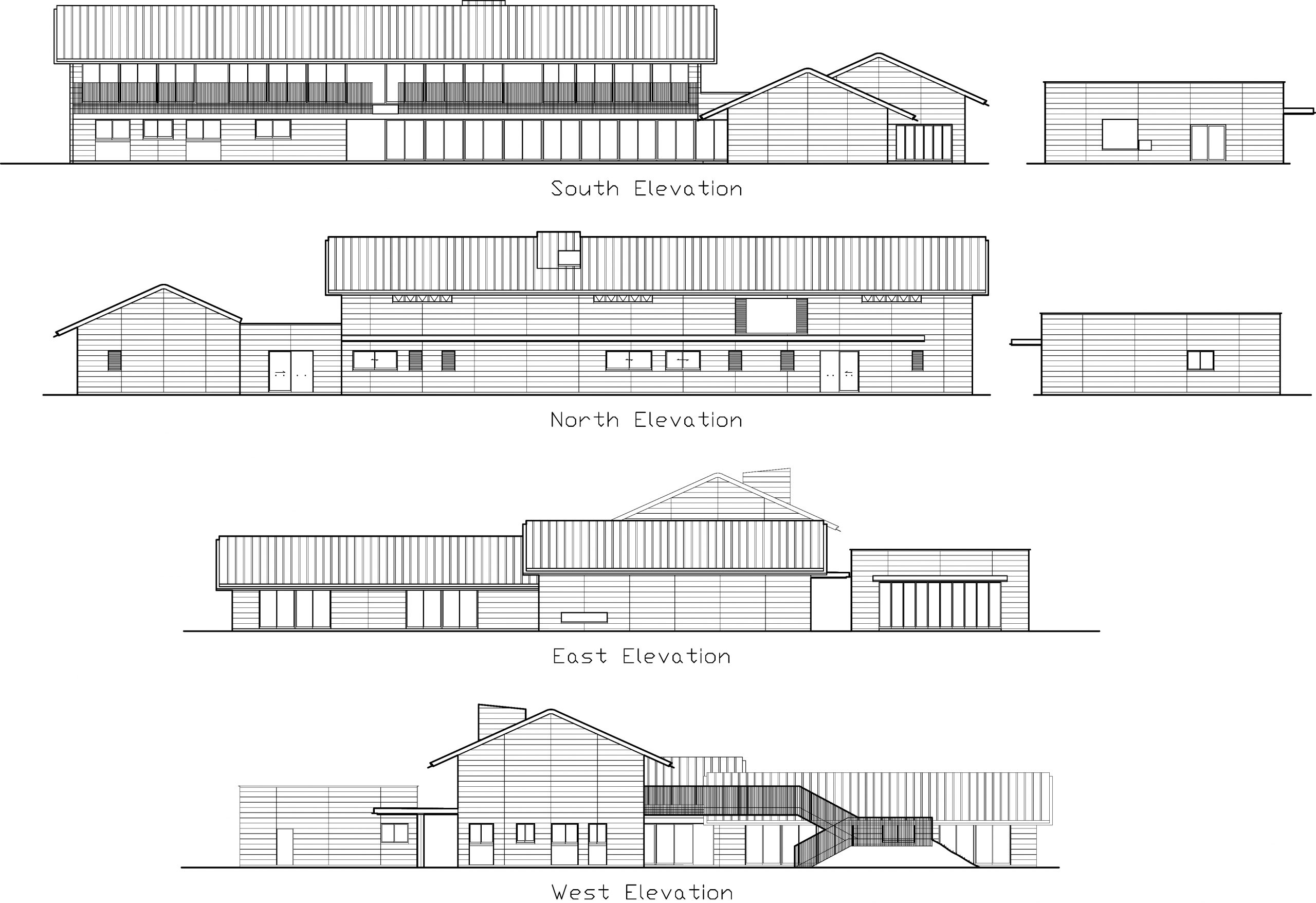 ▼剖面图 Section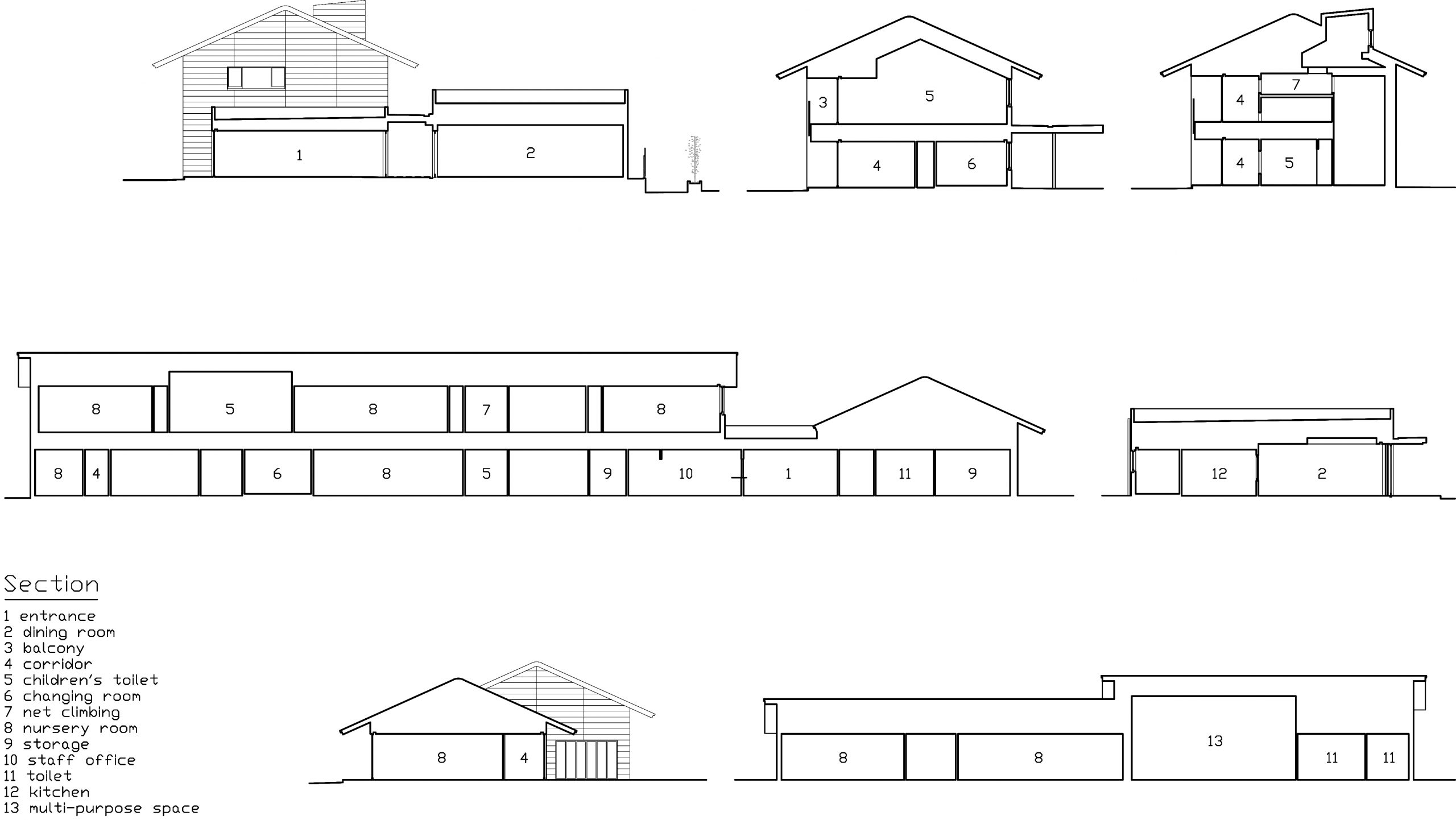 项目名称: MRN Kindergarten and Nursery
所在地:日本宫崎县都城市
设计监理团队:HIBINOSEKKEI + Youji no Shiro
占地面积:3326.35㎡
建筑面积:1113.68㎡
使用面积:1230.67㎡
构造规模:钢筋造、地上2层
竣工时间:2019年3月
照片:Toshinori Soga ( studio BAUHAUS )
Project Name : MRN Kindergarten and Nursery
Location : Miyakonojo, Miyazaki, Japan
Firm : HIBINOSEKKEI + Youji no Shiro
Site area : 3,326.35㎡
Building area : 1,113.68㎡
Total floor area : 1,230.67㎡
Photo credit : Toshinari Soga (studio BAUHAUS)
Construction/Scale : Steel Frame、2 floors (Above the ground)
Completion : 2019
---
" 改造后的园舍,根据用途划分空间,提供一个更适合儿童的以及儿童所需要的保育环境。"
审稿编辑 王琪 –  Maggie
更多read more about:HIBINOSEKKEI