本文由 范承宗 授权mooool发表,欢迎转发,禁止以mooool编辑版本转载。
Thanks Cheng Tsung FENG for authorizing the publication of the project on mooool, Text description provided by Cheng Tsung FENG.
范承宗 – 考工記工作室:从日治时代引进种植技术的段木香菇,到五十年代因出口导向而盛行种植的洋菇——台湾的蕈菇产业除了拥有丰富的栽培历史,随著太空包与木屑瓶的发明、不断精进的菌种研究技术,菇农们种出了一片多元又美丽的蕈菇风景。一朵香菇的热量等于几碗白饭?在台湾的哪个县市出产最多的杏鲍菇呢?艺术家范承宗以竹编工艺织就一片百菇森林,每一朵蕈菇都拥有一组蕈菇密码。快一起走进森林裡,揭开蕈菇们的神秘面纱吧!
Cheng Tsung FENG: Taiwan's mushroom farming is marked by a long history, from the introduction of the shiitake mushroom in the Japanese Colonial Period, to the white mushroom that was popularized in the 1960's. With new inventions, continuedly improved technologies and equipment, mushroom farmers in Taiwan creates a glittering colorscape: artist Cheng Tsung FENG designs a large artwork masterpiece featur¬ing Taiwan's six top rainmaking mushrooms. Each species contains its own passcode and a custom description. The key to unlocking their secrets might be yours if you are game for an adventure!
▼百菇森林里的金针菇、杏鲍菇、秀珍菇、鸿禧菇和香菇  The forest contains all kinds of mushrooms.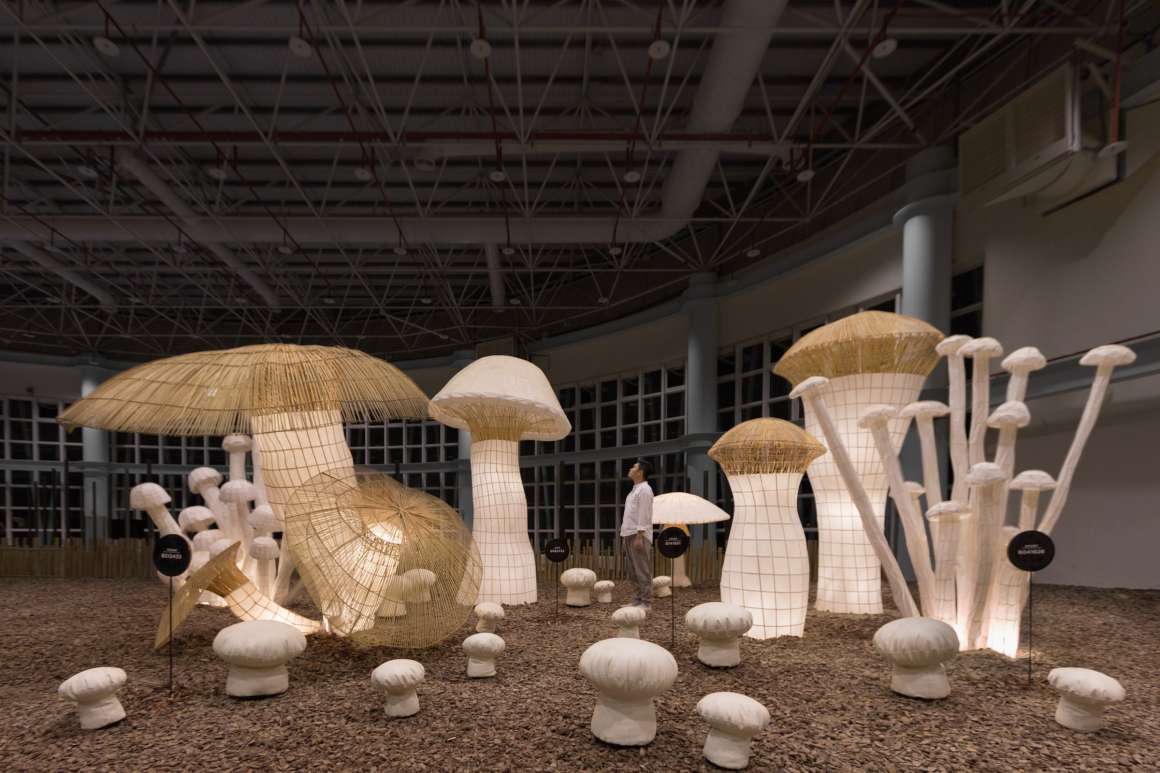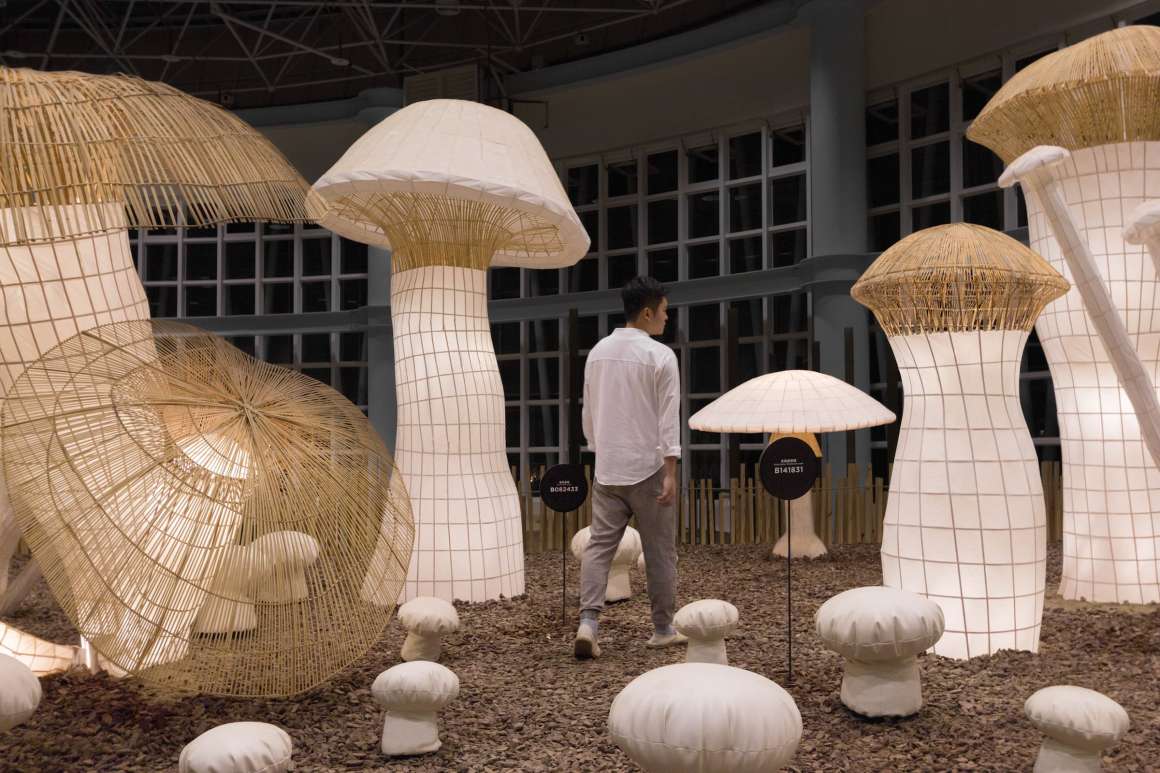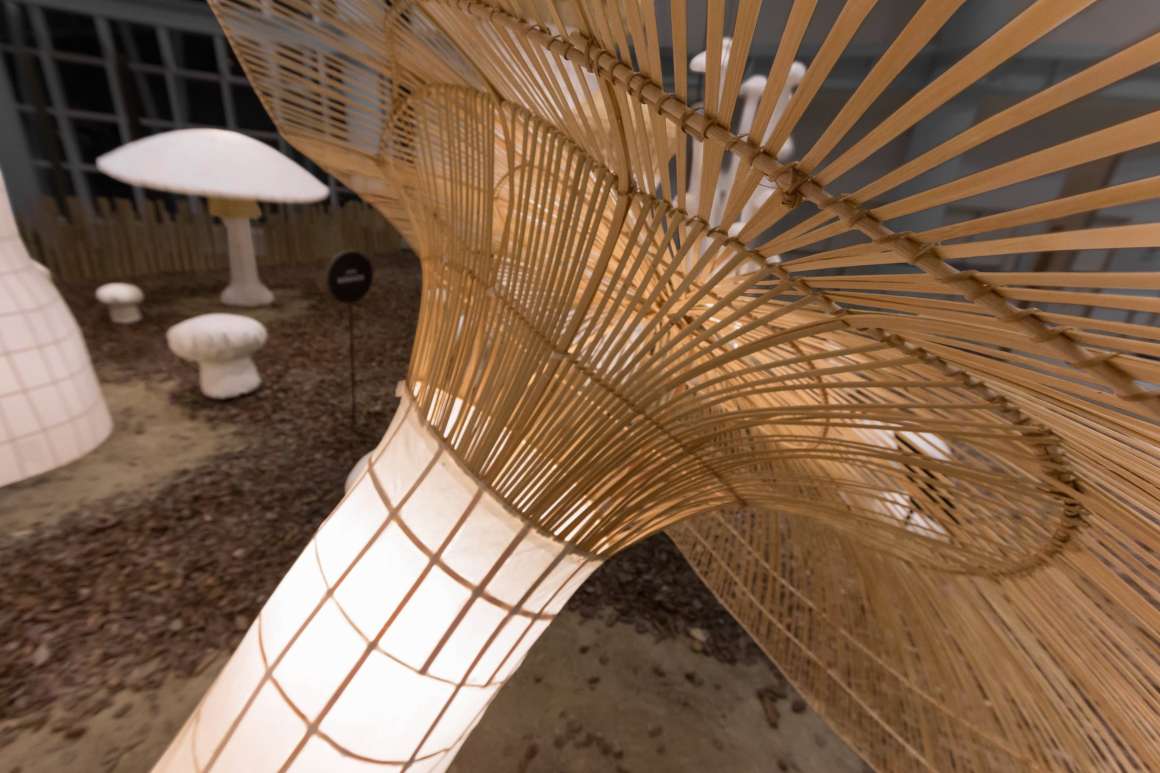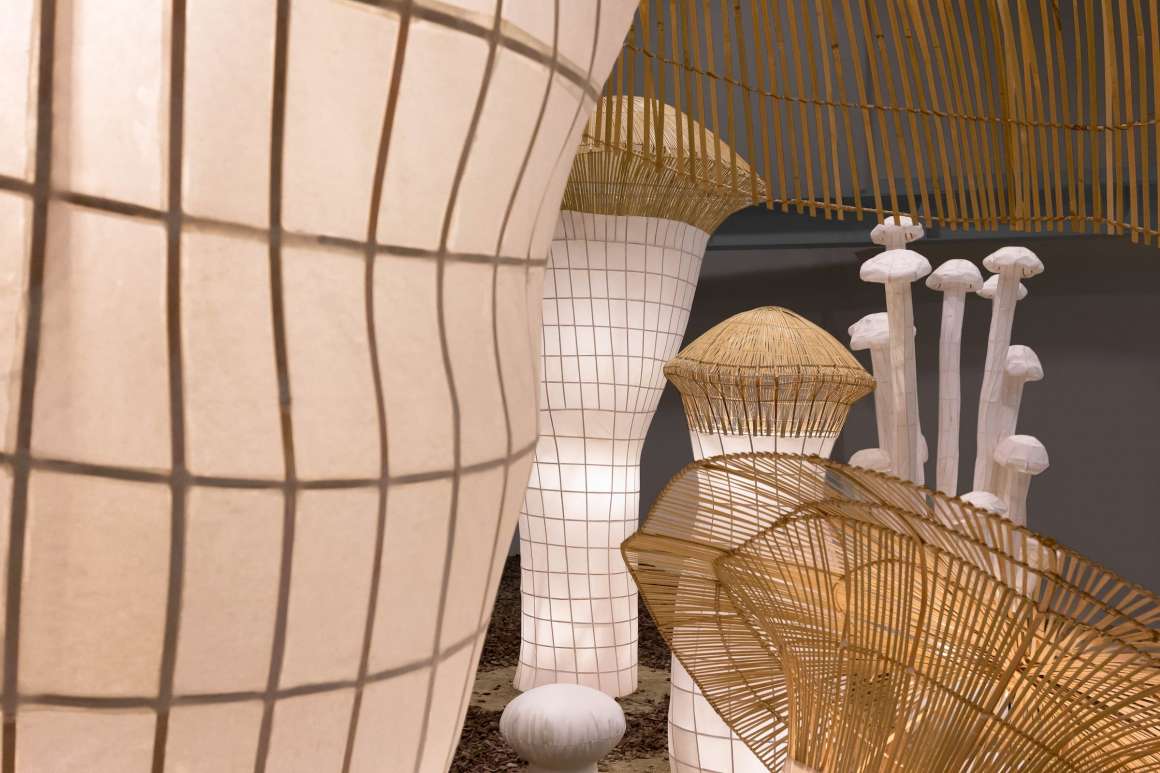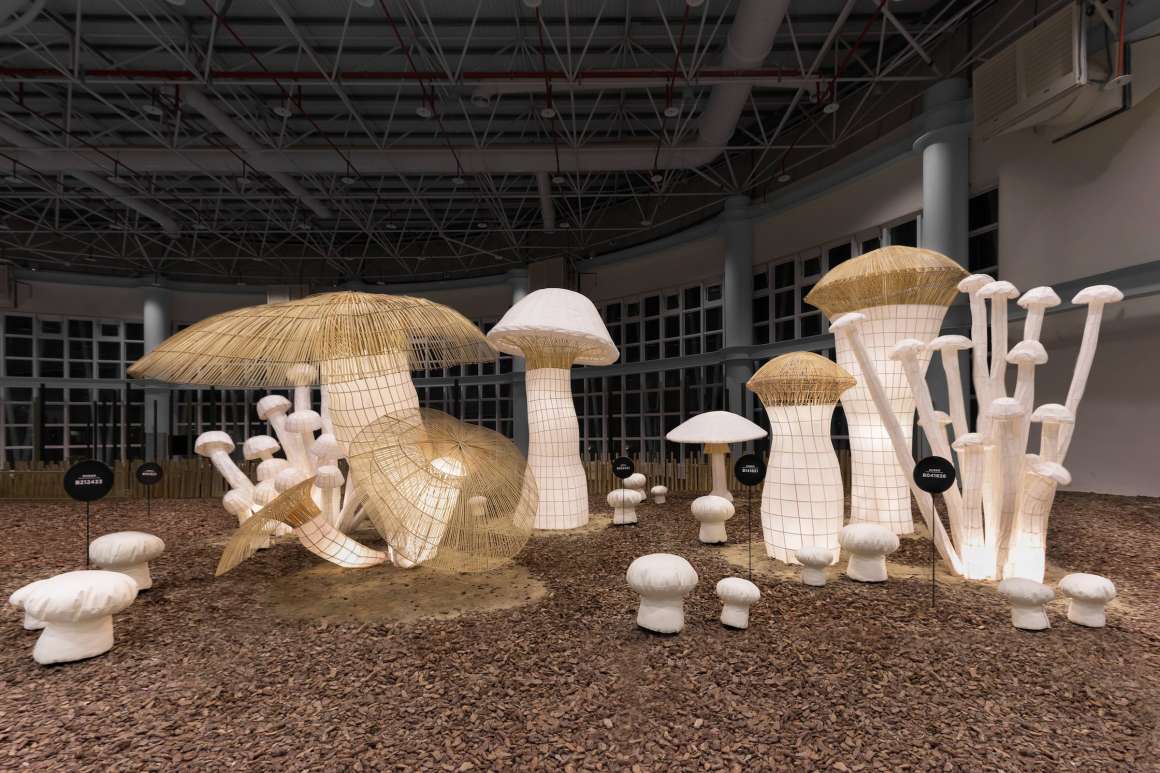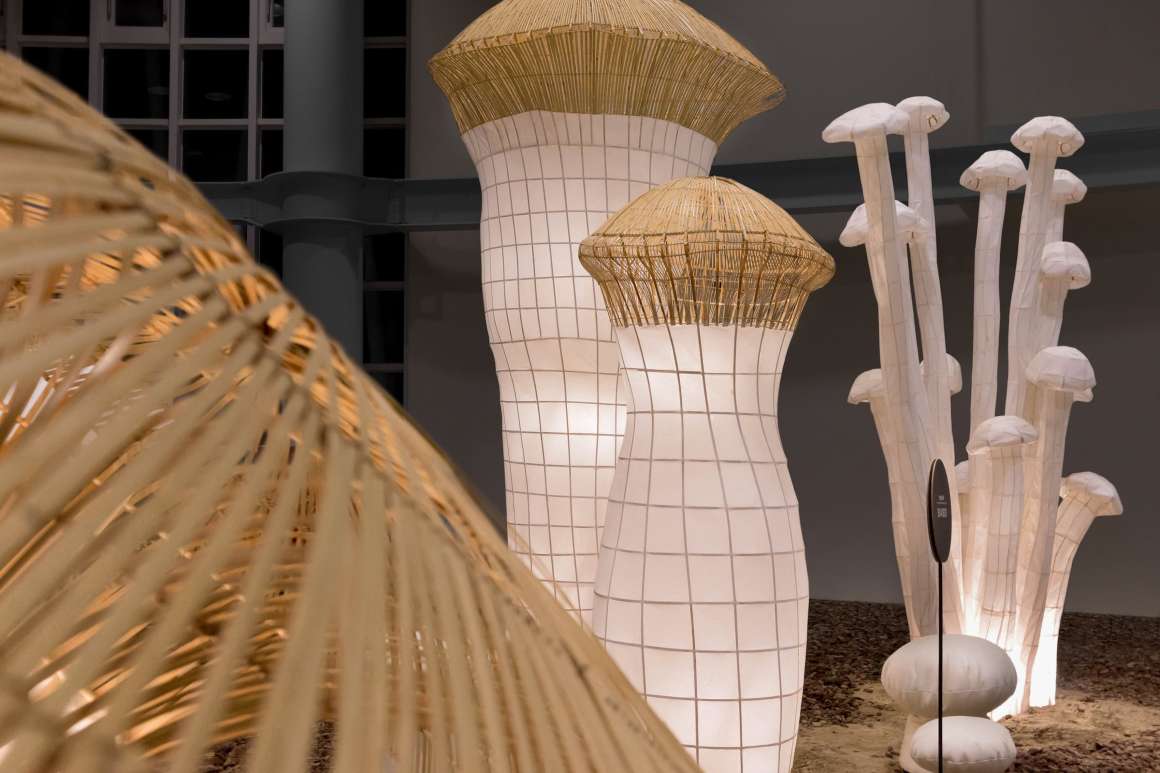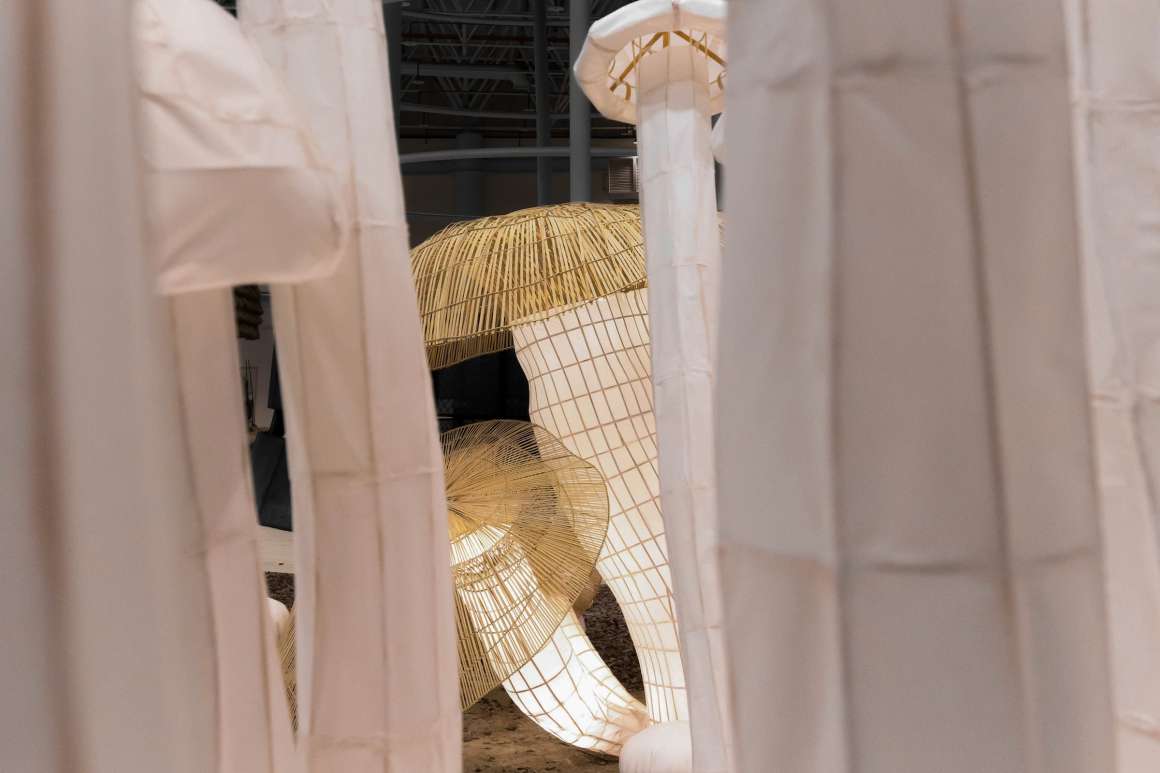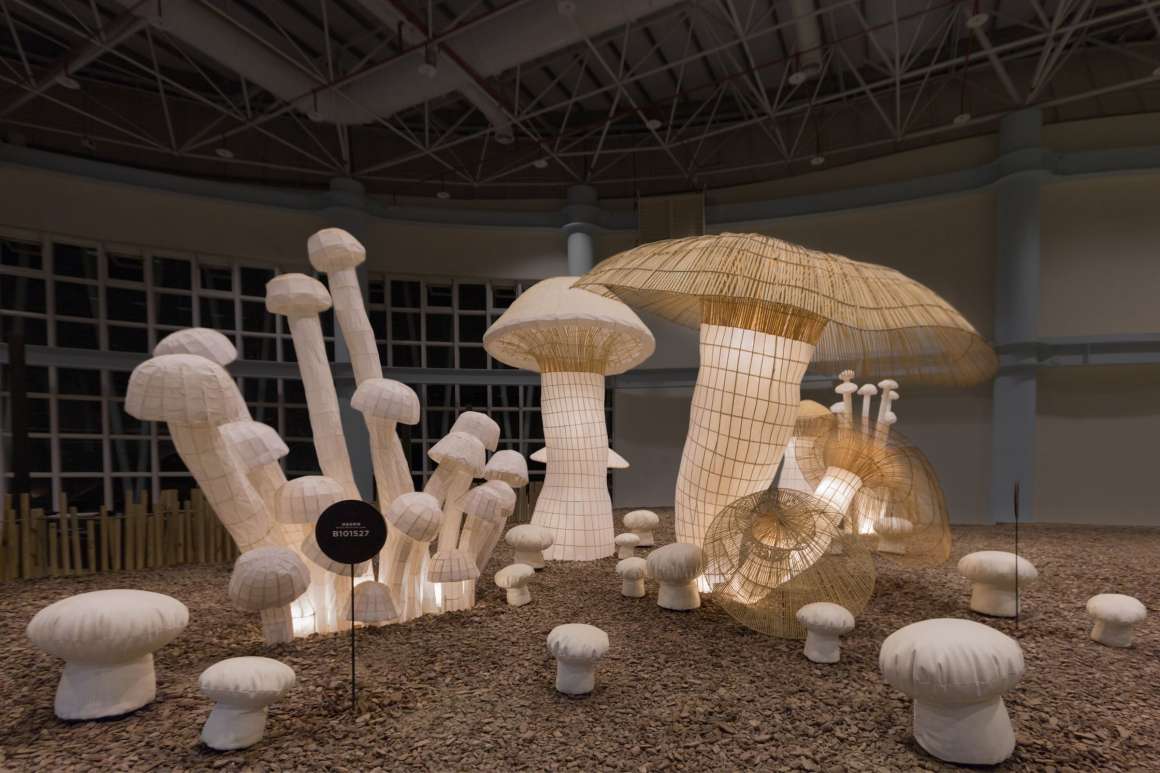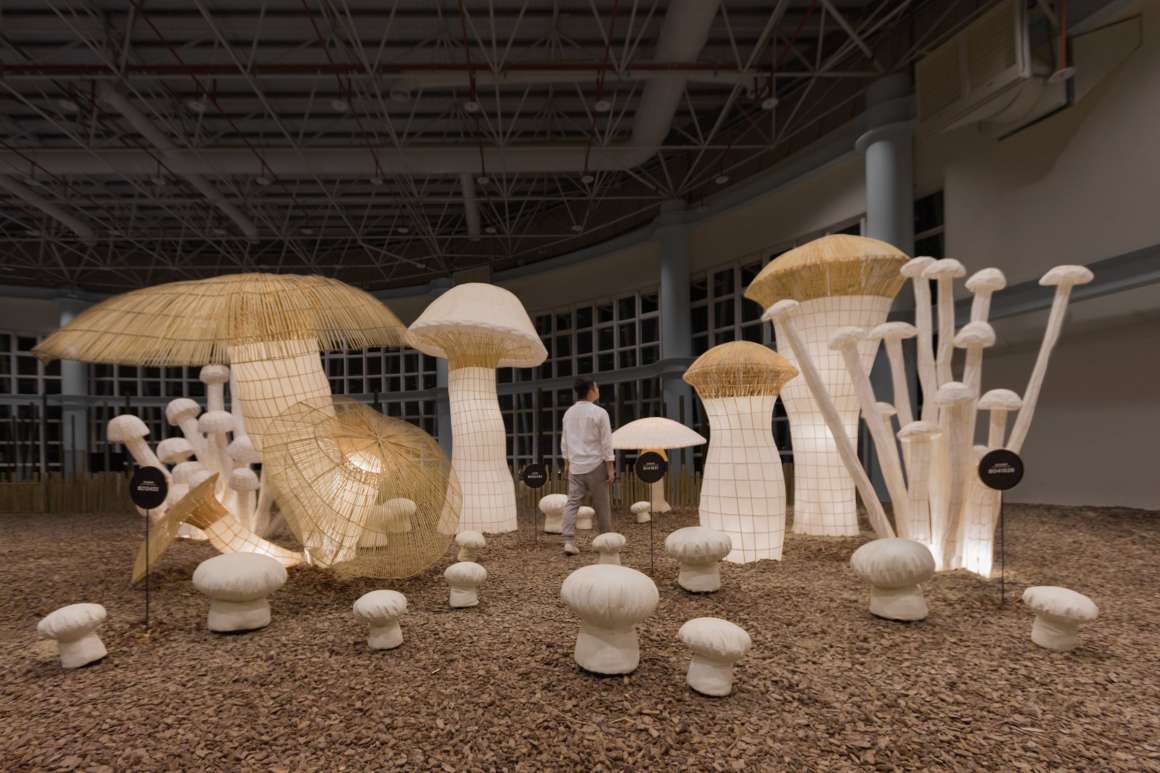 2018 Taichung World Flora Exposition Harvest Blessings Pavilion
Address: No.99, Lane 800, Yuemei West Road, Waipu District, Taichung City
Exhibition dates: 2018.11.03 – 2019.04.24
Guidance: Taichung Municipal
Sponsor: Agriculture Bureau of Taichung Municipal
Organizer: GIS Group
Exhibition planner: Shu-Zhang Gong
Leader of the exhibition: Tai-Min Ye
Co-planner: Ya-Jun Fan
Chief executive officer: archicake
Executive director: Bing-Hong Zhong
Implementation Planning: Wei-Zhen Zhang, Zheng-Zong Chen, Wei-Jing Quan, Zhe-Fen Ouyang, Yi-Lun Lai
Exhibition coordinator: Zhao-Yi Wu
Architectural Space Design: Hui-Qun Chen, Hong-Yin Guo, Li-Jing Hong, Yun Zeng
Graphic Visual Design: Zhao-Lun Luo, Wei-Jun Gao, Wan-Ting Liao, Yu-Yao Huang, Hui-Yu Chen, Jun-Ying Lai
Chief visual design of pavilion: Pu-Hui Zhang
Animation coordinator: Rou-Fang Su
Mushroom Forest: Cheng Tsung Feng, Wei-Qun Lin, Miao-Man Chen, Qi-Yong Chen, Yuan-Zhen Zhang, Jun-Wei Qiu, Kun-Han Lin, Zong-Qi Lin, Bi-Li Cai, Se-Zhi Cai, Cai-Qin Liu, Long-Dong Lu, Yu-Ting Zhang, Yue-E Zhou, Yun-An Jian, Jie-Yu Chen, Zhong-Yi Xu, Wei-Huang
Construction coordinator: John-Son Liao, Tixian Design, Zheng Chang Lumbering, Qun Yi Interior Decoration, FaGu Metal Works, JunYi Stainless steel, YiChuang Wooden Structure
Programme and activity implementation planning: Shu-Miao Li, An-Qi Li, Kai-Wen Liang, Hua-Jun Zhao, Yi-Pei Wu, Paul Adrien Le Cacheux
Pavilion operation and maintenance: Ling-Yi Li, Wei-Zhi Guo, Qiao-Yin Zheng, Shang Li, Yi-Jun Lai, Bo-Yan Li, Shao-Ming Zhang, Zong-Yu Lin, Ting-Ya Huang, Yi-Ci Chen, You-Xuan Guo, Yi-Jing Wu, Yi-Jun Chen, Han-Jia Liu, Xin-Ting Zhan, Qiong-Yi Huang
Read more about: 范承宗 Cheng Tsung FENG