本文由 Oppenheim Architecture 授权mooool发表,欢迎转发,禁止以mooool编辑版本转载。
Thanks Oppenheim Architecture for authorizing the publication of the project on mooool, Text description provided by Oppenheim Architecture.
Oppenheim Architecture:瑞士穆滕茨政府委托我们设计了一个新市政净水厂,鉴于该工厂作为可持续发展的范例,对莱茵河畔的自然环境干扰甚微,我们便在森林保护区和附近的工业园区之间,设置了一个专用于向参观者解释复杂净化过程的展览和教育区。
Oppenheim Architecture:The City of Muttenz, Switzerland, commissioned Oppenheim Architecture Europe to design the city's new municipal water purification plant. The plant is a model of sustainability and extremely sensitive to its contrasting setting near the Rhine riverfront. Nestled between the protected forest and the nearby industrial parks, the project also holds an exhibition and educational area that explains the complex purification process.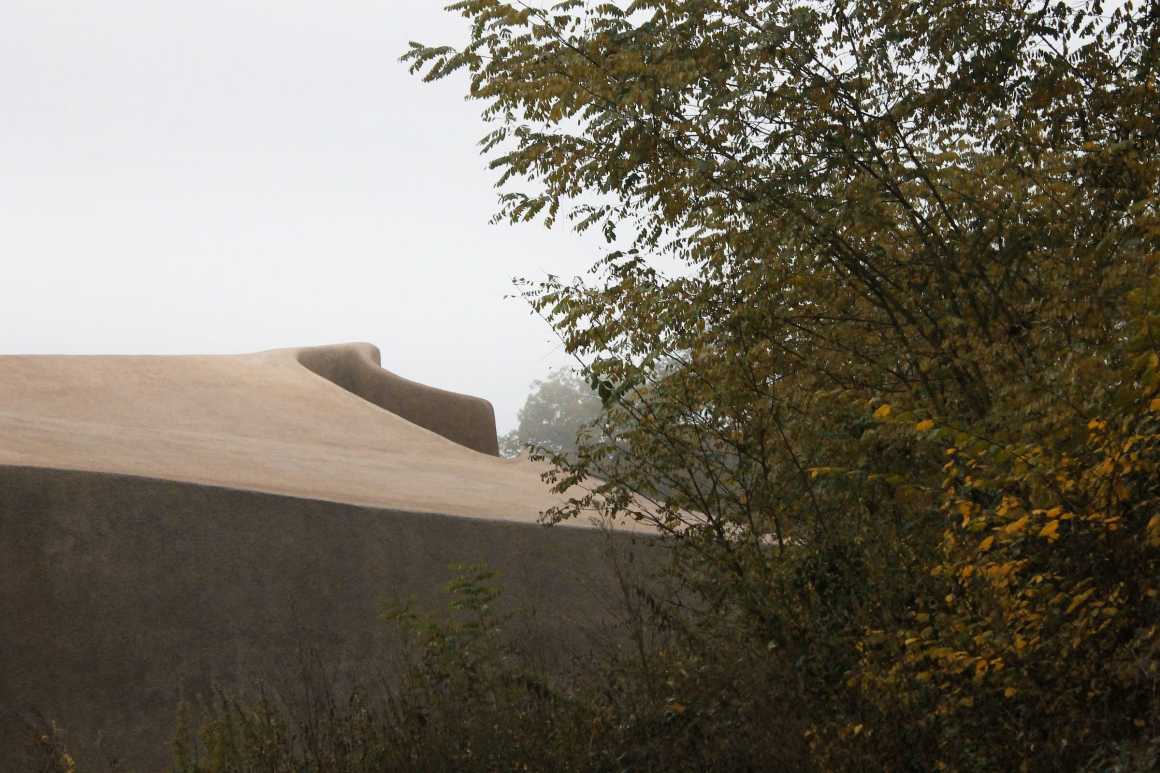 该净水厂为穆滕茨镇和巴塞尔地区创建了一个新的地标,其建筑设计在表达独特和先进净水技术的同时,也强调了净化的重要性,建筑概念则很好的诠释了它坐落在莱茵河畔郁郁葱葱森林里的这种对比鲜明的环境。
The function of the drinking water treatment plant is to create a new landmark for the town of Muttenz and the Basel area. The architecture expresses the unique and state-of-the-art technology held within and emphasizes the importance of the purification process. The building sits inside a lush green forest next to the river Rhein. This contrasting context – the natural and the industrial – is expressed in the architectural concept.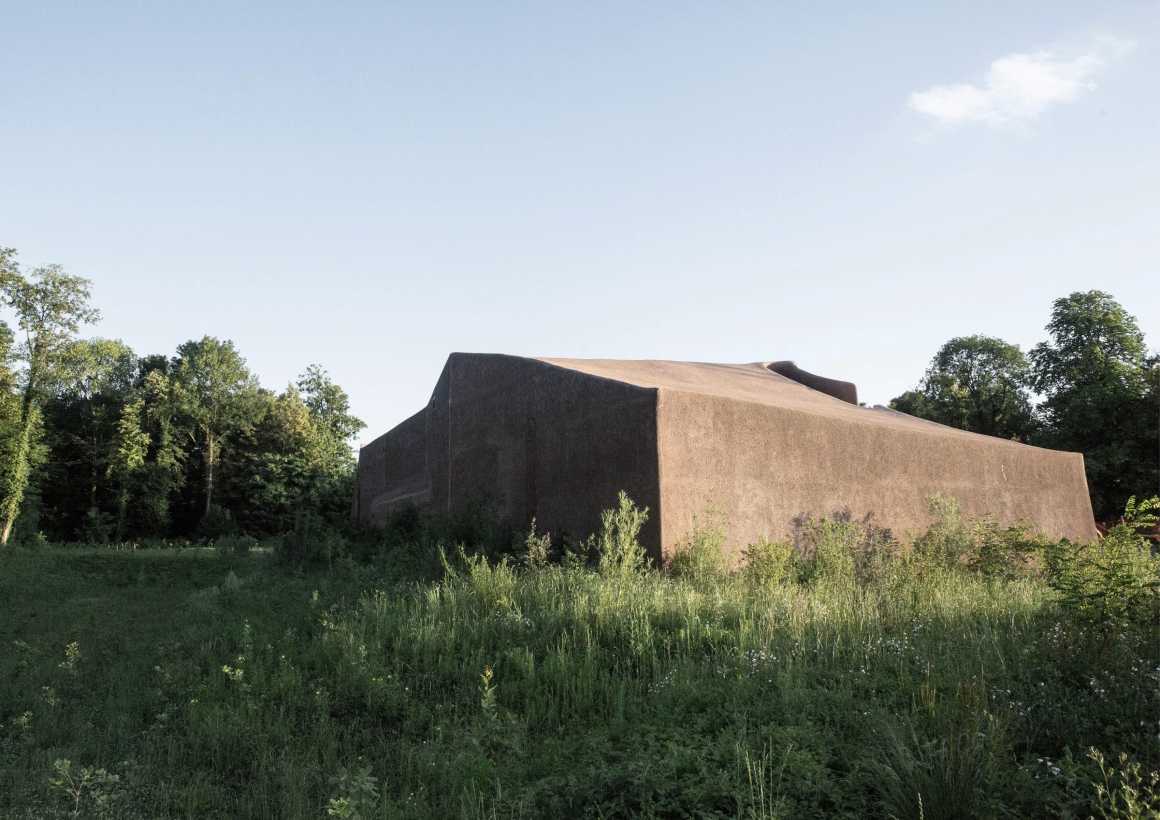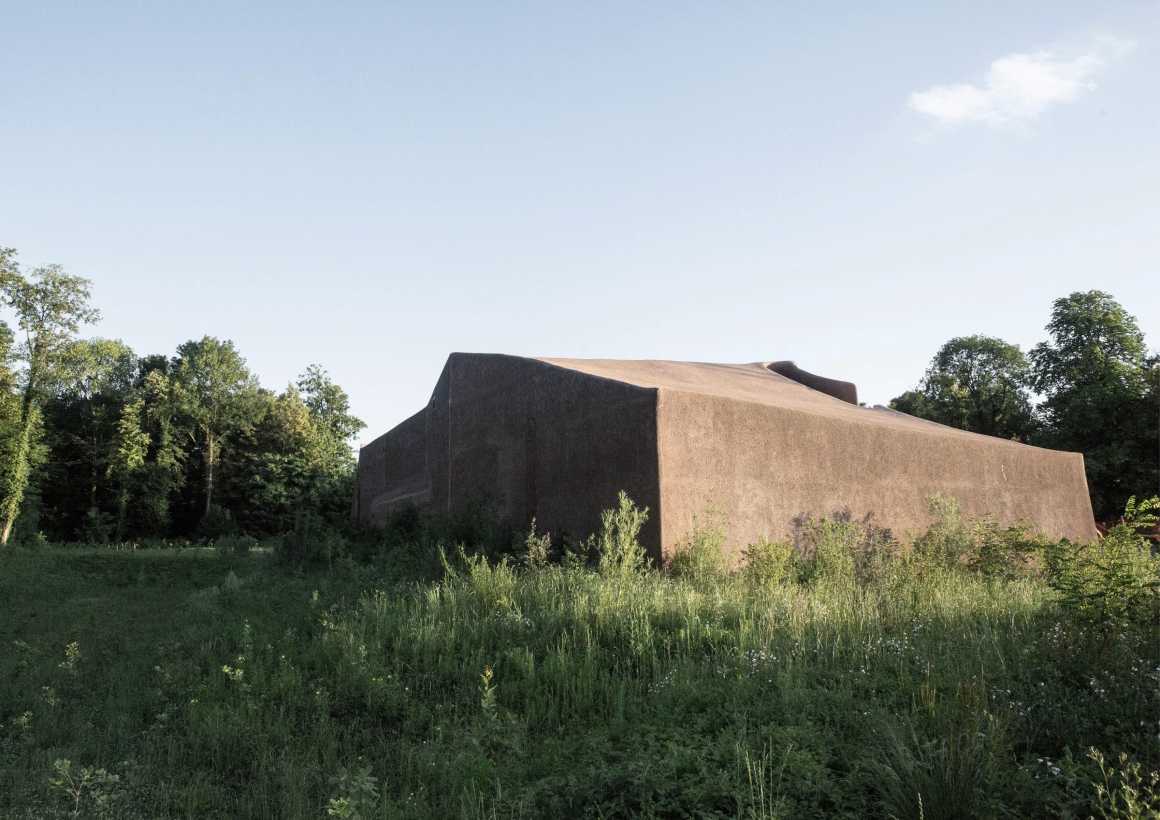 为确保穆滕茨居民饮用上最优质的水源,该净水厂采用的是最先进的三段工艺,因此,净水内部设施的布局决定了建筑的形式和大小。就像一件紧贴着皮肤的紧身衣,它的外在表现就代表着内在的技术生命。建筑立面通过抽象地诠释内部管道、过滤器和其它设备,在其自然环境中简化为其物质性和形式,形成了一个极富表现力的建筑,宛如一个"艺术品"。
The drinking water purification plant houses a state of the art 3-phased process that ensures the highest quality of water for the citizens of Muttenz. The engineering-driven arrangement of the interior defines the form and the size of the building. Like a tight dress, the skin presses against it and represents the technical inner life to the outside. Pipelines, filters, and apparatuses can be read through the façade abstractly. The result is an expressive building, acting as an 'objet trouvé' in its natural context and reduced to its materiality and form.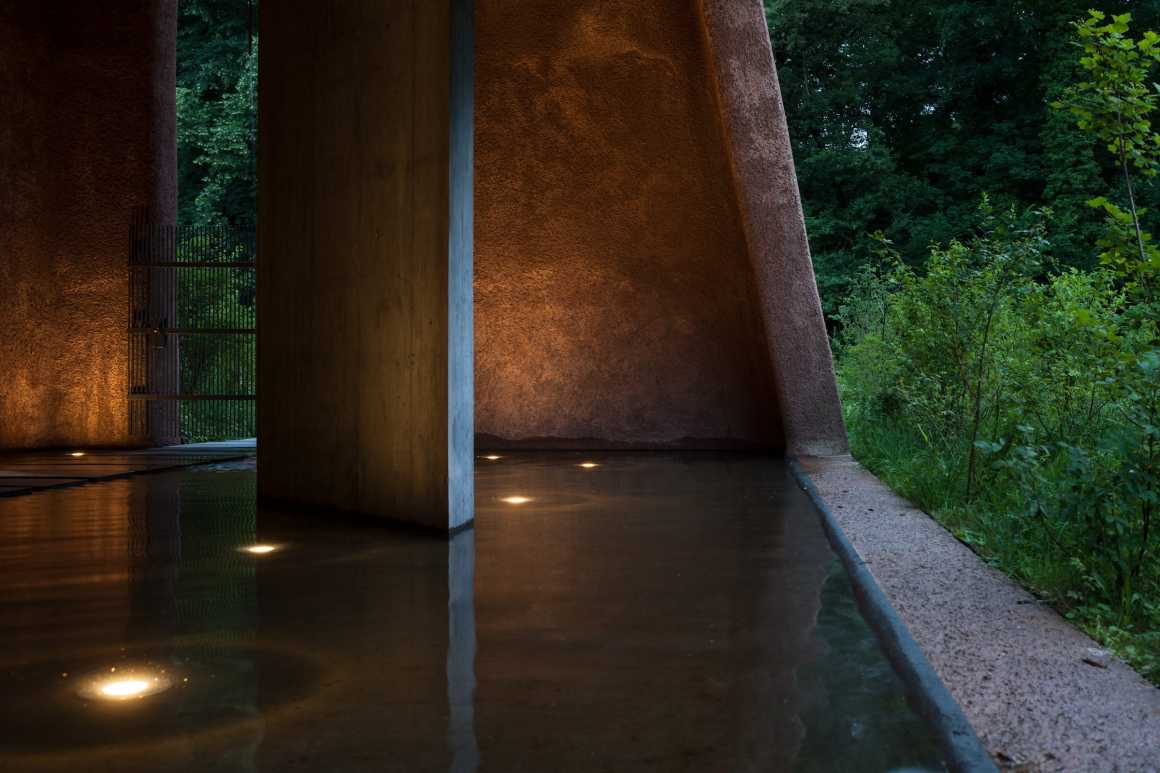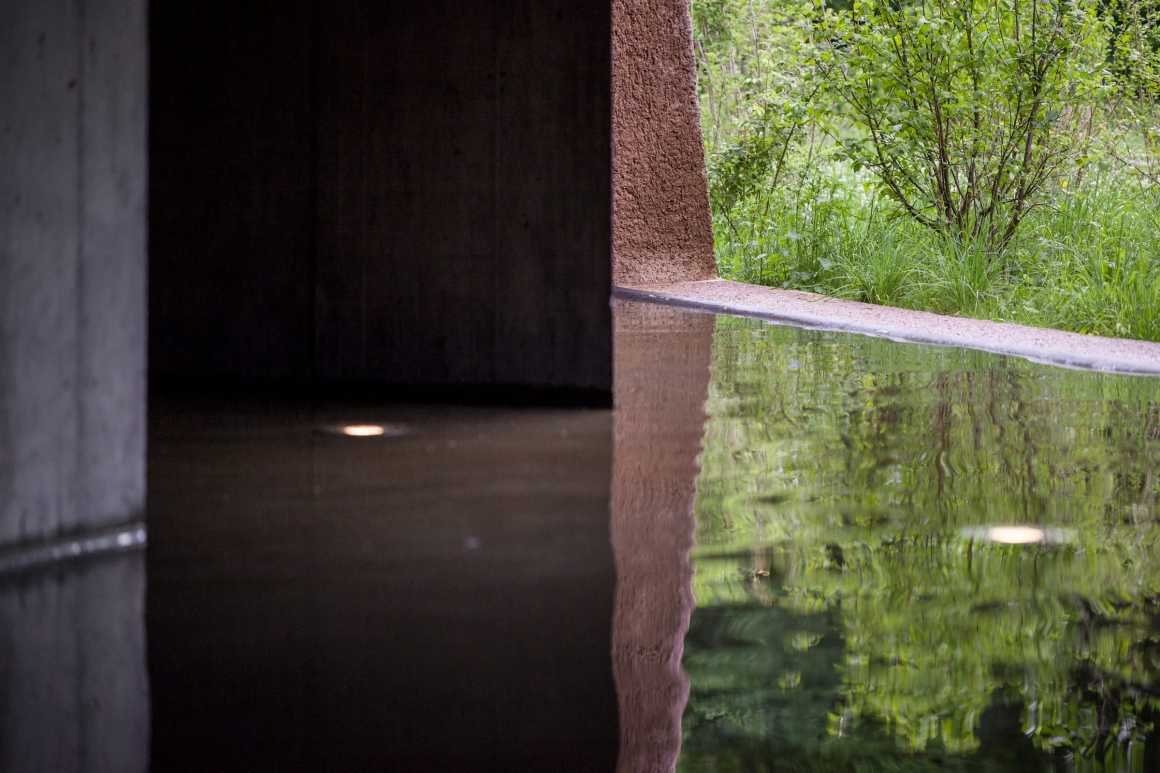 公共区是一个引导游客通过不同的建筑区域体验不同净化阶段过程的教学叙事空间,参观者可以在这里直接欣赏复杂的净化过程,用所有感官来感受和体验"水"。公共区的中央开放平台作为集散区和演讲舞台,就坐落在一个用于收集屋顶倾泻而下的雨水的水池上,像凹室一样,简约而纯净。随着时间的流逝和季节变换,这个空间也会变得潮湿、寒冷而神秘。
A public area allows the population to appreciate the complex process transparently and will celebrate water with all senses — a pedagogical spatial narrative guides visitors through the different building areas and process phases. A central open platform serves as a collection area and as a stage for the presentations. This alcove-like room is pure, open to the outside and sits on a pool of water – reflecting the daylight and collecting the rainwater pouring in from the roof. Depending on the time and season, the space can be moist, cold and mystical.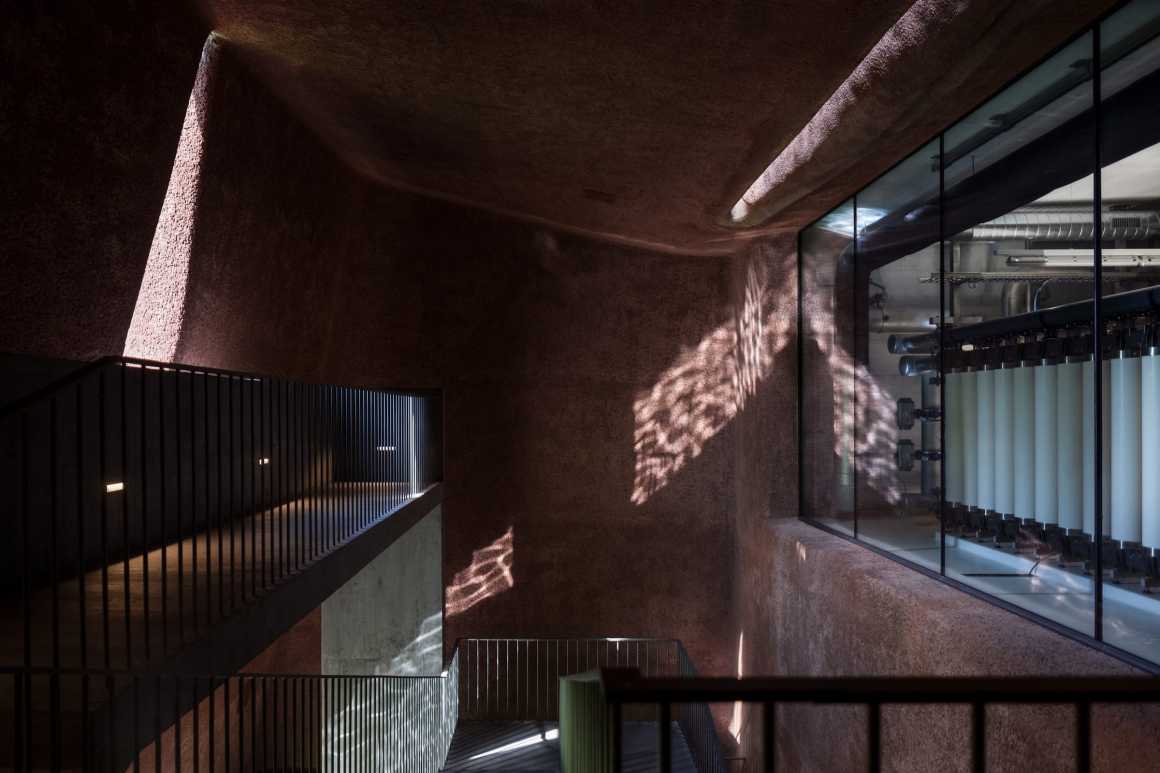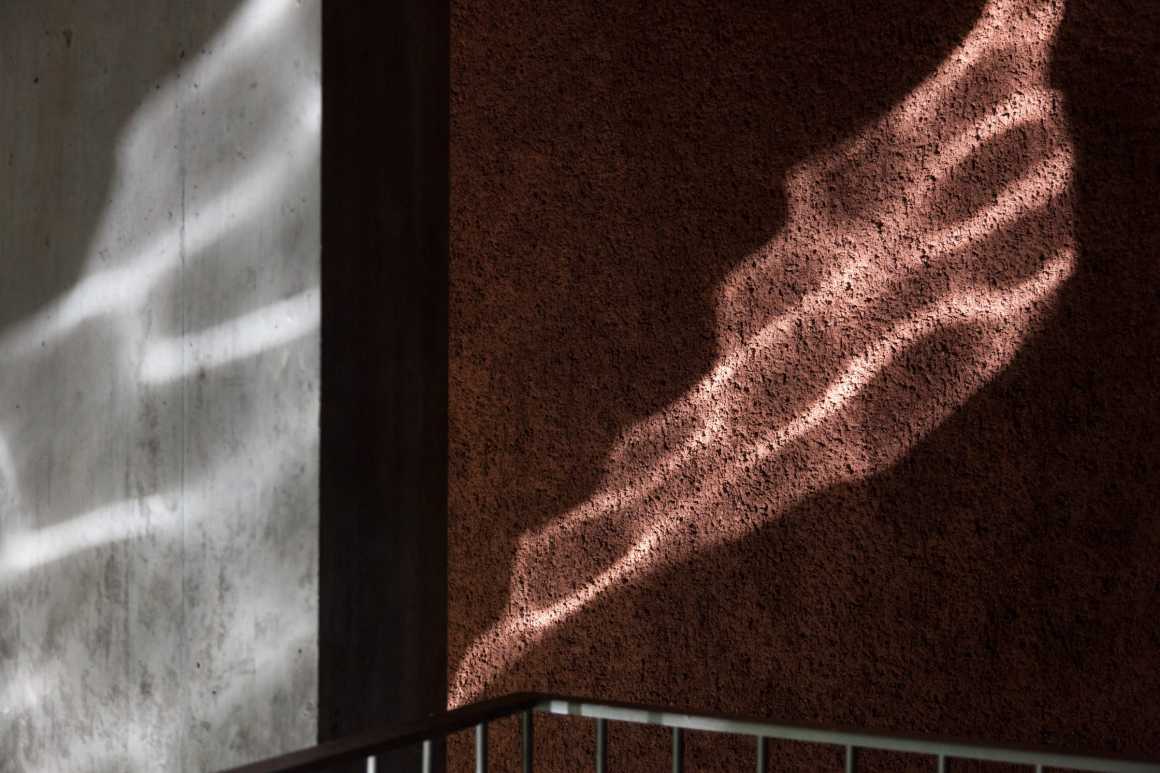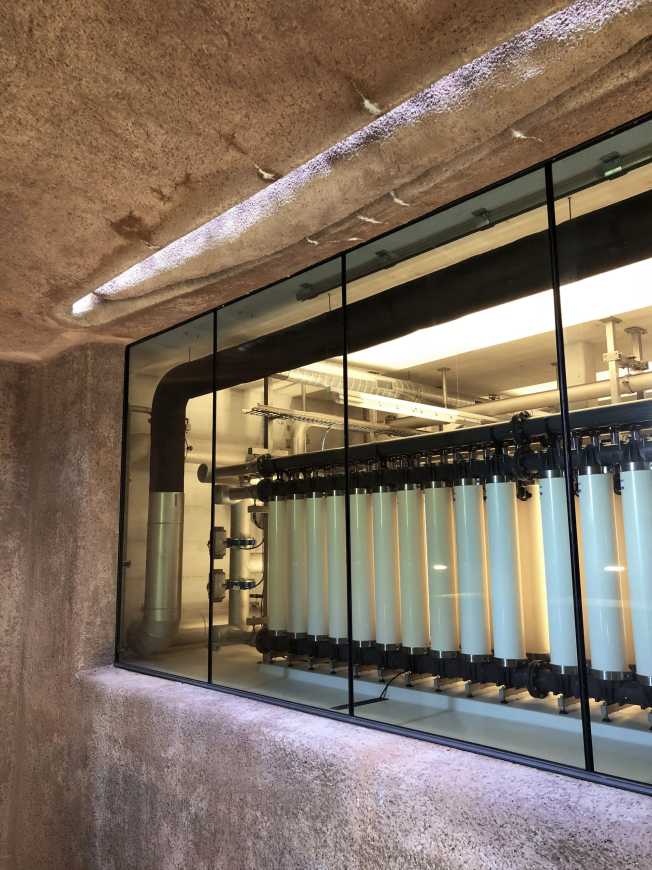 其中,水元素贯穿了整个叙事体验空间。
Water is experienced throughout all senses.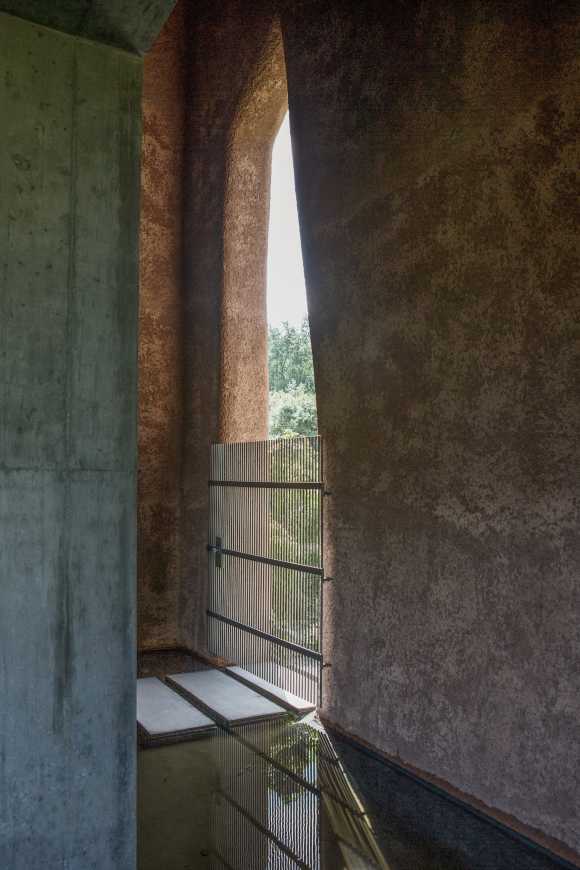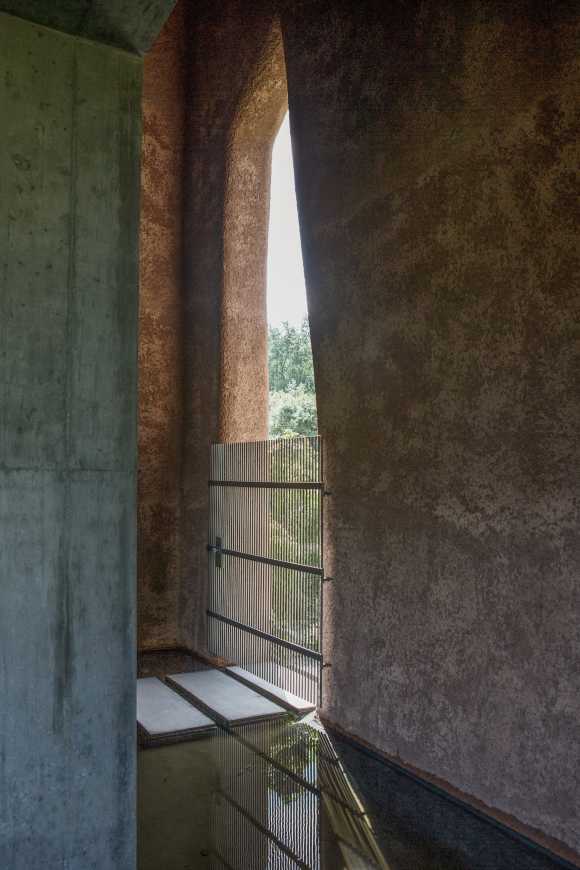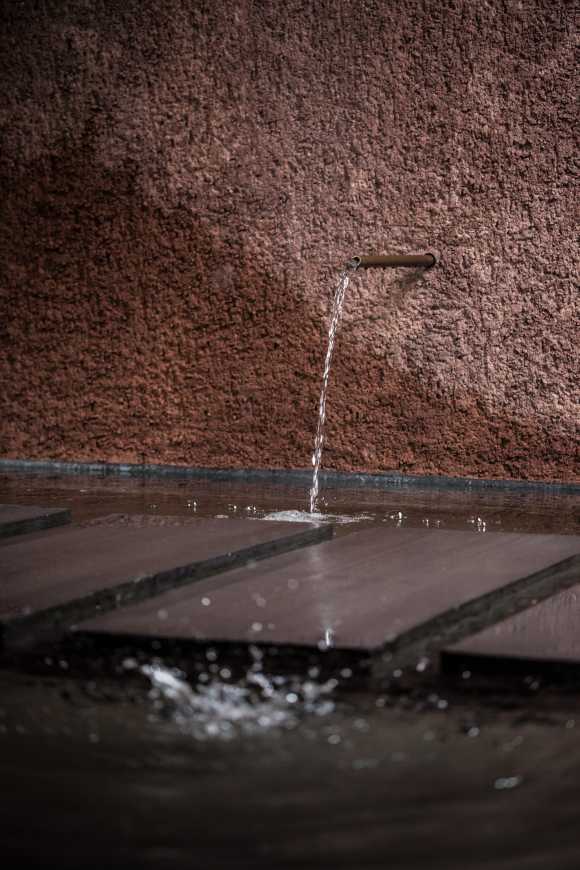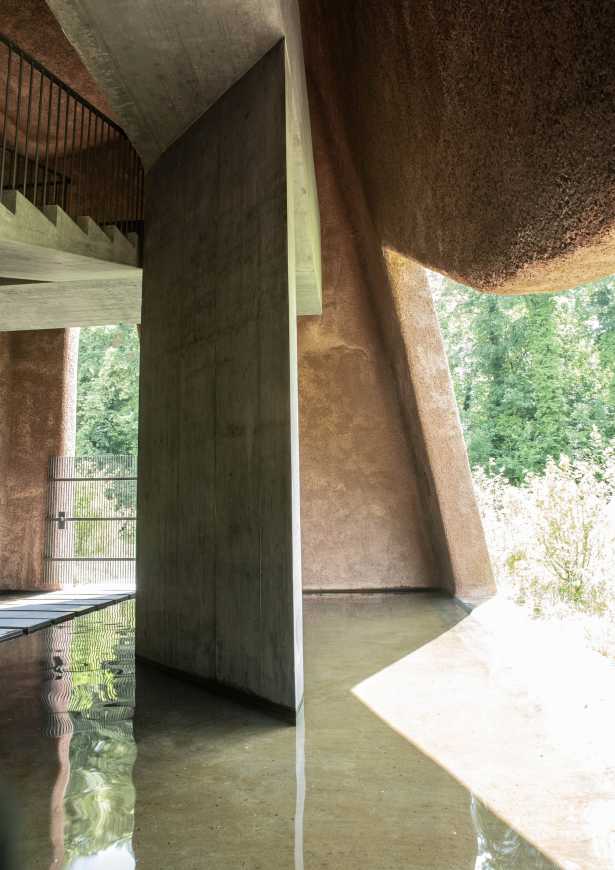 建筑立面材料虽质地粗糙坚硬,却表达柔和,很好的体现出了周边的景观环境。
该建筑的特色立面由喷浆混凝土与当地粘土混合制成,经过再次处理后,形成了现在的多孔可渗透表面。
The surrounding landscape context is playfully implemented into the façade material – soft in expression, crude and hard in its texture. Shotcrete mixed with local clay creates the striking façade and is treated in a way to allow a porous surface.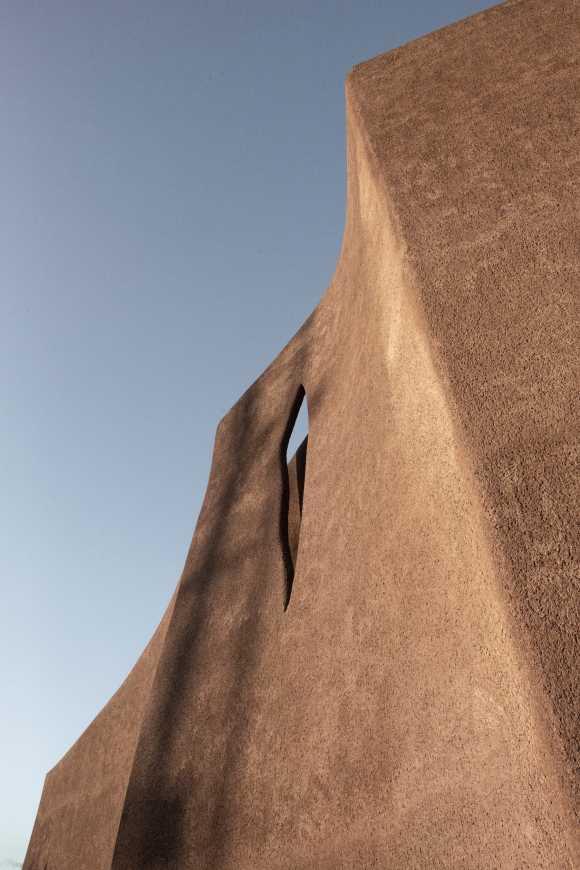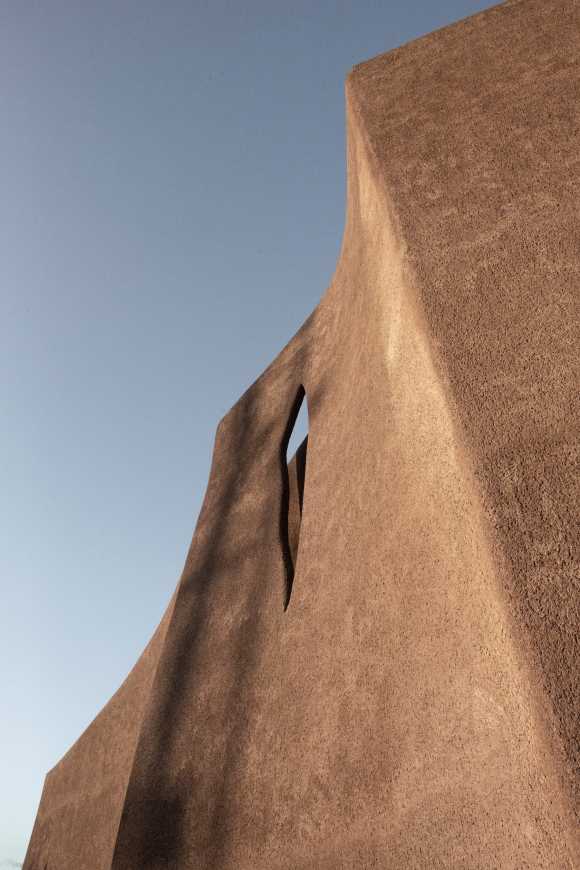 雨水从屋顶透过混凝土顺流到立面上,为苔藓创造了良好的生长环境,它们形成的新绿,不断变化着净水厂的外观。
Rainwater flows from the roof over the façade, leaving a patina and allowing moss growth, continuously changing the appearance of the treatment plant.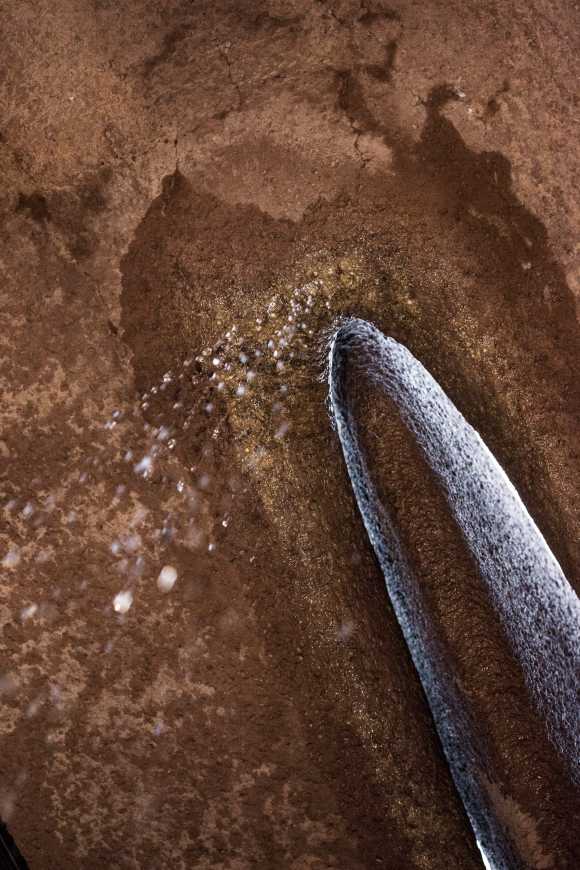 这种建筑立面基本不需要什么后期维护工作。粗粒度的喷浆混凝土立面长出苔藓、赋予新绿后,将与周围环境完美融合。讲述着它与景观的对话:设计应与自然一起创造生长,而非凌驾于自然之上。
Maintenance work on the façade will be low. The coarse-grained shotcrete will be given a green patina, merging the façade will with its context. The building is in dialogue with the landscape; built with nature, not on top of nature.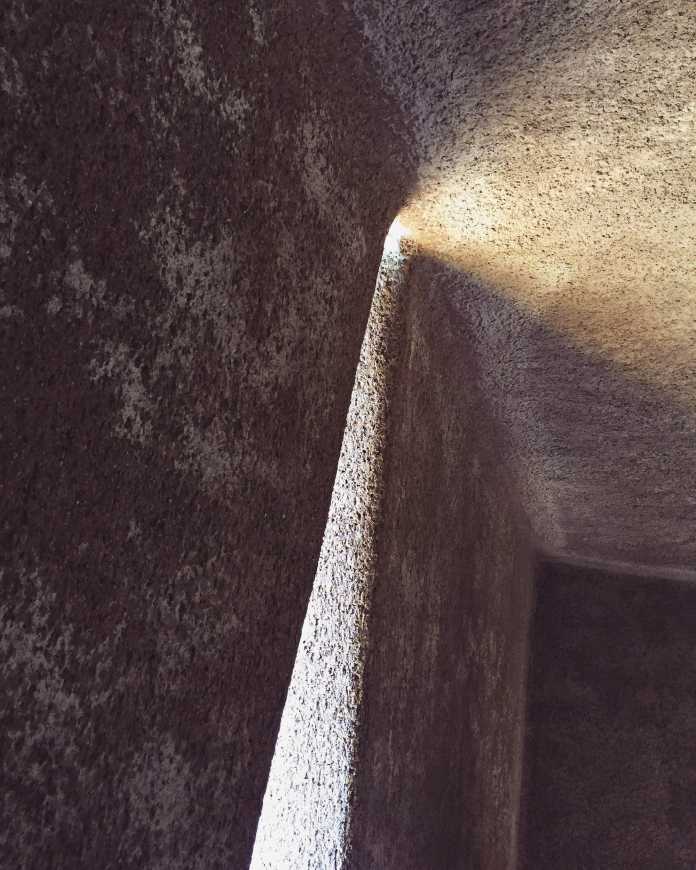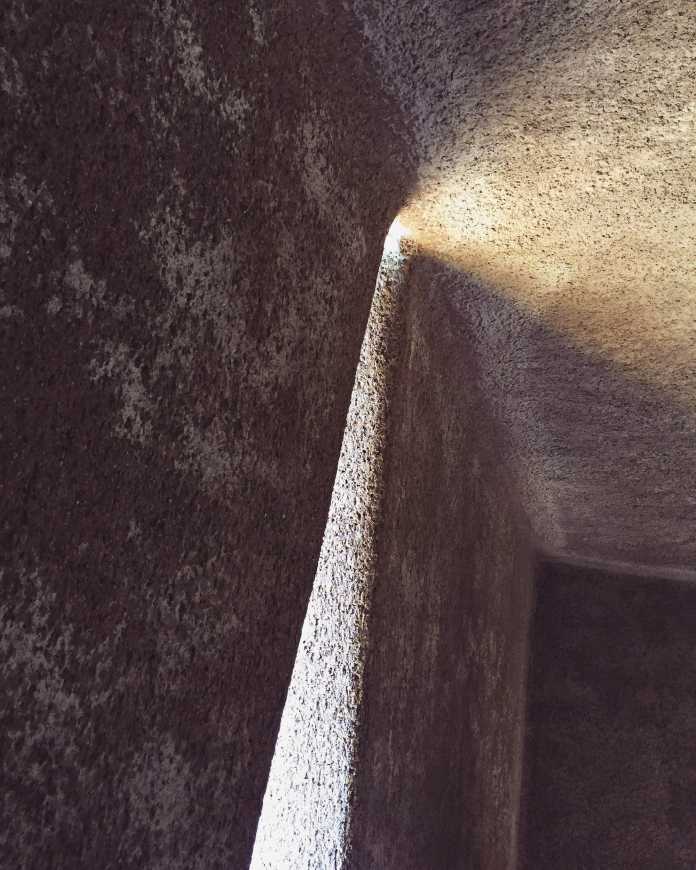 ▼建筑结构图 Project Diagram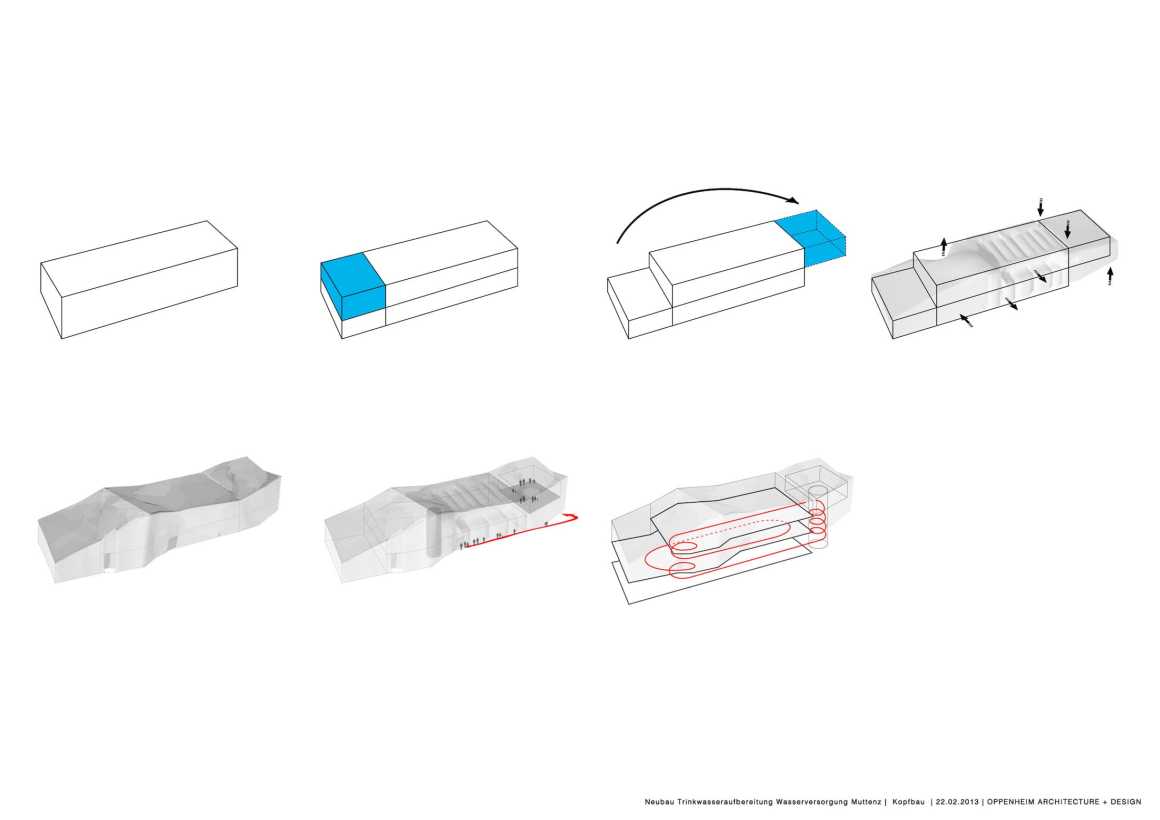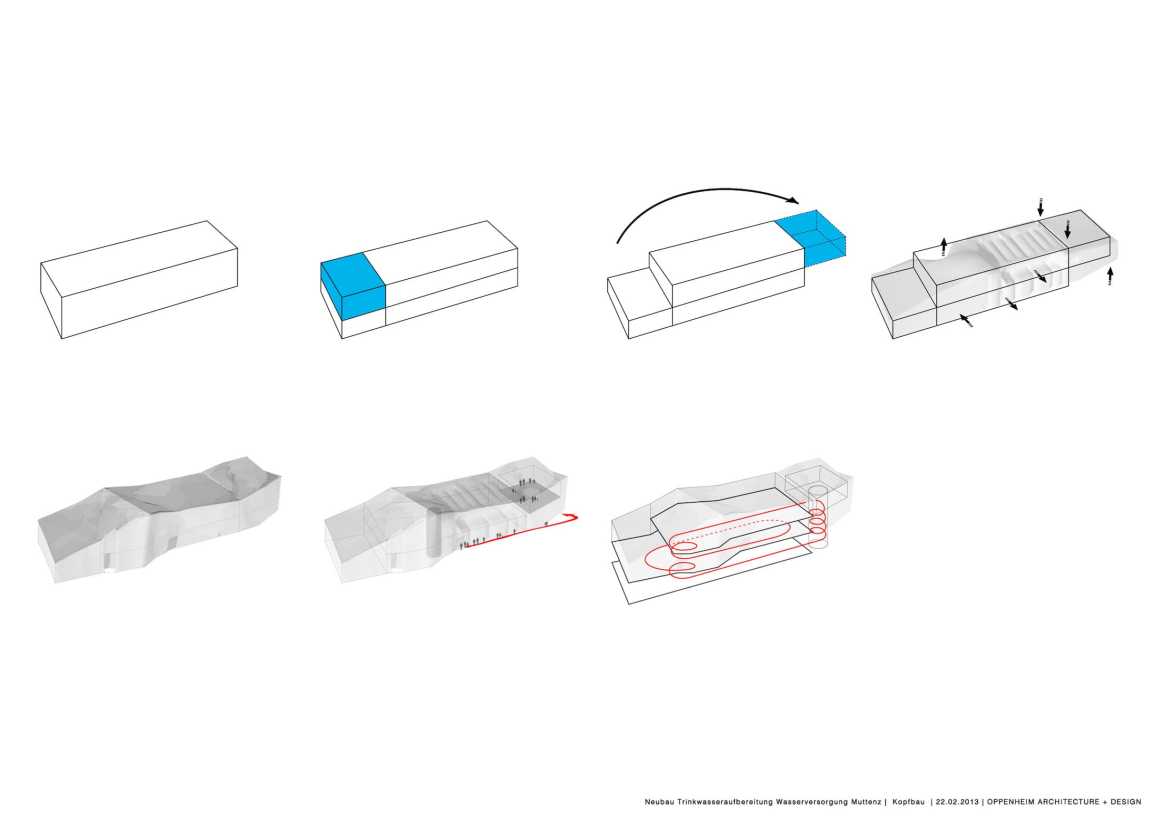 ▼项目总平面 Site Plan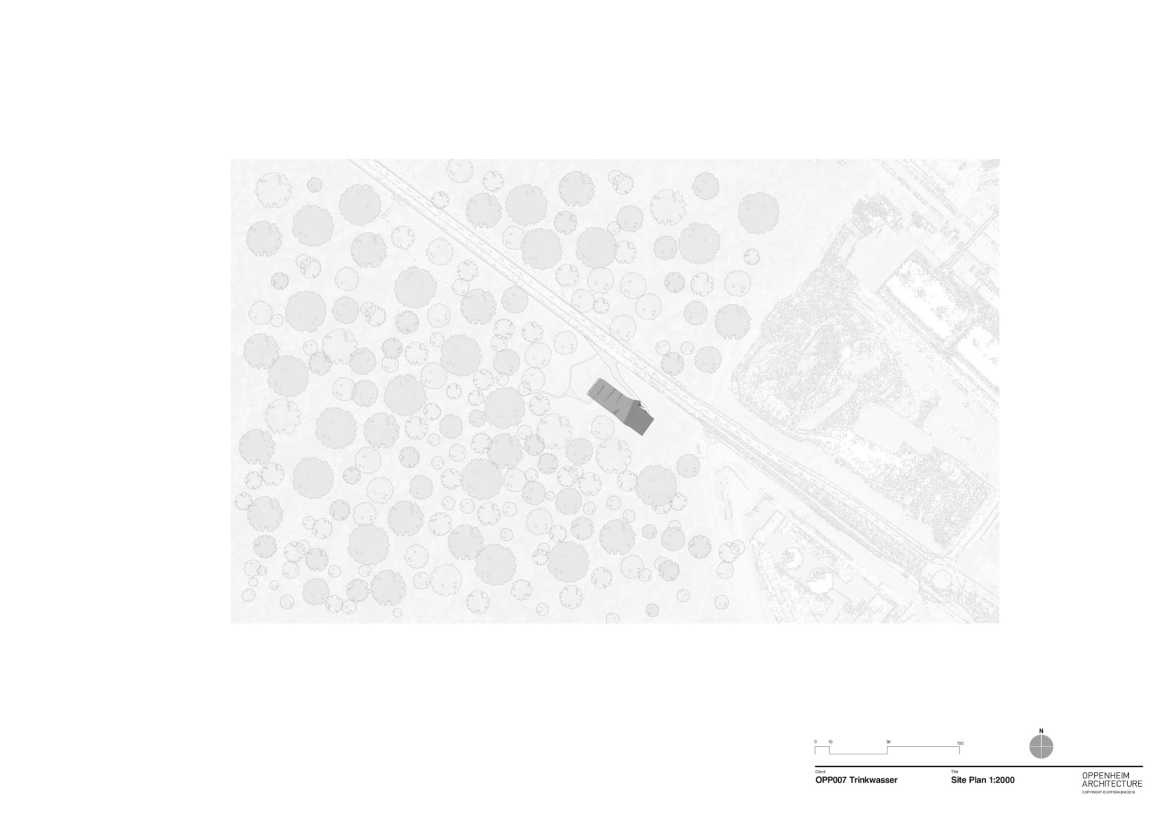 ▼建筑各层平面图 Floor Plan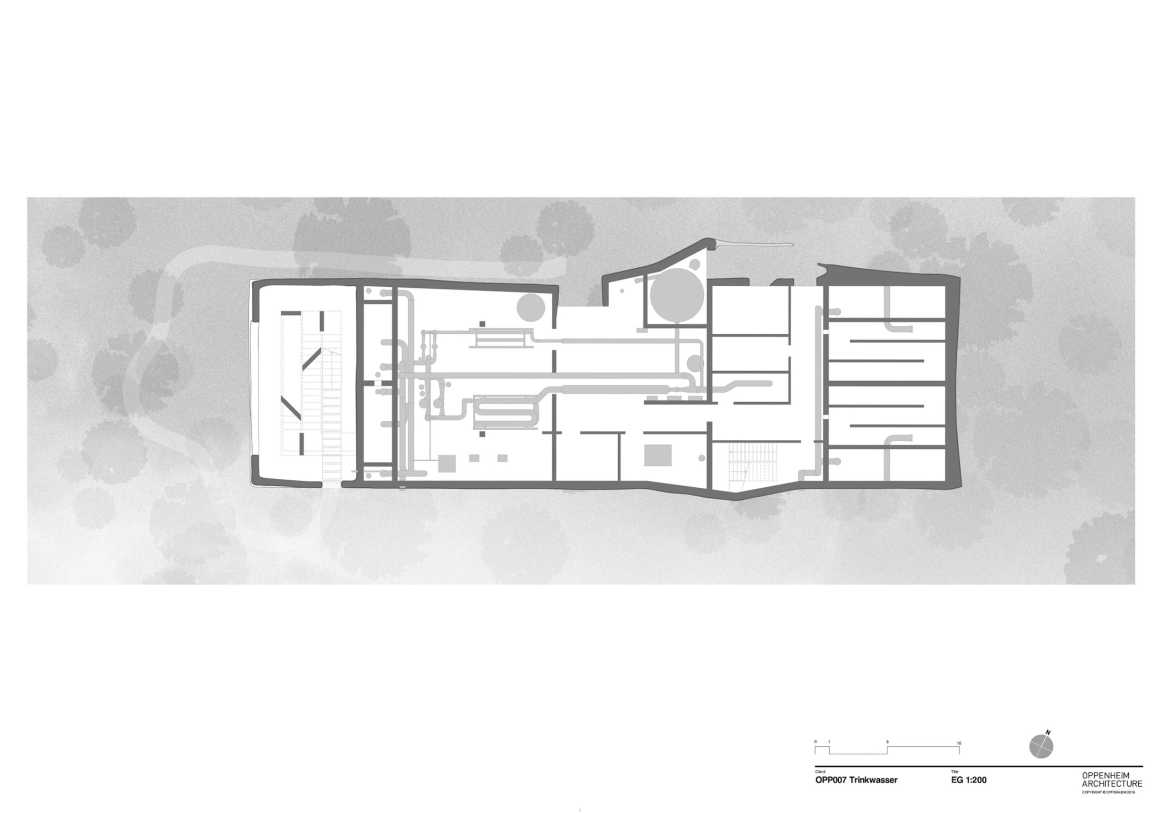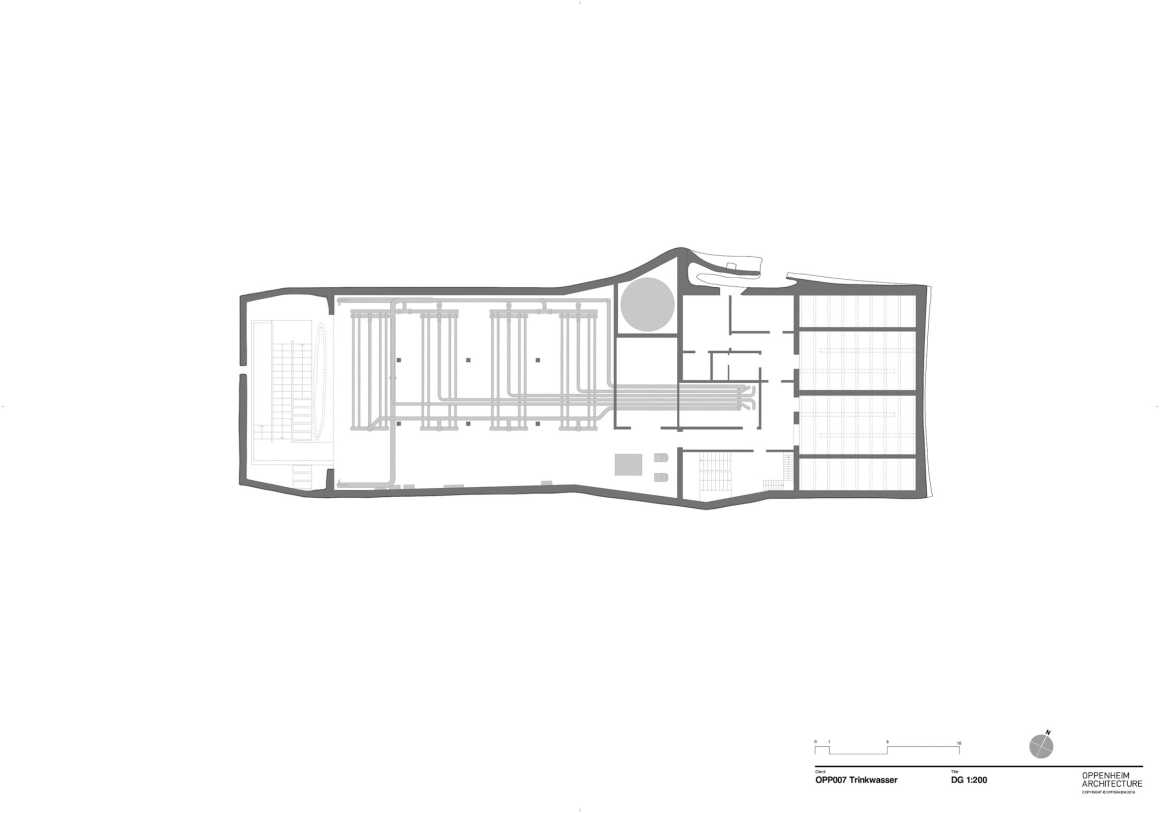 ▼建筑剖面图 Sections
▼建筑立面图 Elevations
地点:瑞士 穆滕茨
客户:穆滕茨政府
设计范围:建筑、室内设计
场地面积:3000平方米
建筑面积:1850平方米
项目年份:2018年
咨询顾问
建筑:Oppenheim Architecture
室内:Oppenheim Architecture
总承包商:ERNE AG
总规划:CSD Engineers
结构:WMM EngineersAG
喷浆混凝土:GreuterAG
团队
项目负责人:Chad Oppenheim, Beat Huesler
项目经理:Frederic Borruat
项目其他成员:Aleksandra Melion, Tom Mckeog
图片致谢
摄影师:Borje Müller, Aaron Kohler, Beat Huesler, Léon Huesler, Rasem Kamal
Location: Muttenz, Switzerland
Client: City of Muttenz
Scope: Architecture, Interior Design
Land Area : 3,000 sq.m
Built-up Area: 1,850 sq.m
Project Year: 2018
CONSULTANTS
Architect: Oppenheim Architecture
Interior Designer: Oppenheim Architecture
General Contractor: ERNE AG
General Planner: CSD Engineers
Structure Consultant: WMM EngineersAG
Shotcrete Consultant: GreuterAG
TEAM
Principals in charge: Chad Oppenheim, Beat Huesler
Project manager: Frederic Borruat
Project Contributors: Aleksandra Melion, Tom Mckeog
IMAGE CREDITS
Photographers: Borje Müller, Aaron Kohler, Beat Huesler, Léon Huesler, Rasem Kamal
更多 Read more about: Oppenheim Architecture