本文由 三益中国 授权mooool发表,欢迎转发,禁止以mooool编辑版本转载。
Thanks SUNYAT for authorizing the publication of the project on mooool, Text description provided by SUNYAT.
三益中国:AI人工智能是第四次产业革命的核心技术,是21世纪最具溢出效应的产业。人工智能作为新一轮科技革命和产业变革的新赛场,已经成为抢占未来发展先机的重要突破口。
SUNYAT:Artificial Intelligence is the core technology of the fourth industrial revolution and the most spillover-effect industry in the 21st century. As a new stage of a new round of technological revolution and industrial transformation, artificial intelligence has become an important breakthrough to seize opportunities for future development.
作为江苏省内唯一一个设立"省人工智能产业公共技术服务平台"的城区,近年来,南京市栖霞区积极落实国务院《新一代人工智能发展规划》和市委市政府产业地标行动要求,推进重大项目落地,助力龙头企业发展,全力打造人工智能产业高地。
As the only urban area in Jiangsu Province that has established a "Provincial Artificial Intelligence Industry Public Technology Service Platform", in recent years, Qixia District of Nanjing City has actively implemented the State Council's "New Generation Artificial Intelligence Development Plan" and the municipal government's industrial landmark action requirements, promoting major projects landing, assisting the development of leading enterprises, and making every effort to build an artificial intelligence industry highland.
▼项目局部建成实景  Part of the project built real scene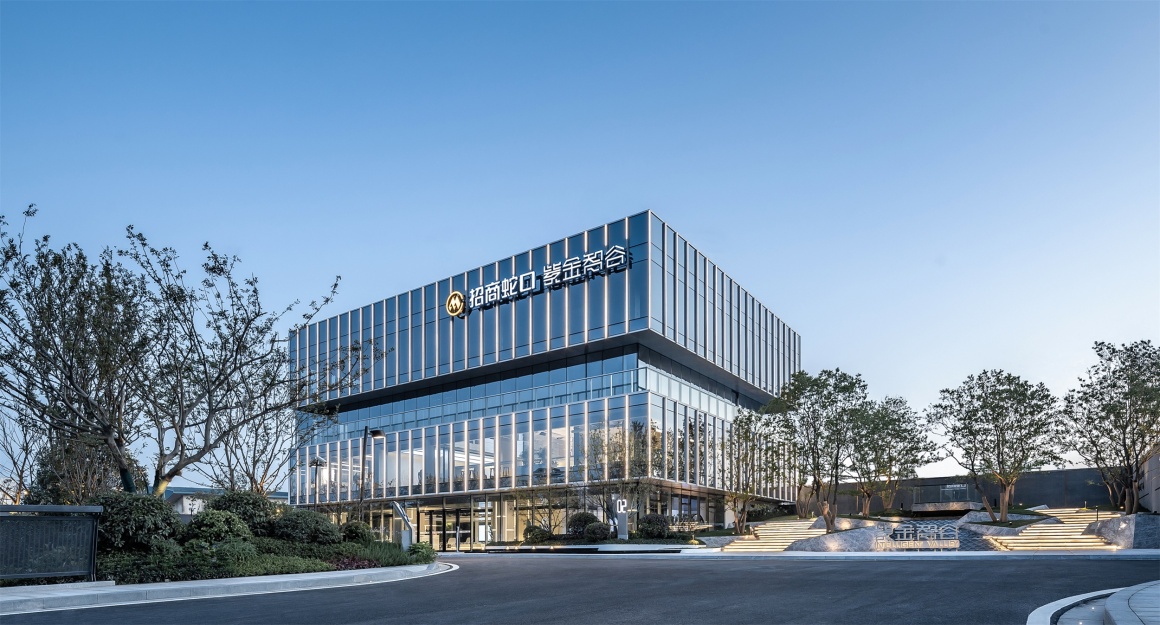 ▼大面积的玻璃落地窗外立面  Large glazed facade with floor-to-ceiling Windows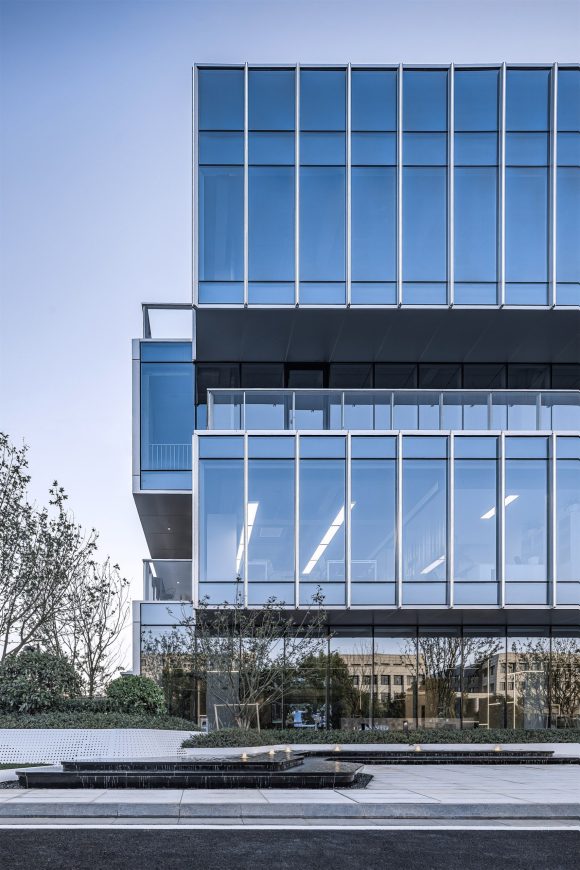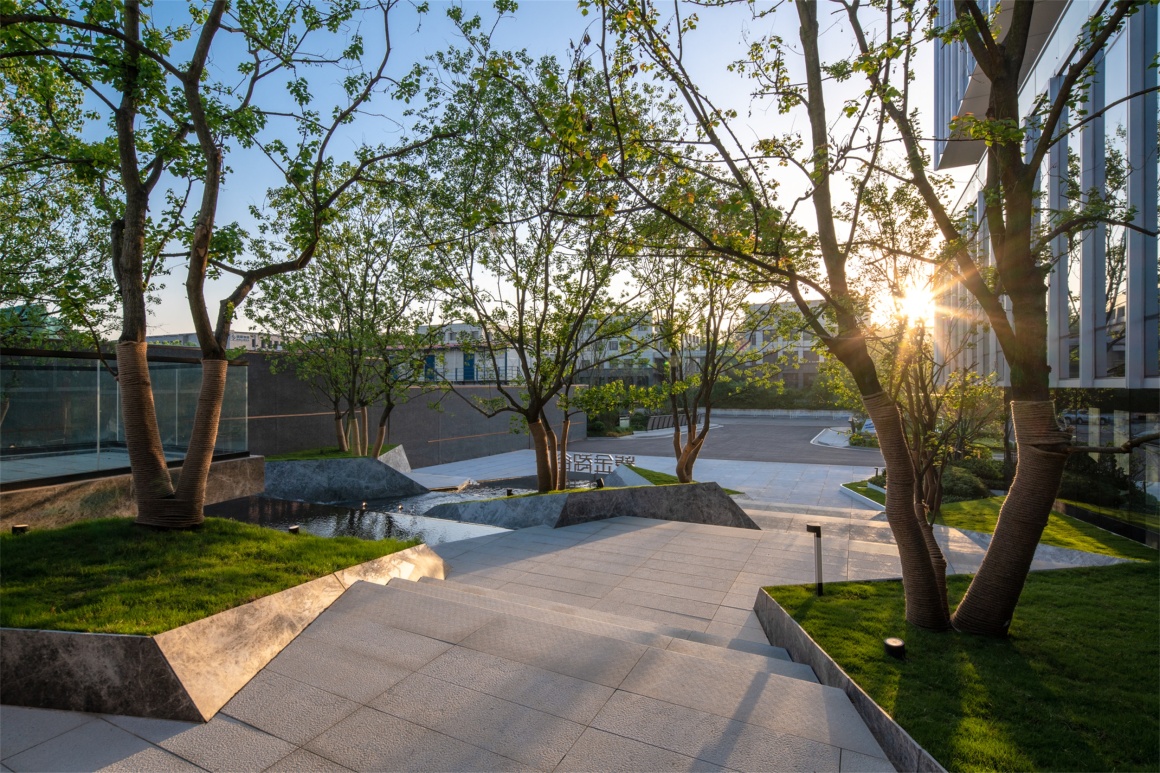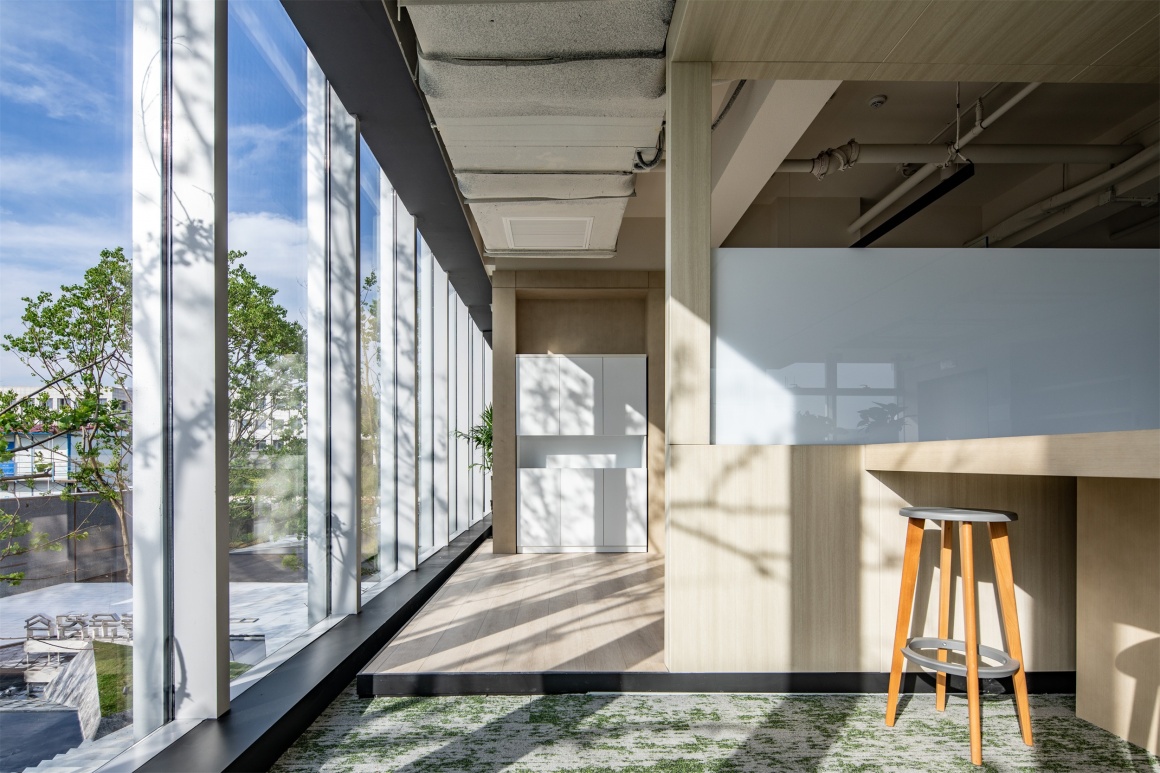 本次三益中国携手招商蛇口在南京紫金山沿脉黄金地段,打造了一座以"人工智能"和"互联网+"为主导产业的创新科技园——南京紫金智谷人工智能产业园。项目位于南京市栖霞区马群科技园区核心板块,紧邻沪宁高速入口,地处"紫金山-灵山-龙王山"生态廊道,环境优越,交通便利。
This time, Sunyat China cooperates with China Merchants Shekou to create a new science park, "Zijin Intelligence Valley", an artificial science park in Nanjing Zijin Mountain, which is a leading science and technology park with artificial intelligence and Internet as its leading industry in Nanjing. The project is located in the core plate of Maqun Science and Technology Park in Qixia District of Nanjing City, close to the entrance of Shanghai Nanjing Expressway, and located in the ecological corridor of "Zijin Mountain- Lingshan Mountain-Longwang Mountain", with superior environment and convenient transportation.
▼项目局部建成实景  Part of the project built real scene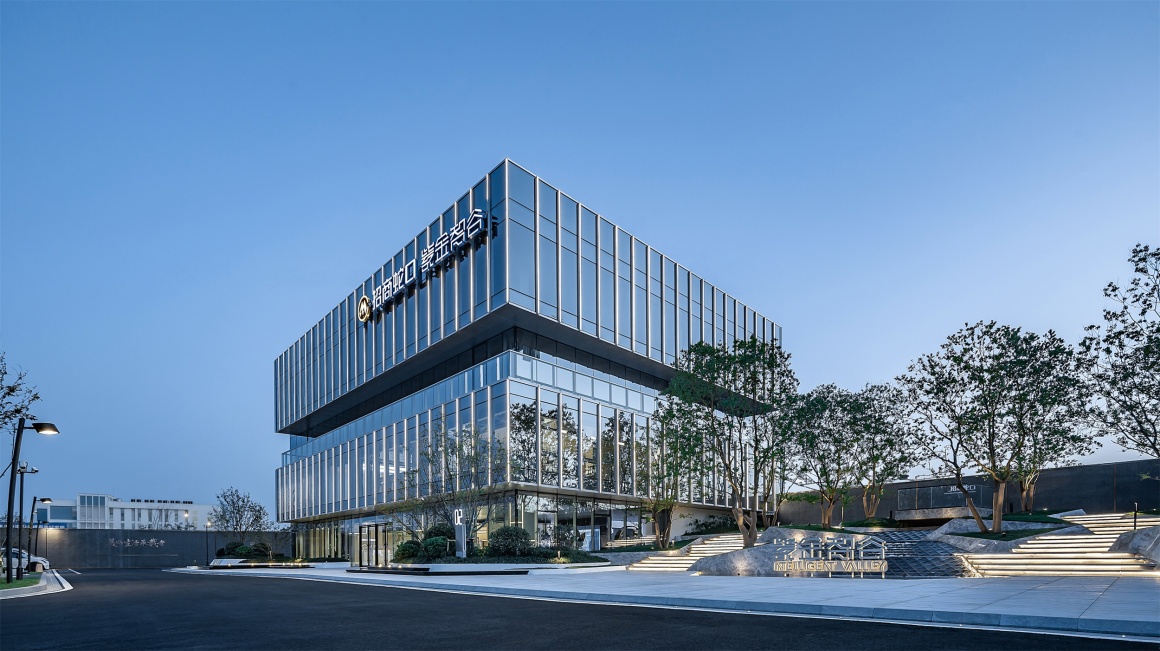 ▼分台设计水景与花池,现代简洁的标识系统  Separate design of waterscape and flower pool, modern simple identification system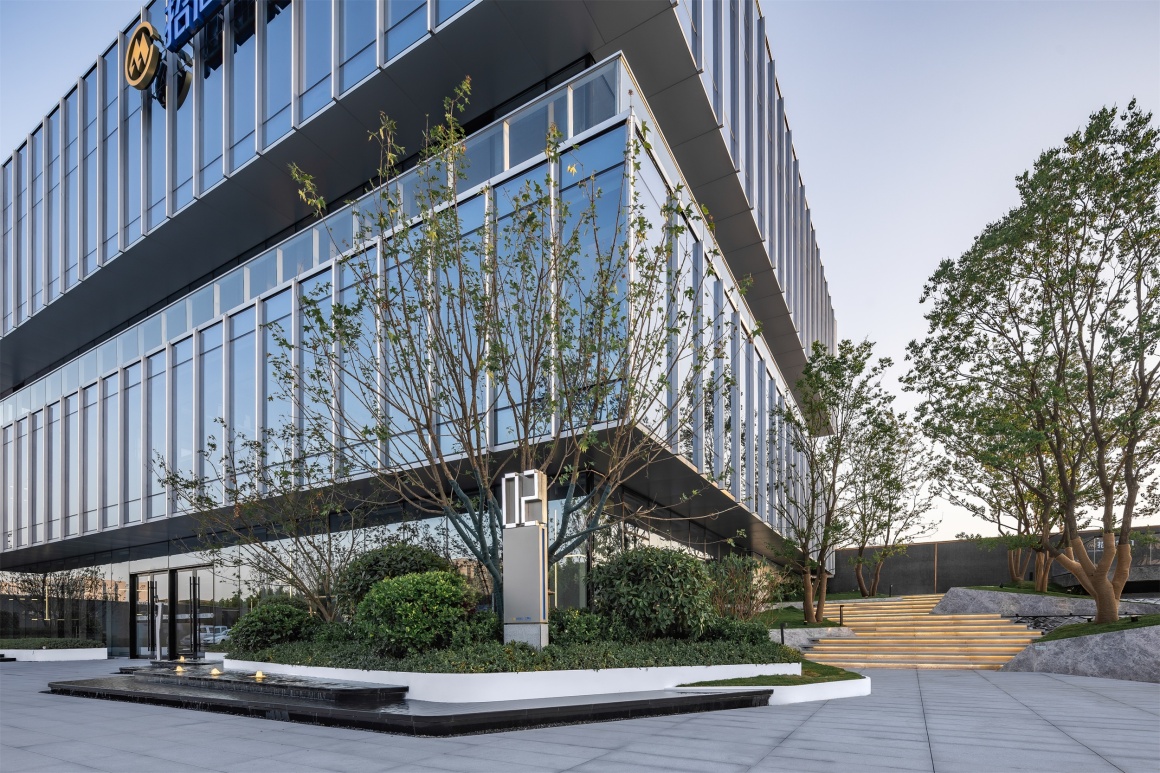 ▼不规则的树池结合大台阶消化场地高差,打造生态休闲空间  The irregular tree pool combined with the height difference of the large step digestion site creates an ecological leisure space
▼建筑入口及外立面实景  Real view of the building entrance and facade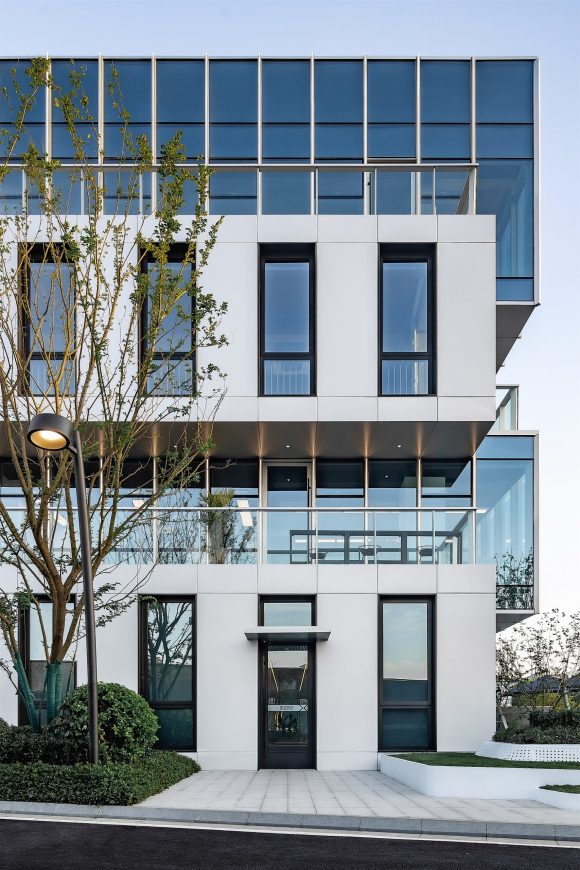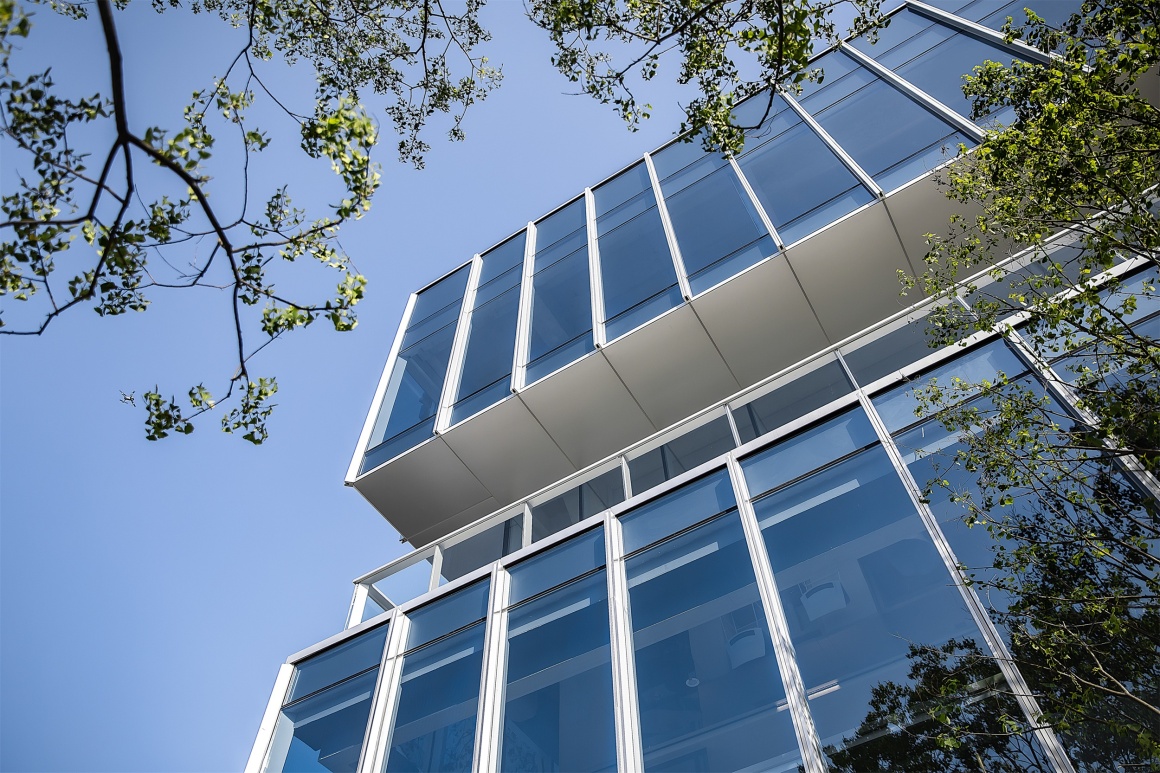 产业园总用地面积约4.23万平方米,总建筑面积约7.01万平方米,其中地上建筑面积约5.07万平方米,地下建筑面积约1.94万平方米,集创新孵化、科技研发、创业投资等多种产业功能于一体,结合AI智慧产业总部区、AI加速孵化中心、AI研习服务中心等功能,为不同需求的入驻企业提供多方位的全面选择,是栖霞区域内首个以人工智能产业为核心定位的产业载体。
The total land area of the industrial park is about 42300 square meters, and the total construction area is about 70100 square meters, including 50700 square meters of ground construction area and 19400 square meters of underground construction area. It integrates innovation incubation, scientific and technological research and development, venture capital and other industrial functions, combined with AI intelligent industry headquarters area, AI accelerated incubation center, AI learning service center and other functions. It is the first industrial carrier with artificial intelligence industry as the core positioning in Qixia region to provide multidimensional and comprehensive choices for enterprises with different needs.
▼鸟瞰效果图  A bird's eye view of the effect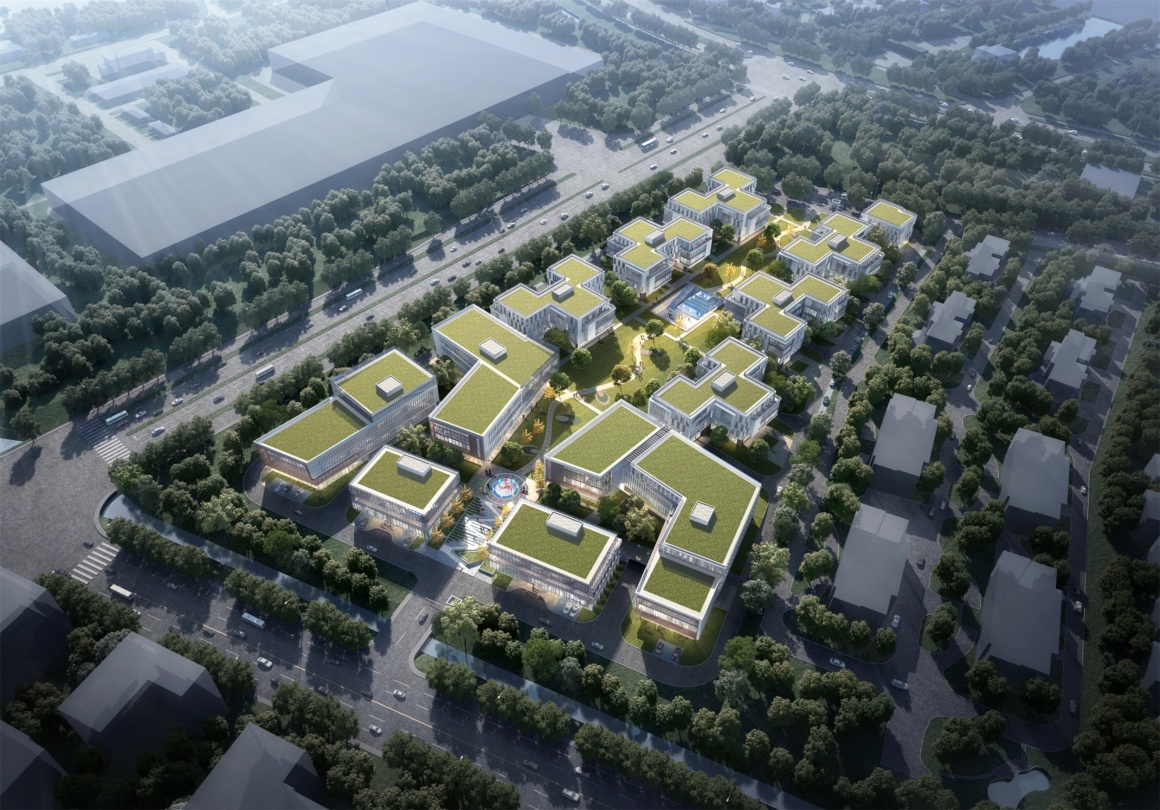 南京紫金智谷人工智能产业园的建设预示着一大批业态新、活力强、质量高的重点项目即将在栖霞区这片创新沃土之上深深扎根,将为栖霞区产业高质量发展提供坚实基础。
The construction of Nanjing Zijin Intelligence Valley Artificial Intelligence Industrial Park indicates that a large number of key projects with new formats, strong vitality and high quality will take root in the fertile land of innovation in Qixia District, which will provide a solid foundation for the high-quality development of industries in Qixia District.
▼LOGO水景空间夜景  LOGO Night view of waterscape space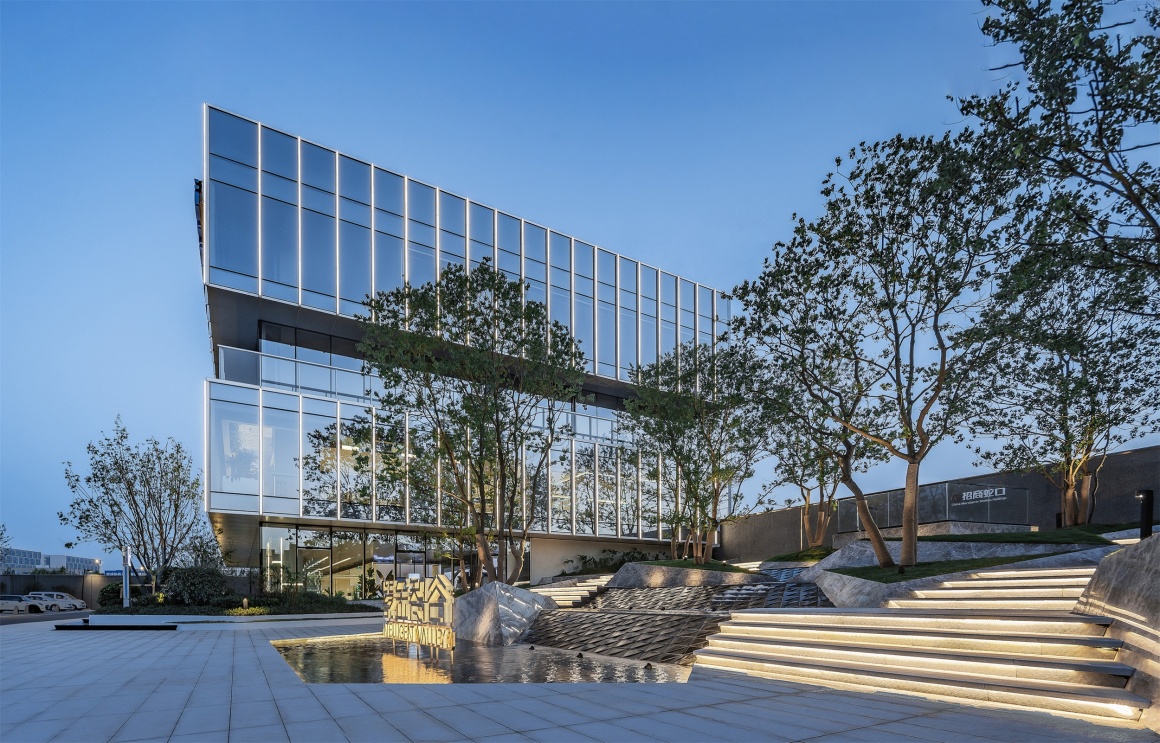 ▼错落有致的林下空间夜景  Night view of the understorey space strewn at random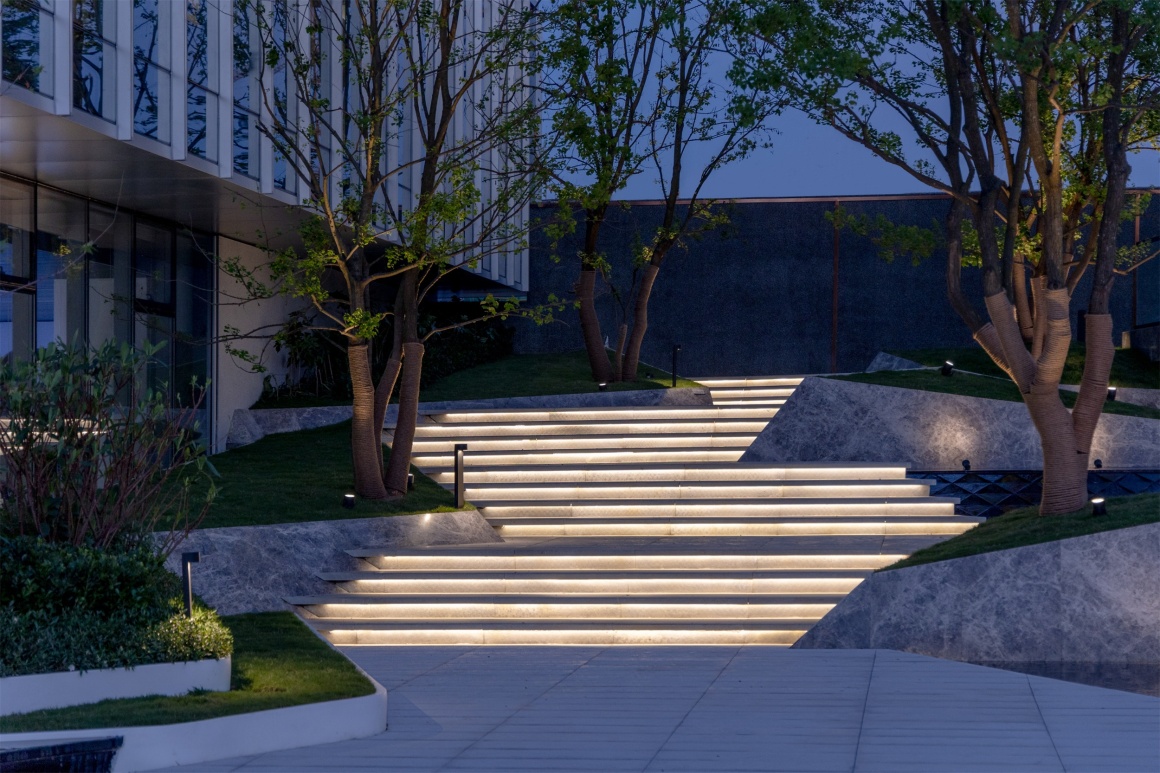 ▼鸟瞰林下水景LOGO  A bird's eye view of the waterscape LOGO under the forest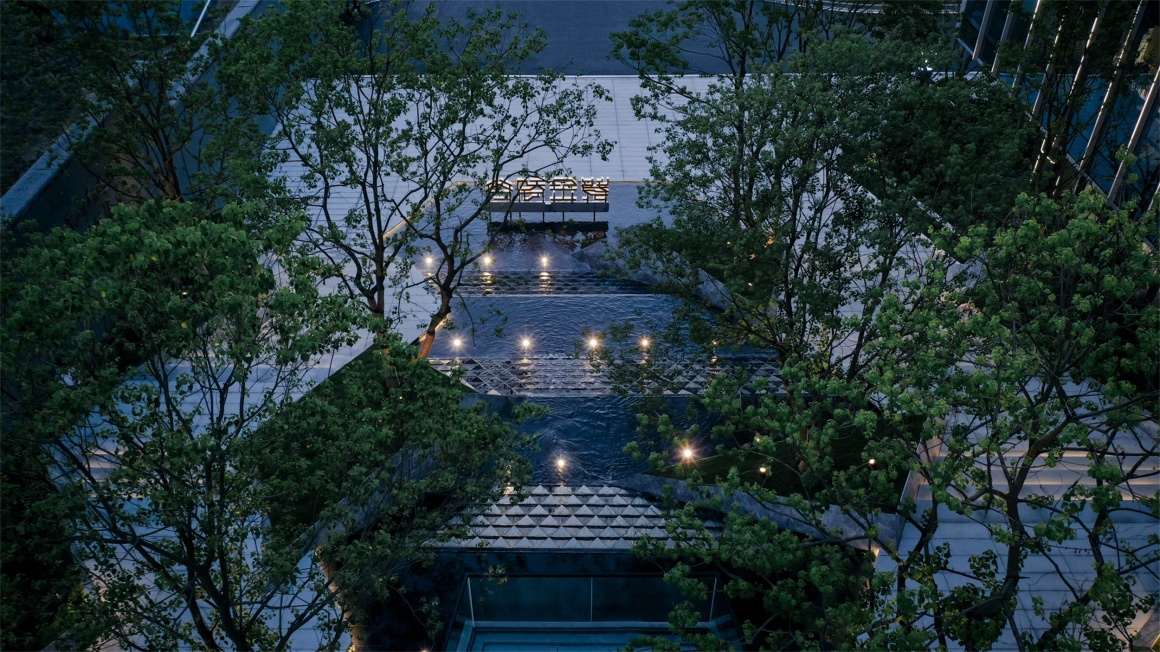 高端花园式绿色生态总部基地  High-end garden style green ecological headquarters base
当前大力发展人工智能产业是南京市、栖霞区优化产业结构、推动经济高质量发展的重要举措,南京紫金智谷人工智能产业园的建设可谓是众望所归、适逢其时。那要如何打造一座以人工智能为主导,智能生态多元的互联网+高品质产业园呢?三益的建筑师在满足规划条件的前提下,充分利用场地条件,通过整体的量身定制,以紫金山景观入手,通过"巨型花园景观中轴"的设计概念,打造出了一座高端花园式绿色总部办公基地。
At present, vigorously developing the artificial intelligence industry is an important measure for Nanjing city and Qixia District to optimize the industrial structure and promote high-quality economic development. The construction of Nanjing Zijin Intelligence Valley Artificial Intelligence Industrial Park is expected and timely. How to build an Internet plus high quality industrial park dominated by AI and intelligent ecology? On the premise of meeting the planning conditions, architects of Sunyat Architecture make full use of the site conditions, through the overall customization, starting with the Zijin Mountain landscape, and through the design concept of "giant garden landscape axis", create a high-end garden style green headquarters office base.
▼项目局部建成实景  Part of the project built real scene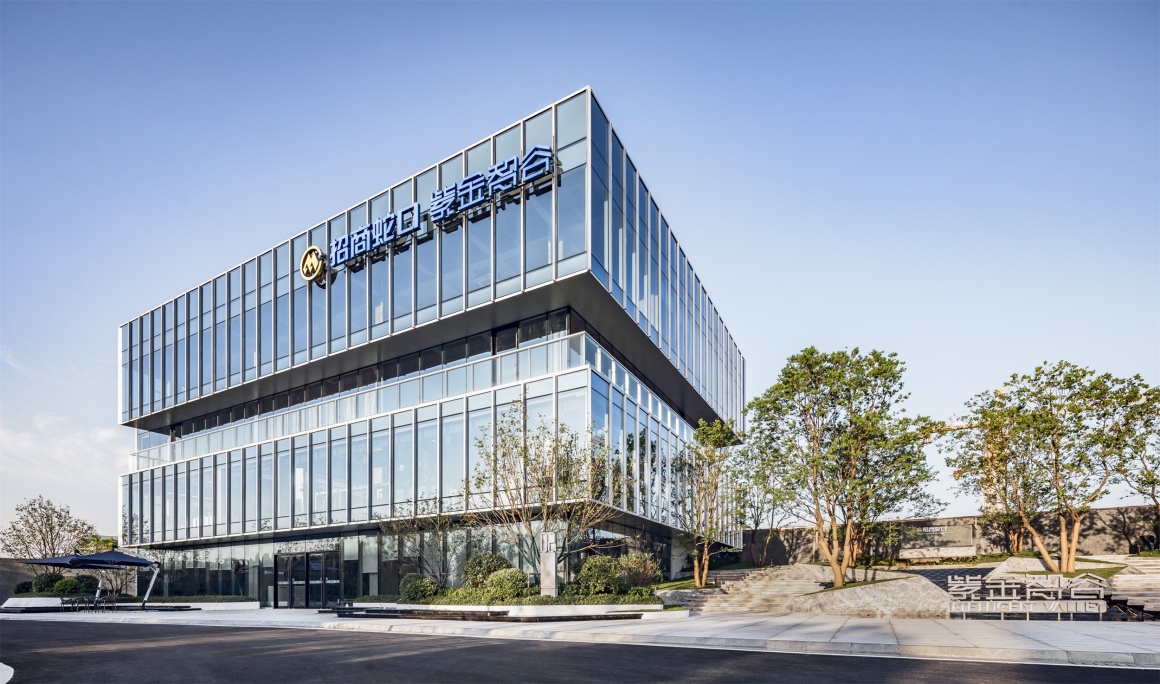 ▼充分利用场地与建筑屋顶,打造高端花园式绿色办公地基  Make full use of the site and building roof to create a high-end garden-style green office foundation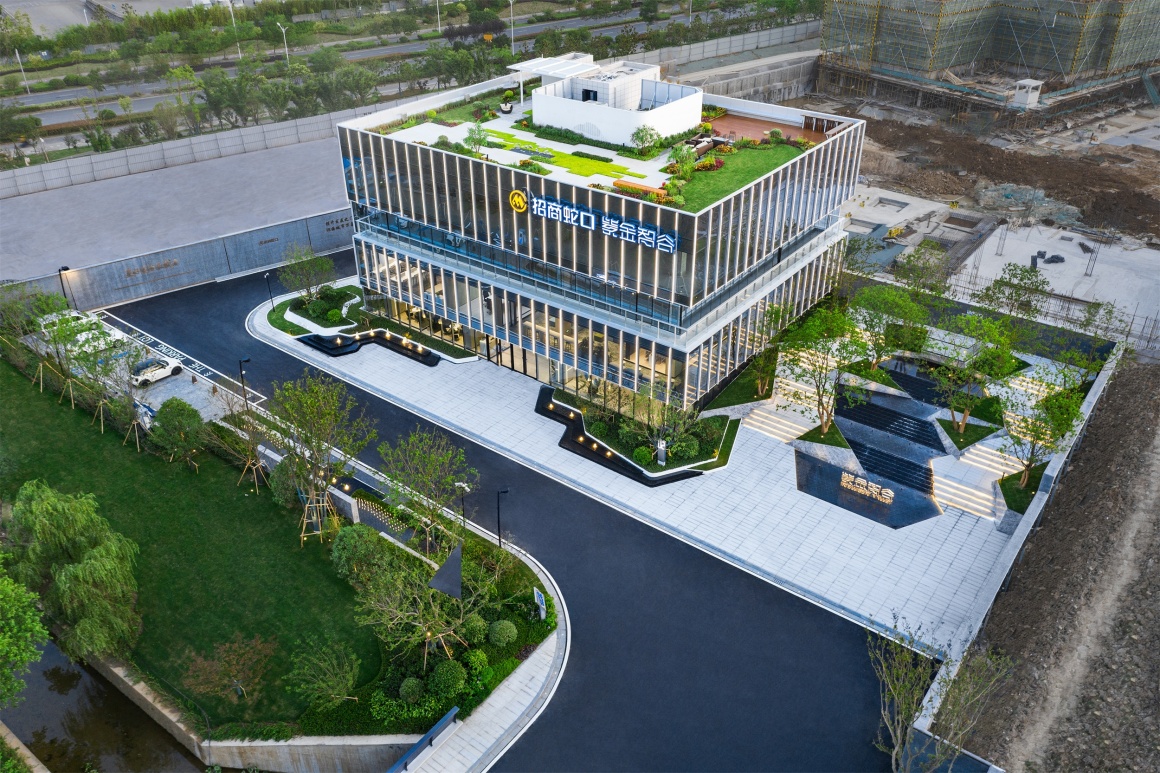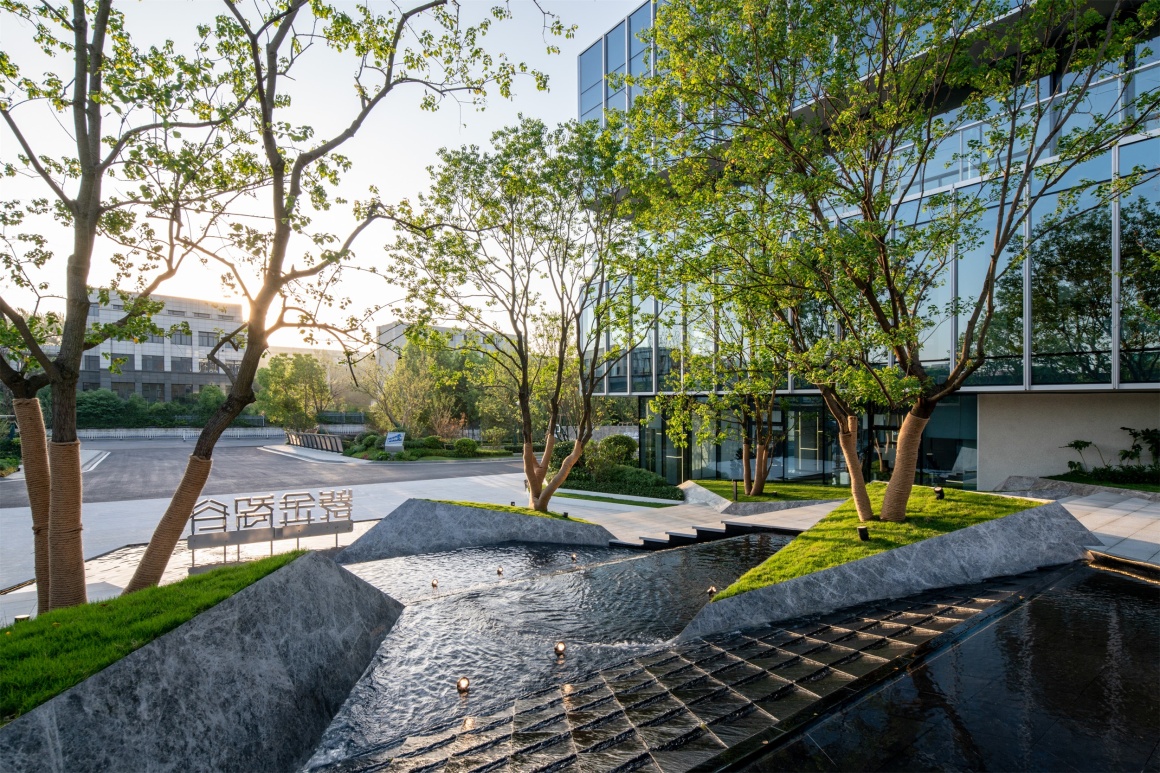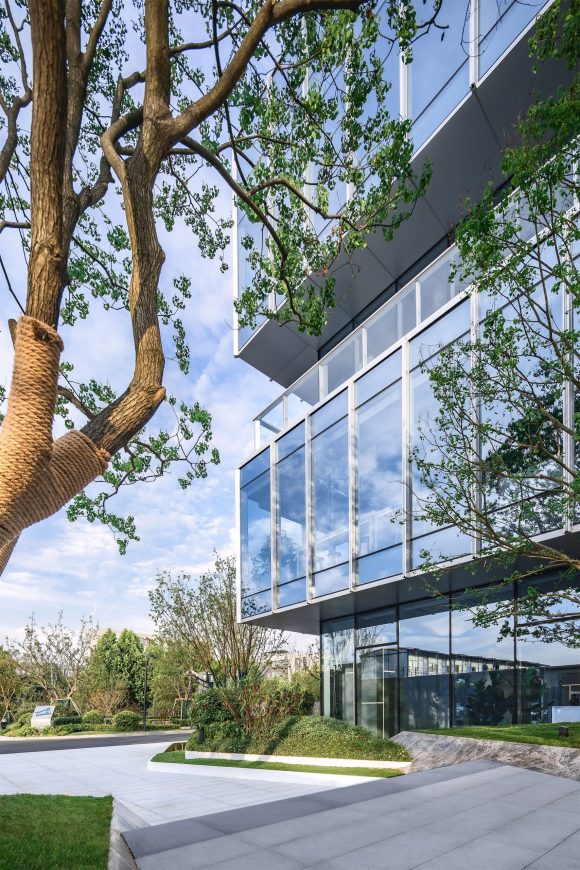 作为招商蛇口首个以人工智能产业为核心定位的产业载体,南京紫金智谷人工智能产业园致力于打造一座以人工智能为主导,以跨界融合为特色,以创新创业为聚力的高端绿色生态总部基地,将与栖霞区创新共融,成为未来栖霞区人工智能产业的一张新名片。
As the first industrial carrier of China Merchants Shekou with the artificial intelligence industry as its core positioning, Nanjing Zijin Intelligence Valley Artificial Intelligence Industrial Park is committed to building a high-end green industry dominated by artificial intelligence, characterized by cross-industry integration, and focused on innovation and entrepreneurship. The ecological headquarters base will integrate with innovation of Qixia District and become a new business card for the artificial intelligence industry in Qixia District in the future.
▼项目局部建成实景  Part of the project built real scene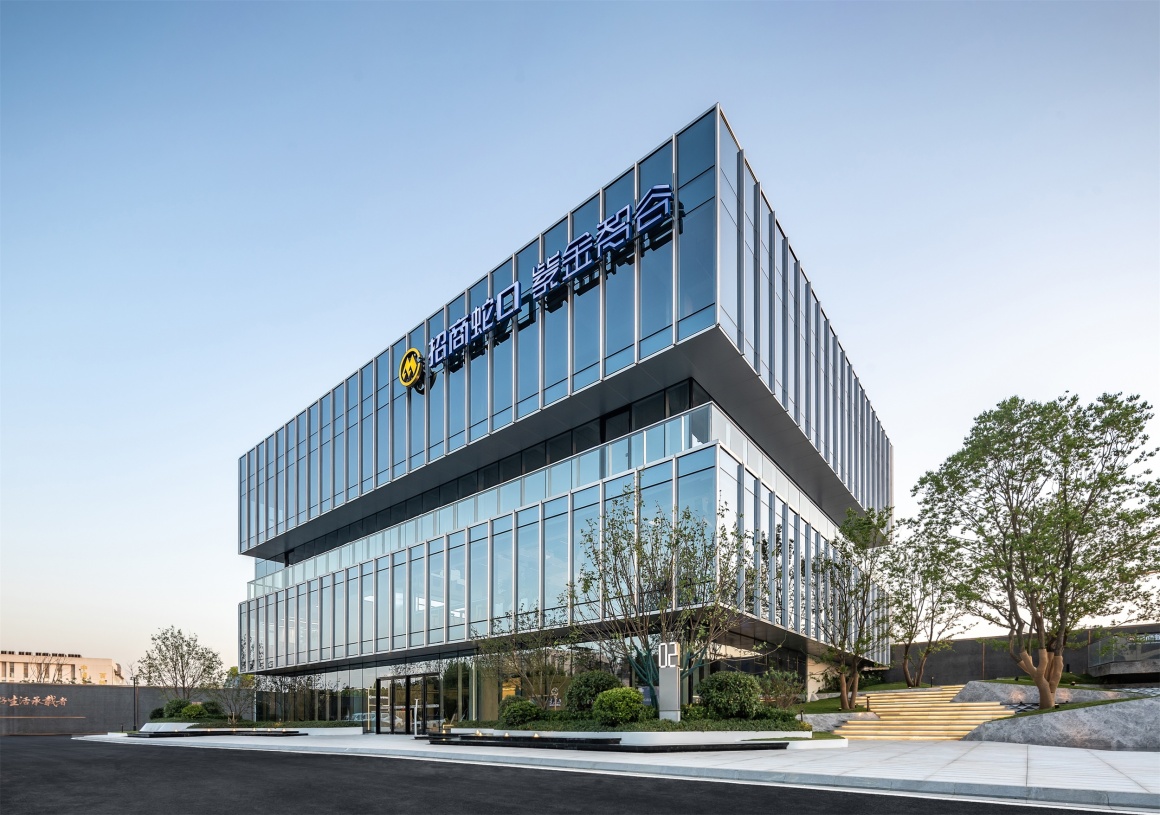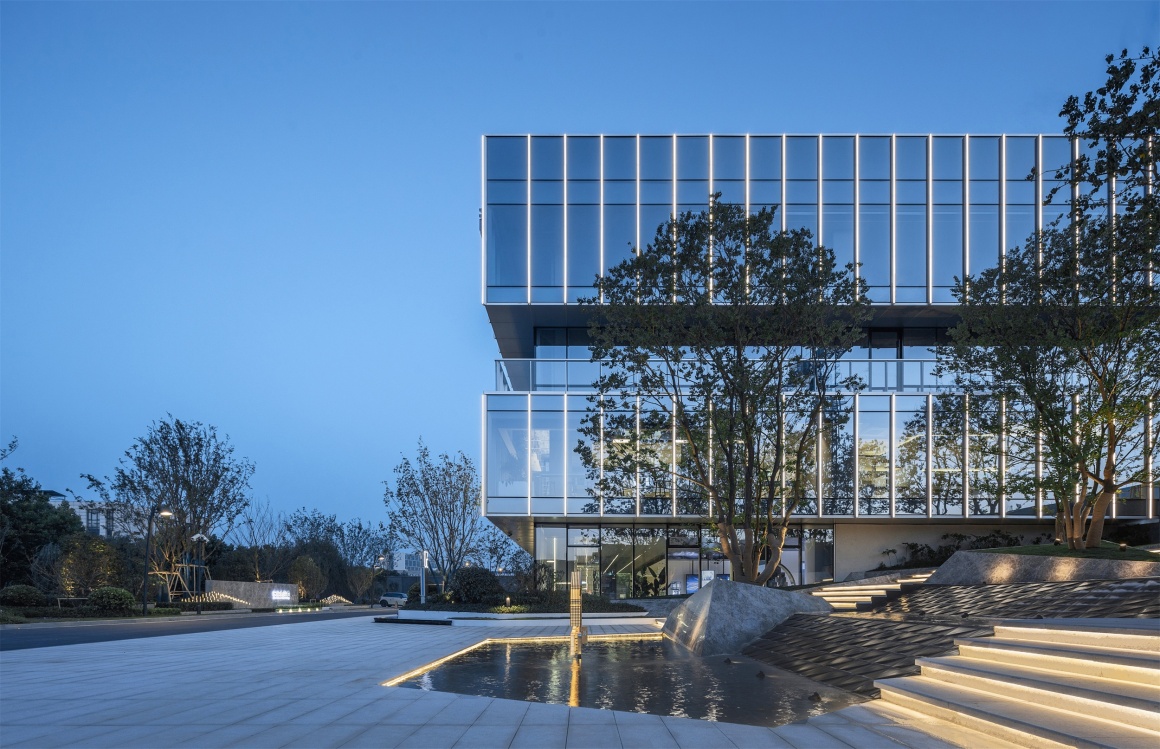 项目名称:南京紫金智谷人工智能产业园
项目类型:产业园
项目地址:南京市栖霞区奔马路与天马路交叉口
基地面积:4.23万平方米
建筑面积:7.01万平方米
设计时间:2019.02-2020.12
建造时间:2020.12-至今
建设单位:招商蛇口南京公司
设计单位:上海三益建筑设计有限公司
主创建筑师:俞潇潇、张伟伟
项目负责人:俞潇潇
方案设计:胡哲雨、李洋扬、王赢、孙竹影、胡楠
技术支持:卢晓刚、王晓红、赵斌、钱芳、王芳
景观设计:谷创生态景观规划设计(北京)有限公司
室内设计:集艾室内设计(上海)有限公司
施工图设计:北京炎黄国际联合工程设计有限公司南京分公司
幕墙设计:肯佩斯幕墙工程顾问(上海)有限公司
照明设计:三色石设计院
施工单位:江苏飞龙装饰工程有限公司
建筑摄影:寻美影视
景观摄影:ZOOM琢墨建筑摄影工作室
Project Name: Nanjing Zijin Intelligence Valley Artificial Intelligence Industrial Park
Project Type: Industrial Park
Project address: Intersection of Benma Road and Tianma Road, Qixia District, Nanjing
Site area: 42,300 square meters
Building area: 70,100 square meters
Design duration: 2019.02-2020.12
Construction duration: 2020.12-present
Developer: China Merchants Shekou Nanjing Company
Architectual Design: Shanghai Sunyat Architecture Design Co., Ltd.
Chief architects: Yu Xiaoxiao, Zhang Weiwei
Project Manage: Yu Xiaoxiao
Project Designer: Hu Zheyu, Li Yangyang, Wang Ying, Sun Zhuying, Hu Nan
Technical support: Lu Xiaogang, Wang Xiaohong, Zhao Bin, Qian Fang, Wang Fang
Landscape architects: Guchuang Ecological Landscape Planning and Design (Beijing) Co., Ltd.
Interior design: Jiai Interior Design (Shanghai) Co., Ltd.
Construction drawing: Beijing Yanhuang International Joint Engineering Design Co., Ltd. Nanjing Branch
Curtain wall design: Kempis Curtain Wall Engineering Consultants (Shanghai) Co., Ltd.
Lighting design: Three-color Stone Design Institute
Constructor: Jiangsu Feilong Decoration Engineering Co., Ltd.
Architectural Photography: Seeking Beauty Film and Television
Landscape photography: ZOOM Architectural Photography Studio
更多read more about:   三益中国 SUNYAT