英拓景观:长久以来,中国中部最大的城市,这个永远都裹藏着太多年轻人逐梦的地方——武汉,似乎一直未能为这些逐梦的年轻人提供一处最适宜他们的人居环境。
INTO:For a long time, wuhan, the largest city in central China, where many young people are forever pursuing their dreams, seems to have failed to provide them with the most suitable living environment.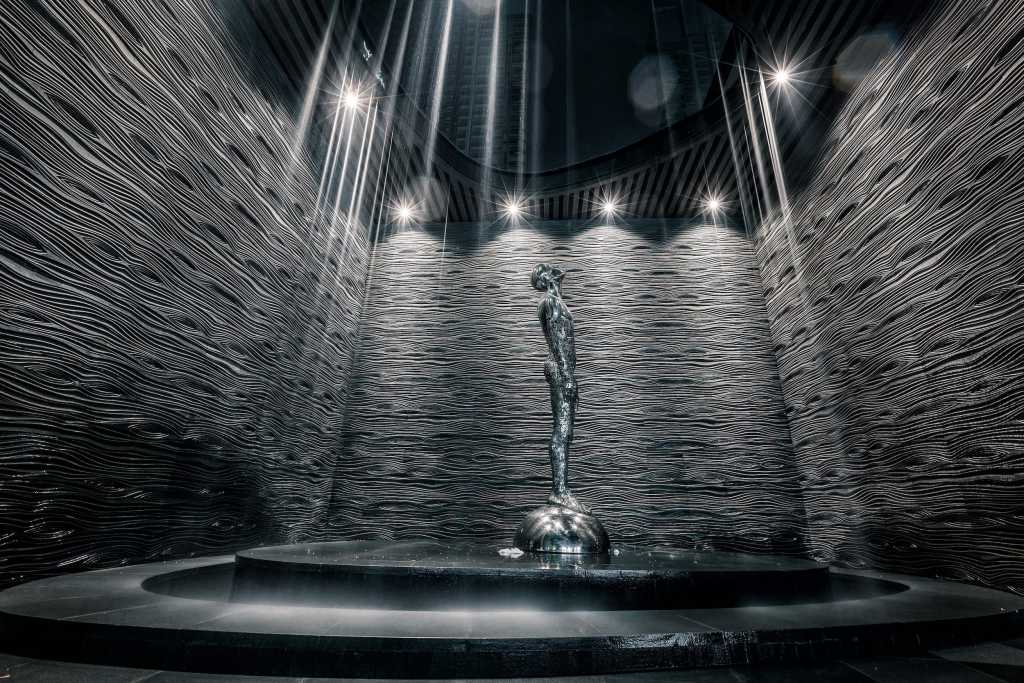 白沙洲向来是武汉武昌区刚需楼盘的主要区域,而除了规模大以外,白沙洲似乎从未出现过真正让消费者眼前为之一亮的刚需住宅作品。基于此,保利地产着手"保利·新武昌"的策划研究时,我们知道,为白沙洲地区,为武汉市场的刚需客户去寻找归属感的时机,终于来了。
Baishazhou has always been the main area of wuhan wuchang district rigid demand premises, and except the scale, it seems that there has never been a real consumer for one of the bright rigid demand residential works. Based on this, when poly real estate started the planning and research of "poly · new wuchang", we knew that the time to find the sense of belonging was finally coming for the rigid demand customers in baishazhou area and wuhan market.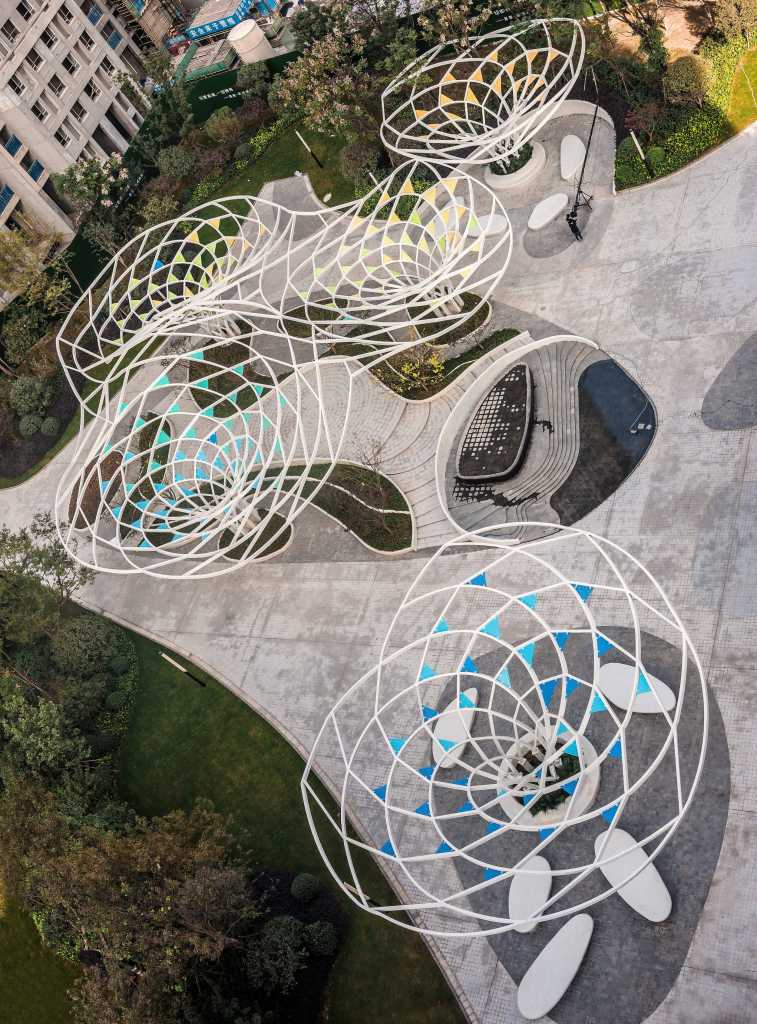 客户为泛90后群体,那么传统景观中轴对称的做法必然无法打动客户。我们通过对道路系统的重新梳理,开创性的提出"散,变,联"的道路组织方式,让客户的归家动线更具变化与活力。
The customer is a group of the generation the generation after 90s, so the practice of axisymmetric in the traditional landscape is bound to fail to impress the customer. By reorganizing the road system, we creatively put forward the road organization mode of "scattered, changed and connect" to make the customer's home moving line changeable and dynamic.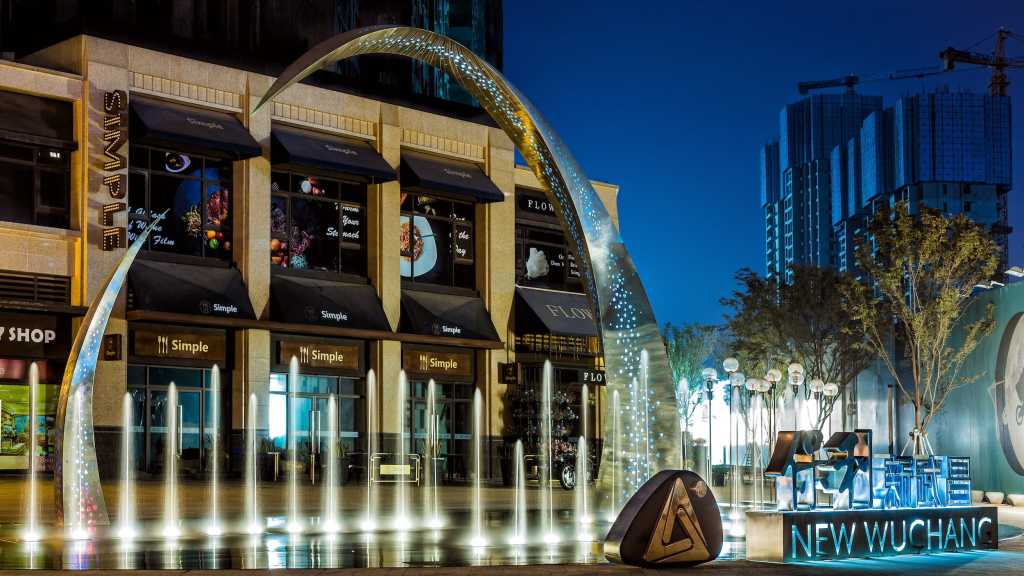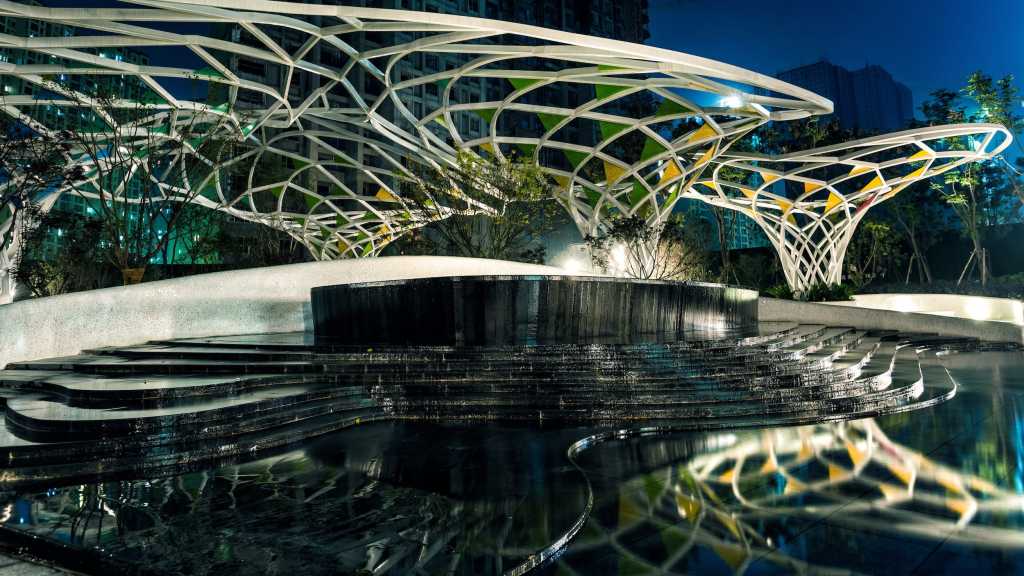 高品质的生活与人居环境周边自然形态息息相关。大面积的绿化不仅意味着高效的排水,也意味着良好的空气环境和户外生活质量,大面积多层次绿化所围合的建筑也能为室内提供较好的居住空间。
High quality of life is closely related to the surrounding natural environment. Large area of greening not only means efficient drainage, but also means good air environment and outdoor quality of life. Buildings surrounded by large area of multi-level greening can also provide better living space for interior.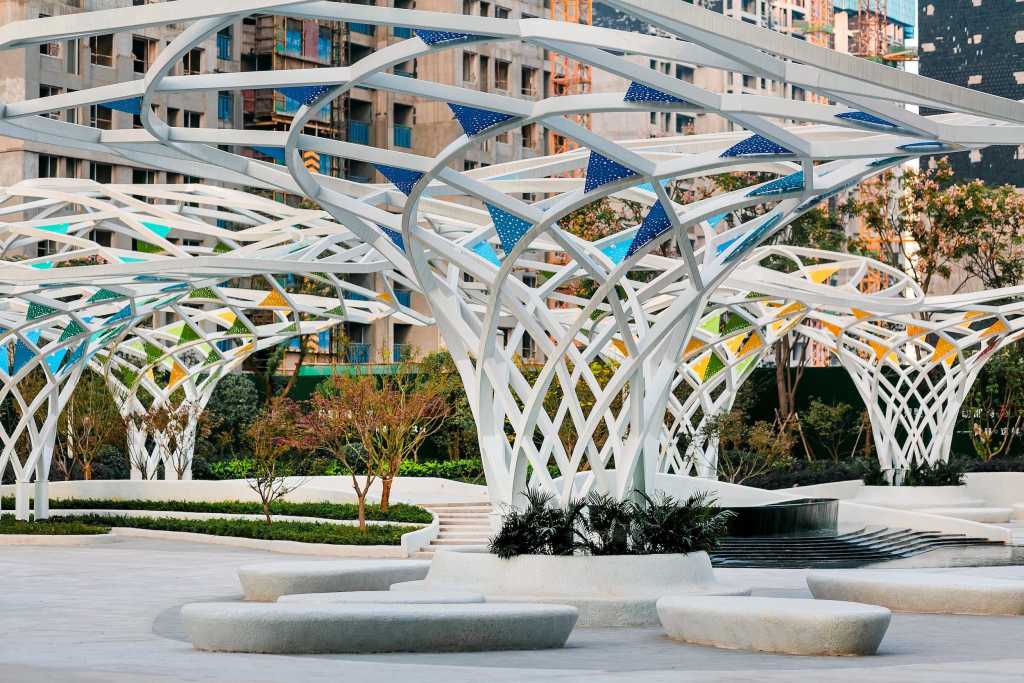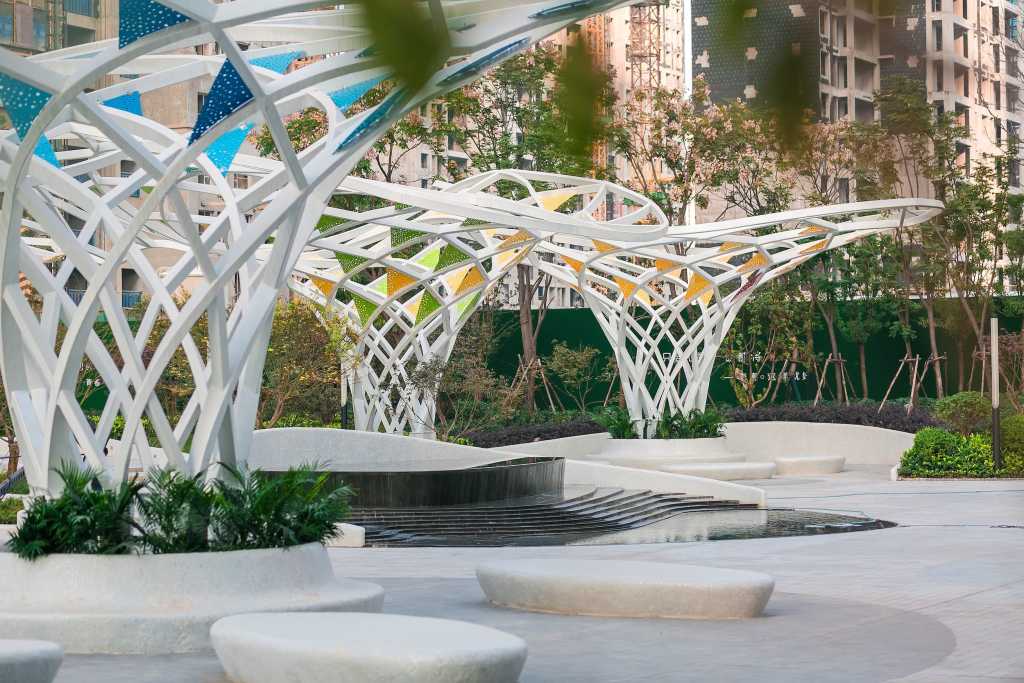 根据兴趣来分布功能点,尤其是在碎片空间中,通过小型化场地的设立,丰富道路周边及主要活动空间的功能细腻度,使居住者切实体验到"PLAY ANYWHERE"的享受。
The function points are distributed according to interests, especially in the space of debris. Through the establishment of small sites, the functions of surrounding roads and main activity Spaces are enriched to make the occupants truly experience the enjoyment of "PLAY ANYWHERE".
植被设计上,重点针对各个功能空间与入户道路的边缘进行修饰与整理,突出"有氧城市" 与"海绵城市"的概念。地形与植被相互结合,利用雨水为植栽浇灌。
In terms of vegetation design, it focuses on the modification and arrangement of each functional space and the edge of the entrance road, highlighting the concepts of "aerobic city" and "sponge city". Terrain and vegetation are combined to use rainwater for plants.
主景构筑物在设计上遵循"光,色,图案" 的设计理念。与自然环境的投影,与周边环境的色彩,与客户心理的图案都是我们设计的目标。
The main landscape structure follows the design concept of "light, color and pattern". The projection of the natural environment, the color of the surrounding environment, and the design of the customer's psychology are all our goals.
项目名称:保利·新武昌K4地块示范区
开发单位:保利(武汉)房地产开发有限公司
景观设计:武汉英拓景观设计有限公司
方案设计人员:李刚 王轩 谈华容 陈芳逸
施工图设计人员:朱白莉 安美明 王珂
植物设计人员:陈洁琼 左志伟
位置:武汉市武昌区白沙五路
面积:150842平方米
竣工时间:2017年7月
摄影师:魔方印象团队
Project name: Poly New Wuchang K4 Demonstration Area
Development unit: Poly ( Wuhan ) Real Estate Development Co., Ltd.
Landscape design: Wuhan into landscape design co., ltd
Design Team: Li gang,Wang Xuan,Tan Huarong,Chen fangyi
Construction Drawing Team: Zhu Baili, An Meiming and Wang Ke
Plant Designer: Chen Jieqiong, Zuo Zhiwei
Location: Baisha Fifth Road, Wuchang District, Wuhan City
Area: 150842 square meters
Completion Date: July 2017
Photographer: Magic Cube Impression Team
更多 Read more about: 武汉英拓景观