本文由 奥雅设计 L&A design 授权mooool发表,欢迎转发,禁止以mooool编辑版本转载。
Thanks L&A design for authorizing the publication of the project on mooool. Text description provided by L&A design.
奥雅 :宁波雅戈尔新长岛花园项目示范区位于宁波市江北区天沁路,凌踞姚江鳌头、正南御江,地理位置优越。项目北高南低,最大程度将未来居住空间与江景融合,对望湾头"九岛一心",繁华自此启幕。传承雅戈尔变革创新的品牌精神,匠心独造宁波滨江豪宅的新高度——新长岛。
L&A:Ningbo New Long Island garden project demonstration area is located at Tianqin road, Jiangbei district, Ningbo, with superior geographical position. The project is high in the north and low in the south. To the greatest extent, it will integrate the future residential space with the river scenery. Prosperity will begin from then on. Inheriting the brand spirit about innovation, and creating the New Long Island with ingenuity.
平面图 Master Plan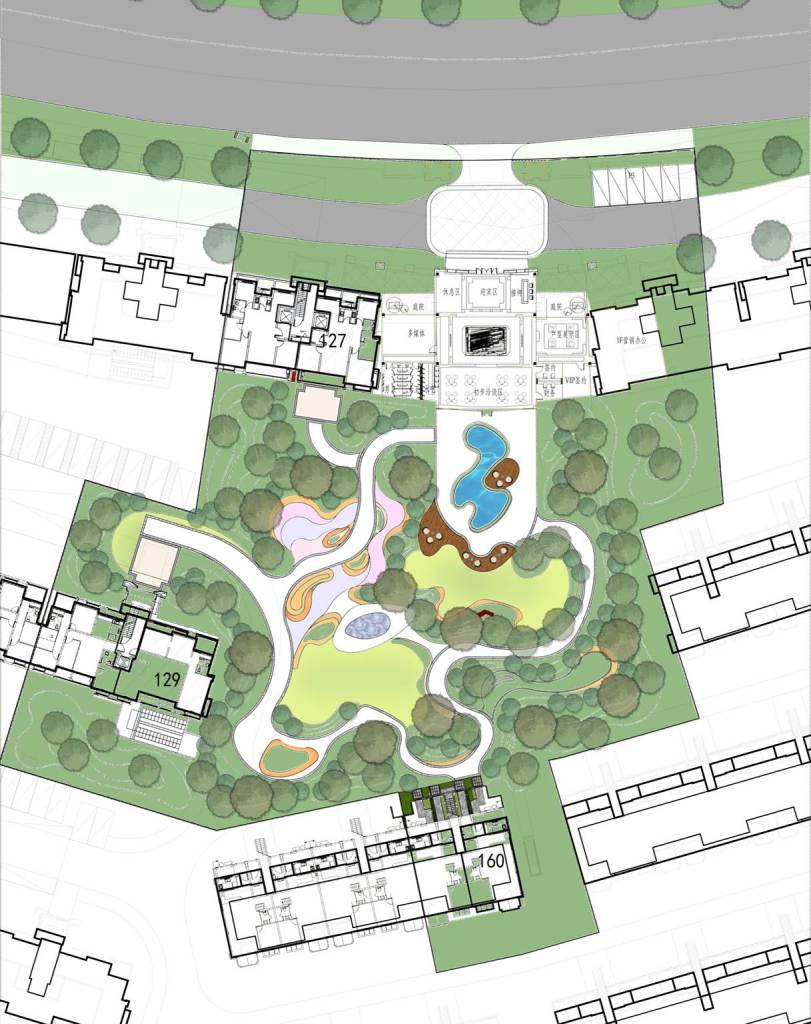 中国山水画般的入口大门、卷轴般的台阶将画面缓缓铺开,极富仪式感的山门将贵客迎入。沿着阶梯向上,穿过府门,山水长卷怡然展开。
The entrance gate like Chinese landscape painting and the steps like scrolls slowly spread out the picture, and the ceremonial gate welcomed guests. Up the stairs, through the gate, the images of mountains and water rolled out slowly.
进入售楼处的厅堂,迎宾水景和地面铺装将宾客缓缓带入。拾级而上,眼前是开阔的广场,府门贵苑的气势扑面而来。
Enter into the sales office, the waterscape and ground pavement will slowly bring guests in. Up to the stairs, there's an open square in front of people, and the imposing manner of the gate and the garden could be felt.
穿过中心轴线,山水长轴酣畅淋漓地展现在眼前。由山水亭廊、星河水景组成,将丰富旷达的山水景色浓缩到方寸之间,精心演绎了江南园林中水墨自然的气韵。
销售中心后一座座岛屿,随着步行缓慢展现。灵动的种植空间、儿童活动区、山水亭廊、星河水景与阳光草坪紧紧相连,是全区最受眷顾的一隅。
Through the central axis, the long axis of images of mountains and rivers is displayed in front of us. It consists of landscape pavilion gallery and star river waterscape. It condenses the rich and broad-minded landscape scenery into a square inch, deducing the natural charm of ink and wash in the gardens in the south of the Yangtze river.
The islands behind the sales center showed up gradually as you walking step by step. The planting space, children's activity area, landscape pavilion gallery, star river waterscape and sunshine lawn are closely linked, which is the most favored corner of the whole region.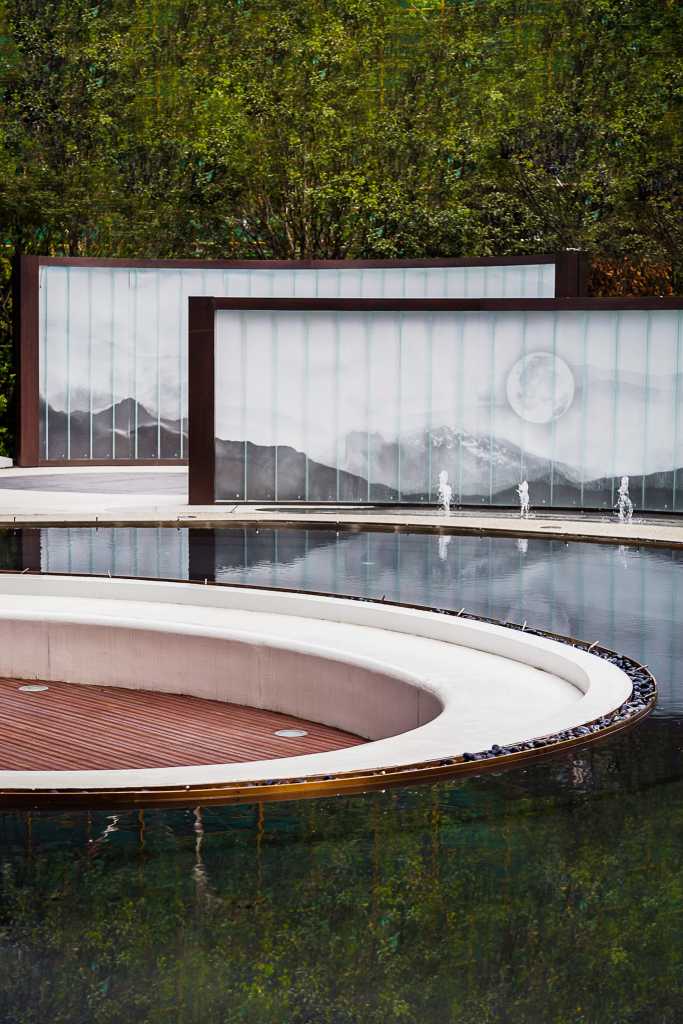 为营造流动空间,采取三片U型玻璃山水墙,高低错落仿佛山势连绵,与亭子相结合,营造步移景异的光影效果。
In order to create a flowing space, designers used three u – shaped glass landscape walls. The height of the walls is different just like the mountain continuously. They are combined with the pavilion to create a light and shadow effect with different moving scenes.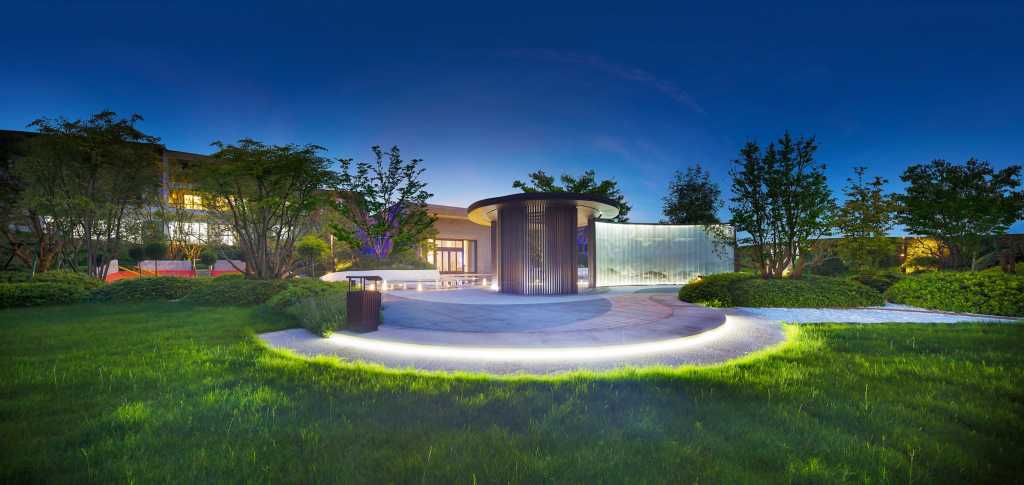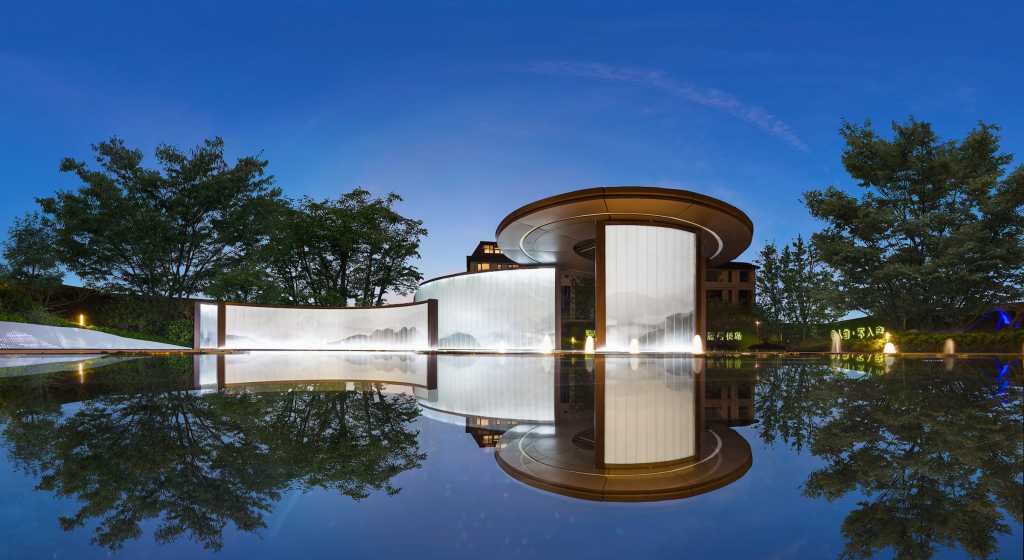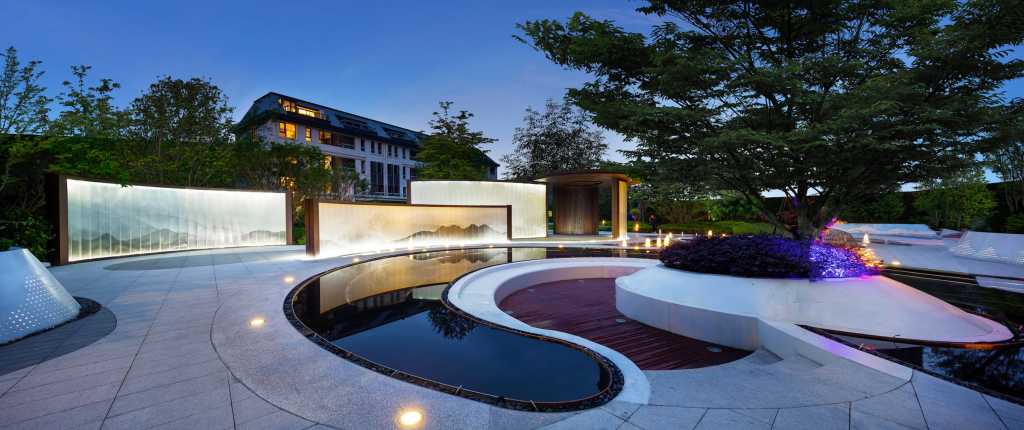 流动的水景,蜿蜒曲折如水墨层叠浸染,与山亭互动,趣味横生。犹如穿梭于山水岛屿间,怡然自得。
The flowing waterscape interacts with the mountain pavilion and is interesting. It's like shuttling between mountains and rivers, people can enjoy themselves.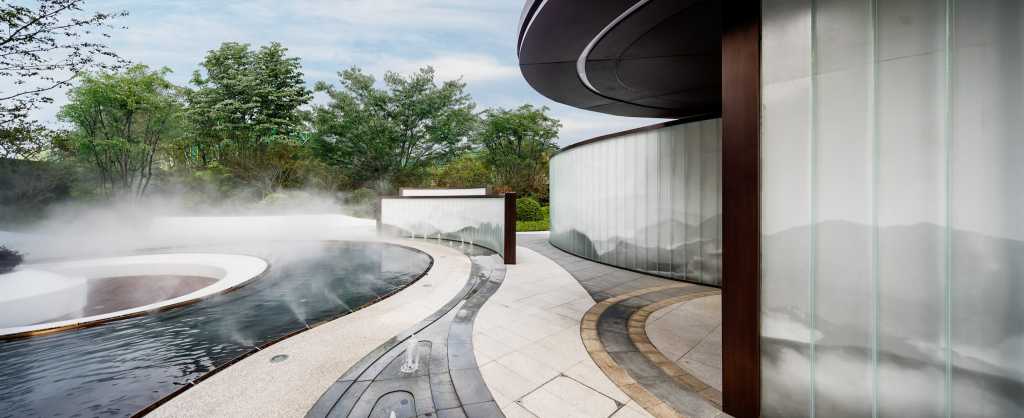 由拼音字母打造的独特语言鹿,腾云驾雾、啜饮河边,倒映出山水诗歌般的韵律篇章。
A unique sculpture "language deer" was made of letters, sipping at the river bank and showing a sense of oriental esthetics.
结合当下流行的种植趋势,自然花园的基底,延续法式浪漫情怀。樱花林和捧捧绿植的点缀,营造出独一无二的种植景观。
Combining with the current popular planting trend, the base of the natural garden continues the French romantic feelings. The ornament of cherry blossom forest and green planting creates a unique planting landscape.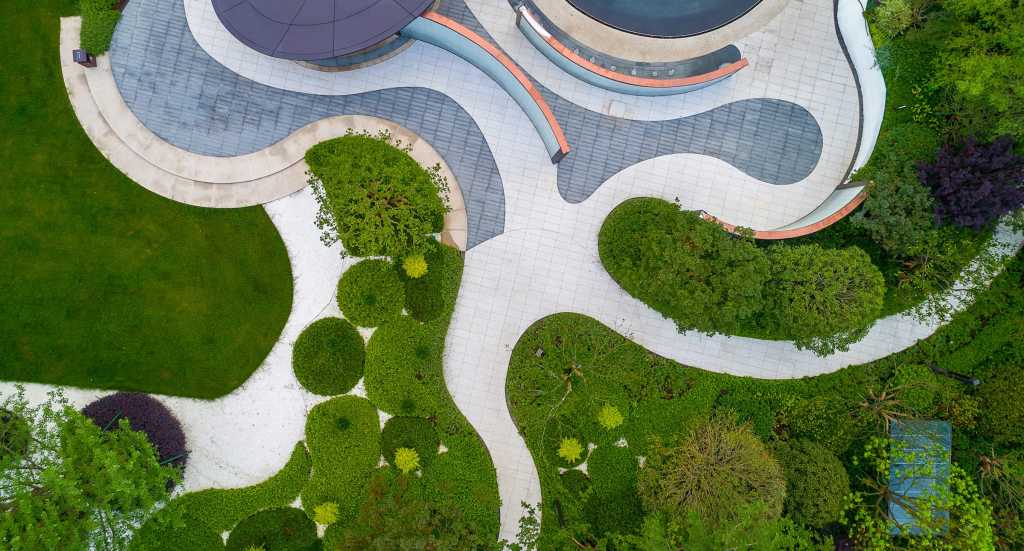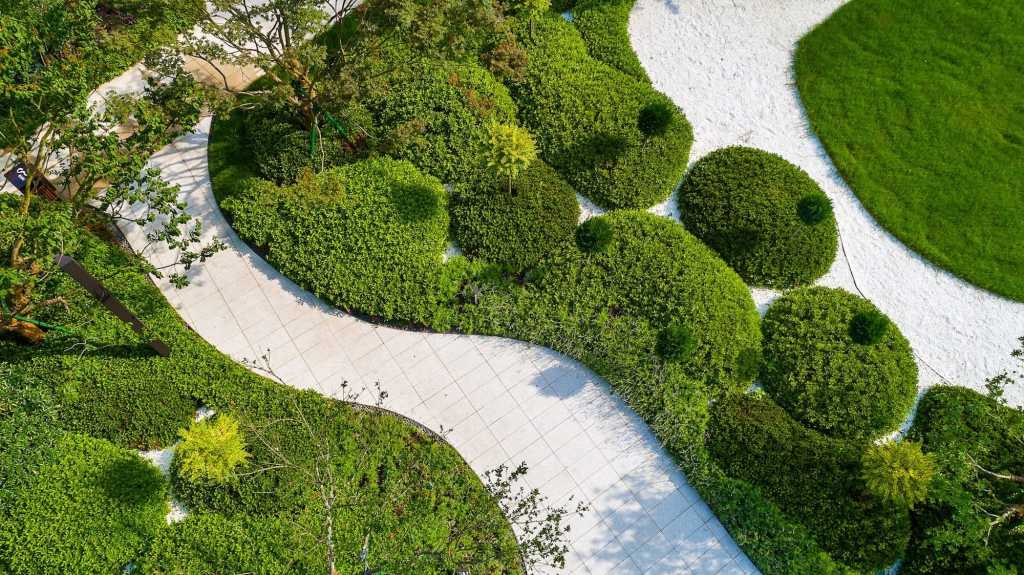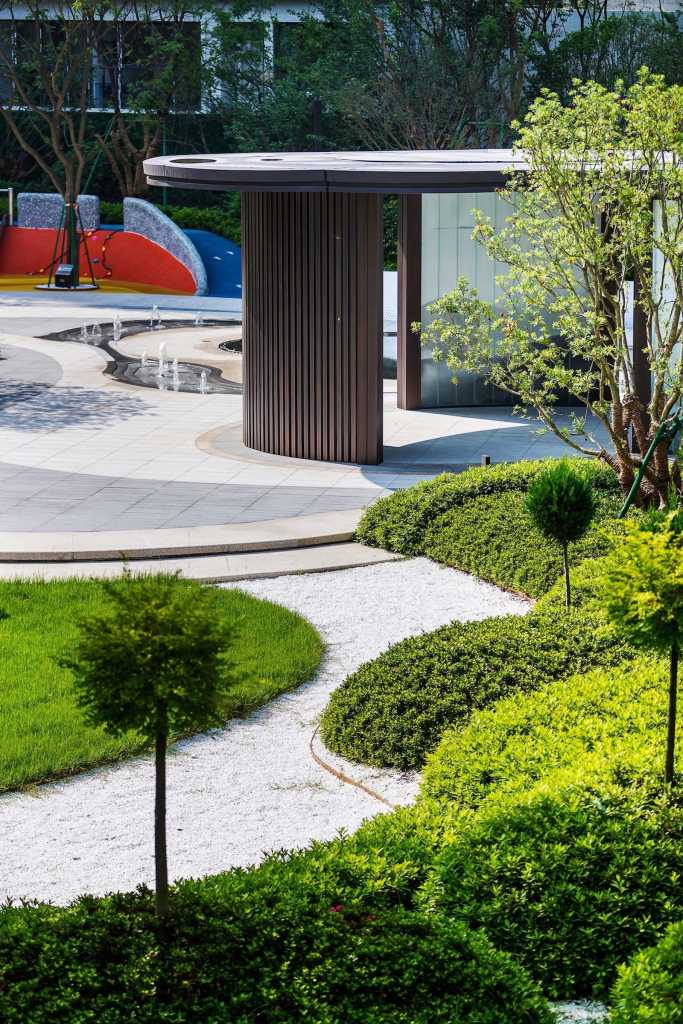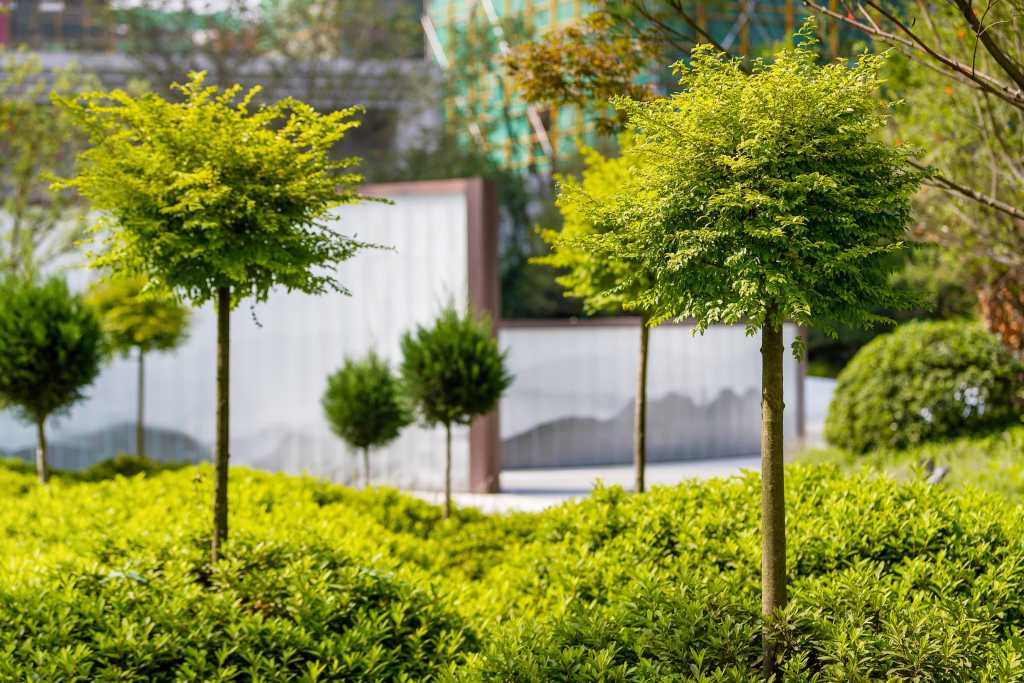 项目名称:宁波雅戈尔新长岛项目
项目地址:浙江省宁波市天沁路
项目类型:住宅示范区
占地面积:5584 平方米
建筑面积:964 平方米
景观面积:4620 平方米
竣工时间:2018月2月
客户单位:雅戈尔置业开发有限公司
景观设计:奥雅设计 上海公司 项目八组
Project name:  Ningbo Youngor New Long Island
Project address: Tianqin road, Ningbo, Zhejiang, China
Project type: Residential Demonstration Area
Floor area: 5584 sq. m
Building area: 964 sq. m
Landscape area: 4620 sq. m
Completion date: February 2018
Client: Youngor real estate development co., ltd.
Landscape design: L&A design Shanghai  Project group 8
更多 Read more about:奥雅