本文由 原地建筑 授权mooool发表,欢迎转发,禁止以mooool编辑版本转载。
Thanks ORIGIN ARCHITECT  for authorizing the publication of the project on mooool, Text description provided by ORIGIN ARCHITECT.
原地建筑: 弄岗森林公园位于广西边境典型喀斯特地貌景观与茂密的原始森林之中。当地气候湿热,周边有大量桉树。
ORIGIN ARCHITECT:Nonggang Forest Park is located in the typical karst landscape and dense virgin forest by the border of Guangxi. The local climate is hot and humid, and there are many eucalyptus trees around it.
▼项目远景   distanced view of the project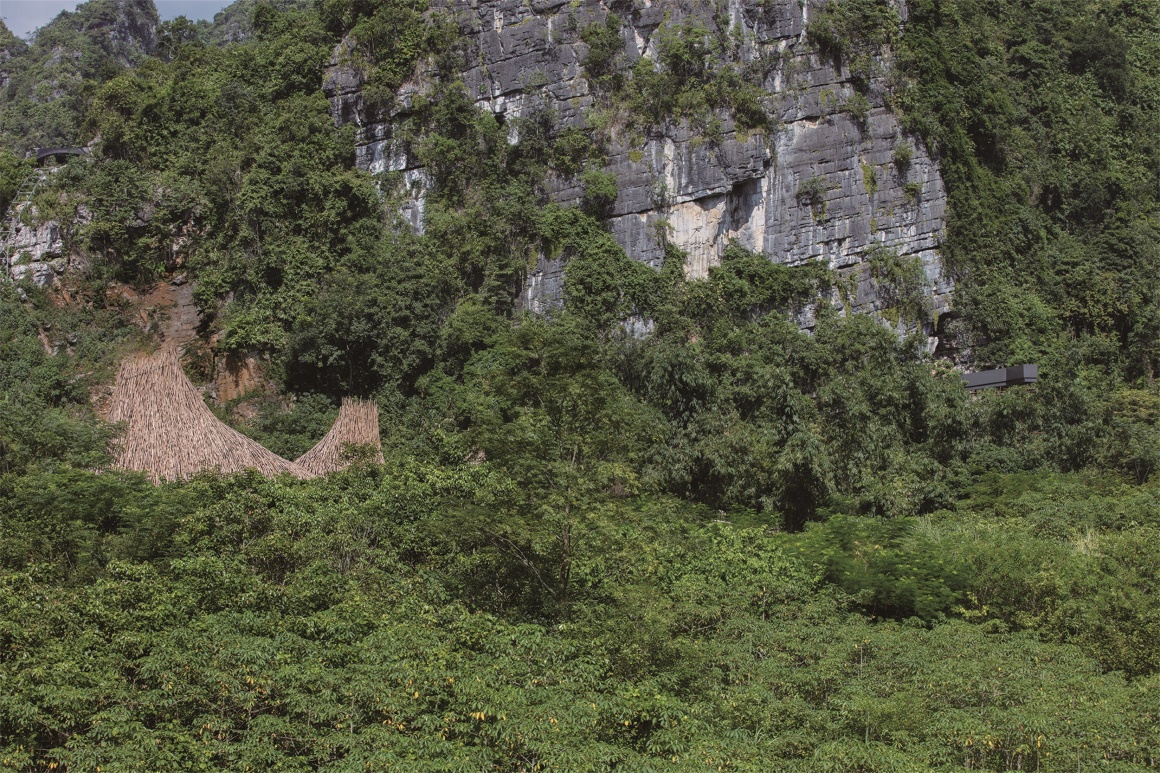 作为公园入口的接待体验中心,建筑师希望唤醒游人内心对自然的敏锐感悟,以周边收集的桉树枝为主要材料,以粗犷的方式围合出一组自由的曲面空间,晴天光影弥散,雨季倒影映射。
As the reception and experience center at the entrance of the Park, the architect hopes to awaken the visitors' keen perception of nature, and take the eucalyptus branches collected around as the main material to enclose a group of free curved surfaces in a rough way, with light and shadow scattered on sunny days and inverted reflection in the water in rainy seasons. Some rooms are permeable to rain and air, as a space for rainforest experience before entering the Park and displaying specimens of birds and animals.
▼体验中心外观  Experience Center Appearance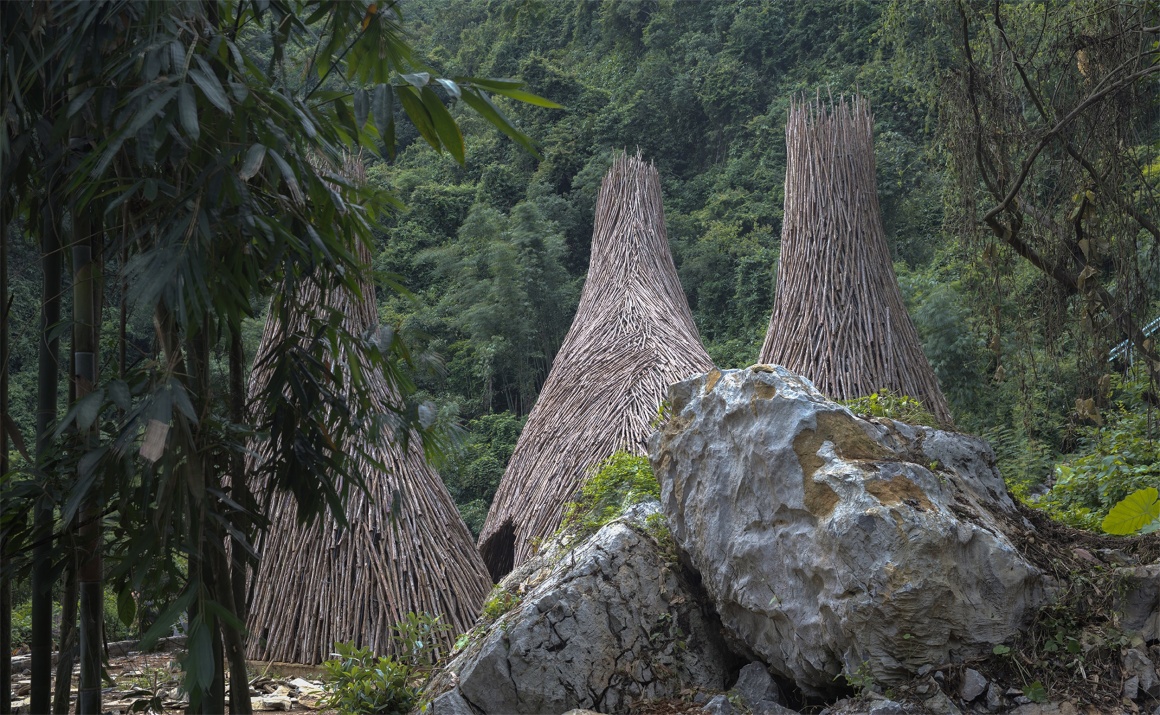 ▼自然的树枝建筑  Natural tree branch architecture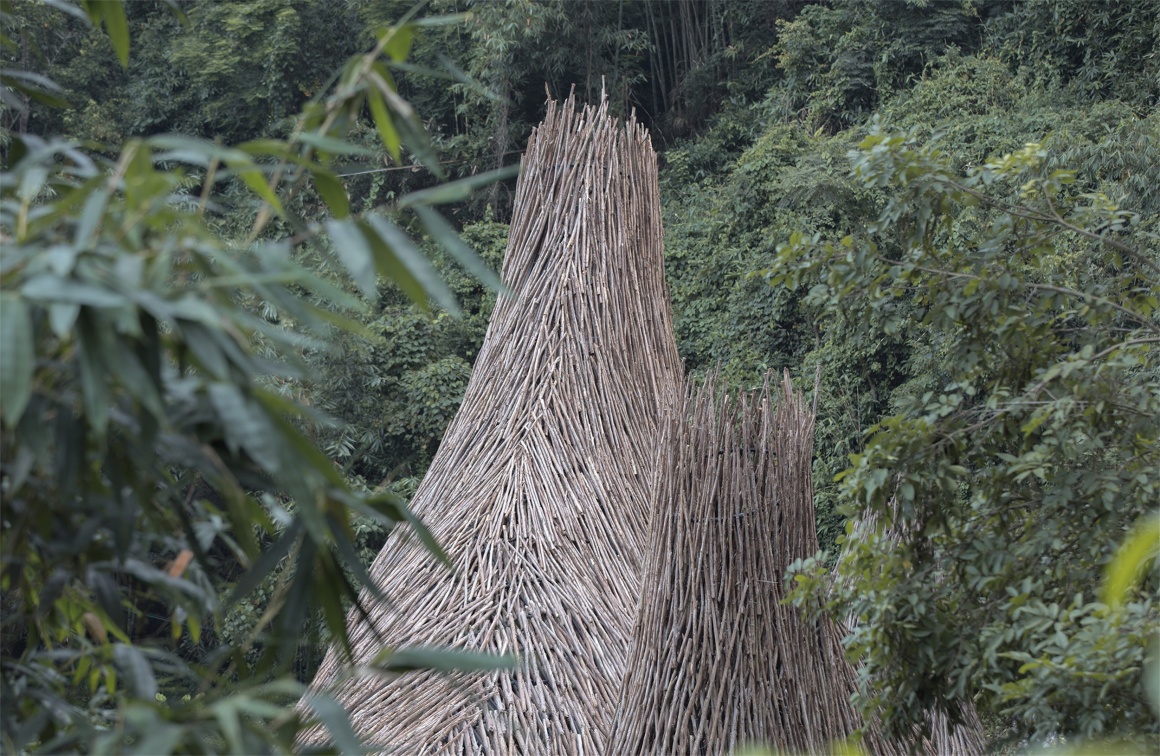 ▼建筑的顶部与远处的山石景象  The top of the building with the view of the stone mountain in the distance
▼接待中心入口  Reception Center Entrance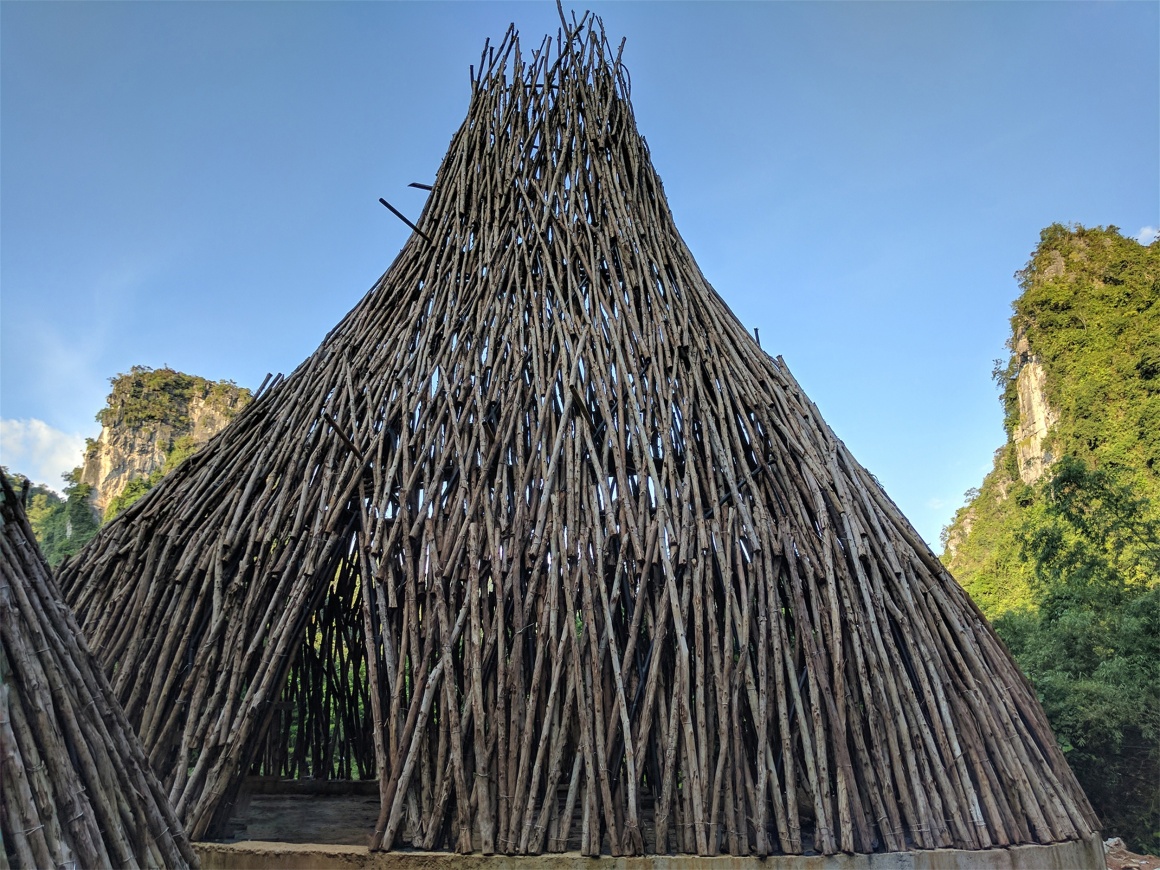 有的透雨透气,作为入园前的雨林体验、鸟兽标本展示空间;有的以茅草内衬挡雨,作为休息接待空间。这一组介于人工与自然之间的造物,将成为进入公园纯自然体验的最佳引导。
Some rooms use thatched linings to keep out the rain, which serves as a space for leisure and reception. This group of creations between man-made and nature will be the best guide to the pure natural experience in the Park.
▼接待中心内部空间展示  Reception center interior space display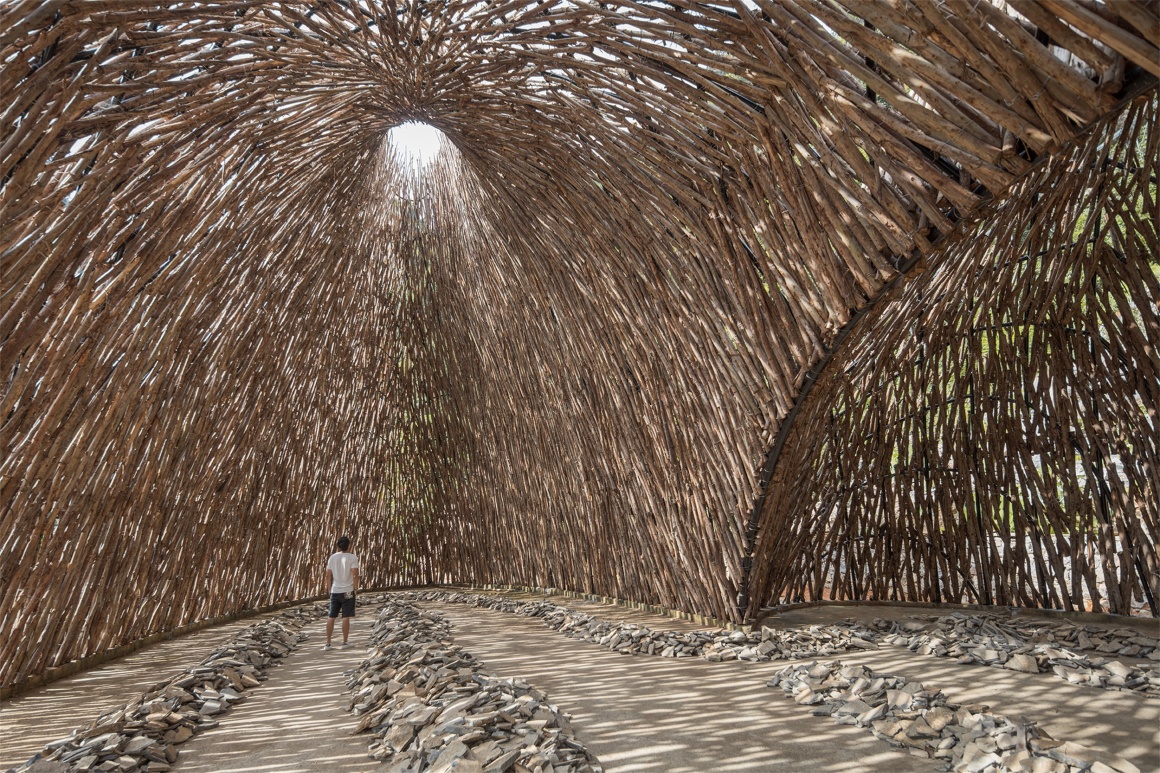 ▼四周是就地取材的桉树枝围合的自由曲面  All around is a free-form surface enclosed by local eucalyptus branches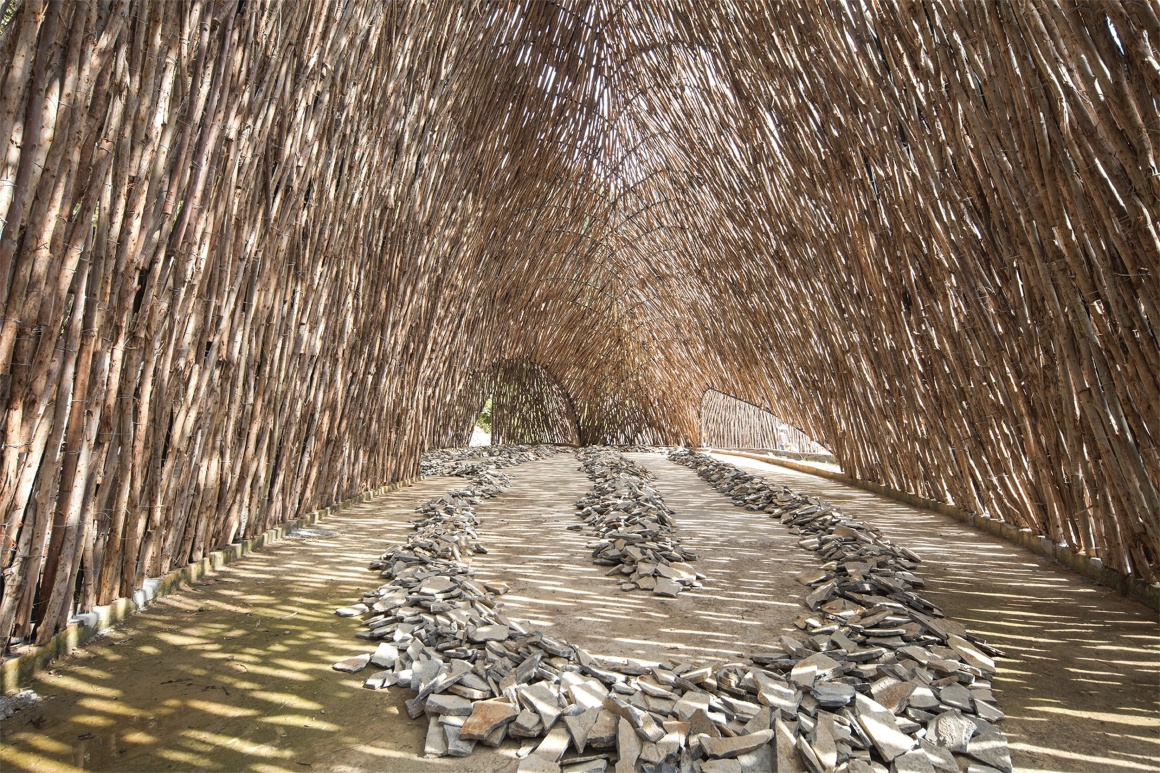 ▼阳光透过树枝形成斑驳的光影  The sunlight made dappled shadows through the branches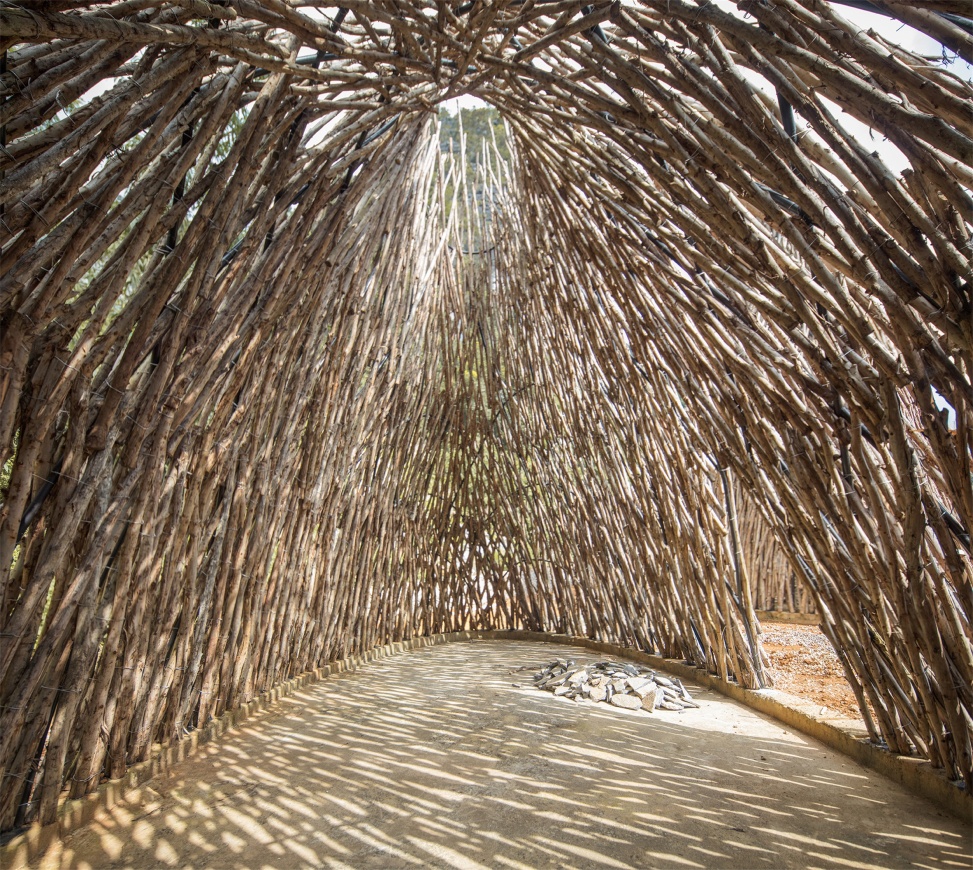 ▼设计茅草内衬可遮挡雨水  Designed with thatch lining to keep out rain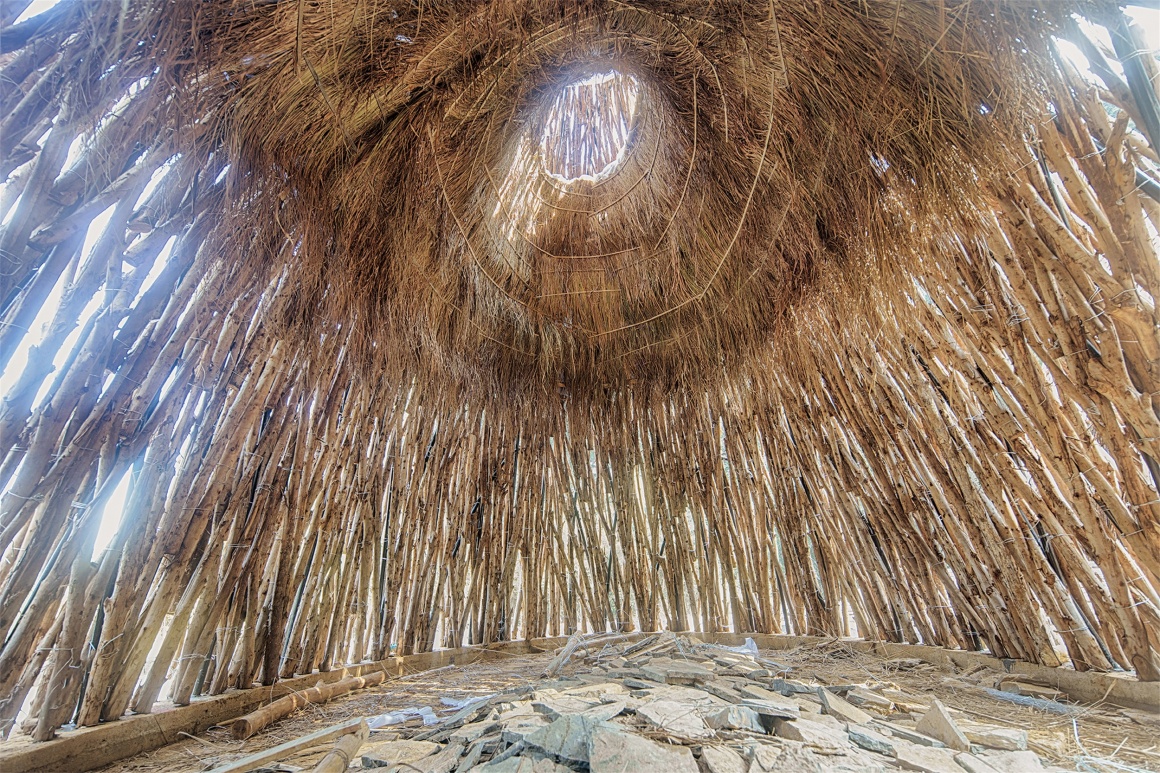 ▼光影斑驳  Dappled light and shadow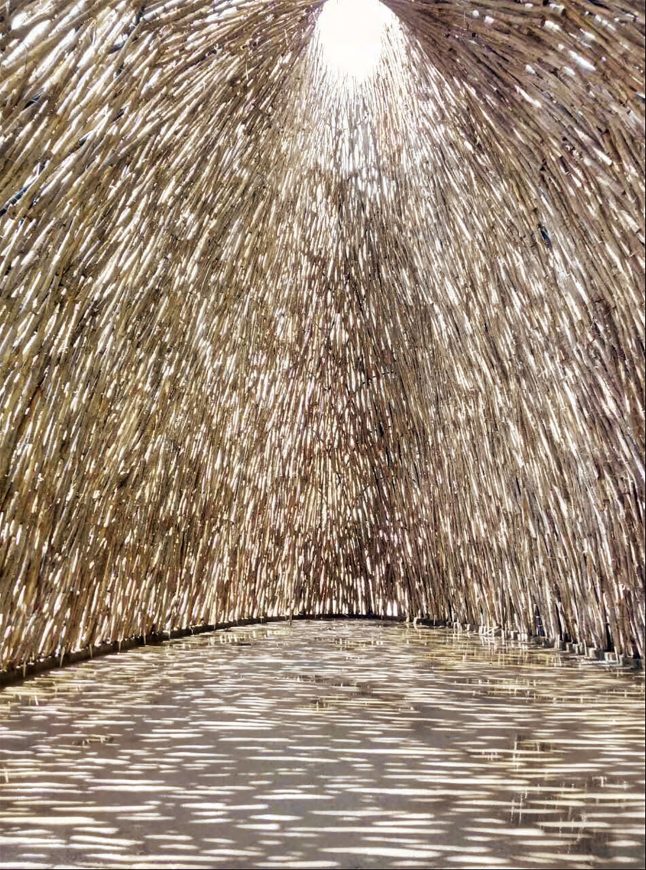 ▼细部设计与天窗关系  Detail design and skylight relationship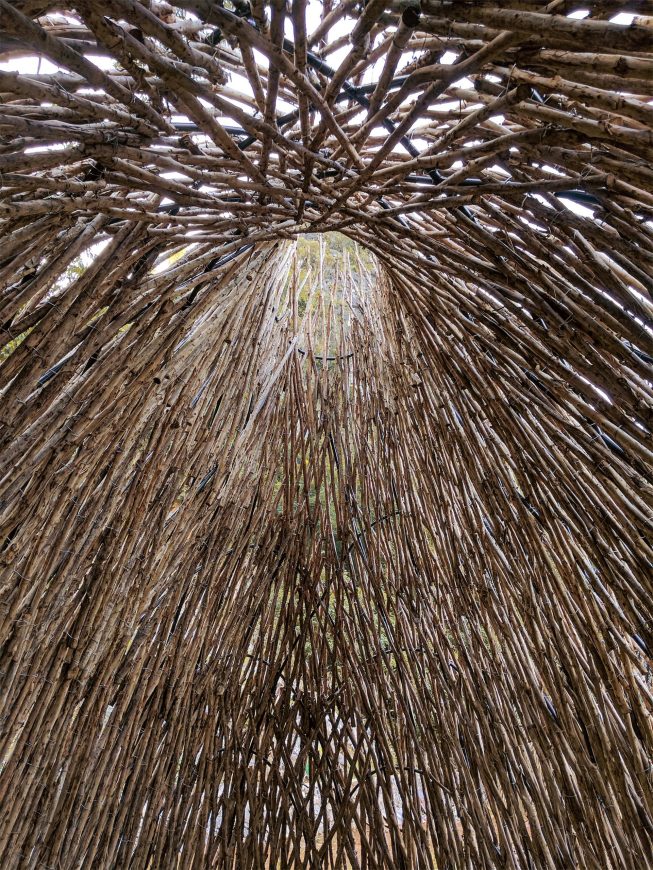 ▼设计草图  Design sketch
▼施工过程  The construction process
▼总平面图  The total floor plan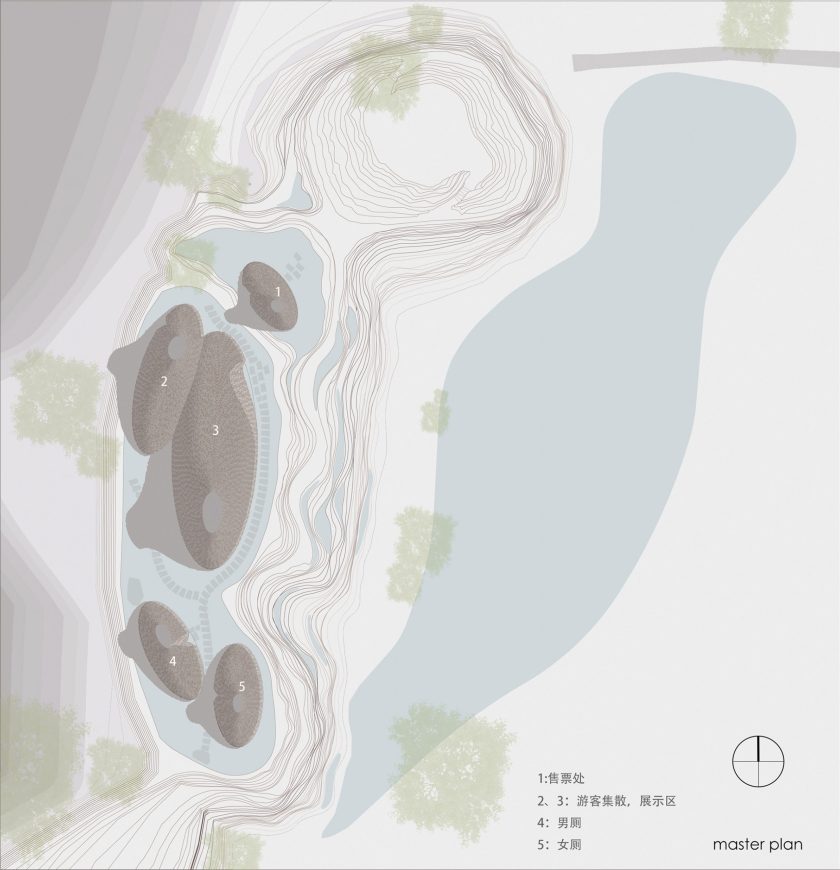 ▼立面图  elevation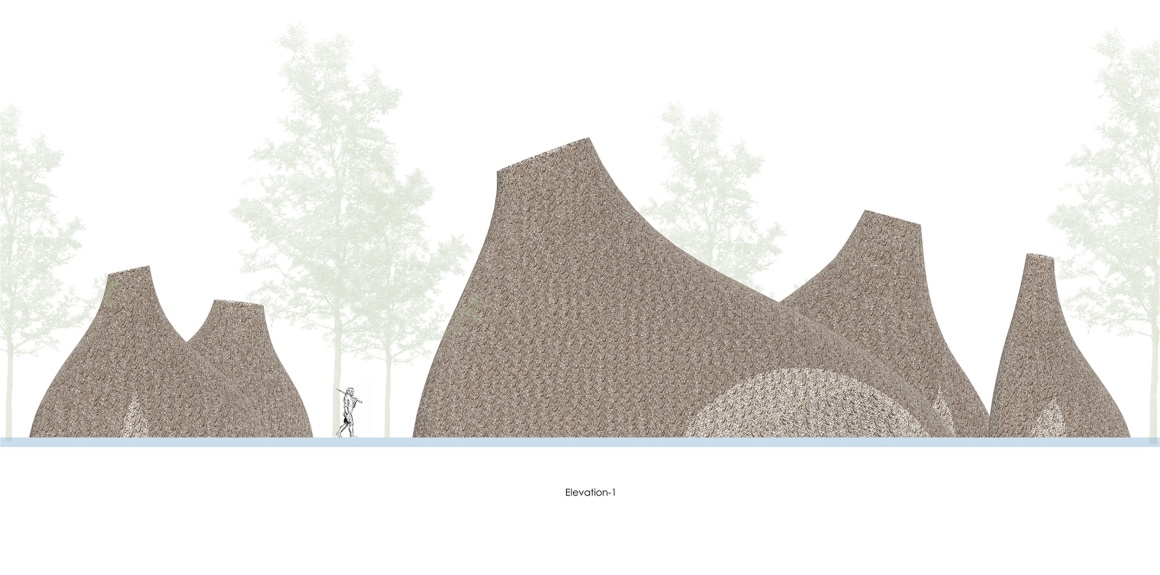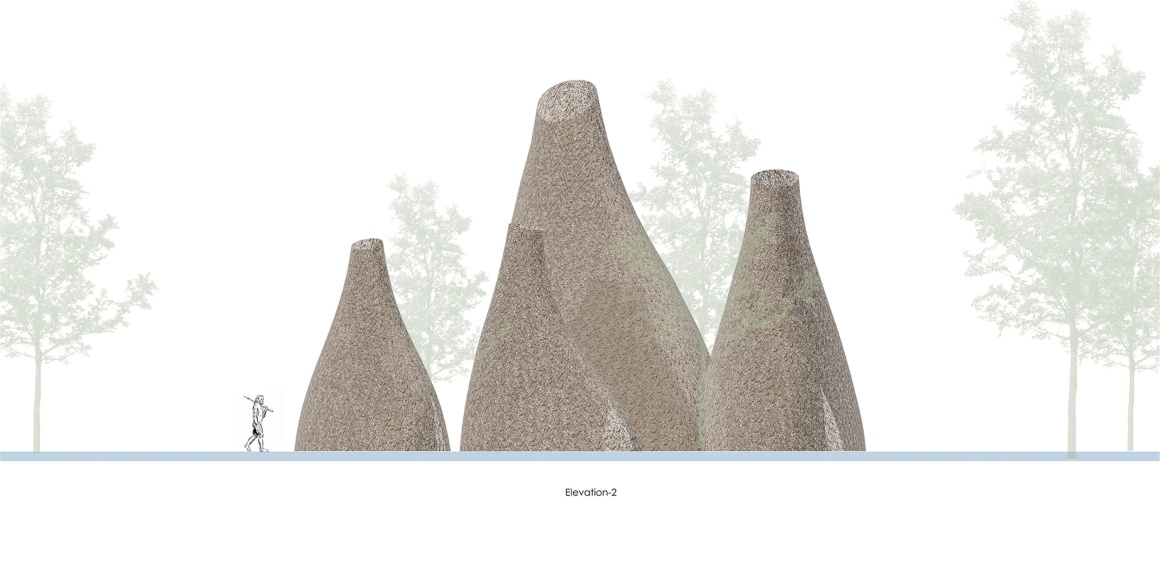 ▼剖面图  profile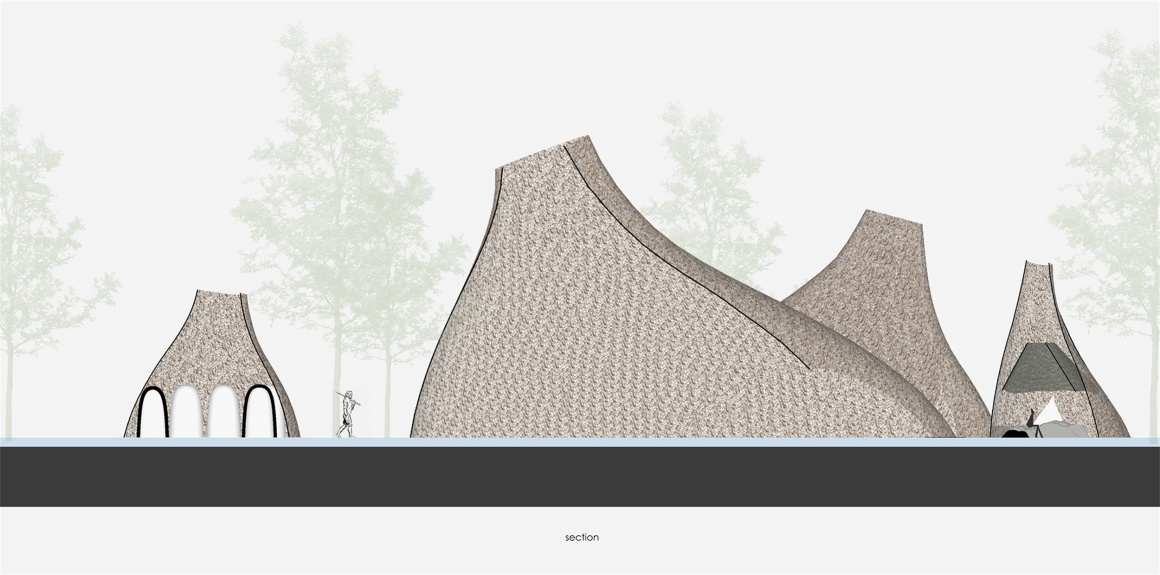 ▼模型照片  Model photos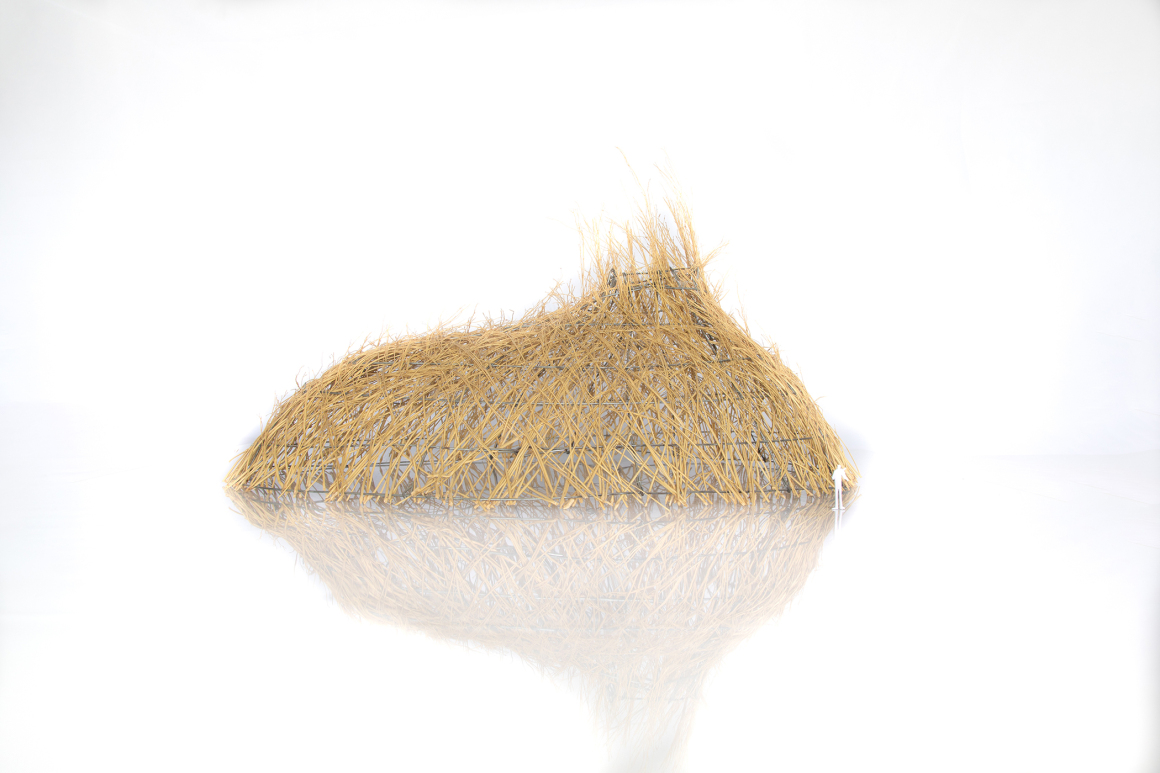 项目名称: 雨林秘境-弄岗森林公园接待中心
完成年份:2019
项目地点:广西省,崇左市,龙州县
设计公司:原地建筑
公司网址:http://www.origin-architect.com/
联系邮箱:office@origin-architect.com
主创设计师:李冀
设计团队:李冀、梅可嘉、叶强
开发商:老木棉集团
摄影师:梅可嘉
Project Name: Secret in Rainforest-Nonggang Forest Park Visitor Center
Year completed: 2019
Location: Longzhou County, Chongzuo City, Guangxi Province
Design firm: ORIGIN ARCHITECT
Company website: http://www.origin-architect.com/
Contact: office@origin-architect.com
Chief designer: li ji
Design team: Li Ji, Mei Kejia, Ye Qiang
Developer: Lao Kapok Group
Photographer: Mei Kejia
更多 Read more about:原地建筑