本文由 Malinowski Design Urban & Landscape 授权mooool发表,欢迎转发,禁止以mooool编辑版本转载。
Thanks Malinowski Design Urban & Landscape for authorizing the publication of the project on mooool, Text description provided by Malinowski Design Urban & Landscape .
Malinowski Design Urban & Landscape:"自然连接"是 Malinowski Design 城市景观工作室提出的一个原创概念,它远不同于以往见到过的"自然栖居"的室内设计形式。该奥利维亚花园就是这样一个开创性的项目,它拥有来自四大洲的数千种植物,将野生自然与城市能源相结合。日常运作过程中,即使在没有日照的条件下,创新的气候控制技术也能维持这个充满异国情调的自然花园生态系统的运转。奥利维亚商务办公综合体位于三城(一个城市的三个邻近且关系密切的市镇)商业区,是波兰波美拉尼亚最现代化的设施之一,其面积超过20万平方米,可容纳近12000名员工,而我们的花园是该综合体的核心空间。
Malinowski Design Urban & Landscape:Nature Connect is an original concept of Malinowski Design urban & landscape studio, which goes far beyond the previously encountered forms of interior design using living nature. Olivia Garden is a revolutionary project that  combines wild nature with urban energy. During its implementation, innovative technology for controlling the  climate, which allows maintaining a natural, exotic garden ecosystem, even in conditions without access to daylight. At Olivia Garden, we have thousands of plants from four continents. The garden is the heart of the Olivia Business Center office complex, with an area of over 200,000 sq meters and  employing nearly 12,000 people. The building is located in the business district of the Tri-City and is one of the  most modern facilities in Pomerania Of Poland.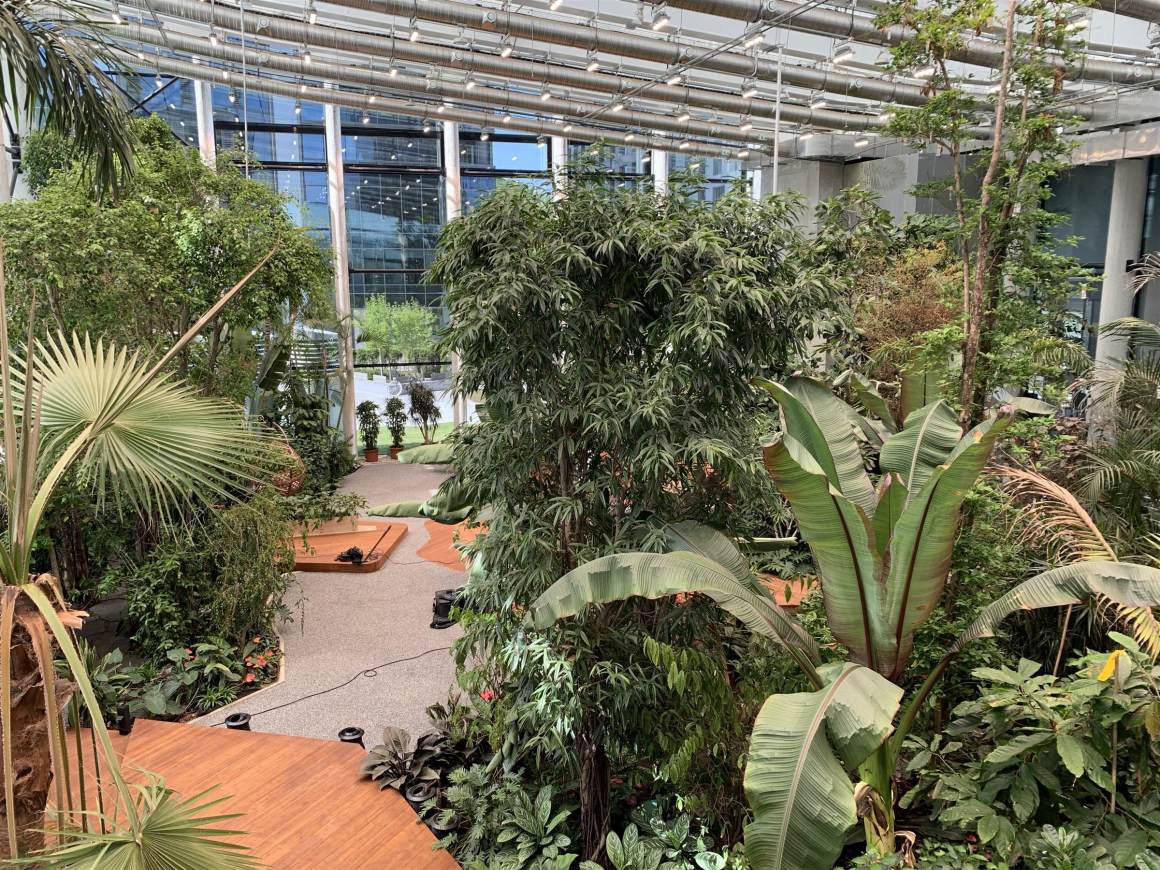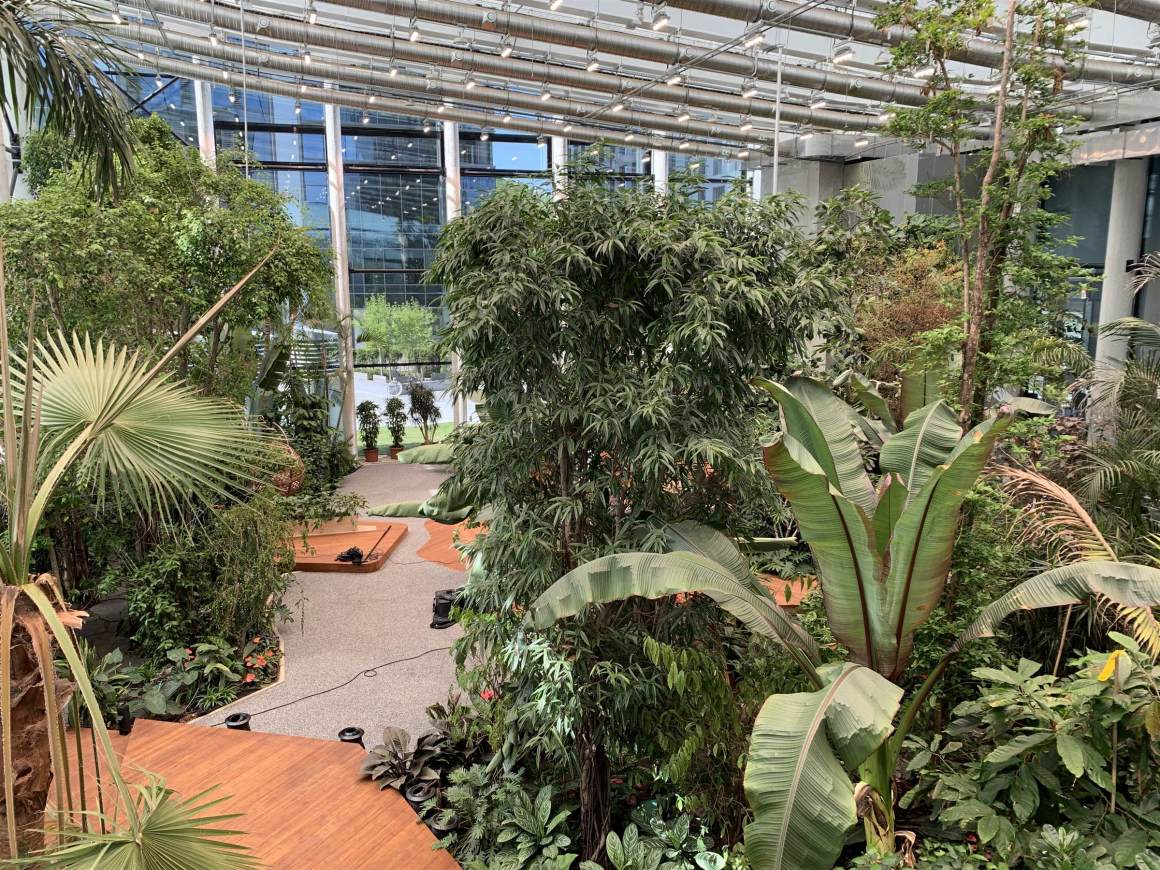 ▼施工全景  A panoramic view of construction

该项目的特点在于它以坚定的设计原则,在这个充满异国情调的自然花园空间中为人们营造了舒适的氛围,创造了一个自然连接(人-自然-技术-建筑)的融合空间,一个可工作可休闲的全年开放的花园。为了实现这一目标,我们开发了一项全欧洲最新的气候控制技术,它拥有"气候调节"的功能,无论外部气候条件如何变化,我们都可以通过控制温度、湿度、光照和空气流通来保证植物的健康和使用者的舒适。这是唯一一个能让人感受到异国风情却不会有热带地区的不适感的地方。
What distinguishes this project from others is an uncompromising approach to create the right atmosphere for people in the space of a natural exotic garden. The result was a hybrid of Nature Connect (human-nature-technology-building), a space for work and relaxation with a year-round garden. To achieve this, we have developed a climate control technology that is innovative on a European scale. Such an equivalent of "automatic  weather", thanks to which we can control the temperature, humidity, sunlight, and air exchange regardless of  changing external climatic conditions, ensure the well-being of plants and the comfort of garden users. It is the  only place where a person can feel like an exotic landscape and in addition, do not feel the discomfort that often accompanies being in the tropics.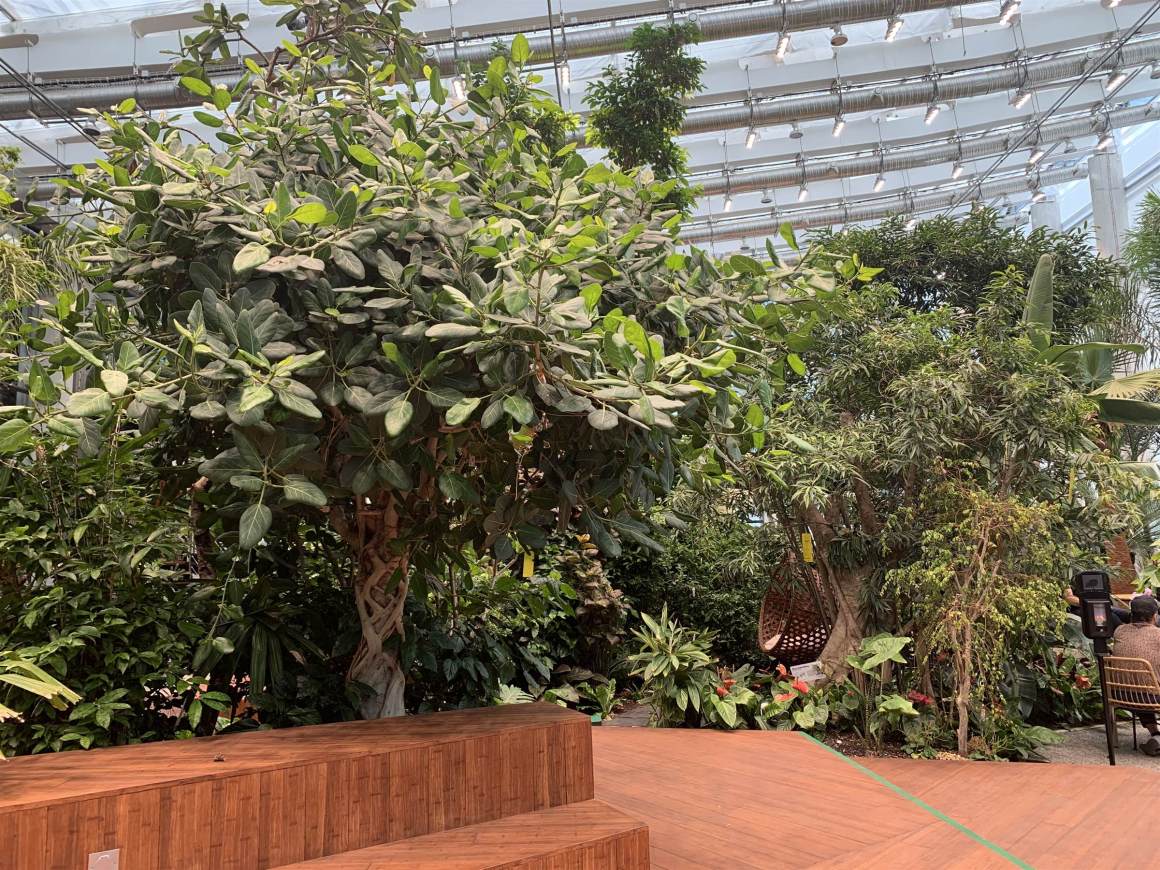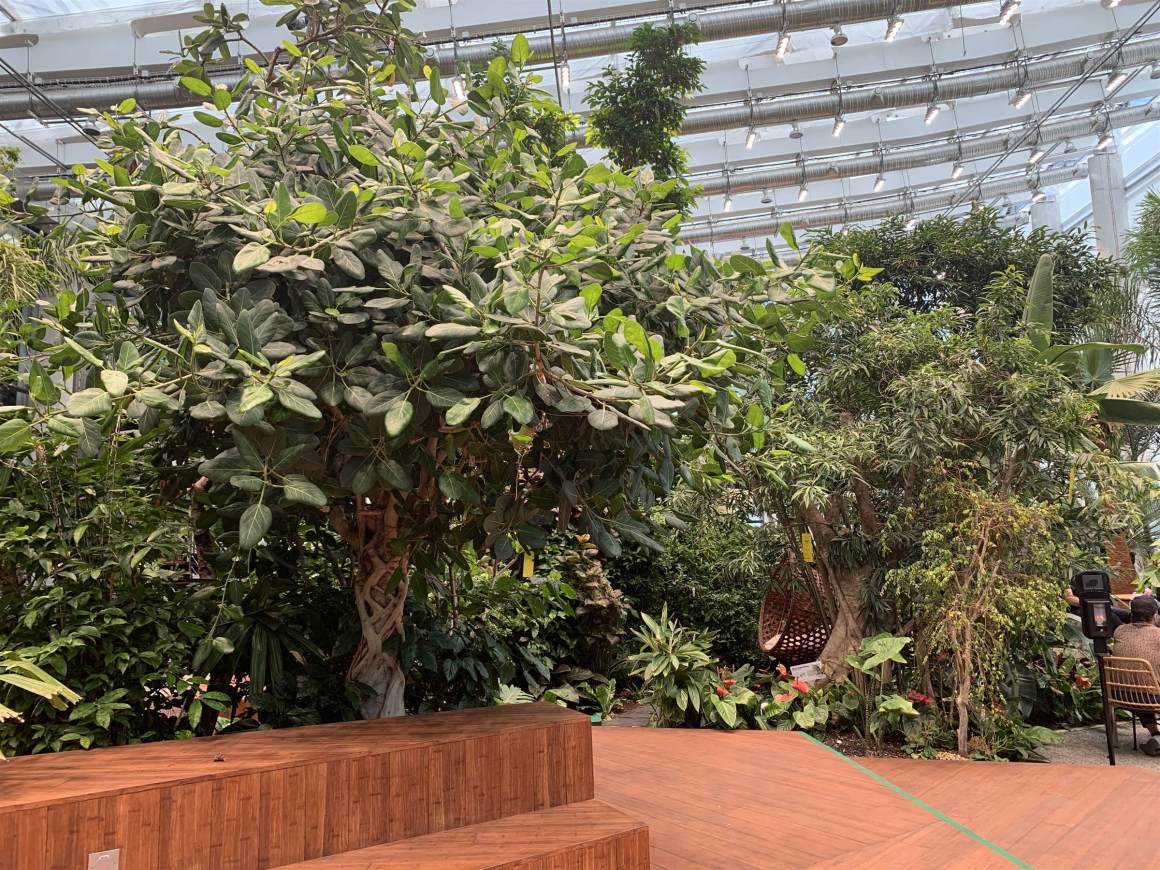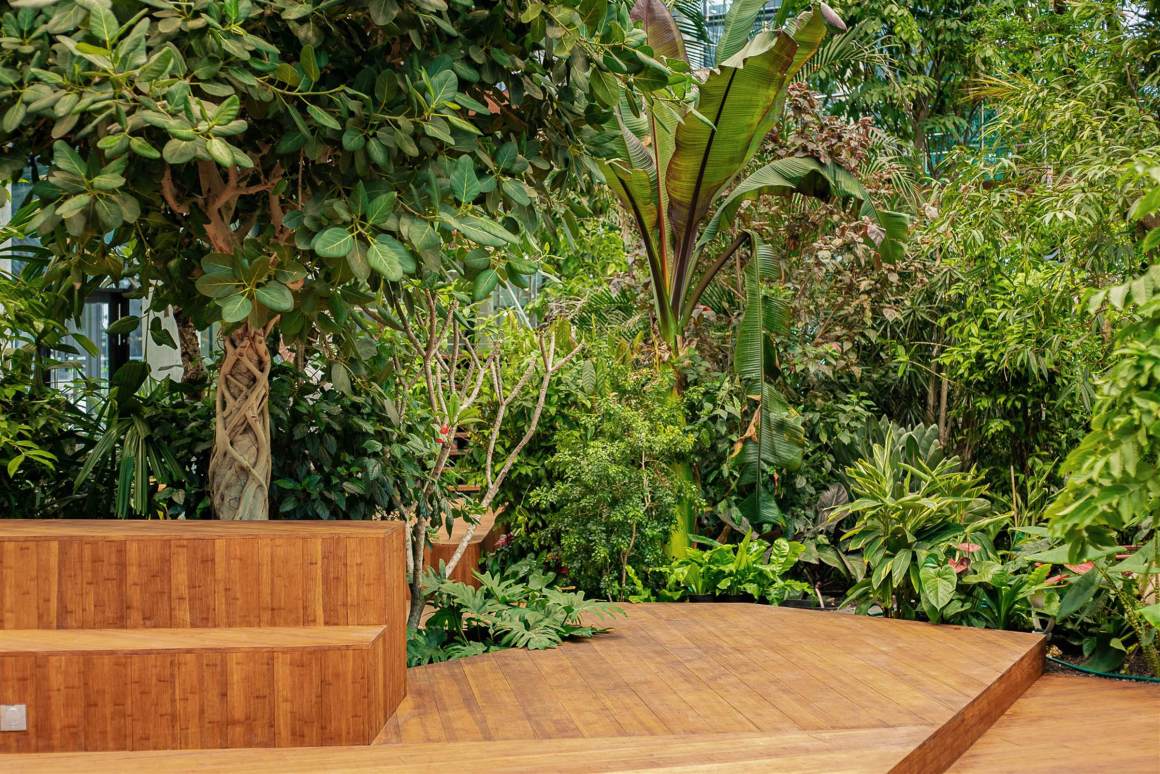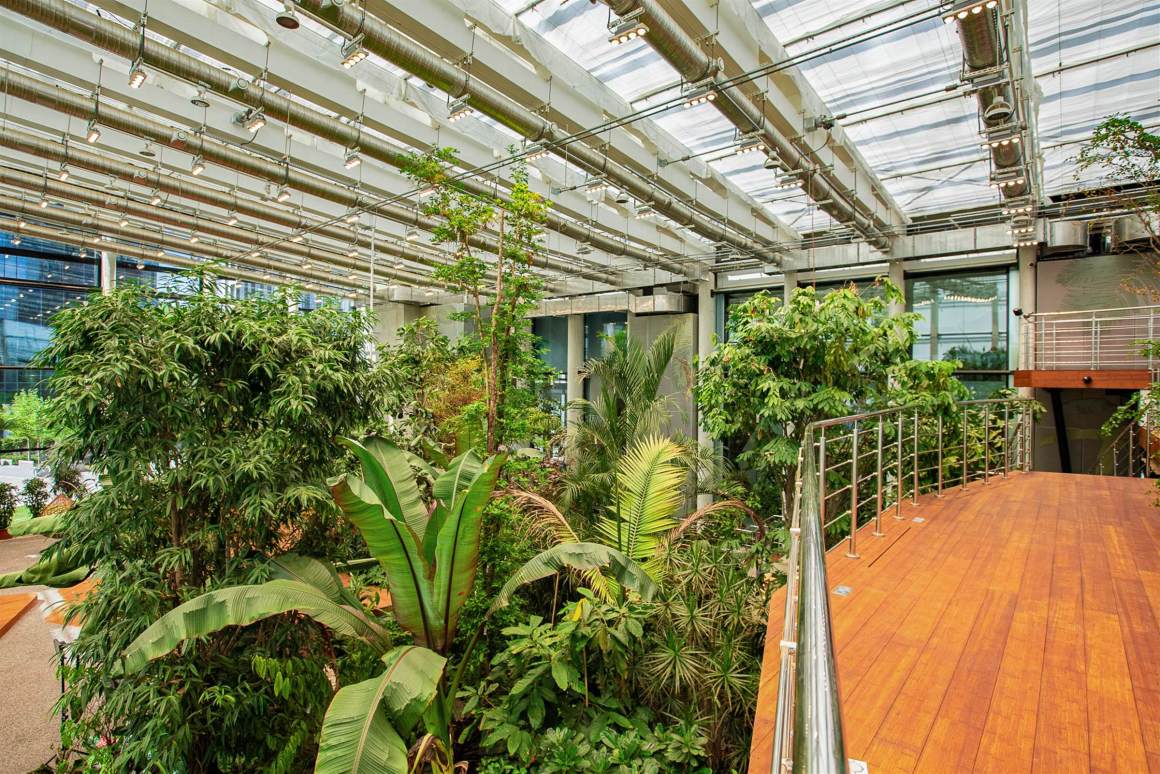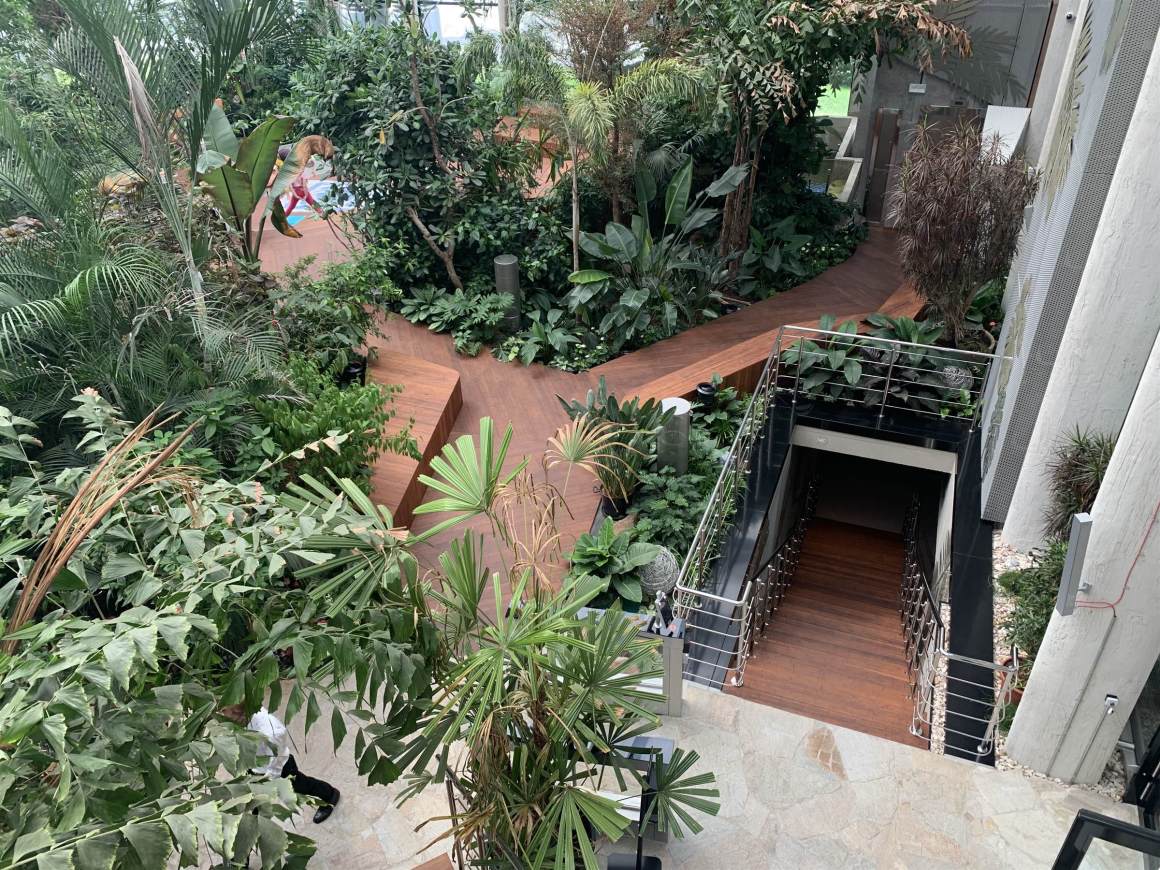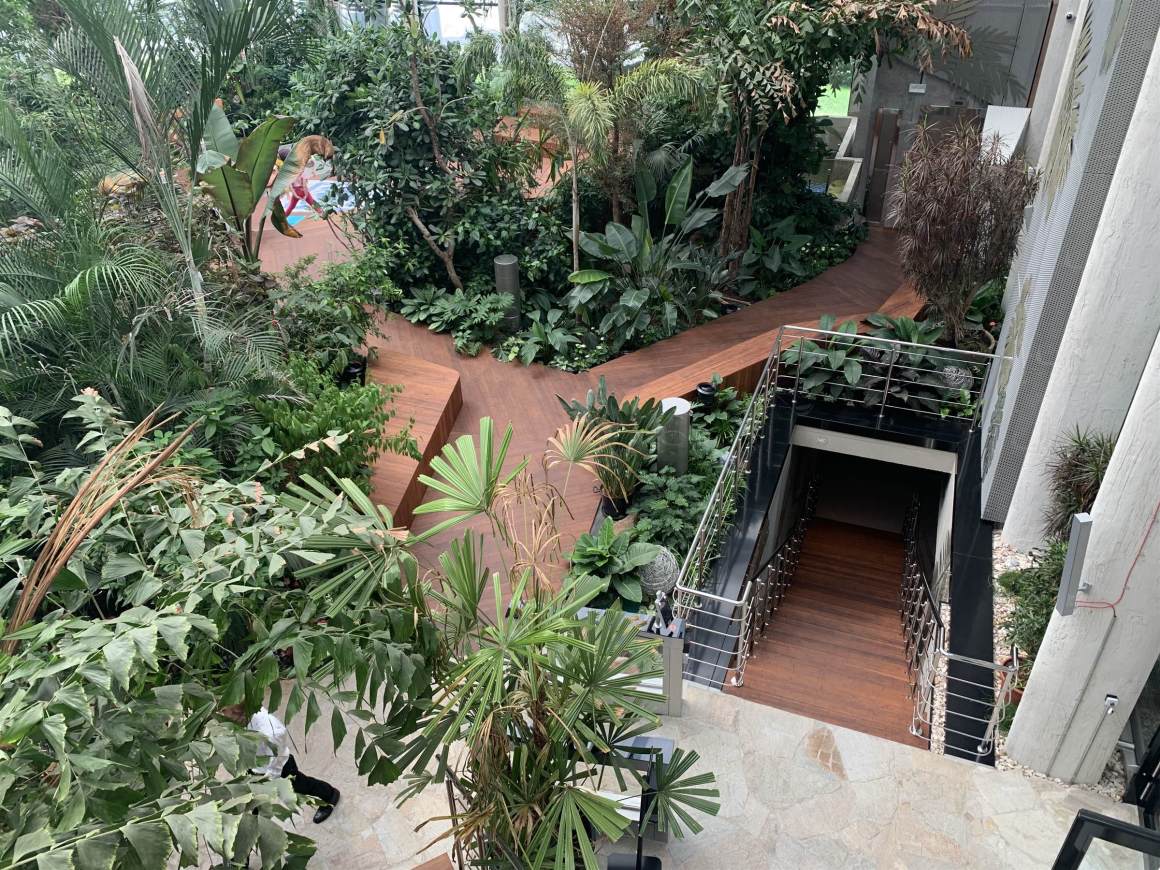 奥利维亚花园中的"自然连接"概念基于这样一个假设,即整个空间的布局能够充分反映自然生态系统的情绪,对人们的健康产生积极影响。该设计考虑到了最重要的细节,例如噪音水平、空气质量、光线类型以及充满自然气息的环境。花园中精心重现了充满生机而丰富多彩的热带雨林生态系统,点缀着来自印度尼西亚、澳大利亚、新几内亚、马达加斯加、委内瑞拉及热带亚马逊森林的各种植物。它们被划分成了四个不同的使用空间:聊天区、放松区、工作区、餐饮区,且各分区之间建有夹层、露台、小径和坡道。
The Nature Connect concept used in Olivia Garden is based on the assumption that the arrangement of the entire  space is built in such a way as to fully reflect the mood of the natural ecosystem, positively influencing the well- being of people. The design takes care of the most important details, such as noise level, air quality, type of light, and an environment filled with nature. The lively, rich ecosystem of the rainforest has been recreated with great  care. The garden is decorated with plants from Indonesia, Australia, New Guinea, Madagascar, Venezuela, or tropical Amazon forests. They create four zones for garden users: dialogue, relaxation, coworking, food & drink. A mezzanine, terraces, paths, and ramps were built between them.
▼聊天区  Dialogue zone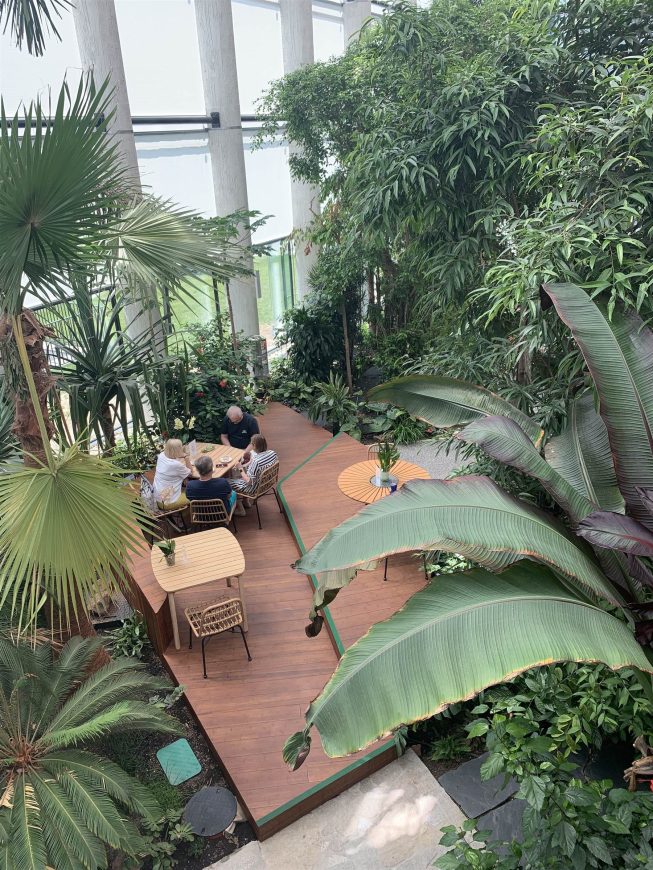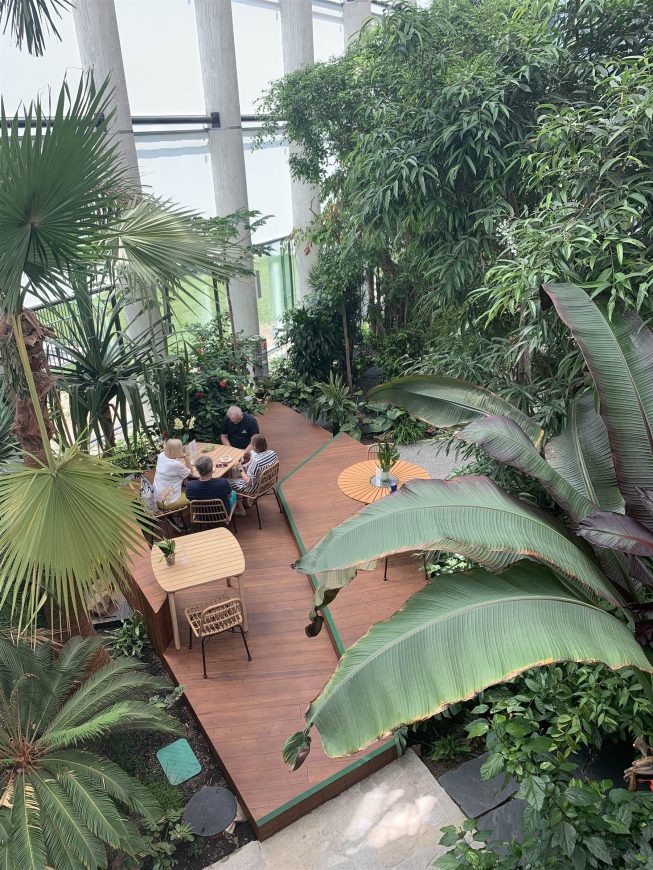 ▼放松区 Relaxation zone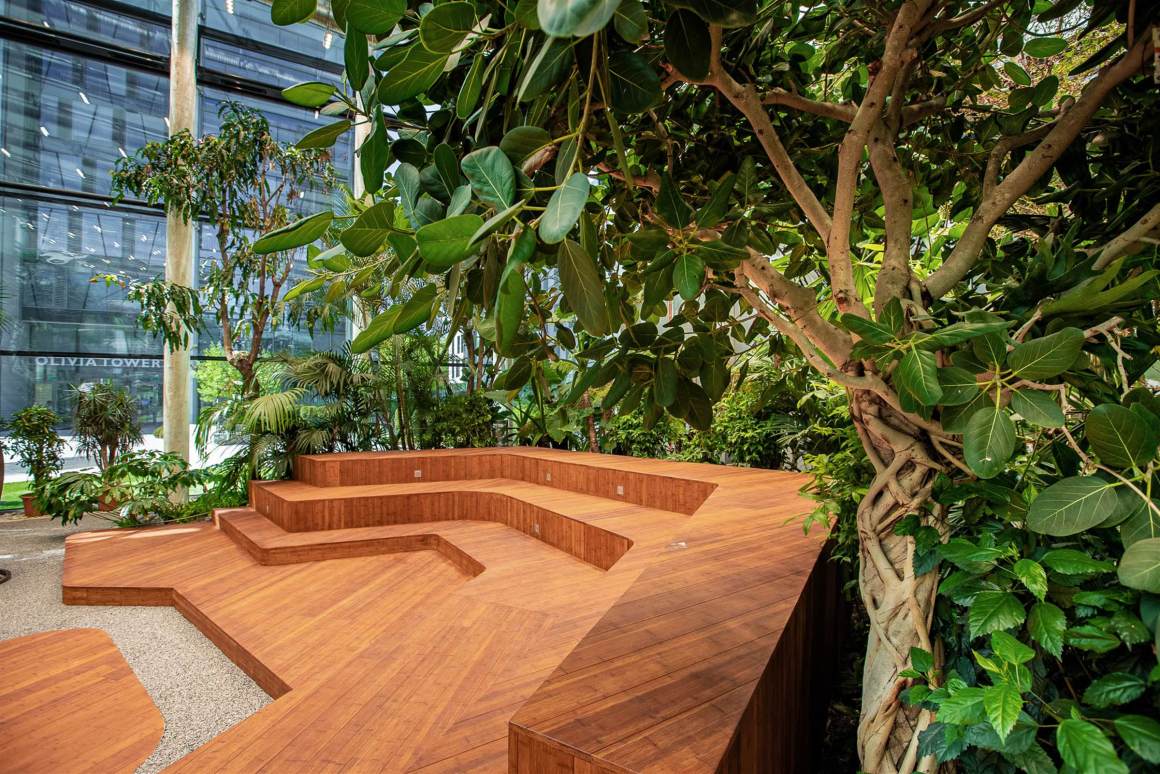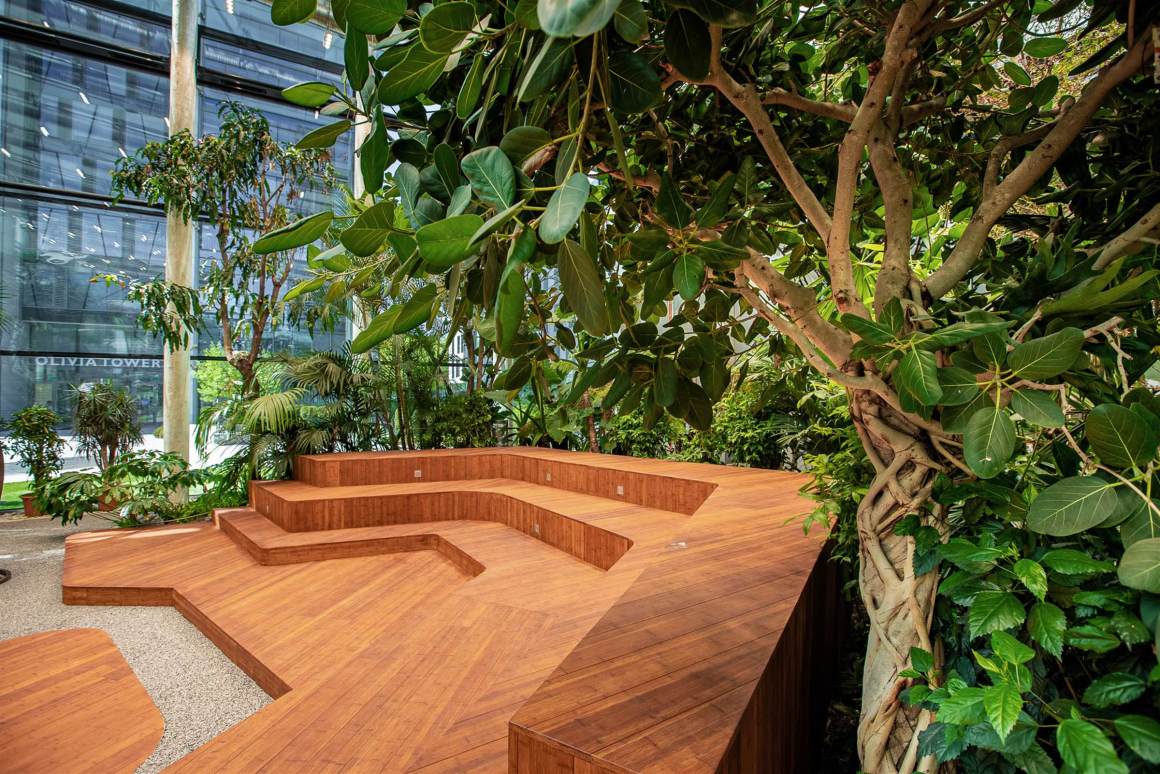 ▼工作区 Coworking zone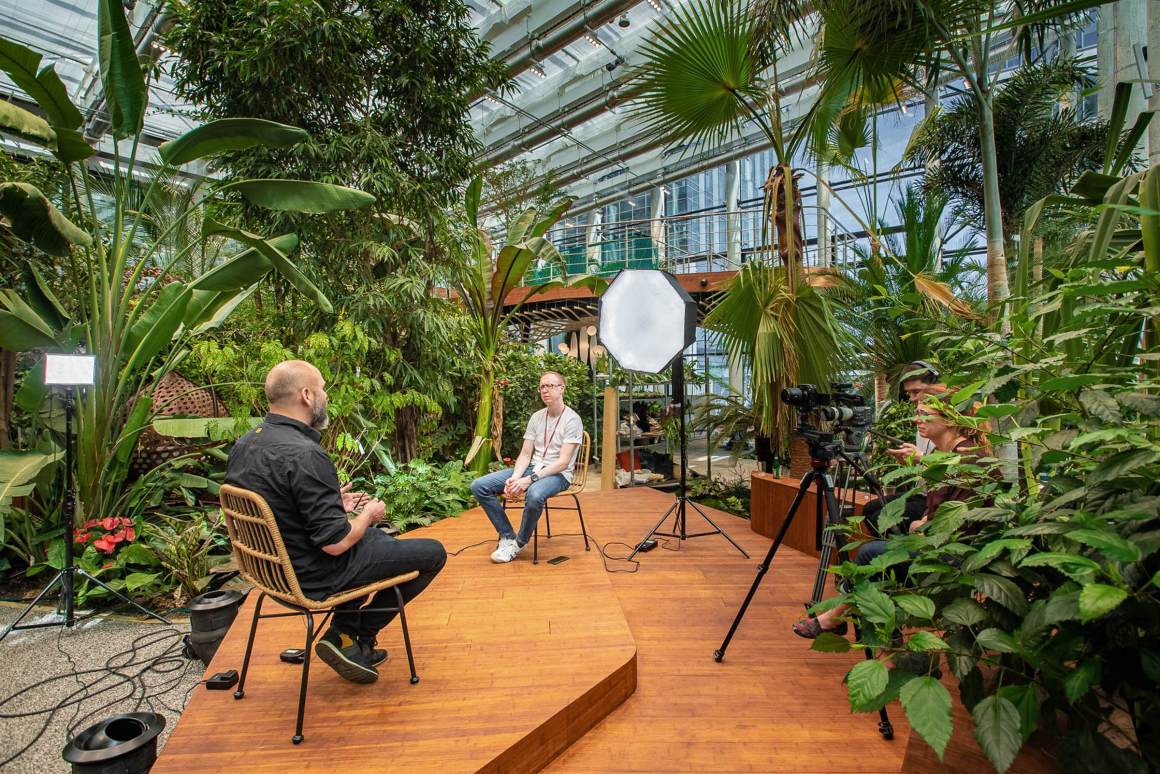 ▼餐饮区 Food & drink zone
奥利维亚花园是帮助我们了解人类舒适度与自然之间关系的第一步,通过在建筑中引入"自然连接设施",营造与自然融为一体的轻松氛围,这对人们的专注度、创造力和交流互动都有着积极影响。得益于 Malinowski Design 的技术和经验,装置可以真实地反映热带生态系统的具体情况,能全面控制气候并有益于人们的健康。除了用于温室或凉亭,它可以用在任何空间,即使是不友好或无用的空间,只要有一点机会能获得平静,都有可能重新焕发其生机和活力。整个花园不仅包括茂密的植被,还包括许多其他雨林元素,比如长满苔藓的倒木、堆积的岩石与树根,这些都真实地反映了自然环境。
Olivia Garden is the first step towards finding solutions that will help us better understand the relationship between human comfort and nature. By introducing "nature connect infrastructure" to buildings, we create a relaxed atmosphere, bond with nature, which has a positive effect on the level of commitment, creativity, and  interaction between people. Thanks to the technology and experience of  Malinowski Design, similar installations can faithfully reflect almost  any part of tropical ecosystems, with full climate control and with care for the well-being of people. It does not  have to be a greenhouse or a pavilion, but it can be any space, even the difficult and unwanted one, where there is  a chance for a little peace and a place that will be vibrant and energetic. The entire composition consists not only  of lush vegetation but also many other elements that we could encounter, for example, in a rainforest. Fallen trees overgrown with moss, rocks entwined with tree roots, reflect the natural environment.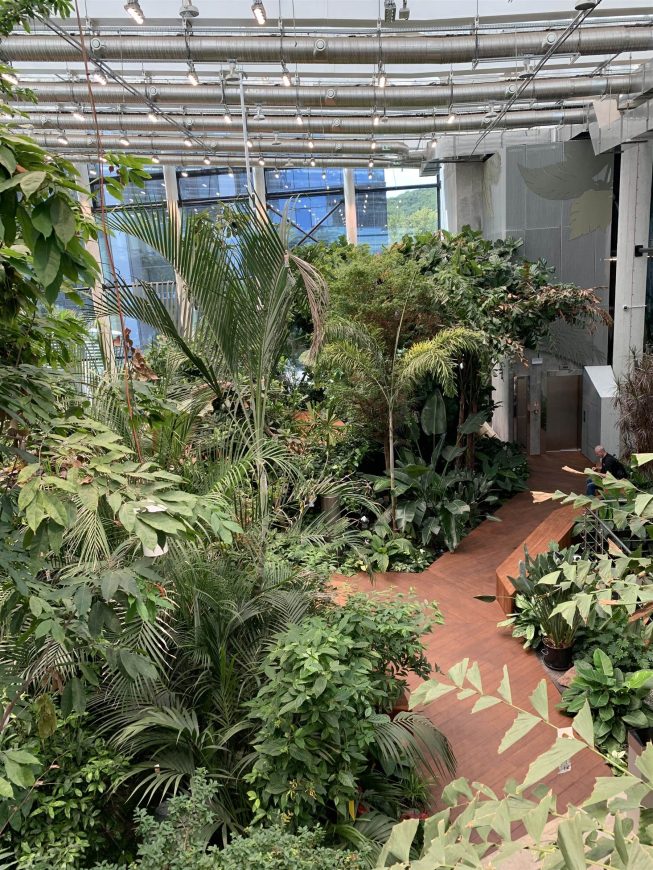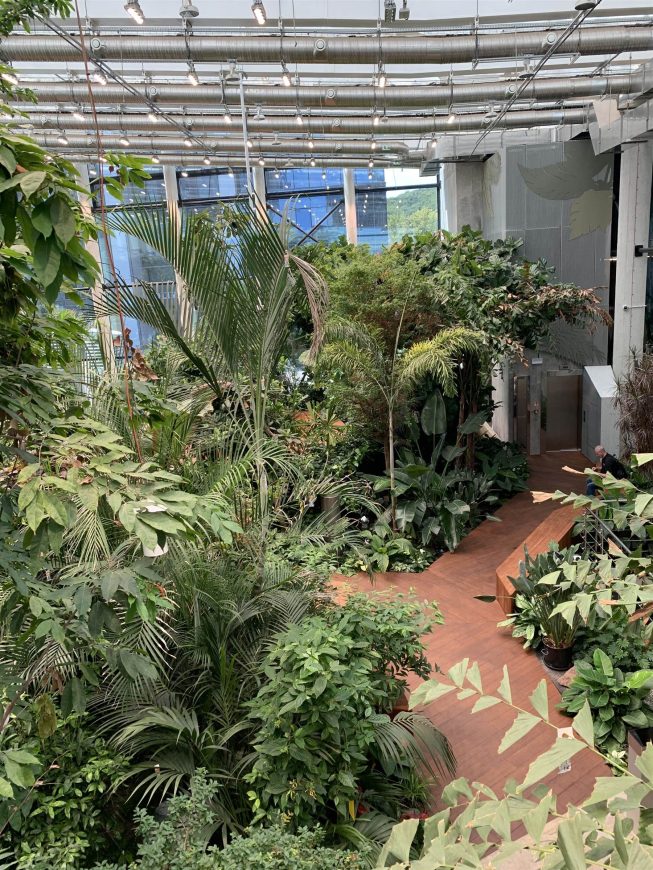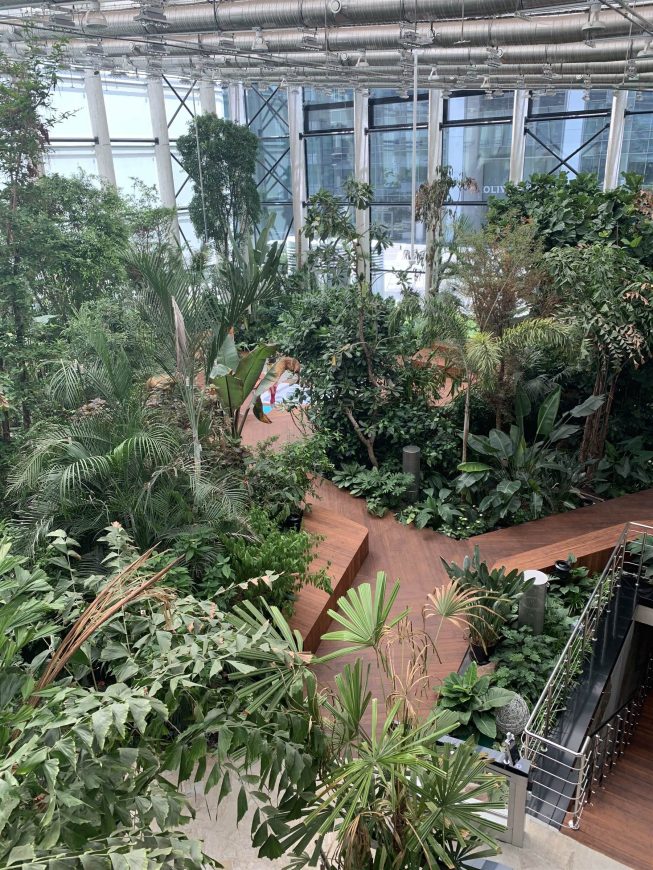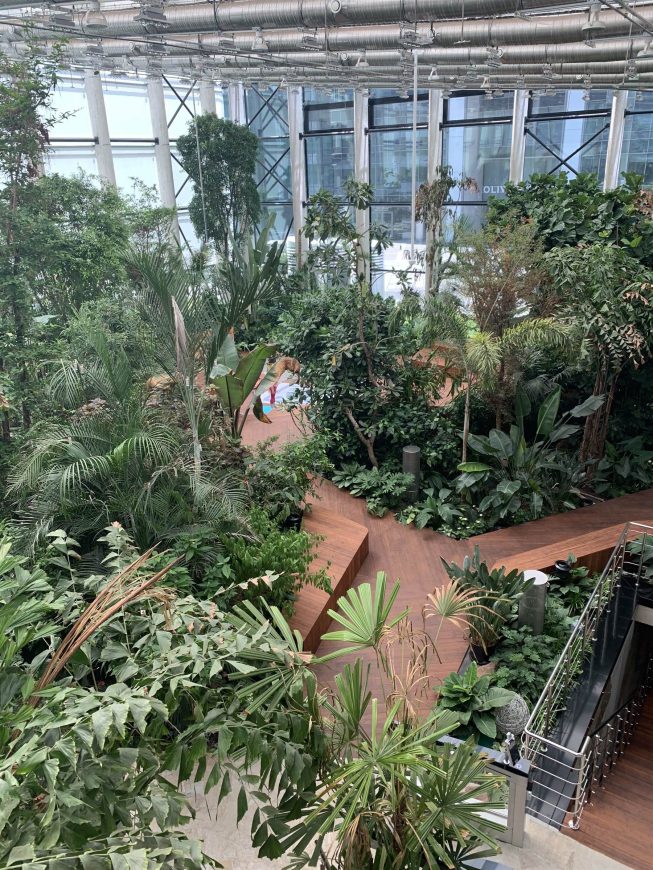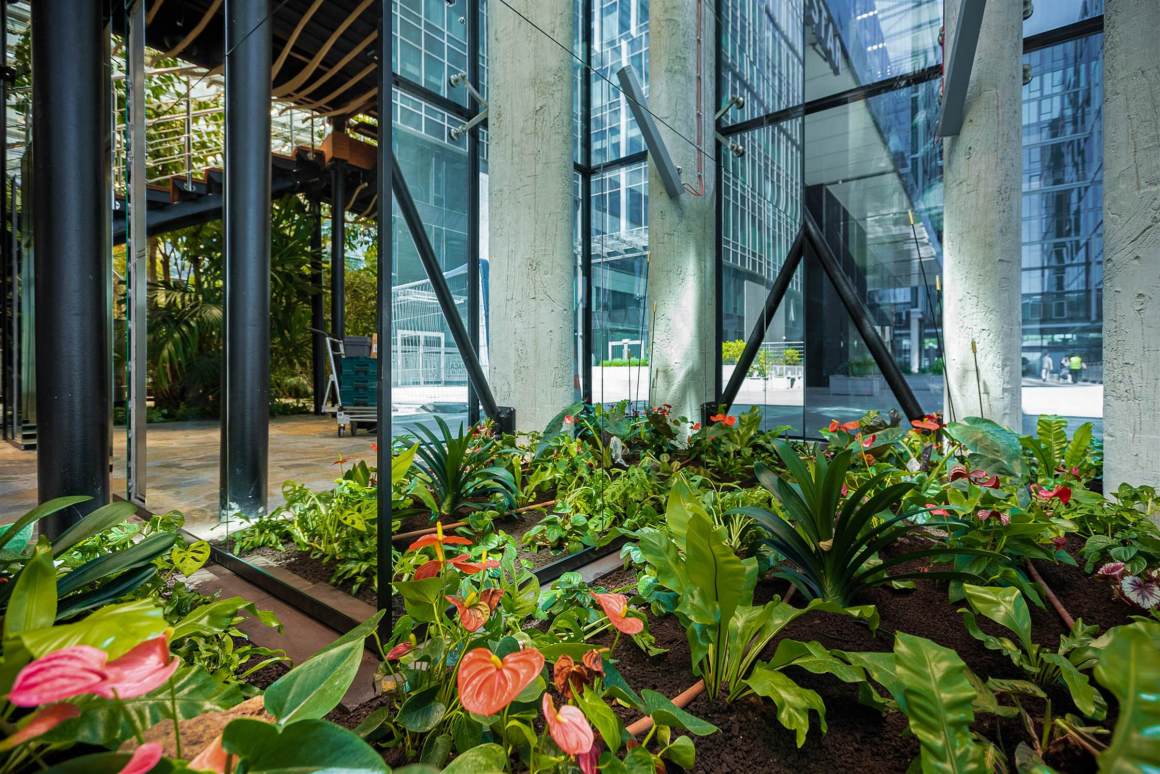 ▼细节 Details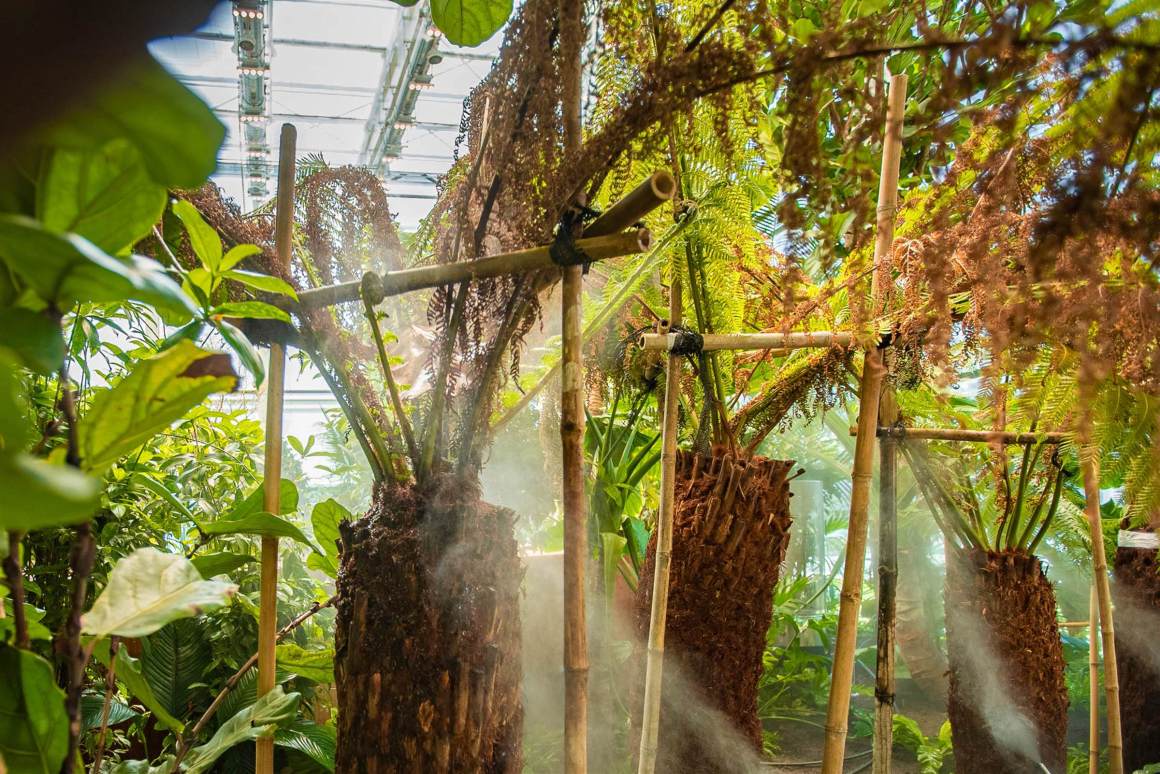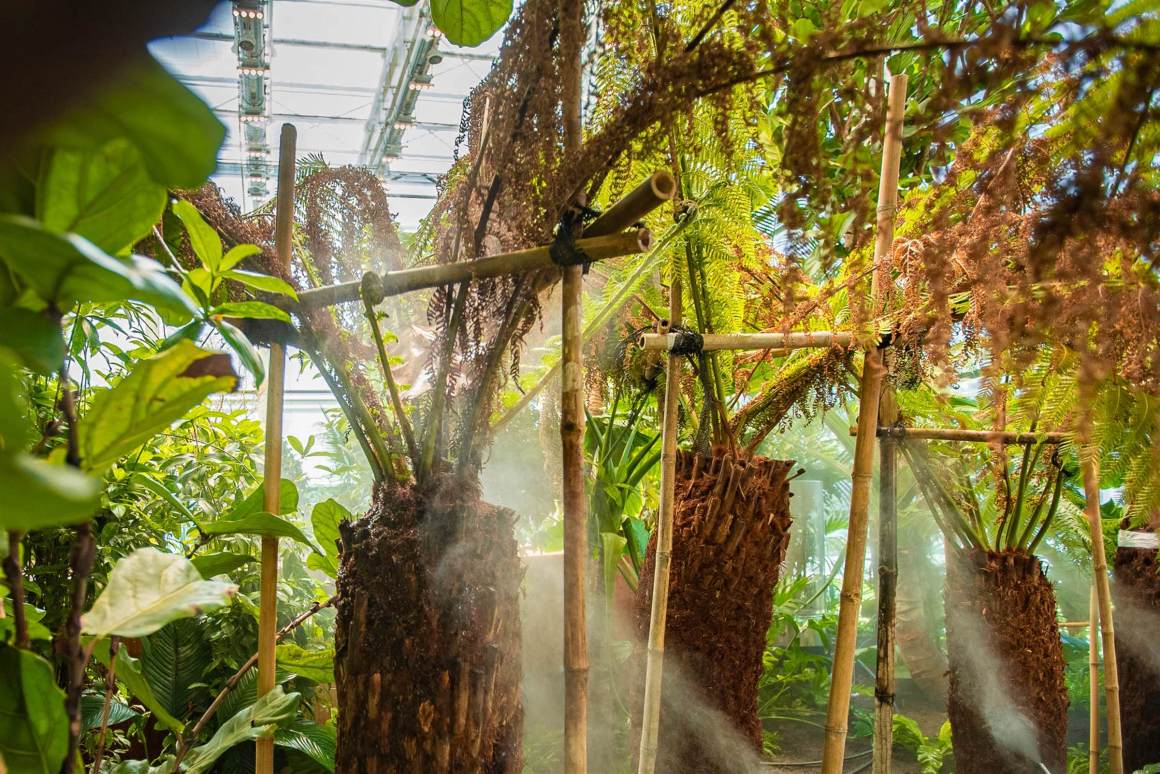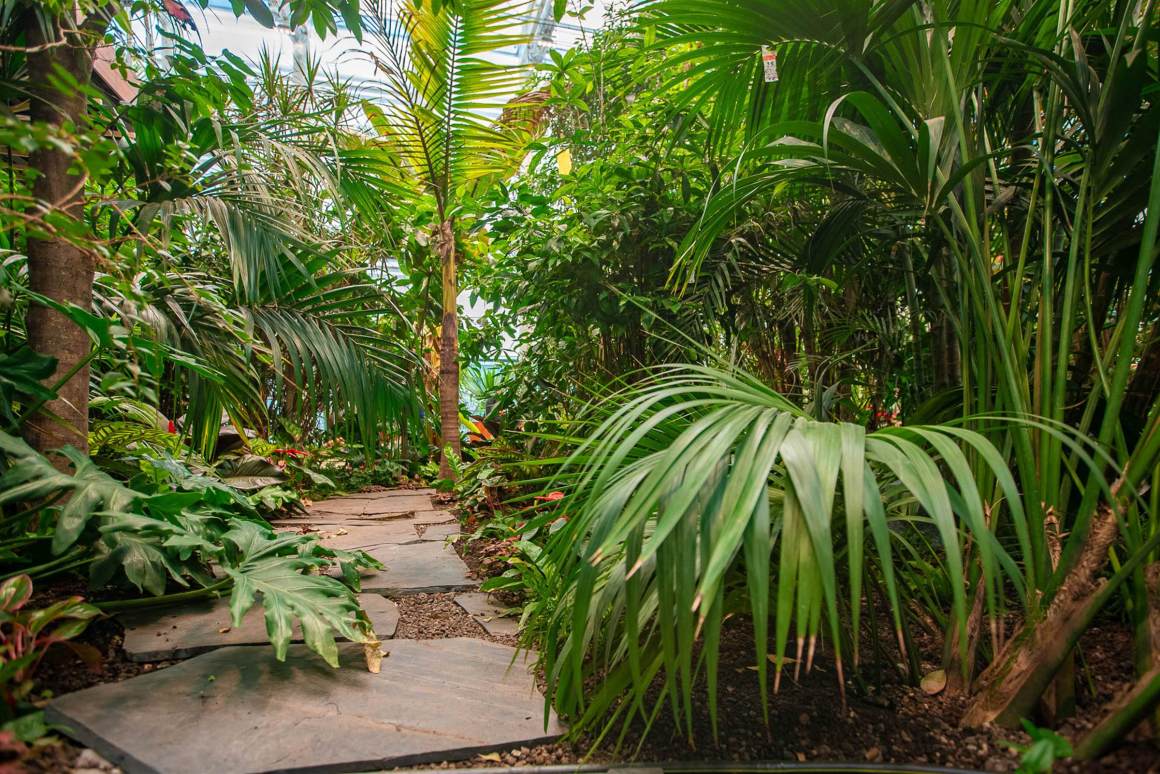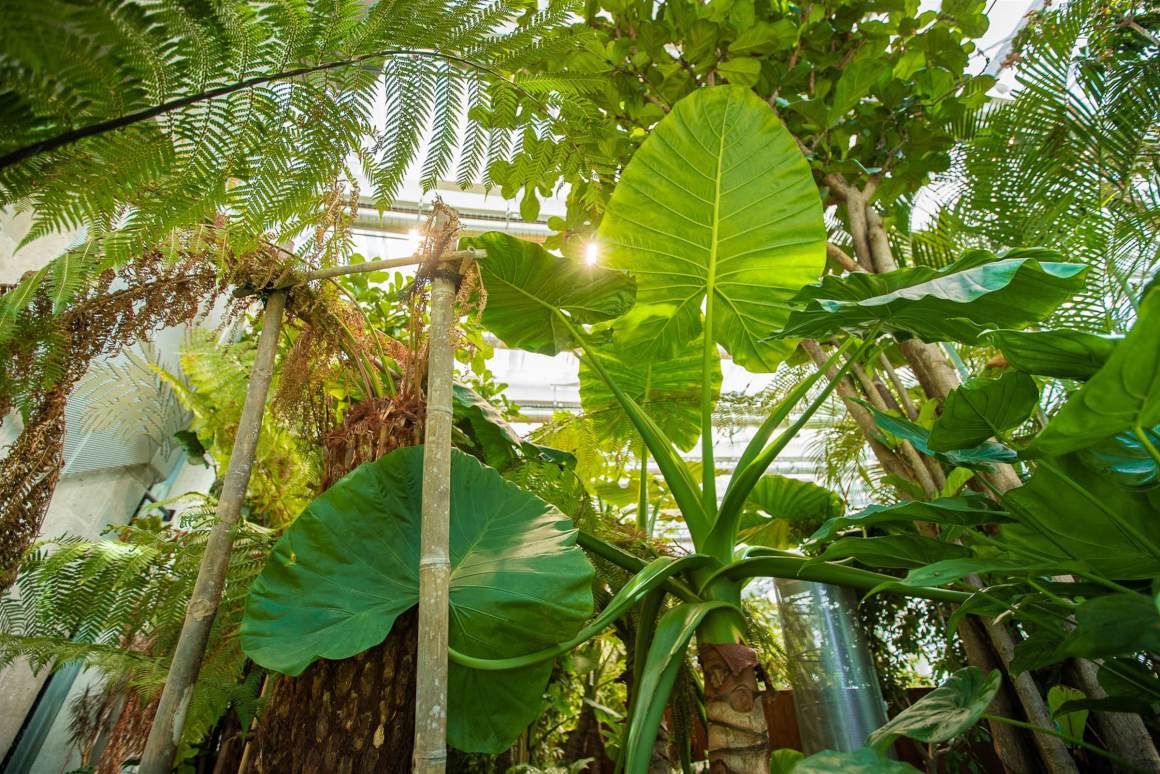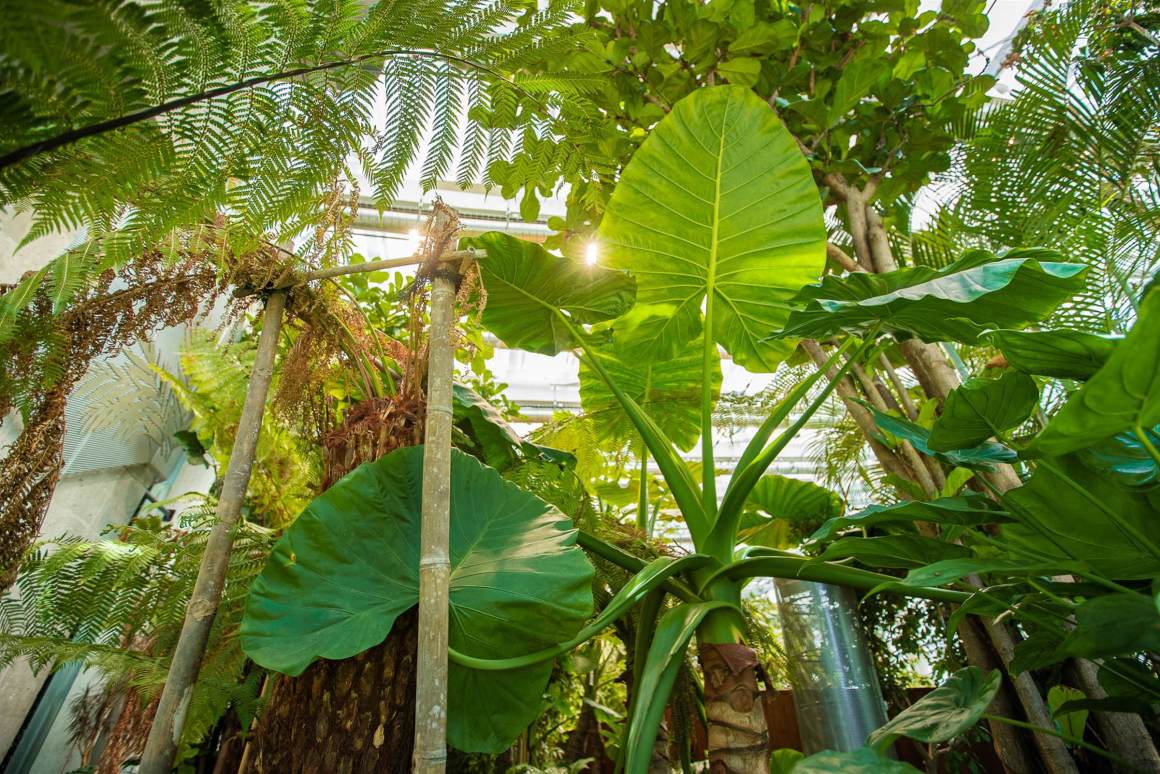 没有气候控制系统的花园对使用者来说是难以忍受的,而奥利维亚花园是一个典型的温室设施。据 Cundall 分析,如果没有气候控制系统,这里夏季温度可以达到 50 摄氏度以上;在冬季,建筑物则会由于高热惯性而迅速失温,湿度和阳光同此。单独通过加热或制冷并不能达到适宜人体的湿度,因此奥利维亚花园中使用的技术提供了独立控制这些参数的功能,其目标是创建一个时刻都能为用户提供服务的花园。气候控制系统由一台独立计算机管理控制,将夏季和冬季的温度维持在 22-25°C 之间,该系统包括许多设备,例如带有通风系统的加热和冷却装置、雾化装置、同化照明、带有营养液回收功能的植物灌溉和施肥系统、遮阳窗帘、侧窗自动开合装置。
A garden without a climate control system would be unbearable for users. Olivia Garden is a typical greenhouse  facility which according to an analysis carried out by Cundall, in summer periods, without climate control, can  reach temperatures of over 50 degrees Celsius. In winter, the building loses temperature quickly due to high thermal inertia. The same goes for humidity or sunlight. Heating or cooling alone is not enough to set the  humidity appropriate for people, so the technology used in Olivia Garden provides full control over these  parameters. The goal was to create a garden that will serve its users regardless of the time of day or year. The  climate control scenario ensures that the temperature in summer and winter is constantly fluctuating between 22-25 °C. The climatic conditions of the garden are controlled by a climate control system managed by a single  computer. Such a system includes many devices, such as a heating and cooling unit with a ventilation system, a  fogging installation, assimilation lighting, plant irrigation and fertilization system with a nutrient recovery  solution, shading curtains, a mechanism for opening side windows.
▼屋顶 The roof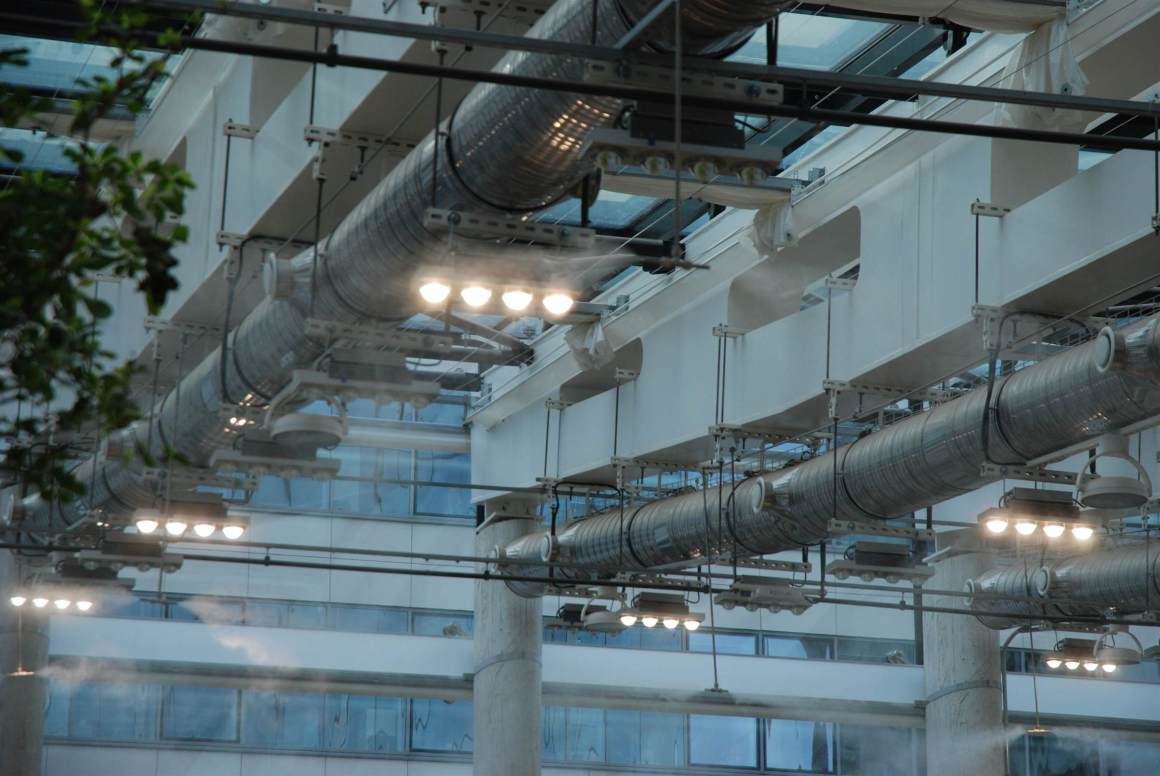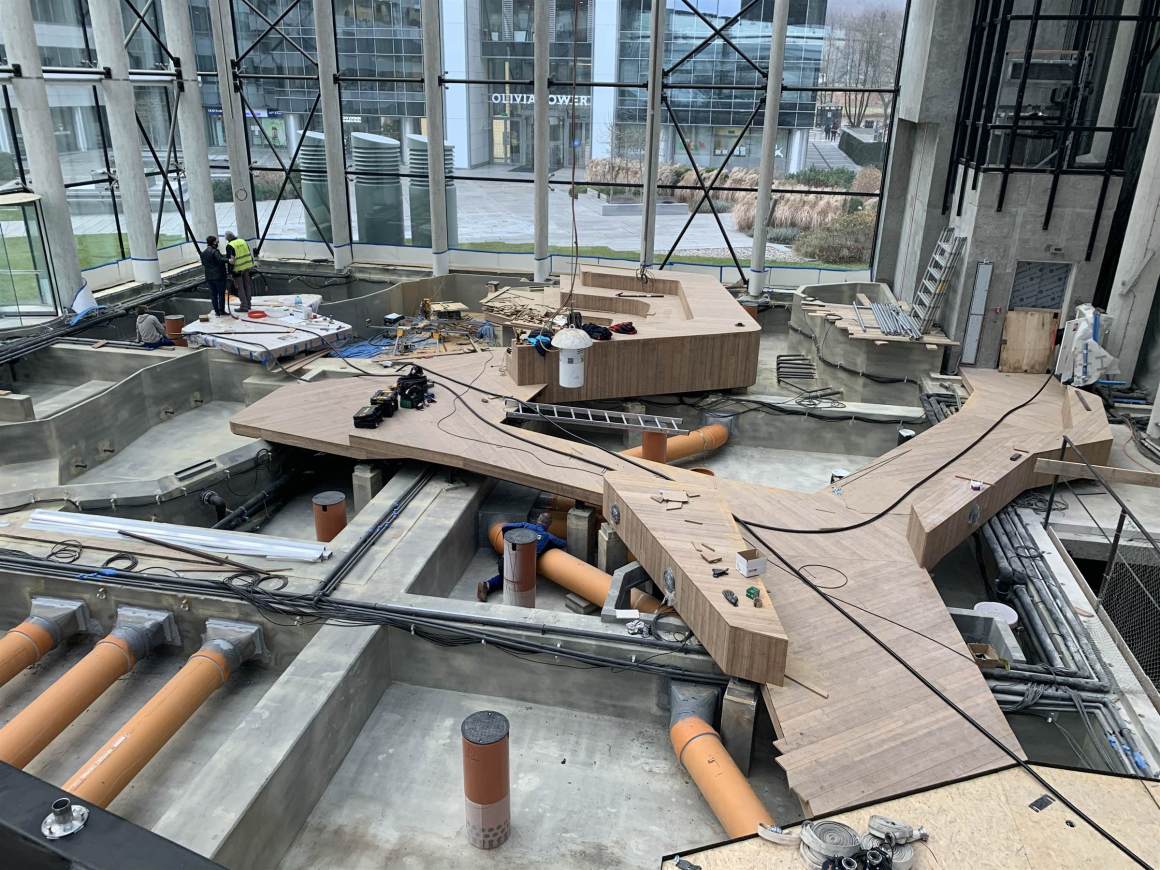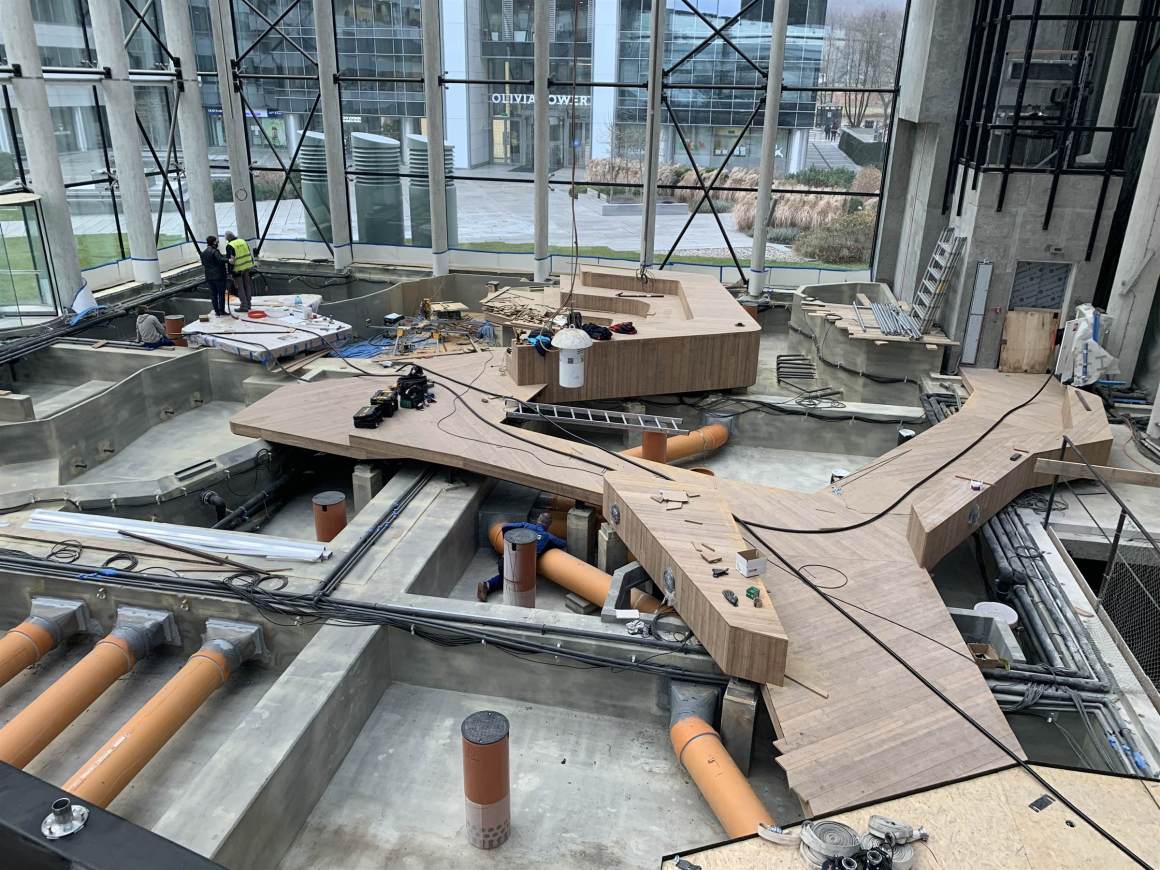 ▼功能分区图 Functional partition map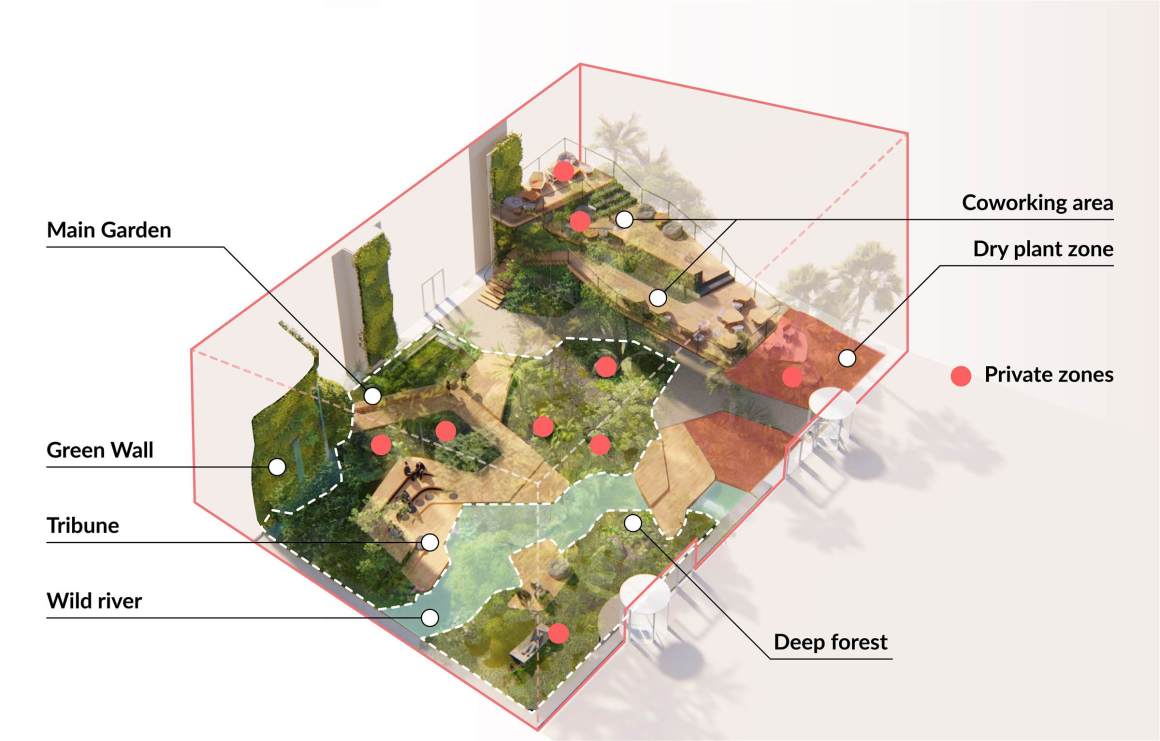 ▼不同楼层平面图 Plans of different floors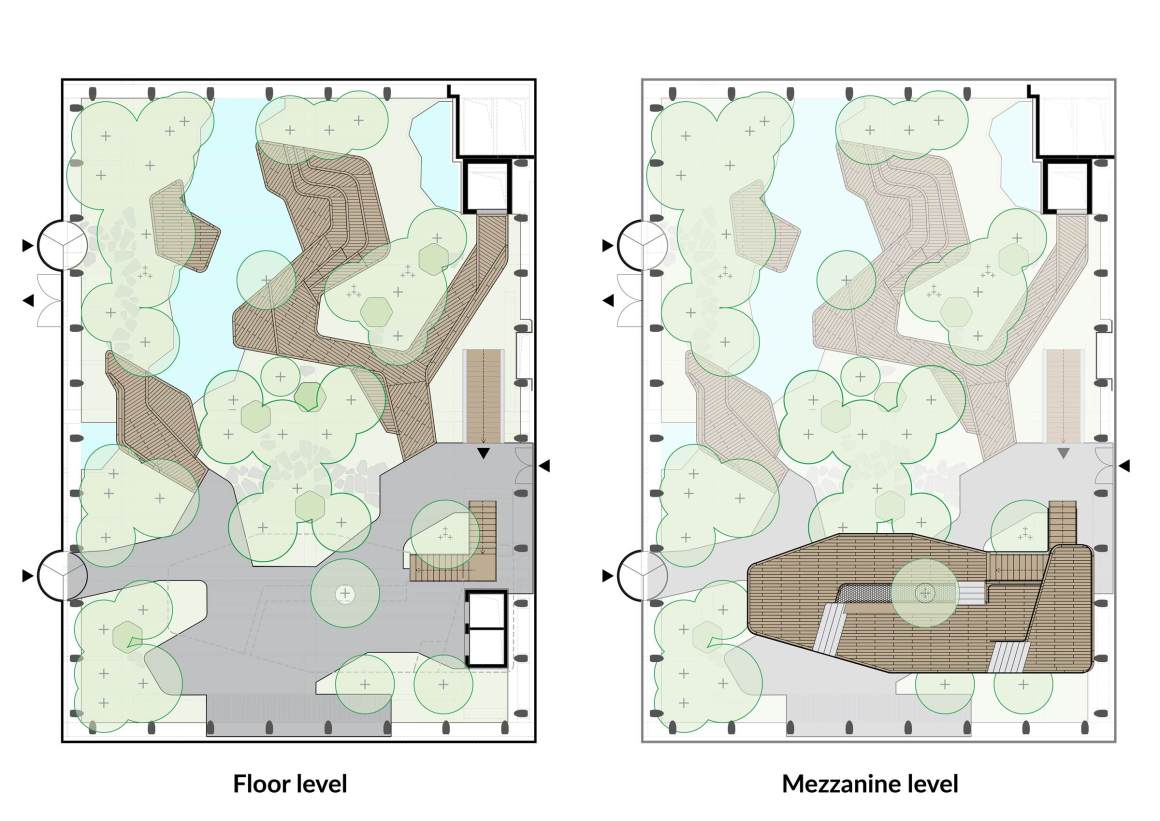 ▼剖面 Section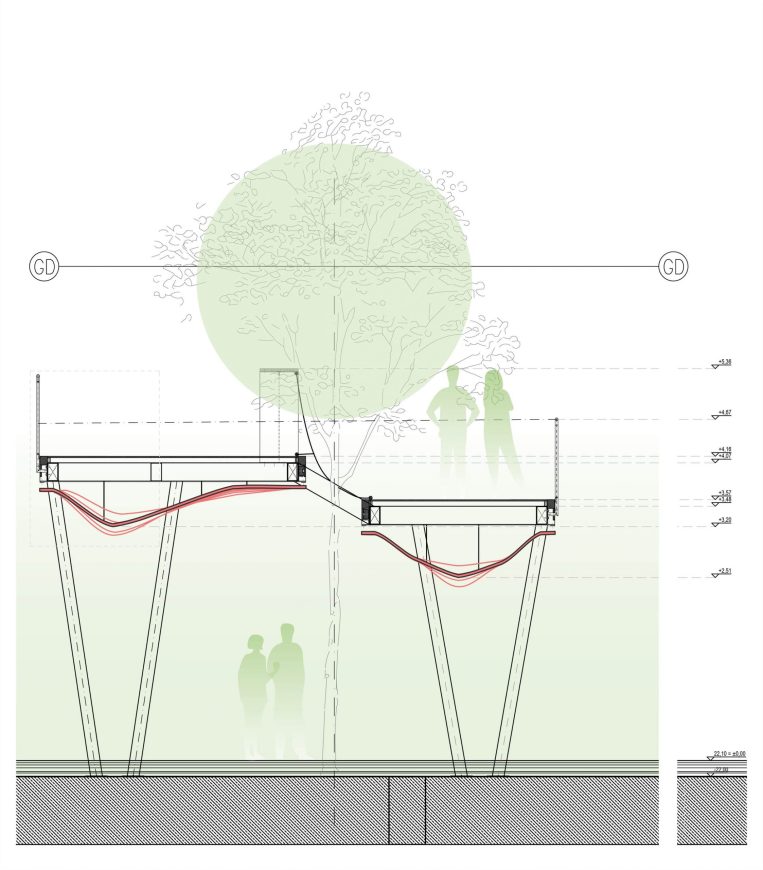 ▼夹层设计过程 Mezzanine design process

▼用于冷却和加湿的雾化系统 Foging system for cooling and humidifying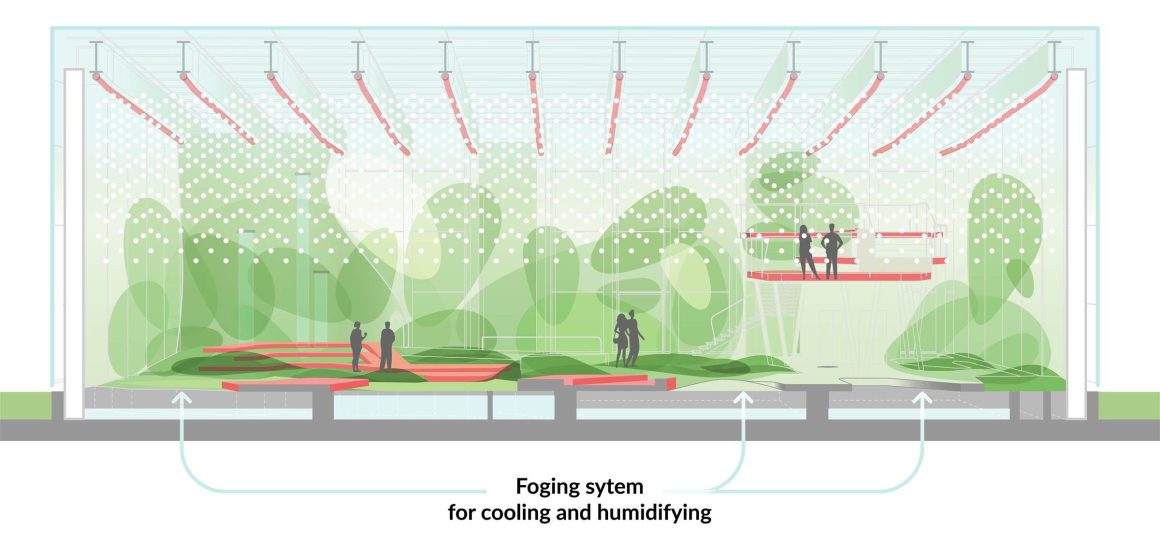 ▼用于空气流通和通风的气候控制系统 Climate control air circulation and ventilation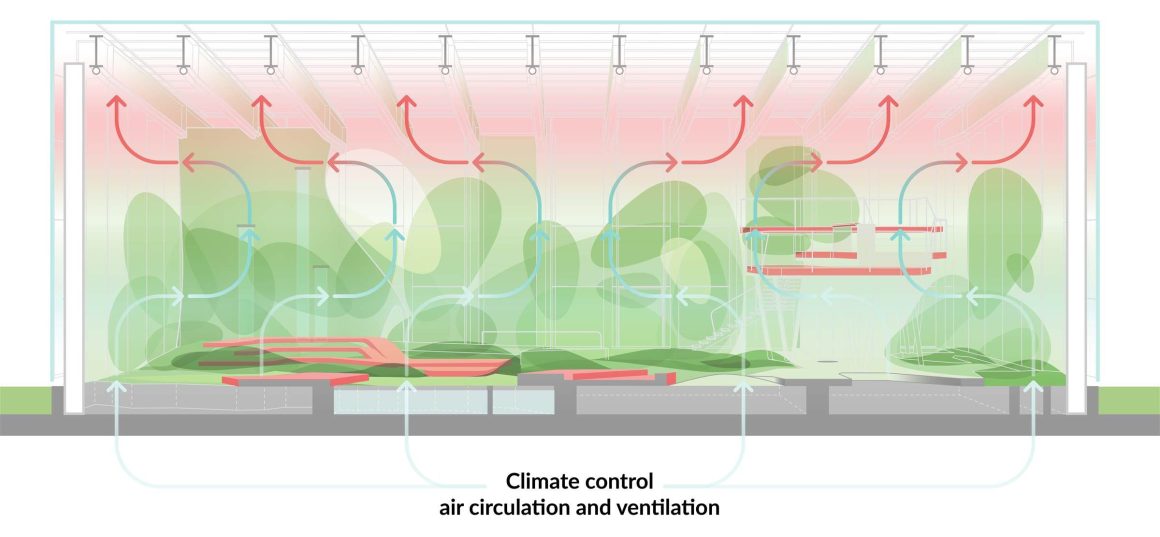 ▼用于遮阳和节能的窗帘系统 Curtain system for shade and energy savings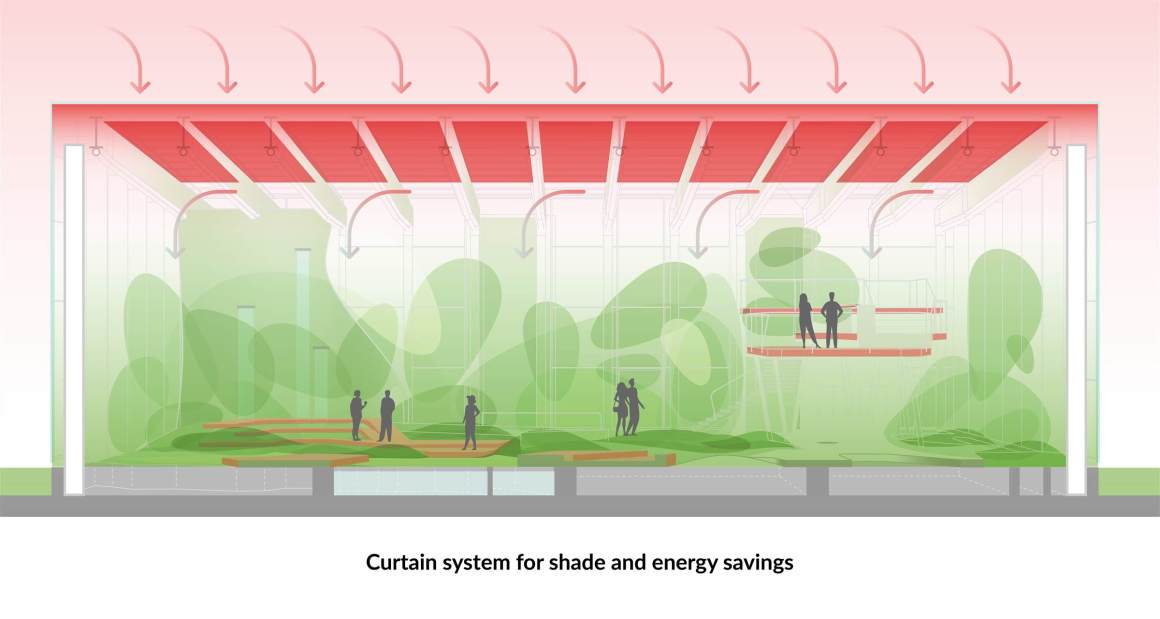 ▼气候管理系统 Climate managment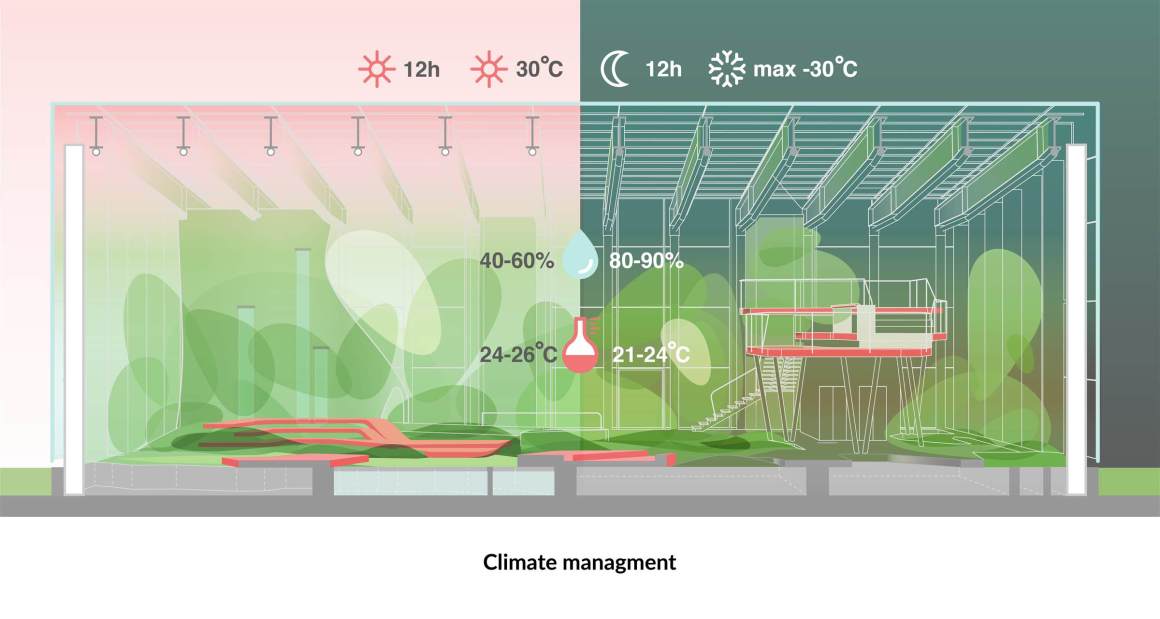 ▼同化照明 Assimilation lighting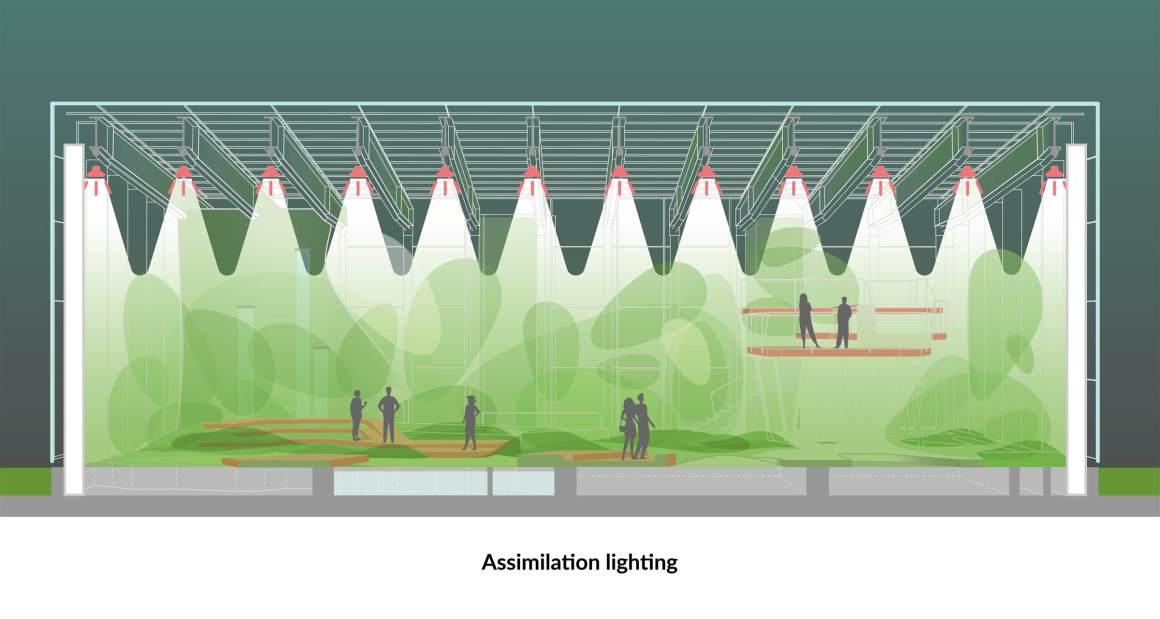 项目名称:奥利维亚花园,异国情调的办公花园
完成年份:2021年
面积:800平方米
项目地点:波兰 格但斯克
景观公司:Malinowski Design Urban & Landscape
网站:www.malinowskidesign.pl
联系邮箱:malinowski@malinowskidesign.pl
首席建筑师:Dariusz Malinowski
设计团队:Daniel Konopka, Beniamin Straszewski, Tomasz Kurtek, Jakub Wozny
客户:Olivia Business Centre
合作方:Tomasz Janiszewski, Tomasz Pogorzelec, Jakub Kordas, Joanna Bogdanowicz, Tomasz Klimek, Patryk Walentynski
图片来源:Bartlomiej Chęciński
Project name: OLIVIA GARDEN FIRST  EXOTIC WORKPLACE GARDEN
Completion Year: 2021
Size:800 sqm
Project location: Gdańsk Poland
Landscape/Architecture Firm: Malinowski Design Urban & Landscape
Website: www.malinowskidesign.pl
Contact e-mail: malinowski@malinowskidesign.pl
Lead Architects: Dariusz Malinowski
Design Team: Daniel Konopka, Beniamin Straszewski, Tomasz Kurtek, Jakub Wozny,
Clients: Olivia Business Centre
Collaborators:Tomasz Janiszewski, Tomasz Pogorzelec, Jakub Kordas, Joanna Bogdanowicz, Tomasz Klimek, Patryk Walentynski
Photo credits:Bartlomiej Chęciński
---
" 欧洲第一个异国情调的办公区花园,位于商业区核心的热带生态系统。"
审稿编辑:gentlebeats
更多 Read more about:Malinowski Design Urban & Landscape