本文由 佰筑建筑 授权mooool发表,欢迎转发,禁止以mooool编辑版本转载。
Thanks 100 Architects for authorizing the publication of the project on mooool, Text description provided by 100 Architects.
佰筑建筑: 奥林匹亚巡展是一个有趣的装置,灵感来自运动,用于激活不同的公共空间。 在"快装快用"战略的推动下,打算在中国的几个城市巡回展出。
100architects: Olympia on Tour is a playful installation inspired by sports for the activation of different public spaces. Driven by a "plug & play" strategy, it is intended to be itinerant throughout several cities in China.
▼项目视频 Video

奥林匹亚巡展已于 2021 年秋季首先在宁波市亮相,明年初将转移到杭州,其他几个城市也在筹备中。
It has been installed first in the city of Ningbo, in the fall of 2021, and early next year will be moving to Hangzhou, with several other cities in the pipeline.
▼项目鸟瞰 Project bird's eye view
▼轴测图 Axonometric drawing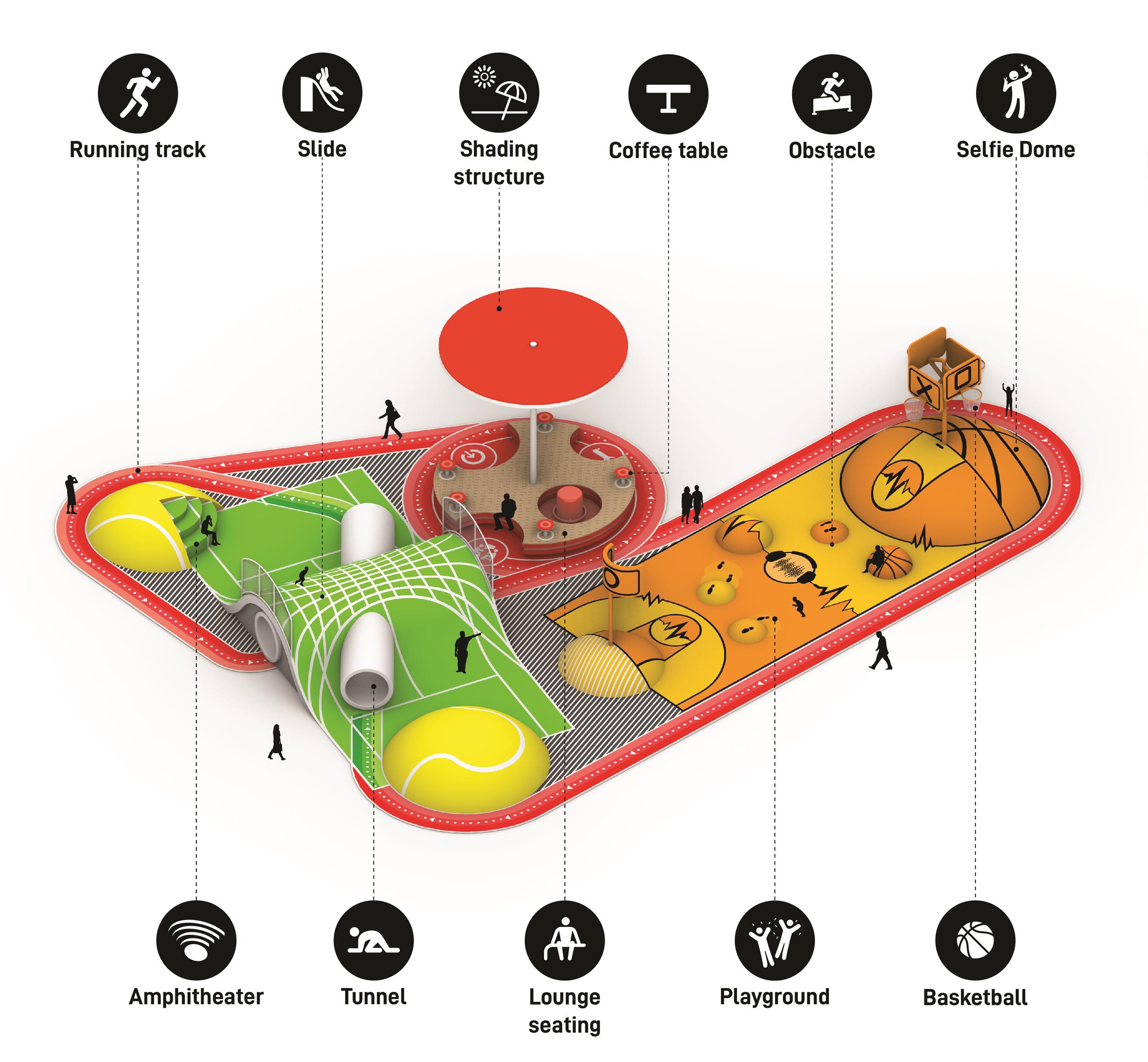 奥林匹亚巡展是由佰筑研发的 "即插即用" 流动系列装置的一部分,旨在促进儿童的体育活动,旨在通过一个装置在不同城市的呈现,将临时步行街和广场变成夺人眼球和令人兴奋的弹出式娱乐热点,以此来激活和改善众多公共空间以及公民在公共领域的体验。
It is part of a series of itinerant "plug & play" installations developed by 100architects to promote physical activity among kids, aiming to activate and improve numerous public spaces as well as the experience of citizens in the public realm with just a single installation which can be enjoyed in several cities, turning temporarily pedestrian streets and plazas into eye-catching and exciting pop-up hotspots of fun and entertainment.
▼"即插即用" 流动系列装置 "Plug and Play" mobile series device
该项目由篮球和网球2个超现实运动场组成,用户不能严格地、正式地进行这些运动,但可以将自己沉浸在超现实主题的游戏环境中。
The project is composed by 2 surreal sport fields, Basketball & Tennis, in which users cannot strictly and officially play those sports, but instead they can immerse themselves into a surreal themed play environment.
▼由篮球和网球2个超现实运动场组成 Composed of 2 surreal sports courts of basketball and tennis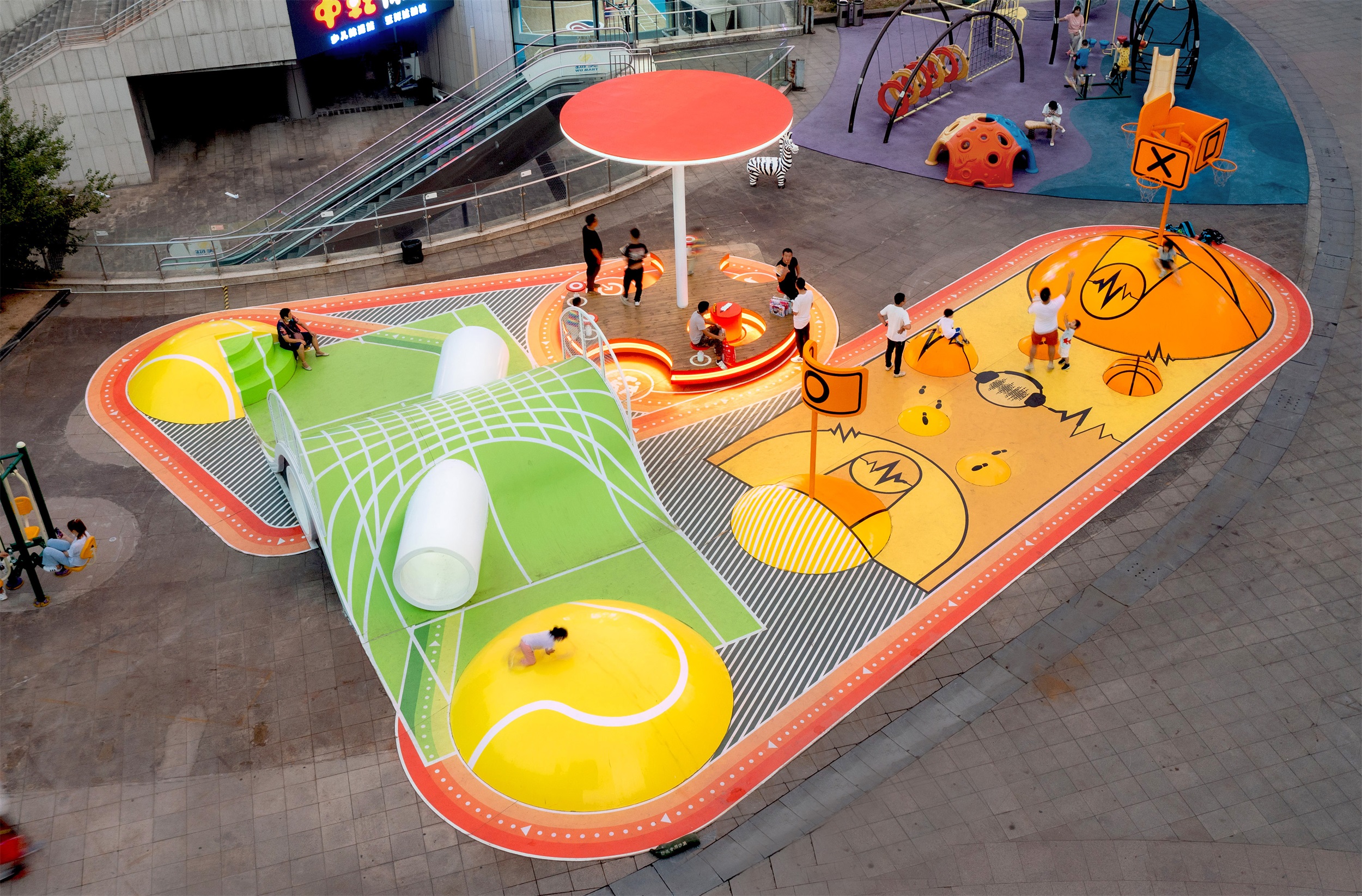 将运动理解为一种体育娱乐,或在闲暇时间进行的任何形式的体育活动,以休闲和娱乐为目的,而不是仅为运动员提供高性能体育设施,相信通过在公共空间设计超越典型体育设施的空间规范地娱乐设施,我们可以在更广泛的社会群体中培养更健康的生活方式。
Understanding sports as a physical recreation, or any form of physical activity undertaken in leisure time for the sake of pleasure & entertainment, rather than high-performance sport facilities for only athletes, we believe that through recreational amenities in the Public Realm that go beyond the spatial norms of typical sport facilities, we can foster healthier lifestyles in a wider range of social groups.
▼超越典型体育运动的娱乐设施 Recreational facilities beyond typical sports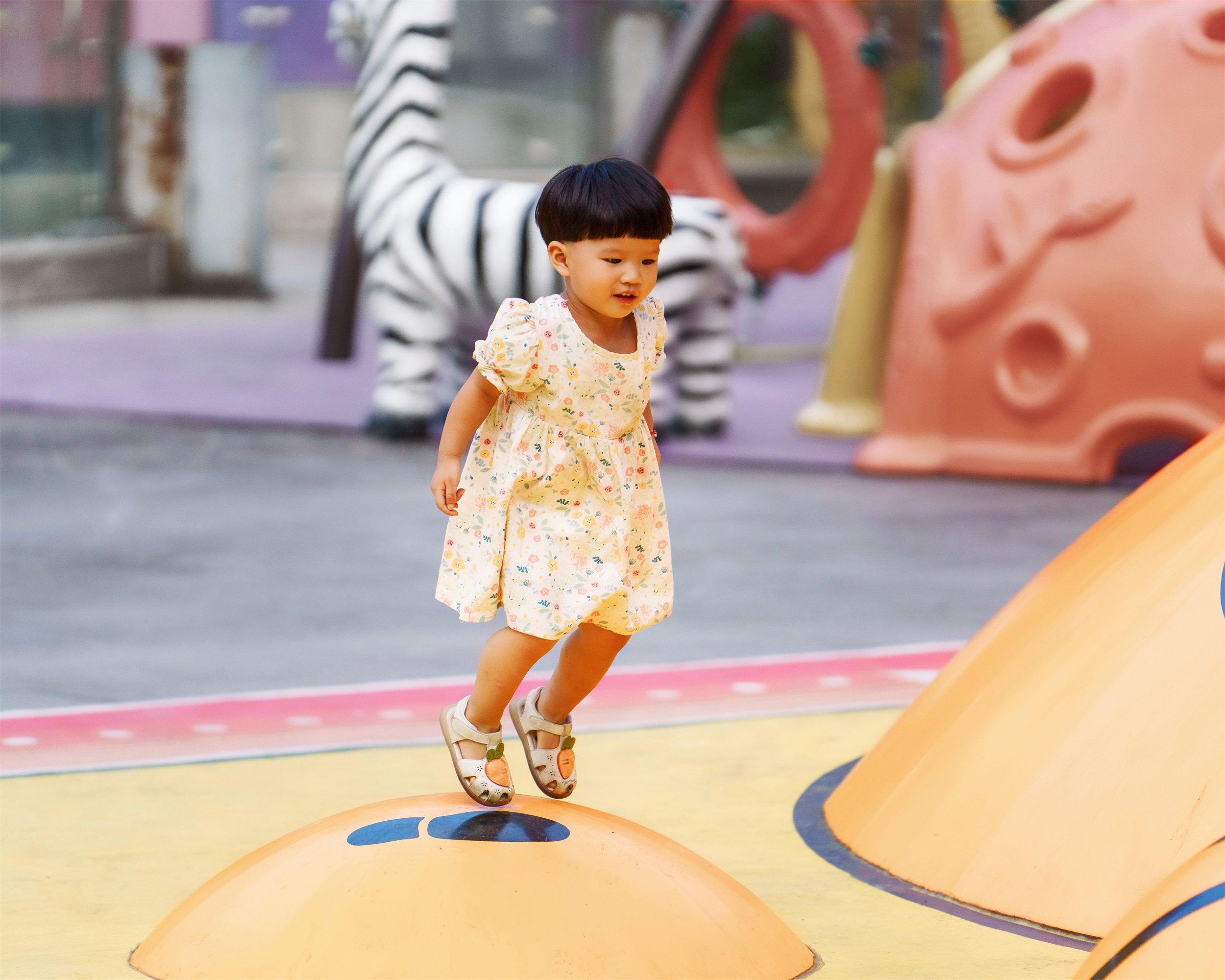 ▼以休闲和娱乐为目的,而不是仅为运动员提供高性能体育设施 For leisure and entertainment purposes, not just to provide high-performance sports facilities for athletes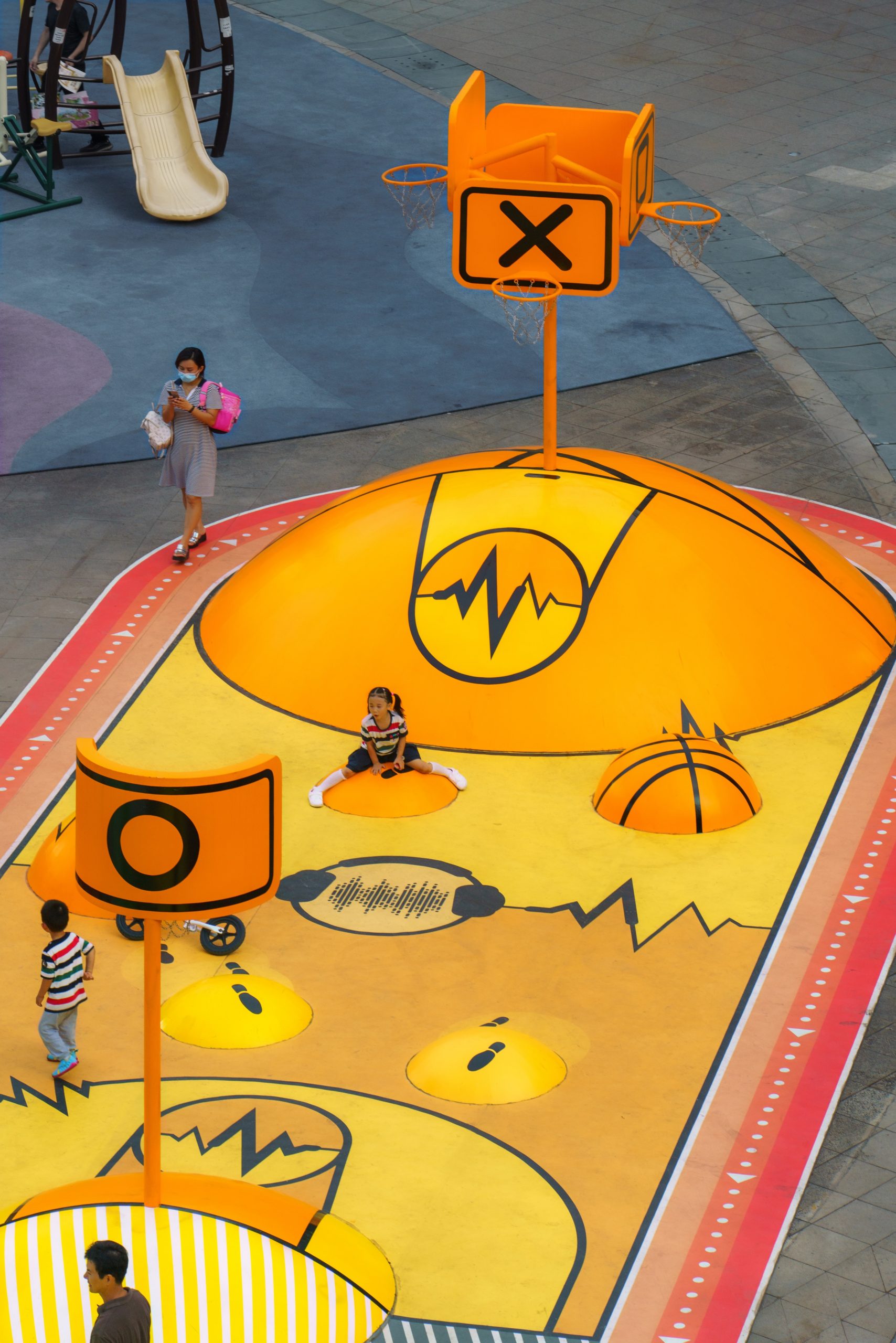 ▼鲜亮的橙黄色篮球场 Bright orange yellow basketball court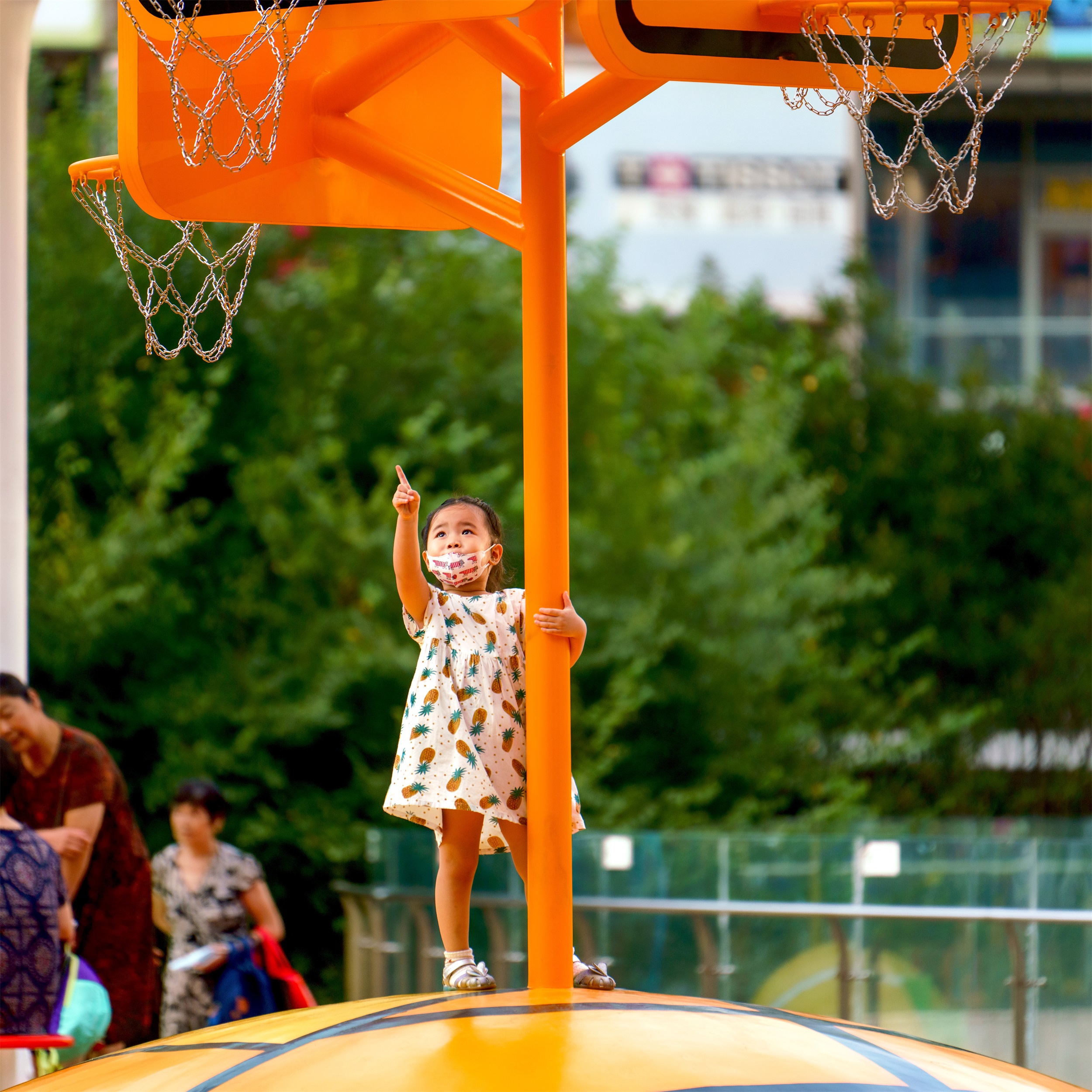 ▼高低错落的篮板 Staggered rebounds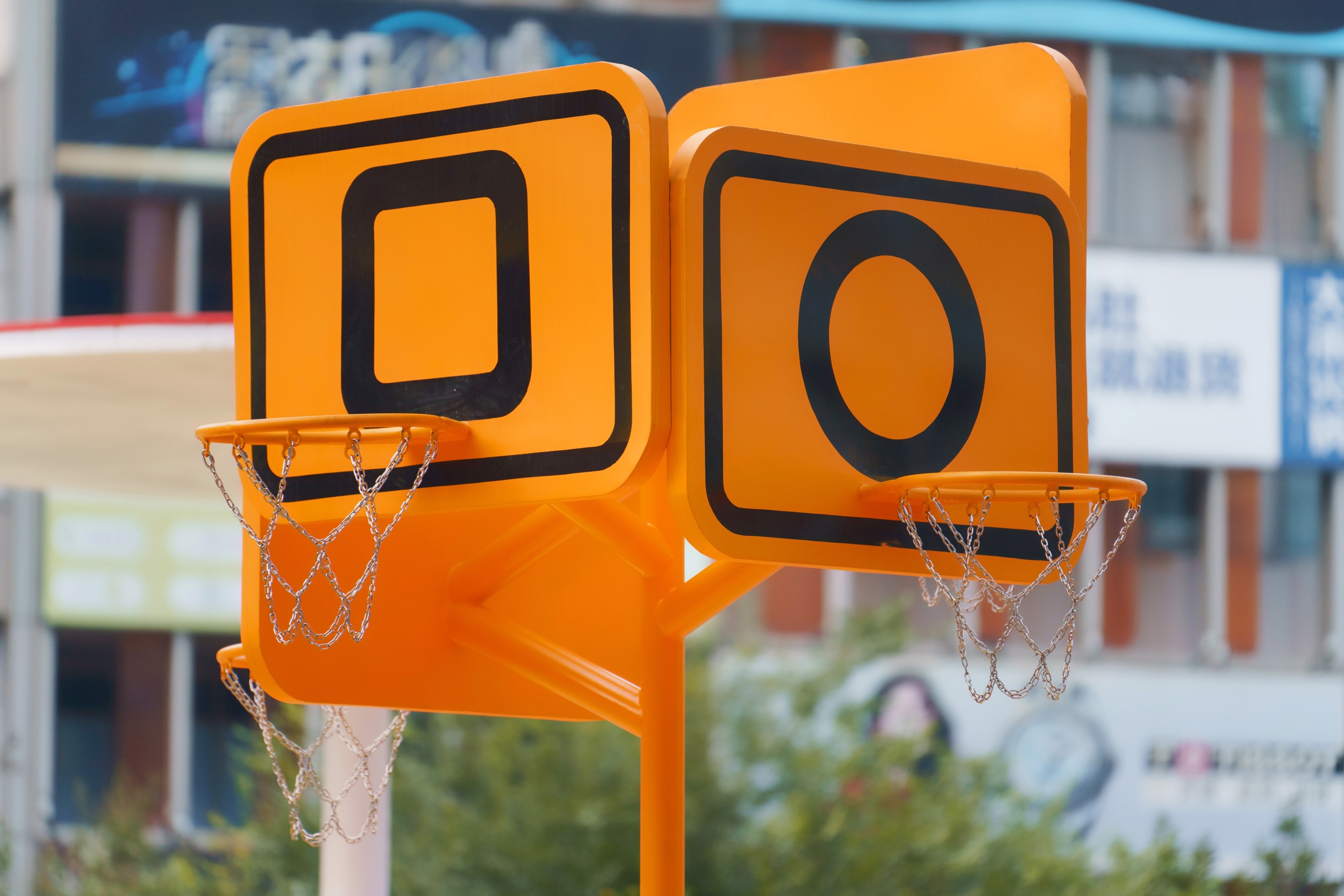 ▼以起伏地形设计超越现实的网球场设计 Design a tennis court that surpasses reality with undulating terrain
▼增添丰富的娱乐活动 Add rich entertainment
这些超现实的运动场通过跑道连接在一起,为孩子们提供玩耍的机会,以及通过在创新的"咬合"木板上提供休息的机会,成为公共家具以及成人和其他社会团体的聚会点,通过装置促进社交互动。
Those surreal sport fields are linked together by a running track, providing play opportunities for kids, as well as resting opportunities on an innovative "bitten" wooden deck which acts as public furniture and meeting point for adults and other social groups, fostering social interactions within the installation.
▼在创新的"咬合"木板上提供休息空间 Provide resting space on innovative "occlusal" planks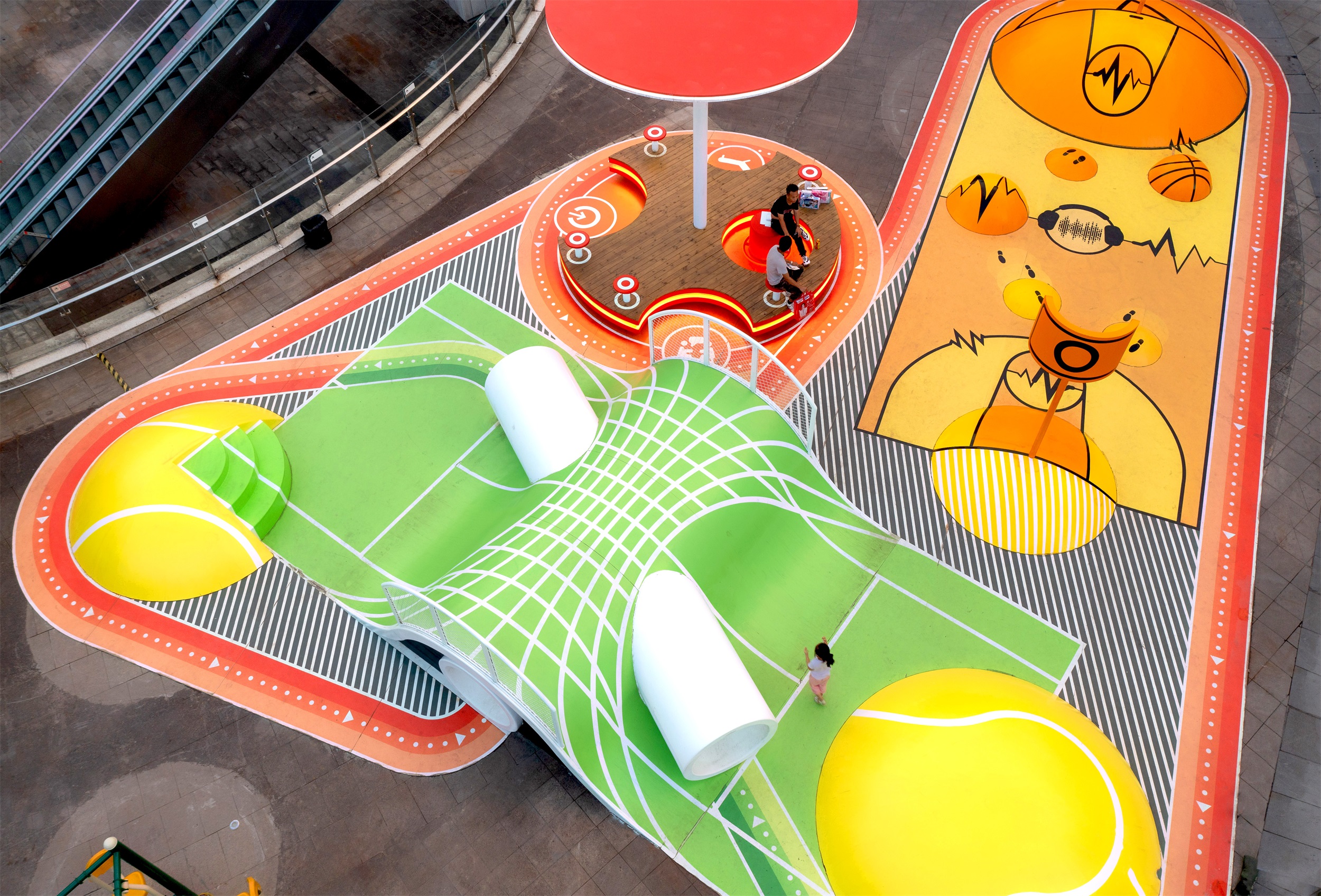 ▼成为公共家具以及成人和其他社会团体的聚会点 Become a public furniture and meeting point for adults and other social groups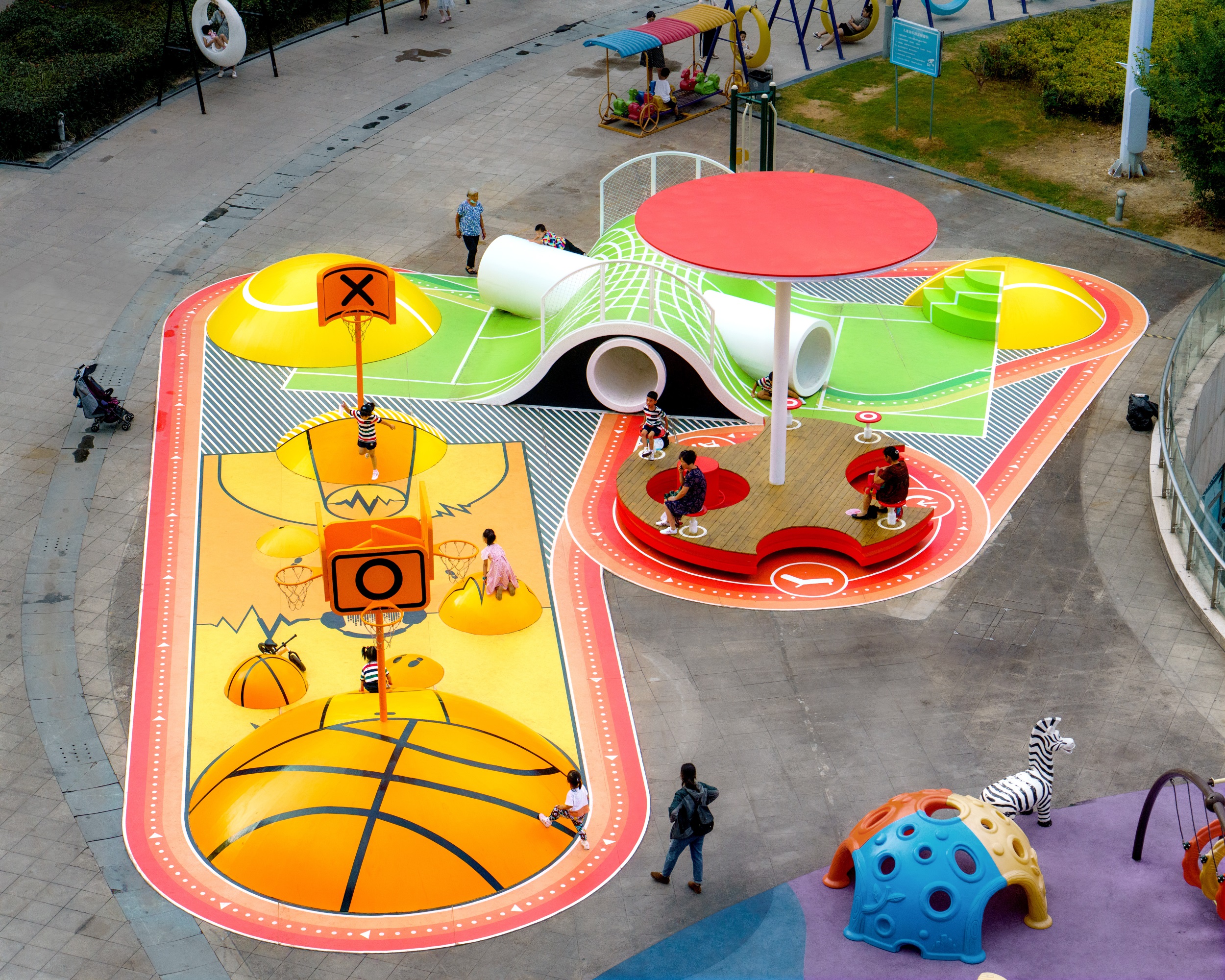 项目名称:奥林匹亚巡展
设计:佰筑建筑设计咨询(上海)有限公司
设计团队:Marcial Jesús、Javier González、Mónica Páez、Lara Broglio、Ponyo Zhao、Keith Gong、Cosima Jiang、Hayley Huang、Michelle Aldora、Jango Zhang 和 Yuntong Liu。
项目管理团队:范江涛,吕强,江清霞
制作:宏仰广告
客户:银泰地产
面积:250 平方米
状态:已建成
地点:宁波(中国)
摄影师:邹及人
视频摄影师:邹及人
PROJECT NAME: Olympia on Tour
DESIGN: 100 Architects (Shanghai) Co., Ltd.
DESIGN TEAM: Marcial Jesús, Javier González, Mónica Páez, Lara Broglio, Ponyo Zhao, Keith Gong, Cosima Jiang, Hayley Huang, Michelle Aldora, Jango Zhang & Yuntong Liu.
PROJECT MANAGEMENT TEAM: Jenny Fan, Nicholas Lv & Eva Jiang.
PRODUCTION: Hong Yang Advertising
CLIENT: Yintai Properties
SIZE: 250 m2
STATUS: Built
LOCATION: Ningbo (China)
PHOTOGRAPHY: Rex Zou
VIDEOGRAPHY: Rex Zou
---
" 以"即插即用" 流动系列装置,来激活和改善众多公共空间以及公民在公共领域的体验。"
审稿编辑 王琪 –  Maggie
更多 Read more about:100architects