ENOTA:  Orhidelia保健设施是Enota在Terme Olimia水疗中心设计的系列中的第三个项目,满足了由于水疗中心的增长对新项目和领域的需求。当这个地区快要完全建成的时,对一个新的大型健康设施的需求就产生了。而剩下的唯一空闲空间是Terme Olimia市中心的一个草坪区域,周围有无障碍通道和人行道。在中心绿地中放置一个经典设计的建筑将会填满spa综合体最后的未建区域,并显著影响空间质量。因此,该建筑设计的主要指导方针是尽可能与环境融合。
ENOTA:  The Orhidelia wellness facility is the third project in the series designed by Enota in Terme Olimia spa complex during the last few years, meeting the demand for new programmes and areas due to the growth of the spa. The need for a new, large wellness facility arose when the area was already almost completely built. The only remaining free space was a lawn area enclosed by access roads and footpaths in the very centre of Terme Olimia. Placing a classically designed building in the central green space would have filled the last remaining unbuilt area of the spa complex and significantly affected the quality of the space. The key guideline of the building's design was therefore for its presence to blend with the environment as much as possible.
新健康综合体的设计更多的是作为景观干预而不是建筑。结构的折叠立面起到承重墙体的作用,分隔了设计的绿化区域的多层次布局。由于健康综合体的设计并不是传统意义上的建筑,所以空间的布局并不局限于道路内部的区域,这最初是为了发展,但最后扩展到整个可用区域。中央步道现在蜿蜒穿过建筑的屋顶,给使用者一个全新的空间体验。在道路的两端,道路连接了交通,形成了两个小广场,它的出现减缓了交通速度,并为行人提供了通行权。
The new wellness complex is thus designed more as a landscape intervention than a building. The folded facades of the structure function as bearing walls that separate the multi-level arrangement of the designed greened areas. Since the wellness complex is not designed as a building in the classical sense, the layout of the space was not limited to the area inside the roads, which was initially intended for development, but extended over the entire available area. The central footpath now meanders across the roof of the building and allows the users a completely new, alternative experience of the space. On either end, the path joins the traffic connections and forms two small squares, the presence of which slows down the traffic and yields the right-of-way to the pedestrians.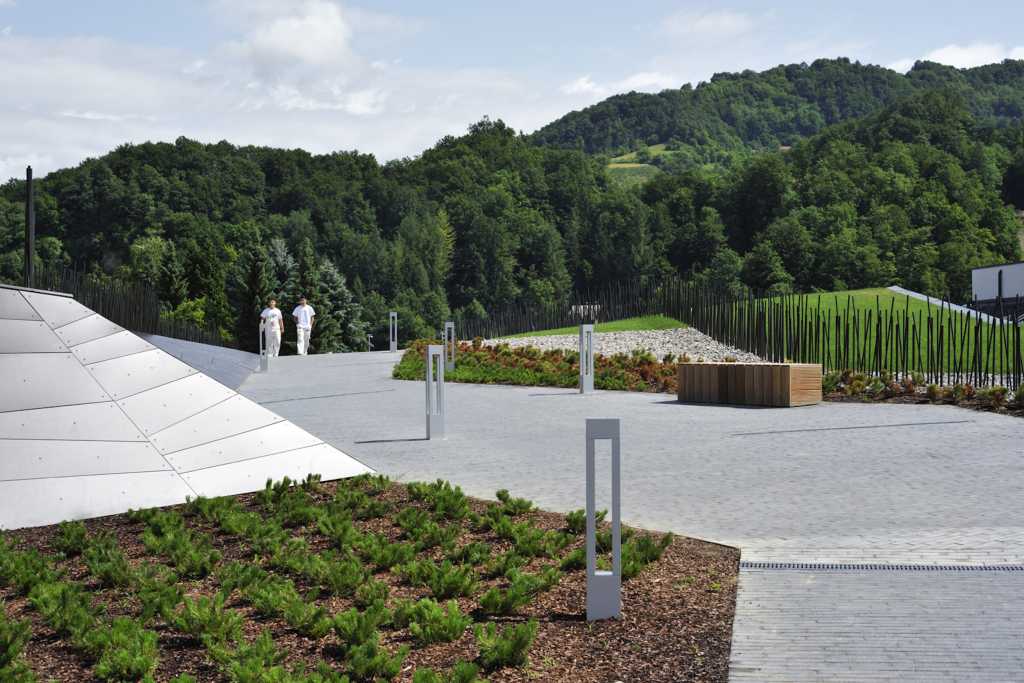 新建筑不是寻找它的表达方式并建立它的空间,而是将独立的现有建筑和外部布局元素连接成一个逻辑整体。
Rather than search for its expression and establish its space, the new building instead connects the individual existing buildings and exterior layout elements into a logical whole.
项目名称: Wellness Orhidelia
年份: 2007年
状态: 2009年完成
面积: 9990平方米
预算: 13,000,000欧元
客户: Terme Olimia
地点: 斯洛文尼亚波德契特特克
建筑: ENOTA
项目团队: Dean Lah, Milan Tomac, Maruša Zupančič, Nuša Završnik, Zana Starovič, Anna Kravcova, Polona Ruparčič, Marko Volf, Sabina Sakelšek, Esta Matkovič, Darja Zubac, Dean Jukić, Tjaša Marinšek, Nebojša Vertovšek
景观: Bruto
结构工程:Elea iC
机械服务:Nom biro
电气规划: Forte inženiring
水池技术: Darrtech
照片: Miran Kambič
奖项:
2009年金铅笔奖
2009年世界建筑节大奖入围
2010年合同世界新一代奖入围
2010年40 under 40 Award
国际奥委会/国际田联2011年银牌奖
2012年Pool Vision,Spa类别第三名
2009 – 2017年度最佳Wellness
project name: Wellness Orhidelia
year: 2007
status: completed 2009
size: 9990 m2
budget: 13.000.000 EUR
client: Terme Olimia
location: Podčetrtek, Slovenia
architecture: ENOTA
project team: Dean Lah, Milan Tomac, Maruša Zupančič, Nuša Završnik, Zana Starovič, Anna Kravcova, Polona Ruparčič, Marko Volf, Sabina Sakelšek, Esta Matkovič, Darja Zubac, Dean Jukić, Tjaša Marinšek, Nebojša Vertovšek
landscape architecture: Bruto
structural engineering: Elea iC
mechanical services: Nom biro
electrical planning: Forte inženiring
pool technology: Darrtech
photo: Miran Kambič
Award:
Golden Pencil 2009
World Architecture Festival Award 2009 shortlisted
Contractworld New Generation Award 2010 shortlisted
40 under 40 Award 2010
IOC/IAKS Award 2011 Silver Medal
Pool Vision 2012, Spa Category 3rd place
Best Wellness of the Year 2009-2017
更多 Read more about: ENOTA