PLAN:B: 这个项目是从六边形的几何形状发展而来的,它给地面植物的生长提供了灵活的空间。组装由七个六边形组成的模块,我们可以定义出一种空间、结构和生物气候的相关模式,既避免接触到现有的树木,又能够控制在有限的预算之内。
PLAN:B:  This project rises from a hexagonal geometry that allows for growth and flexibility in the floor plant. Assembling modules of seven hexagons, we can define a spatial, structural and bioclimatic pattern, both to avoid touching the already existing trees and to adapt to a limited budget.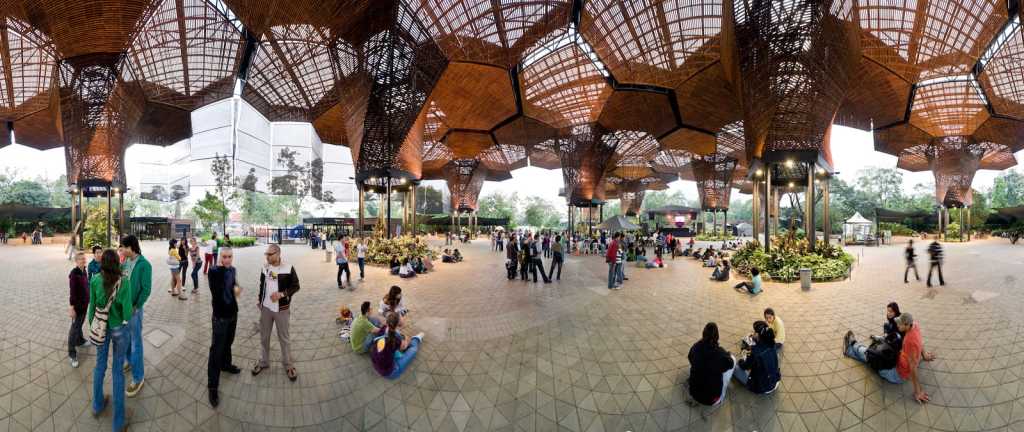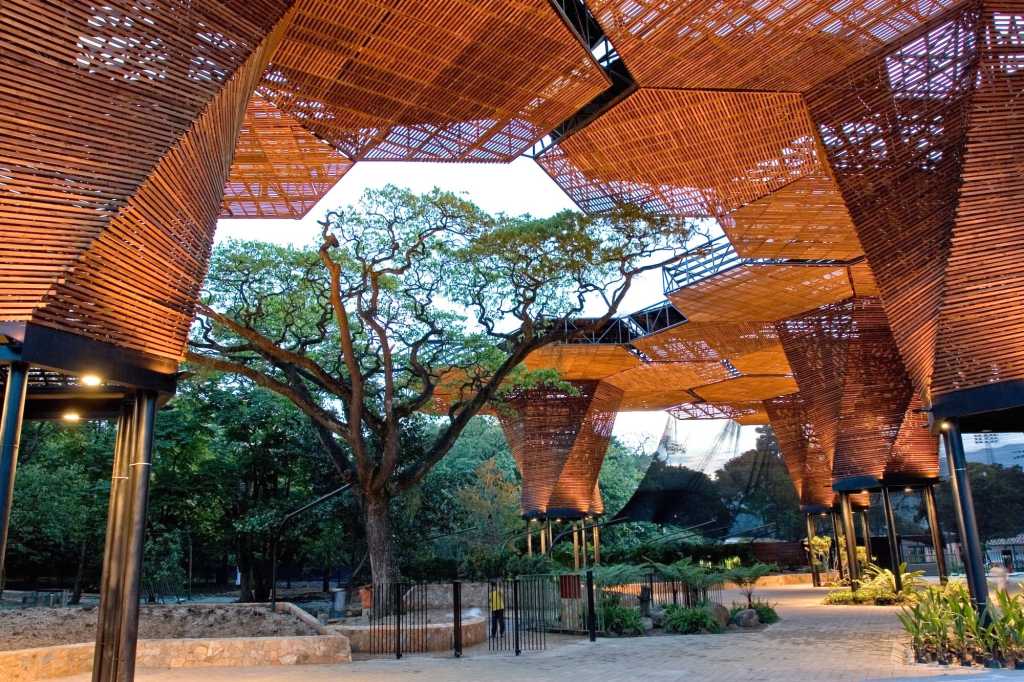 这个图案有一个中心六边形,像一个中空的树干,技术网络(结构、电气和水收集)、有机网络、热空气出口以及内部花园的雨水和湿度通道都集中在这里。这些树干可以看作是汇聚的涡流,木质的几何形状通过双曲抛物面表现出了集中的扭力,设计师试图将有机力和结构力结合起来。
This pattern or module has a central hexagon that functions like a hollow trunk in which the technical network (structural, electrical, and water collection), the organic network, a hot air exit, and an access to rain and humidity for the internal gardens, concentrate. These trunks were understood as converging vortexes, and therefore the geometry of the wood lining displays a concentrated torsion force through a hyperbolic paraboloid. We tried to combine organic and structural forces.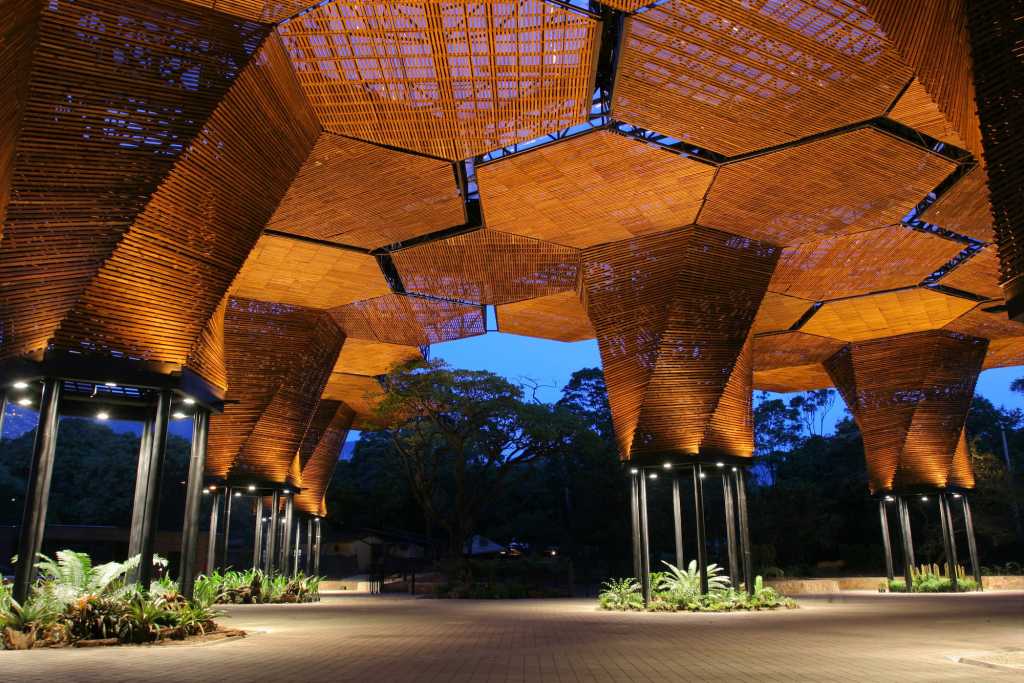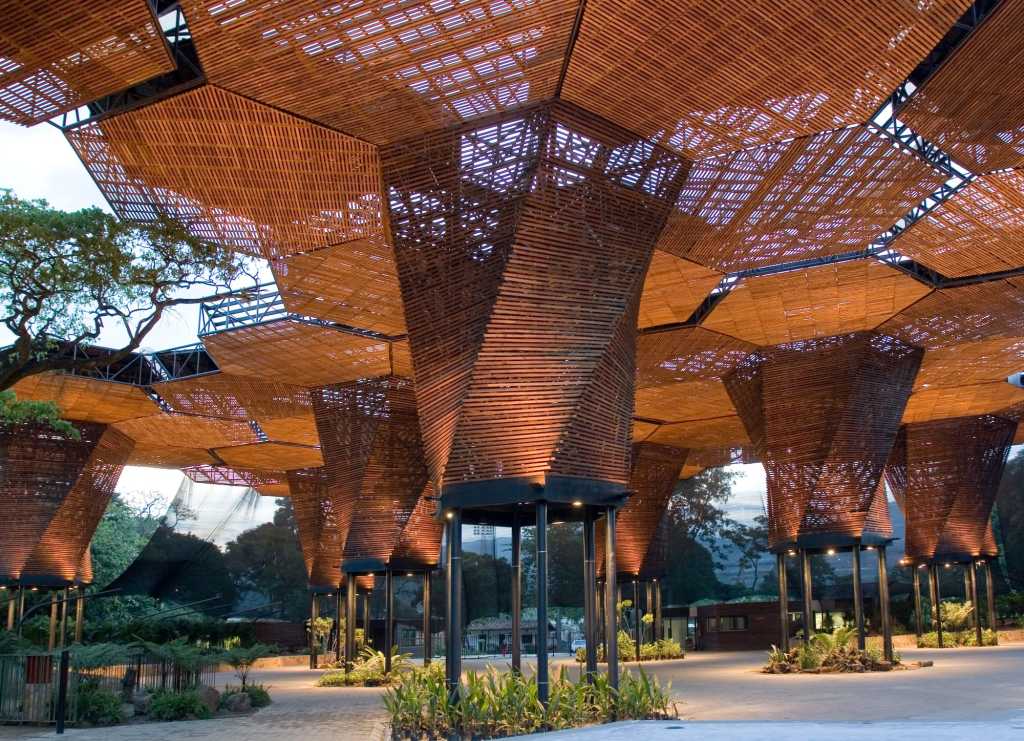 图案模式通过重复来放大,空间和生物气候学的性质已经在各个部分呈现,可以说这种模式的特性是由内而外的。
The intelligence of the pattern intelligence amplifies through repetition, but the spatial and bioclimatic qualities are already present in each part. You could say the qualities of the pattern emerge from inside out.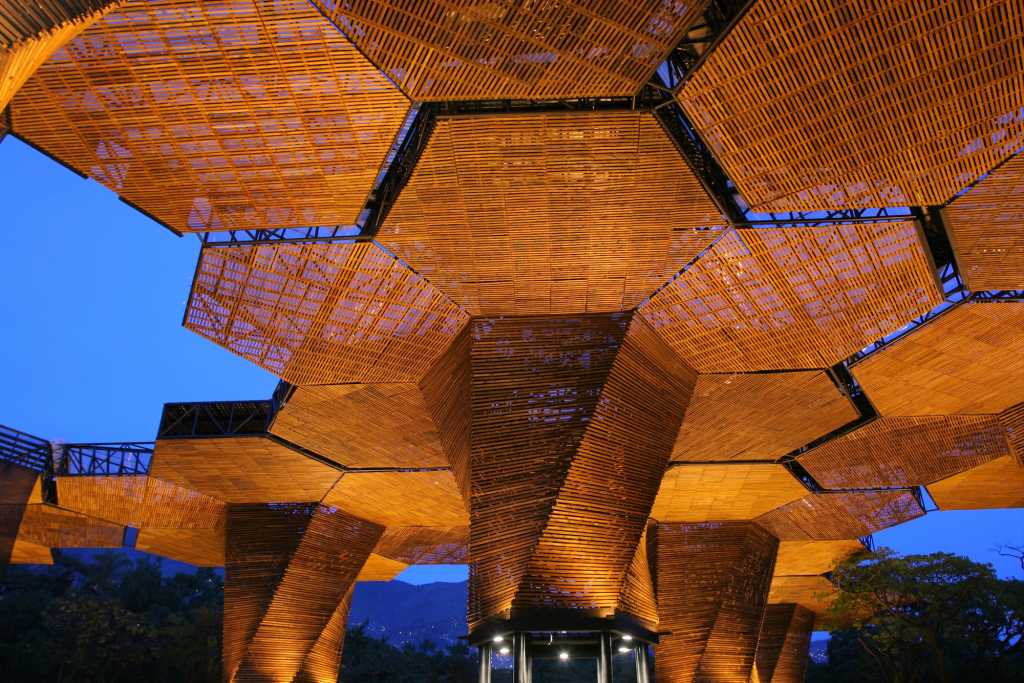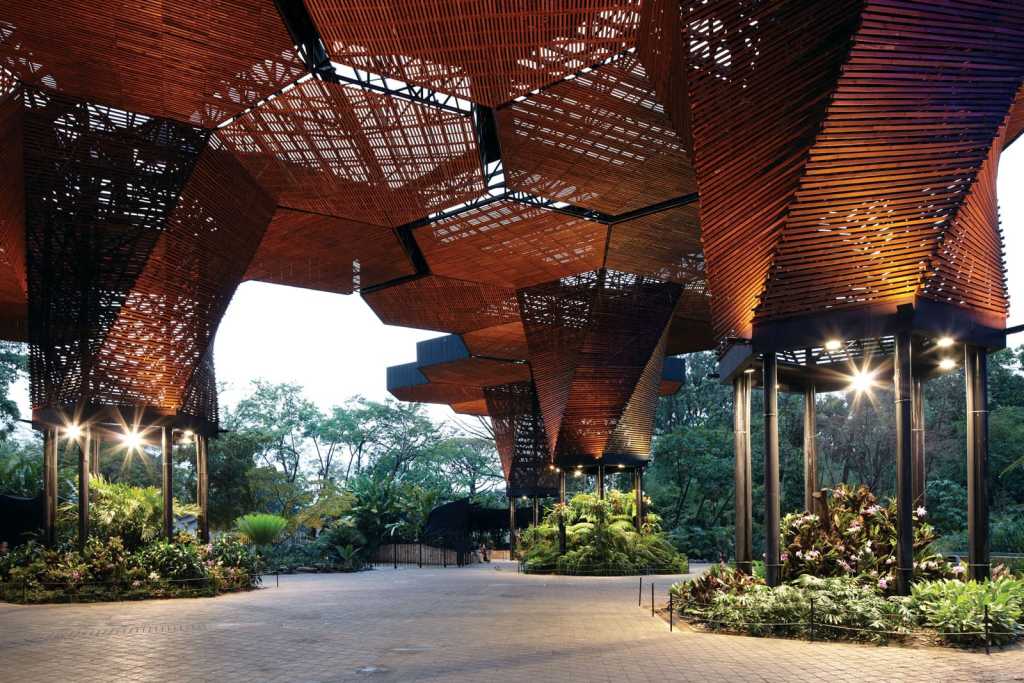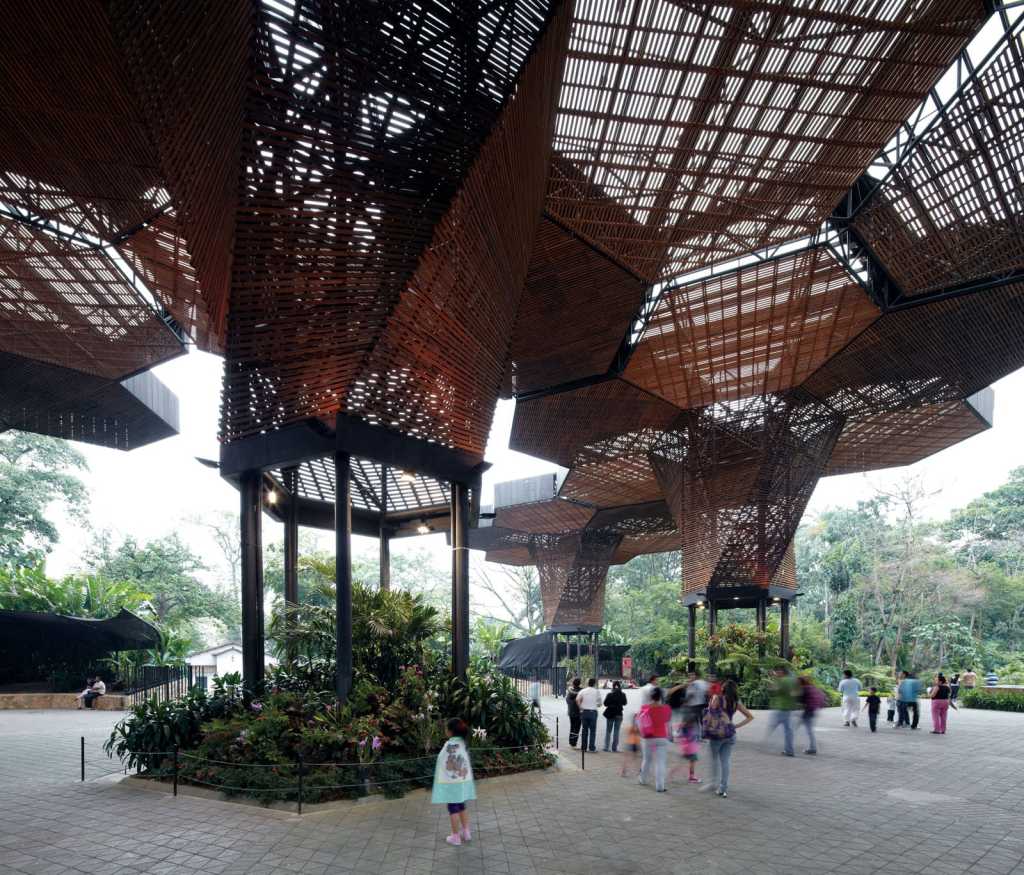 L: ©Sergio Gomez / R: ©Cristobal Palma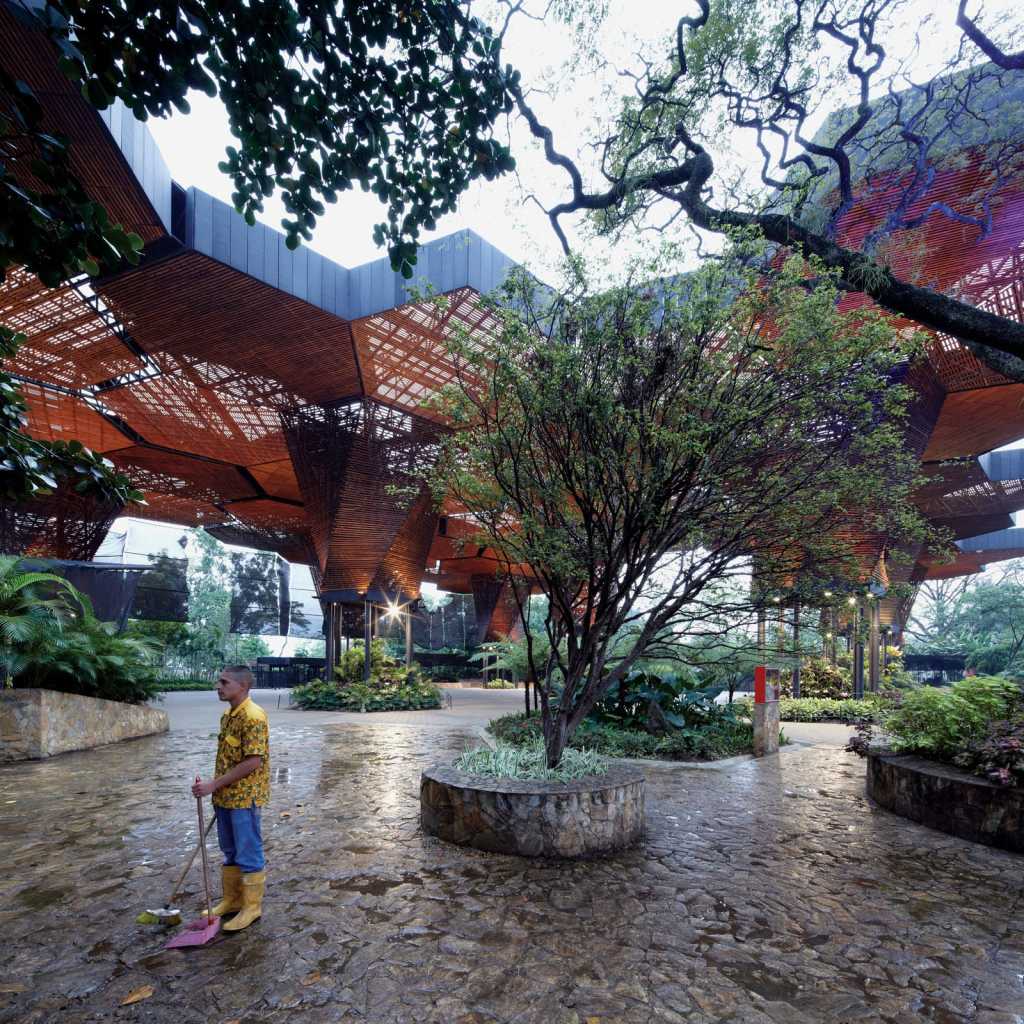 设计师设想的空间不是空置着的,而是一个有结构支撑的场地,这些支撑是间歇性的,并带有集群花园。这里可以开展与花园和野生动植物甚至是天气结合起来的活动,比如婚礼、锻炼、冥想、音乐会、时装秀等。
The space we propose isn't an empty warehouse or a free plant but rather a field with structural supports that are intermittent with clustered gardens. This allows to combine a large range of activities (weddings, workout, meditation, concerts, fashion shows, etc), with the garden and its wildlife and weather.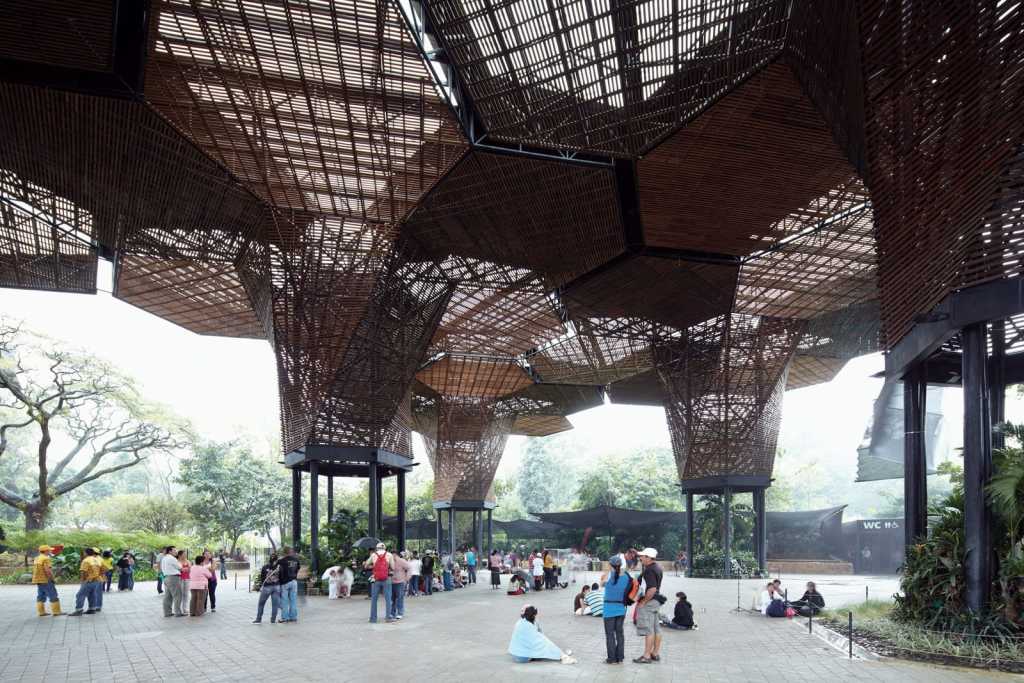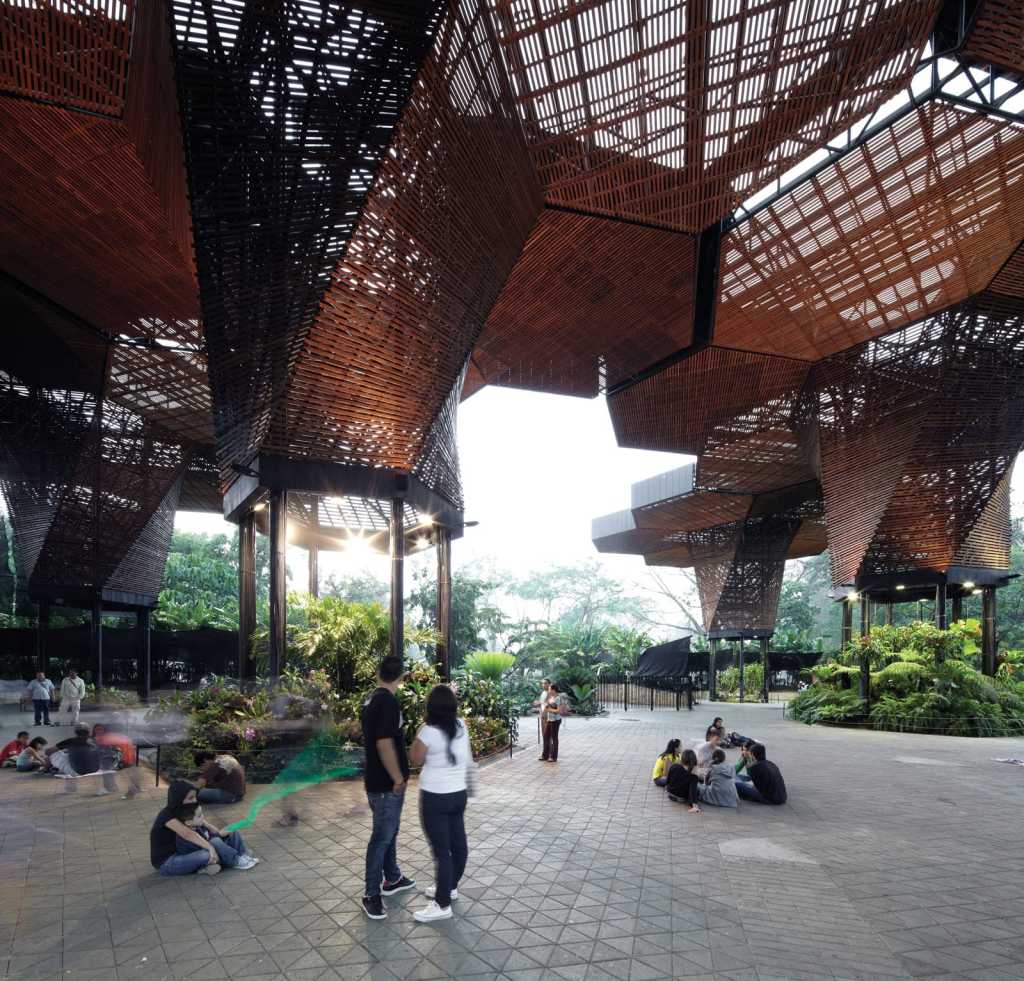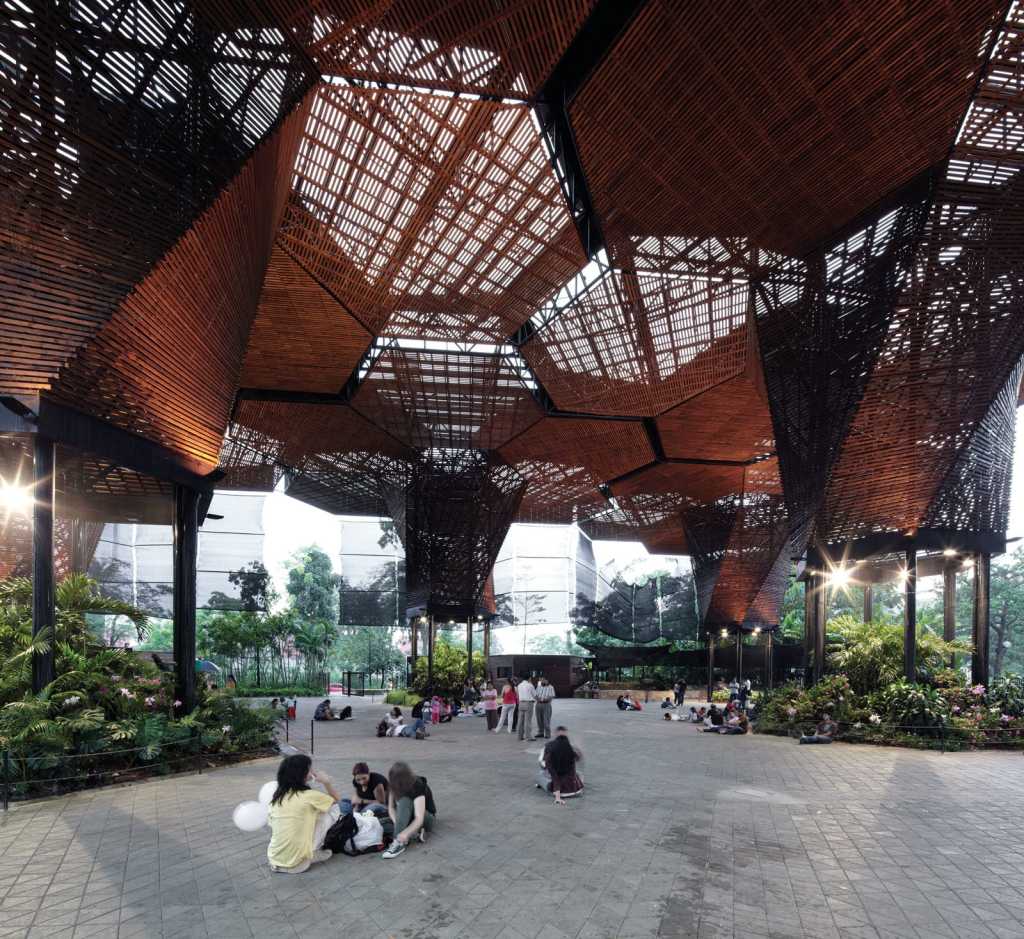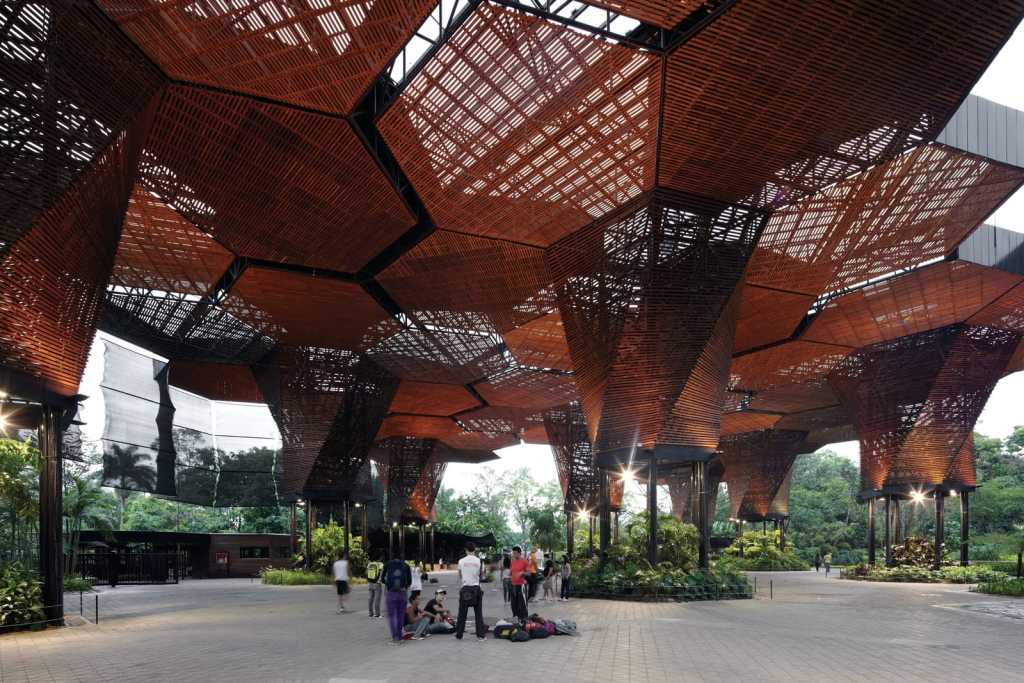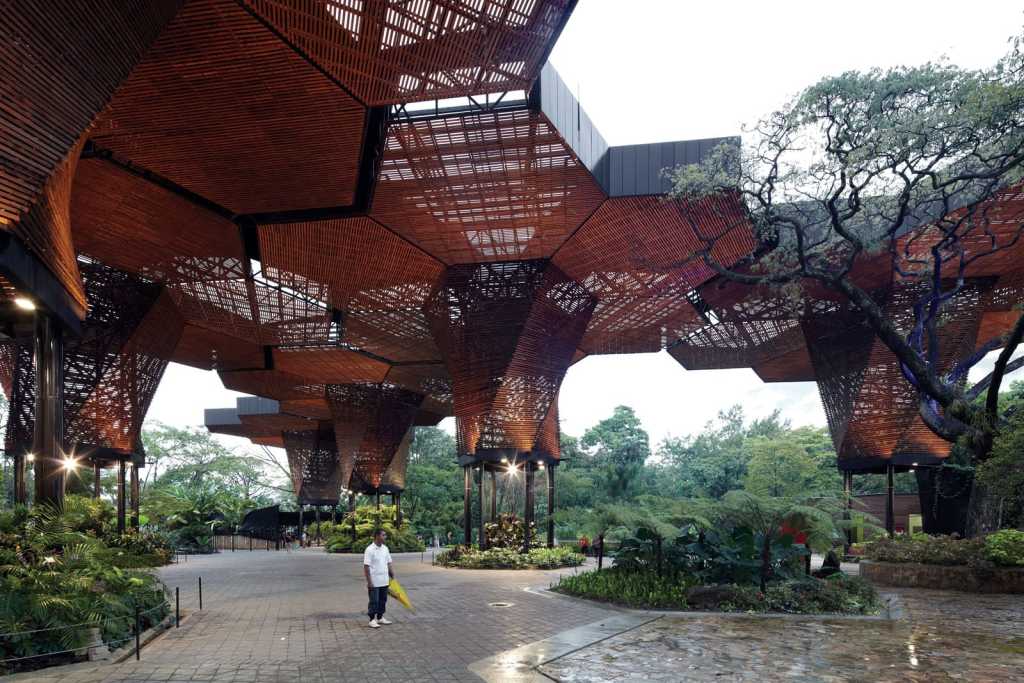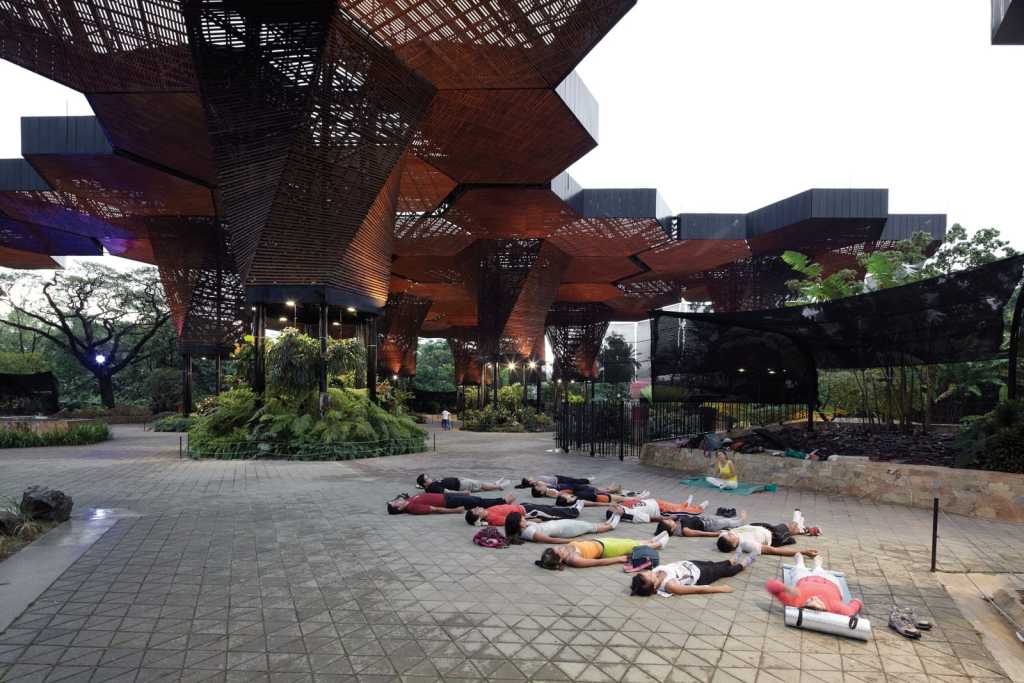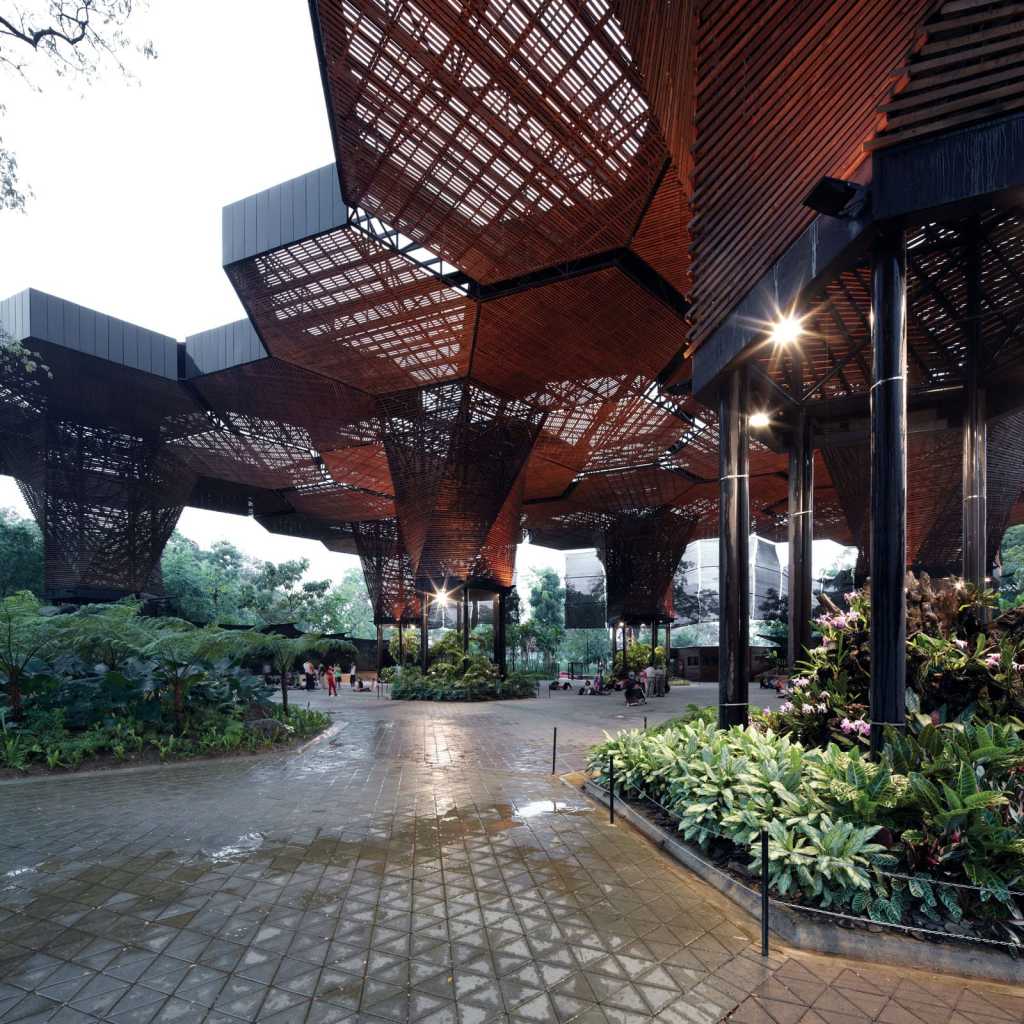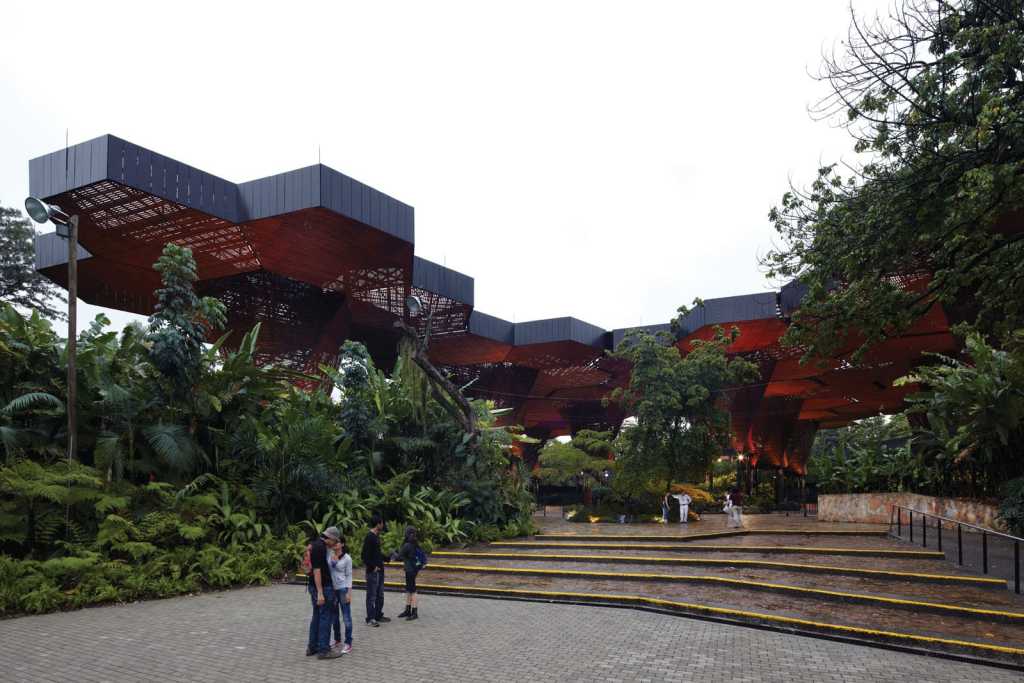 细部  Detail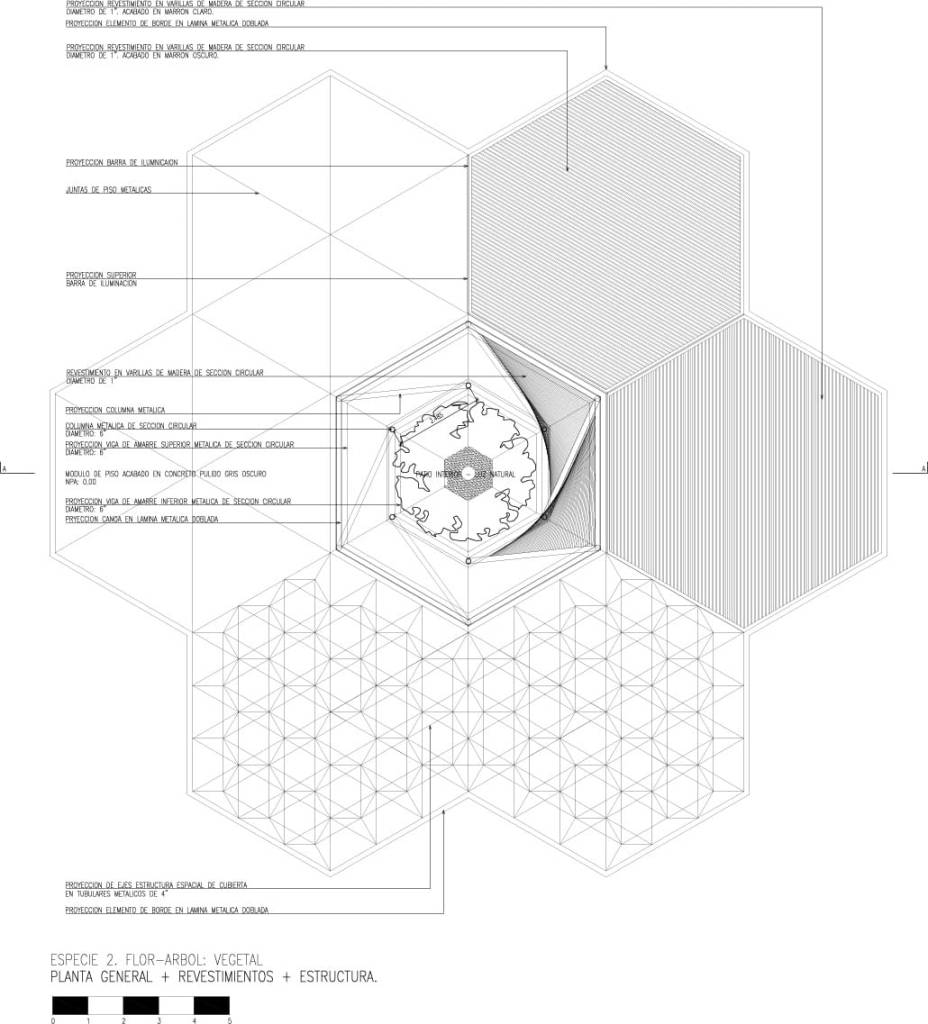 项目名称: Orquideorama
年份: 2005
面积: 4200平方米
每平方米价格: 500美元
地点: 哥伦比亚麦德林
结构: 钢结构
建筑师: Plan:B Arquitectos (Felipe Mesa + Alejandro Bernal) + JPRCR Arquitectos (Camilo Restrepo + JPaul Restrepo)
项目经理: Plan:B Arquitectos (Felipe Mesa + Alejandro Bernal) + JPRCR Arquitectos (Camilo Restrepo + JPaul Restrepo)
设计团队: Viviana Peña, Catalina Patiño, Carolina Gutiérrez, Lina Gil, Jorge Buitrago
结构工程: Germán Serrate
建造商: Ménsula S.A.
客户: Jardín Botánico de Medellín
摄影师: Sergio Gomez; Iwan Baan; Cristobal Palma
Name: Orquideorama
Year: 2005
Area: 4200m2
Price per square meter: US$: 500
Location: Medellín, Colombia
Structure: Steel columns and beams. Trusses.
Architects:  Plan:B Arquitectos (Felipe Mesa + Alejandro Bernal) + JPRCR Arquitectos (Camilo Restrepo + JPaul Restrepo)
Project Manager: Plan:B Arquitectos (Felipe Mesa + Alejandro Bernal) + JPRCR Arquitectos (Camilo Restrepo + JPaul Restrepo)
Design team: Viviana Peña, Catalina Patiño, Carolina Gutiérrez, Lina Gil, Jorge Buitrago
Structural engineering: Germán Serrate
Constructor: Ménsula S.A.
Client: Jardín Botánico de Medellín
Photographer: Sergio Gomez; Iwan Baan; Cristobal Palma
更多  Read more about:  PLAN:B