本文由 Taylor Knights 授权mooool发表,欢迎转发,禁止以mooool编辑版本转载。
Thanks Taylor Knights for authorizing the publication of the project on mooool, Text description provided by Taylor Knights.
Taylor Knights:该装置是维多利亚国家美术馆(NGV)年度获奖作品,通过两个阶段的全国竞赛选出,大赛邀请建筑师和多学科团队进行绝妙的临时结构或装置设计,以激活墨尔本最大的城市文化空间之一——Grollo Equiset花园。
Taylor Knights:Each year, the annual commission is selected via a two-stage national competition, in which architects or multi-disciplinary teams are invited to submit a design for an engaging temporary structure or installation to activate the NGV's Grollo Equiset Garden, one of Melbourne's great civic and cultural spaces.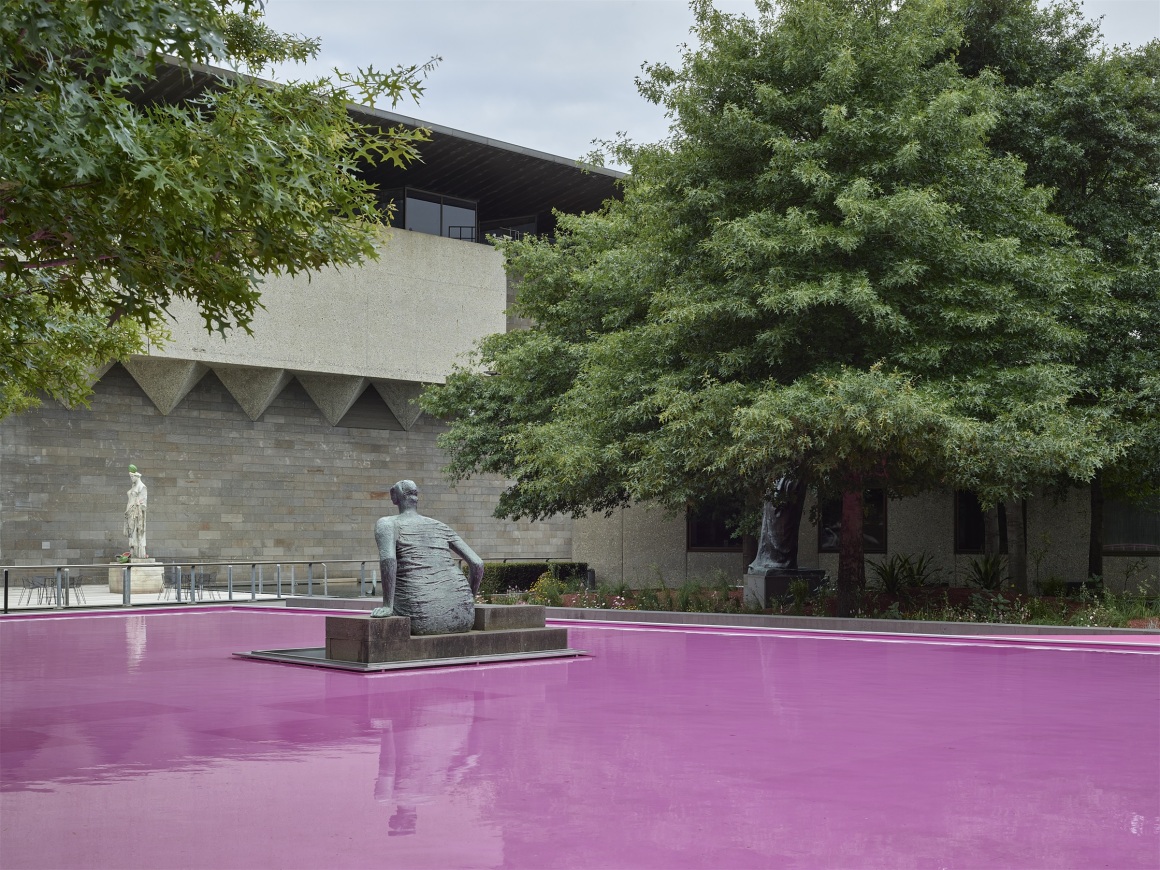 该装置是由建筑公司Taylor Knights与艺术家James Carey合作打造的欢乐、生动的粉红色水上装置。粉红色水域空间令人联想到维多利亚内陆盐湖,设计方将其与色彩柔和的本土植物景观相结合,打造了这个让人感受清凉的装置,同时提醒人们水体作为自然和文化资源的重要性。
pond[er] is a joyful, vivid pink, aquatic installation created by architecture firm Taylor Knights, in collaboration with artist James Carey. Combining a pink water space that is evocative of Victoria's inland salt lakes, with gently colourful Indigenous plant landscaping, it is an installation that invites you to dip your toes into the water while reminding us of the importance of bodies of water as both a natural and cultural resource.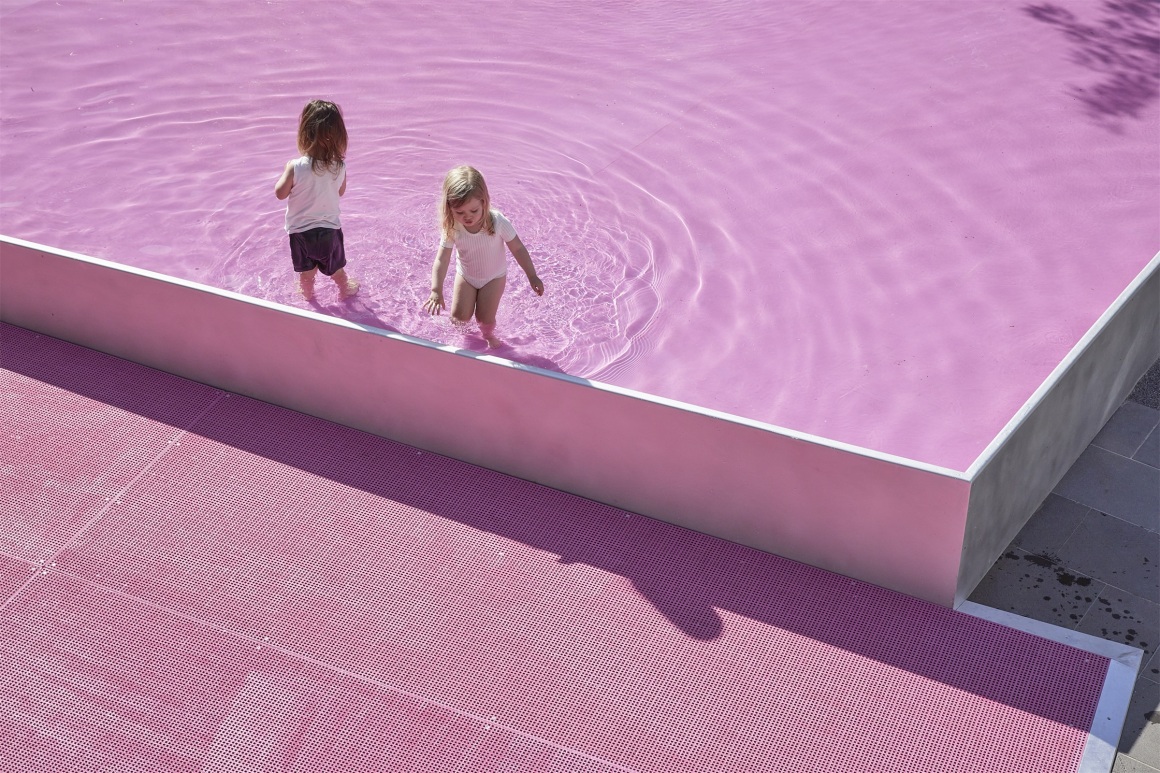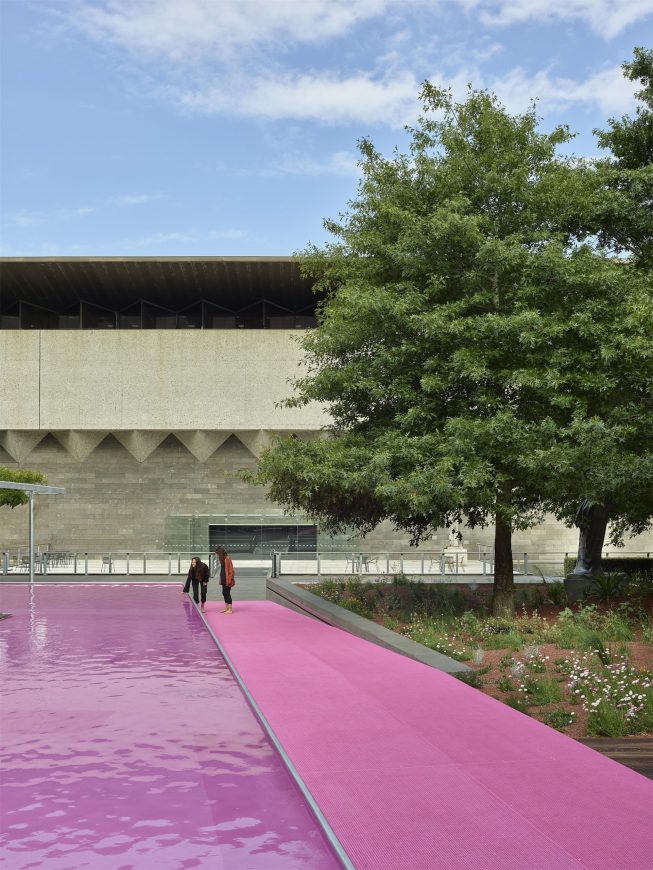 通过内置澳大利亚景观,装置成为沉思、交谈、联系和玩耍的空间,旨在鼓励人们安静地坐下来观察和思考水和植物的时间和物质属性。装置侧面的平台鼓励人们进行与气候和生物多样性危机有关的观念、想法和主张的讨论。通过进入粉红色的池塘,游客可以直接接触到水的物质性,在炎热的夏季感受清凉。
By interiorising the Australian landscape, pond[er] becomes a space for contemplation, conversation, connection, and play. The installation is designed to encourage moments of quietness; to sit and look in and ponder the temporal and material attributes of both water and flora. The platform to the side of the installation encourages moments of conversation and to project out; to discuss these notions, ideas, propositions, and provocations concerning our climate and biodiversity crisis. By moving into the pink pond, visitors directly engage with the materiality of water, allowing them to cool off during the hot summer months.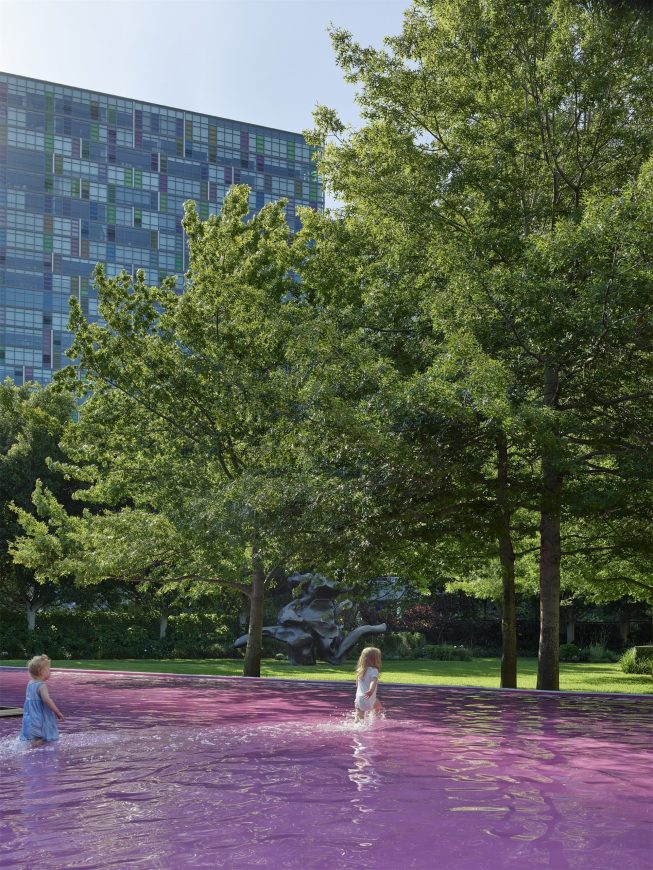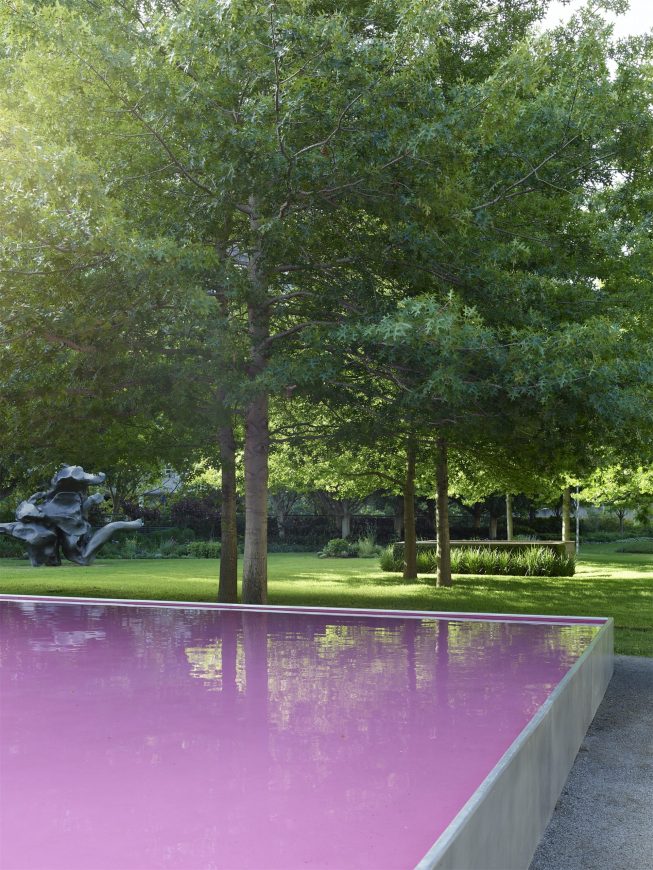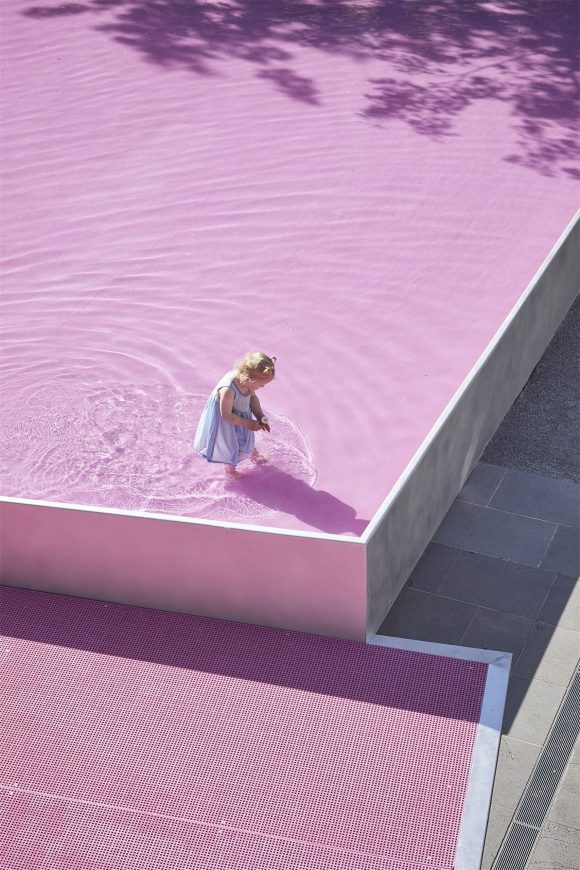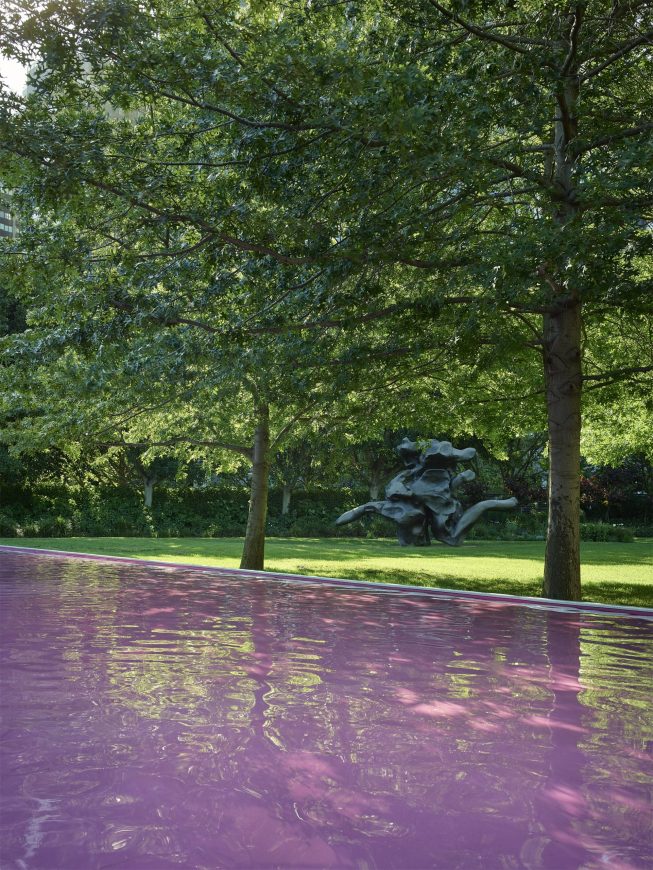 装置选择的材料来源和制造都是环境友好的,可供各种土地管护、本地居民和社区团体二次使用。之所以选择这些材料,是因为它们对生态友好、可回收并可在当地的景观中使用,我们希望装置内的任何材料都不会以被送往垃圾填埋场而告终。我们一直在与维多利亚州Willum Warrain本地协会合作,他们将在接下来的景观项目中利用该装置的一些材料。These Are The Projects We Do Together是一家位于墨尔本的跨学科设计工作室,专注于通过他们的项目和网站进行教育和实验。​该装置的材料将用于他们正在进行的位于维多利亚州奥特威砂岩采石场的修复景观项目The Quarry。来自Agency of Sculpture的本·吉尔伯特(Ben Gilbert)将在接下来与弱势青年合作的城镇区域雕塑项目中回收利用该装置的材料。
The materials that have been selected for pond[er] are all ethically sourced and manufactured, to be distributed and used again by various Landcare, indigenous, and community groups. These materials have also been chosen as they are ecologically responsible, recyclable and used within our local landscape. Our intention is that no materials within pond[er] will end in land fill. We have been working specifically with the Willum Warrain Aboriginal Association, Victoria, who will utilise some of the materials from pond[er] in an upcoming landscape project; These Are The Projects We Do Together, a Melbourne based interdisciplinary design studio that focuses on education and experimentation across their projects and sites. Materials from pond[er] will be taken to their ongoing project, The Quarry, a rehabilitation landscape project set in a sandstone quarry in The Otways, Victoria; Ben Gilbert from Agency of Sculpture, who will utilise materials from pond[er] in an upcoming regional and civic sculptural project, collaborating with disadvantaged youth.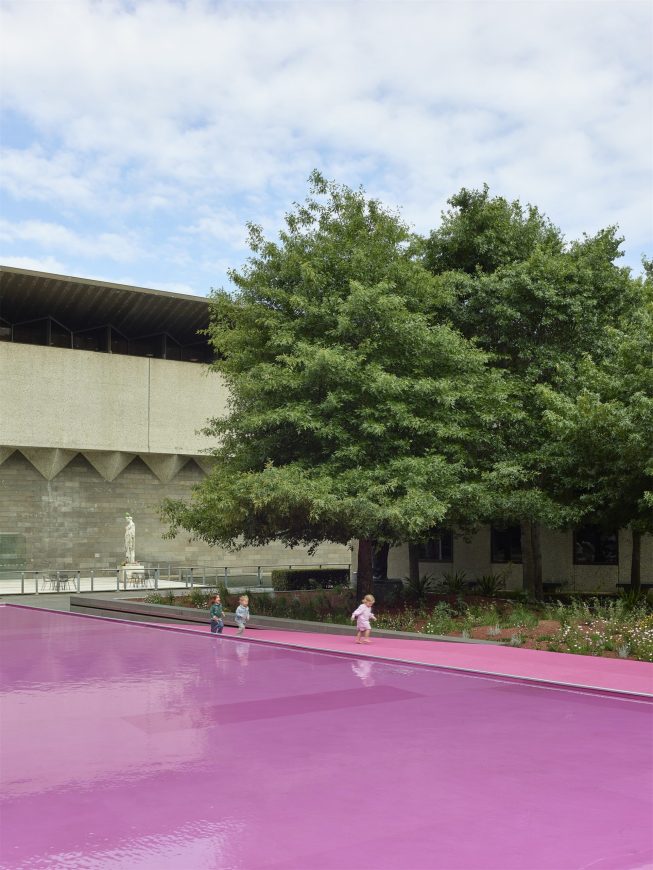 ▽区位图 Site plan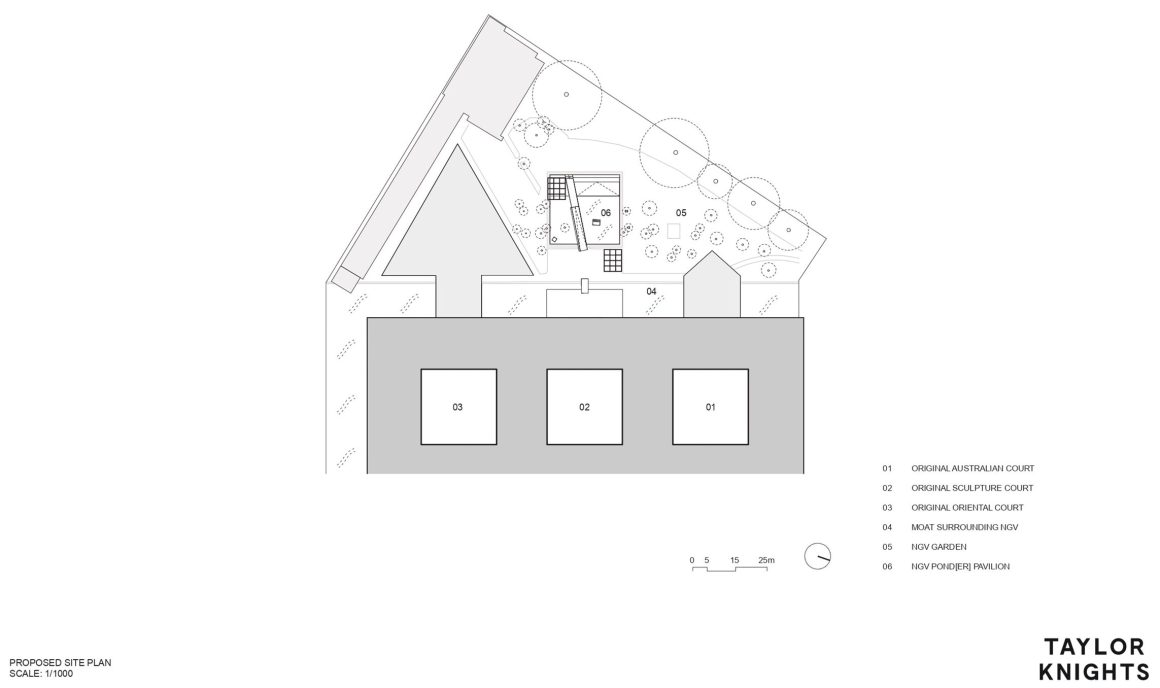 ▽平面图 Plan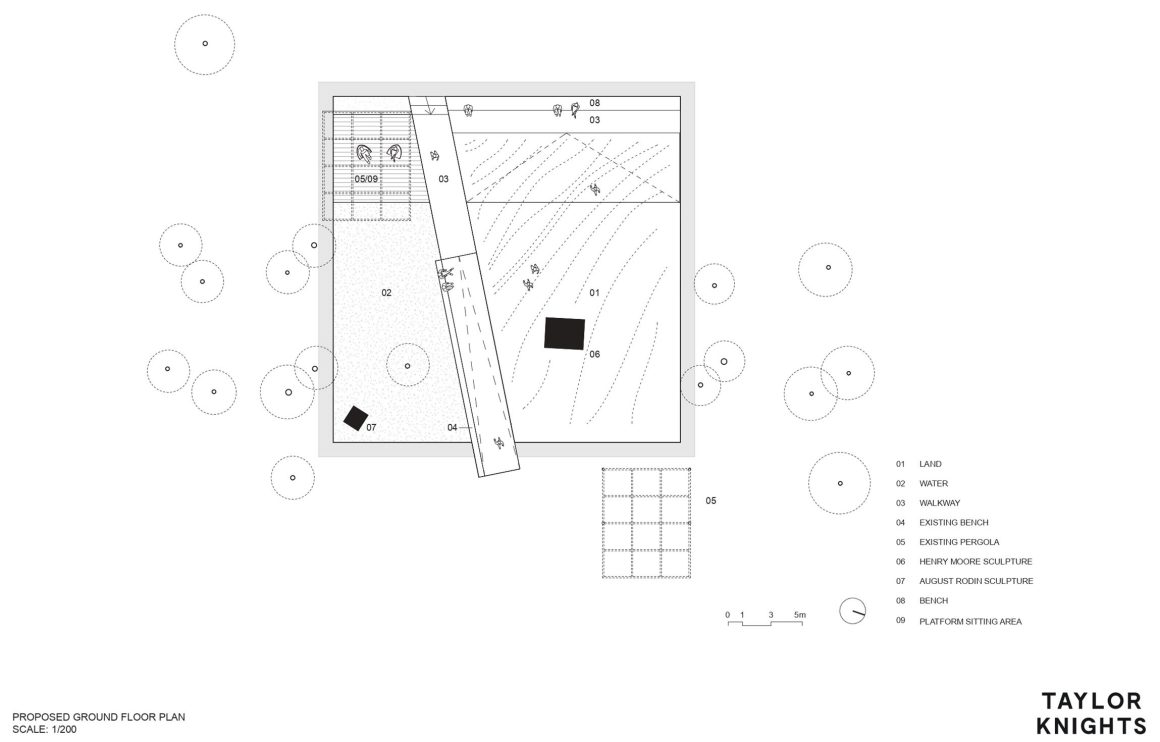 ▽轴测图 Axonometric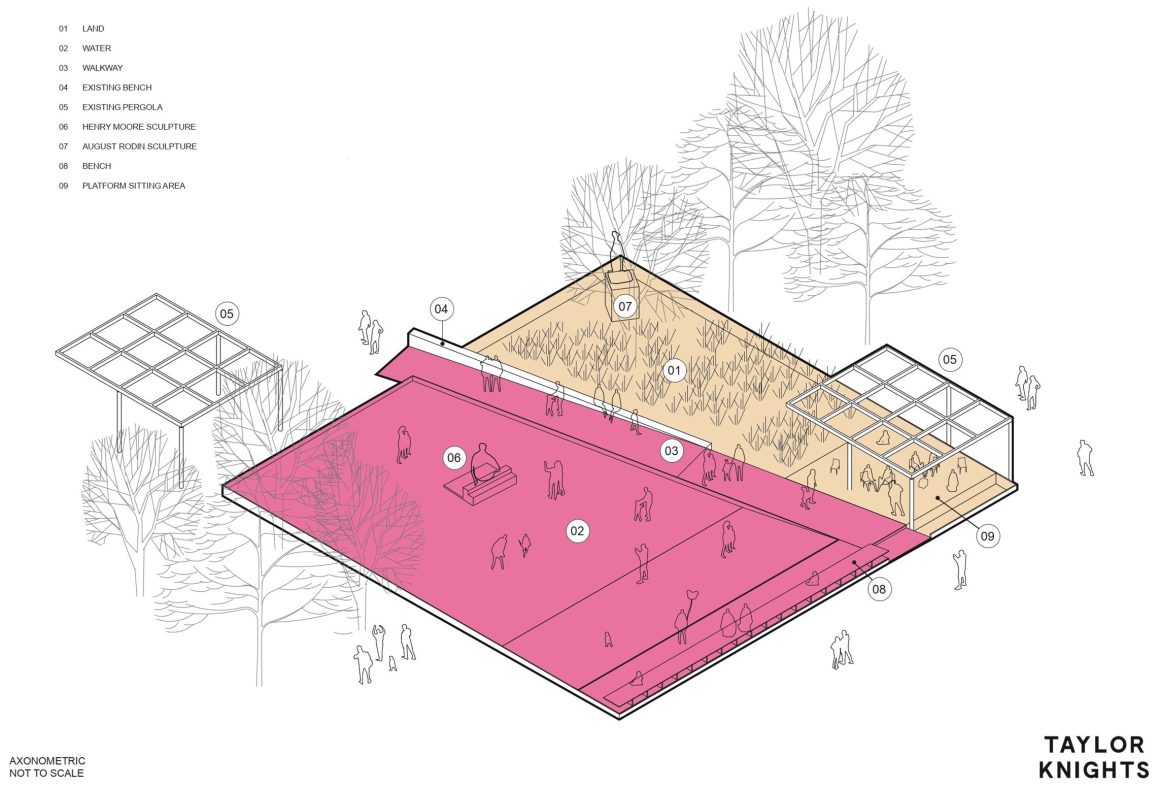 项目名称:pond[er]
完成年份:2021年
项目地点:澳大利亚,墨尔本,维多利亚国家美术馆
建筑公司:Taylor Knights & James Carey
网站:www.taylorknights.com.au
景观设计:Ben Scott Garden Design
网站:www.benscott.com.au
首席建筑师:Taylor Knights Architects
设计团队:James Taylor, Peter Knights, Eva Florindo
合作者:James Carey(艺术家)
图片来源:Derek Swalwell
摄影师网站:https://www.derekswalwell.com/
Project name: pond[er]
Completion Year: 2021
Project location: National Gallery of Victoria – Melbourne, Victoria
Architecture Firm: Taylor Knights & James Carey
Website: www.taylorknights.com.au
Landscape Design: Ben Scott Garden Design
Website: www.benscott.com.au
Lead Architects: Taylor Knights Architects
Design Team: James Taylor, Peter Knights, Eva Florindo
Collaborators: James Carey (artist)
Photo credits: Derek Swalwell
Photographer's website: https://www.derekswalwell.com/
---
" 生动的梦幻粉池引发人们对水体的思考​。"
审稿编辑: gentlebeats
更多 Read more about:  Taylor Knights