本文由 DA+S 授权mooool发表,欢迎转发,禁止以mooool编辑版本转载。
Thanks DA+S for authorizing the publication of the project on mooool, Text description provided by DA+S.
DA+S:越南潘朗以全年晴朗多风的天气而闻名。在这种气候条件下,当地人通常选择顺应自然,通过封闭房屋来减少外部天气对室内生活功能的影响,因而建筑内外区别明显。这种保守的生活空间设计方式,使得人们白天大部分时间都呆在建筑物里,只有在傍晚或太阳下山以后才会出门。
DA+S:Phan Rang is famous for its sunny and windy weather through out the year. In that climate condition, local people usually choose to be not against the nature with closed houses which will help them avoid the impact of outdoor weather to the indoor living functions. There always is a discrimination between inside and outside. By this safety way of creating the living spaces, people spend most of their daytime in buildings and go out only in the late afternoon or in the evening – when the sun is gone.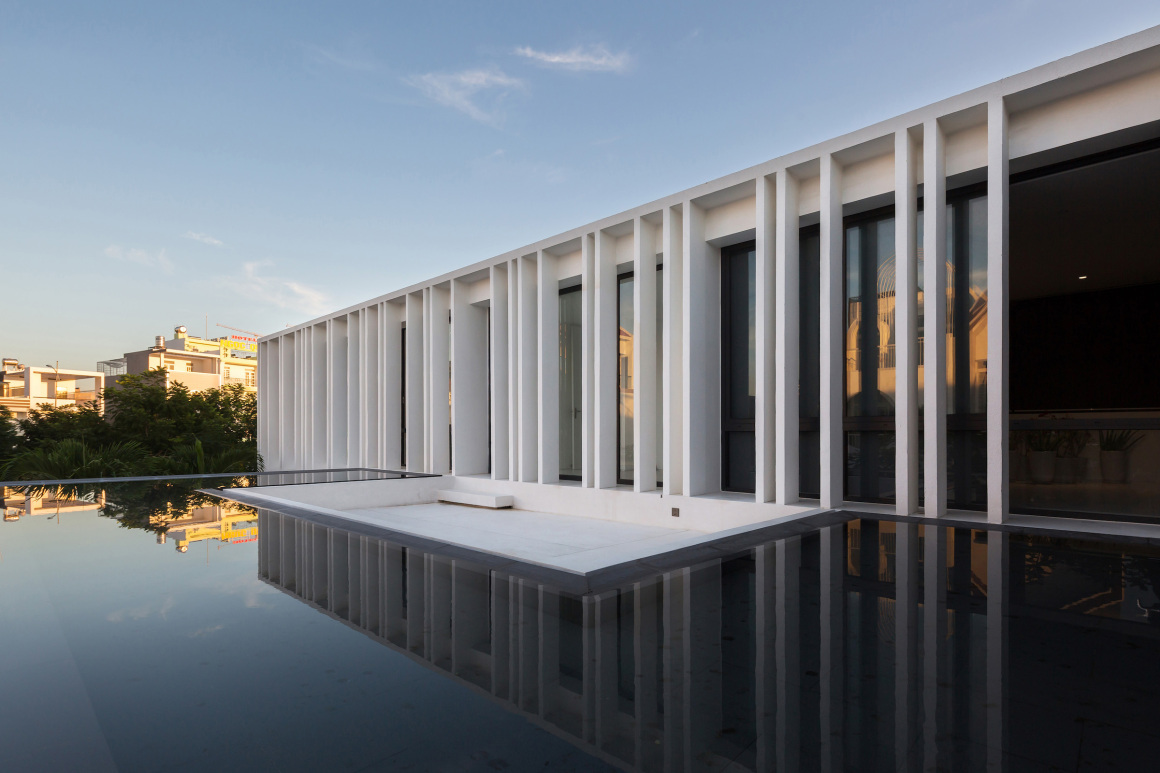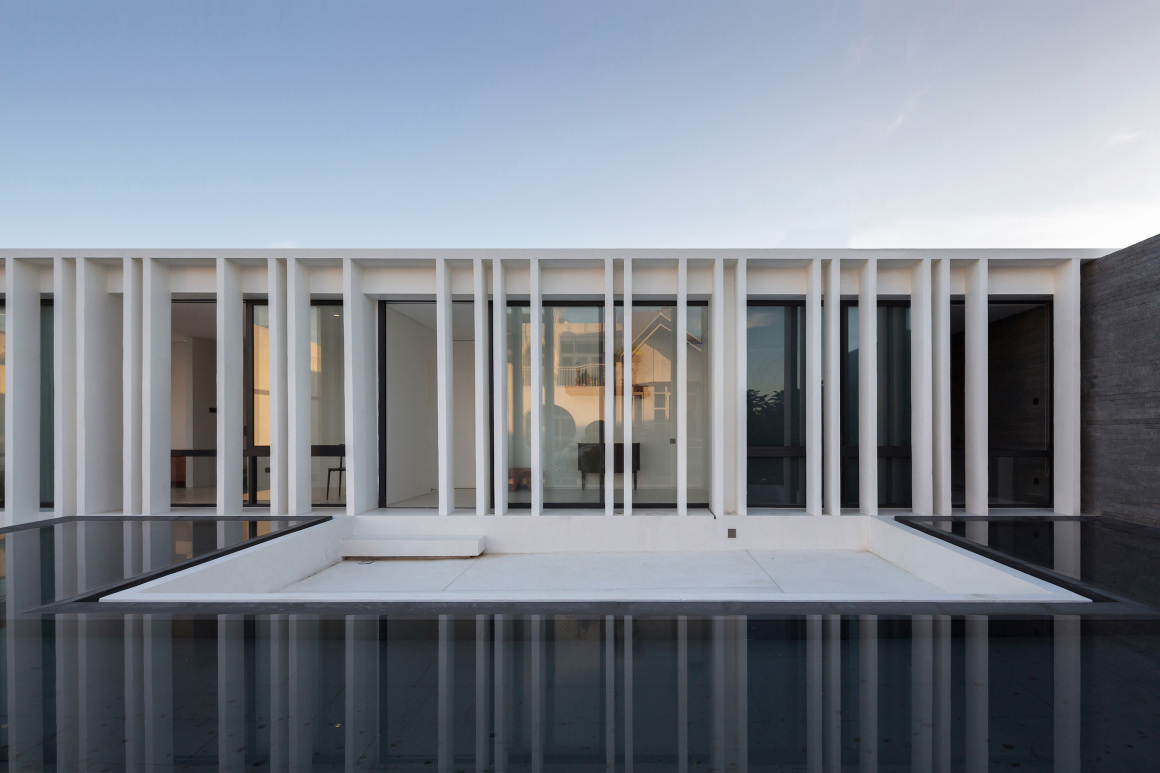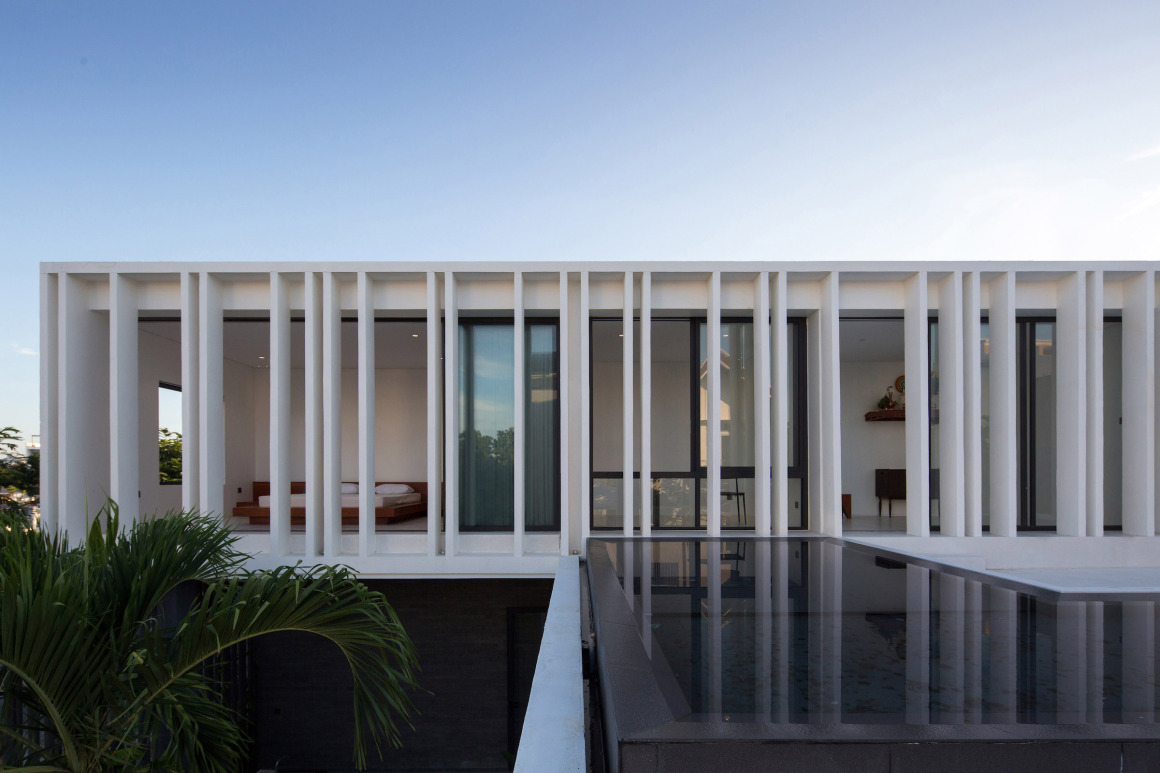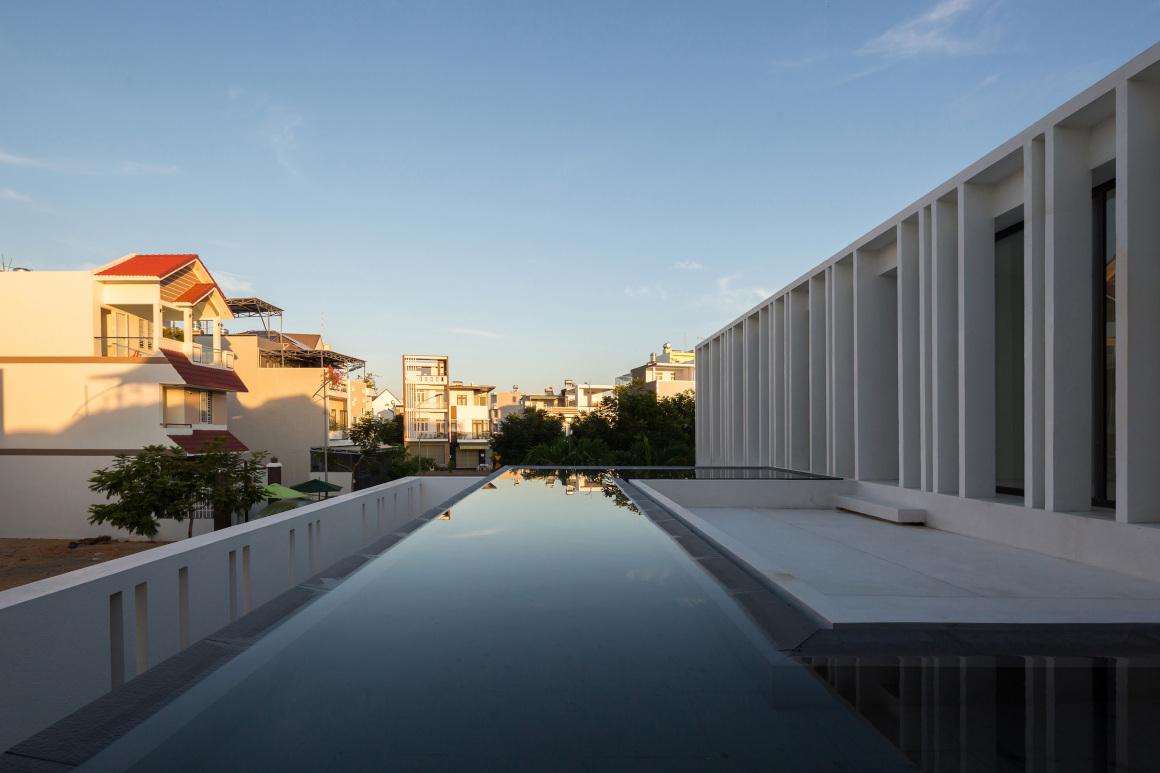 这里一年有300天都是大晴天,而且全年气温都相对较高,所以潘朗人比越南其他任何地区都更容易遭受阳光的伤害,但当地的空气却非常清新,还有着美丽的蓝天和干净的阳光。
There are 300 sunny days in a year, which means that Phan Rang people have to suffer from sunlight more than any other area in Viet Nam. This leads to the consequence that the temperature is really high during the year. However, the atmosphere is extremely fresh with beautiful blue sky and clean sunny color.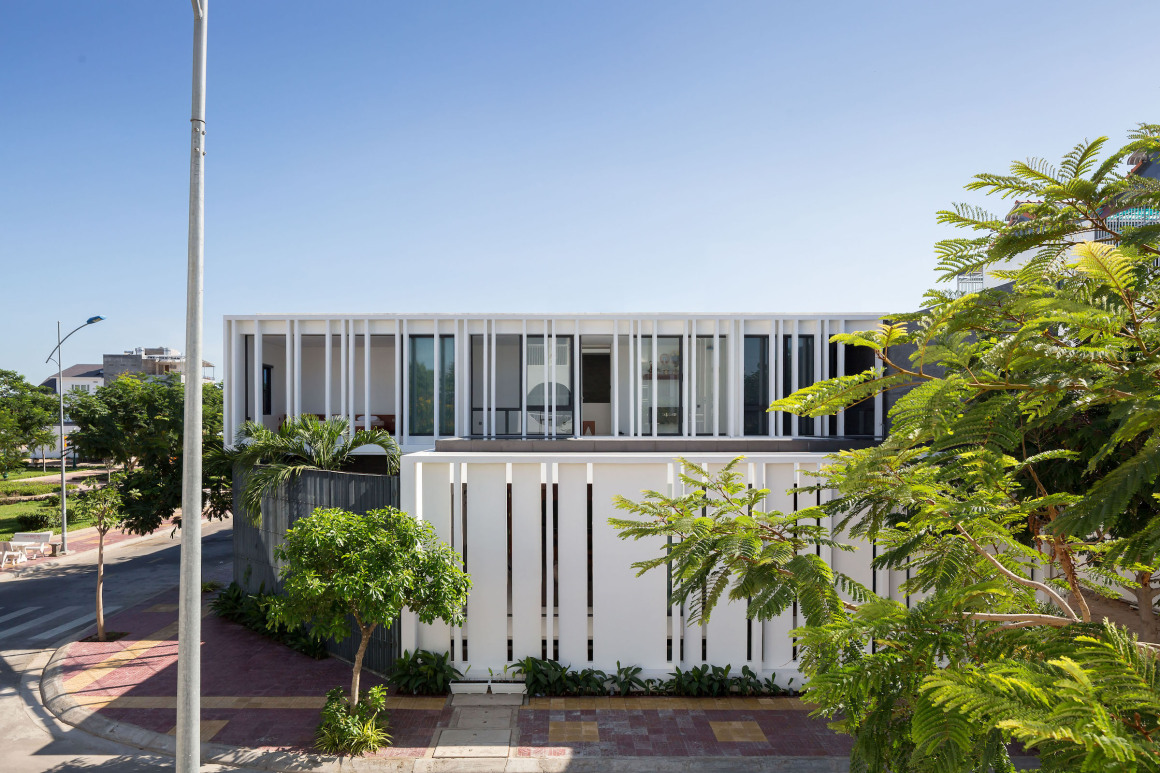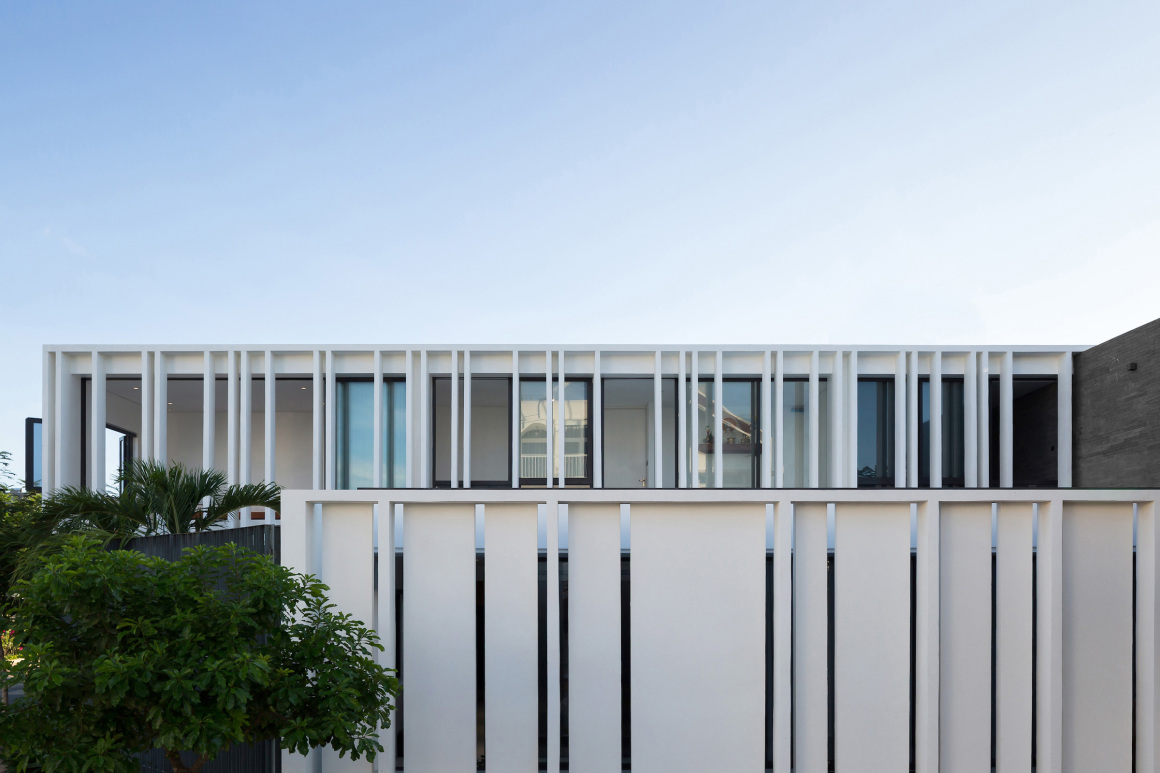 我们对生活空间的设计主要集中在缓冲区。这个作为内外过渡空间的特殊区域,要比其它空间大的多,这也是为了方便人们感知、走进并改变他们的活动轨迹。但其空间的界限并不十分清晰,有时它可以融合室外,完全受大自然的影响,有时也可以融进室内,帮助扩大生活空间。
The initial imagination about living spaces is about the buffer areas. This particularly area is considered as the transition space between inside and outside. It should be larger than normal for people to sense, walk inside and change their activities. However, this space boundary is not really clear. Sometimes it can belong to the outdoor and be totally affected by the nature, sometimes it belongs to the indoor which will help enlarge the living spaces.
▼住宅入口 The Entrance
▼住宅底层水庭 The courtyard on ground floor.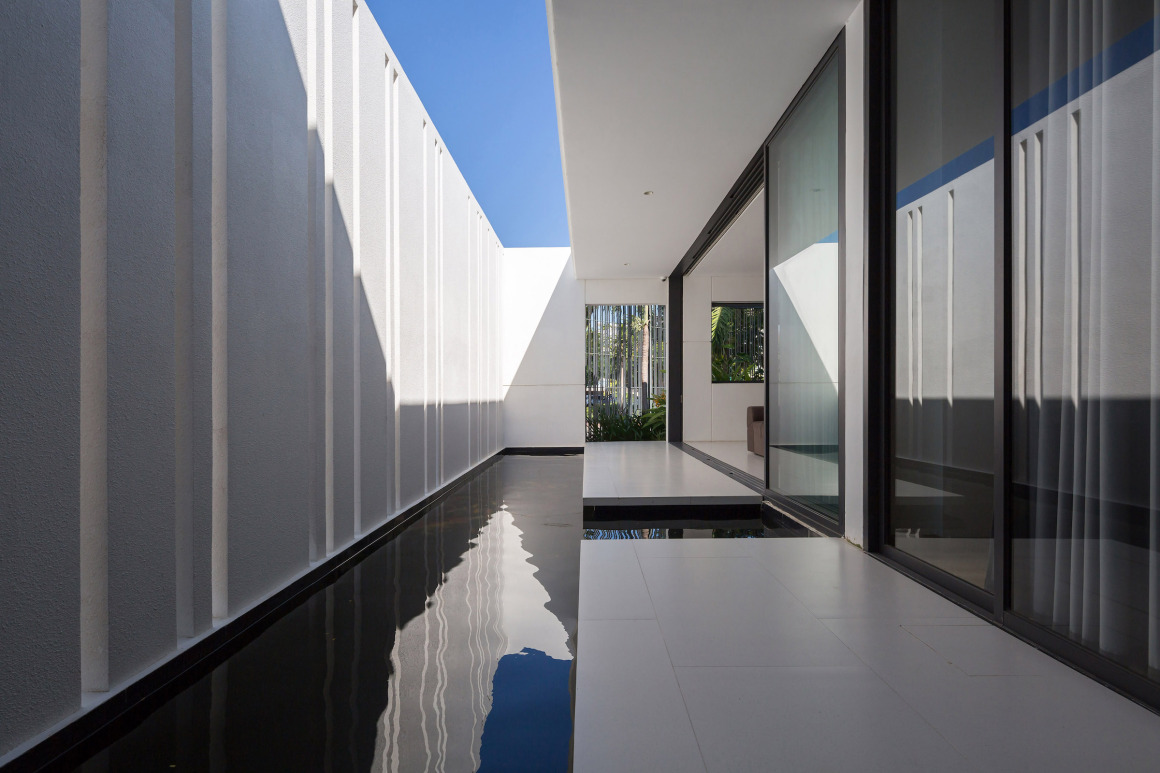 ▼底层客厅 The living room.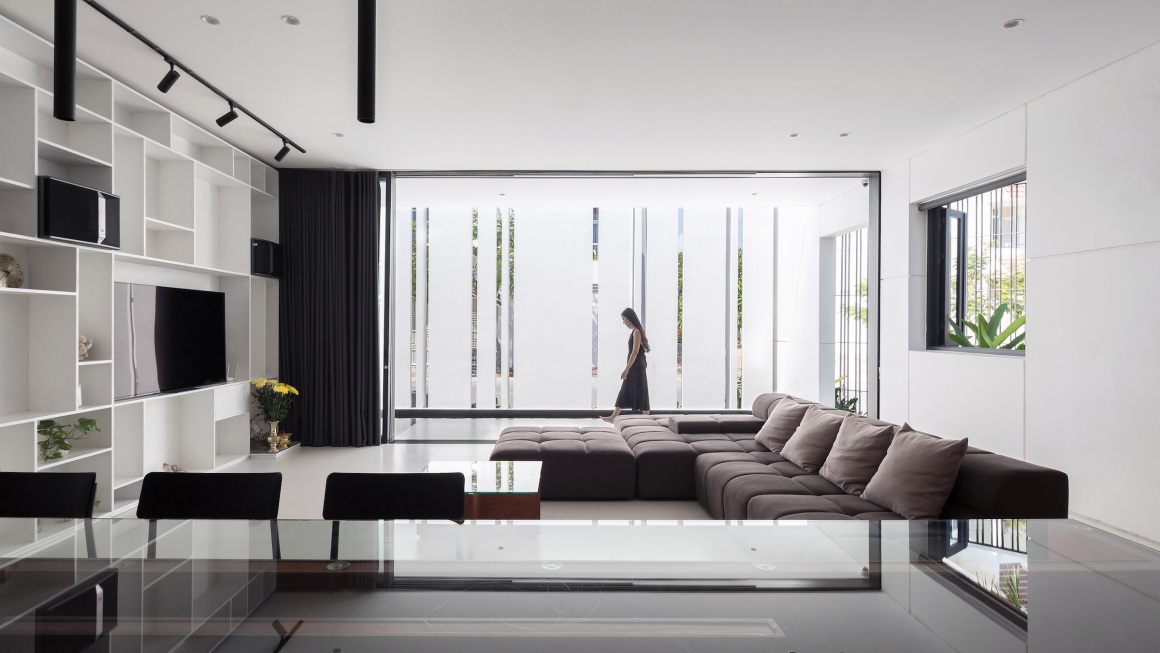 ▼连接底层和二层的楼梯 The staircase connecting the first floor.
▼二楼水庭 The courtyard on first floor.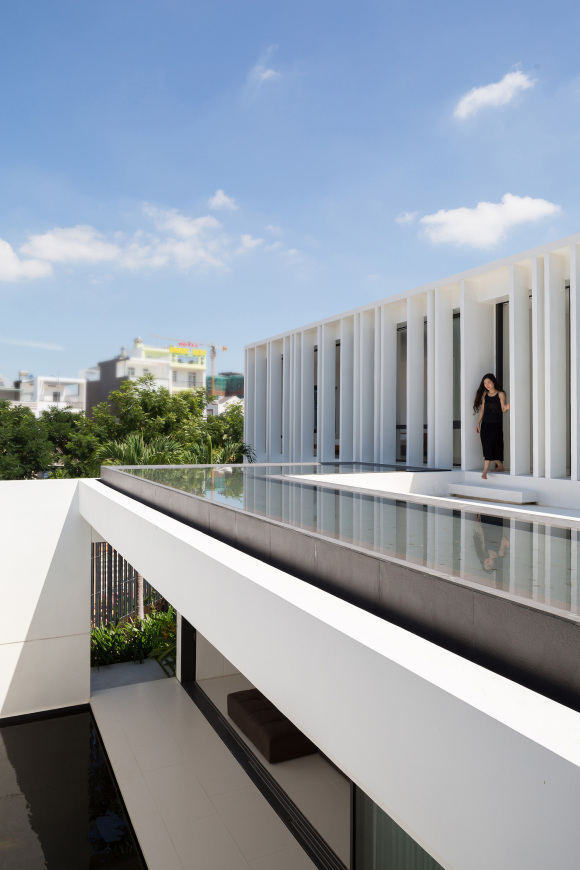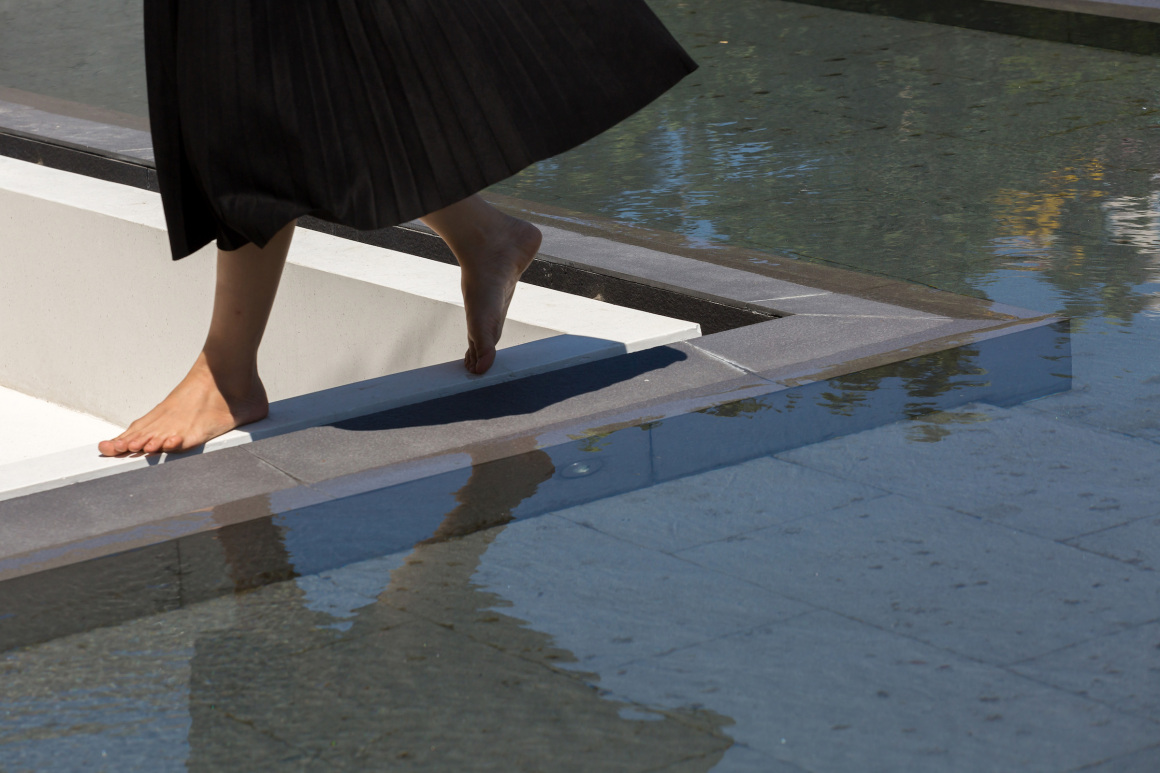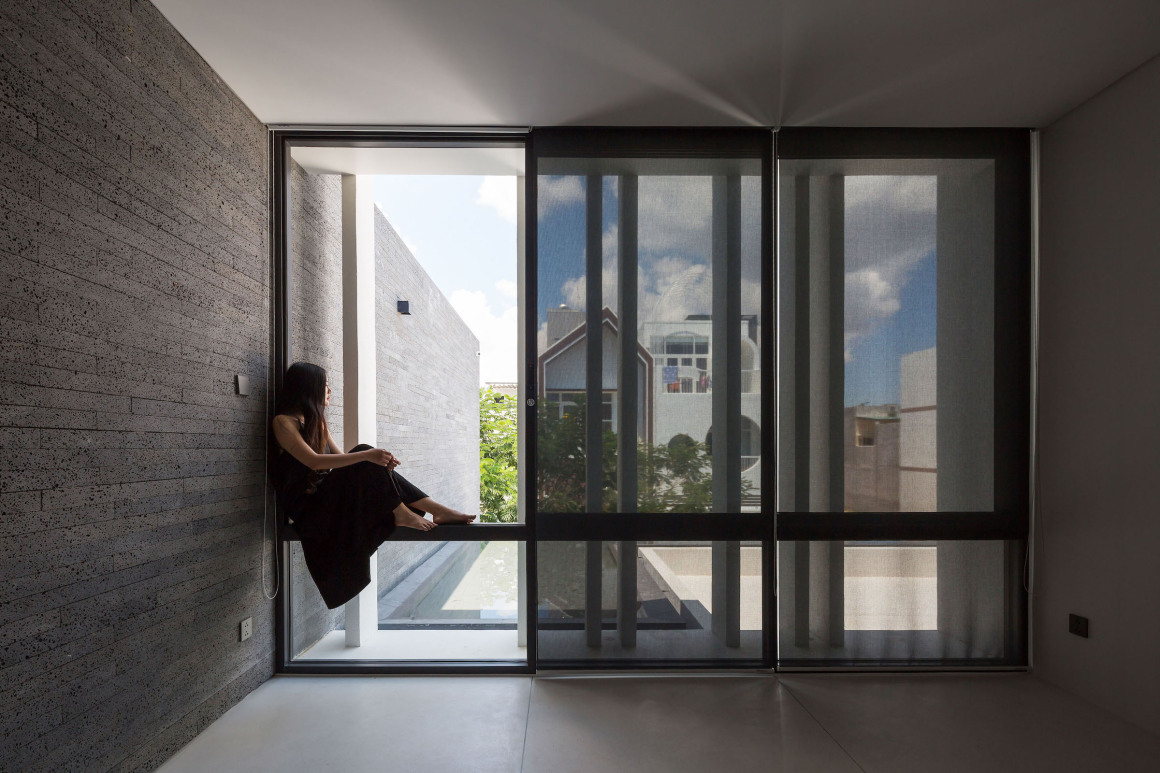 ▼二楼办公空间 Office space on the second floor.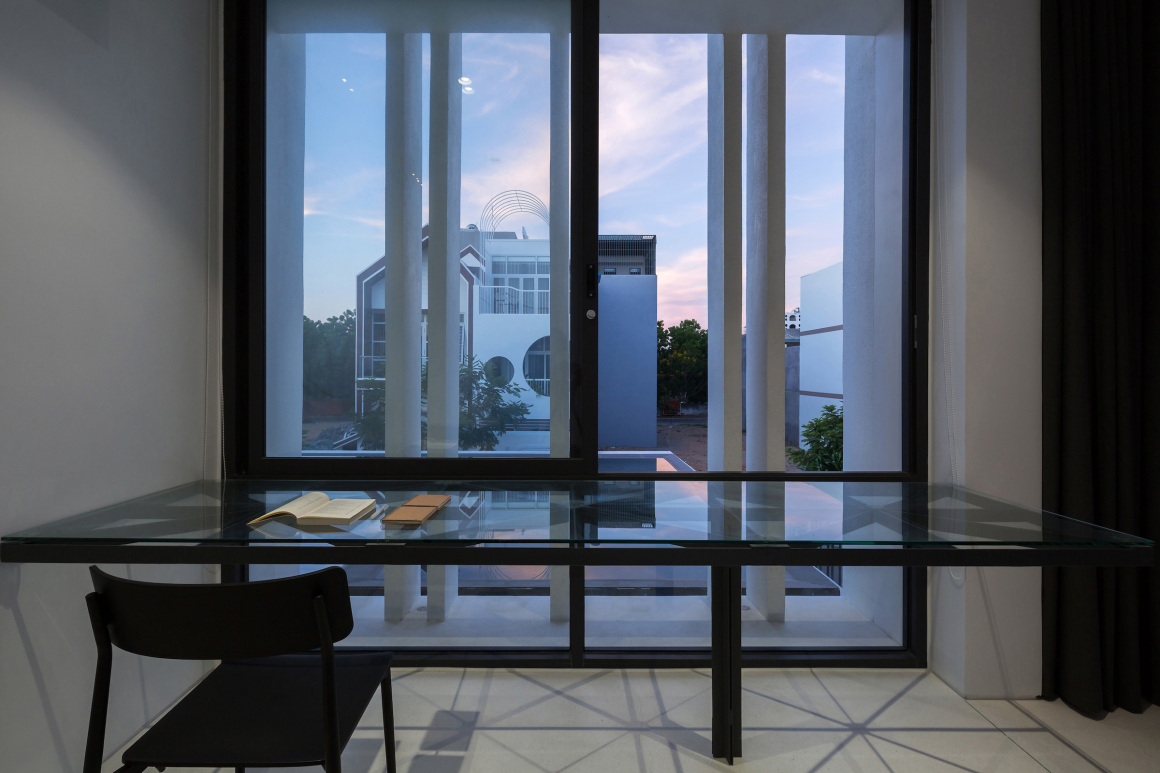 ▼二楼卧室 The bedroom on first floor.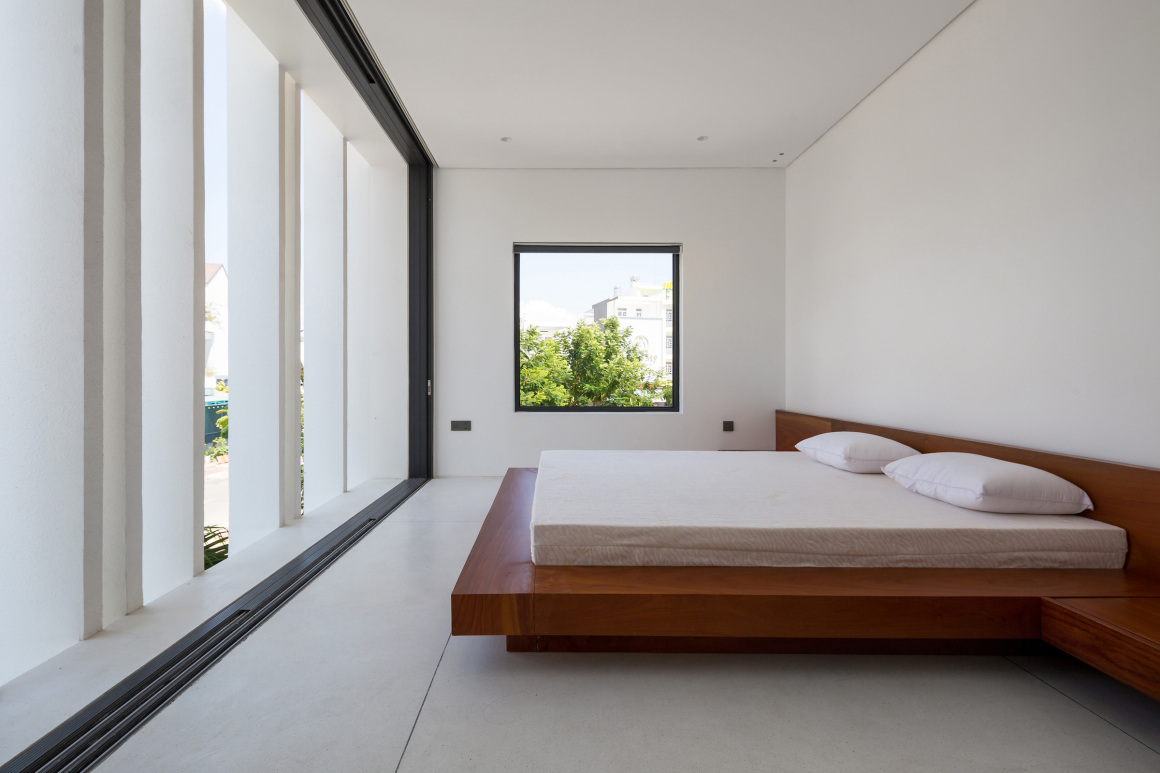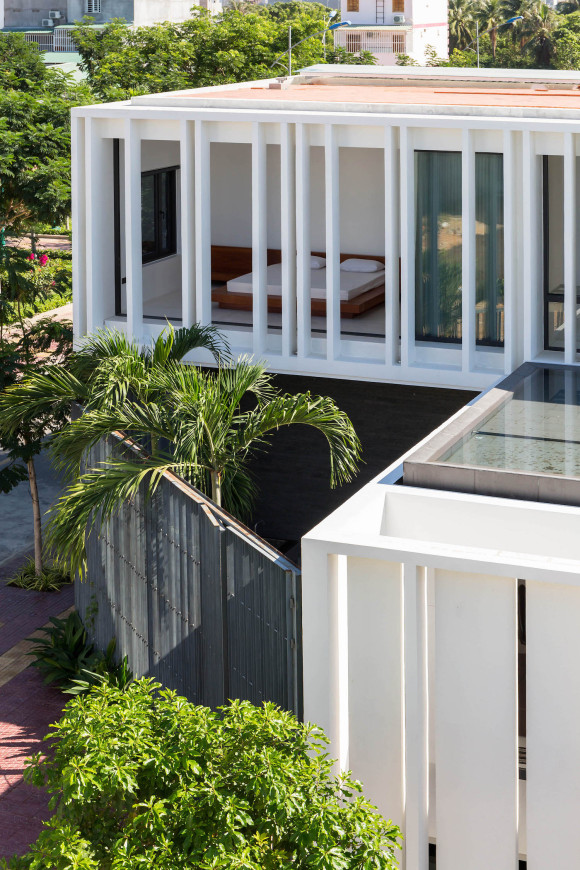 各种各样的本地树木和水面的湿度,使得流经这个空间的空气变得更加凉爽,身处在这个空间里的人也因此有了更多的机会接触自然阳光和空气。
The air flows through this space will be cooler thanks to different kinds of local trees and humidity from water surface. People in this space also have more chances to connect to the natural light and air.
▼住宅夜景 The night view.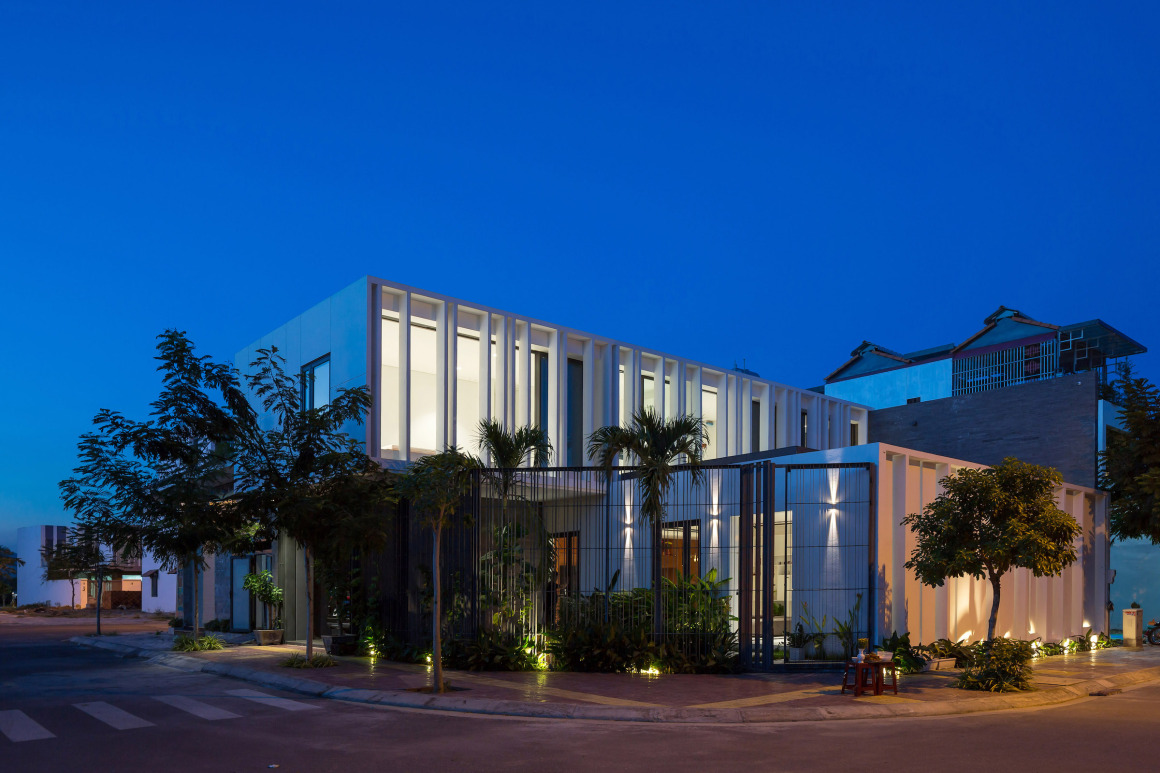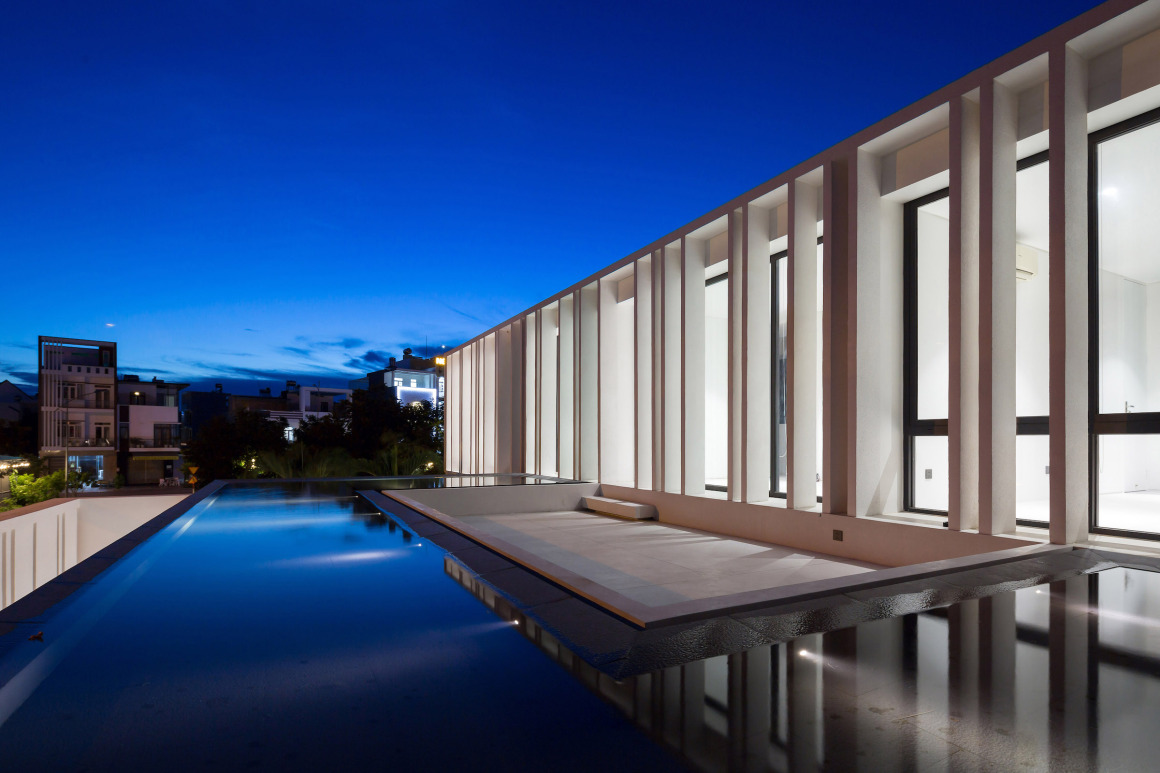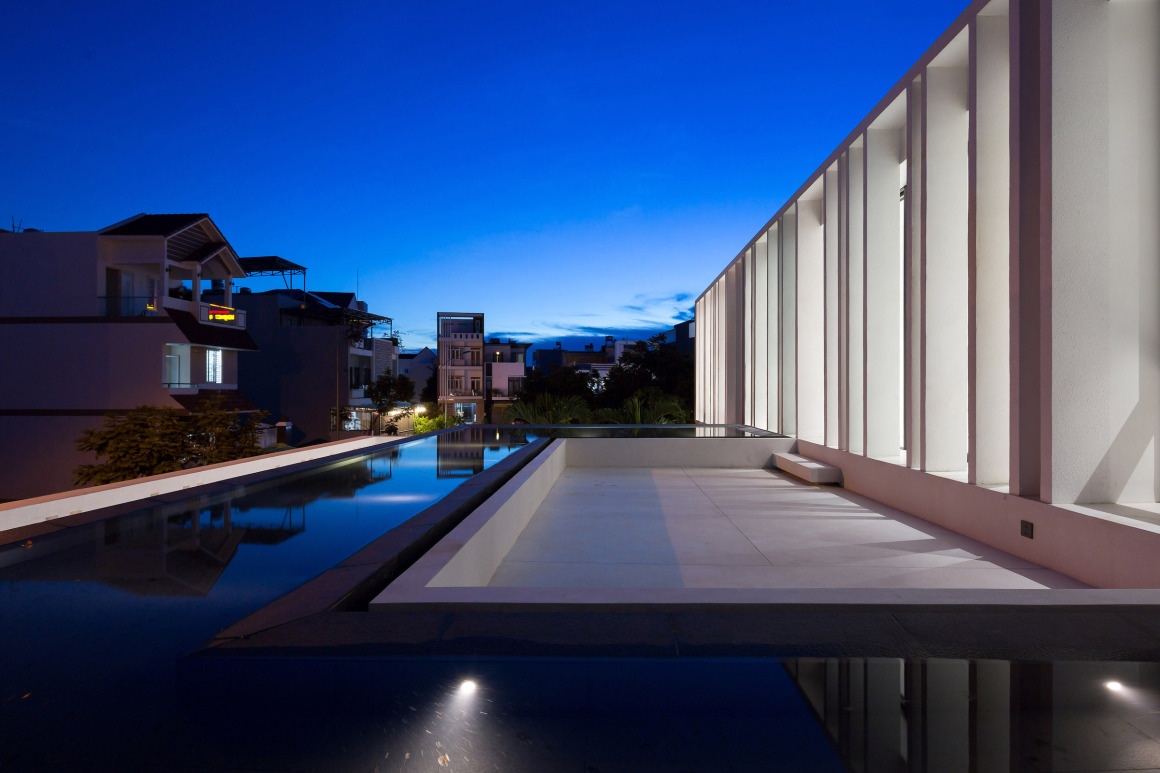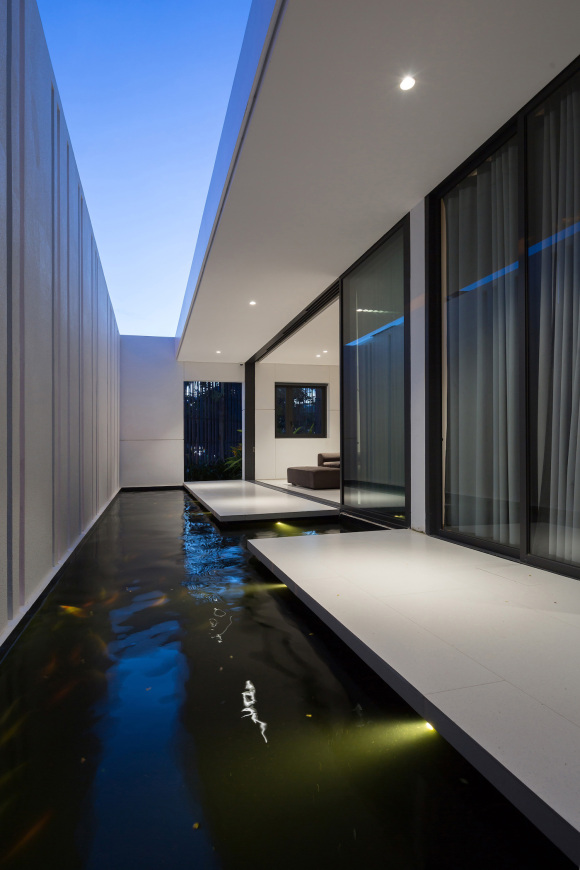 ▼黄昏时分 The house at dusk.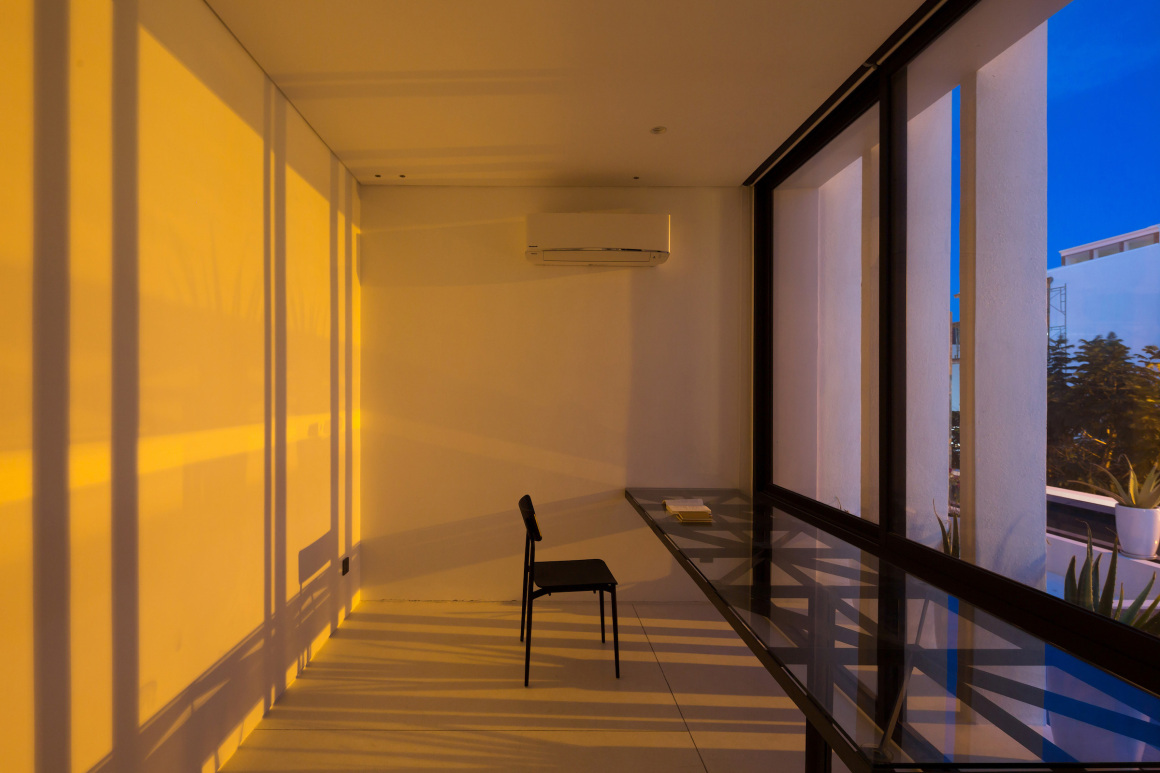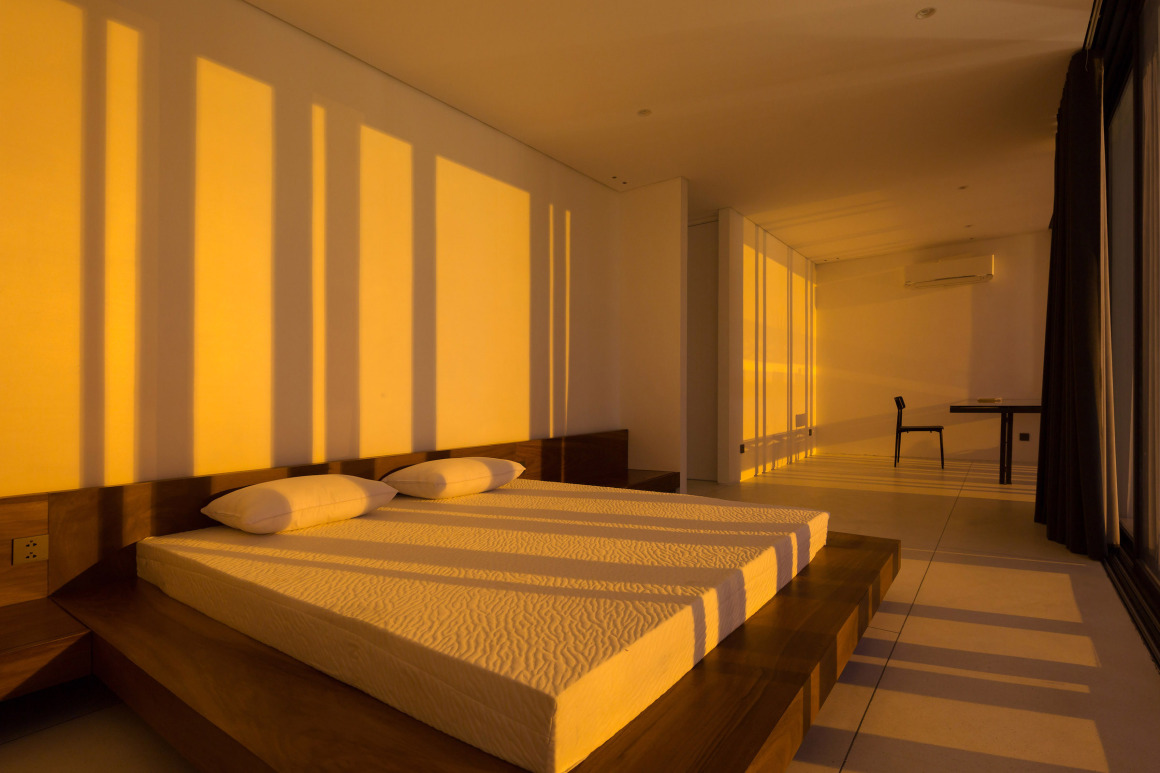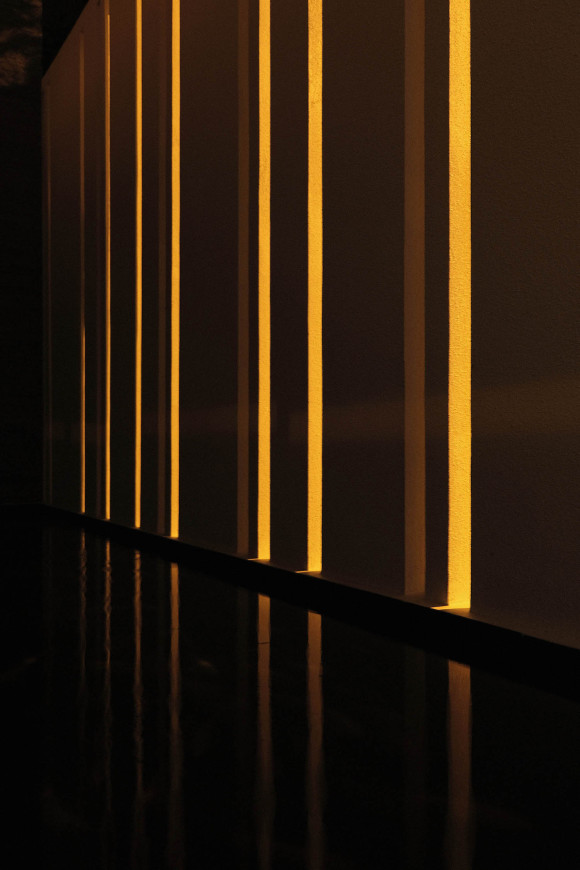 ▼施工过程 Construction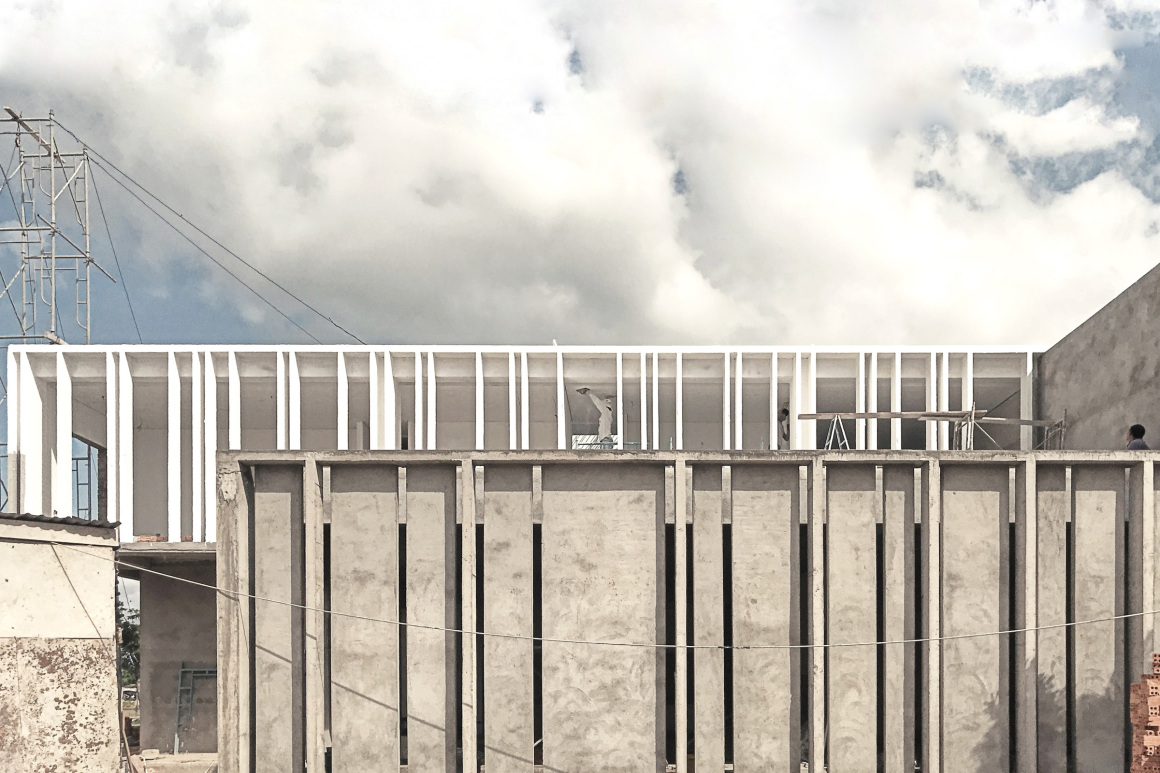 ▼各层平面图 Floor Plans
▼住宅立面图 Elevations
▼住宅轴测图 Axonometric drawings
▼住宅模型图 Model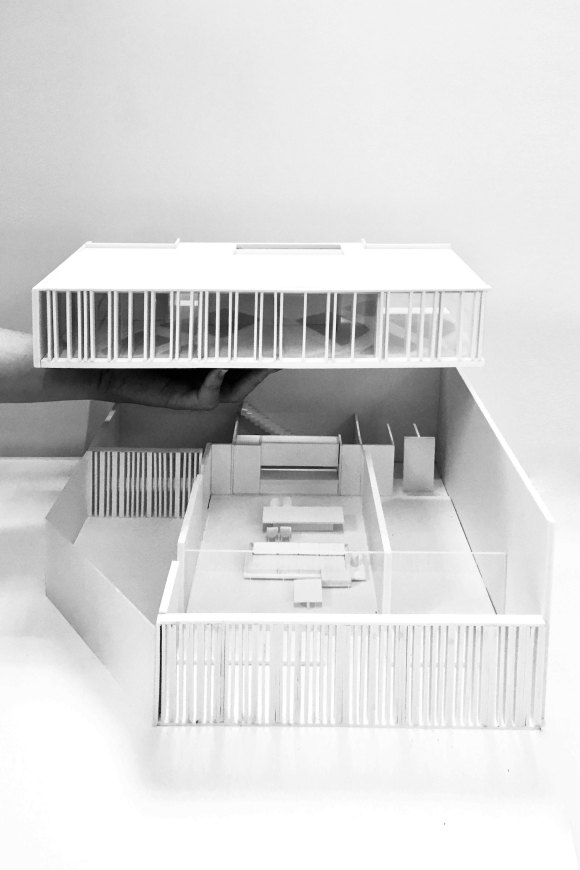 项目名称:PR House
完成:2019年
建筑总面积:220平方米
建筑公司:DA + S
公司网址:https://www.facebook.com/duyarchitectss
联系邮箱:duyarchitectss@gmail.com
公司地点:越南潘朗
首席建筑师:Pham Ho Duy
首席建筑师邮箱:duyarchitectss@gmail.com
设计团队:Pham Ho Duy, Nguyen Hong Vu, Ho Thi My Duyen
图片:Hoang Le Photography
摄影师网址:https://www.facebook.com/HoanglePhotography
摄影师邮箱:chimnonstudio@gmail.com
Project Name: PR House
Completion Year: 2019
Gross Built Area: 220 sqm
Architecture Firm: DA+S
Website: https://www.facebook.com/duyarchitectss
Contact e-mail: duyarchitectss@gmail.com
Firm Location: Phan Rang, Viet Nam
Lead Architects: Pham Ho Duy
Lead Architects e-mail: duyarchitectss@gmail.com
Design Team: Pham Ho Duy, Nguyen Hong Vu, Ho Thi My Duyen
Photo credits: Hoang Le Photography
Photographer's website: https://www.facebook.com/HoanglePhotography
Photographer's e-mail: chimnonstudio@gmail.com
更多 Read more about: DA+S