本文由PDS design 派澜设计事务所授权mooool发表,欢迎转发,禁止以mooool编辑版本转载。
Thanks PDS design for authorizing the publication of the project on mooool, Text description provided by PDS design.
派澜设计事务所:该项目毗邻鄞州大道,处于转角位置。设计沿用了宁波文化中对院落曲径的理解,构建本案的空间和流线体系。整体设计以"光影艺术馆"为主题贯穿始终。通过动线组织与空间穿插,形成三个光与影的主题空间;利用灯带、窥缝、微缩山水、玻璃砖、金属格栅、印花玻璃等与阳光、灯光的结合,形成一座可以感受自然生活之美的"生活艺术馆"。
PDS design:The project is adjacent to Zhangzhou Avenue and is in a corner position. Following the understanding of the courtyard winding path in Ningbo culture, the space and streamline system of this case was constructed. The overall design of the landscape is based on the theme of "Light and Shadow Art Museum". Through the moving line organization and space interspersed, three theme spaces of light and shadow are formed; the combination of sunlight, light, glass brick, metal grille, printed glass, etc., with sunlight and light, can form a beauty that can feel the beauty of nature. "Life Art Museum".

平面图 Master Plan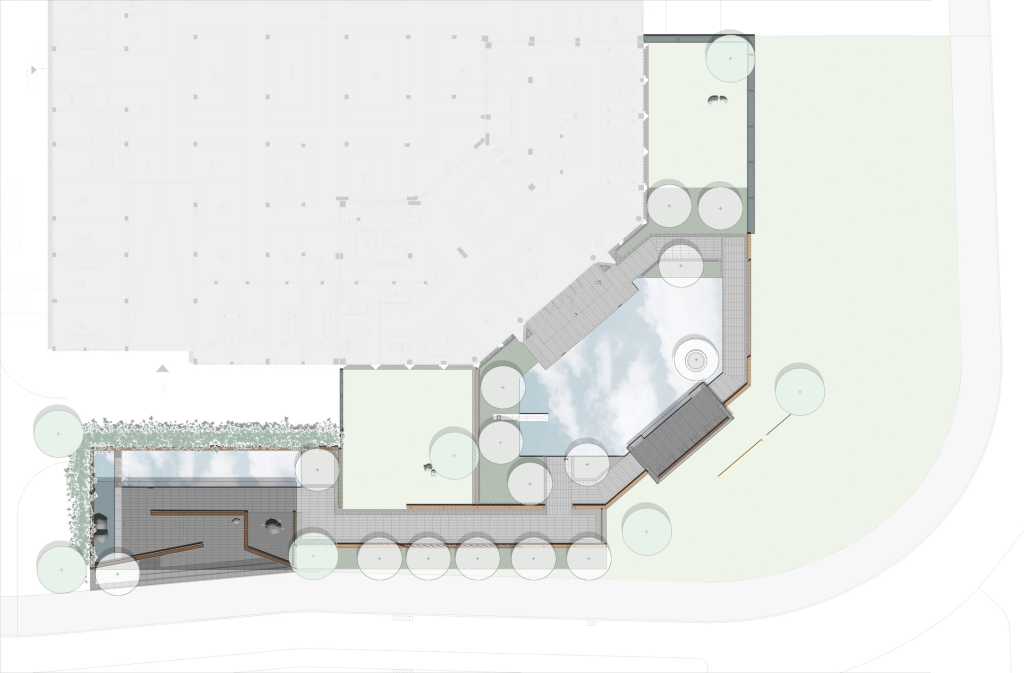 光是空间的灵魂,入口空间用等宽的切槽和灯带,统一对应,灯光与天光混为一体,随着时间和空间两个维度的变化而变化,使空间具有独特的趣味性和艺术性。
Light is the soul of space. With the same width of the slot and the light strip, the unified correspondence, the light and the sky light are integrated into one, changing with the change of the two dimensions of time and space, making the space have unique taste and artistry.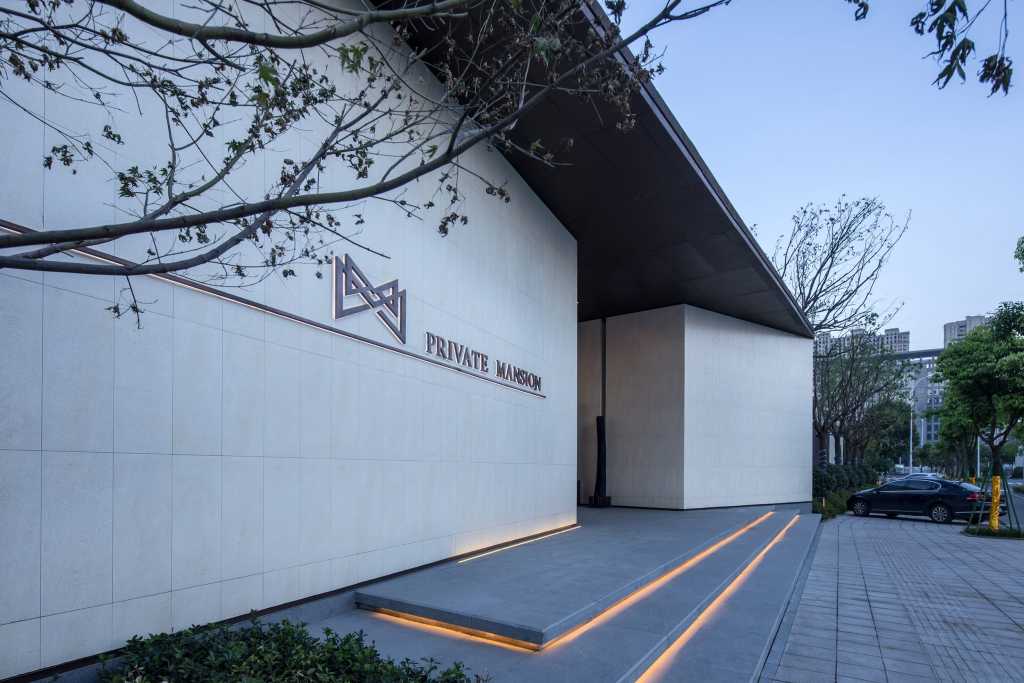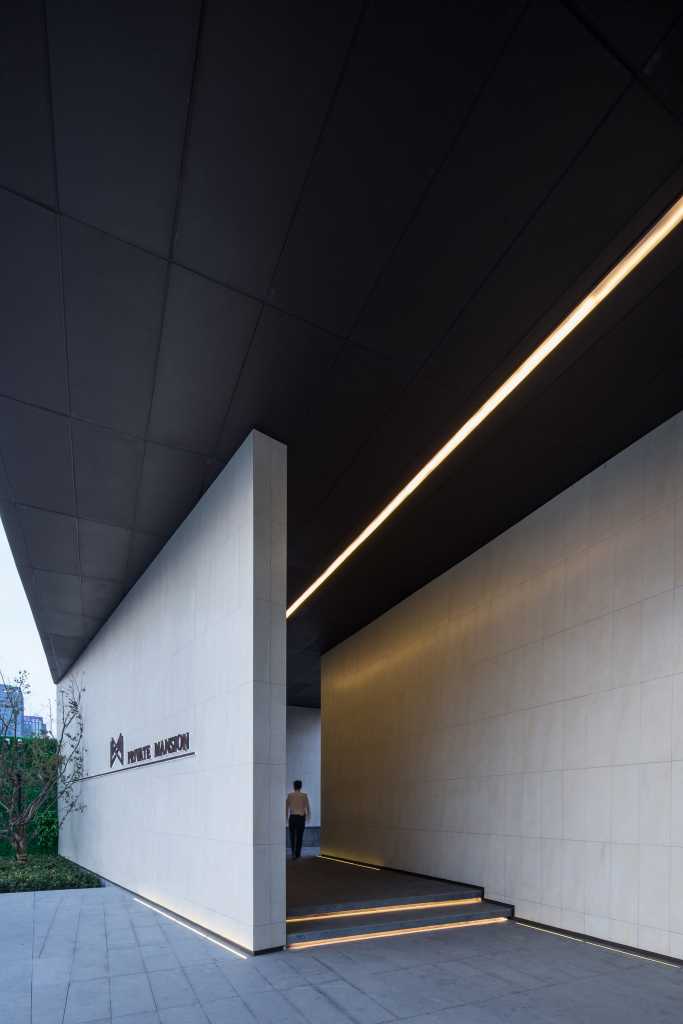 对景是一块立置的巨石,略加修饰的外表皮保留了自然的本真和淳朴。倾泻而下的光,如同一把利剑把巨石劈开。
在开启的缝隙里,涌出的泉水顺壁而下,这一刻潺潺泉音击退世间噪杂。
The view is a standing boulder, and the slightly modified outer skin retains the natural authenticity and simplicity. The light that poured down was like a sword to open the boulder.
In the gap that opened, the spring water rushed down the wall, and at this moment, the sound of the spring smashed back into the world.
利用屋顶的自然光线引导客户前行,只见一道光线穿破屋顶,洒在山石之上,潺潺流水自山石缝隙而出,洒落水池,视为水头;流水经过跌落汇聚成池,倒影天光与自然石景墙,给人以宁静致远的感受。
Using the natural light of the roof to guide customers forward, I saw a light piercing the roof and sprinkling on the rocks. The turbulent water emerged from the cracks of the rocks and spilled into the pool, which was regarded as the head of the water; the water flowed into the pool after falling, reflecting the sky and nature. The stone pavilion gives people a feeling of tranquility and far-reaching.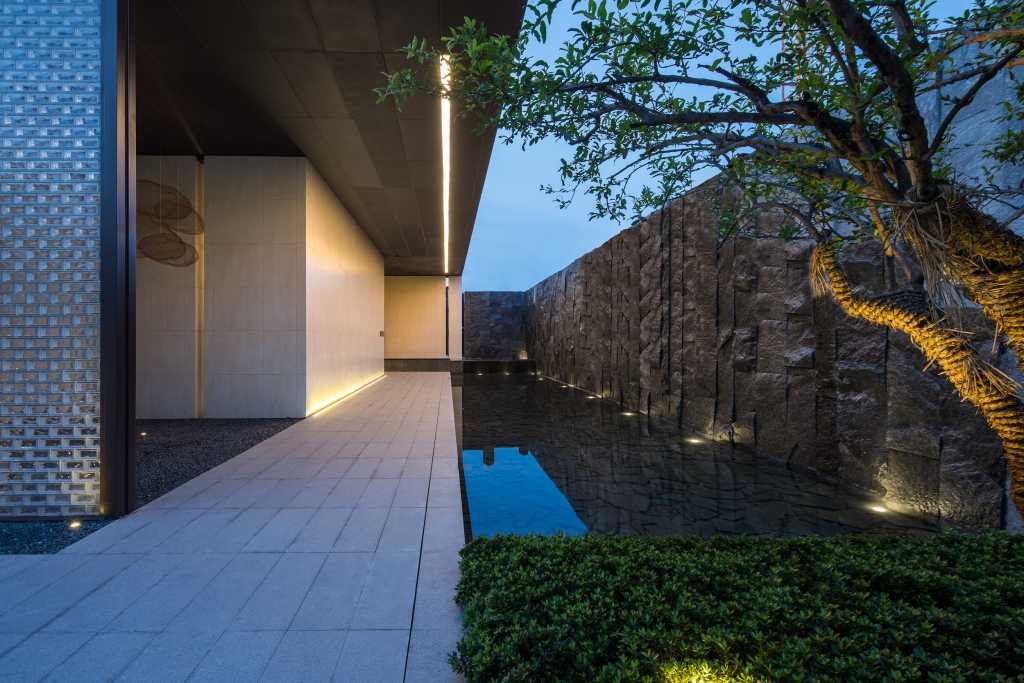 利用格栅及玻璃砖的透光性,形成随时间而变化的光影长廊。
The block utilizes the light transmission of the grille and the glass brick to form a light and shadow gallery that changes with time.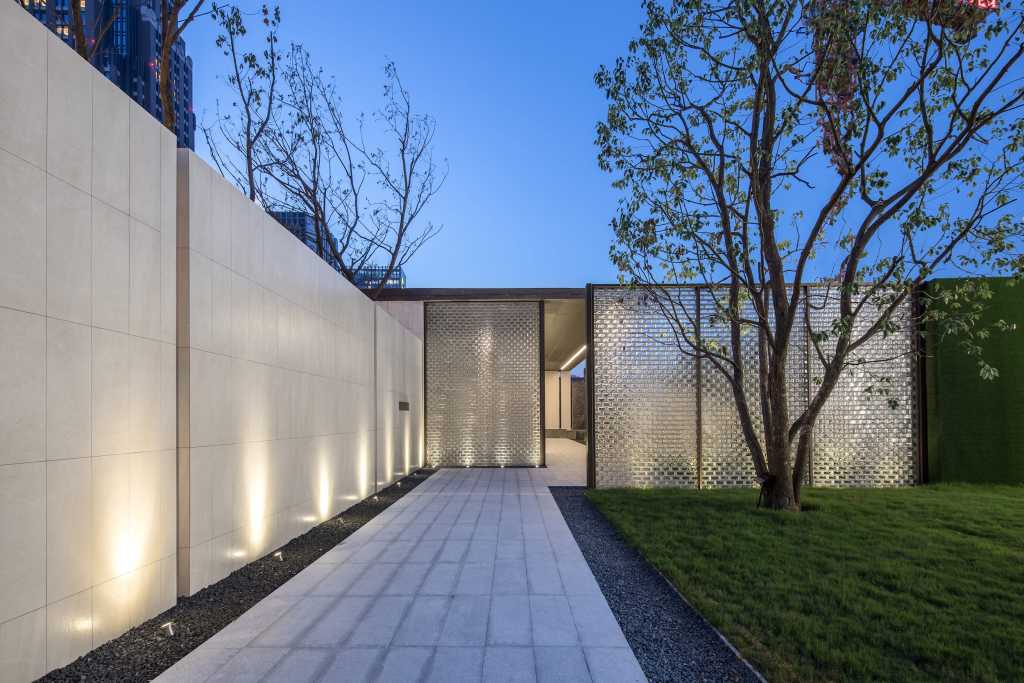 玻璃砖的美,晶莹剔透,犹如一件艺术品。
The beauty of glass bricks is crystal clear and translucent, just like a piece of art.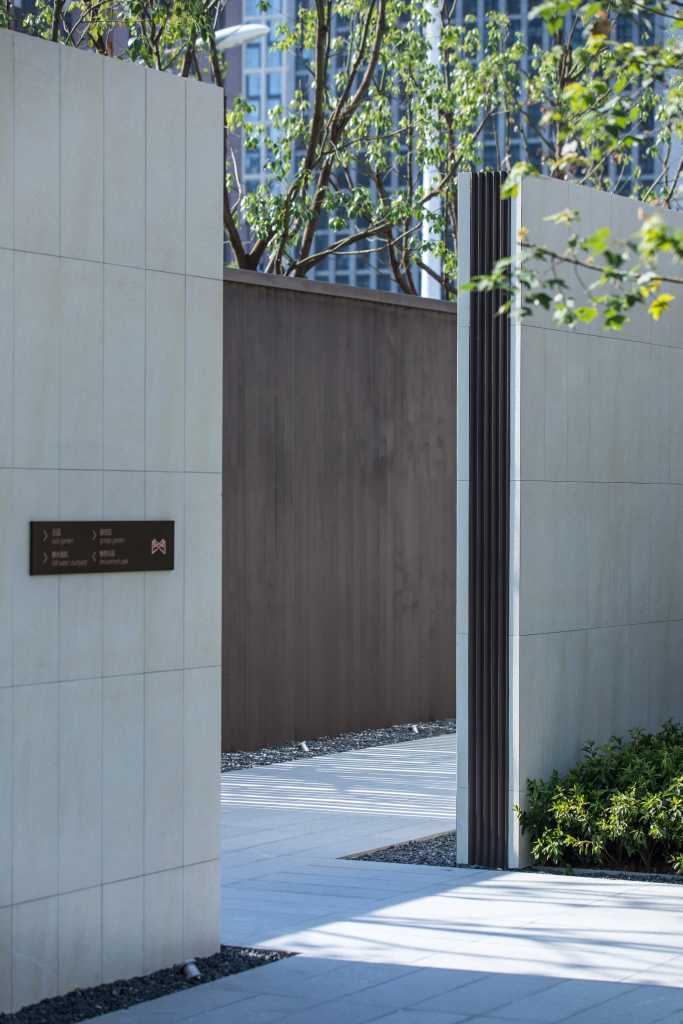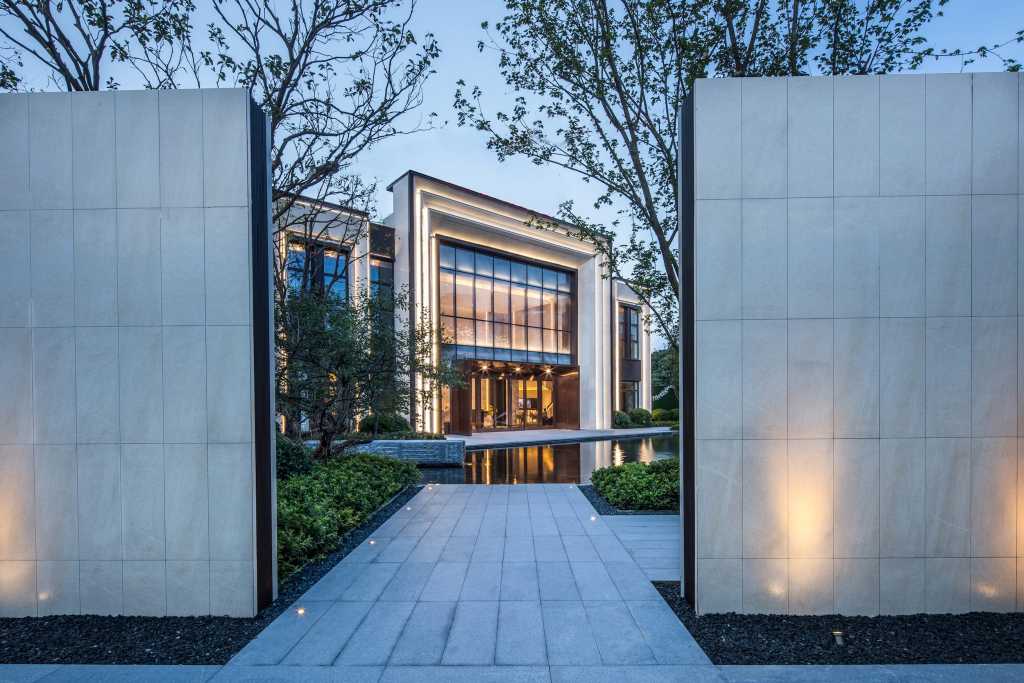 转过一道弯,便豁然开朗,镜水池倒影建筑、雕塑与天空,美不胜收。拾阶而上进入室外会客厅,静谧的水珠滴落形成珠帘,让经过的人们忍不住伸手触摸。光的魔法在水面轻柔的模糊了地面的界限,空间变得开阔而自由。仿佛声音都消失了,呼吸都变轻了,连轻柔的羽毛也不舍得打破这片美景。光像在镜面上轻柔的像跳着曼舞,呈现给我们最真实的华丽。
Turning a corner, it will suddenly open up, and the mirror pool reflects the architecture, sculpture and sky. Stepping up into the outdoor living room, the quiet drops of water drip to form a bead curtain, so that people passing by can not help but reach out and touch. The magic of light softly blurs the boundaries of the ground on the surface of the water, and the space becomes open and free. It seems as if the sound has disappeared, the breathing has become lighter, and even the soft feathers are not willing to break the beauty. The light image is like a gentle dance on the mirror, showing us the most authentic gorgeous.
项目名称:宁波中海学仕里
业主单位:宁波中海
设计单位:派澜设计PDS
主创团队:张方法、李飞、陆思雯、冯永生
项目地点:宁波市鄞州区
项目面积:2500平方米
竣工时间:2018年5月
景观摄影:大象摄影
Project Name: PRIVATE MANSION
Client: COHL( Ningbo)
Landscape Design: PDS design
Design team leader: Zhang Fangfa, Li Fei, Lu Siwen, Feng Yongsheng
Location: Yinzhou District, Ningbo, China
Project area: 2500m2
Completion time: May 2018
Photography: Elephant Photography
更多 Read more about: 派澜设计PDS