Colwell Shelor:西部精神:斯科茨代尔的西部博物馆是一个经过认证的史密森尼附属博物馆,它庆祝西部艺术、历史和文化,这是一个旧西部与新西部相遇的地方。广场设计由一系列由西南意识塑造的空间组成。每一种设计姿态都是雕塑性的、表演性的,并且表达了西南沙漠的无情和雄伟的品质以及西方手工的工艺。
Colwell Shelor:Western Spirit: Scottsdale's Museum of the West, is a certified Smithsonian Affiliate museum which celebrates Western art, history, and culture, a place where the old west meets the new west . The plaza design consists of an arrangement of curated spaces shaped by a southwestern consciousness. Each gesture of design is sculptural, performative, and speaks to the unforgiving and majestic quality of the southwestern desert and the craft of western hands.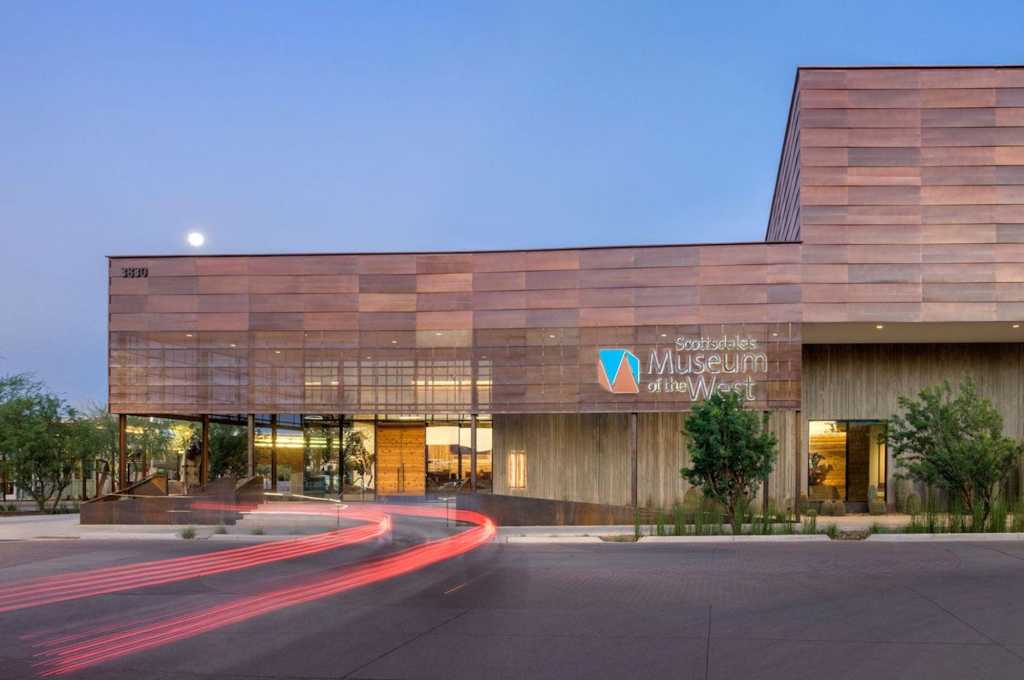 斯科茨代尔每年只有9英寸的降雨量。因为集水是基地的基本概念,所以bioswales位于整个项目中。在三个到达点的交叉处,平行于新建筑,一个巨大的楔形生物海绵衬着无籽的梅斯奇树,与Acconci的几何形状相交并从中散发出来。钢格栅,让人联想到看守牛的人,横跨楔子的桥梁。桥的角度继续采用喷砂工具图案,唤起西方刺绣和皮革设计,迎接和引领游客来到博物馆入口。
Scottsdale receives only 9 inches of rain per year. As water harvesting is the underlying concept of the site, bioswales are located through the entire project. At the intersection of three points of arrival and parallel to the new building, a large, wedge shaped bio-sponge lined with seedless Mesquite trees intersects and emanates from Acconci's geometries. Steel grates, reminiscent of cattle guards, bridge across the wedge. The angles of the bridges continue in sandblasted tooled patterns, evocative of western embroidery and leather designs and greet and lead visitors to the entrances of the museum.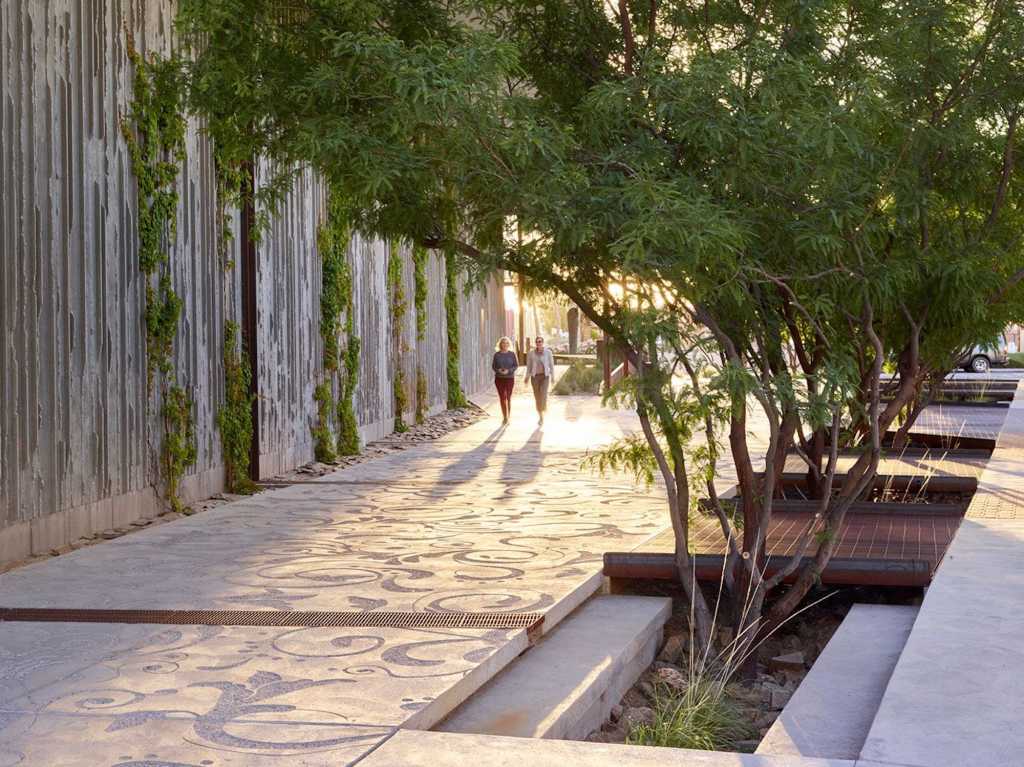 座位台阶位于生物海绵的侧面,允许游客坐在天然草地中,这有助于过滤从收集屋顶水和博物馆HVAC冷凝水的管道中沉积的水。沿着街道,路缘石切割允许街道径流通过bioswales收集和过滤。这些生物威尔士收集雨水,过滤街道上的地表水径流,去除细菌、磷、油、油脂、氮,并防止固体离开现场。
Seating steps flank the sides of the bio-sponge allowing visitors to sit amongst the native grasses which help to filter water which deposits from runnels that collect roof water and HVAC condensate from the museum. Along the street, curb cuts allow street runoff to collect and filtrate through bioswales. These bioswales collect stormwater and filter surface water runoff from the street removing bacteria, phosphorous, oil, grease, nitrogen, and prevent solids from leaving the site.
在这栋建筑内,庭院空间的特色是一堵大规模的钢制墙,由生锈的钢板制成,称为"哭泣墙",还有一条39英尺长的手工雕刻马鞍凳,由从亚利桑那州北部打捞上来的甲虫横行的黄松树干制成。就像顺着峡谷壁流下的水一样,内院的雕塑钢墙被设计成"哭泣"博物馆暖通空调系统中的冷凝水,并存放到一个下沉的河岸花园,灌溉当地耐旱植物。在旺季的几个月里,哭泣的墙每小时会向庭院和河道中沉淀超过25加仑的水,这些水从博物馆的屋顶区域和斯科茨代尔附近的街道流出,以满足收集到的额外水。数千加仑的水一起流过一个开放的生物威尔士雕塑系统,该系统同时对该地区的天然植被进行水合,并在进入城市排水系统之前进行处理。
Within the building, the courtyard space features a large-scale steel wall made of bent plates of rusted steel called 'The Weeping Wall' and a 39 foot long, hand-carved saddle bench made from a single trunk of beetle-infested Ponderosa Pine salvaged from Northern Arizona. Like the water that runs down canyon walls, the sculptural steel wall in the interior courtyard is designed to 'weep' condensate water from the museum's HVAC system and deposit to a sunken riparian garden that irrigates native, drought-tolerant plants. During peak seasonal months, the weeping wall deposits over 25 gallons of water per hour into the courtyard and runnels which outlets to meet additional water collected from the Museum's roof area and Scottsdale's nearby streets. Together, thousands of gallons of water travels through an open and sculpted system of bioswales that simultaneously hydrates the site's native vegetation and undergoes treatment before entering the city's drainage system.
亚利桑那褐色片岩板让人想起沙漠路面,由手工排列,在花园空间中分层,提供丰富的纹理背景,同时也保持土壤中的水分。65岁的仙人掌、桶形仙人掌和丝兰是在片岩花园中创作的,在展示西部沙漠物种雕塑特质的同时,创造了身临其境的视觉重新定向体验。成熟的Palo Brea树木被抢救出来并移植到现场,给雕塑广场带来了瞬间的阴影。
Reminiscent of desert pavement and arranged by hand, slabs of Arizona Brown Schist are layered within garden spaces to provide a rich backdrop of texture, but also preserves moisture in the soil. Sixty-five year old Saguaro, Barrel Cactus, and Yucca are composed within the schist gardens creating an immersive and visually reorienting experience while showcasing the sculptural qualities of Western desert species. Mature Palo Brea trees were salvaged and transplanted on the site, bringing instant shade to the sculpture plaza.
地点: 美国亚利桑那州斯科茨代尔
面积:  35,310平方英尺
客户: 斯科茨代尔市
完成日期:  2015年
项目团队: Studio Ma, Architect
奖项:
2016年ASLA亚利桑那州设计总统奖
2016年ASLA亚利桑那州优秀设计奖
2016年亚利桑那前进协会环境优秀奖,克雷斯科迪亚奖
Location: Scottsdale, Arizona,America
Size: 35,310 sq ft
Client: City of Scottsdale
Completion Date: 2015
Project Team:Studio Ma, Architect
Awards:
2016 ASLA Arizona Design President's Award
2016 ASLA Arizona Design Award of Excellence
2016 Arizona Forward Association Environmental Excellence Awards, Crescordia Award